View Larger Map
Day 14 - September 1, 2010
Lincoln City to Waldport, Oregon
Miles: 48
Terrain: Some ups and downs and a couple of nasty climbs
Weather: Cold, mostly foggy, variable winds
Yesterday I thought the weather would be cold and rainy again and if so, I was going to stay in my hotel all day (except for the required 10-mile ride, of course). As it turned out, though, the morning forecast was for AM showers only followed by overcast skies the rest of the day, plus some fog. Well, they weren't kidding about that. This is what the beach looked like when I left town. There is a beach down there, somewhere, I promise. I could hear the waves, at least.
So yes, I did actually get out of the comfy hotel room and ride, intending to evaluate later in the day if I wanted to get another hotel room or camp somewhere if things looked really good. I actually waited until the absolute last minute, right at the 11am checkout time, to make sure the "AM showers" were gone or mostly gone. When I actually left, they had stopped and the fog was there...and it stayed there, stubbornly refusing to leave. There were a couple of clear spots but mostly it was fog all the time. When it did fade, you could see more mist coming in off the water and a few minutes later it would be there, obscuring vision again and making it much colder. Plus, the moisture in the air seeped into my clothes, so that every time the wind blew over me, I'd shiver. I relished every moment the sun was actually out.
Anyway, the ride wound through Lincoln City and through the fog ahead I saw an interesting sign proclaiming the river ahead (which was actually going right through town) was the "D" river, the world's shortest. I pulled over and took a picture which, of course, barely shows anything, but I found out later it's only 120 feet long. Apparently it was once listed in Guinness, but now they no longer have that category in their book. Even so, the label remains. (By the way, the picture of the beach above was taken from this same area.)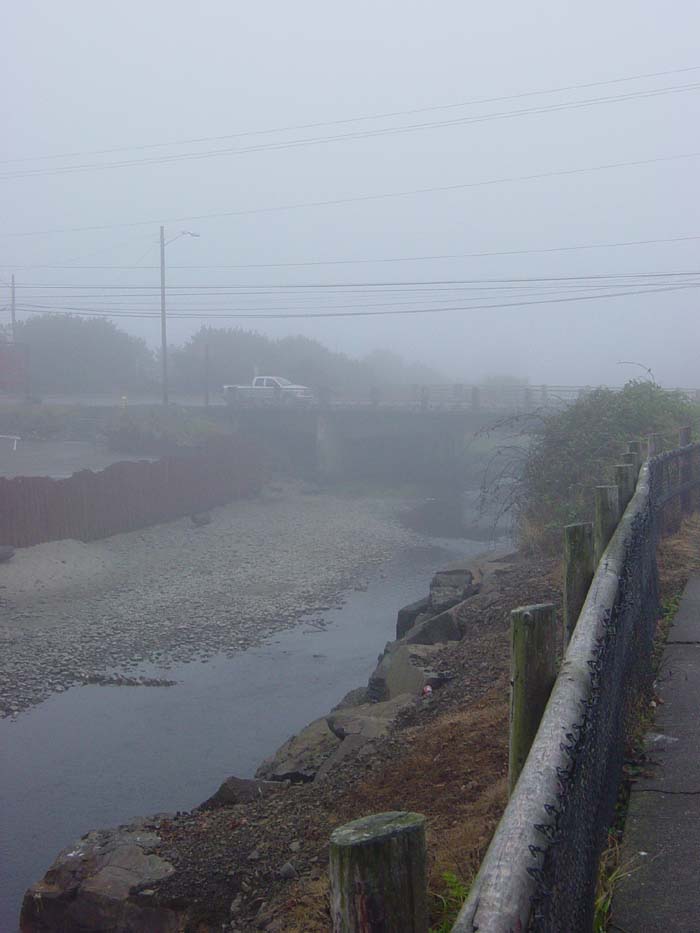 The fog would sometimes lift a little giving me better views of some of the coastline I was passing, like this interesting rock formation sticking out of the sand here at what looks like low tide (or at least close to it).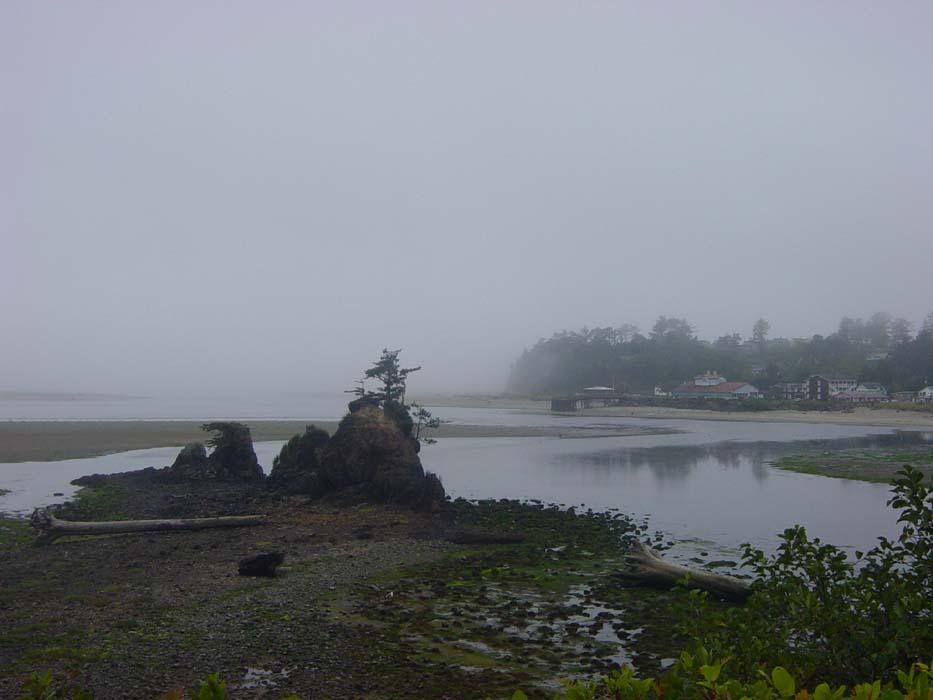 Naturally, there was some climbing to do, and if it weren't for that darn fog there's be a pretty nice picture somewhere in the middle of this.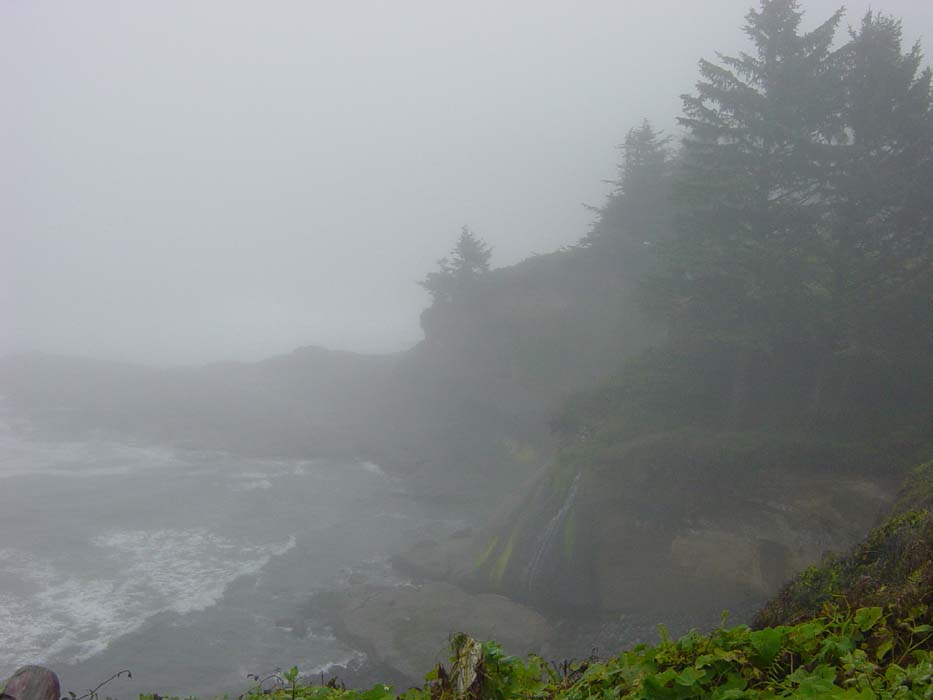 Moving right along, we come to the town of Depoe Bay, which is home to the world's smallest harbor. What is it with this part of Oregon and the world's smallest terrain features? Anyway, here it is.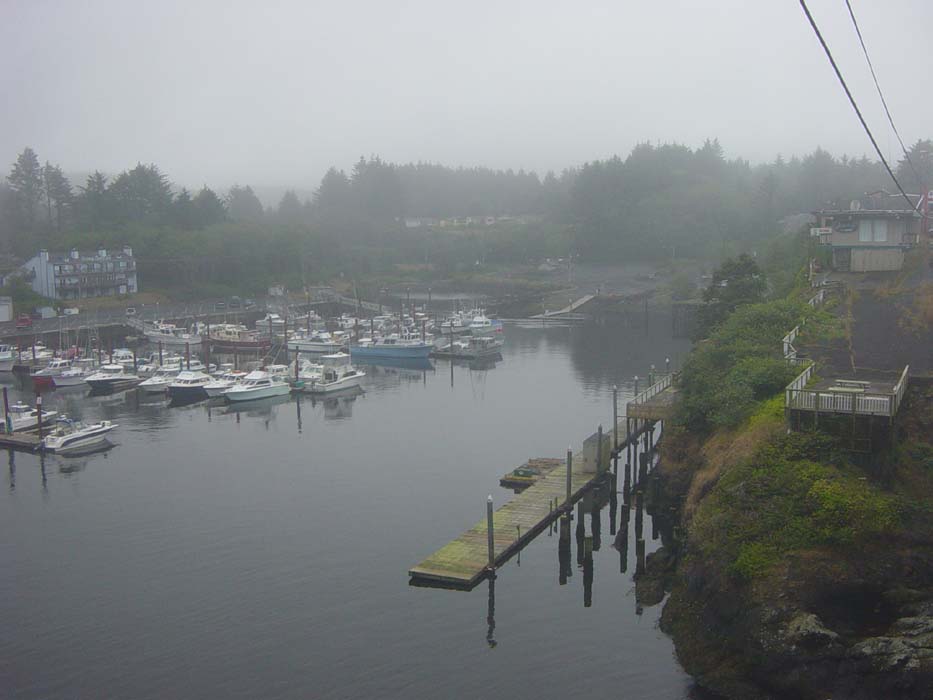 As I was leaving here I chatted with a local (yes, sometimes I actually talk to people) and was warned about an upcoming steep climb. There was, it turns out, a more scenic way around it that didn't really do much about the hill, but kept me out of the traffic. Plus, like I was told, the views were much better. And, as a bonus, the fog pulled away long enough for a few of decent pictures. How'd you like to live in this house, anyway?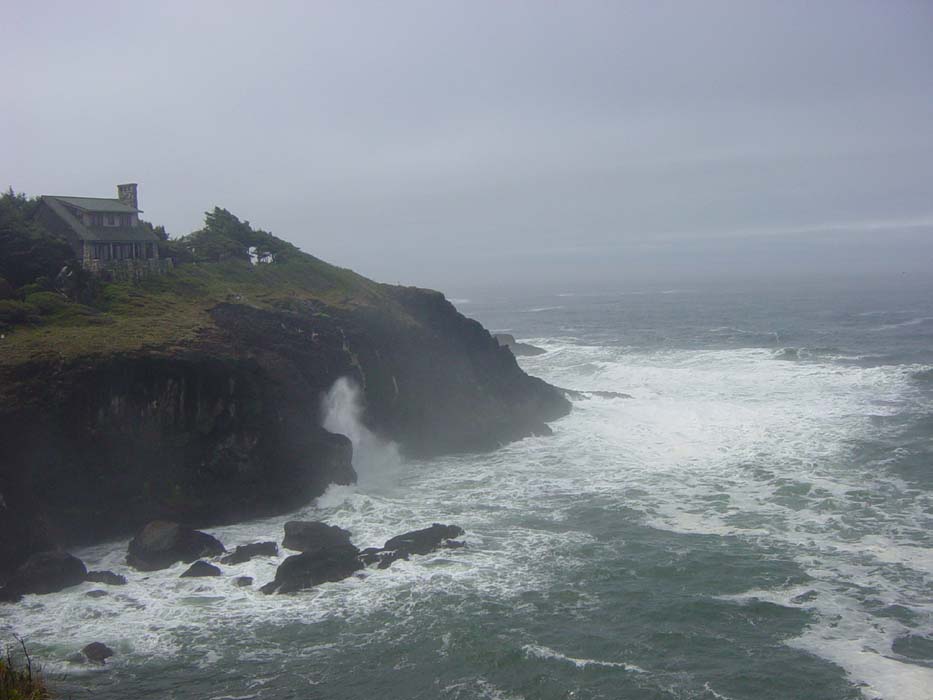 This shot and the previous one are from early on in the climb. I had a lot more "up" to go.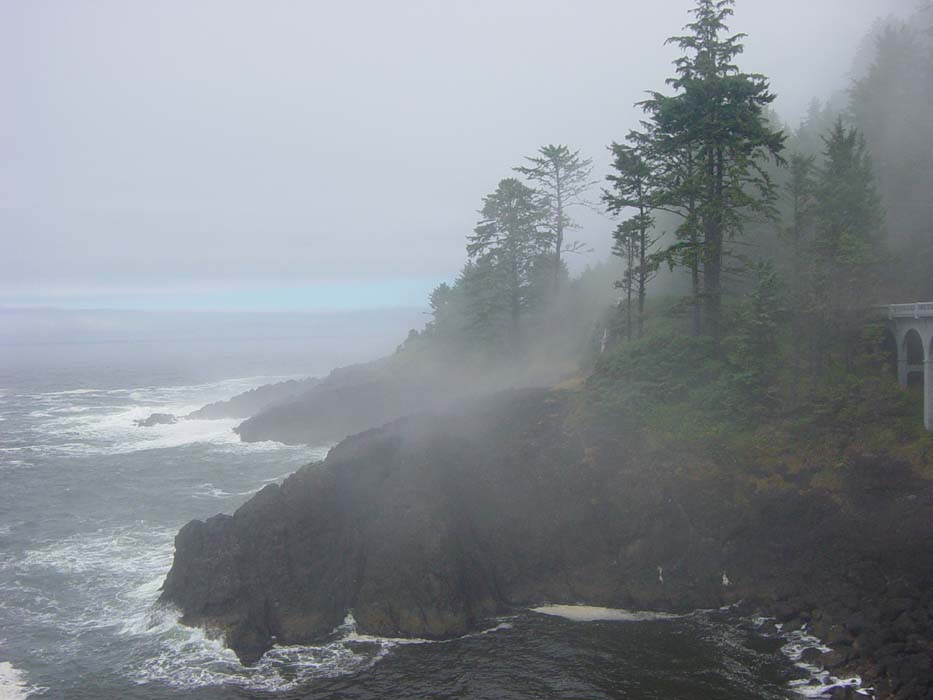 Ah, there, now we're much higher.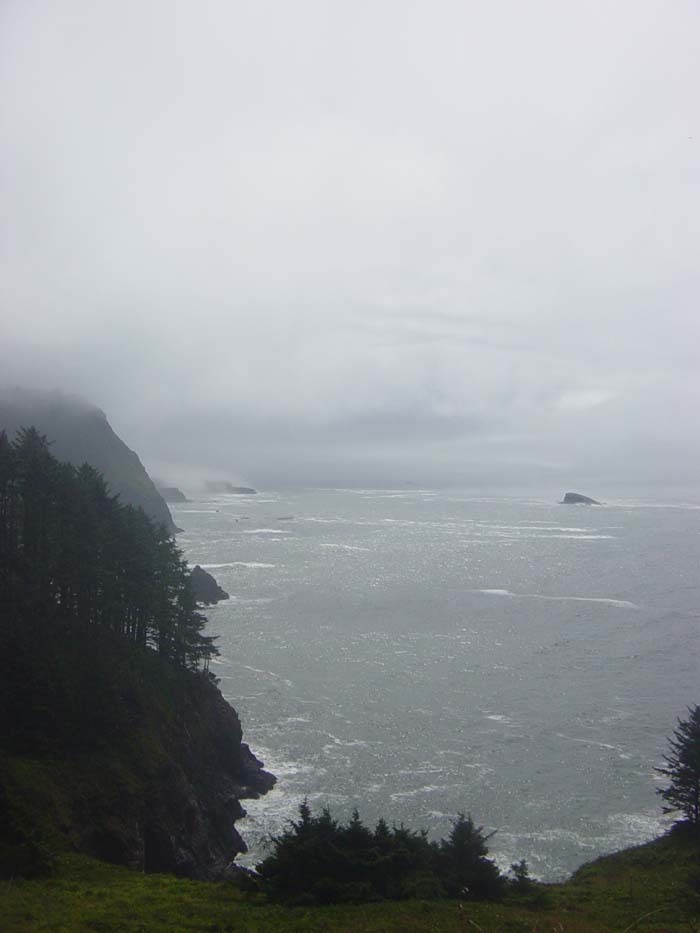 Again, how'd you like to live in that house? Not a good place if you're a sleepwalker.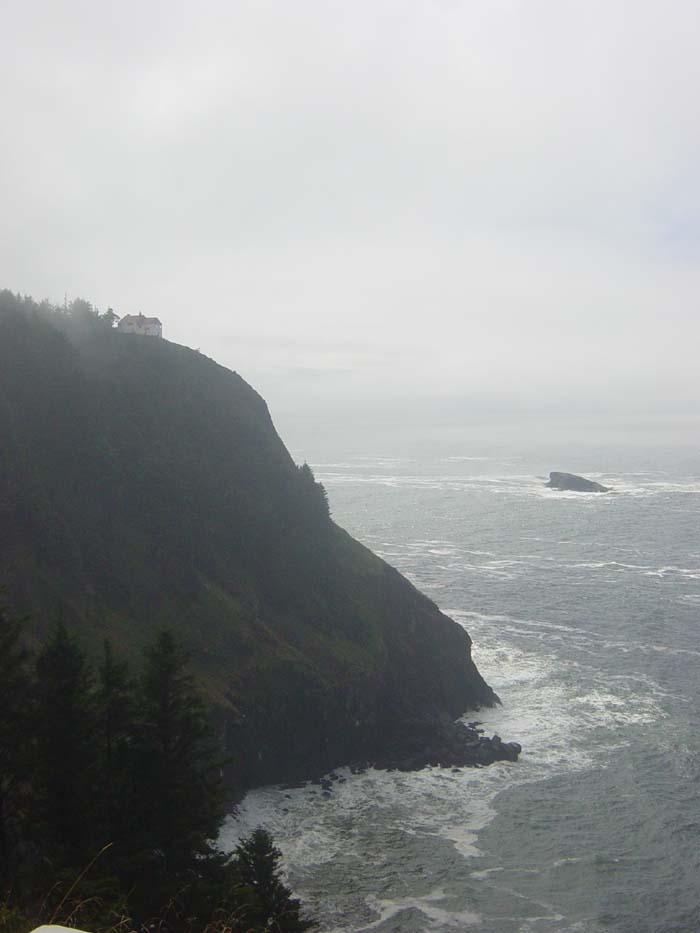 As I got up to about where that house was, I found out it wasn't a house at all, but a gift shop located at the top of this scenic viewpoint. I didn't fall victim to the tourist trap, although there were some nice pictures to be had, like this one of the outskirts of Newport. You can't see it, but theres a lighthouse enshrouded by fog up there where the coast seems to disappear. More on that later.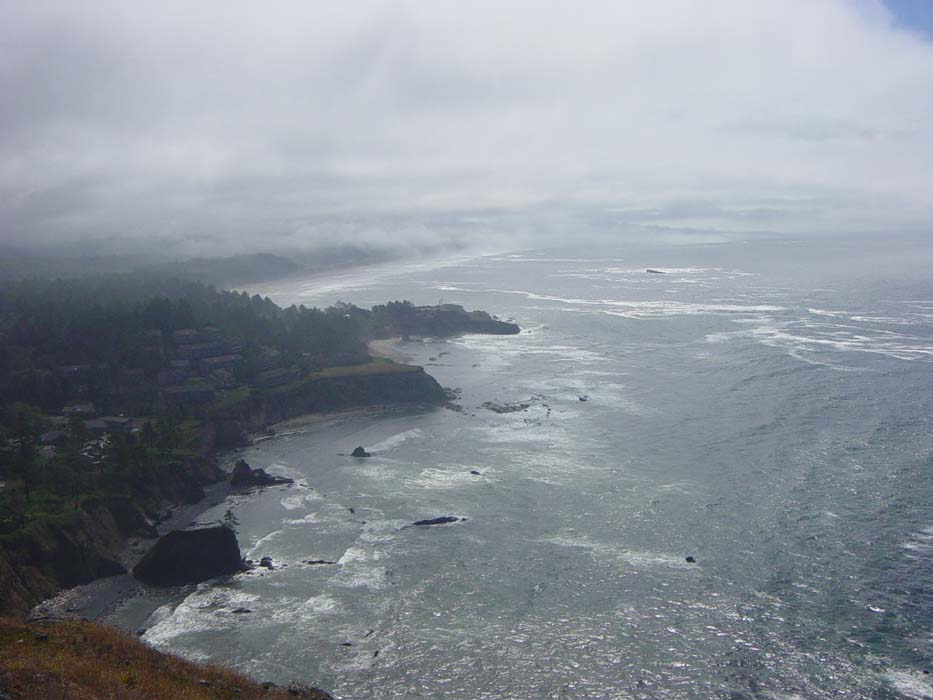 This view is looking to the right from the same basic spot. The fog was kind enough to stay away just long enough for these pictures, but you can still see it on the hillside, and about 15 minutes after I took this, it was back. By the time I got to Newport, the thick (and cold) stuff was everywhere.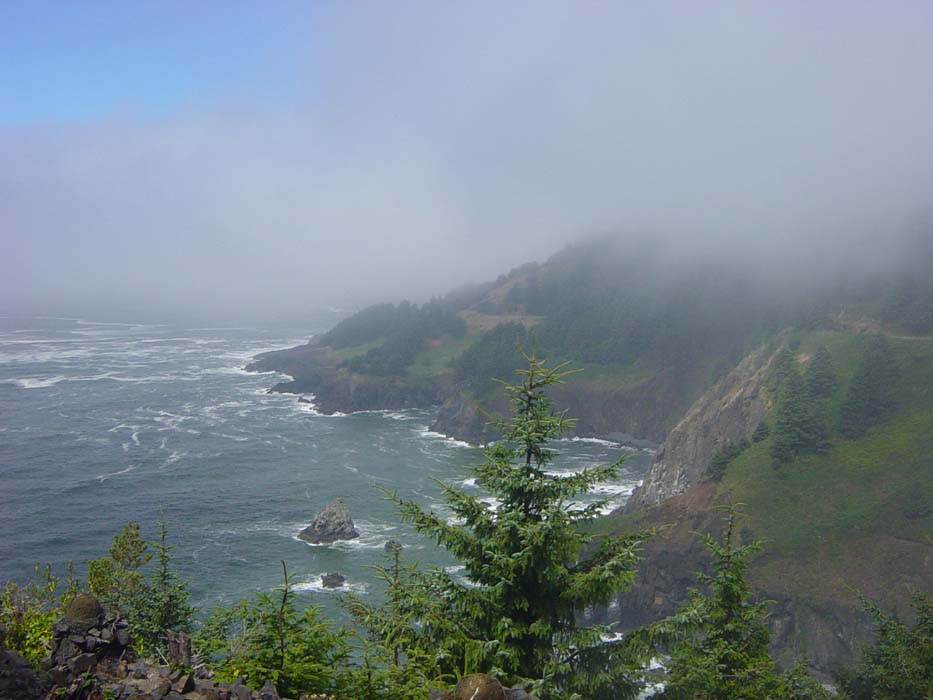 Eventually I made it to the Yaquina Head Light, a lighthouse guarding Yaquina Bay, and this is what it looked like: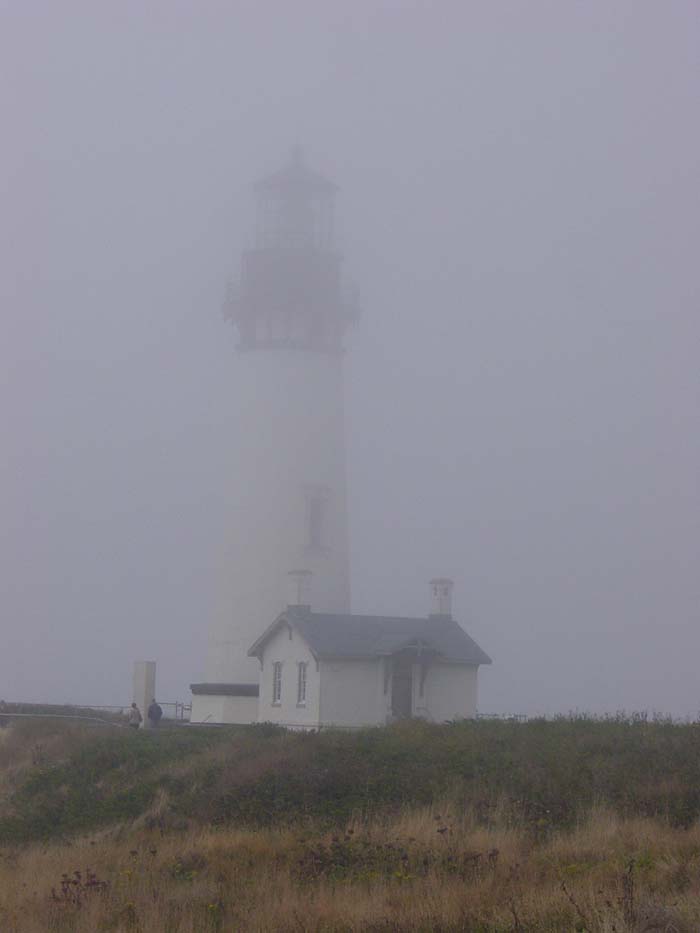 I'm pretty sure there's a lighthouse in there somewhere. The views around here were pretty nice, too, or would have been if the fog had stayed away. Here's a picture of a large rock just offshore that's covered with birds (cormorants, I think).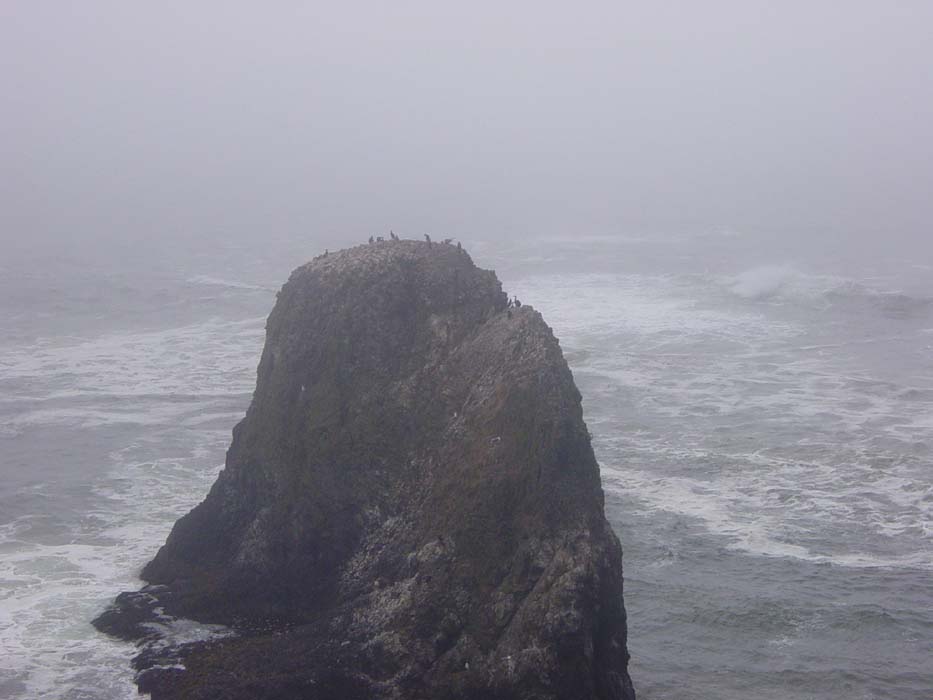 Another view looking down at the ocean from way up here where the lighthouse is, somewhere in the fog: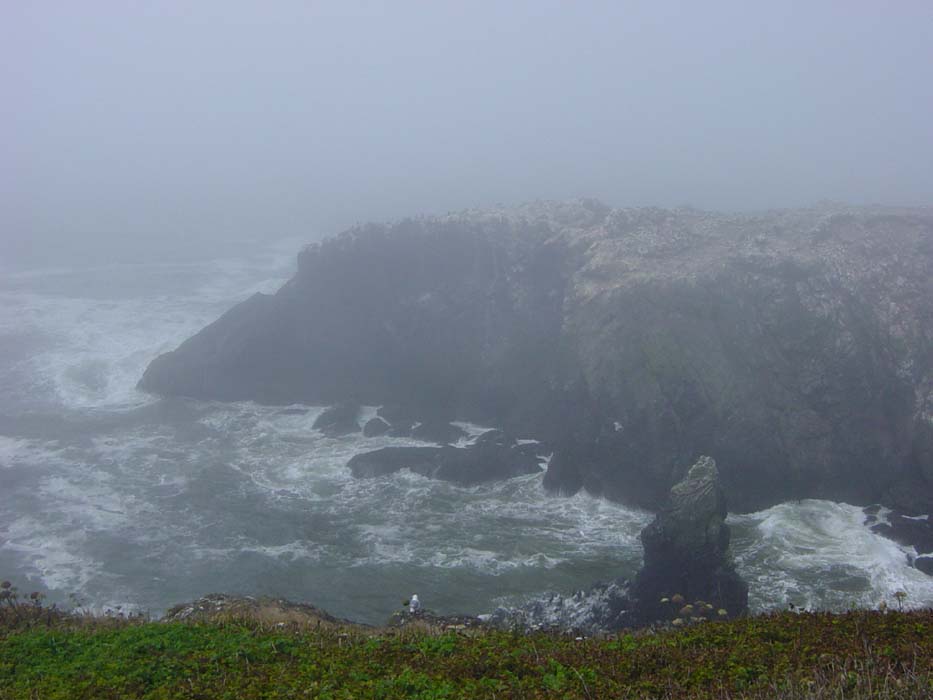 The park here was nice, but again, the weather wasn't cooperating. I started to think maybe I should just quit for the day, even though I'd only gone about 25 miles, simply because I was missing out on a lot of sightseeing due to the fog. I rode on and had some lunch in Newport, but the fog was still there after I headed out of there. There were a number of affordable hotels, but I kept riding, because there was another park I wanted to see before I made my decision. Once I got there, though, there wasn't anything interesting to see, and the bridge ahead looked pretty daunting seeing as the visibility was poor. See what I mean?
I don't like getting on bridges I can't see the other side of, so I thought seriously about going back about a half mile to a hotel I'd passed, but then a funny thing happened...the fog literally lifted right before my eyes. Within minutes the dreary sight above was replaced by this: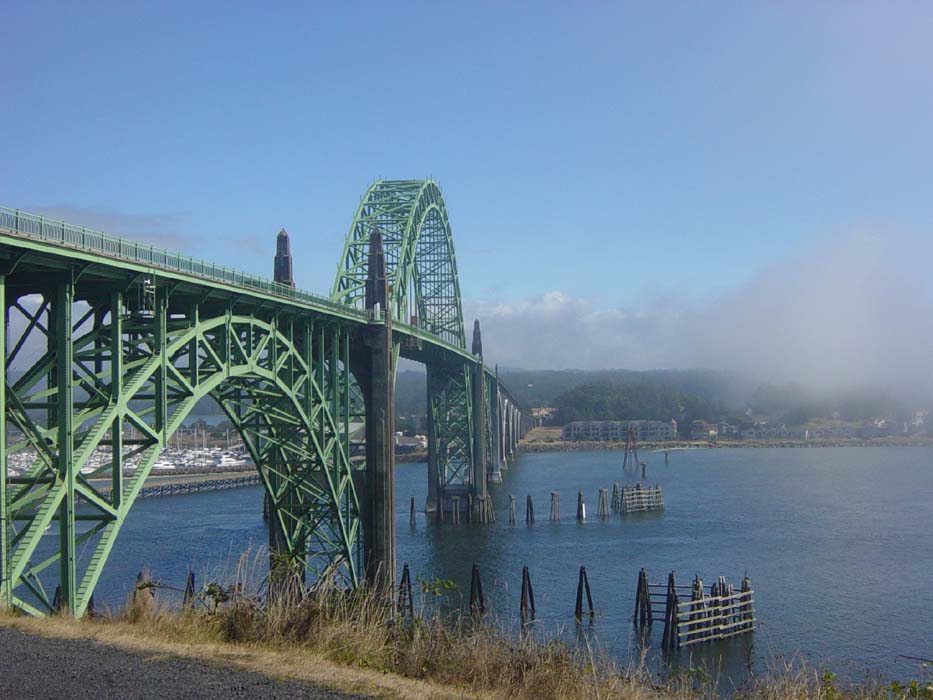 Ah, much better! With the decision made for me by the weather, I got on the bridge (another one with a bike warning light) and headed across without any real problems. The wind picked up at my back and the ride got easy from this point forward. Plus, with the sky clear, I could get some pictures like this one from Lost Creek State Park: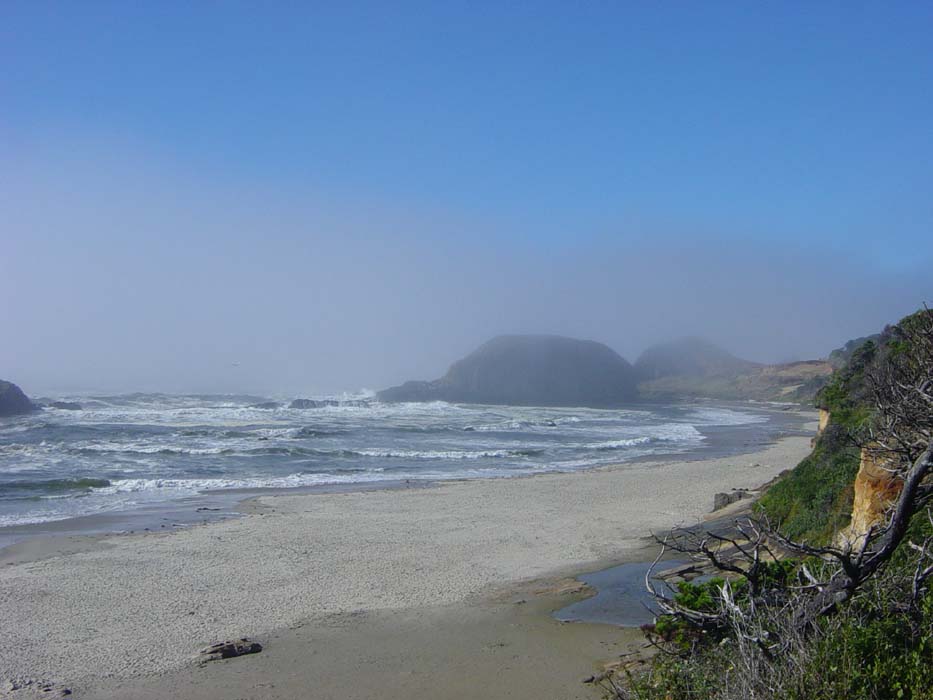 A short while later I came to Seal Rock State Wayside and snapped these two photos: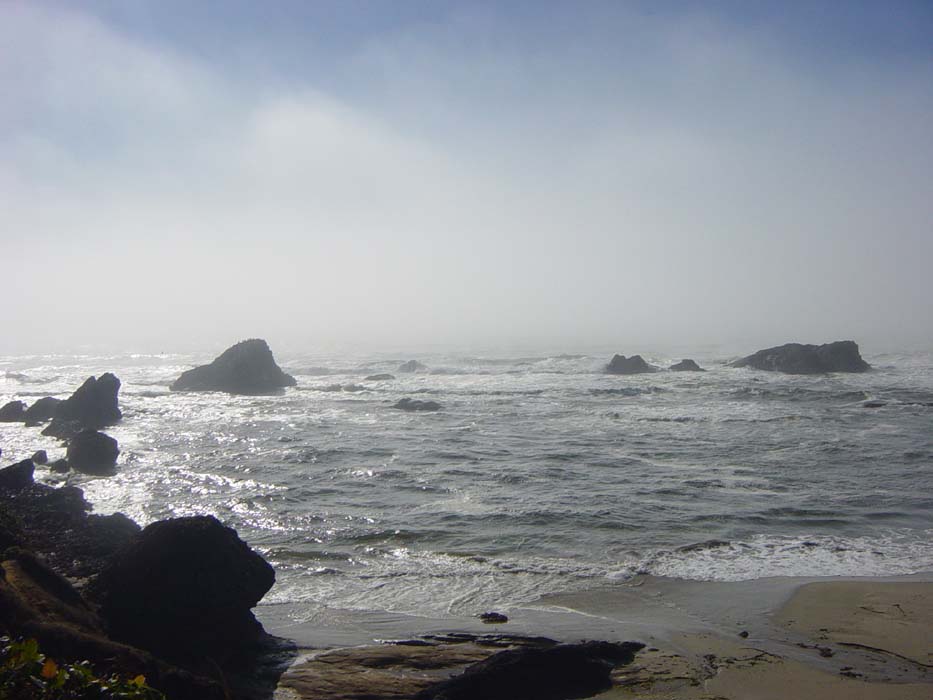 This one is to the right of the previous picture. Apparently a bird snuck into the camera too.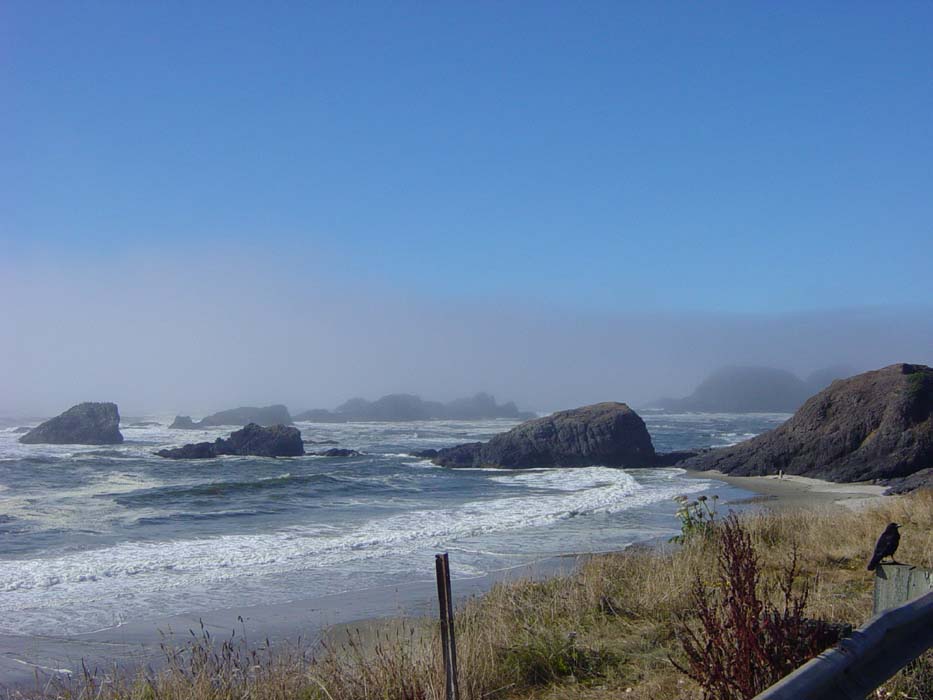 Pressing on, I came to Waldport, and took this shot of Alisea Bay, with its extremely narrow entry: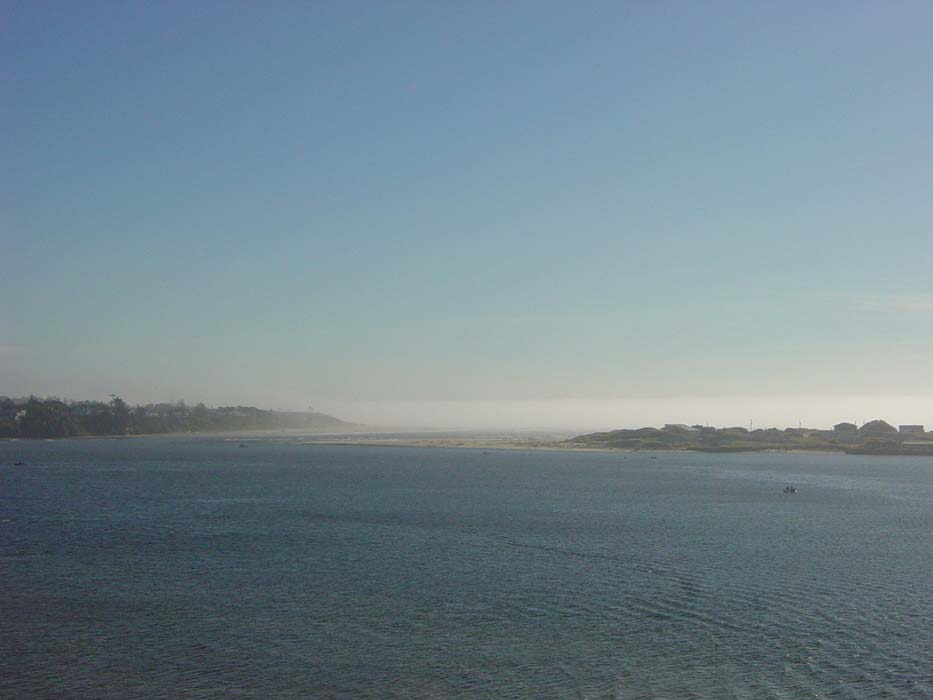 The way onward crossed another long and historic bridge (the Alisea Bay Bridge):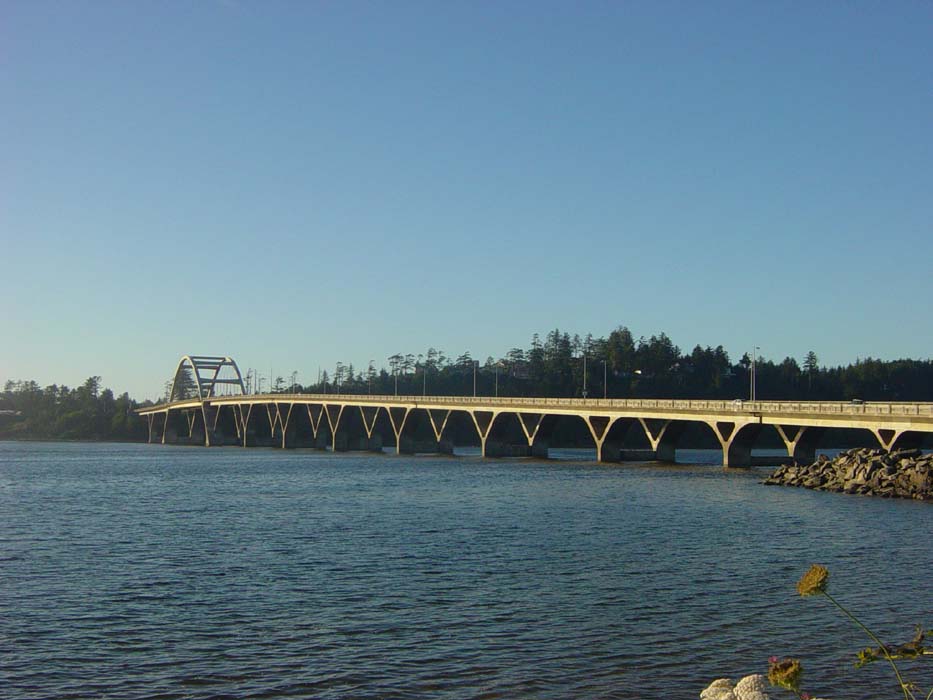 This was my second decision point of the day. There was only one more town, Yachats, that I could reasonably expect to reach today (it was already after 5pm), and although Florence was close enough, I knew there are at least 2 brutal hills between those two towns and I was already tired enough to not want to try that. Plus, there was no guarantee of finding anyplace to stay in either. There was a campground just before Yachats, but the fog moistened me enough to want a dry room. So when I spotted an America's Best Inn for $60, that's all I needed.
The weather's supposed to be nice for the next few days (let's hope) so more than likely I'll camp some more in the coming days, especially with Labor Day weekend approaching (it's Wednesday night now, so the late summer campers will be out in force real soon now). However, I've decided that $60 a night is reasonable enough, even if it seems higher than what I'm used to, so if I can find rooms for that rate I'll take them over camping. I feel much better and ride much better on days after I've had a good, comfortable night's sleep.