View Larger Map
Day 19 - September 6, 2010
Orick to Rio Dell, California
Miles: 75
Terrain: 50 miles of relatively smooth freeways sandwiched between lots of climbing
Weather: Sunny and cool, alternating tailwind and crosswind
Last night's stay in Orick was enjoyable and I got plenty of sleep, so feeling well rested, I set off about 10:15 to see how far I could get. There were freeways in my future today, obvious from the map I had, but that was the only real information I was going on since I had no access to the Internet. When I left, the day was already cloudless and sunny, but somewhat cold, and it would stay cool all day long. The wind was light at the start but picked up to about 20mph later on. Unfortuantely, the road wound about quite a bit, often heading off to the west so that the northwest wind would become a tricky crosswind.
Not that this mattered much in the early phase of the ride, as I was busy climbing hills and widing my way through narrow roads in thick forests and occasionally passing uninteresting, overgrown lakes. The wind was no factor here, but I was more concerned with avoiding traffic and dodging holes and cracks in the roads. Partway through, I came upon signs that warned drivers they were going faster than 30mph as they approached dangerous curves. You know a road is unsafe when they have signs like that. Sadly, no pictures here as I didn't dare stop to get the camera out. Honestly, I was just happy to see the forest come to an end and the coast begin. Here's a shot of what the beach looked like here (looking back on the road I just came down, and the forested hills I emerged from).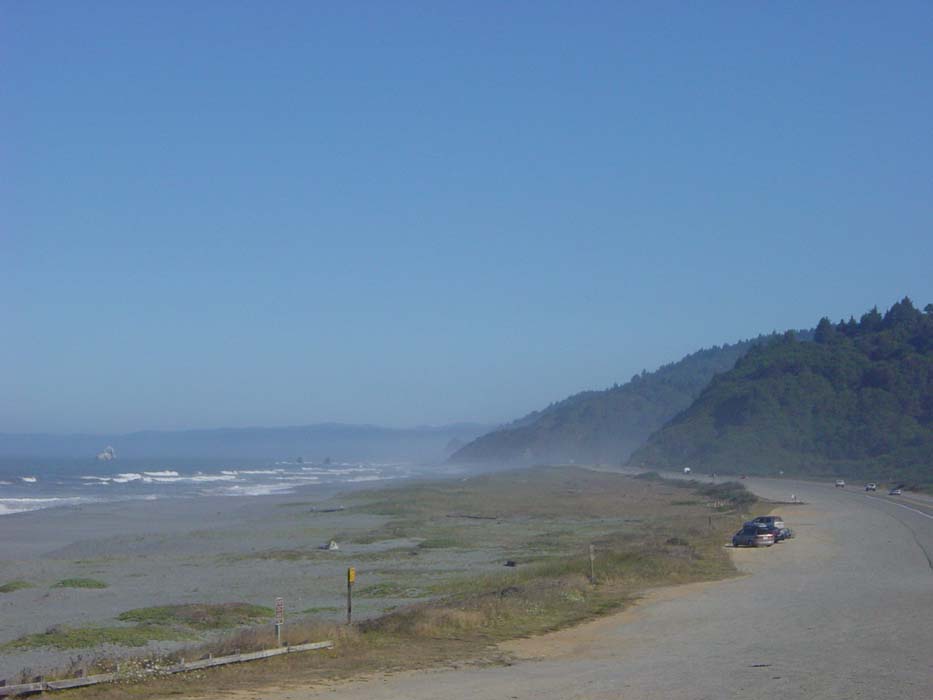 There was one more hill to climb (and more construction) and I thought I was going to be in for a long day, but as it turns out the road opened up again as I emerged near the town of Trinidad. Here's the view I enjoyed as I finally made my descent to some smooth roads: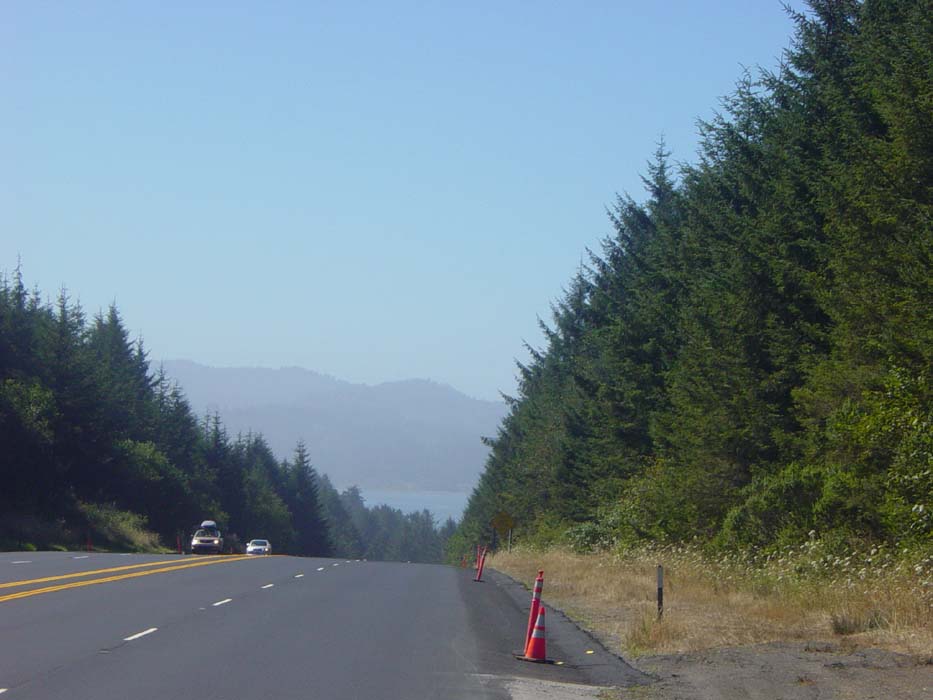 More of the coastline here, which had some interesting features including this strip of beach that enclosed a huge lagoon.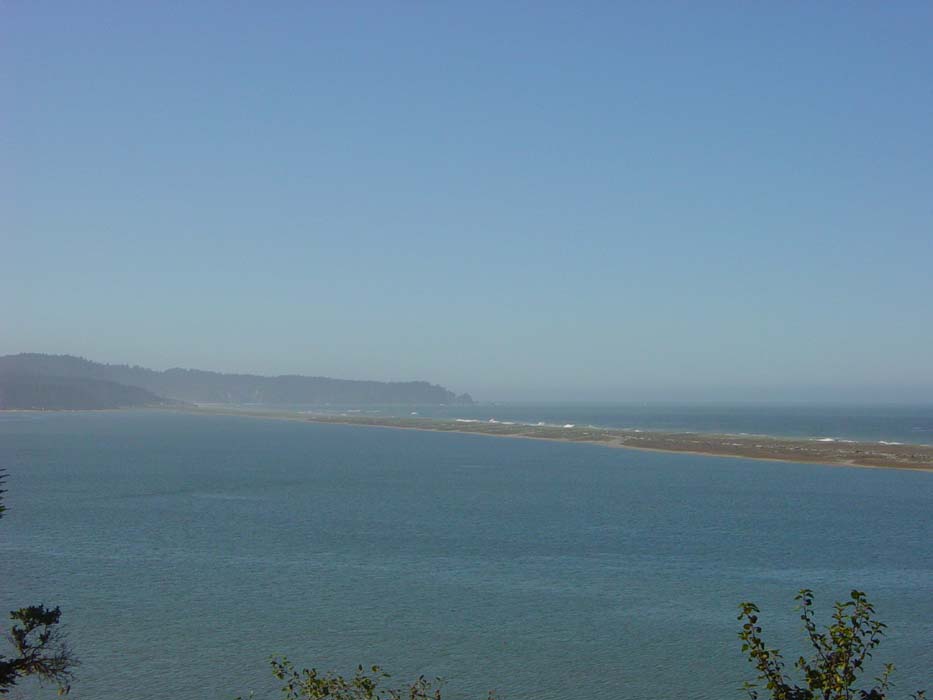 This is looking back at the last of the coast I'm going to see for a while, as the road turned inland and will stay there for a couple more days until I break off for Route 1.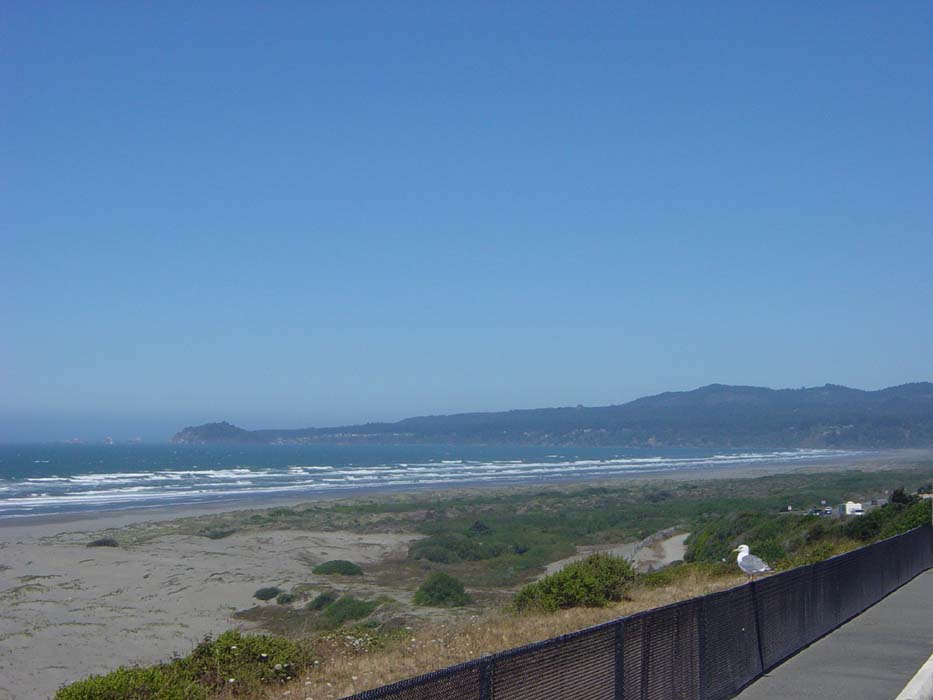 At this point the road expanded into a freeway that remained almost the entire rest of the day, except when it passed through Eureka and became a split section of one-way streets. I didn't mind the freeway at all, as the hills were generally milder, the wind was mostly behind me and there weren't as many trees to block it. I was able to sail along for a ways, and during one 3-mile stretch I was even able to open it up and cruise at about 20mph on some windy flats. Then came more construction, at which point there was a detour specifically for bikes only, forcing me off the freeway and onto bumpy, terrible farm roads between Route 101 and the beach (which was out of sight over a ridgeline). Here's what the terrain looked like, as well as this bike detour sign, which is something I've never seen anywhere before now.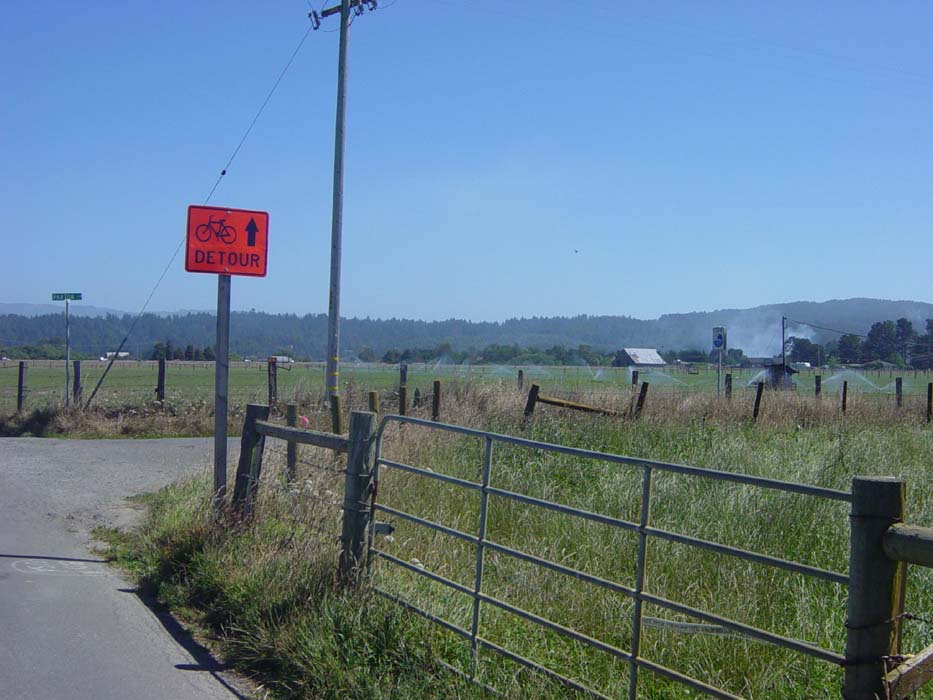 Random Wildlife Encounter! I spotted this bird near Humboldt Bay. I'm pretty sure this is a snowy egret, but I could be wrong. I'd seen a couple others here and there, but they always flew away as soon as I rode anywhere nearby. This one just eyed me warily and waited patiently for me to leave so it could go back to whatever snowy egrets do.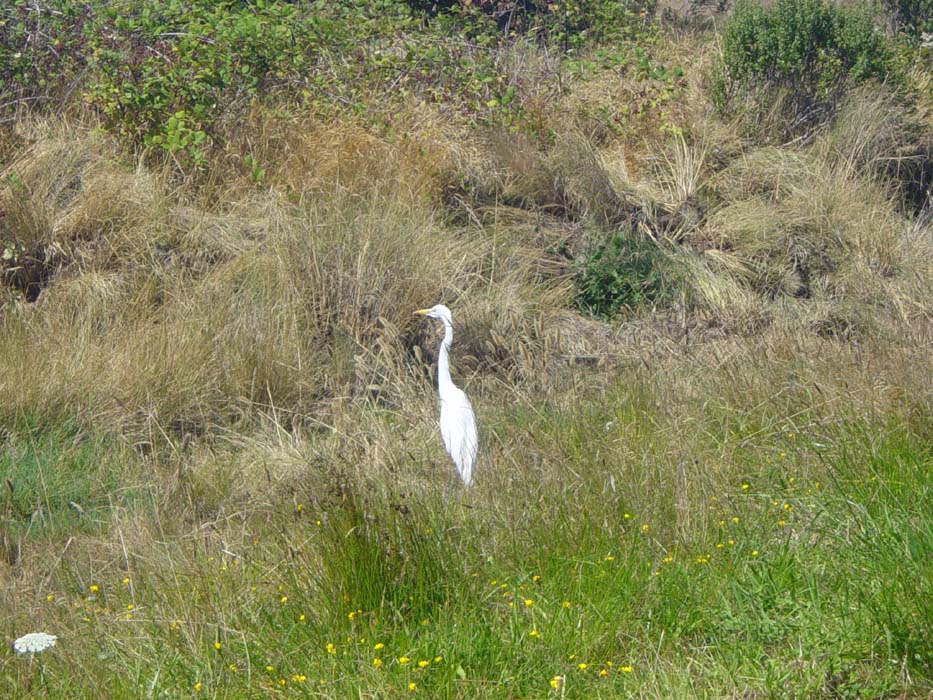 Now a bit about freeway riding, because I did quite a bit of it today and you'll recall I had some of that earlier in this trip. First off, it's not bad. You would think a bike on a freeway is out of its element, but here on the west coast it seems to be pretty normal. I saw many other riders going the other way, most looking very distressed by the wind. There were also plenty of signs warning drivers to share the road with bicyclists, especially around construction zones. The rule, though, is you can't ride on a freeway if there are signs saying "no bikes" ("no pedestrians" isn't enough...a bike is not a pedestrian, it's a non-motorized vehicle), which is why I had to exit when I saw the bicycle detour earlier. So yes it's okay to ride on a freeway, but it can still be dangerous, and here are some things I've already figured out in my very short experience doing this.
(1) Other vehicles always have the right of way no matter what. You have to figure no driver going 55 or more mph is going to be the slightest bit interested in what the law says about bicycles. So stay the hell out of their way. I usually ride as far to the right on the shoulder as possible and take great care at exits.
(2) Speaking of exits, on and off ramps are the most dangerous parts of freeway driving. These are points where you have to move right out into the road where fast moving vehicles could be heading. At an off ramp I always assume every car behind me is exiting, so it's only safe to cut across the ramp when there's nobody there at all. If I have to, I come to a complete stop and wait for a sufficient break. This sucks, but it's better than risking a jump across that gap. The same thing goes for an on ramp, where you get kind of exposed as you ride out there, but fortunately there isn't usually as much trouble getting over and vehicles are easier to see because they're not almost directly behind you. Plus, they are usually still accelerating so they aren't going as fast.
(3) Listen carefully. You can hear cars coming up those ramps before you can see them.
There's more, but those are the important points. Here's a look at one of the freeways I was on (back over my left shoulder). Most of the rest of the day was over terrain like this. Notice how insanely wide the shoulder is, making it actually a rather smooth and pleasant experience...most of the time. There were a few areas where the roads were pretty bad, but they were rare.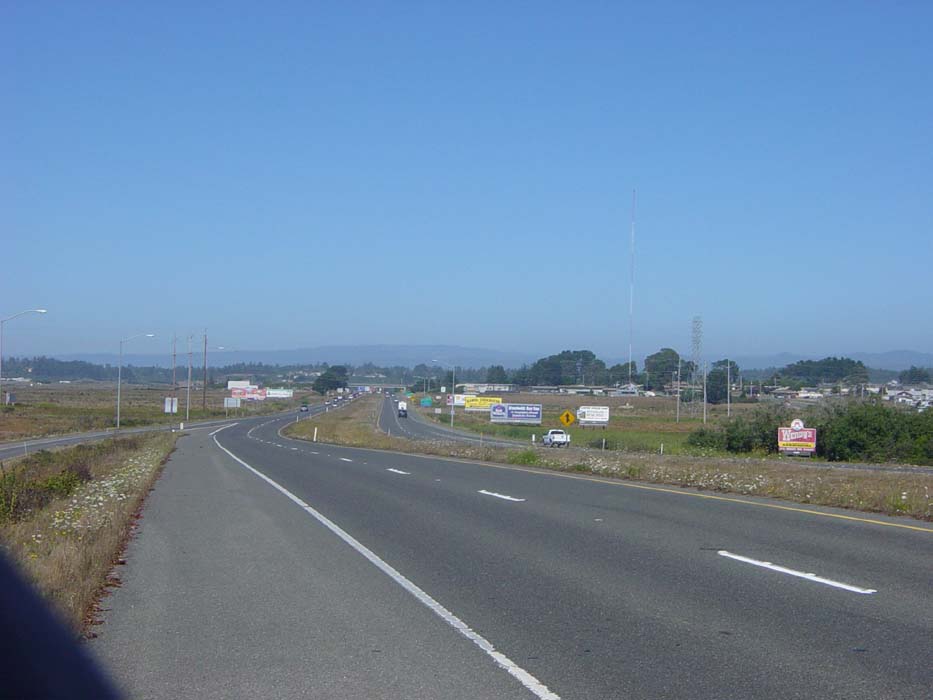 More of the terrain I got to look at all day, which was actually quite boring. You'll notice there aren't that many pictures from today. This is why.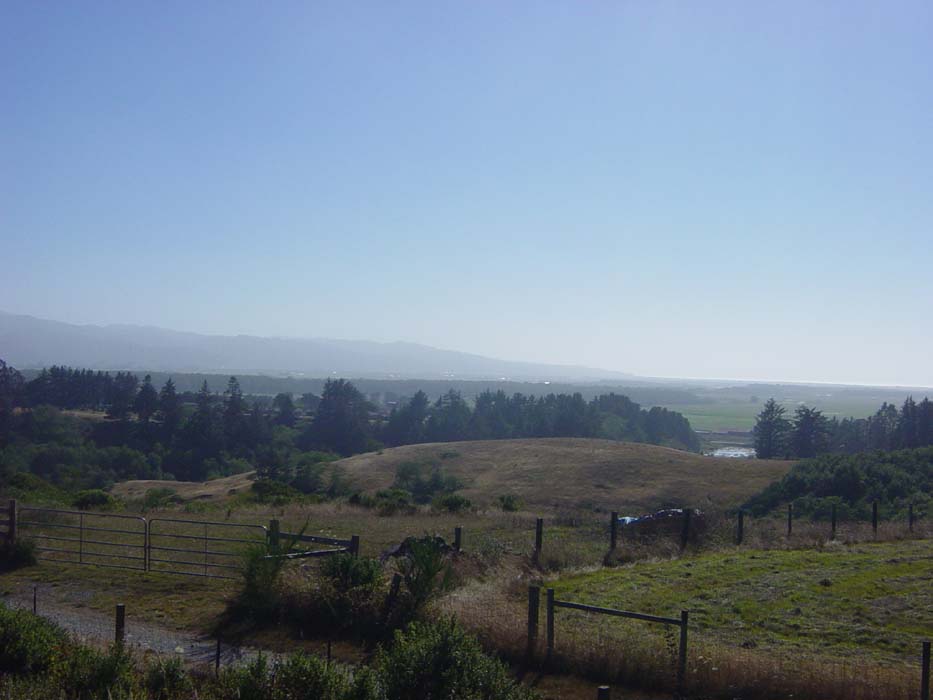 Somewhere along the freeway, I forget exactly where, I got a chance to repay a bit of the kindness shown to me back on Day 7, when Tommy helped me out by riding me back to town for a new tire. As I was cresting a hill I came upon a car on the offramp with the hood up. Turns out this poor couple's car had blown its water pump (or something similar to that) rendering it undriveable, and they had no cell phone, so I loaned them mine. A couple of calls later a tow truck was on its way and I headed off, glad to have been able to render some assistance. I still don't feel like I've repaid all my lost karma just yet, but I put a dent in it.
Eventually it got to be about 5pm and my right leg was really bothering me. For some reason the Achilles tendon there was really sore today, probably from all the climbing I've been doing lately. Besides which I'd already gone over 60 miles, so I exited at Fortuna and tried to find a hotel. Two were overpriced and the last one had a sign saying "Be back at 7pm." I didn't feel like waiting so I moved on to Rio Dell, which turned out to be a great decision. The hotel room here was only $50 plus tax, there were laundry facilities onsite (desperately needed) and they also had a great pizza spot. The owner even chatted with me a bit about the ride tomorrow, giving me tips on what to see. I'm looking forward to the ride, even if it will be exceptionally hilly.