Day 6 - September 9, 2011
Berchtesgaden to Salzburg (Austria)
Kilometers: 49
Terrain: Mostly flat with a few climbs
Weather: Cool and raining at the start, mild and sunny later
The morning looked bad for the final leg of the tour, and since this was to be the shortest ride so far, we waited a bit later to start, getting on the road around 10:30 or so. The rain was steady for most of the first hour, spoiling what should've been a scenic ride into Konigsee and a quiet little lake there. Here's a shot of the river we followed on the way into town. It was hard to get lost today as we spent most of the time following one river or another along bike paths.
Lake Konigsee is a neat little getaway spot with some shops and the usual tourist type places. Here's what it looked like from the docks area: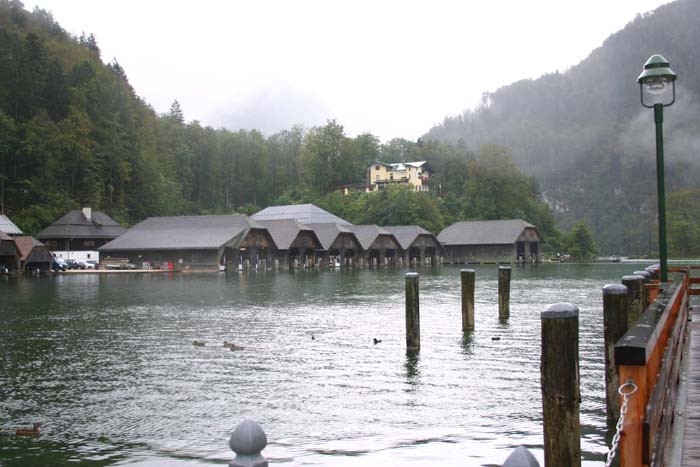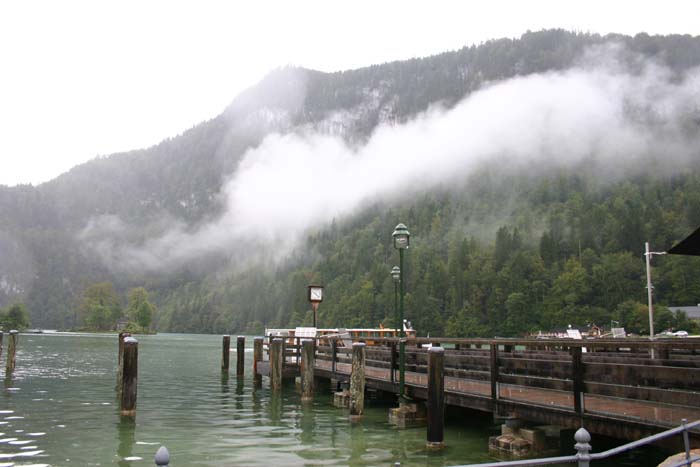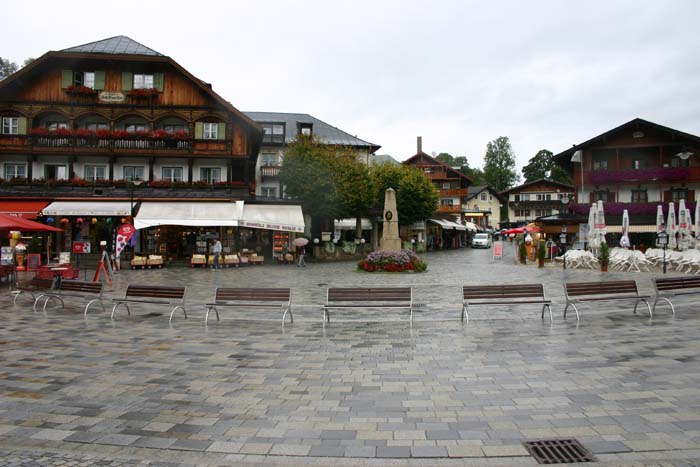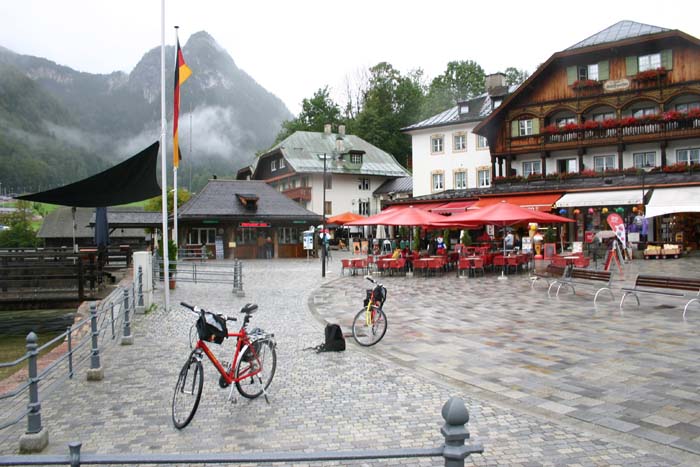 After hanging around here for a bit (hoping the rain would stop, actually) we headed back north. The route today made a loop south before heading back to Berchtesgaden, which we didn't get to see much of yesterday seeing as we weren't staying in a central hotel. We were going to make up for that today, as we were in no hurry. The route back took us off to the northwest and then climbed for several kilometers, leaving the river behind for a bit.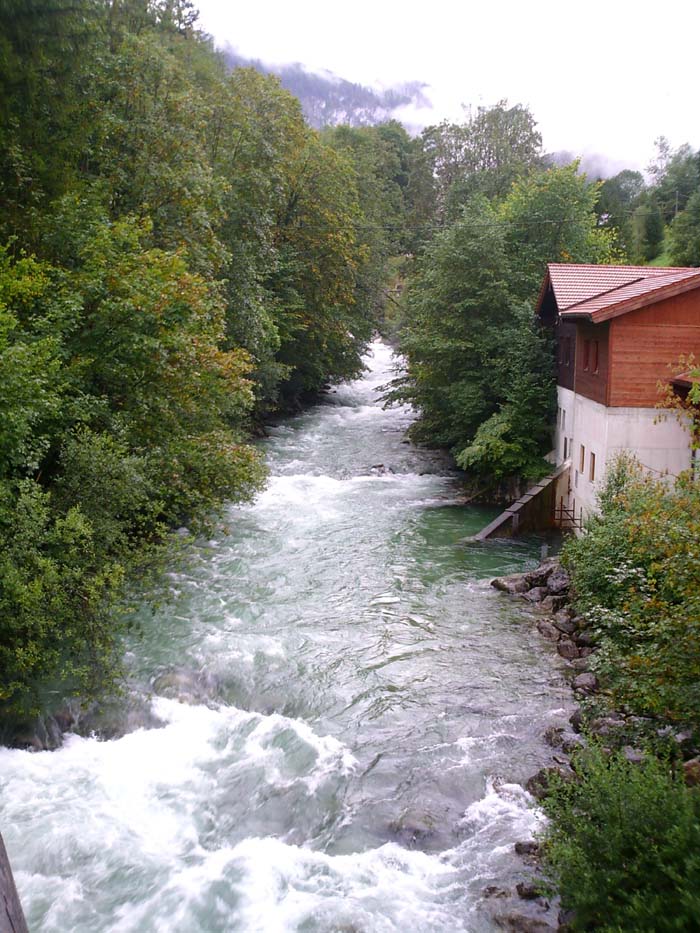 Here are some pics of the countryside on our way back to town: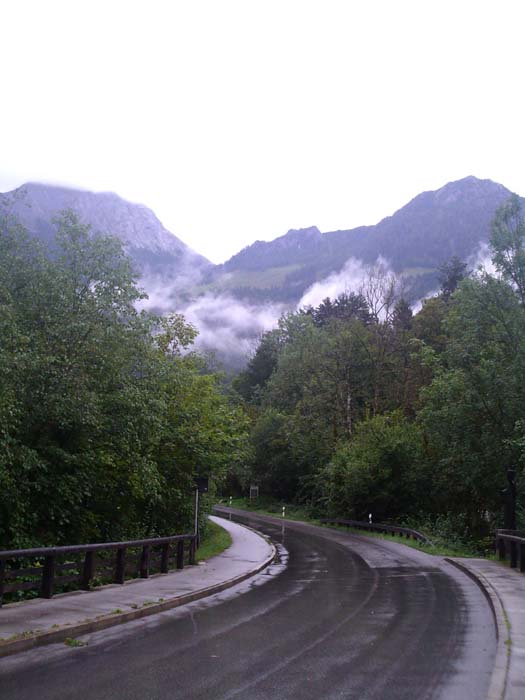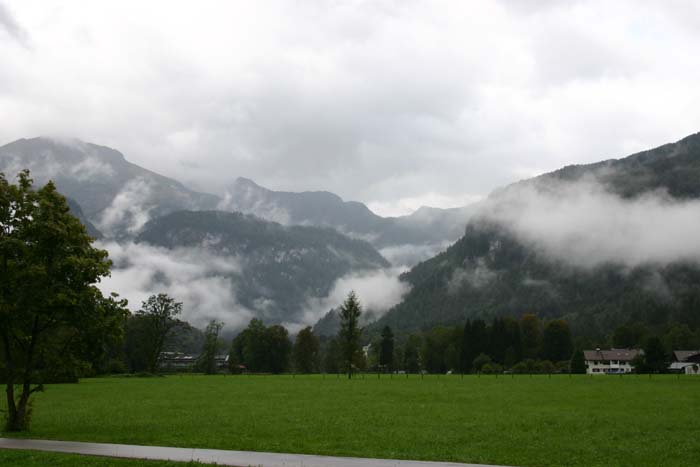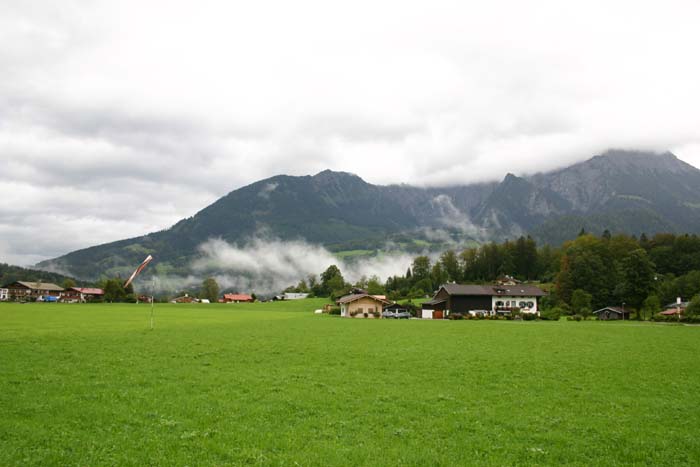 After an hour or so we managed to get back to Berchtesgaden (at least now we knew how to get around in there, after yesterday's aimless meandering). This is what the downtown area looks like: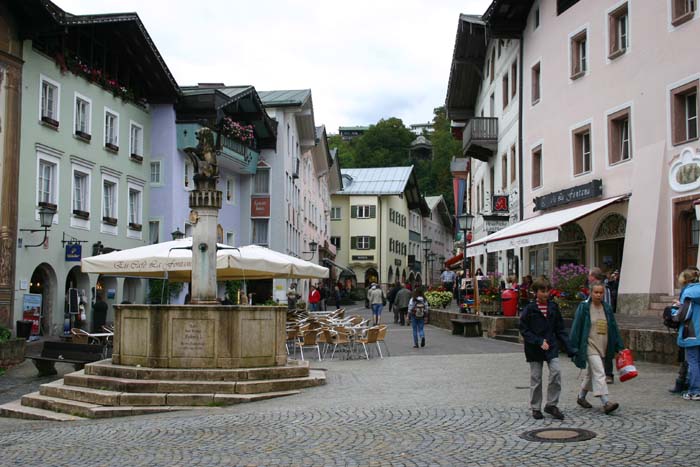 \
Most of the towns we visited had some sort of central shopping area like this one. Bicycles were permitted, but quite often the crowds got so tightly packed that riding was impossible - you had to get off and walk. We were a bit tentative and walked a lot, but you could occasionally find some bold soul just racing along through the crowd, and somehow they found a way through without ever hitting anyone.
After doing some poking around in town, and enjoying a fine pastry snack next to the fountain, we headed off towards Austria. The way was easy and we followed a river downstream almost the whole way, except for a fairly steep climb about halfway there. Still, nothing we couldn't handle. Better yet, the sun forced its way through the clouds as we rode, so the views (and pictures) got much better.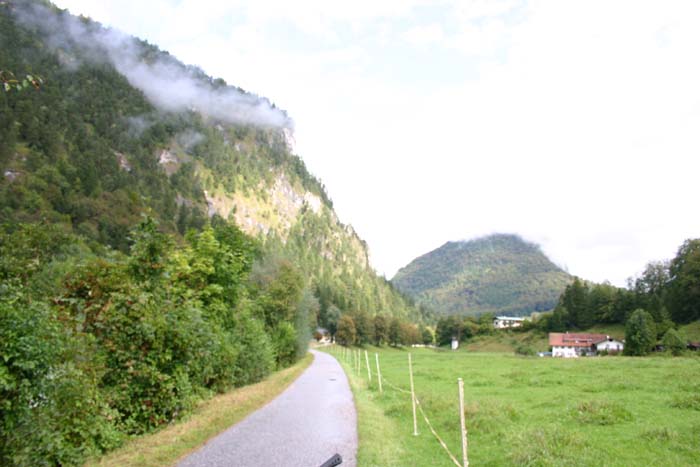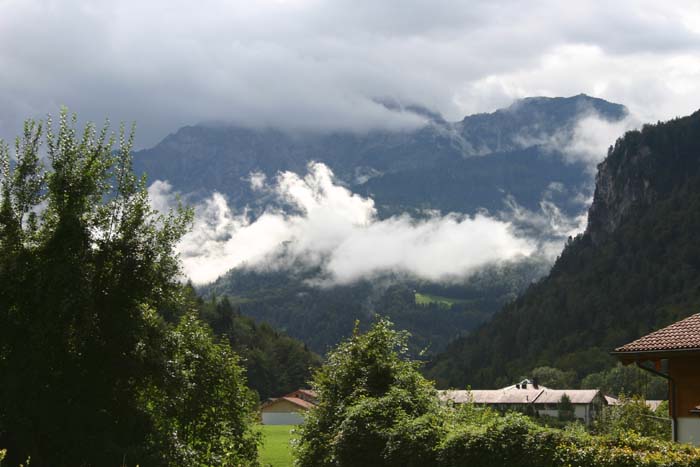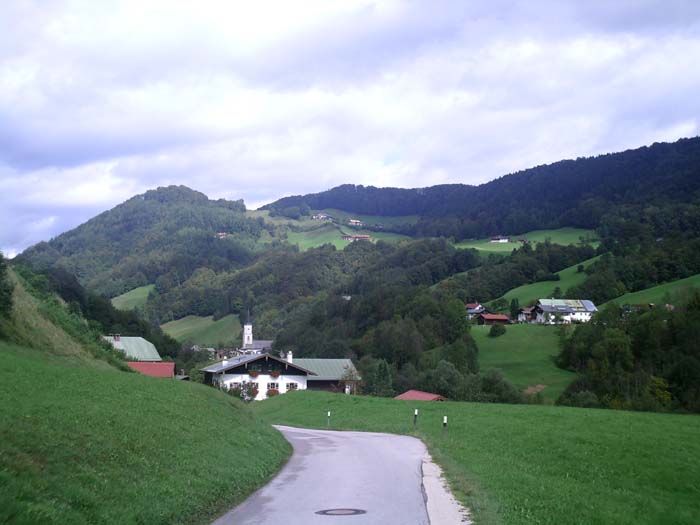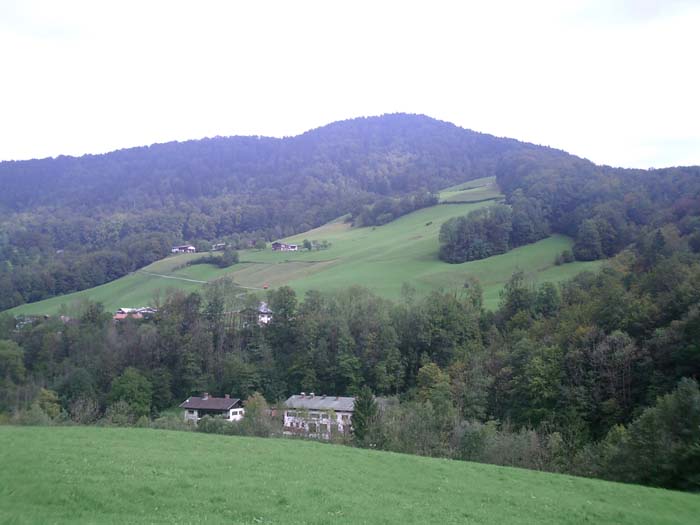 Along the way we passed back into Austria, where we began the tour: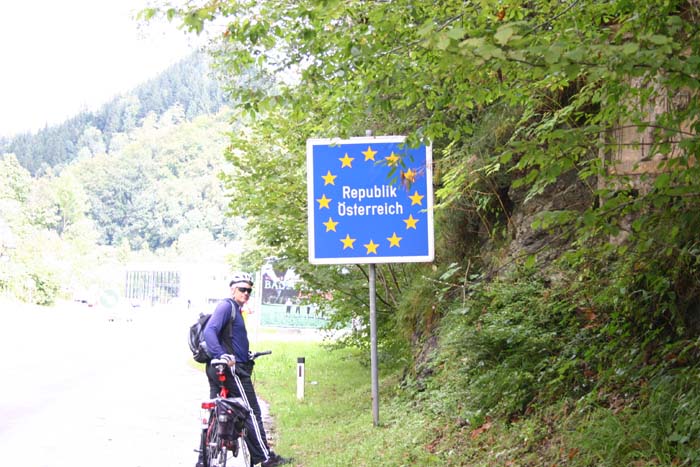 As we arrived in Salzburg we came to a wall surrounding a park, which had some gardens and old style buildings in it, of wihch this is one. But we never quite figured out where we were, exactly. There sure were a lot of tourists, though. (Edit: I'm pretty sure this is the Hellbrunn Palace.)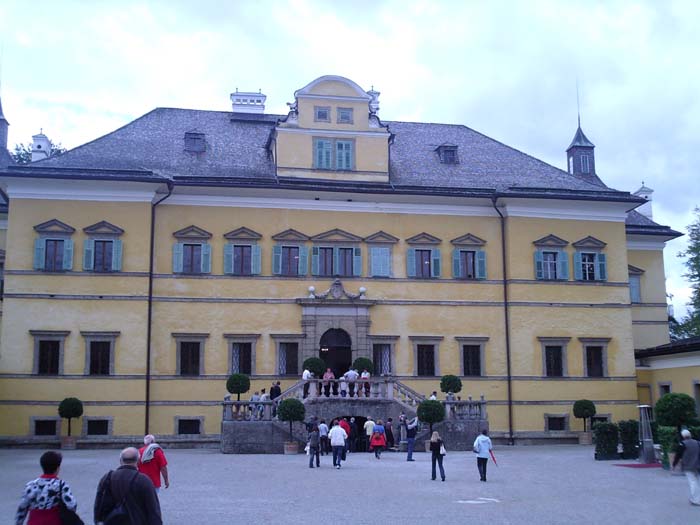 A few minutes later we saw the defining landmark of Salzburg, this impressive fortress: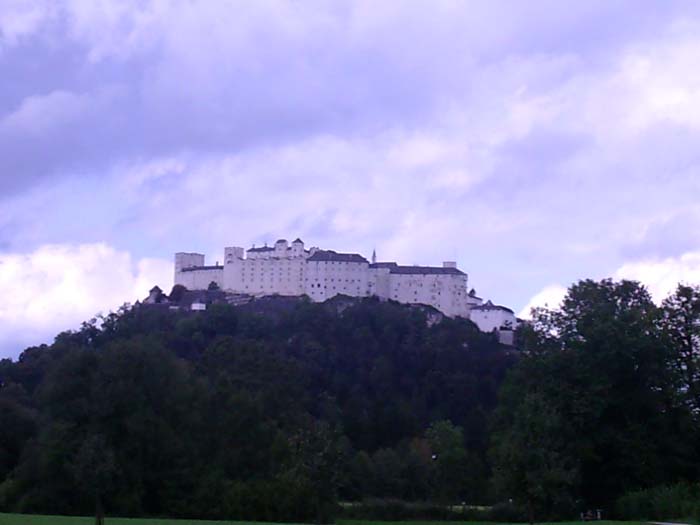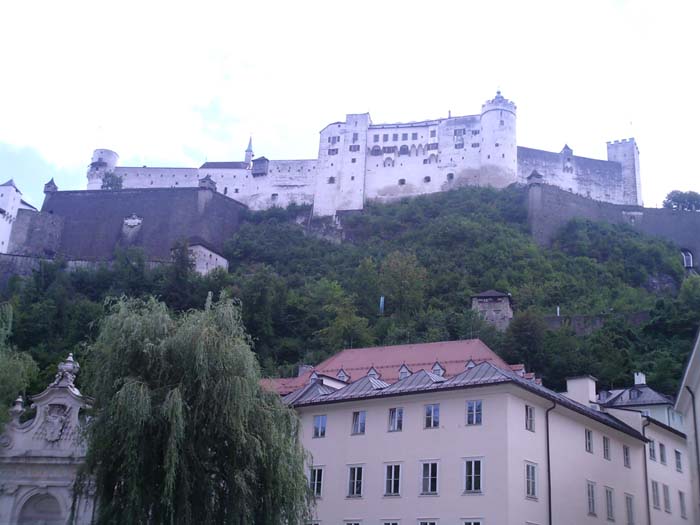 Where we stayed the first night, this castle was south of us, across the river. So now we were approaching from the south, completing our loop of the Bavarian Lakes. Before heading back to the hotel, we spent about an hour riding around in the downtown area, checking out the classic old style buildings and scenery, listening to street bands playing Mozart (this is Mozart's home town, after all) and just enjoying the end of a successful bike tour.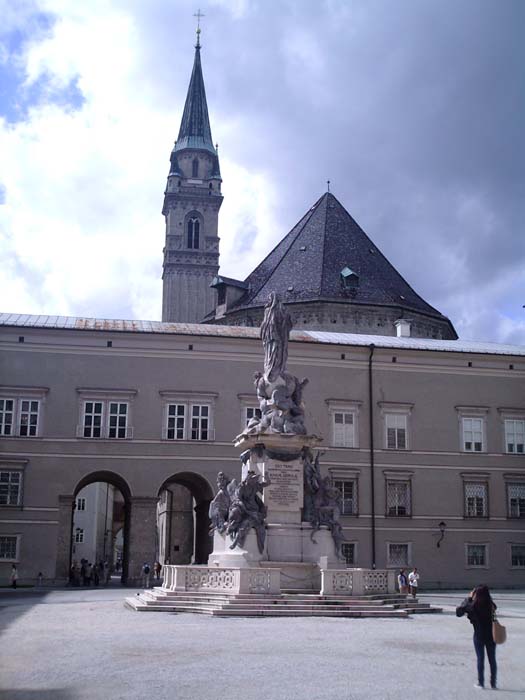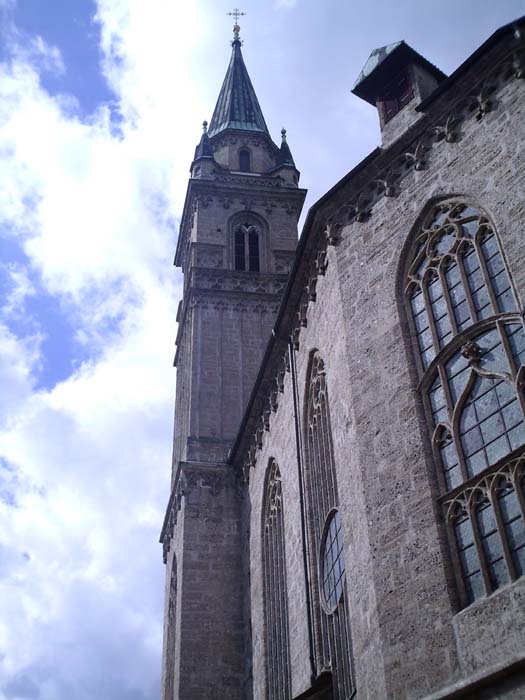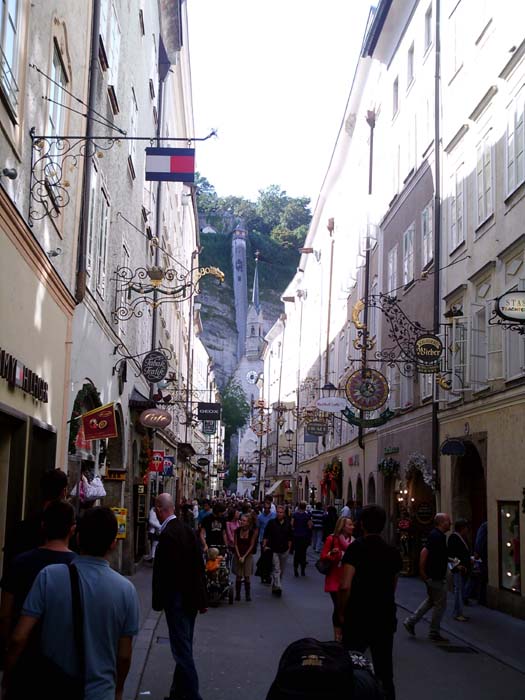 Then it was back to the hotel we stayed at the first night, another dinner in Salzburg, and a well earned rest. ZZZZZZZzzzzzzzzzzz....