View Larger Map
Day 6 - June 11, 2012
North Palm Beach to Vero Beach
Miles: 77
Terrain: Flat to gently rolling (yes, that's right, there were a few noticeable hills)
Weather: Mostly sunny, hot and humid, 15mph east winds
Even though I woke up with the faint feeling of a nasal infection starting (possibly due to setting the A/C too low, or possibly that I finally finished off the antibiotics from the cat bite and now the resistant survivors are taking their revenge), I still felt pretty good. In fact, I set off just after 10am (the earliest start yet) and it actually seemed more comfortable outside. That didn't last, of course, but still, I felt better. Doing my best to ignore the runny nose, I reached the 11-mile mark before my first break and 20 miles before the second...both records for this tour so far.
The day continued pretty much like that, with breaks followed by a few miles of feeling stronger, then gradually wearing down before having to stop again after 8-10 miles. Finally, at the 50-mile point, I could've stopped for the day, but as it was only 4:30, I decided to press on. After a couple of quick calls to make sure there were hotels down the road, I headed out to the beach again, rode along that for a while, then hunted around for the hotels for a bit before finally finding one at around 7. After a couple more miles of riding to pick up a creme soda and a pizza, the miles topped off at 77, by far the longest of the trip (and a lot farther than I thought I'd ever do, after the last few days of deathly heat). Don't expect to see numbers like this again for a while, either. I'm planning to take it easy tomorrow.
Now for today's photos. This first one is a look at a section of actual public beach in the Jupiter area (it seems like most of the beaches around here are private or part of hotels or timeshares).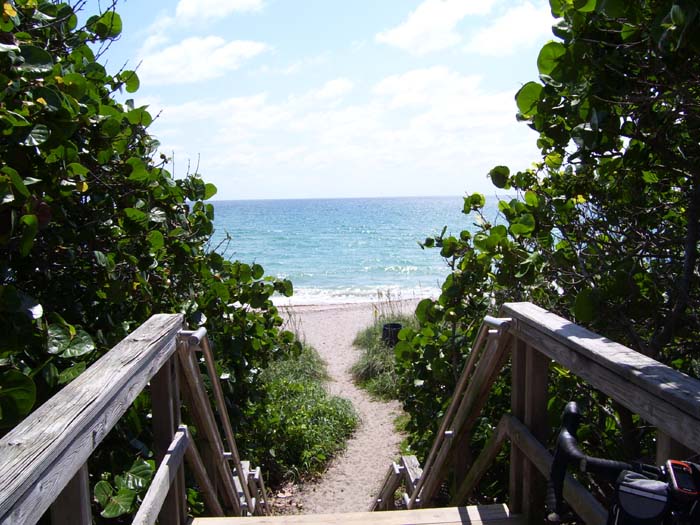 Crossing a bridge later on, I took this shot of the river entrance and its attendant lighthouse.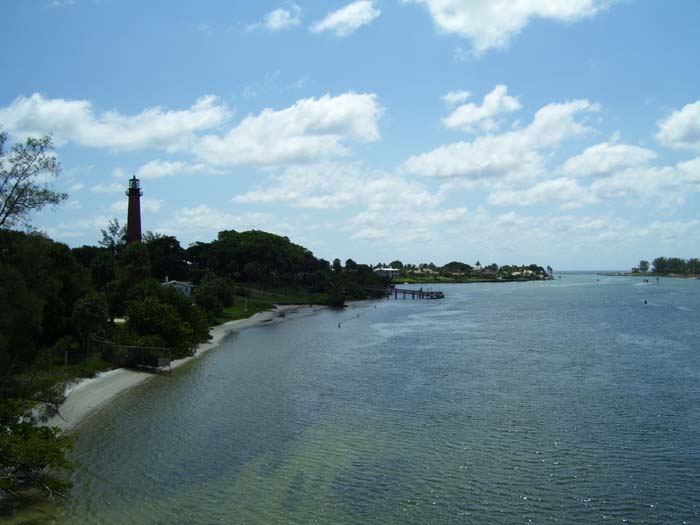 Then the beach got left behind as I returned to US-1 and got to look at stuff like this for a while. Note the slight climb in the road in the distance. This signaled the start of a series of hills. Really gentle hills, but still, hills nonetheless.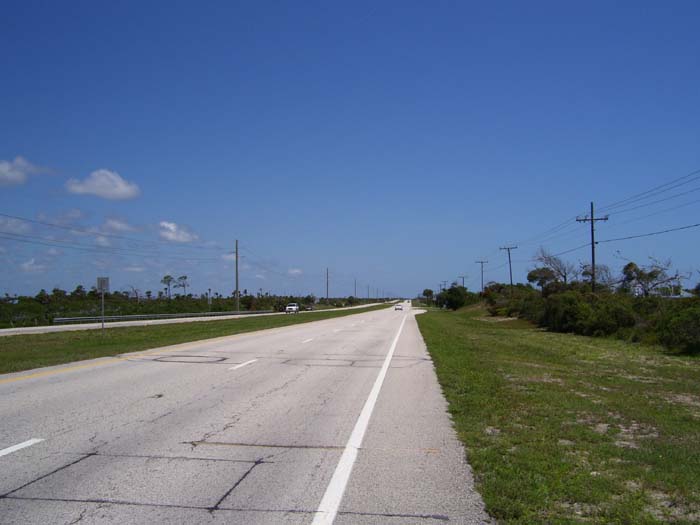 Eventually I got sick of that boring stuff and turned back onto A1A (even though it didn't return to the beach) and got to look at scenery like this, which sort of reminded me of the desert, actually.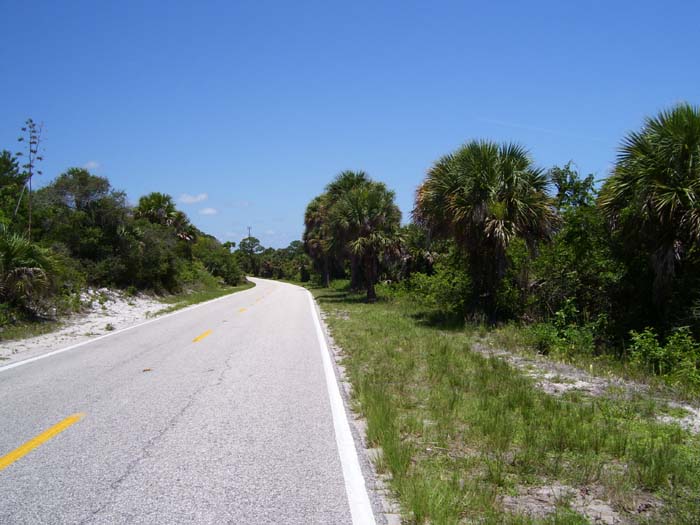 Unfortunately there were few amenities in this area, so I had to take breaks wherever I could find them...including this nice little park in the middle of nowhere.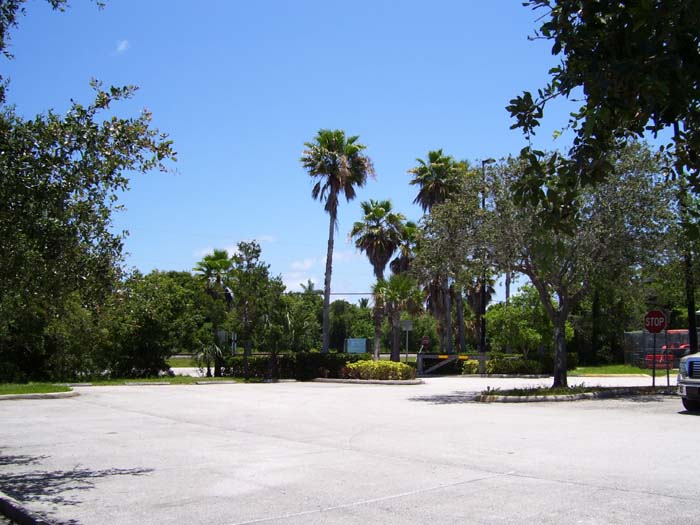 More of the thrilling scenery...I did get to ride along next to a railroad track for a while, but nothing went by.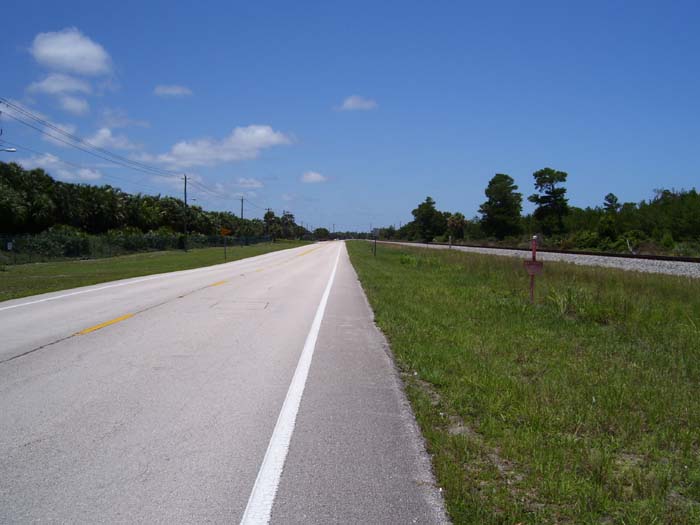 Took my next break in the town of Stuart, which had a really nice shopping area downtown, plus some piers and parks (like this one overlooking the waterway). I think they use this as a stage sometimes.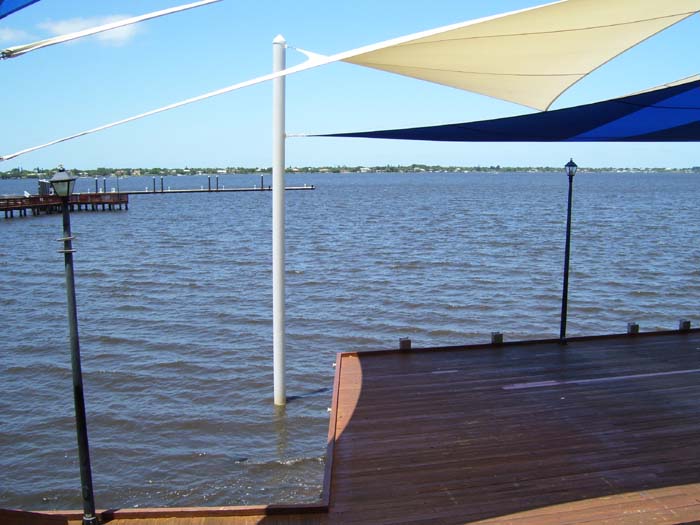 Off to the left of that, here's the bridge I had to cross over next. Looks intimidating, but actually, the slope was pretty gentle and I had no trouble with it.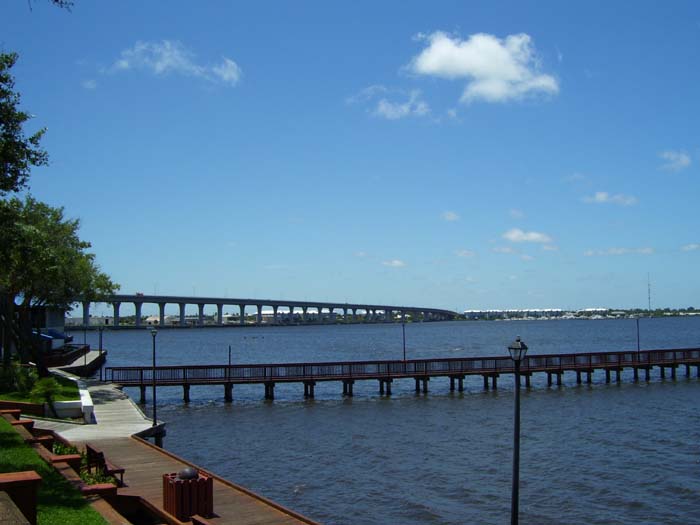 Here's the view from the top of said bridge.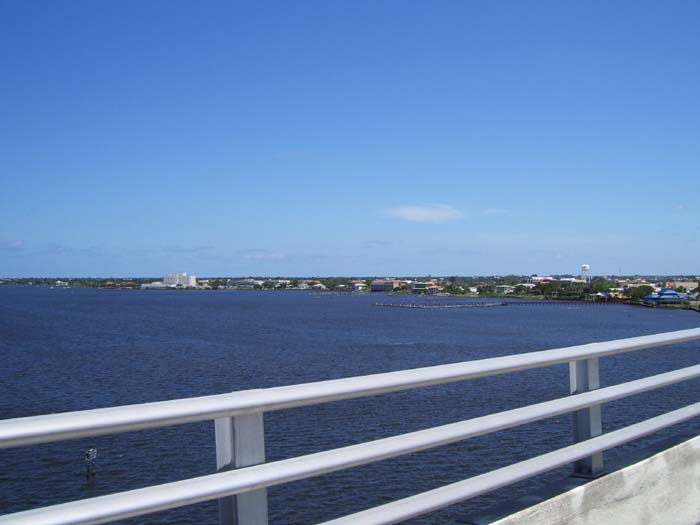 And so is this. Now you see why that bridge is so long.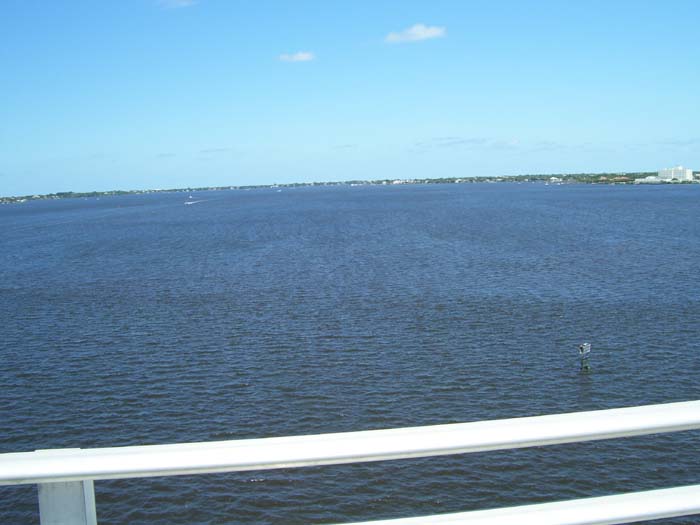 Back on US-1 now, the road got wider, but otherwise, mostly boring stuff.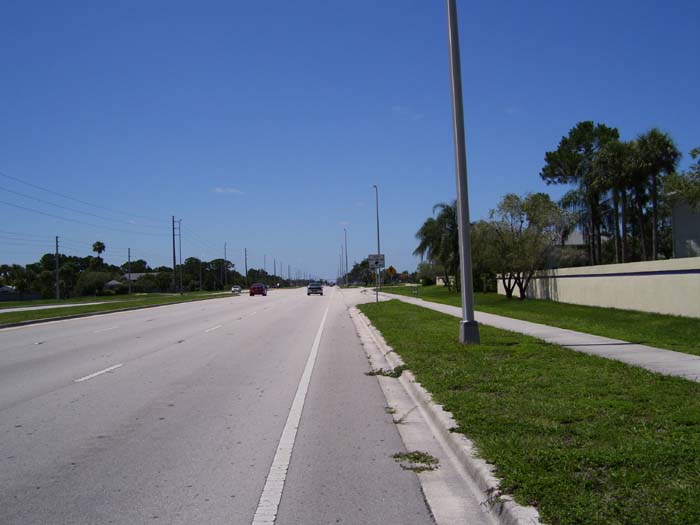 Evey now and then, though, I'd go over a bridge (like this one when I headed back out to A1A again) and finally get some good views. The wind felt pretty cool and comfortable up there, too.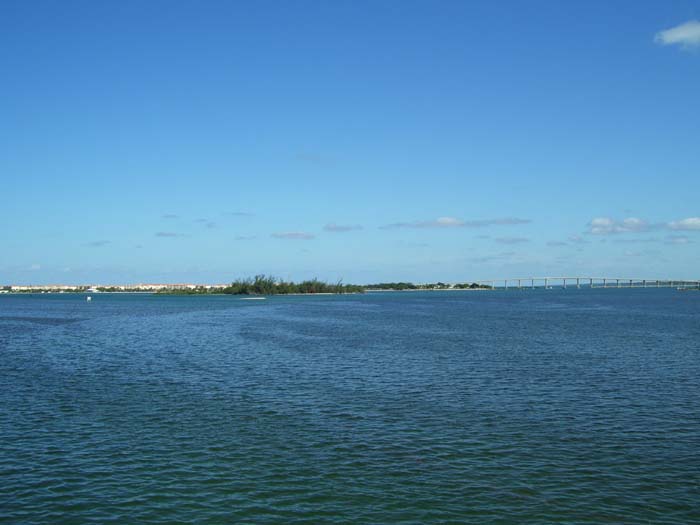 On A1A, I could see actual beach again...and it's mostly deserted, too.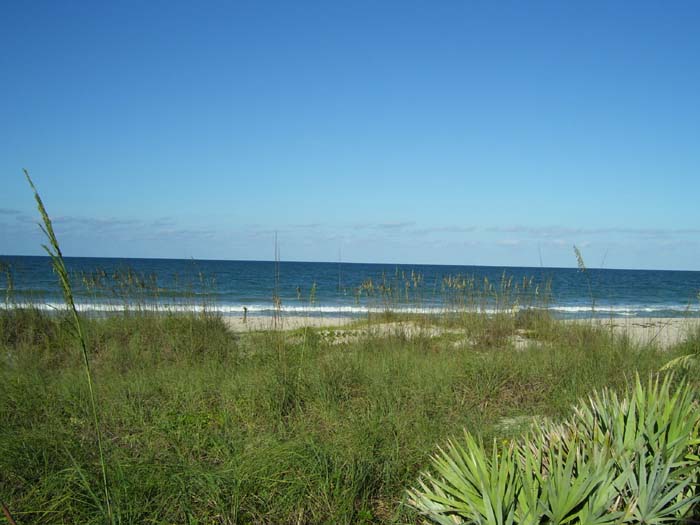 Finally, at Vero Beach, I rode around for a while looking for hotels that didn't cost $100 or more, and finally gave up and returned over the waterway, giving me one last look from yet another bridge. (It seems like half my decent photos are from the tops of bridges.)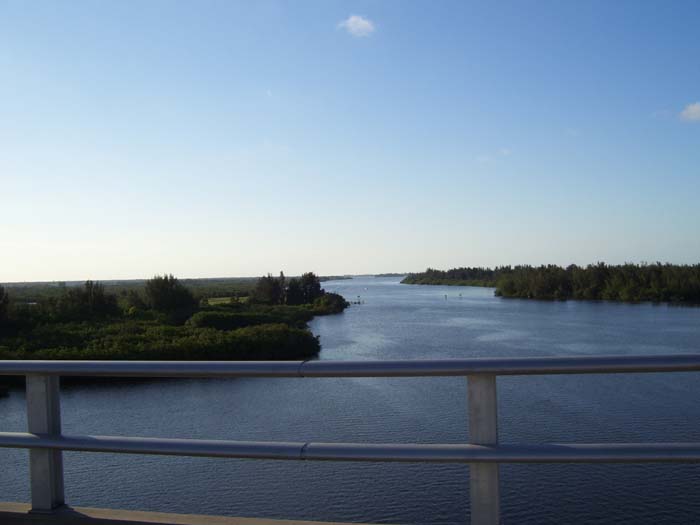 So that's that, a long day, and now I must rest.