BABYLON 5 WARS COUNTERSHEETS ONLINE
Some of AOG's Babylon 5 Wars products did not include countersheets, primarily due to packaging restrictions but also because of a lack of available art. Both problems have been solved by making the countersheets a free download from our web site. Simply download the ZIP files below, unzip them into any directory, and use Acrobat Reader to view and print them. Because they are stored in the popular PDF format and lack any special fonts, you should be able to use virtually any color printer to output them. Print the sheets on heavy cardstock (as heavy as your printer allows), carefully cut them with a paper cutter, and you're ready to play!
Currently available countersheets are listed below. More will be provided later.
---
Raiders & Privateers
These sheets cover all the units found in the Raiders & Privateers supplement (BW-109), such as Raider and Civilian units, Belt Alliance, and Llort, plus independent Raider bands, police ships, and freighters from various races. Click here to download (file size 1.33MB).
---
Showdowns-3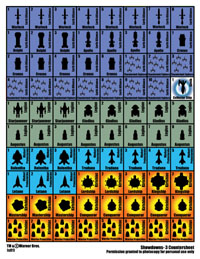 This sheet includes all the units from Showdowns-3 plus bonus Thunderbolts for all those Warlocks. Click here to download (file size 802K).
---
Wars of the Ancients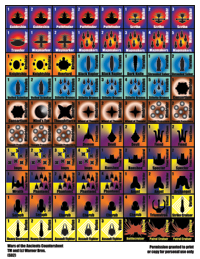 This sheet includes all units from Wars of the Ancients. I wanted the Ancients to be distinctive, so try not to hypnotize yourself looking at it. :) Note that most of the Kirishiac units are on the Showdowns-3 sheet (above). Click here to download (file size 2.5MB...sorry, it's big because of all the gradients).
---
Showdowns-7 and Variants-5
These two sheets provide the remaining League-2 units from Showdowns-7 (left) and Variants-5 (right) plus all Yolu ships to date (on the S7 sheet). Sorry, we cannot post the L2 countersheet itself because it has been published in an actual product. For Showdowns-7 click here (file size 599K) or for Variants-5 click here (file size 671K).