AOG Events at Upcoming Conventions
If you know about an AOG game being run at a convention, or are running one yourself, let us know and we'll list it here!

At AOG con booths this year, you can also purchase miniatures from Fortress Figures! For more information on Fortress products, click on the icon to the right!
---
Tournament Winners at DragonCon
AOG is pleased to announce the top finishers from this year's DragonCon tournament:
1st Chris Seebacher (Narn)
2nd Jeremy Lind (Vree)
3rd Reggie Hollon (Minbari)
4th Michael Strauge (Earth Alliance)
5th Tim Landsaw (Minbari)
6th Greg Keller (Minbari)
7th Greg Gottenson (Centauri)
8th Will Stocks (Earth Alliance)
Thanks once again to Michael Lively for running this year's tournament. It continues to amaze us that DragonCon draws more B5W tournament players than Origins and Gen Con combined. You can expect tournaments to continue at this convention for many years to come.
---
Photos from Gen Con
Here are some pictures of events and miniatures from Gen Con 2001. Thanks to Patrick Philipp for providing these images.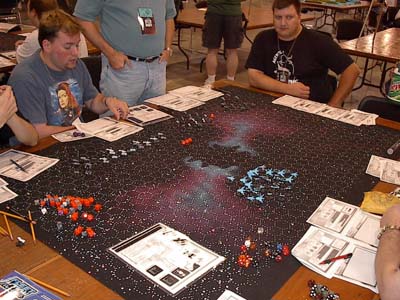 Earth and Minbari get ready to duke it out.
Fortunately, Earth has a line of battle ready to go.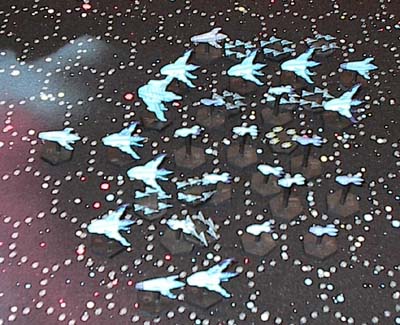 Unfortunately, the Minbari are pretty good at battles involving lines.
---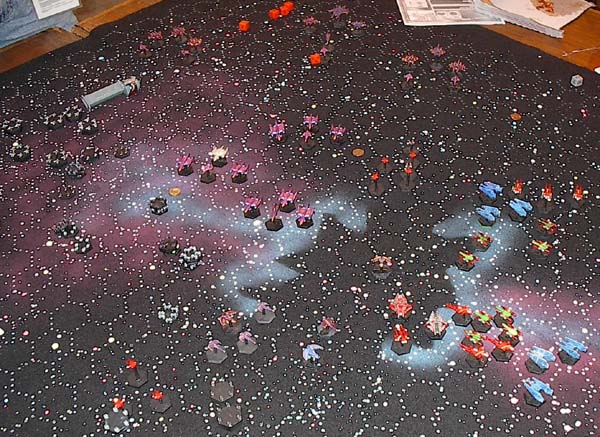 Now the Narns and Centauri have a go at it.
Do you really think you Narns can stand up to the might of the Royal Navy?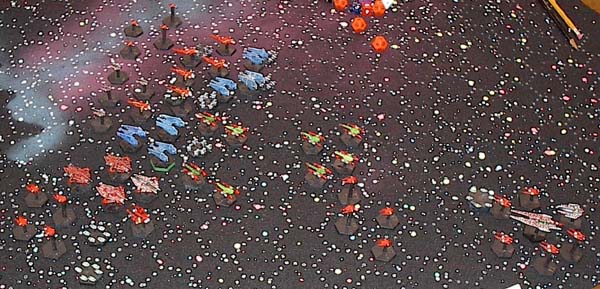 We are more than prepared to deal with the likes of you fanheads!