Day 22 - March 19, 2015
Lewisville to Terrell
Miles: 63
Terrain: Ups and downs, some steep climbs here and there
Weather: Cool and foggy in the morning, light drizzle on and off, cloudy all afternoon...oh, and 5-10mph headwinds all day
Today began with fog, plus the occasional light drizzle, but it never really rained on me all that badly. I still didn't want to get up for some reason, and really took my time about it. The reason, of course, was more headwinds...and I told myself after that horrible push to Amarillo that I wasn't going to torture myself with headwinds anymore. If they come up, I'll just take it easy and keep the miles limited. It's just no fun suffering in those kinds of conditions all day, with no relief to look forward to.
So yeah, I took my time about it. There's a definite pattern to my mornings, which go something like this:
1. Sometime around 6am, get up for the first time. Use restroom. Switch on heater if it's too cold. Decide it's too early, and get back in bed.
2. (An hour or two later) Force myself to get up. If hotel has free breakfast, put on clothes and go have a bite. Otherwise just drink water.
3. Shave, brush teeth, put on ointment (if necessary), use chapstick (if necessary). Put all items in travel kit, replace kit in front saddlebag.
4. Collect all items that are on chargers: cell phone, iPad, rechargeable batteries, MP3 player. Put chargers away in computer bag, the other items where they belong (pockets or backpack).
5. Check email and weather one last time. Put computer in sleep mode, switch off mouse, put computer in saddlebag. If there's rain in the forecast, wrap up laptop in plastic bag before putting it away. No sense taking chances.
6. Put on biking clothes: two pairs of bike shorts, long pants, long sleeved shirt, socks, shoes. Roll up all other non-biking clothes, put in plastic bag and then into rear saddlebag.
7. Retrieve floor pump from other rear saddlebag and pump up both tires to proper levels. (They always lose a little pressure overnight.) Replace pump and clothes bags that go on top of it. If it's rainy, cover exposed portion of pump with plastic bag.
8. Put on suntan lotion, regardless of weather. I do the face, neck and hands, but save the arms unless it gets warm enough to switch to a short-sleeved shirt, which it rarely does.
9. Refill water bottles and throw away any leftover trash.
10. Put on the other cycling gear: gloves, headband, helmet, and whichever coat is appropriate for the morning's weather. The other one goes under the bungee cords over the rear racks. Put backpack on last.
11. Take bike outside. Turn on GPS, and make note of starting number on the odometer. Review starting route, if necessary.
12. Make one last sweep of the room. Every furniture surface should be empty, so anything left over will stand out. Check bathroom for things like shampoo bottles, and check all outlets for power cords that might go to something of mine. Make sure nothing got left in the fridge, and there's no wet clothes hanging from anything. Check bedspread to make sure nothing got left on that. (I left my MP3 player on the bed early in the trip, and had to go back for it.)
13. Check out of the motel. Even if they don't officially require it, I always do anyway. Some motels still use real keys, and making sure you always hand over the key, card, or whatever, will ensure you don't accidentally ride off with something important. Or you might have to turn over something else (for example, one night on this trip I had to borrow a 2-prong adapter, because my laptop uses a 3-prong plug and they only had the old style outlets).
Usually, once I get to step 2, the whole process takes about 45 minutes, 60 if there's breakfast to be had. Even if there is, I keep it light...one waffle, maybe, or a bowl of cereal, and I'll grab an apple if they have one to munch on later in the day. On this particular morning, the motel had free coffee but nothing else, so I just drank some water and called it good. Then it was off to start riding, sometime around 9:45. I began by riding through downtown Lewisville, which had a classic look and feel to it: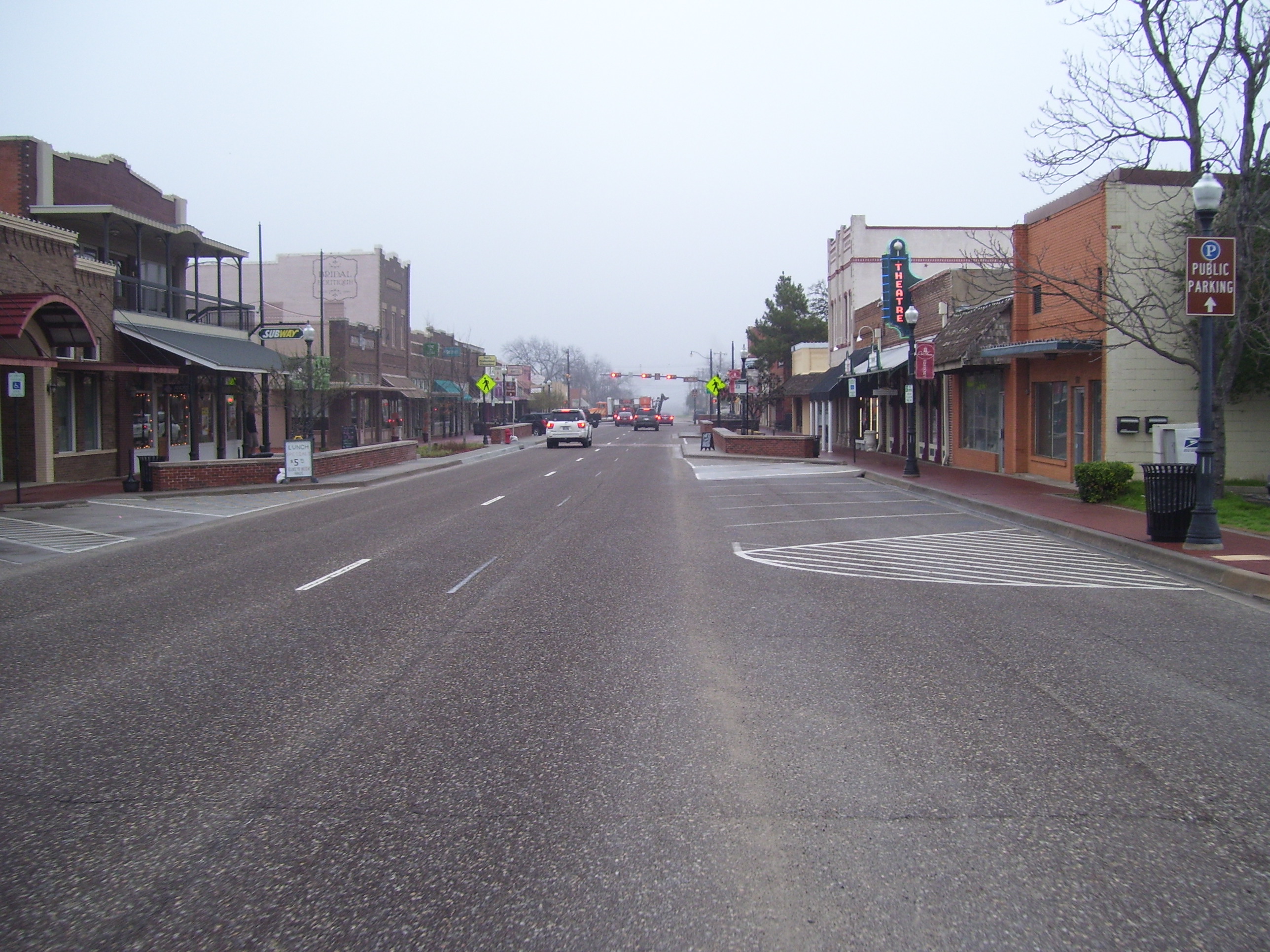 As you can see there was a bit of fog...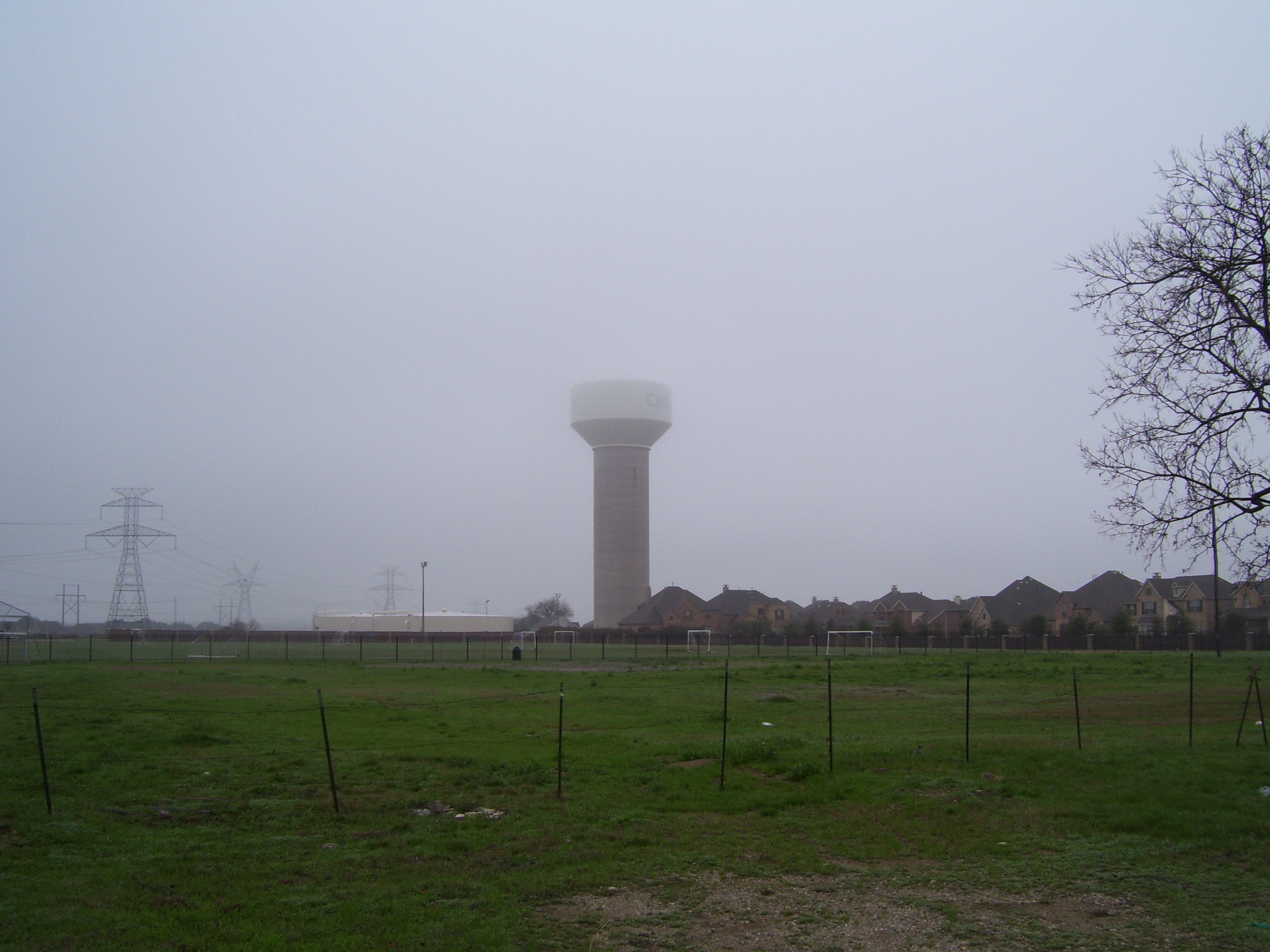 The fog lingered for quite a while, at least 2 hours or so. At one point I thought I found a bike path...but alas, it only led me into a residential area before vanishing. Still, it was pleasant while it lasted.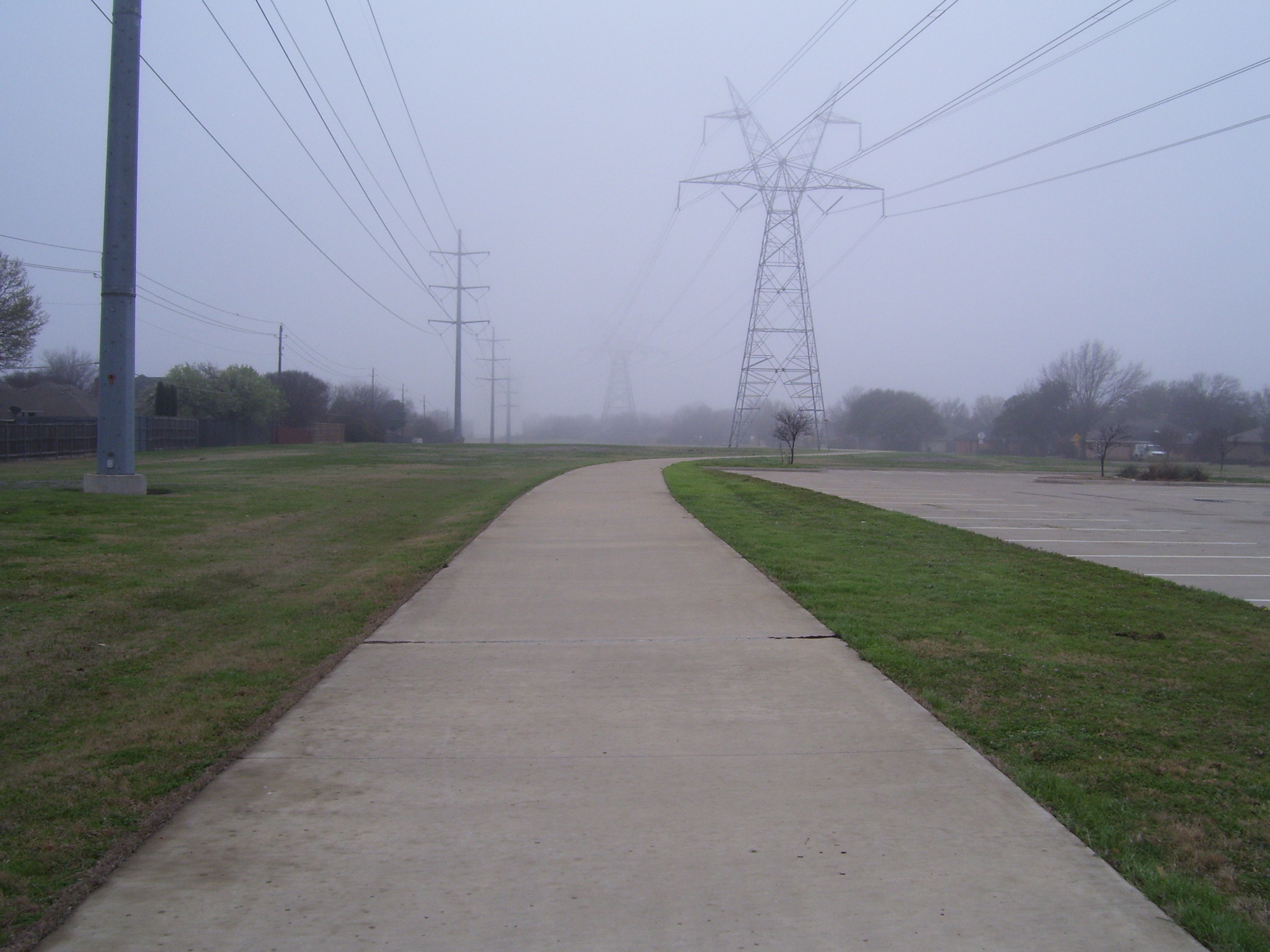 I had to take a photo of this piece of art in front of a local animal shelter. The mosaic work was pretty good, and if you get close enough you can see the tags they're wearing are real: it's a tribute to someone's actual pets.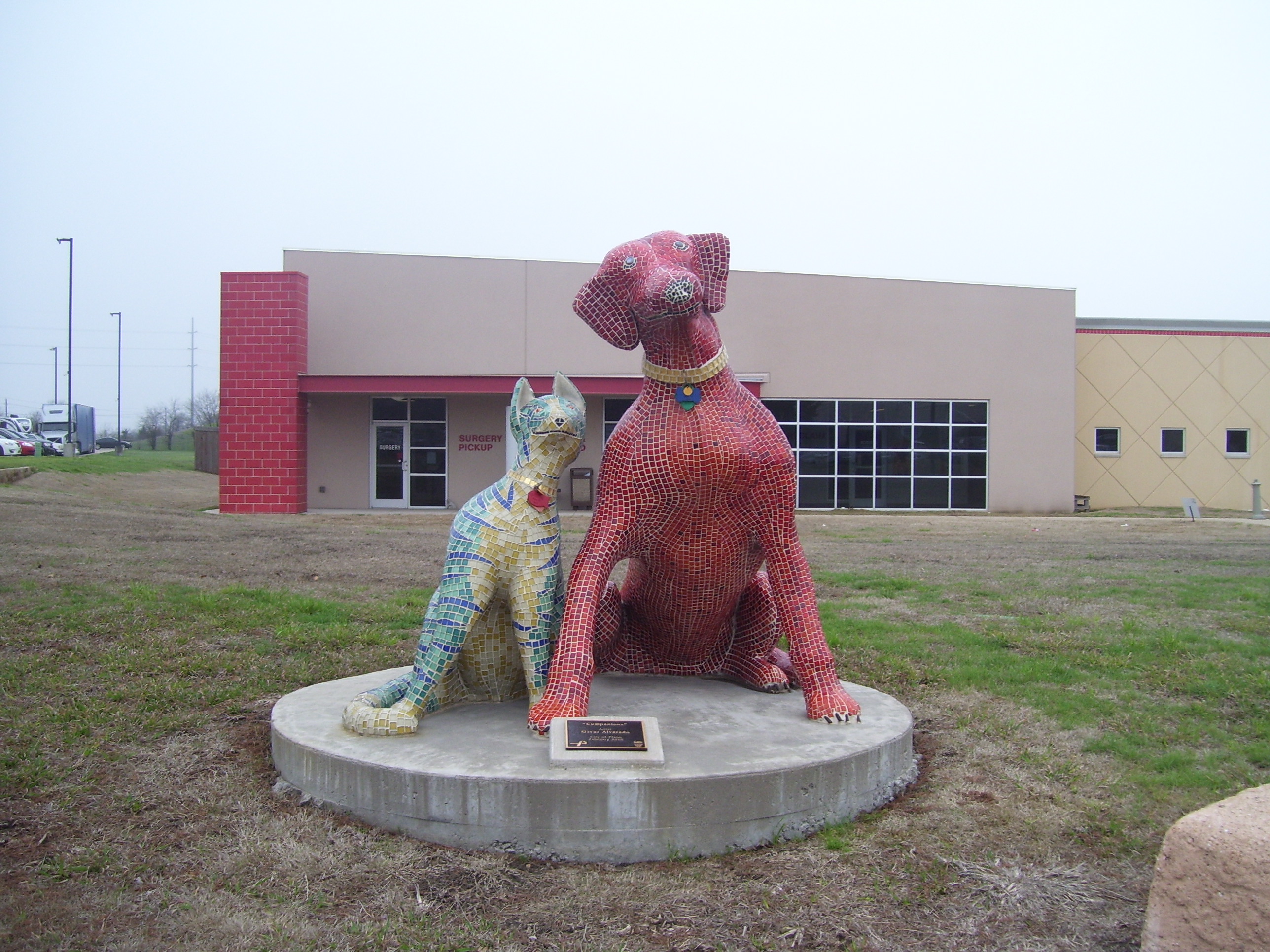 I did have a mission today: find a bike shop and get some more spare spokes. I had only one left, and no spoke wrench (since the one I bought last time didn't fit any of my spokes, somehow, forcing me to use a crescent wrench), so I had to get both. Fortunately I did my homework last night and knew exactly where to find a bike shop...and not just any bike shop, but THE bike shop!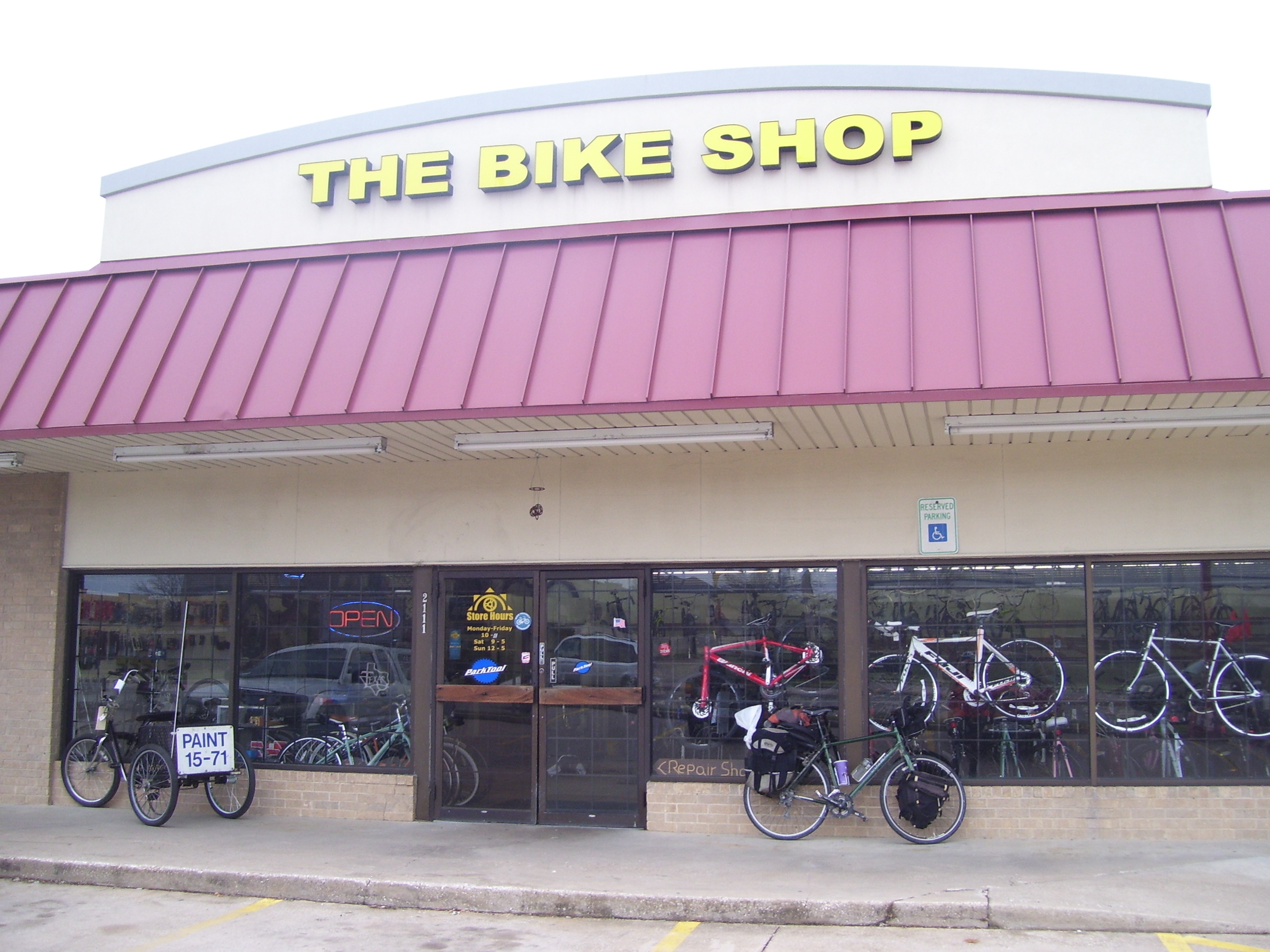 They were kind enough to sell me 4 spokes for the price of 3, and a spoke wrench that actually works on my wheels, for only about $14 total. Not too bad. Plus we swapped touring stories...the store manager had done the west coast, like I did, so we compared notes for a bit. Good thing he had other customers or I might've stayed a lot longer!
Anyway, after that I rode on through Plano and a couple of other suburbs of Dallas/Fort Worth. Riding through urban areas is far more challenging than out in the open country...there's more traffic, less room to maneuver, lots of stopping and starting, and frequent potholes and other road hazards to dodge. Plus people just seem to be more prone to doing stupid or dangerous things, like not giving me enough room, or suddenly deciding they'd rather go straight than turn, or forget that they have a turn signal (or the reverse, putting the turn signal on and then not turning). My personal favorite is the way people quite often act like they're afraid of me on my bike, which makes things much harder...for example, not passing me when they should (while I'm waiting for them to go by so I can initiate a turn, instead of cutting them off), or coming to a stop at a 4-way stop and then just sitting there, as if afraid I'm going to blow through the sign, when in fact I'm patiently waiting for them to take their darn turn so I can go! Seriously, people, just drive normally...it's my job as a bicyclist to obey the rules and stay out of your way...and don't worry, I'm going to do exactly that, because if I challenge a car the car's gonna win every time.
Okay, enough ranting, back to the ride! My point is, driving in a city is harder than driving in the country. It's also slower because of all the stops and starts, which is part of why it took me so long to do less than 70 miles today. Here's a look at a typical stretch of road that is representative of about the first 50 miles of today's trip: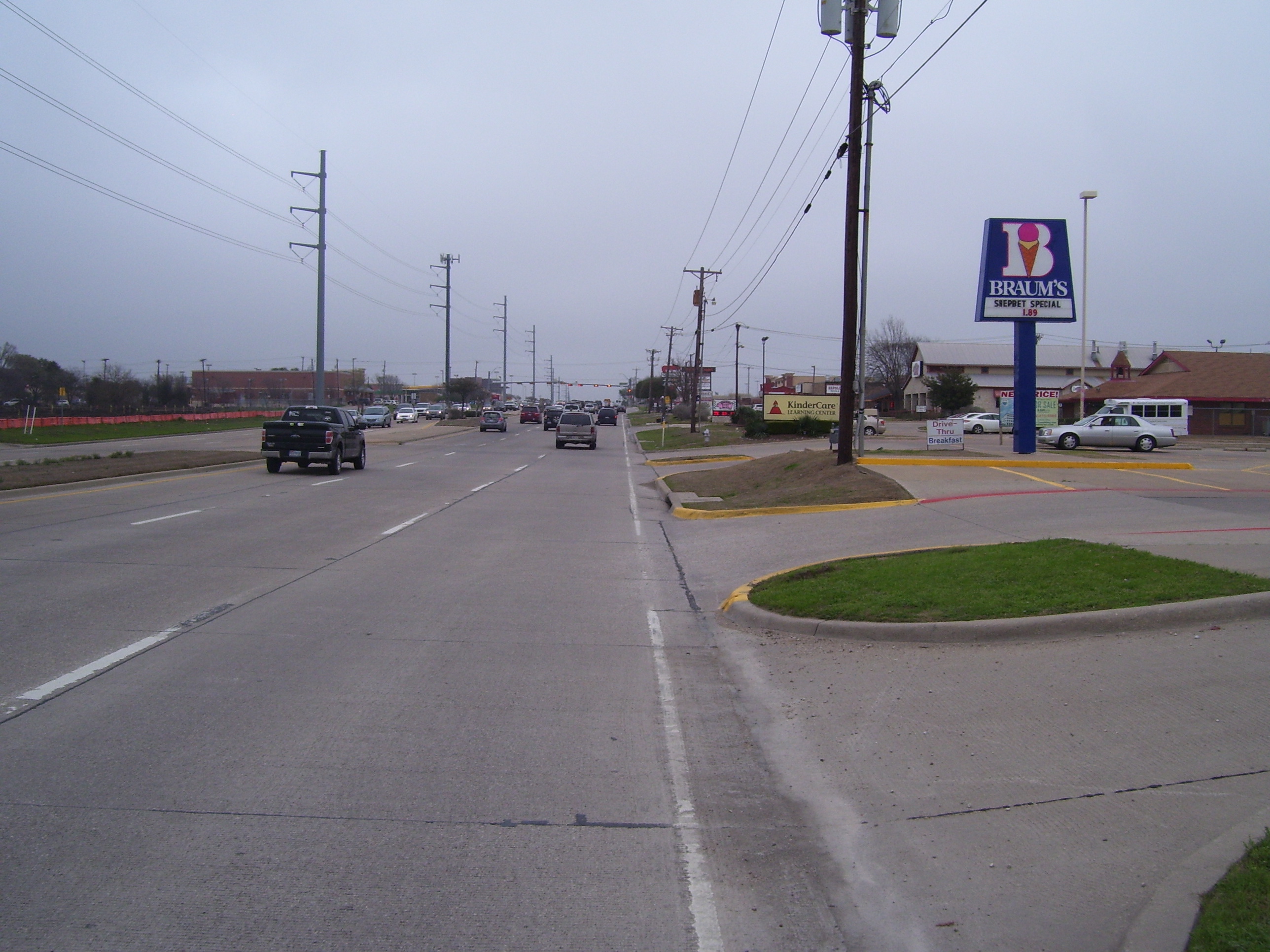 After a while I came to a couple of lakes. Here's the first...you get the impression here that the level of water changes dramatically depending on the season. There's a bridge out there, for example, that looks partially submerged right now. I bet in summer it's easy to walk on out there and do some bird-watching or fishing or whatever.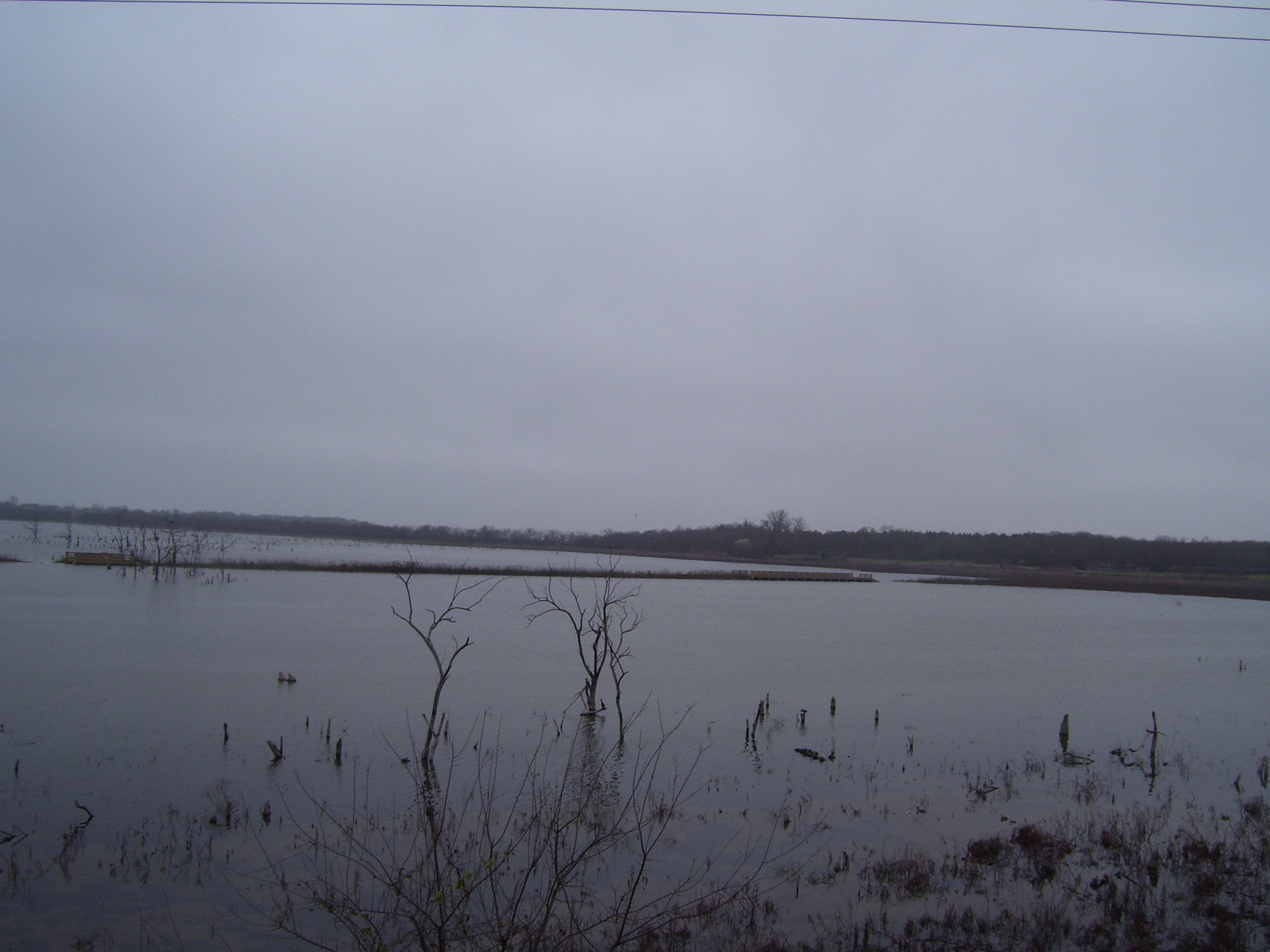 The next lake, Lake Ray Hubbard, was much larger and had a bridge cutting right across in the middle. Oh, and apparently it's officially considered part of Dallas. I hadn't expected to actually enter Dallas this trip, having spent the whole day skirting along the northern suburbs, but I guess I went into the city after all...sort of.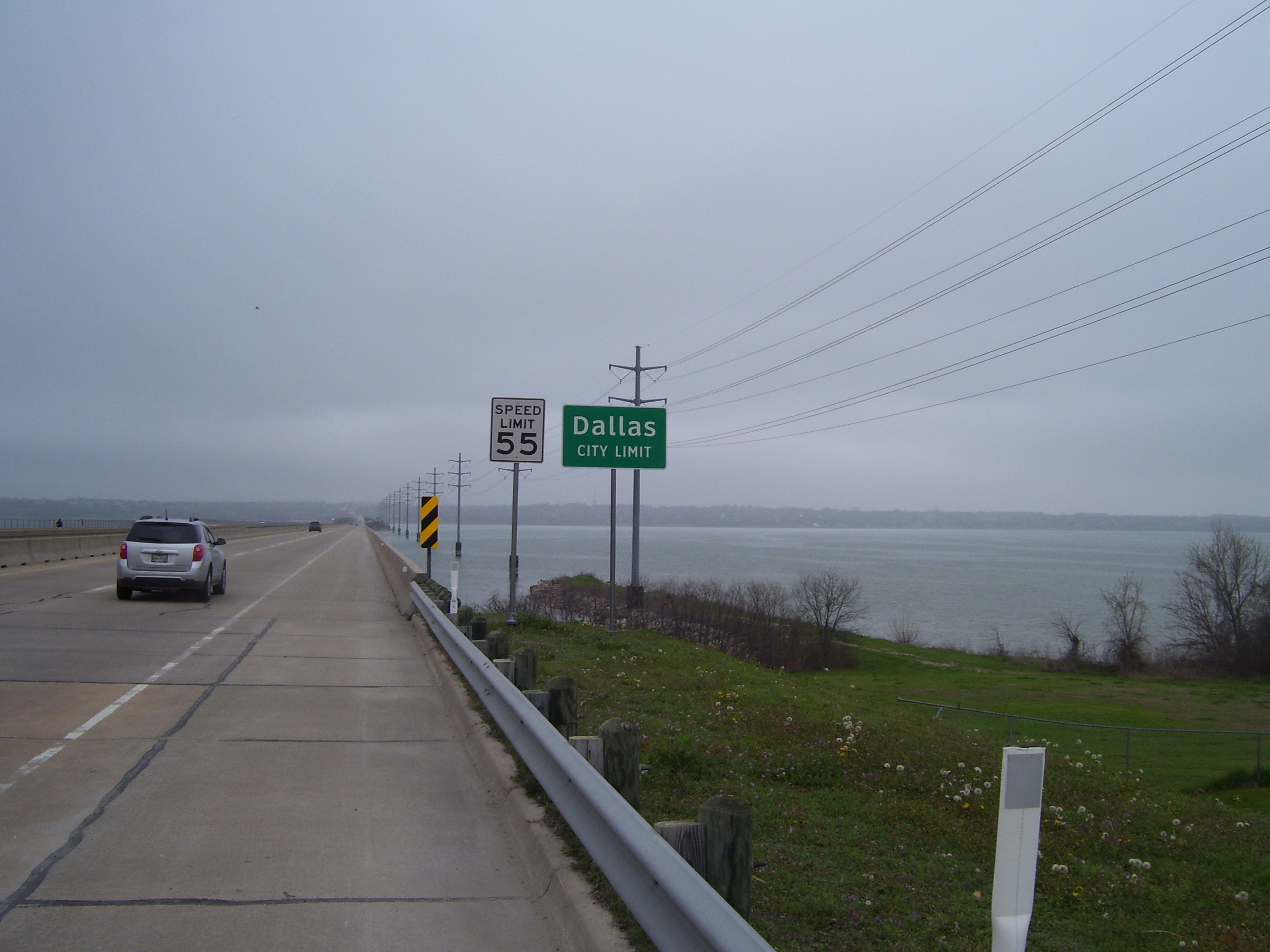 The lake view would've been better without the overcast skies, but here you can get an idea of what the shoreline looked like. The town on the other side is called Rockwall, and had some pretty steep climbs. I avoided most of them by riding through residential areas and then cutting back inland after I got to the southern tip of the lake.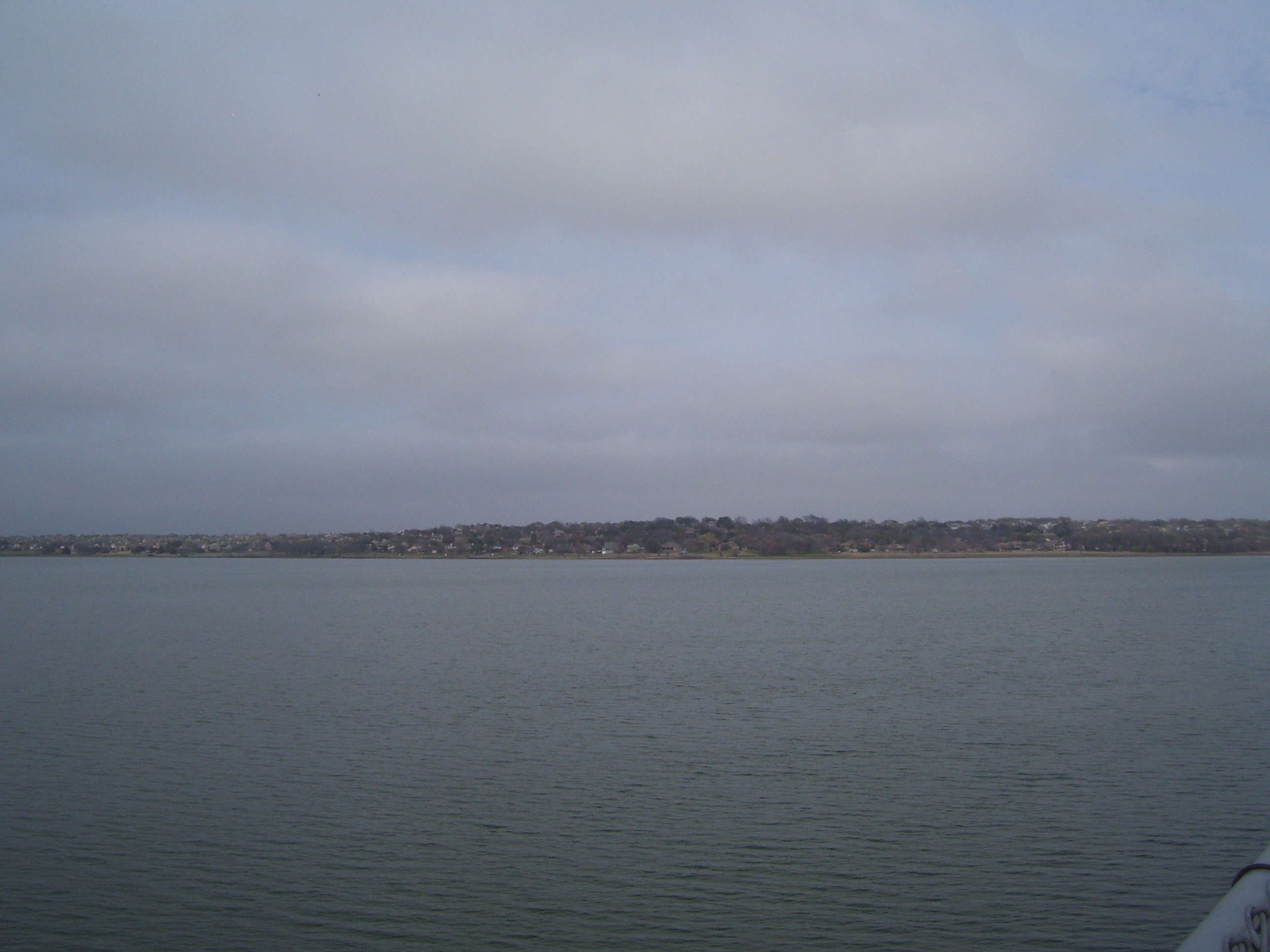 After that I rode through one last stretch of strip malls and then out into the open country again on my way to Terrell, my destination for today. The clouds even started to clear up for me right in these last couple of hours, but the headwinds were still quite annoying. I probably had enough left in me to get to the next town, but no sense pushing it. Besides, it would've been after dark by the time I got there.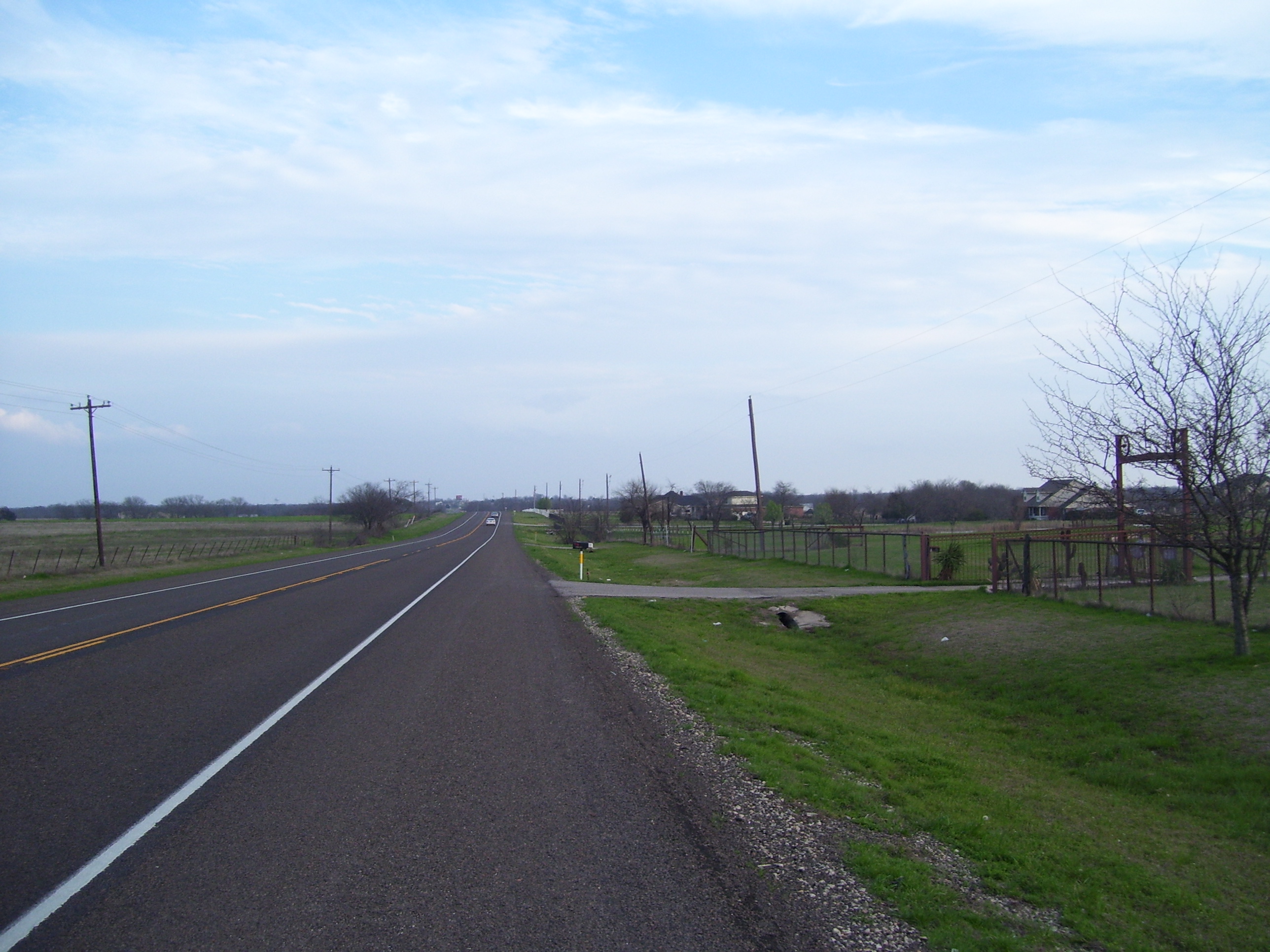 Best to just call it a day, I suppose. I really am not a big fan of riding through the city like that. One reason I like to ride so much is it's a generally non-stressful activity, and riding in town stresses me out too much. Plus, I can't really listen to the radio (which makes the day much more pleasant) because I need to be alert for car sounds on the narrow streets. So I'd much rather be out on a road like the one pictured above, especially if the shoulder is that nice all the time!