Day 30 - March 27, 2015
Laurel, Mississippi to Grove Hill, Alabama
Miles: 70
Terrain: Yet again even more hill climbing
Weather: Cool and sunny, moderate tailwinds early, variable later
Wow, 30 days on the road...has it really been that long? I guess it has. I should be about 3/4ths of the way done now, although I can't be entirely sure of that...you'll find out why later on.
I only really had one sensible option for today's ride, that being the small town of Grove Hill, Alabama, about 90 miles east on US-84. A couple of other small towns to the north or south might also have worked, at slightly shorter distances, but left me out of position for the following day. The weather at least forecast northwest winds, so going east all day seemed like it might be a possibility. The elevation map showed almost 3,000 feet of gain, though, so even with the winds it wasn't going to be easy.
I set out early, just slightly after 9, and headed off into a beautiful morning with what looked like great roads ahead. The lack of shoulder still concerned me, but the Alabama state line was halfway through the day and maybe things would get better there.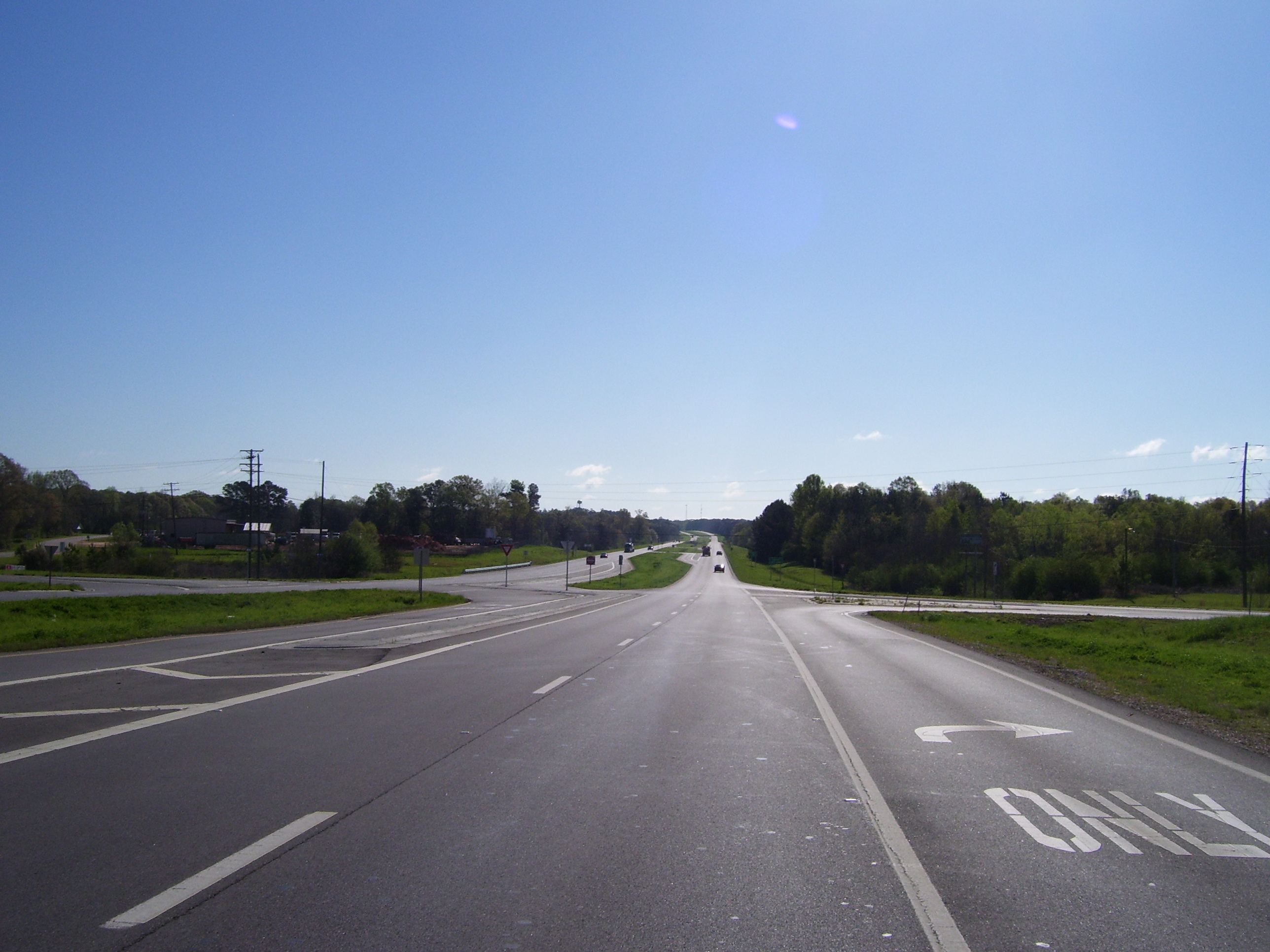 The road mostly wound through wooded areas with some clearing here and there, and the occasional great view: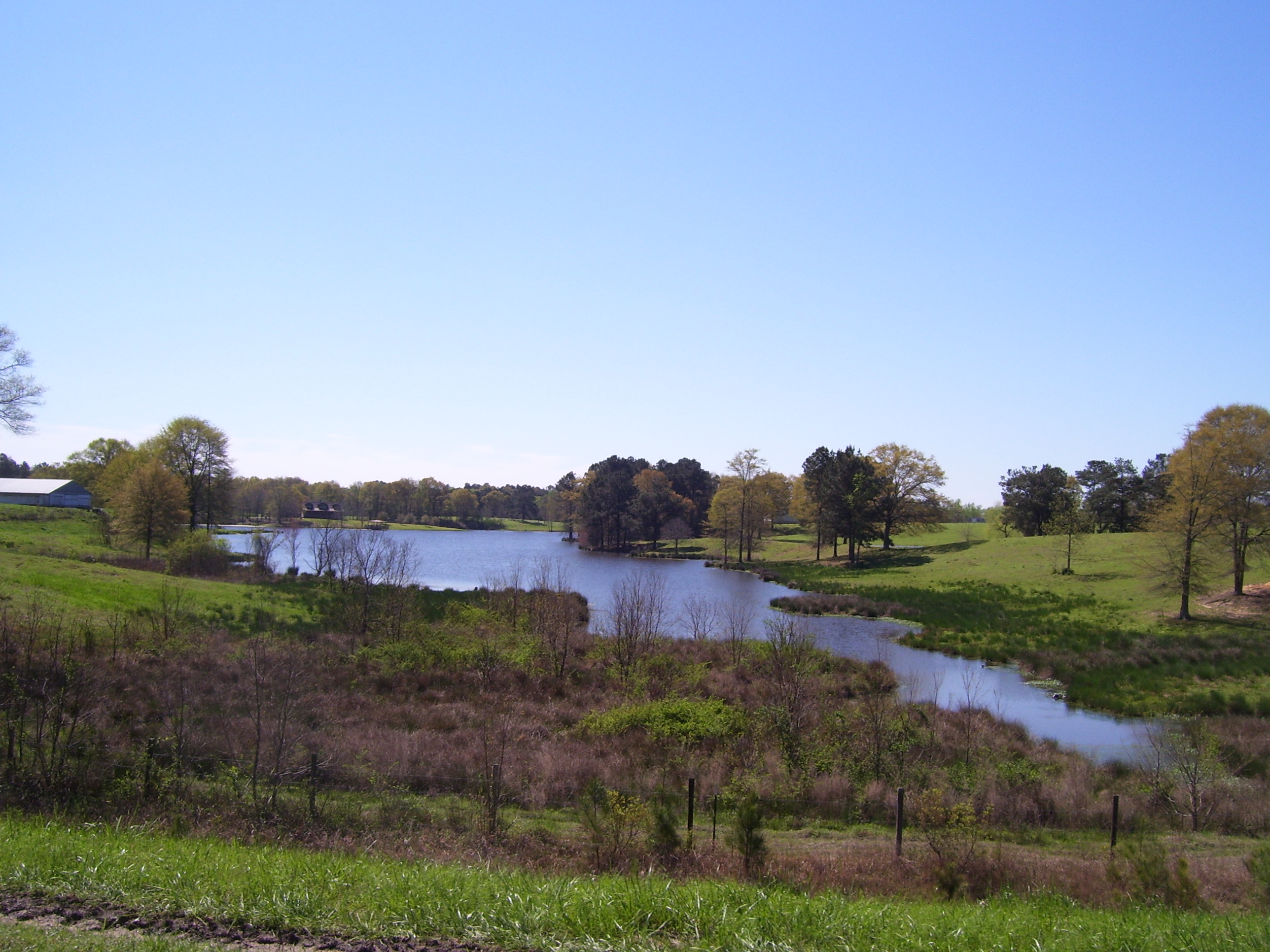 Here's what the road looked like about 20 miles into the day. Notice the totally clear sky, the nonexistent shoulder, the lack of traffic, and the barest hint of a hill ahead. This is just about the one and only time today that I didn't have a hill coming up right in front of me. They were everywhere and sometimes rather steep. However, for the first few hours, the chilly northwest wind made the climbs a little less arduous.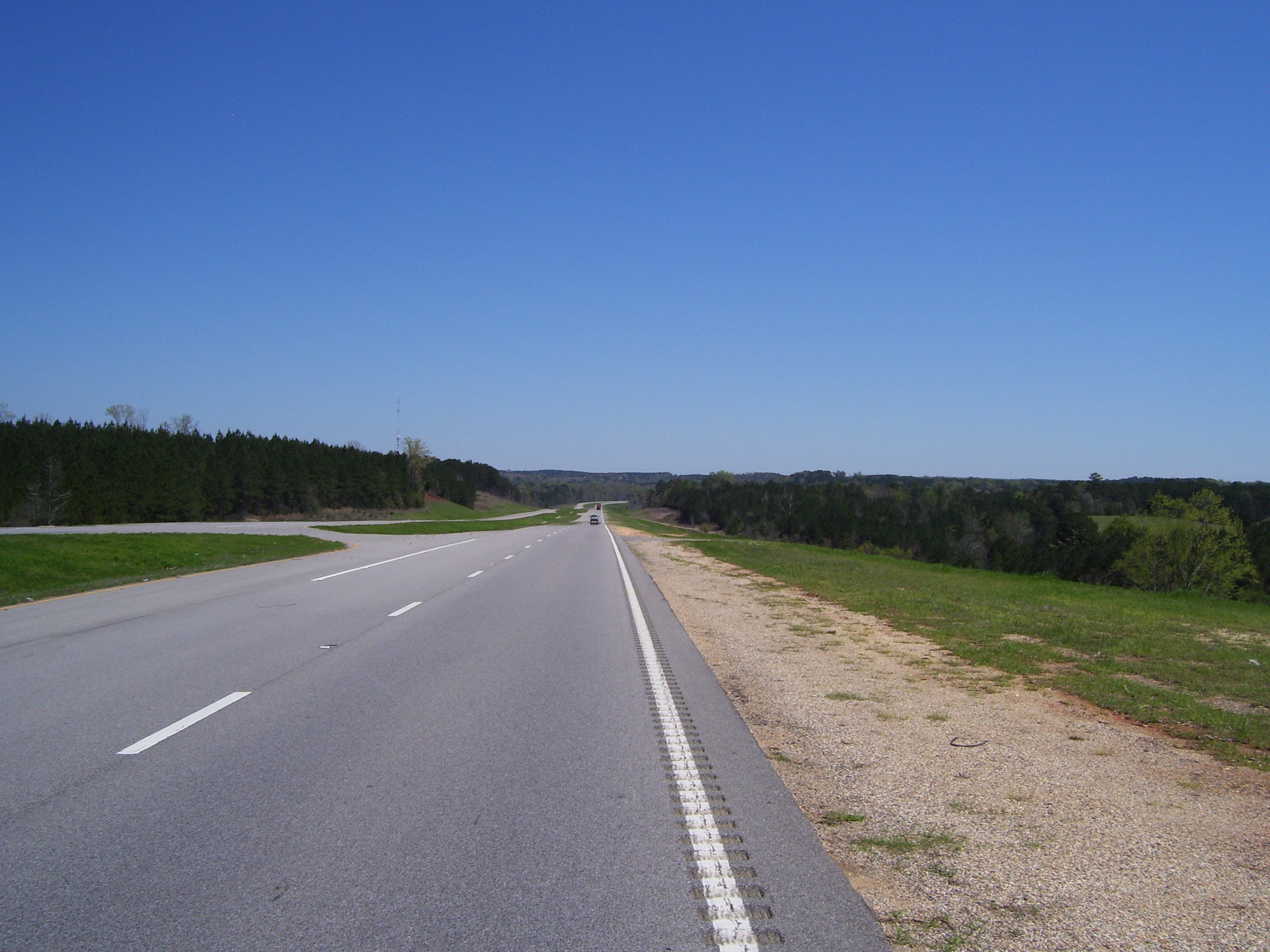 Another view of some scenery as I passed by.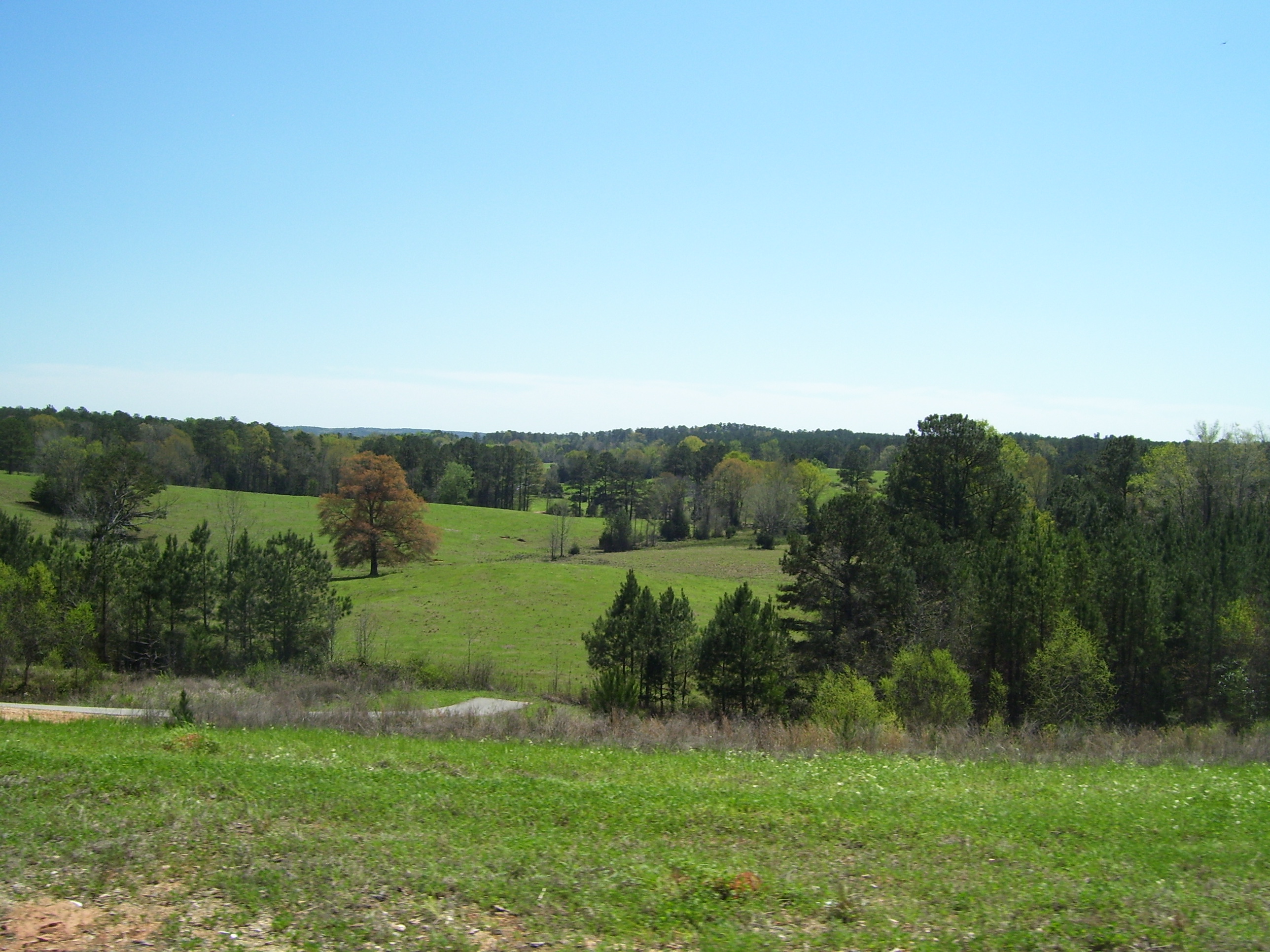 At almost exactly halfway through the day I came to my next state, Alabama. I wasn't sure there'd be a better sign so I snapped a photo at this one. By the way, notice that gigantic anthill to the left. Those things are everywhere down here. Watch where you step!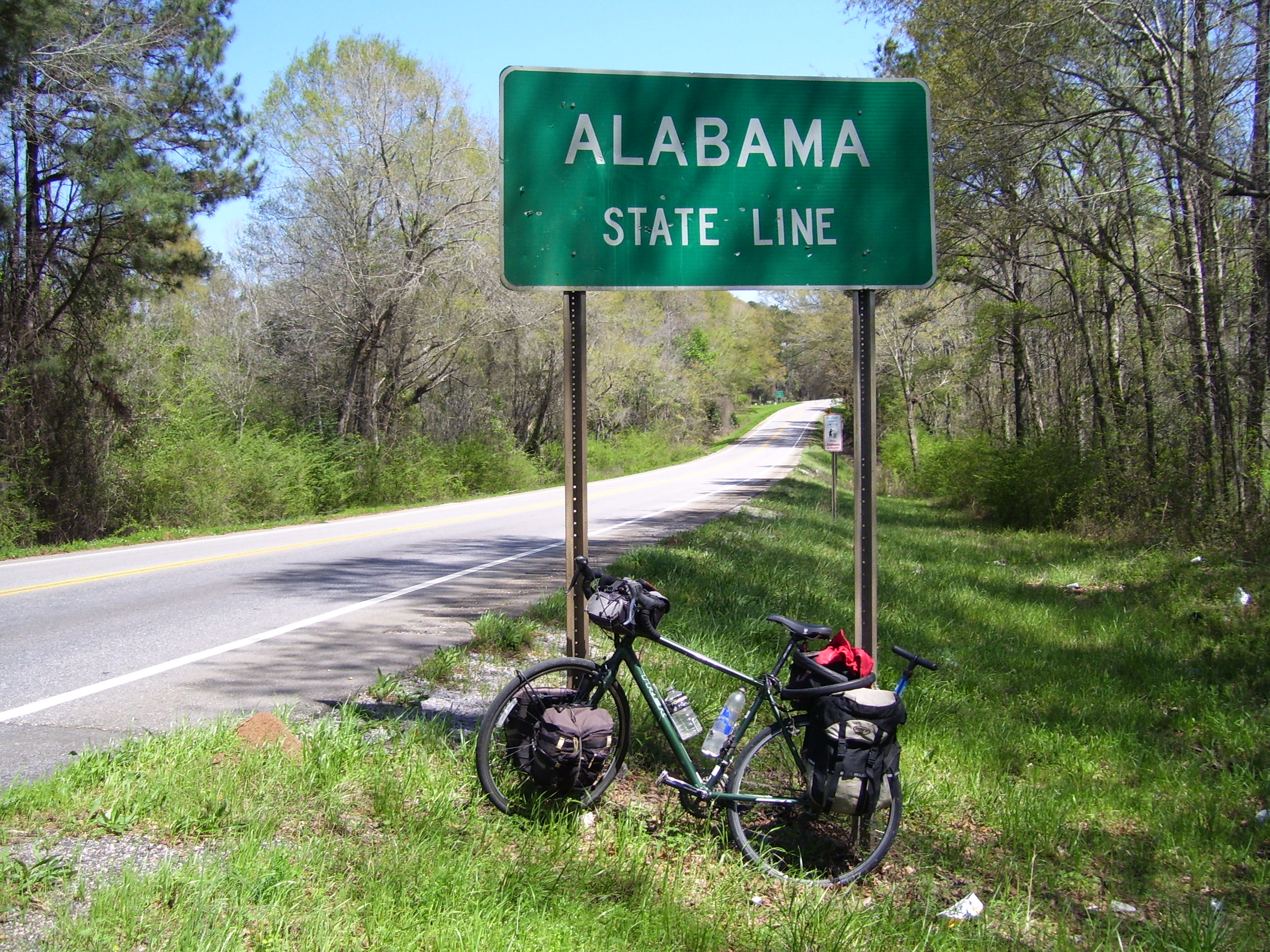 I did find a better sign a bit further on.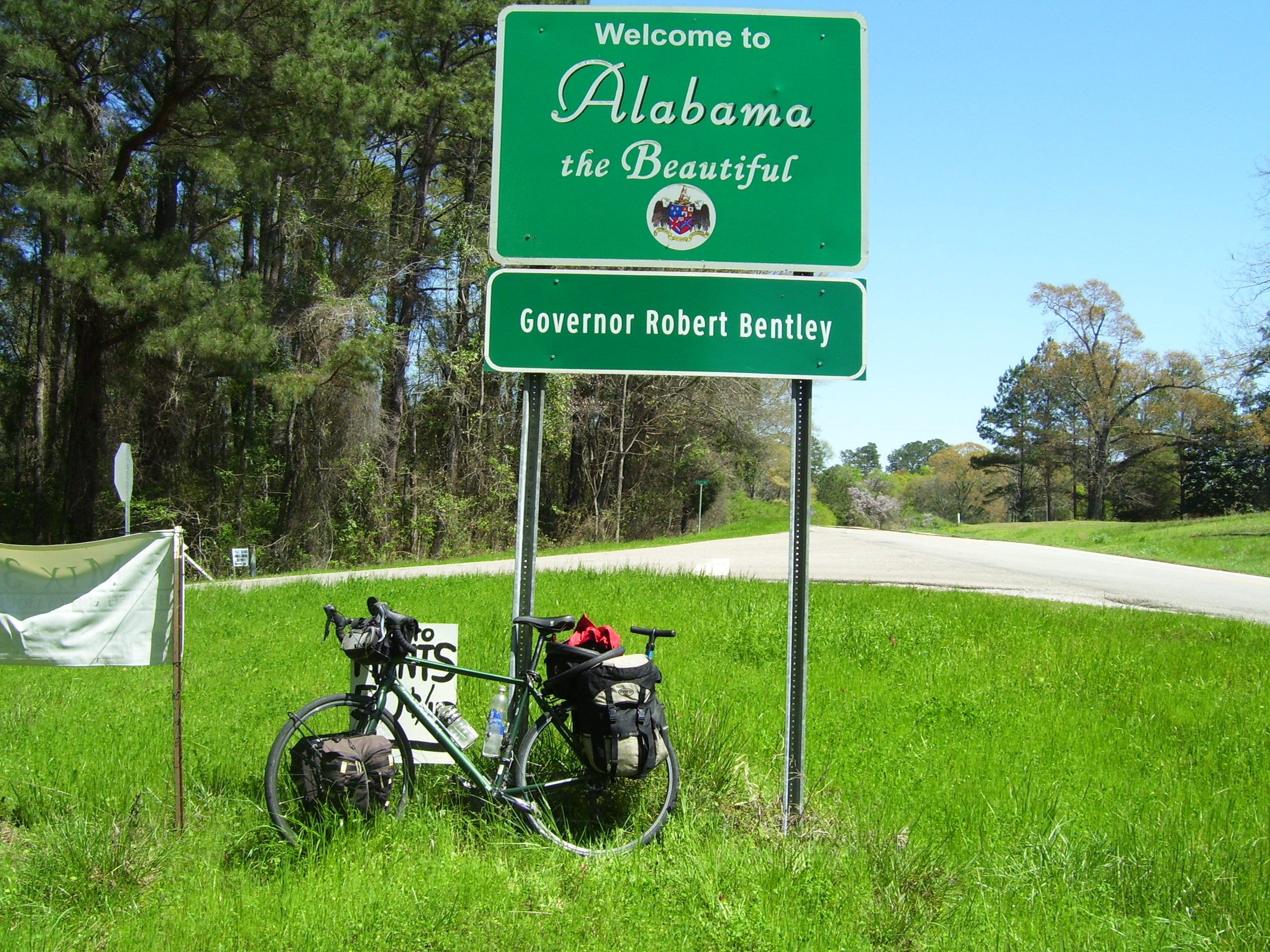 Alabama did provide an actual shoulder for me, but notice that there's one of those annoying rumble strips running right down the middle, rendering it useless. I could keep the tires just inside the white line most of the time, and took care to do so when a loud truck engine rolled up behind me. Notice also that US-84 has now dropped to a 2-lane road, so now anyone coming up on me had to move across the yellow line to give me any decent space. This went on pretty much all day. Oh well, at least they provided mile markers, which I haven't seen since Texas.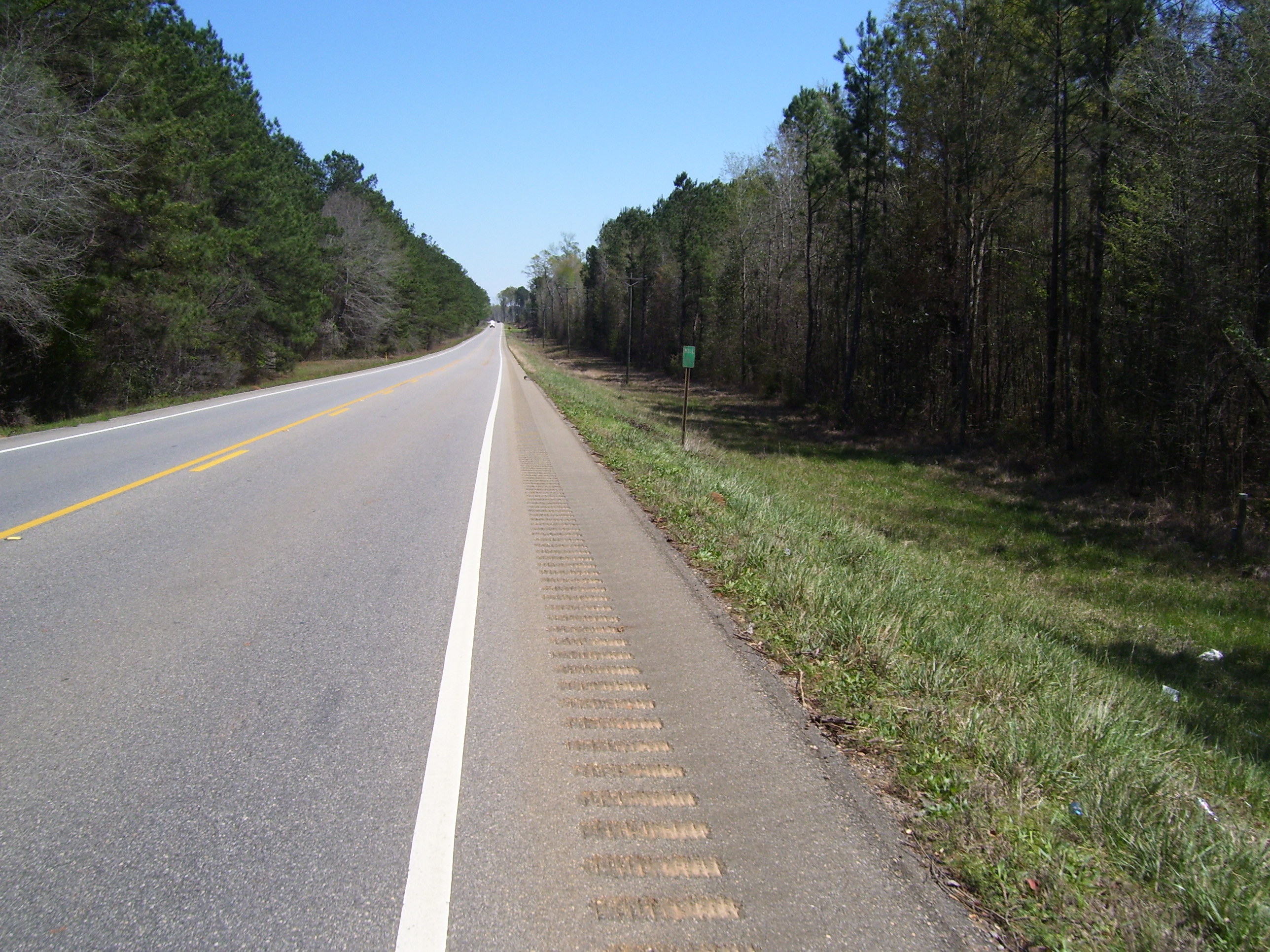 I did have one touristy thing to do today, namely visit this state park, which was only a couple miles off the main road. Also, I found it totally deserted. Nobody came or went the whole time I was there. Very quiet and peaceful place.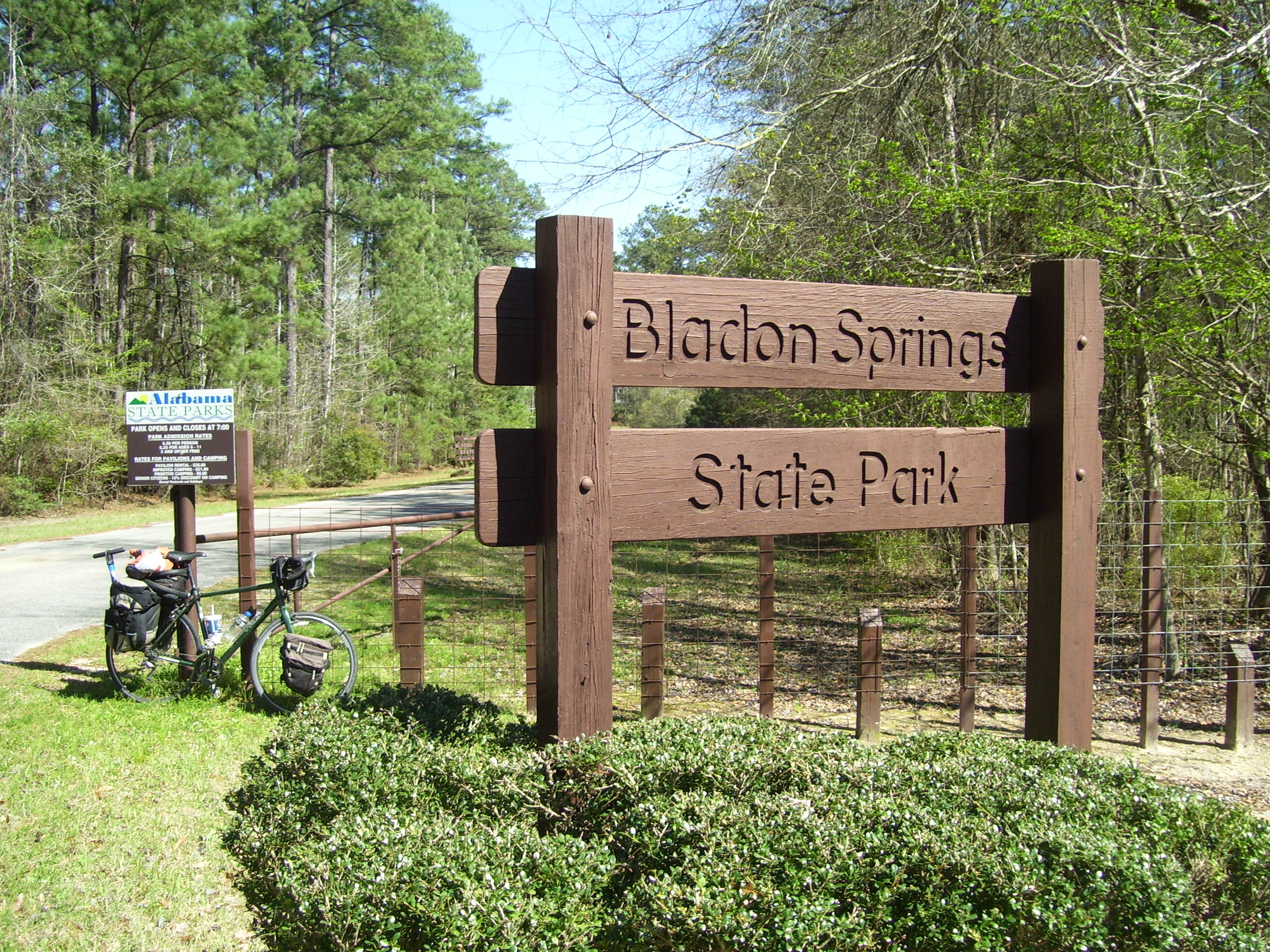 This park is known for its natural mineral springs, which come with naturally-occurring hand pumps. People around here believe these waters have excellent medicinal qualities. I don't know, they didn't look very clean to me, so while I did try the pump just for fun, I didn't drink anything.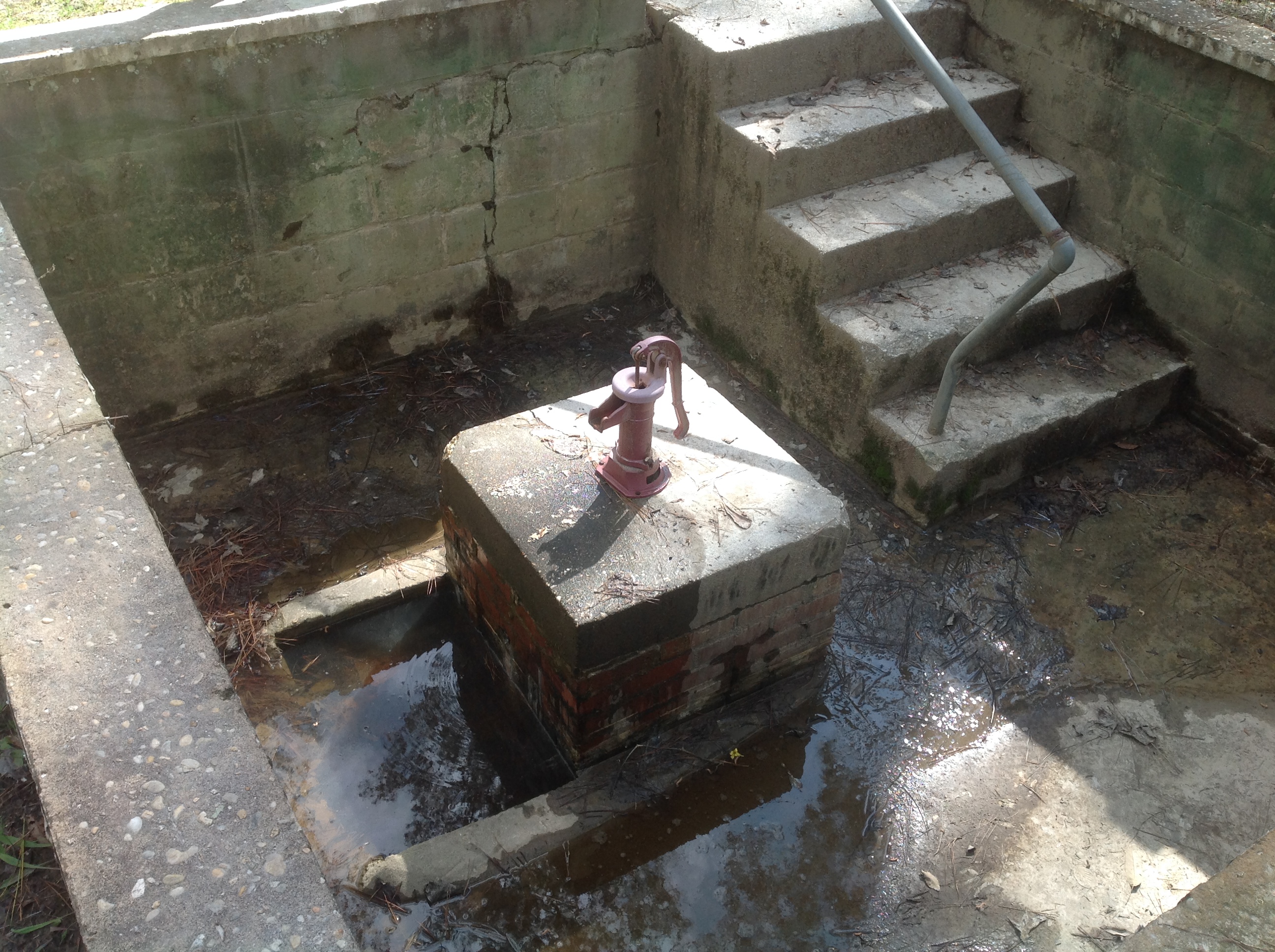 Here's a typical view of some of the trees and such around the park's interior. There was a short hiking loop trail, and a few campsites, plus an unoccupied ranger station as well. I didn't stick around long, just enough to do the couple of geocaches that brought me here. (One was out in those woods)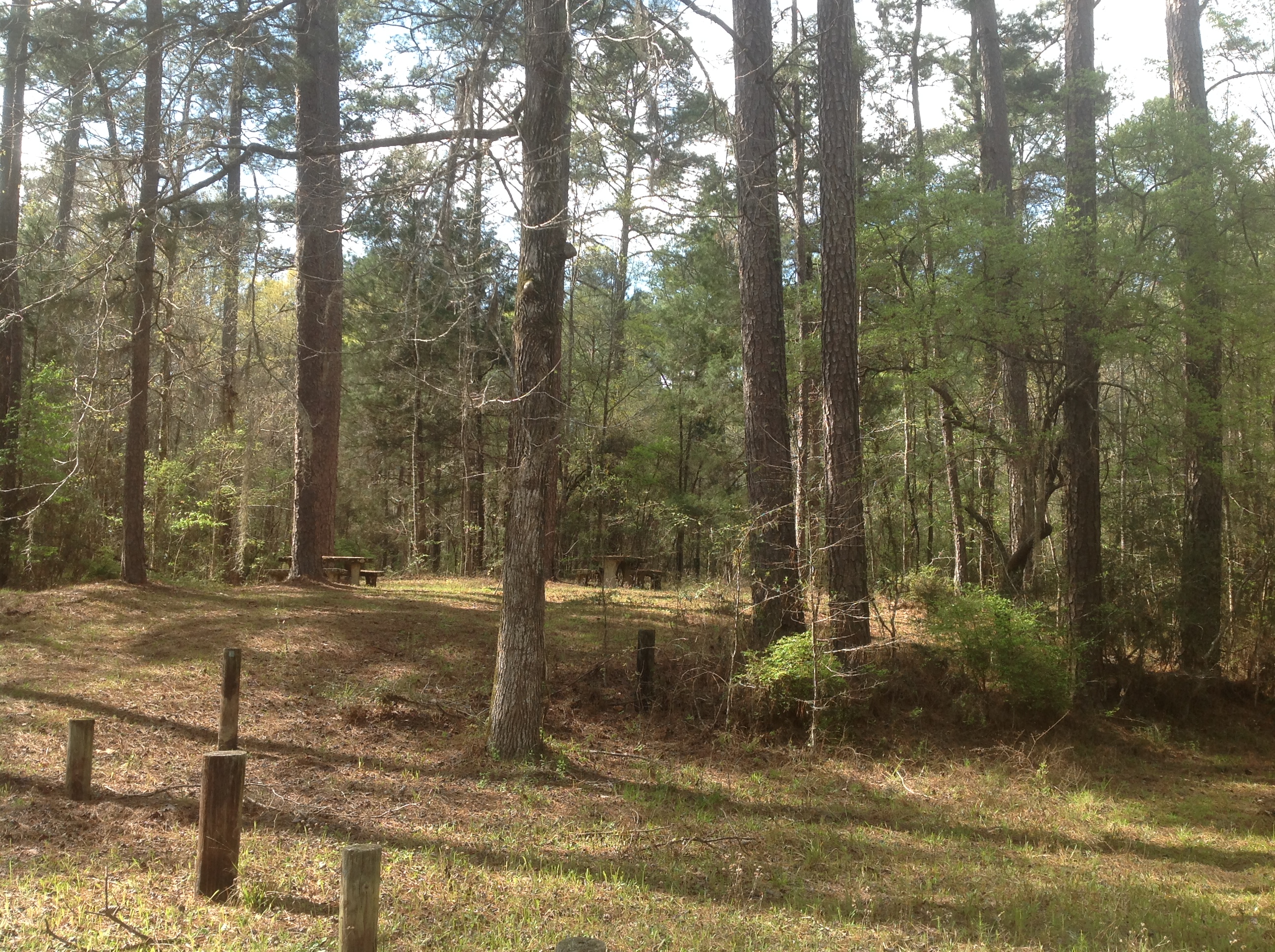 On the way out I passed some of these flowers, which I've seen occasionally but never in this quantity. I love the colors.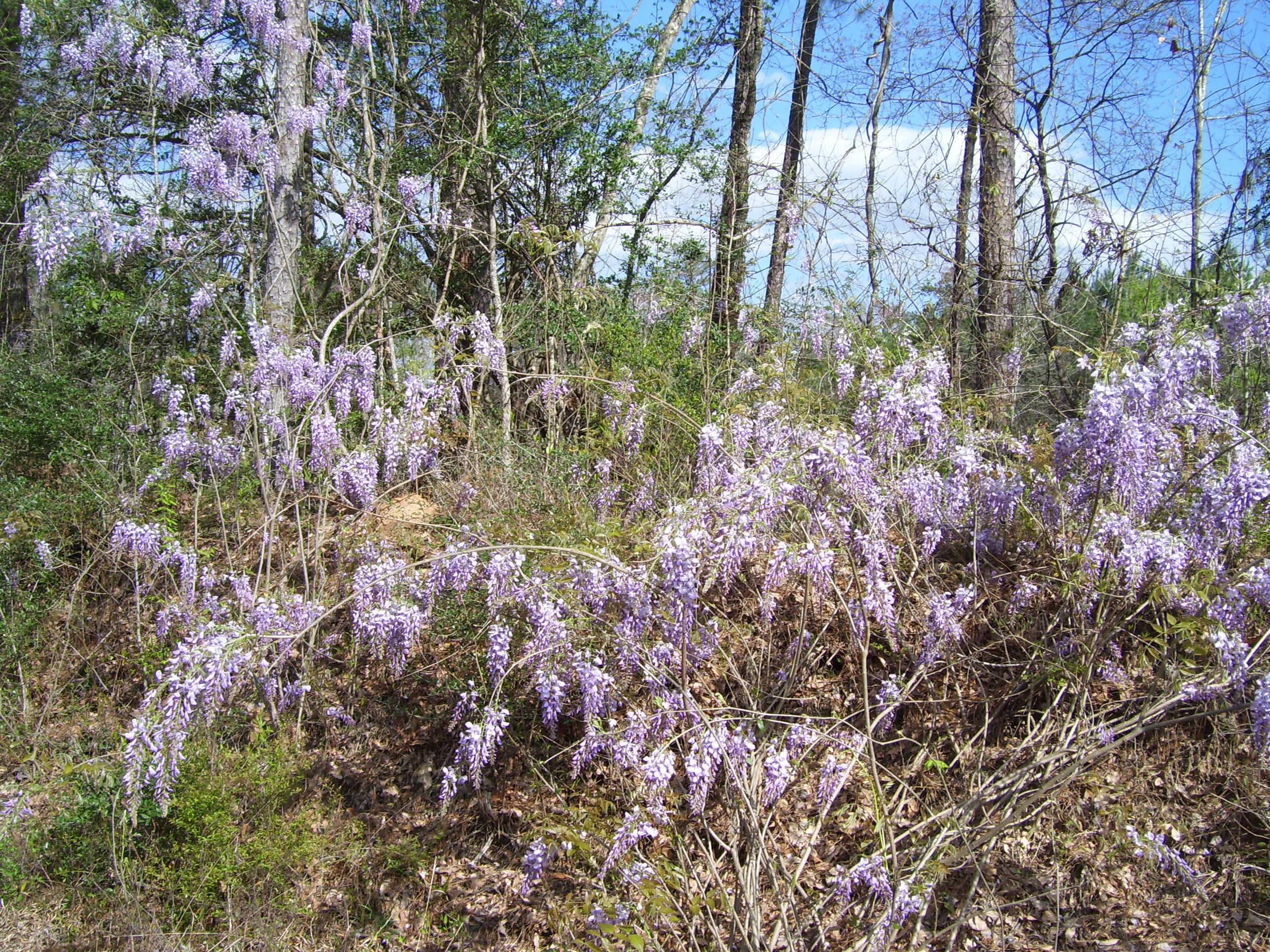 Just before getting back to US-84, I passed this lake and boat launch. Again, completely deserted. Not a bad looking place to go fishing, though. Notice that the sky's starting to cloud over...it never rained on me, though.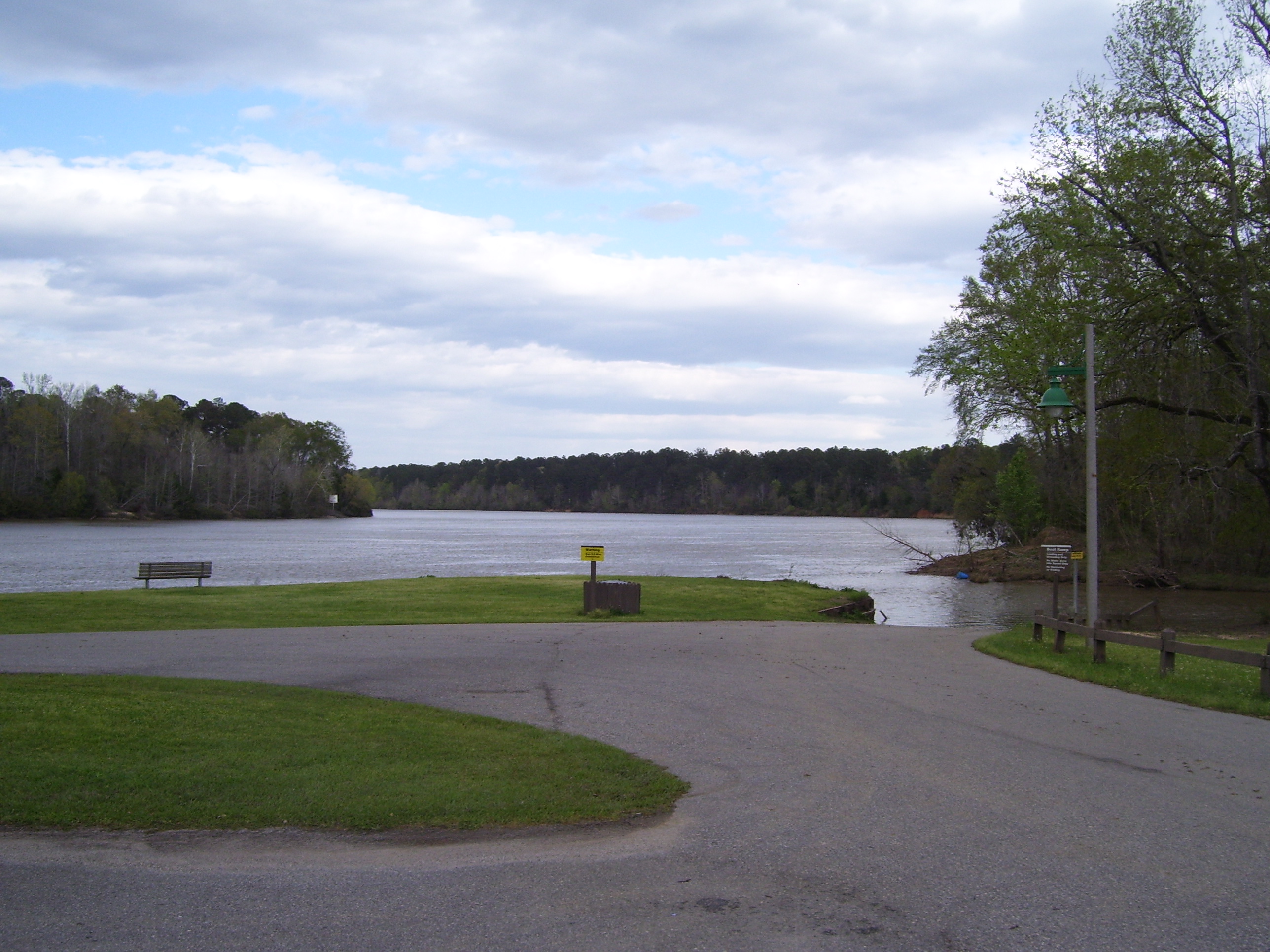 Back on the road, the hills continued, and I soon came to one of those classic old iron bridges.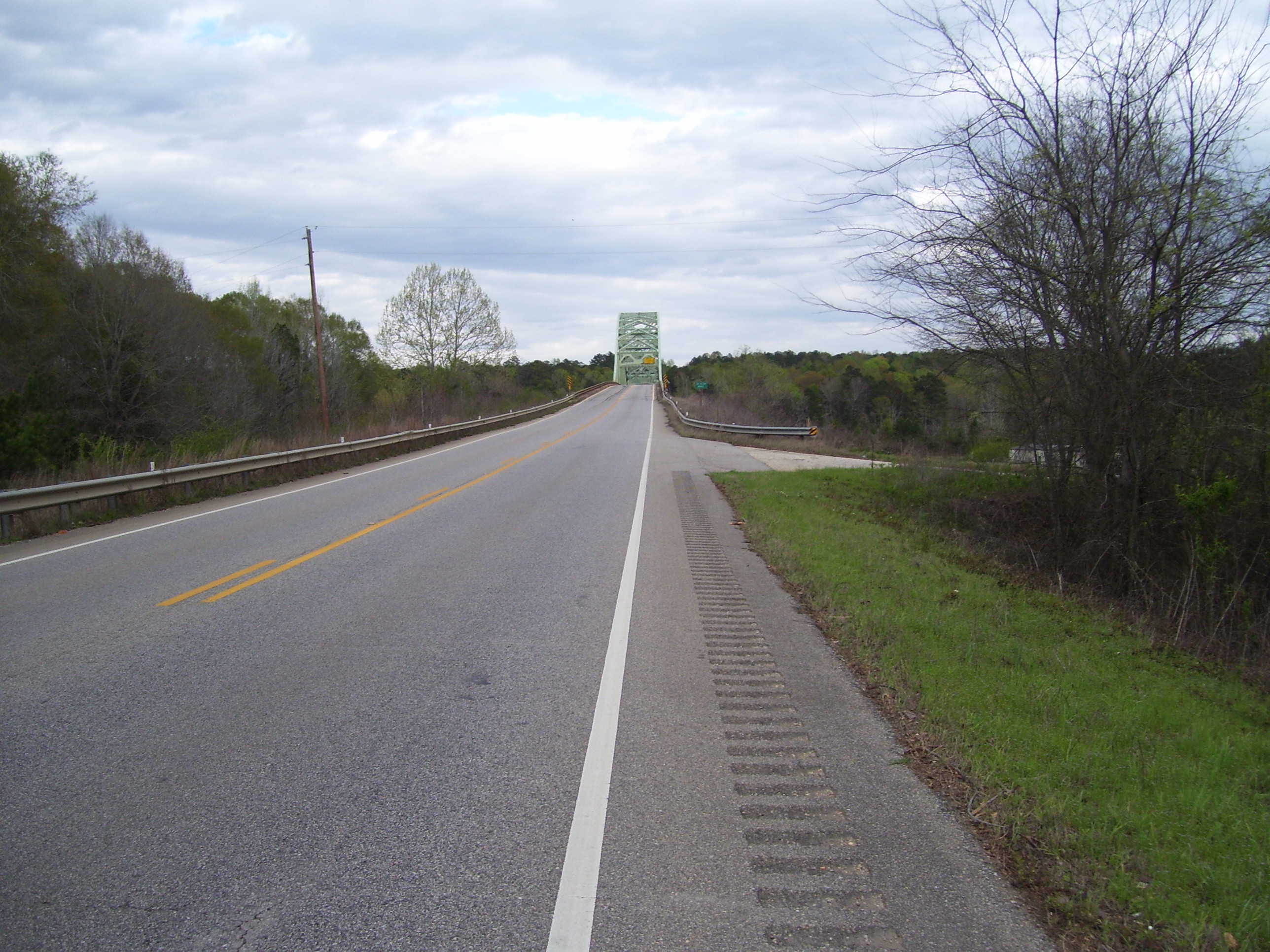 The obligatory view from the top. Nice river.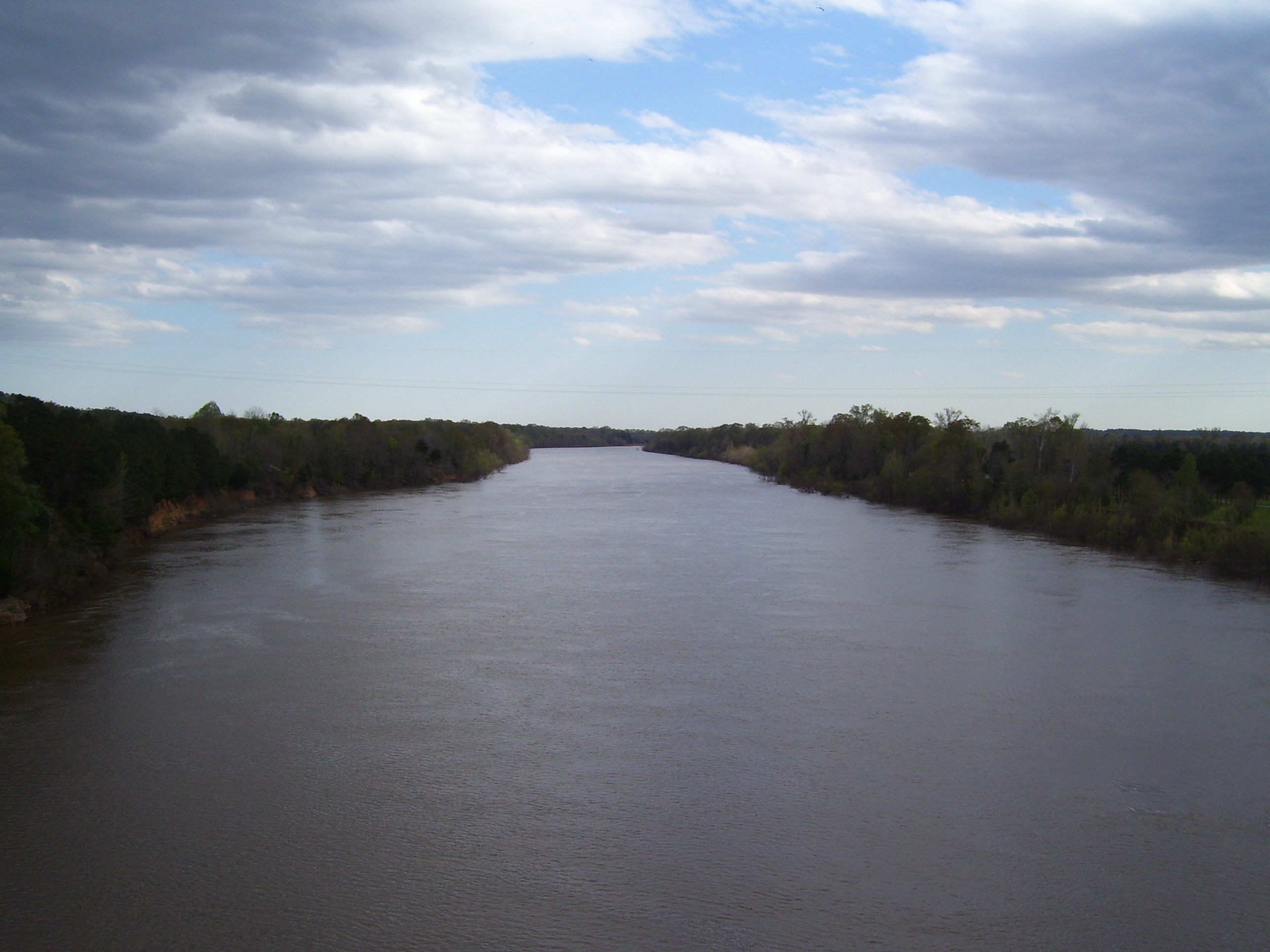 And just a couple of miles after that, things went horribly bad. On my way up one of the hundreds of hills I climbed today, the chain started skipping, and I stopped to check it and found two of the links were starting to come apart. I pushed them back into place with the help of a crescent wrench and rode on, but it was no use...the chain broke shortly thereafter. It looks like the link in question just tore open.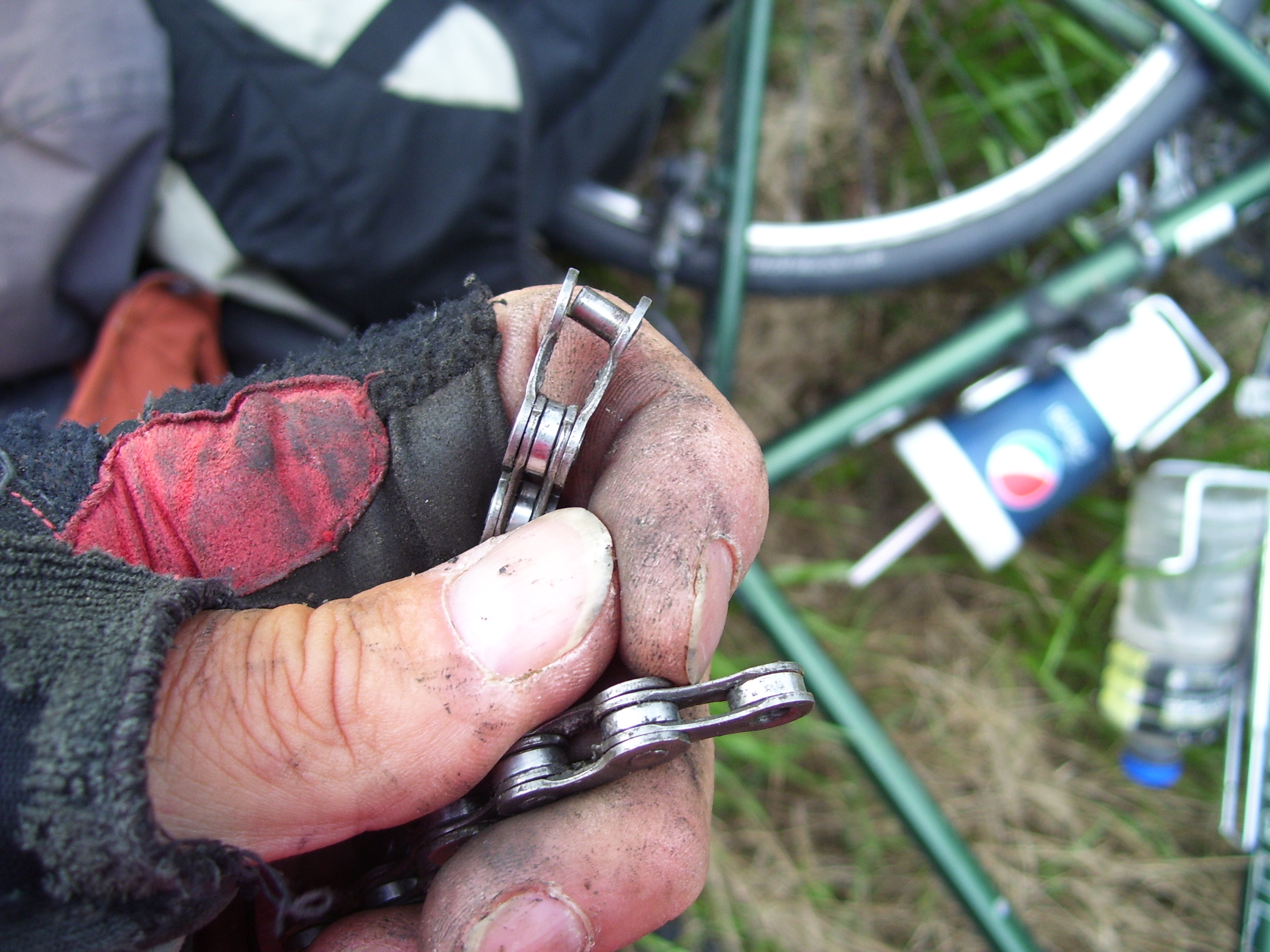 Nothing I could do would keep it sealed shut. I tried hammering it back into place, but that only bought me a couple more miles until the next climb, and even setting it to super-easy granny gear didn't stop it from breaking again. I wasted a lot of time trying various different things to fix it, including walking up hills and riding only on flat or downhill areas, but finally it got to the point where the slightest pressure just popped it loose, and I knew I was done. For the second time this trip, I resorted to hitching a ride, this time with Kenny, a local who happened to be passing by in a pickup truck.
Kenny was kind enough to drive me the remaining 20 miles of today's route and drop me at my hotel. He asked me the usual questions about the tour (why the heck would I do this, for example) and also had been to Ohio recently on a hunting trip. He highly recommended one hotel over the other (Grove Hill only has two) and suggested I grab something to eat from the deli at the nearby food mart, which I did. Very nice fellow and I'm happy for his help.
However, that still leaves me with a broken chain in a tiny town with the nearest bicycle repair shop 50 miles away in Mobile, to the south along the Gulf Coast. I'm going to try to see if any local auto or motorcycle repair people can fix this chain, but if not, my only other options are to rent a car and drive down to Mobile, or hitch a ride there. I'm not sure if the first of those will even be possible, but I sure hope so. If not, I'll have to roll the hitchhiking dice one more time. Wish me luck...!