Day 32 - March 29, 2015
Monroeville to Opp (yes, there is a town in Alabama named Opp)
Miles: 76
Terrain: Lots of hills all day long
Weather: Cool and sunny; moderate headwinds/crosswinds (sigh)
The tour might be back on, but it's still just as hard to get motivated to leave in the morning when you're facing a day full of constant up and down climbing as well as equally constant headwinds. Plus it was downright chilly when I got up...still in the 40s, and it wouldn't get above the 50s until the afternoon. I really did want to stay in that nice warm hotel room a while longer.
Still, with the headwinds only getting stronger as the day warmed up, I needed to get moving right away, so I headed out just after 9am and hit the road. The hills started right away and every time I'd finish one, that pesky southeast wind would be waiting for me, putting a chill blast of air in my face to keep me from ever just cruising along comfortably. I resolved after that terrible ride into Amarillo, into the 20mph headwinds with no cover, that I wasn't going to push myself too hard or try to do lots of miles on a headwind day, but today I had my sights set on Opp, a town ideally positioned to set me up for tomorrow's ride into Dothan and my last stop before the Georgia border. The shorter trip would be Andalusia, about a 15 mile shorter ride and working out to about $20 more for a night's stay at any of the hotels there. In the event the winds totally changed in my favor, or I hooked up rockets to my bike or something, I could try for Enterprise, about 30 miles farther. Sadly that got ruled out after about an hour fighting the winds, and no handy rocket packs ever materialized.
So I sort of took my time, going slow over every hill, still a bit gunshy about trying to power over hills after the recent chain problems, keeping it mostly in the lower gears. I passed through Repton after about an hour, one of those classic small towns that even people who live in the state probably haven't heard of. Since it's sort of typical of many of these little places I pass through all the time, I took a quick photo: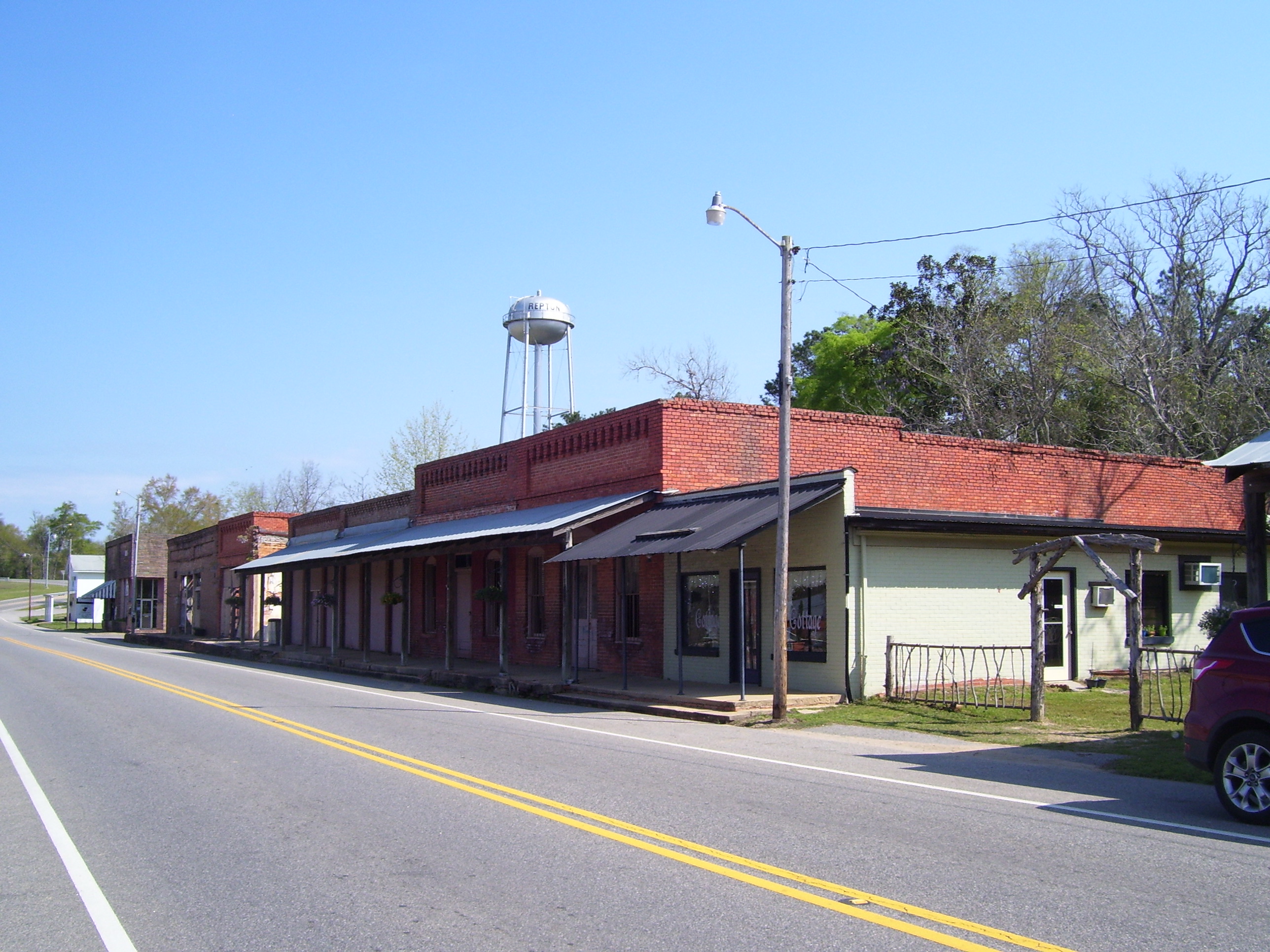 A few stores (only one open, it being Sunday and all), and a water tower, plus some homes up and down the road here and there, and that's about it. I've ridden through countless similar places on this tour, and I'm sure I'll see plenty more.
While we're talking about typical things, here's a look at the sort of views I had most of the day. Lots of trees, the occasional farm, nothing special.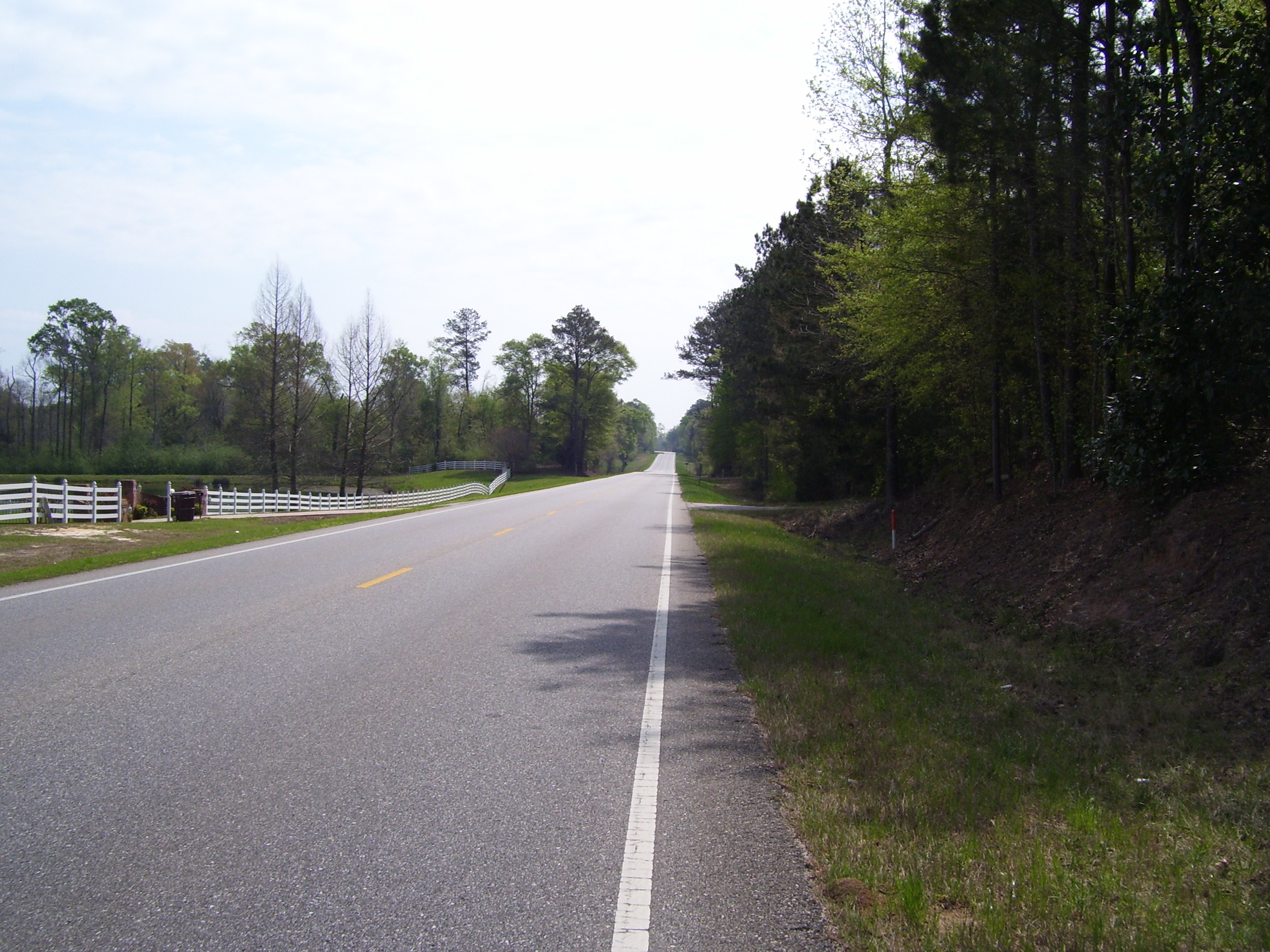 I have absolutely no idea what's going on here. Maybe one of the E.T. kids crashed?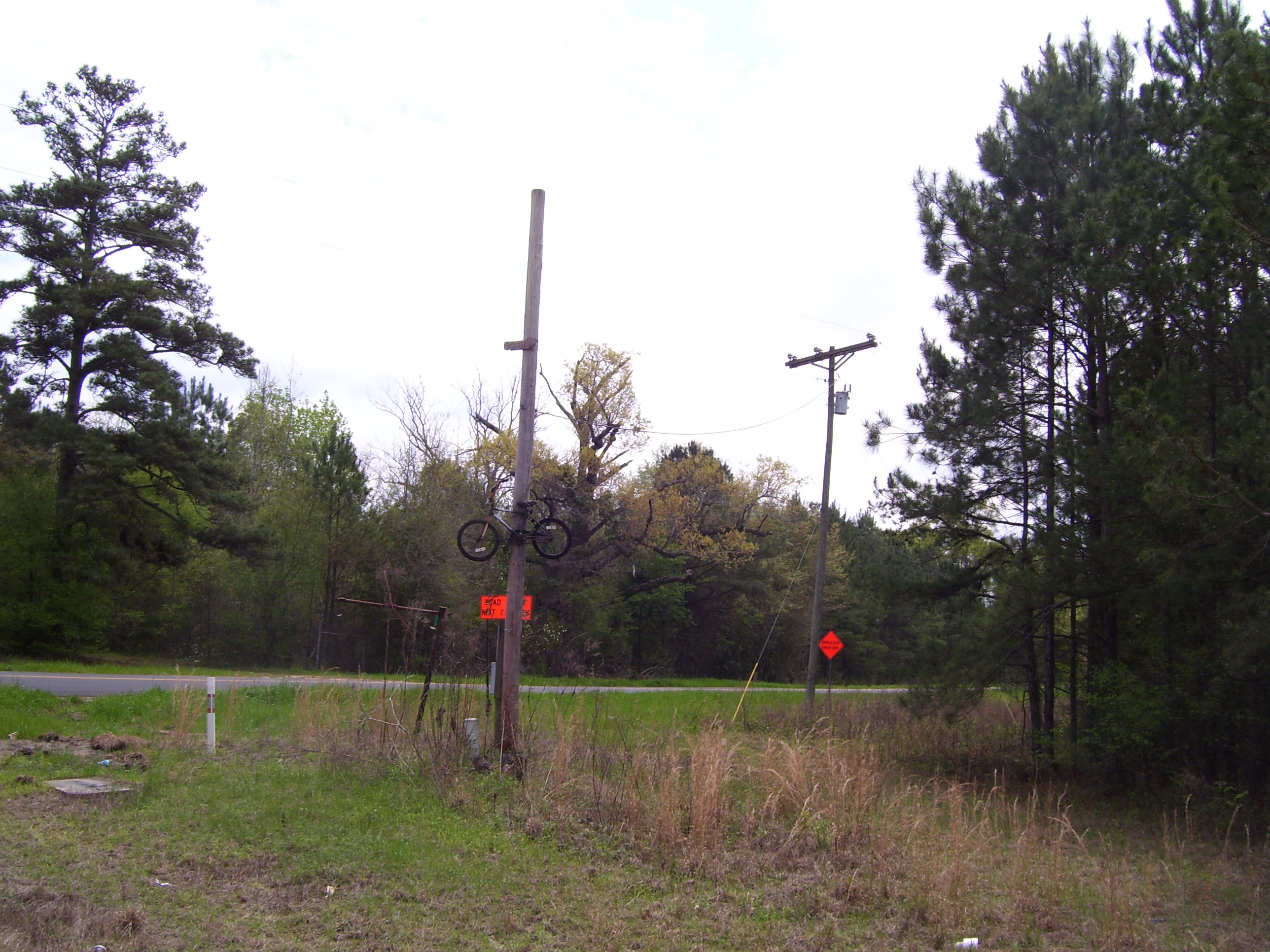 Every now and then I'd cross some small stream or river, many of which were overgrown, or choked with logs, but here's a fairly nice one that looks like it'd be great for fishing. I passed this just short of Andalusia.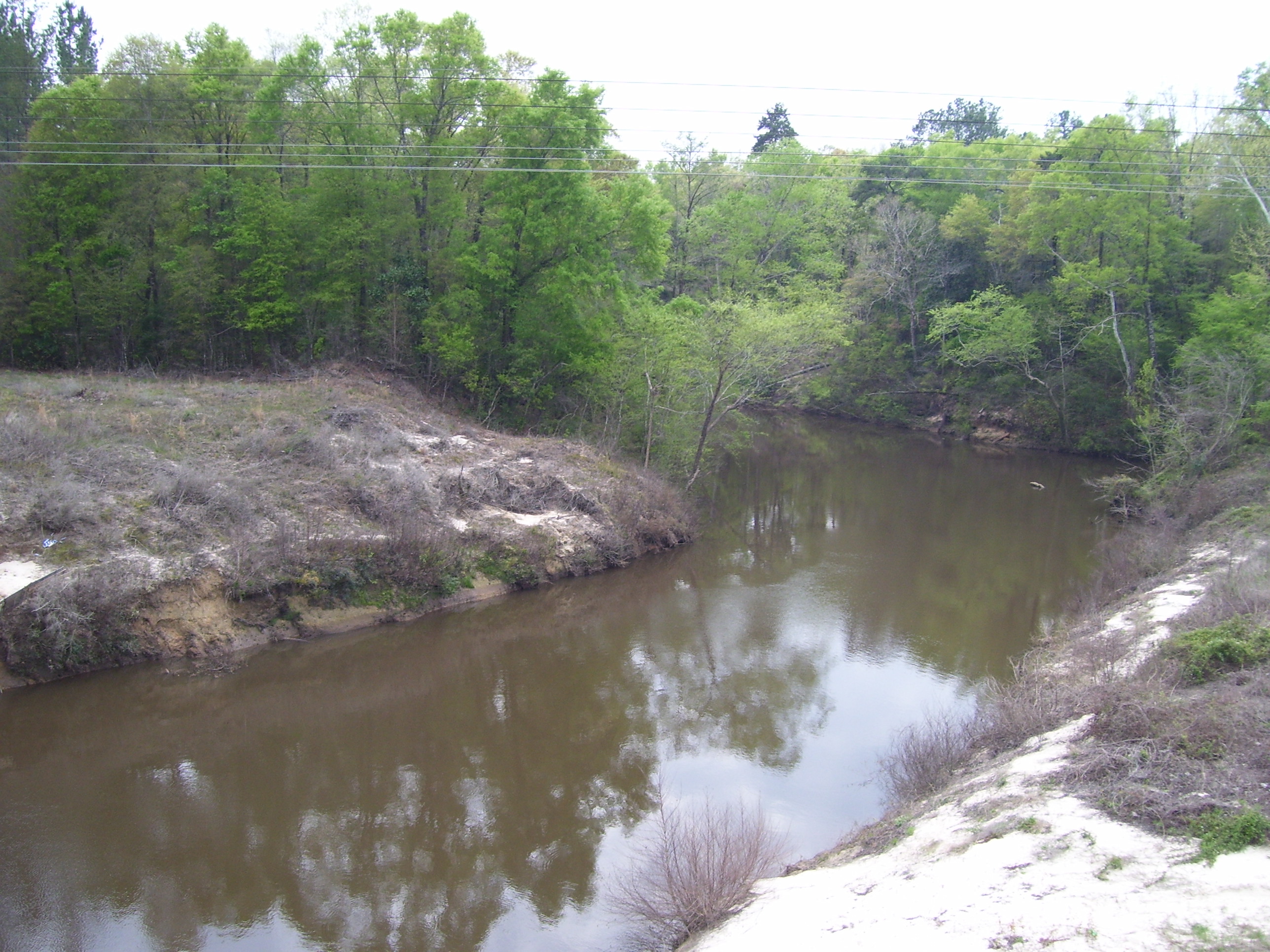 Many times I'd pass some small dirt road leading off into the trees. You know something's back there...but what? No idea...it's all very mysterious.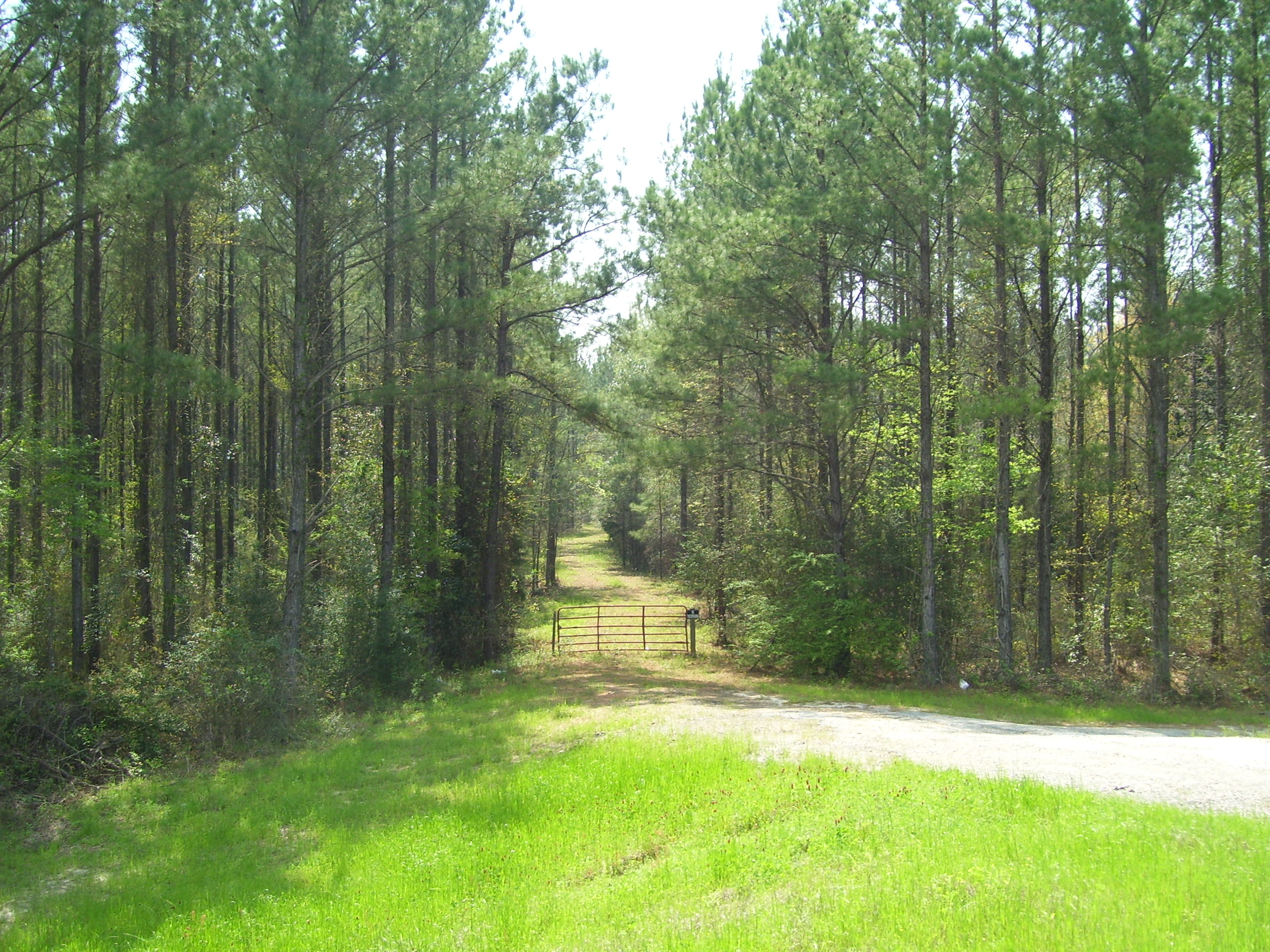 The sides of the road were very colorful, usually sporting clumps of purple or red flowers that came in batches. Here's a rare spot where I could take a photo that included purple and red together, as well as a splash of yellow. Spring's definitely here!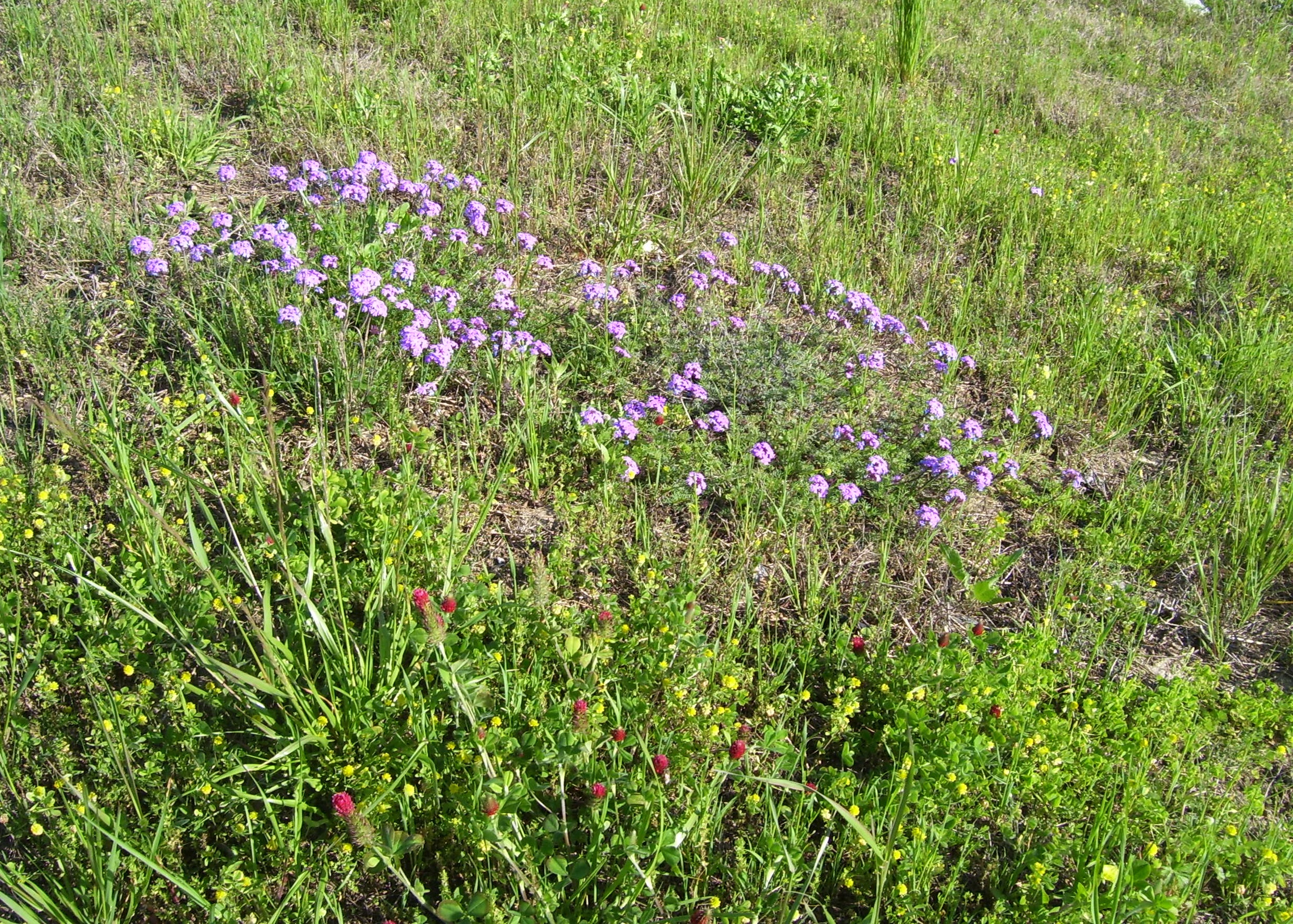 In between Andalusia and Opp, I came to this small regional airport, which had an unusual display out in front. I've occasionally seen an airport with some old jet up on a stand, but never a helicopter in an action pose.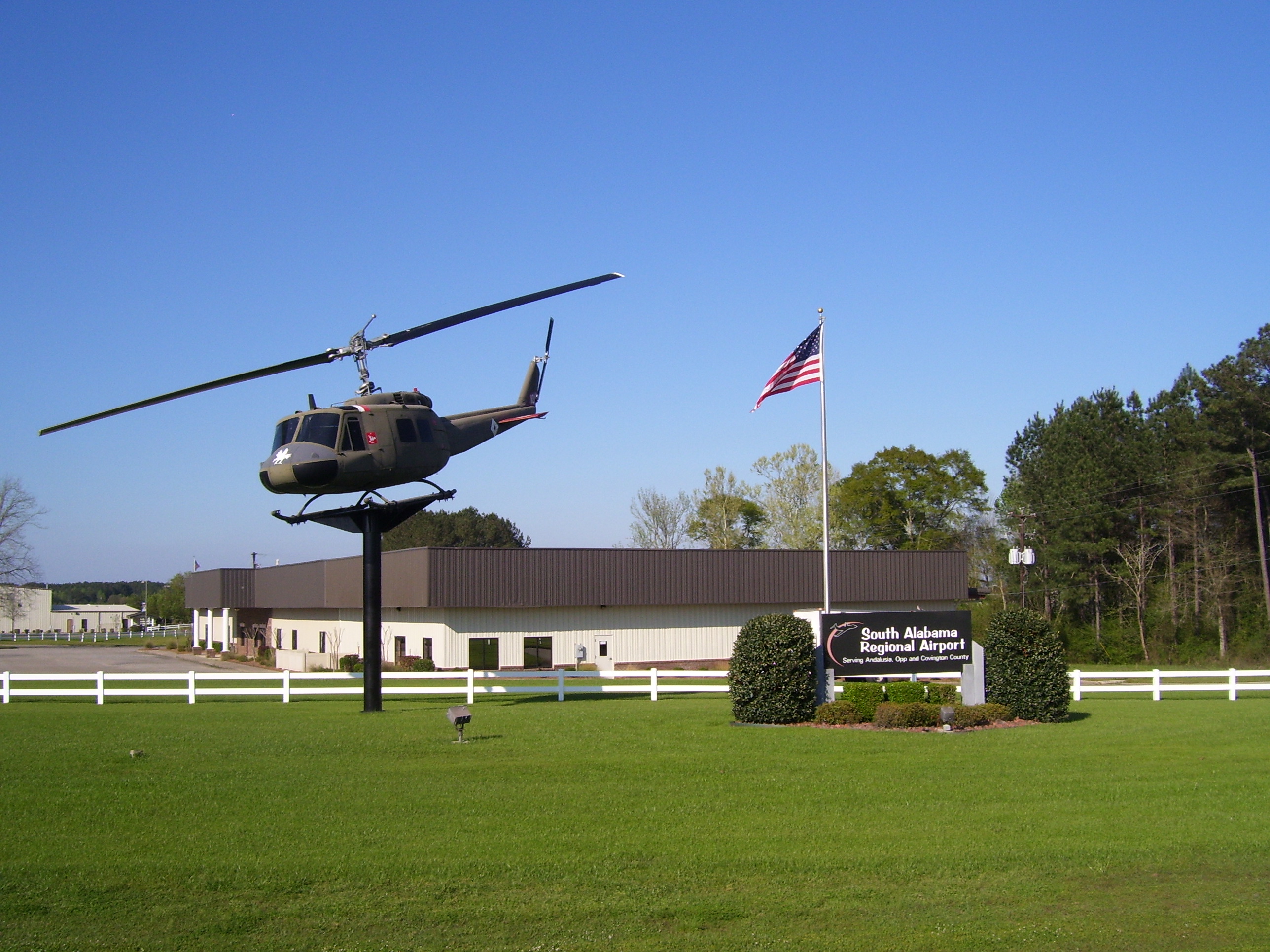 My sister says I need a haircut (which I do). I found the perfect barber shop, but unfortunately, it's a Sunday so they were closed. Too bad.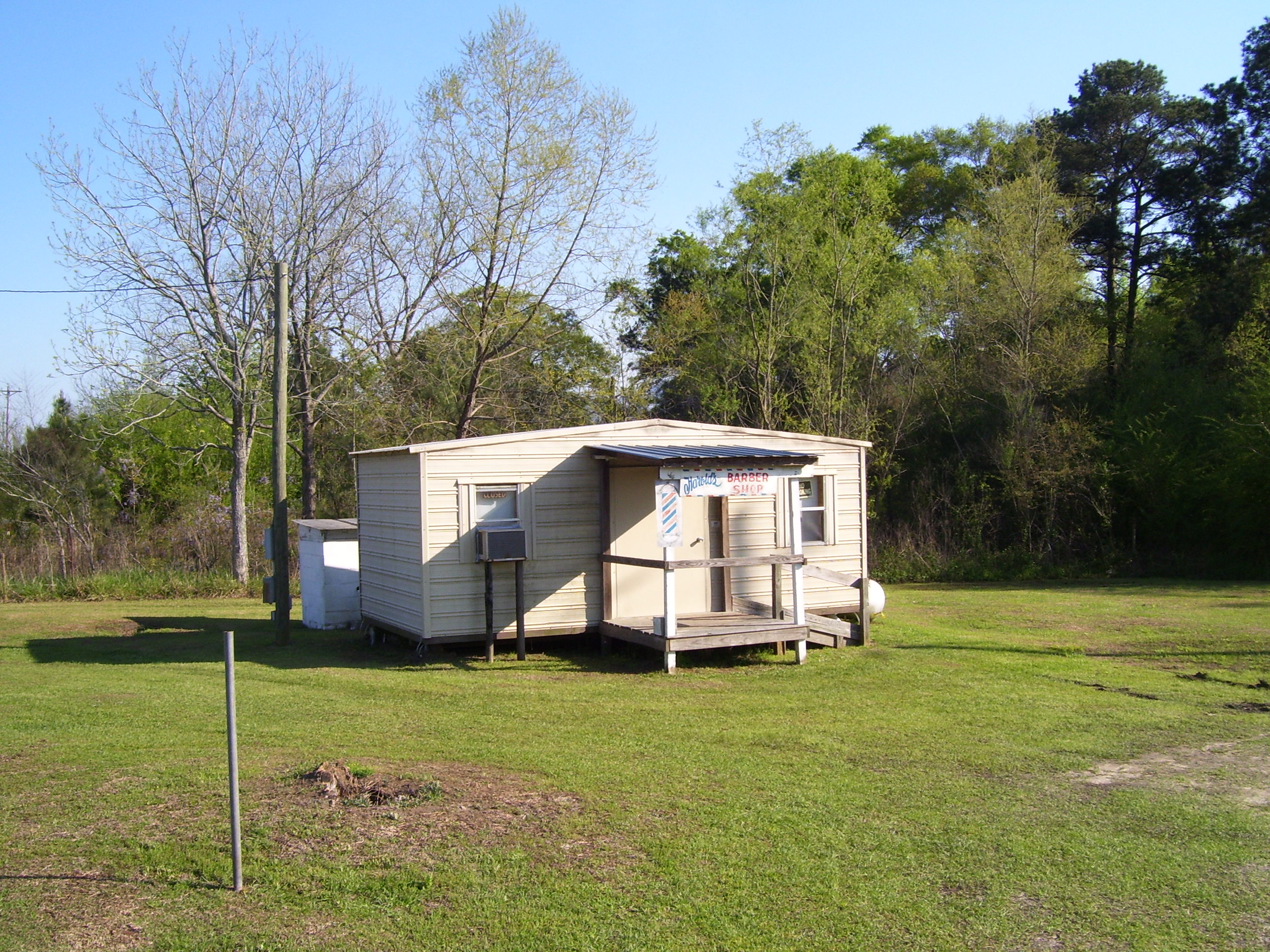 Some people have pools in their back yard. How'd you like to have an entire lake?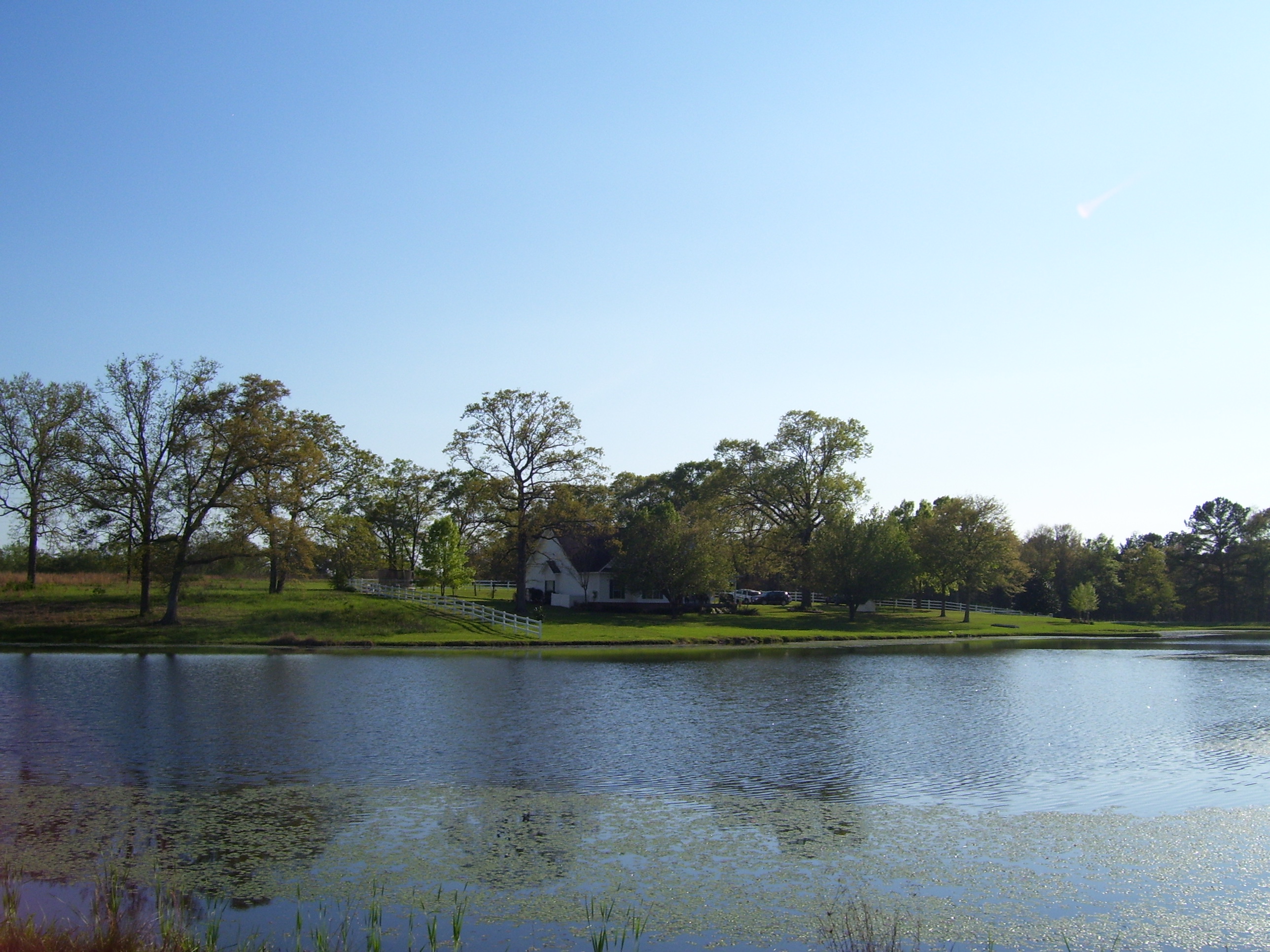 When I reached Andalusia, it was only about 4:30 so I knew I wouldn't be stopping there. I kept right on going and what do you know, the road grew from two lanes to four, and actually sprouted a useable shoulder! For the next 15 miles I enjoyed a rare luxury I haven't seen in probably over a week. I hope this lasts! I'm tired of riding out in the lane.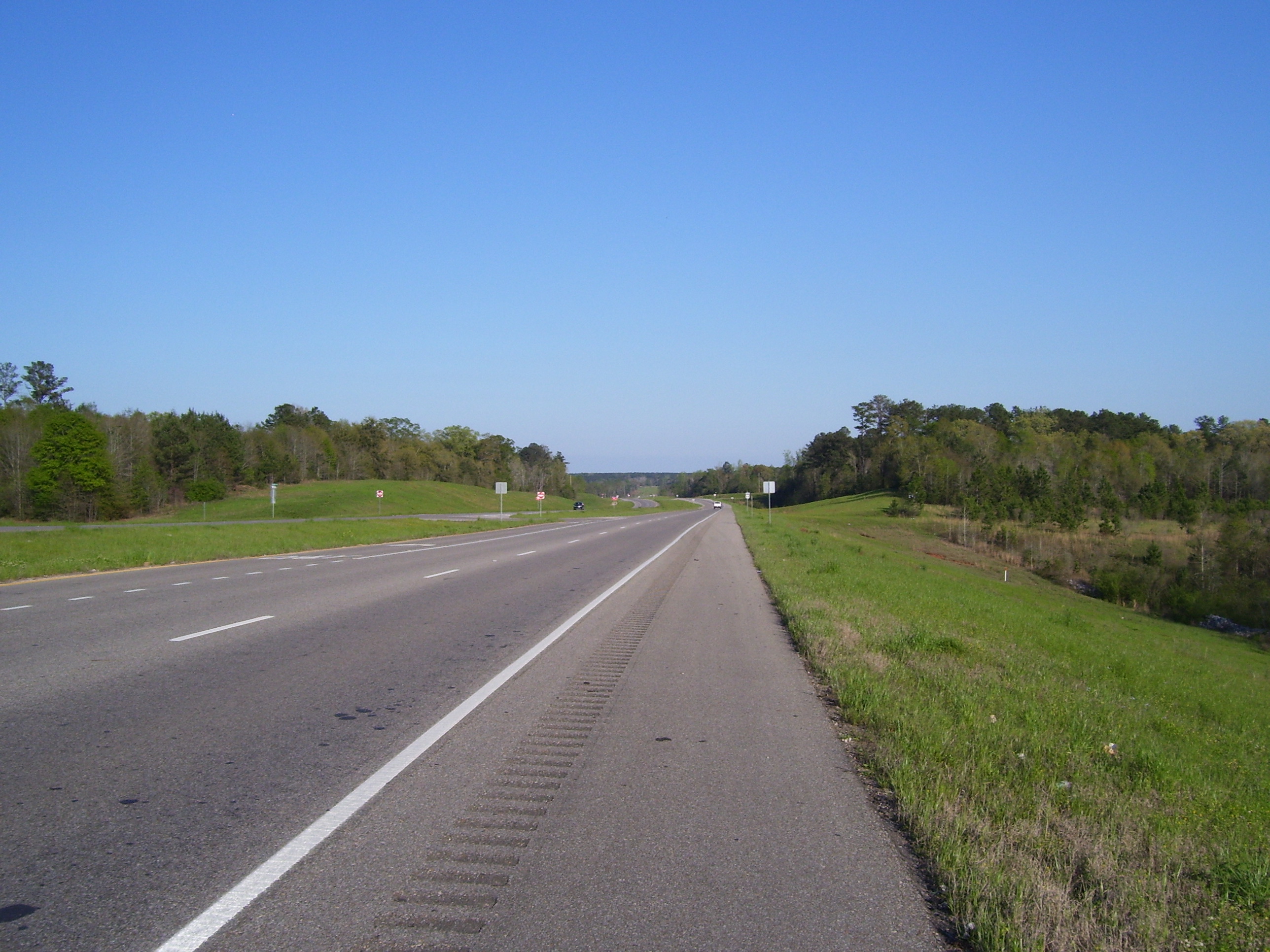 Around 5:45 I reached Opp, a town I really don't want to provoke on (that's a joke only my gaming friends will understand). I took the scenic way in, hoping to find something interesting to photograph, like a historical marker or something, but all I got were residential streets, some dollar stores, a grocery and a couple of hotels. I collected a couple of nearby geocaches, got a soda from the dollar store, checked into the Travel Inn, and picked up dinner from a Chinese place down the street (General Tso's Chicken, mmmm), and that's it for today. Less than 500 miles to go now...I'm inching closer and closer to the East Coast!