Day Seventeen (May 20)
154 miles, Lakota (ND) to Bagley (Minnesota)
Today's forecast was for a 15-25 mph northwest wind, so I was hoping for some distance (and got it). Unfortunately, the reported 50% chance of showers turned into a 100% chance of getting rained on all day long. The rain started about 10 minutes after I left the motel and didn't quit until I pulled into Bagley almost 11 hours later. I don't think the temperature ever exceeded 50F degrees, either. Only the wind kept me on the road. I could have quit in about three different towns (at 90 miles, 108, and 134) but went on only because I was already soaking wet and might as well enjoy the tailwind while I had it (as opposed to, say, yesterday's winds, which would have made today an absolute nightmare). Once at Bagley, I had the hotel attendant snap this shot of my wet self: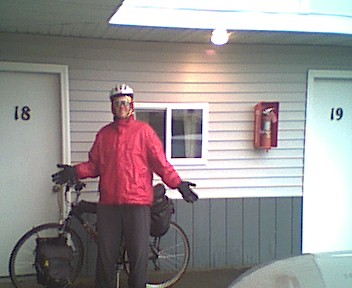 To stay dry on a wet day like this requires special measures. You can see the obvious rain jacket and waterproof gloves, but what you can't see are the shoe covers, rain suit under the jacket and sweats, and all the plastic bags inside my panniers keeping my spare clothes and other equipment dry. As it turns out, not everything was effective. Water still seeps in the panniers, causing condensation in the inside of the plastic bags. The shoe covers don't keep the water out at all (my shoes and socks were soaked), but at least they prevent the wind from freezing my toes. And the gloves keep the water out, but after 11 hours, the sweat and condensation on the inside had caused my fingers to turn into prunes. I think I enjoyed my hot shower after today's ride more than any other day so far this trip.
The best news, though, is that tomorrow's weather looks like it'll be just like today - scattered showers, high about 50, strong northwest wind. I don't care about the temperature (I've got plenty of cold weather gear), I just don't want it to rain again. Cold and wet don't mix.
Oh, also today I passed my estimated halfway point. This happened when I crossed the river at Grand Forks. Unfortunately, the state welcome sign was situated on top of the bridge I was using, and there was no place to pull over and get the photo. Stopping in the middle of a narrow bridge in the pouring rain with cars passing all about would not have been a great move.