View Larger Map
Day 2 - August 17, 2010
Mt Vernon to Snohomish, Washington
Miles: 55
Terrain: Hilly, some tough hills
Weather: Sunny but hot (over 90) again
Got up and left about 9:30am, which is early for me, and for about an hour the temperature was nice, around 70 or so, with very little wind. Cruised along for a while feeling all right, not really having any problems, until I got to route 9. I decided to take this road primarily because it was about the only one heading south that went all the way through without requiring lots of turns onto side streets. What I didn't realize was that it went up into the foothills of the mountains, and therefore was extremely hilly. There were some nice views, of course, but by lunchtime my legs were really hurting, and at one point they literally started to lock up, with most of my leg muscles starting to cramp. This happened on a long hill climb after leaving Route 2. Fortunately, a long rest and plenty of water cured that long enough to make it to my destination.
Originally my plan today was to try getting to Phil's place in North Bend, which is about 90 miles away. This is part of why I went down road 9 in the first place, because it was heading in the right direction, but also gave me quitting options at other towns along the way. The route went east for about 5 miles, then south almost the entire rest of the day (which will become common, I'm sure). A couple of the hills there were extremely tough. I was out of water after a couple hours, but I kept going because I was meeting a friend of mine, Brandon, someone I raid with in World of Warcraft. After searching around in Marysville for a while (he drove up there to meet me) we found a Burger King. I was really spent at this point, and about ready to quit for the day, but after eating (eventually...I didn't feel hungry and had to force myself to take each bite) and drinking about 5 servings of water and fruit punch, I felt much better. Everything except my leg muscles, of course.
After lunch it was off again, this time no longer on 9 but rather 529, a sort of highway heading south into Everett. This became very narrow and crowded after a while. The ride on 9 was mostly quiet and peaceful, whereas 529 was full of cars and trucks. I have a couple of pictures of this below so you can see what I mean.
The ride from there proceeded to Route 2, which of course is the road I used for the vast majority of my cross-country bike trip 10 years ago. This is about the only point at which I'll duplicate any part of that ride, and it was only for about a mile anyway. Almost as soon as I got onto 2 (on a pedestrian and bike path), I was off again and heading south into Snohomish. There was one final monster hill and then I was done.
As it turns out, Brandon was kind enough to invite me to crash at his place after today's ride, which is why I wound up in Snohomish instead of someplace else. The house he lives in is historic, circa late 1800s, and I've included a picture of the interior below. Tomorrow, I'm going to try to get to Phil's after all, so I can buy him dinner to repay him for the long drive to Canada on Day 1. I figure that's the least I can do. After that I'll spend a couple days getting to Lacey for another day of hanging out with Tom, before finally getting started with the main part of the ride.
Now on to today's pictures. This first one is a view of a small town up on a hill along Route 9. The only way into or out of this place is an extremely steep and winding road that made me cringe just looking at it. Needless to say, I passed on by.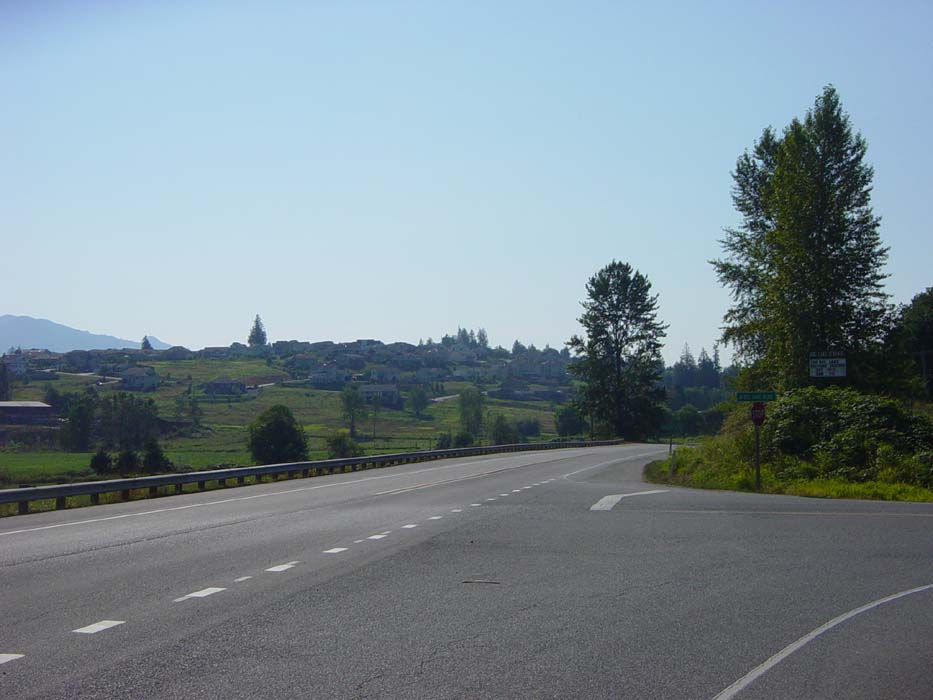 This is a view of Big Lake, which I rode past during my many hill climbs along route 9. There are houses all along the shore, including all along the narrow road where I was riding, and all I could think was how much did those cost?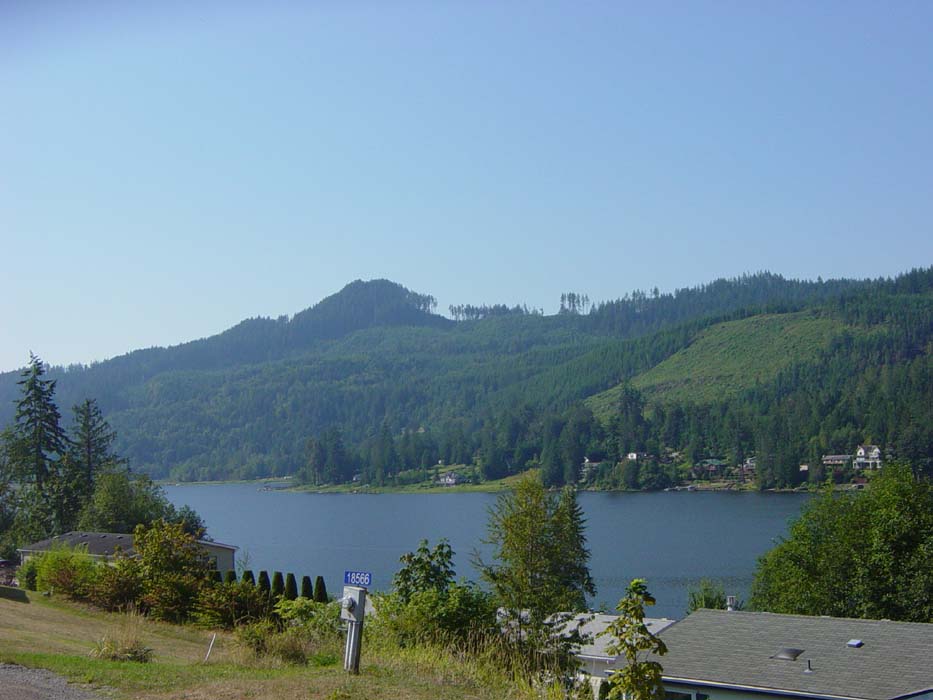 This was where I took my first break, about 12 miles in. You can see the hill I just climbed, which extends down and around the corner. Also, behind me, it continues on up and up quite a ways. Probably about 1.5 miles of total climbing right here. My legs were already getting tired and I hadn't even gone 12 miles? I could tell it would be a long day. Plus by this point it was getting hot, even with the shade (which didn't last).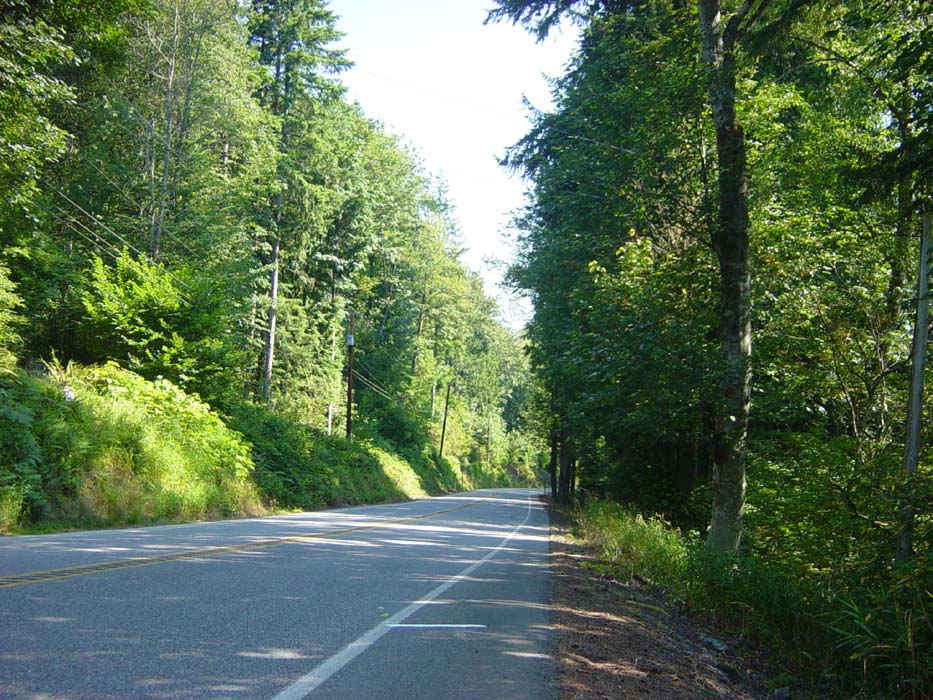 This next set of pics is from after lunch, as I rode along in somewhat less hilly areas (except for that last one). First I came to a series of (narrow) bridges, including this one, a drawbridge. Not just one of those small wooden ones either, this was a full size normal bridge that also acted as a drawbridge when needed. It wasn't up when I was there, but the sheer volume of traffic suggested that if it ever did get used, the backup would go back quite a ways.
Also, regarding this bridge, after watching that truck fly past me, I was pretty worried about the narrow lanes and lack of shoulders. As you'll see, this was not an issue.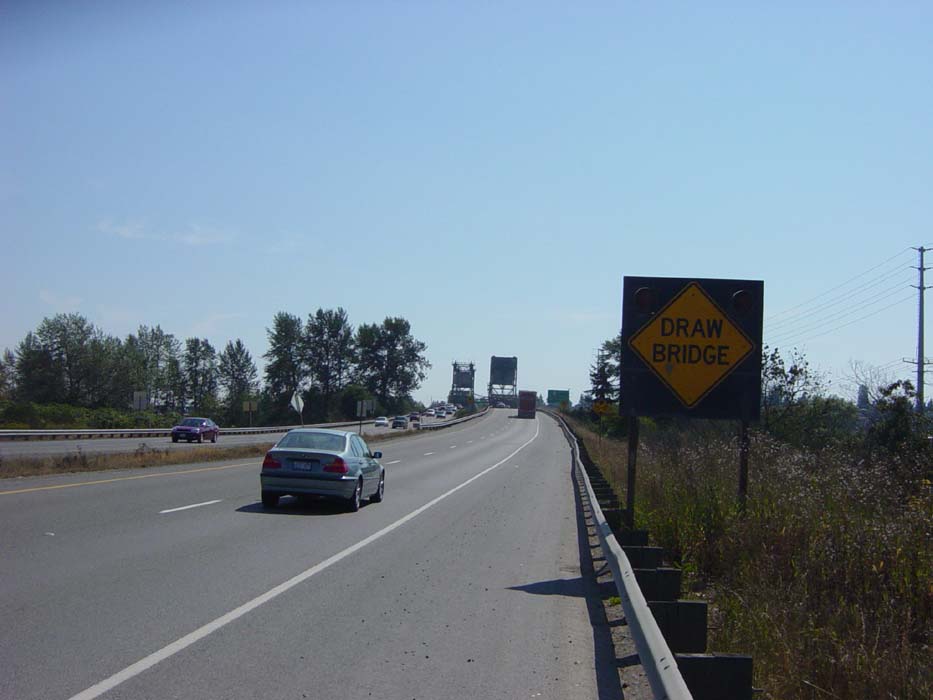 Here's a view from that same bridge, looking out over the water to the right. There are all sorts of cables and moorings and things down there, so I really wonder how any boat is supposed to come down here to use the drawbridge.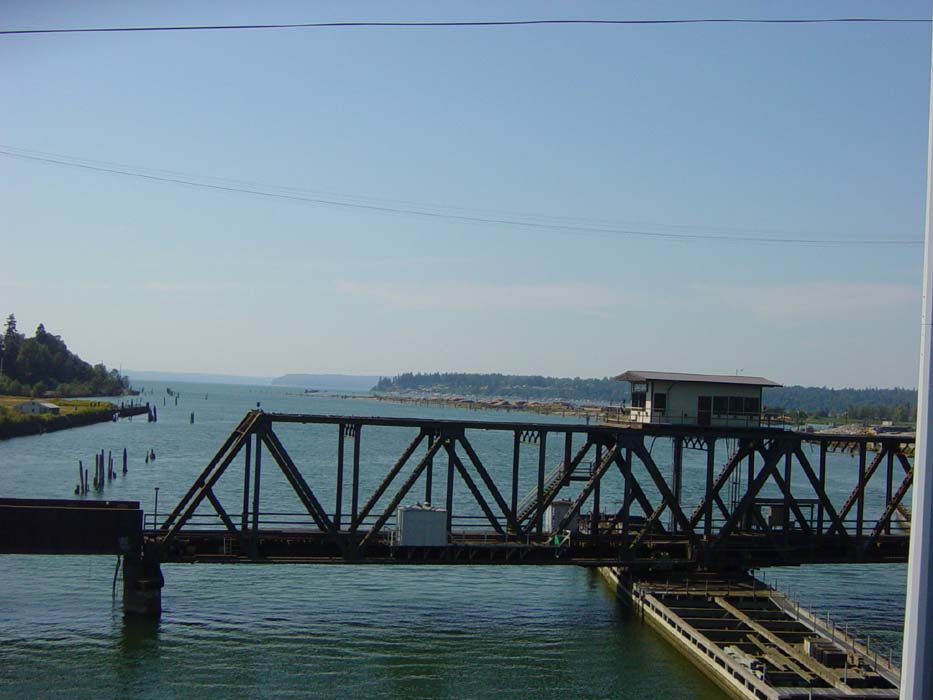 Another view from the bridge, looking forward. How nice of them to provide a handy bike path with a built in guardrail! It was frightfully narrow, but it got the job done.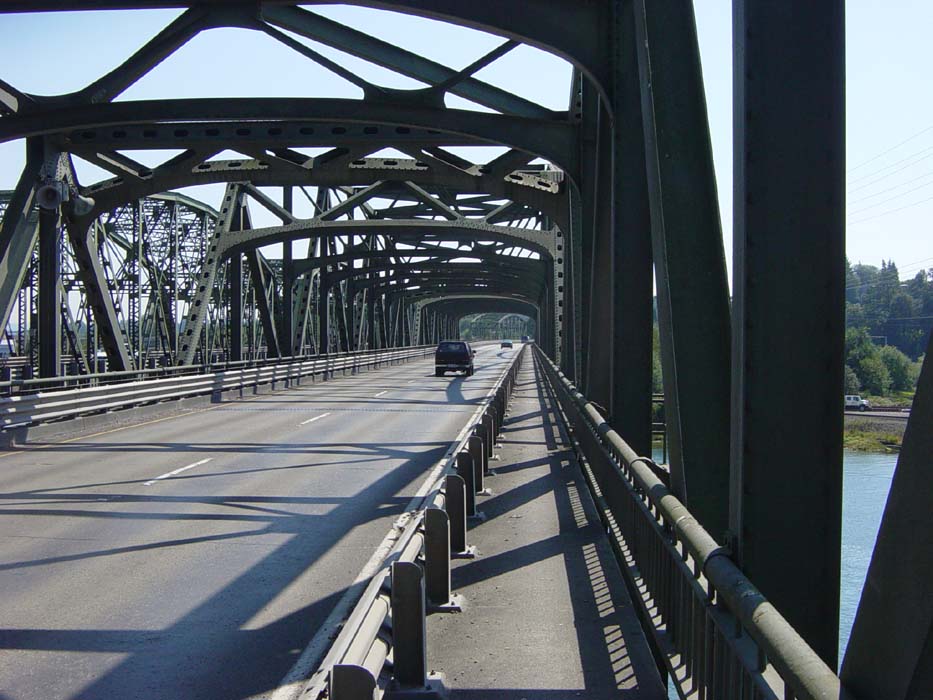 After leaving this bridge, I headed on towards the start of Route 2 in Everett. At this point Route 2 is a restricted access highway with a very narrow 2-lane bridge-style overpass extending out over I-5. Once again, though, there was a nice bike path alongside, separated by a concrete barrier and about twice as wide as the drawbridge. This gave me the opportunity to stop and take a couple of photos, like this one (most drivers on Route 2 never get a good look at this stuff, because they can't really stop to see it).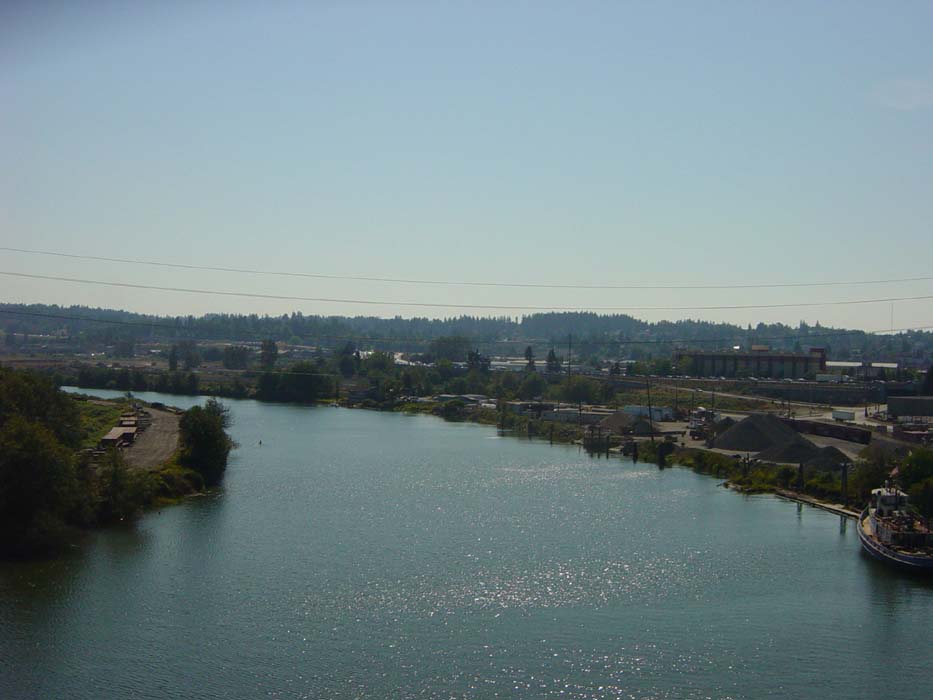 This is a view to the left from the same spot. Cars are pretty close, huh? Perfectly safe here behind the barrier, though.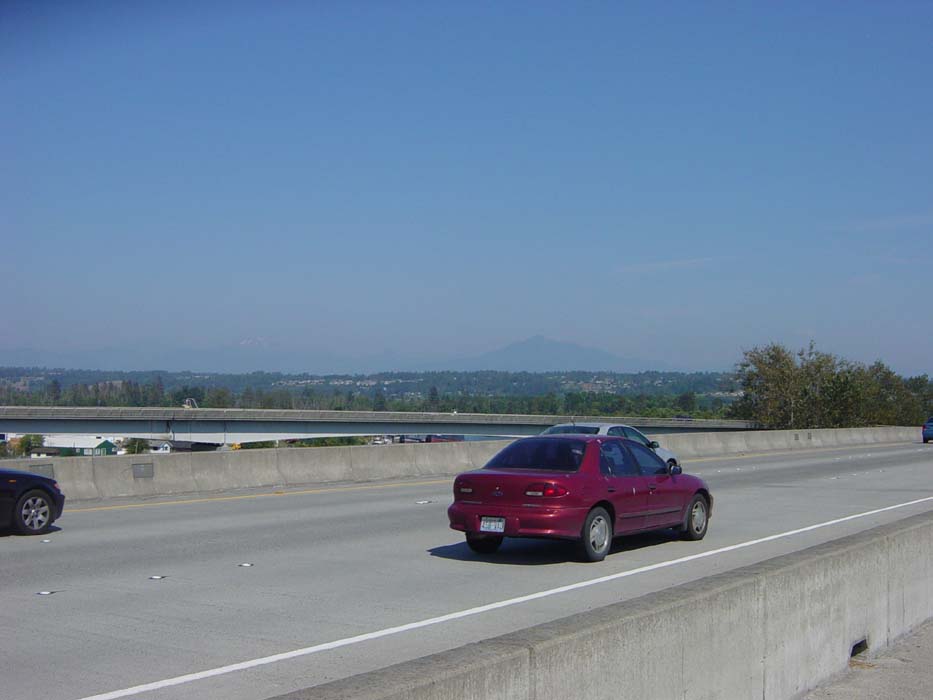 One last view from the same spot, looking forward. You can see how wide the path is here. About half a mile down and around that corner, it breaks off to the right and I wound up riding below the actual highway. Route 2 doesn't climb into the hill there to the left (just before the trees you can see a climb up the hillside), but rather angles off to the right. The hill I did climb, though, was at least that bad if not worse.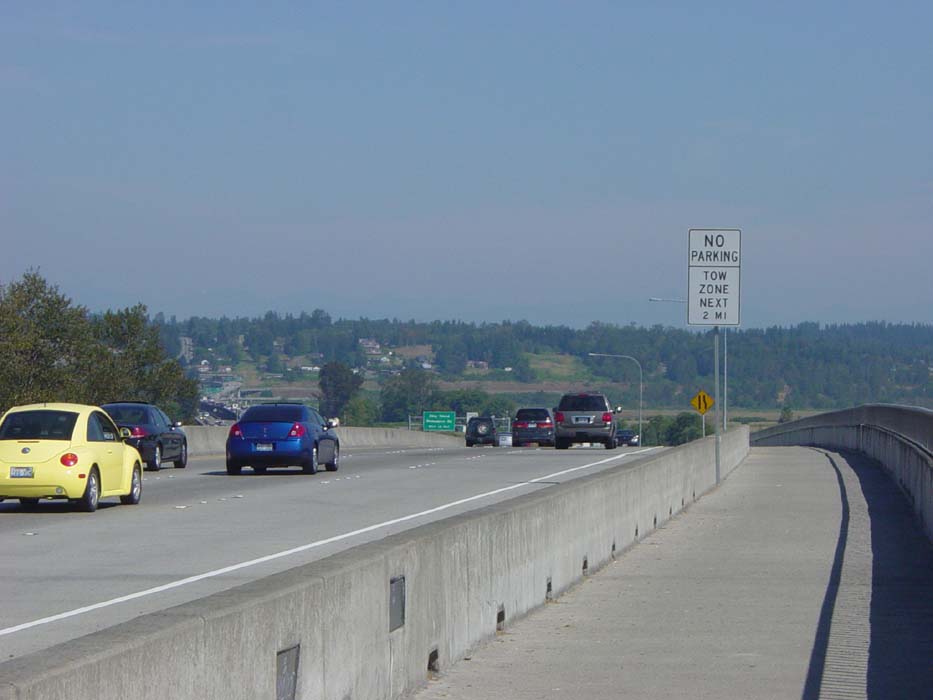 This last shot is Brandon's house, a historic building still outfitted with original late 1800s era furniture. Except for that anachronistic TV and speaker. Very cool, really. I was afraid to touch any of it.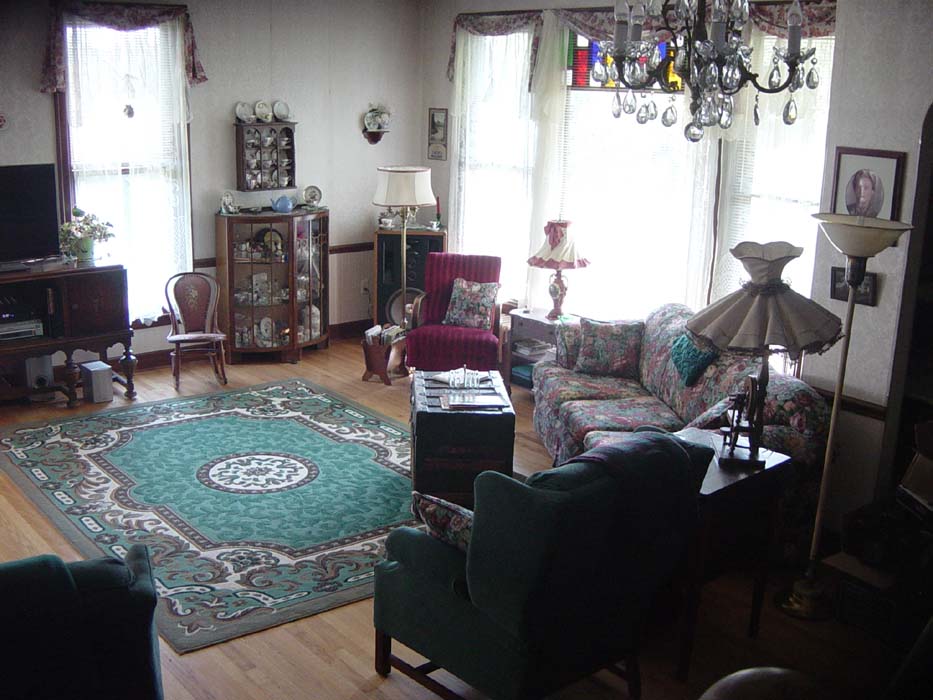 That's that for today. Spent the rest of the evening drinking tons of water and rehydrating. Tomorrow's ride should be much shorter than today's.
BONUS: Paradox members, click here to see Galaphile's sweet gaming rig!