View Larger Map
Day 4 - August 19, 2010
North Bend to Lacey, Washington
Miles: 100(!)
Terrain: Mostly level with a few horrendous climbs
Weather: Cloudy and cool (50 at start, 65 midday) turning sunny afternoon; mild variable winds
The next stop on my trip down the coast was back at Tom's house in Lacey (where I stayed prior to the start on Day 1), but I was figuring on two days to get there. As Phil pointed out while we were driving around the night before delivering pizzas, all the routes south and west from North Bend lead through terrible climbs over mountain passes. We even drove a couple of those roads, because his delivery range is huge and for some reason people around here like to live high up in the mountains. I guess maybe they like cool temperatures and great views or something. Crazy, I tell you.
Anyway, the only ride he considered even remotely possible was to take Route 18 southwest over Tiger Mountain, which was a 2000ft elevation gain over just a couple of miles...about half the Cascades, which I experienced to my regret back on the cross country trip. The route up to the mountain involved a couple of serious climbs to Snoqualmie Ridge, followed by a sharp descent past the I-90 crossing, whereupon Route 18 became a narrow 2-lane road up this steep climb. I wasn't sure I could manage it with all my gear, so I told Phil to stand by to come fetch the camping stuff and saddlebags if needed, and drive them over the top for me. I was, however, convinced I could make the climb, or at least determined to try. This was going to be the worst climb until I get to Oregon and I wanted to see if I could pull it off. Plus, I've always been a little bit annoyed at how I had to walk my bike up the Cascades, so I wanted to try doing this with all my gear.
So, the next day, I left about 11am (taking my time to make sure there would be as few commuters on the road as possible) and headed out. At the bottom of the first climb, I took it easy, averaging about 3.5mph all the way up to the top of the ridge. At this point I was feeling all right, so I let Phil off the hook and told him I'd try the rest of it with all the stuff. After descending past I-90, I steeled myself for the massive climb, ignoring the light rain and traffic, and pressed on, ready to see if I could do it....
And then the police intervened!
That's right, the cops showed up, and told me in no uncertain terms that bikes weren't allowed on Tiger Mountain. It was just too dangerous. So I asked the officer how I could get to where I wanted to go, and he said I should head to Issaquah and then go south, where I could pick up I-18 again at the bottom of the mountain, where it was safe for bicycling again. This of course would take me many miles out of my way, but there was another problem as well...the only way to Issaquah from there was to get on I-90. That wasn't an issue, though, as the officer pointed out, it's perfectly legal to ride a bike on interstate highways in Washington (there are some exceptions, such as I-5, unfortunately). Now, just because something is legal doesn't mean it's smart, as riding a bike on an interstate is not something that sounds like a great idea, but here we have an officer of the law actually recommending I go that way...so I decided to give it a shot. And you know what? It wasn't all that bad. The shoulders are huge (wider than a normal lane) and clean, with very little in the way of ruts or debris, so it feels like you have an entire private lane just for yourself. I had absolutely no trouble whatsoever on the highway, much to my surprise. It did take me about 15 miles out of my way, but the cop was right, it was definitely safer than a narrow shoulderless 2-lane road climbing 2000 feet up in heavy traffic.
After Issaquah, the light rain stopped and the skies started to clear as I got back on Route 18 (now a highway in its own right at this point, but just as easy to navigate) and headed towards Puyallup, where I intended to stop for the day. But when I got there, I realized I was only 35 miles from Tom's place and I was feeling pretty good. Riding on the highways was so easy, and the tuneup and tire pressure from yesterday improved everything so much, that I just kept on going. By the end of the day (just after sunset) I'd managed to do my first century (100-mile ride) in years. In fact, I pretty much never expected to do another one of those ever again, and here I am on Day 4 of this trip already putting one in my pocket. Yes, my legs were sore, but no more so than yesterday, and I had no problems breathing or anything else, so I don't even feel like I overextended myself. The best part is, because I got here a day earlier than expected, and had intended to stay through Saturday, I now have 2 off days to recover. I'll still do the daily 10 mile rides just to keep the streak going, but nothing more. The next real ride will be to 101 which I'll ride all the way around the Olympic penninsula for about 5 or 6 days before proceeding on into Oregon and down the coast.
Now for today's pictures. This first one is of some old railroad engines and cars destined for a rail museum in Snoqualmie. Most are rusted out but still capable of moving on the tracks. There are placards in place in front of most of them identifying what they are. A pedestrian and bike path runs along in front of them (you can't see it, but it's there).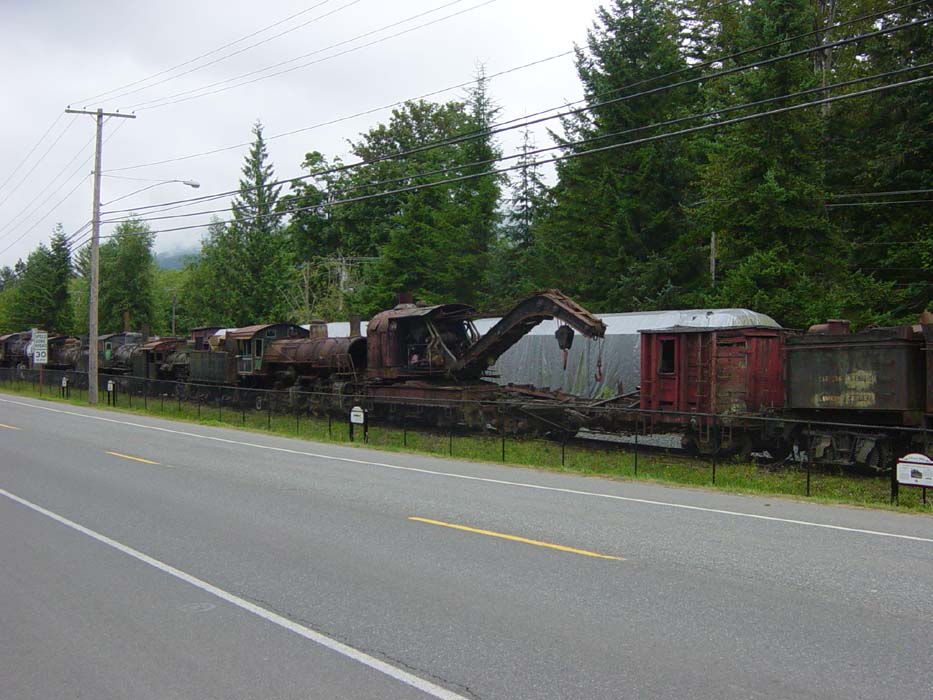 Once I got to the top of Snoqualmie Ridge, I snapped this photo of the hill I just climbed, which of course doesn't do the elevation any justice. Trust me, it was steep. The mist on the mountains behind the road is typical of mornings in this area.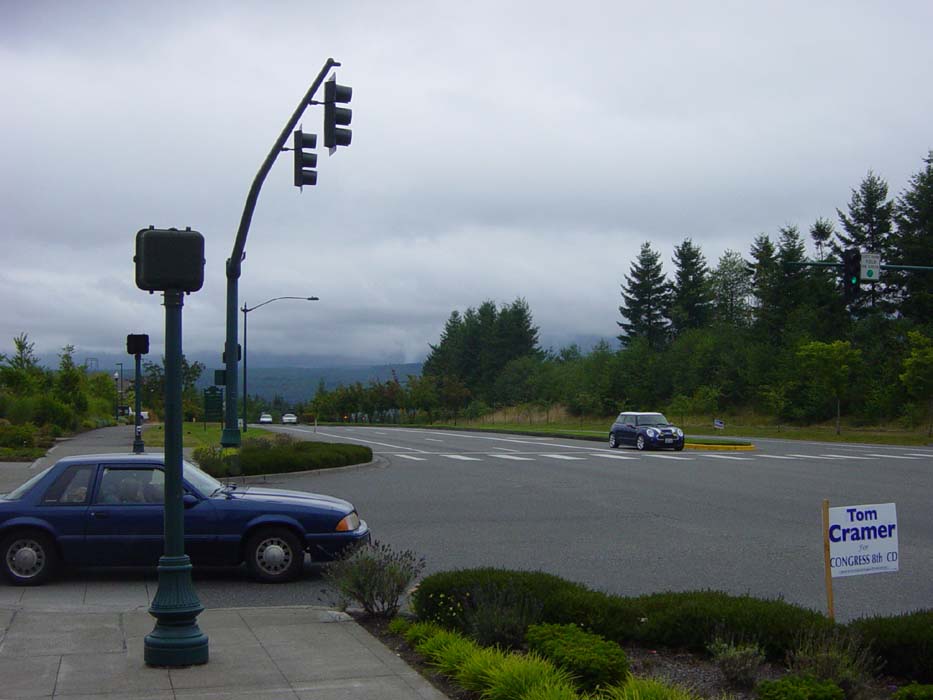 This photo was taken as I was about to get on I-90, which headed down for a ways before making a few climbs and turns. When I took this, I wasn't really sure what to expect from the road and traffic. Like I said before, though, it wasn't too bad. If it hadn't started raining, I would've been able to go a lot faster and had an even better time.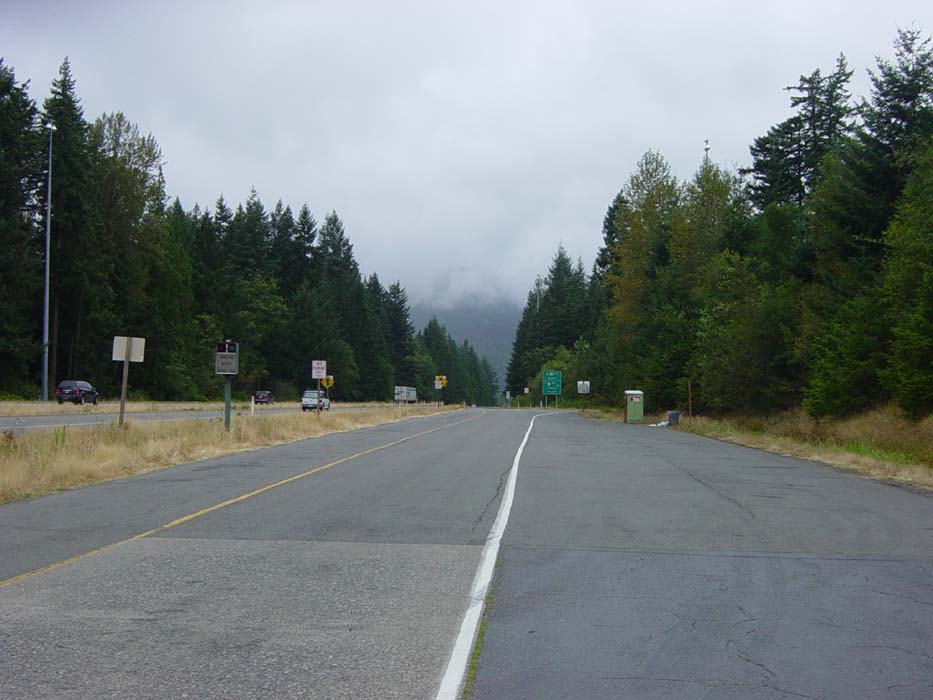 This view is from Route 18 once I got back onto it after passing through Issaquah. As you can see, it's a highway as well, with very wide shoulders, lots of trees and overcast skies. The weather didn't start clearing up for another hour or so.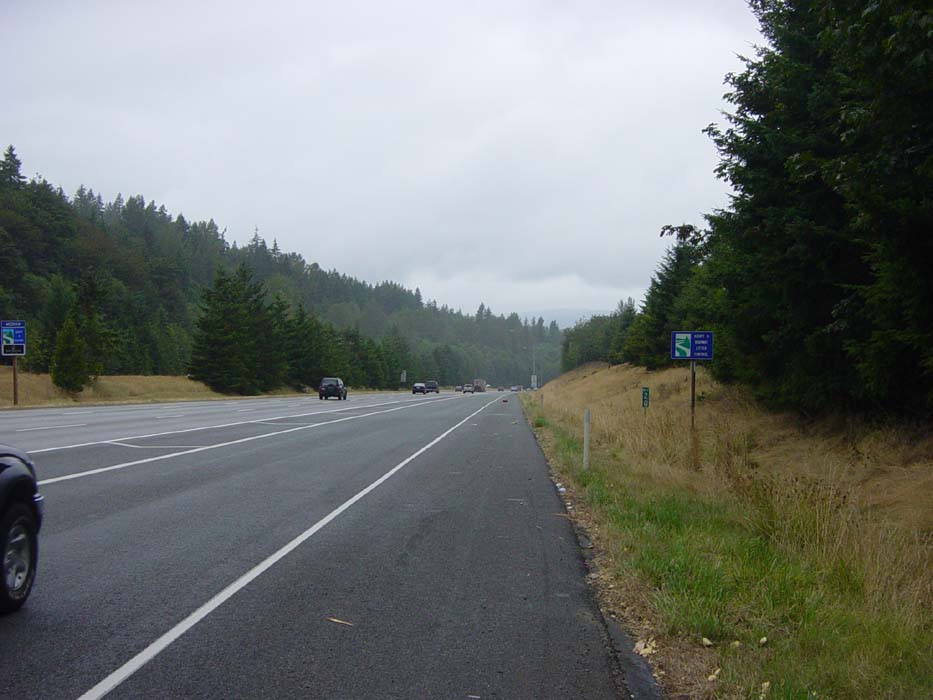 Now for a view from yet another highway, this time heading down towards Puyallup. The weather's looking better at this point and the winds are behind me now, making for a couple of very easy hours of biking. Shortly after this, when I took the exit west, I had a massive climb (about as bad as the ridge earlier) that had me sweating pretty badly. Fortunately I'd just loaded up on water at the Jack in the Box where I had lunch, so it was all good. There weren't any more terribly bad hills the rest of the day, either.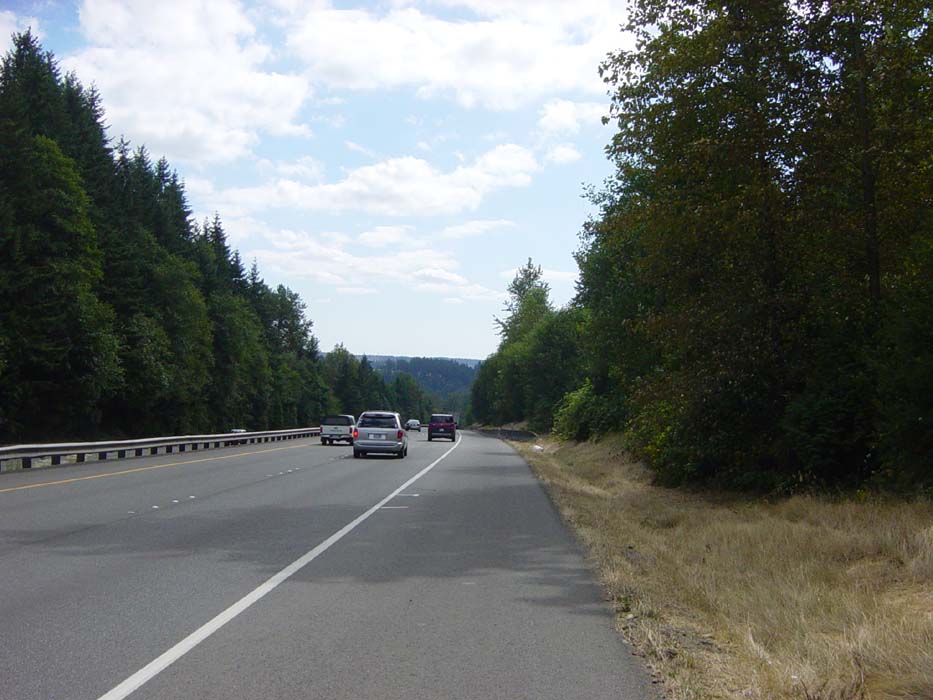 Mount Rainier, one of many views I had of the mountain today and over the course of the week. With the sun starting to go down behind me, the snow seemed to light up, making the mountain seem to jump right out of the scenery. Highway traffic looks thick here, but that's because just ahead there was a slowdown for some reason and everybody was stopping (including me). For about a mile or so after this I was passing all those stopped cars, safe and secure in my own private lane.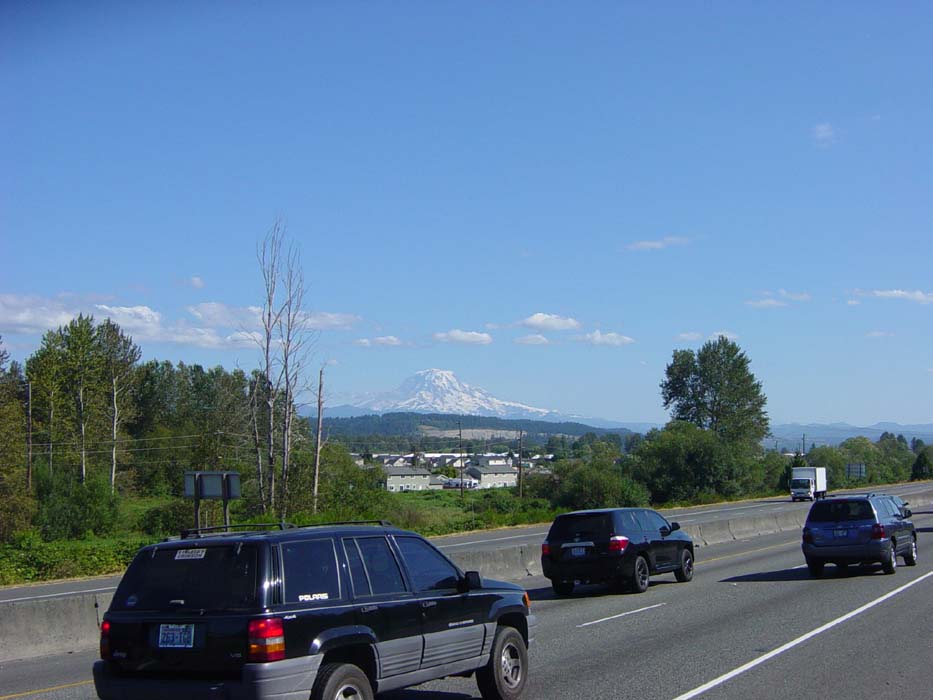 For the last pic of the day, I stopped just before leaving the highways and getting onto Route 7 south. This is a view of a small town down below, but I can't recall the name. You can see that unlike the previous few days, the terrain now is quite flat and comfortable. The remaining 35 or so miles of the day had barely any climbs at all.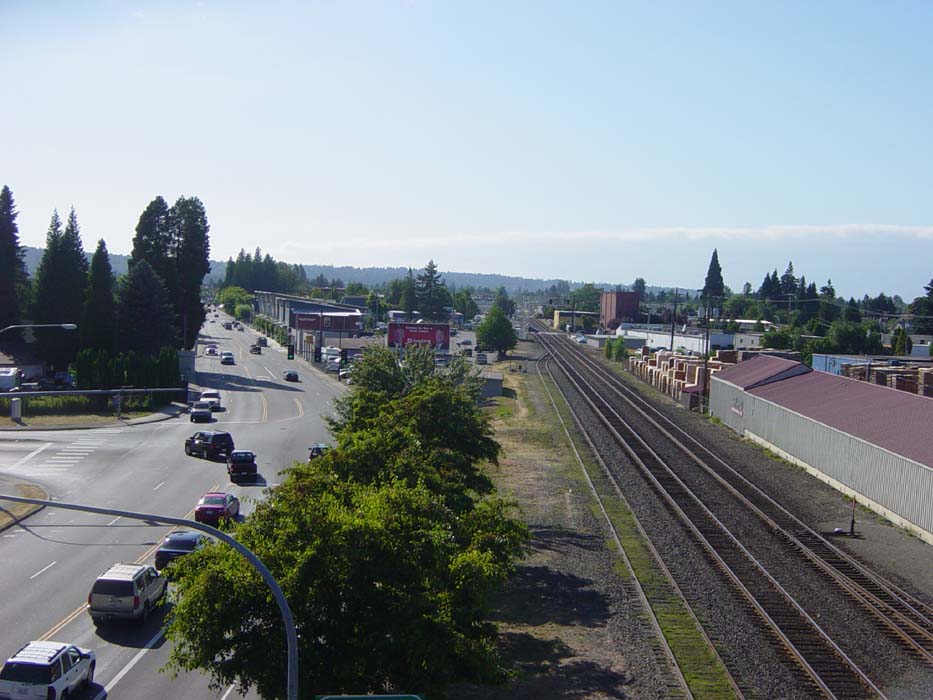 Time was getting short as I headed through Yelm towards Lacey, so I didn't even stop, spending the last 3 hours or so of the ride in the saddle without a break. I'm sure I'll pay for that tomorrow, but like I said, at least I have two off days to recover. There won't be any pictures or updates until I head off again on Sunday, which will be Day 7 of the trip in real time, but I'll call it day 5 since we're talking about actual riding days here.