View Larger Map
Day 5 - August 22, 2010
Lacey to Brinnon, Washington
Miles: 66
Terrain: Up and down, up and down all day
Weather: Sunny, cool, and strong headwinds
Two days off and the legs are feeling much better, so off I go on the next leg of the trip. As mentioned back on the opening page, I was convinced to journey around the Olympic penninsula (that part of Washington State that sticks up to the left) instead of just cutting across it and down into Oregon. Yes, this will add 4-6 days to the trip, but who cares? I'm not exactly in a hurry, I want to see stuff I'd never otherwise see, so bring on the penninsula!
During the days off, of course I still did basic 10-mile rides just to keep the "bike every day" streak going. Also, saw a couple of movies, and did a bunch of gaming, some of which took place at a local shop called Olympic Cards & Comics. Anyone who knows me knows I'm a gamer, so of course I jumped at the chance to enjoy a game day with some friends from the Seattle area who I never otherwise get a chance to game with. Also, anyone from back home who's ever been in a game store has never seen anything like this place. It's monstrously huge compared to our usual shops. You could probably fit 10 Dayton area game stores inside this one building. I've included a picture below, so you can see what I mean. This entire building is full of nothing but games and comics. Imagine a full size warehouse packed with games and you've got an idea of what I'm talking about.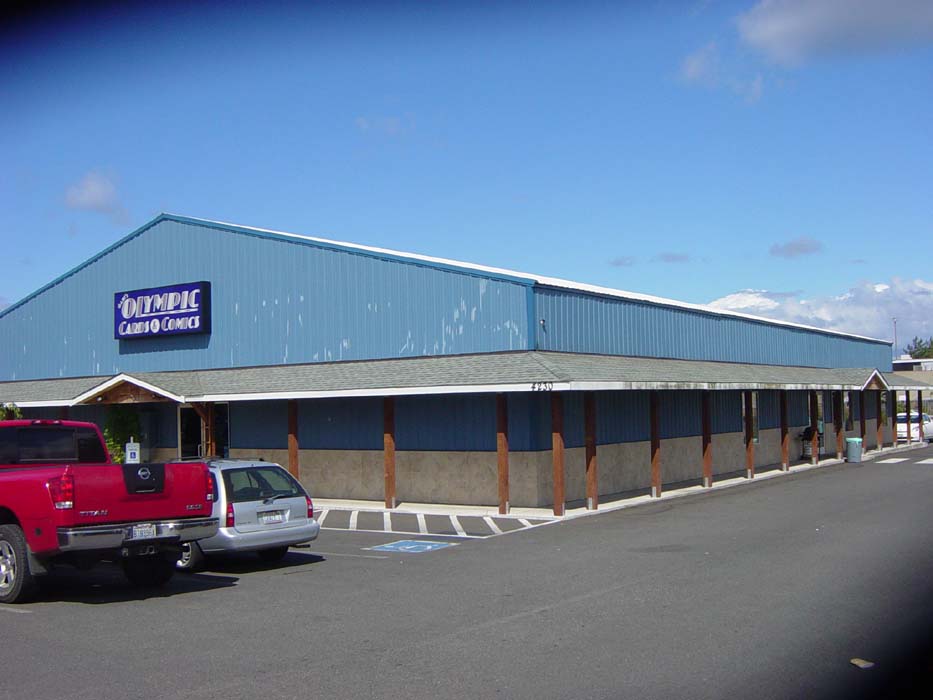 But enough of that, let's get back to the bike ride. When I set off, it was about 11:30am, sunny, and maybe 60 degrees (if that) and it never got any warmer all day. Keep in mind that this is late August here, and of course only 5 days ago it was in the 90s. Well, the weather today was typical of late summer climate in Washington. The temp will get down to 40 tonight, or so I'm told, which makes me glad I'm not camping. The plan, in fact, was to make it to a cabin in Brinnon, a place Brandon's folks offered to let me use tonight if I wanted it...which I do. There aren't likely to be any hotels out that way (at least not any affordable ones) and camping when it's that cold sounds like no fun at all.
So anyway, I set my sights on this cabin somewhere in the Brinnon area and set off. Tom took this shot of me leaving this morning, which is very similar to a departure picture he snapped 10 years ago when the great cross country ride started. So there's a nostalgia factor with this one.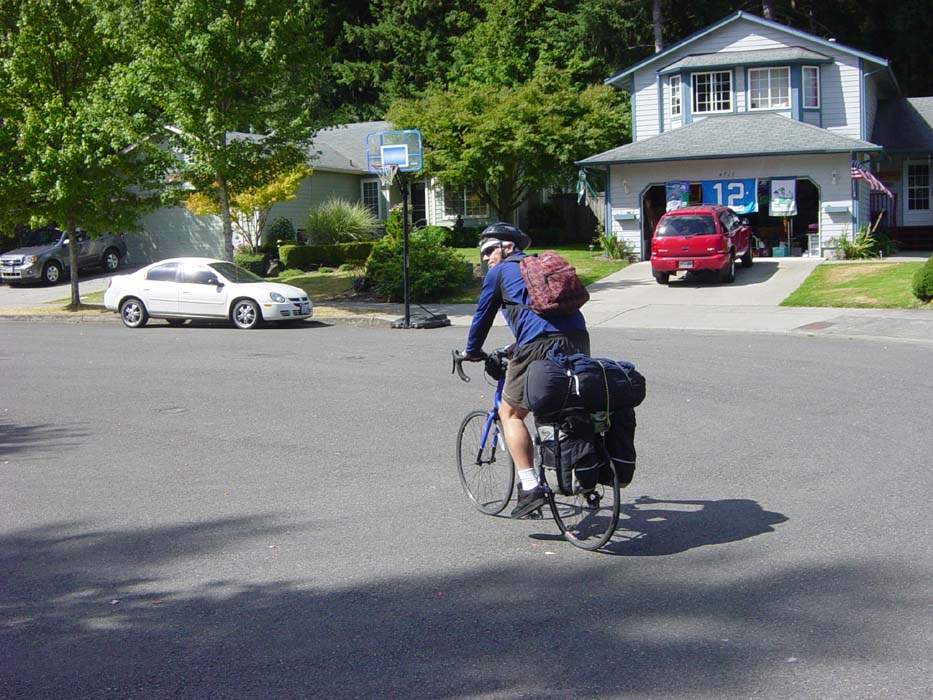 The route today headed west along surface streets, passing first through Olympia, which happens to be the capital of Washington. The road descended sharply into town, so at the top of the hill beforehand I snapped this pic. You can see the impressive capital building on the left. Also note how strongly the wind is pushing at those flags. I had to ride into that wind most of the day, and probably will do the same tomorrow.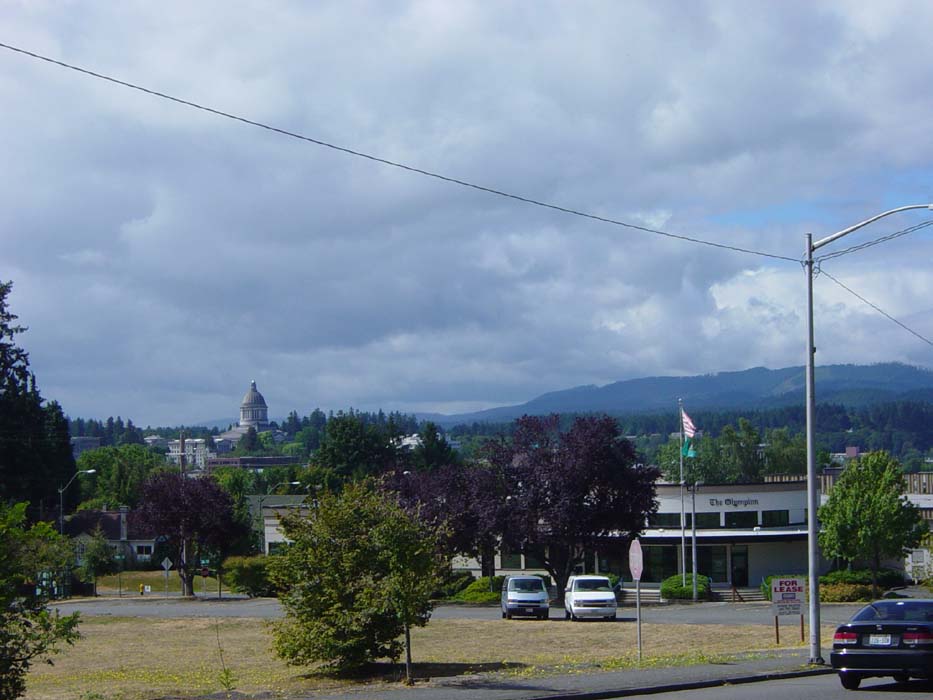 Here's another shot looking at Olympia, just to the right of the picture above. The hill in the distance, with all the houses on it, had a nasty rise on a narrow street that took everything I had to climb. Fortunately it didn't go on very long. However, this was a harbinger of things to come. Once out of Olympia, and onto the penninsula, almost every mile was a quick downhill run followed by a slow, painful climb. Good thing I took two days off.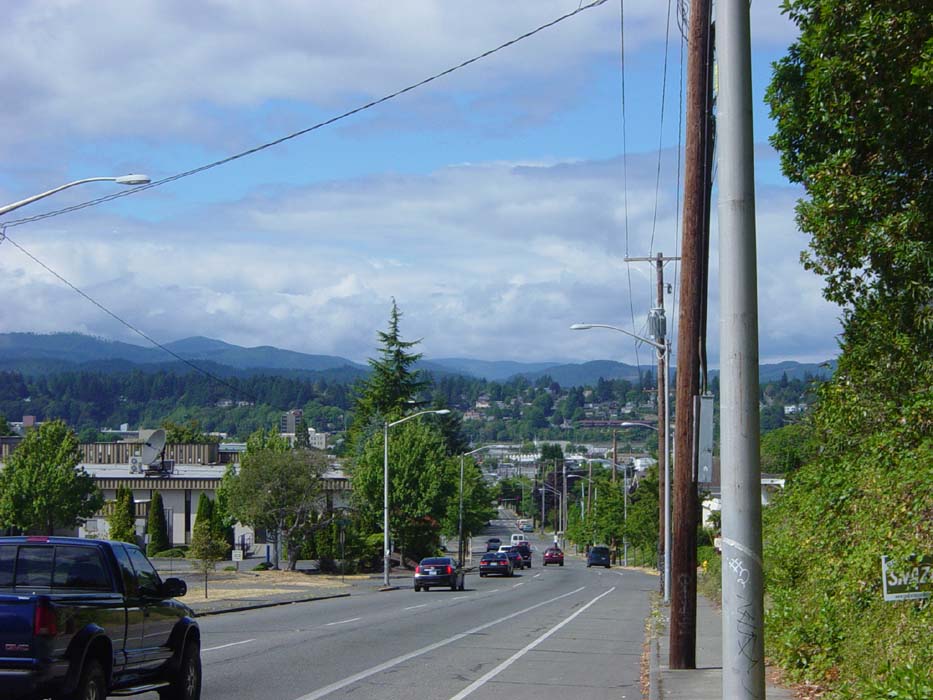 After Olympia, the route connected me with Route 101, which I'll be on all the way through Oregon and part of the way into California (at least until 101 heads inland and I get onto Route 1). However, at this point, 101 was still a highway, and while it was legal to ride a bike on it, there was a nasty intersection I wanted to avoid. Besides which, a local road along the coast would have better things to see, right? One of those was a place called Mud Bay, which it turned out was aptly named...
Scenic, huh? Well, there was much better, I assure you. After finally getting on Route 101, which quickly went from 4 lanes to 2, the coast became much nicer to look at, as you can see.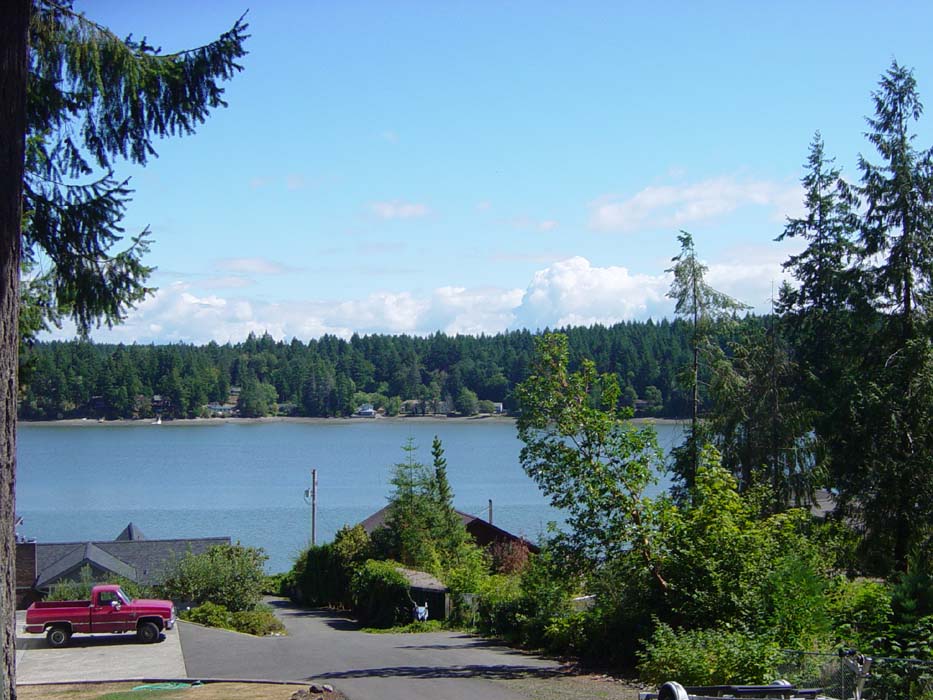 Most of the coast looked similar to that, with homes scattered here and there along sections of beach, or long stretches of trees along a rocky coastline. In the other direction, inland, there were usually hills and tall trees, but occasionally the land would open up to views like this one here, with the Olympic Mountains in the background.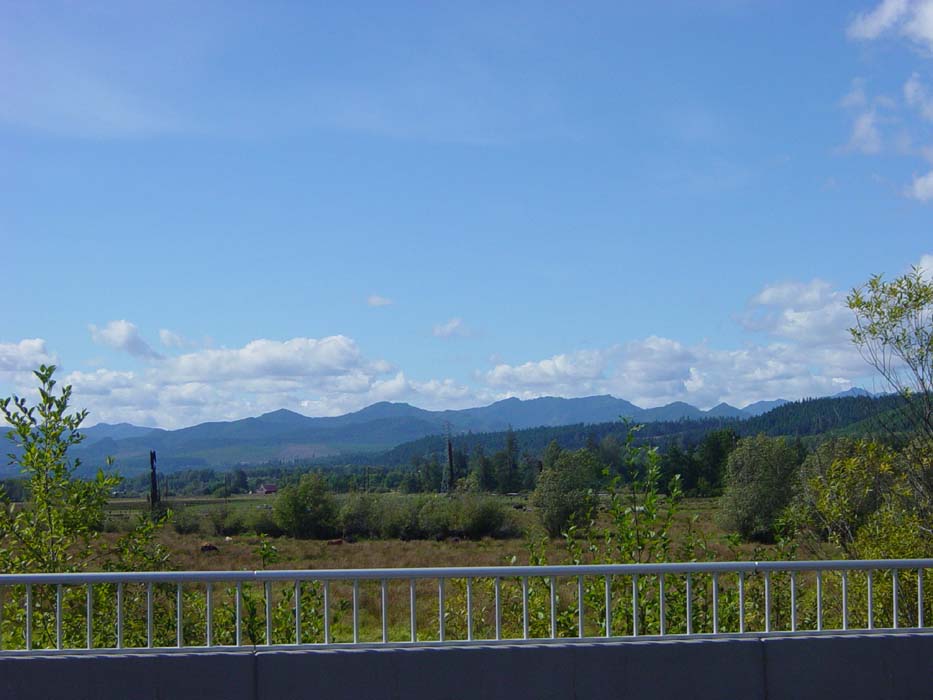 Here's another one looking out from the shore. Again the wind shows itself, this time by chopping up the water.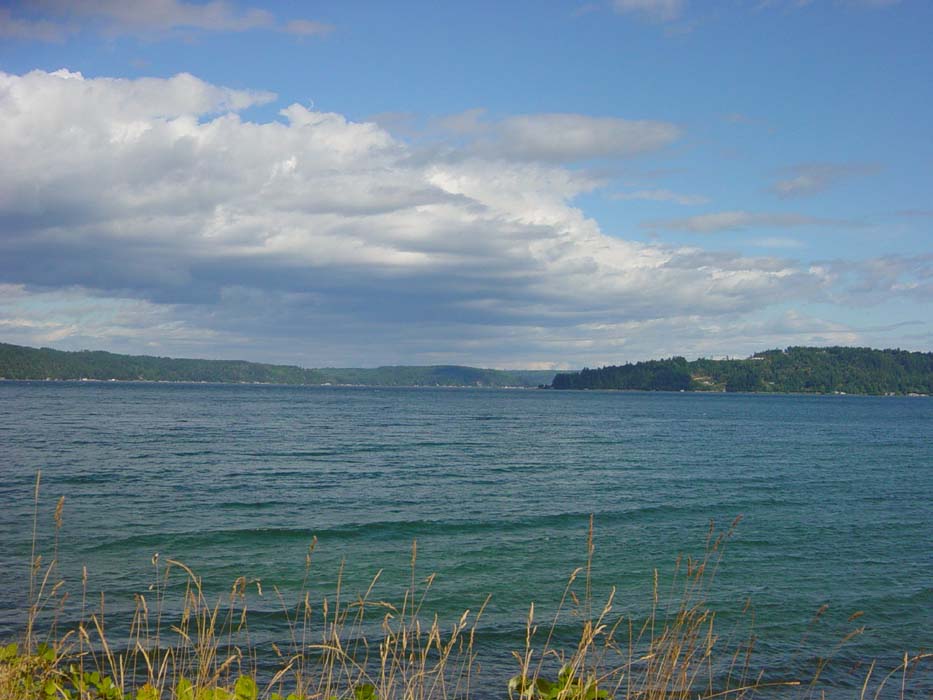 More coastal goodness, with some local wildlife thrown in.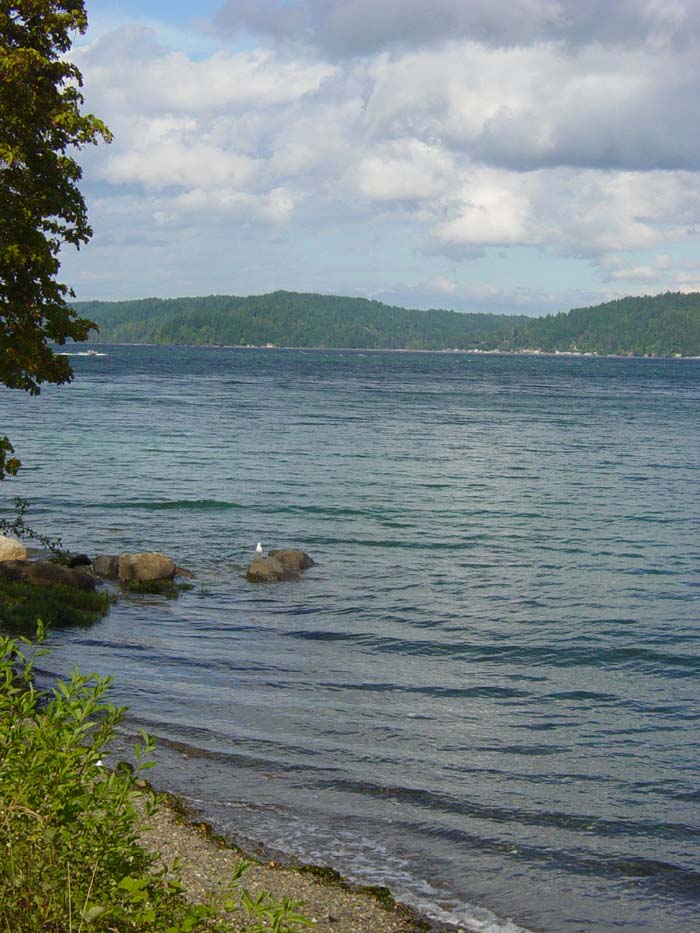 One of the many small coastal towns I passed through (on the extreme left of this photo) along with a few fishing boats that were getting tossed around in the water pretty severely.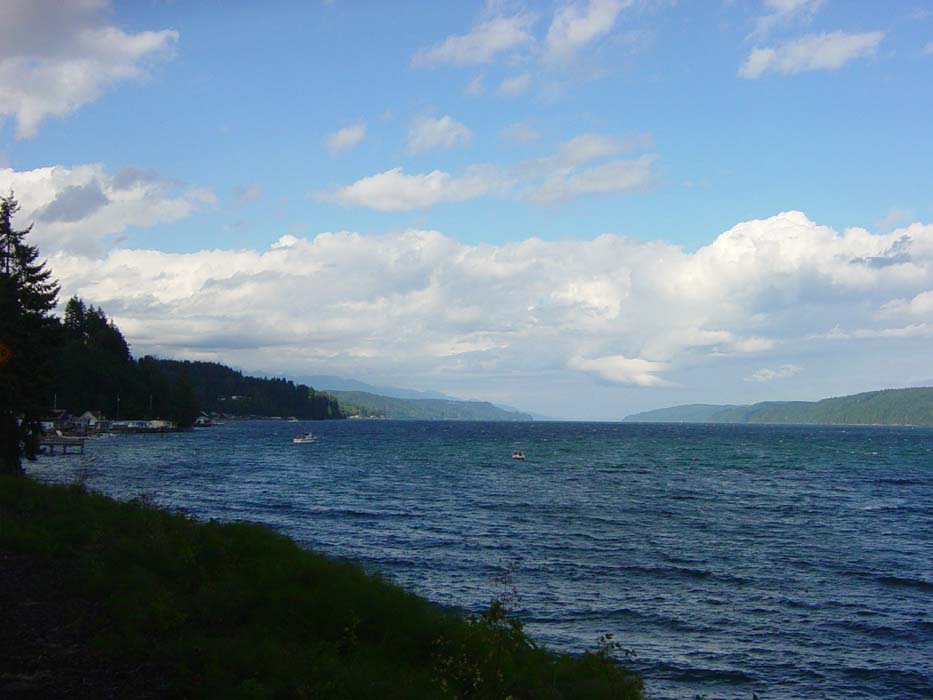 This view is of a particularly nice section of road that wound its way along the coast, amidst trees and a steep hill to the left. Note how close the street actually gets to the waterline, which happened a lot in this area. Usually, a ride along the water's edge meant a climb coming up soon, which I guess I can expect to happen frequently from this point on.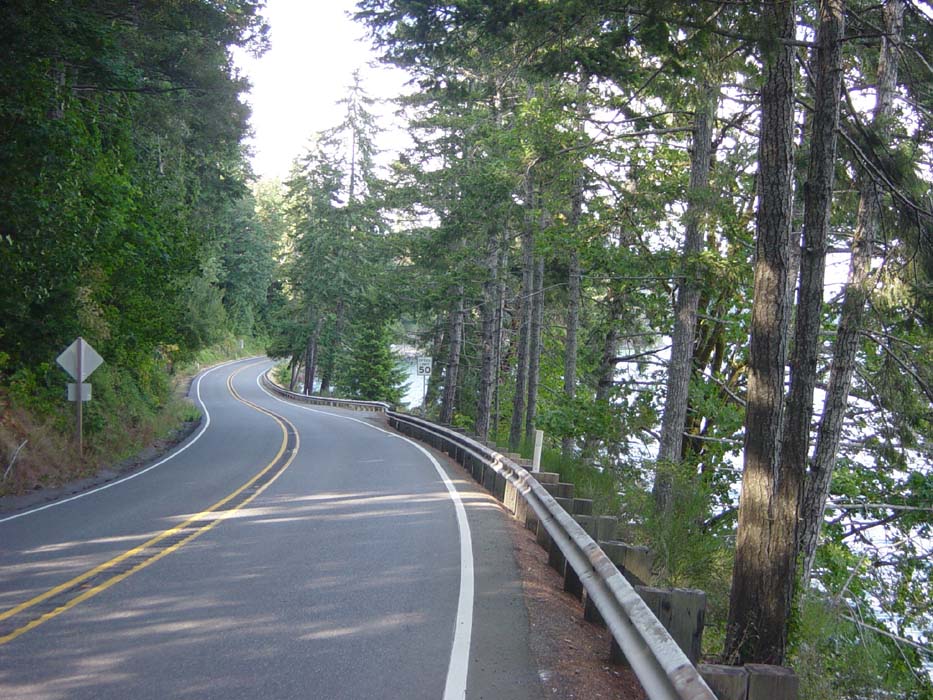 Another nice view. I'm starting to get Scenic Overload at this point.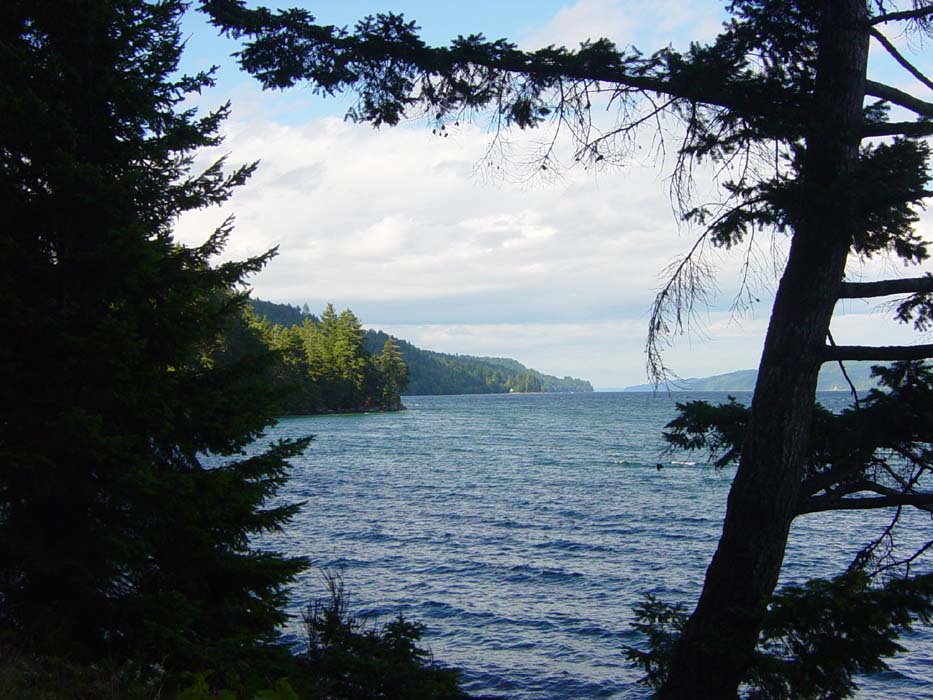 This shot was taken at my last break point. There was a little beach here along with a picnic area, a perfect spot to rest for a few minutes before pressing on to one more hour of up and down hill assaults.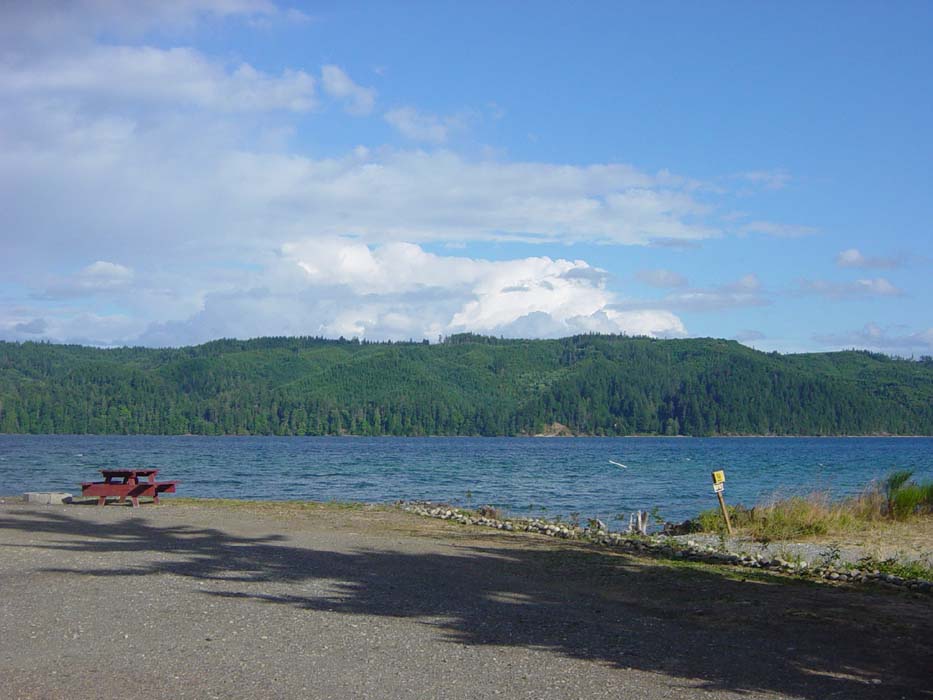 Approaching the town of Brinnon, but before reaching it, I found the turn to take to get to the cabin. This led me to the worst climb of the day, a steep country road heading up and up. Fortunately, because there was no one around, I could switchback my way uphill, so I managed to get there...eventually. This is the place I wound up staying for the night, a neat little A-frame with all the comforts of home.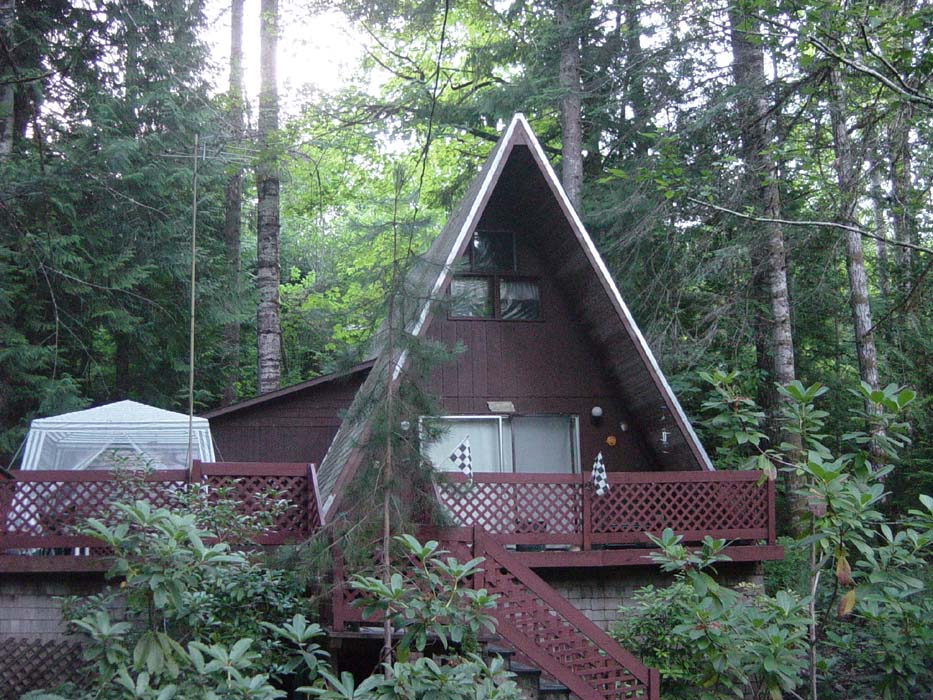 Well, all the comforts except Internet, but no surprise there. Without that, I can write this blog page but can't upload it until tomorrow. Supposedly there's a place with free wi-fi about 5 miles up the road, in Brinnon proper, so I'll hit that in the morning. Then it's on to Port Angeles, on the northern coast of the penninsula.