View Larger Map
Day 11 - August 28, 2010
Raymond, Washington to Astoria, Oregon
Miles: 83
Terrain: 10 miles of blissful flatness, then lots of hills
Weather: Cool and mostly sunny with strong winds
Today began as usual, with a lot of extra sleep (so the muscles get as much recovery time as possible), then a grudging climb out of bed, and a slow packing up of everything, followed by finally getting out the door around 10am. Today promised to be very long, with some serious climbing ahead, seeing as the route passed right through what was marked "Willapa Hills" on the map. However, once I got past that, there was some sightseeing to do, so I wanted to get going. The morning was extra cold, so I put on my jacket, but once I was off the coast and inland a bit the sun came out and warmed everything up, and the coat went right back in the backpack. Nonetheless, I remained in the long sleeve jersey and sweatpants all day long.
Just before getting completely off the coast, I passed through a small town called South Bend (no, I wasn't in Indiana) and took this picture of the harbor there. You can see the day was mostly clear and sunny, and it stayed that way except along the beaches.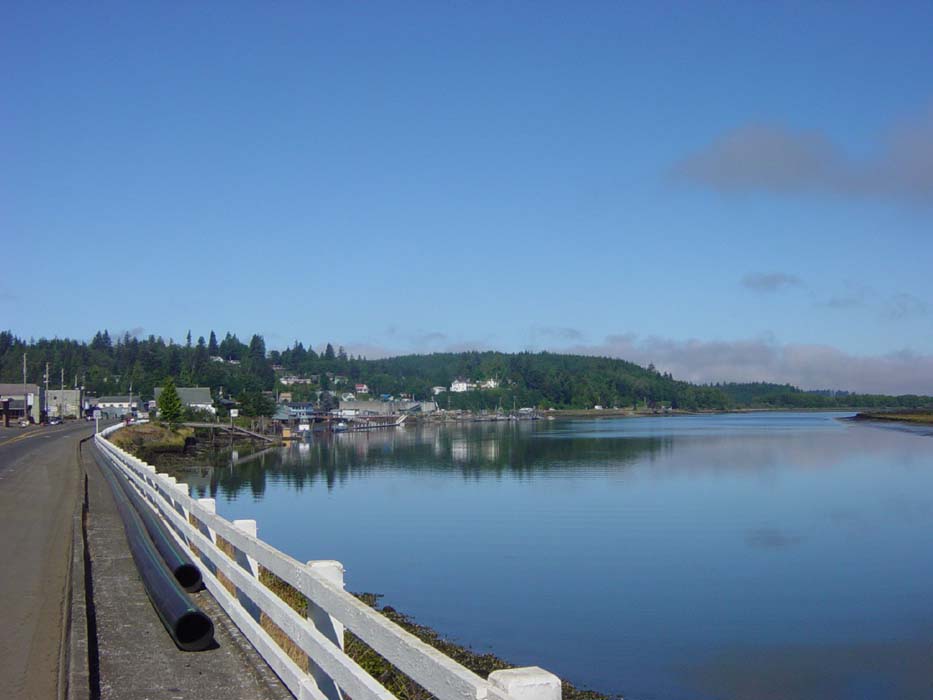 Here's another shot of the terrain along South Bend. The lake was mirror smooth, as the winds had yet to start. It seems the winds are generally calm in the early morning, which I guess is a good tradeoff for the colder temperatures.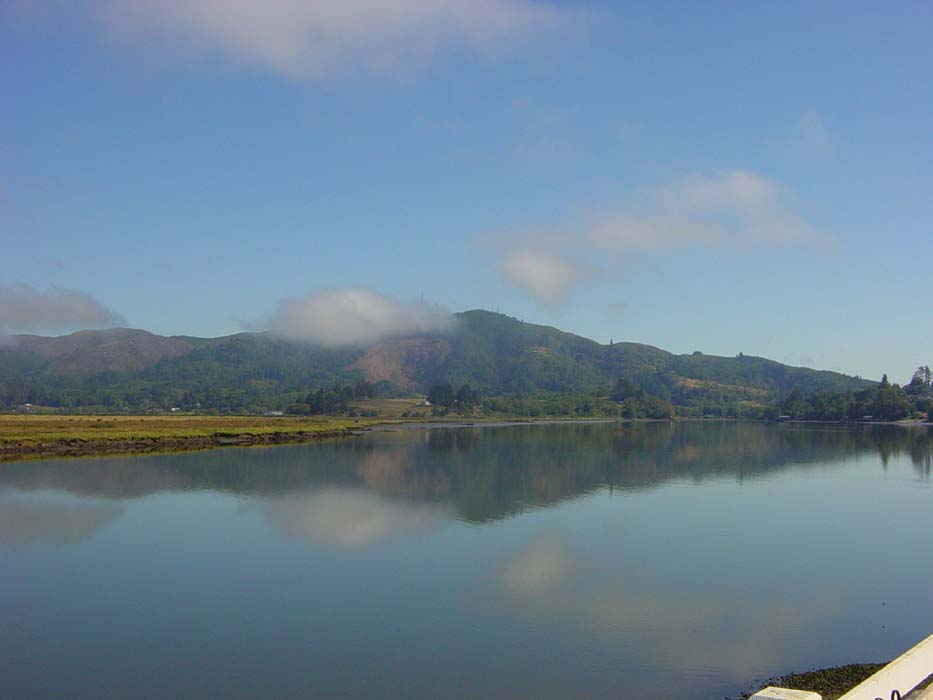 Random Wildlife Shot! Yep, it's a buzzard. I guess as long as it's not circling overhead, I'm fine with it.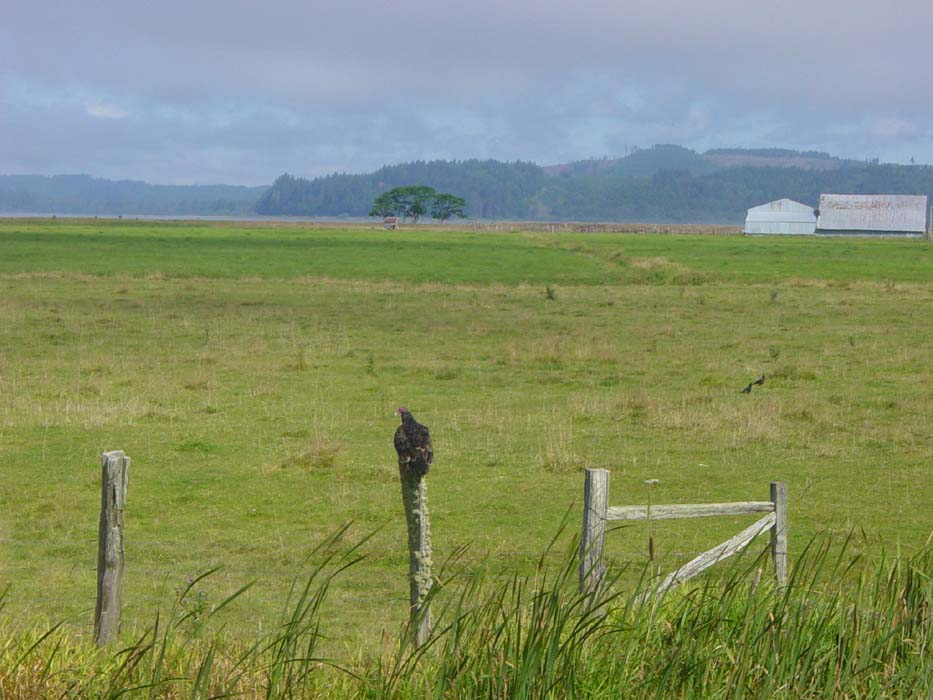 The ride was flat for the first 10 miles or so, then it started to have climbs like this one here. This was taken at the 15 mile point when I stopped for my first of only 2 breaks on the way to Long Beach.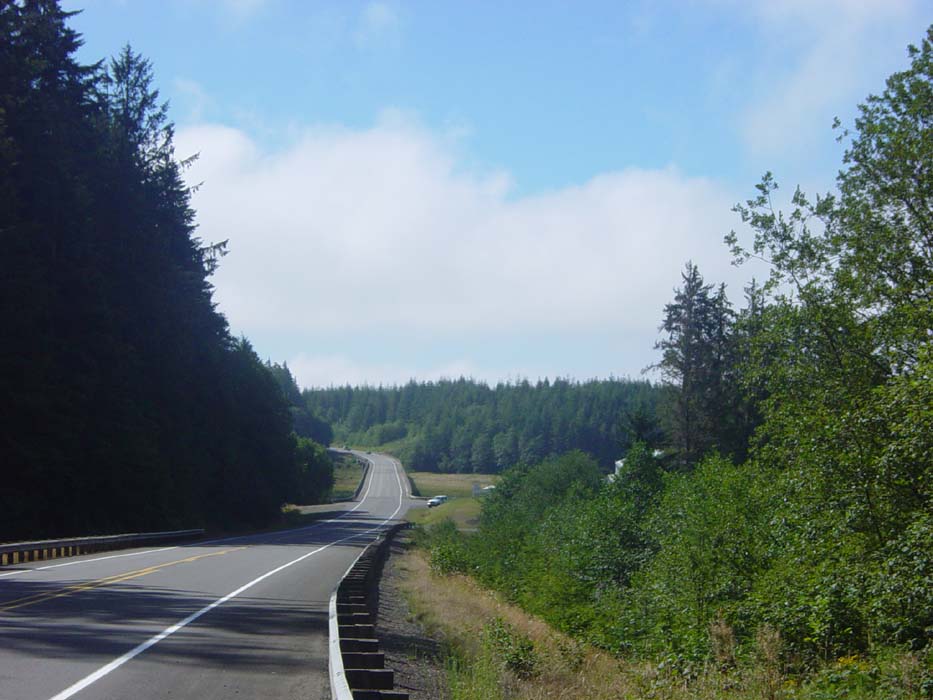 This is the second break point, where Route 101 literally came to a T intersection and stop sign. The left fork was another route that cut the corner to Astoria, my ultimate destination for the day, but I was up for some sightseeing so I went the other way. The road began to wind along some blind curves and there was no more shoulder for several miles, plus the wind was in my face as I was now going basically westward. The wind seemed to blow in off the ocean most of the day.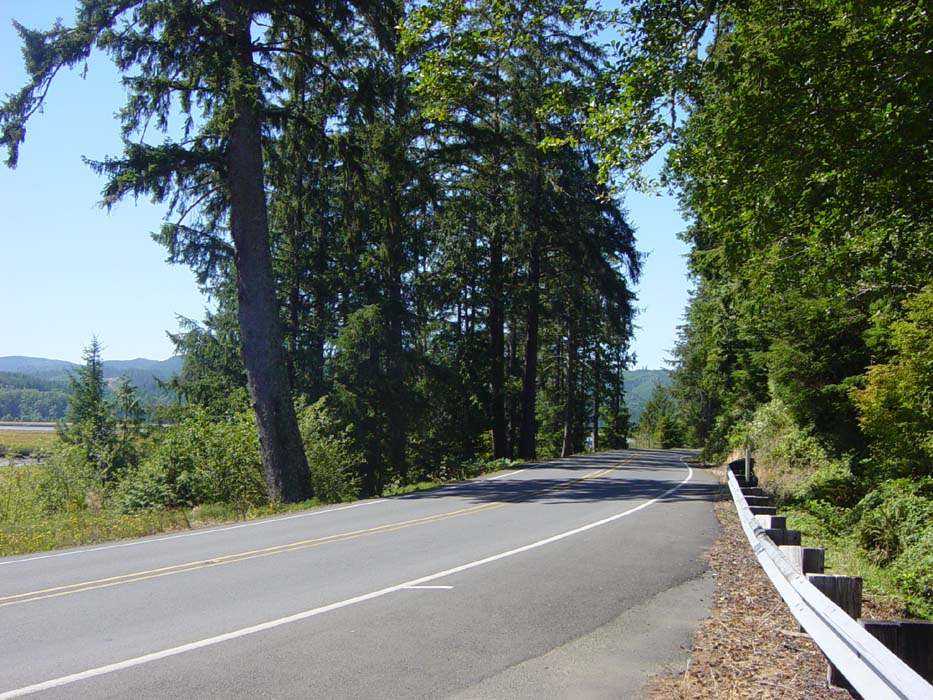 Continuing on, I had to cross over this long bridge, which wasn't too bad actually. It was, however, a harbinger of things to come.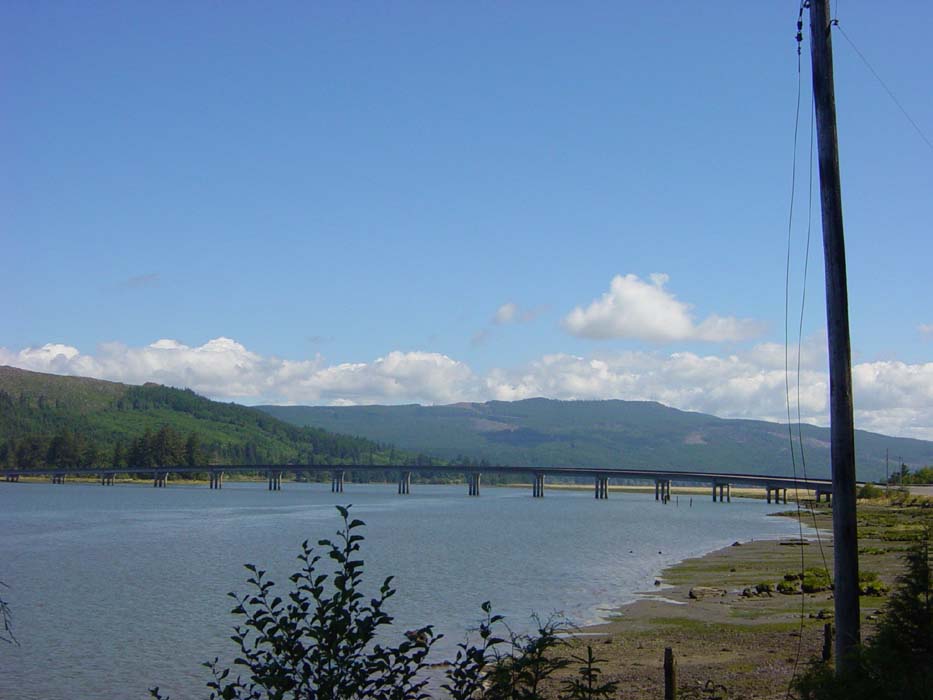 Long Beach is a lengthy stretch of land that runs along the coastline (see the map above) and you can see it on the other side of the water in this picture. There was also this one little island poking up, covered with trees. It didn't look like it belonged there at all. I got the impression someone misplaced a chunk of land somewhere and forgot to put it back.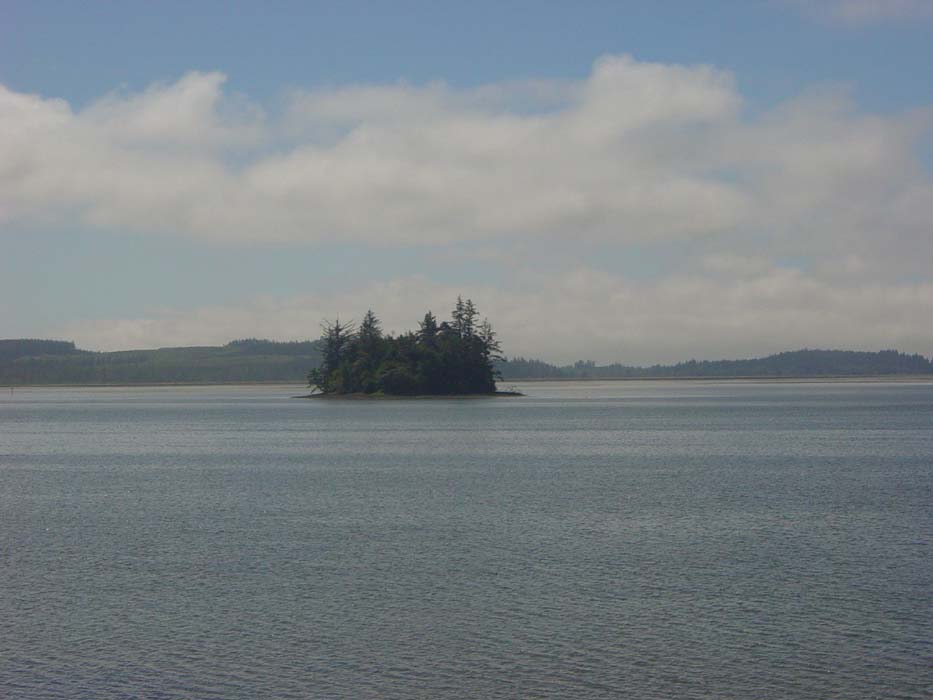 Soon after this I made it to Long Beach and rode south along the coast towards Cape Disappointment State Park, which had some pretty severe hills leading up to this amazing scenic view. Notice you are looking down at the tops of the trees here, and I was at sea level before entering the park, so you can get an idea of how bad the climb was. It was worth it, though.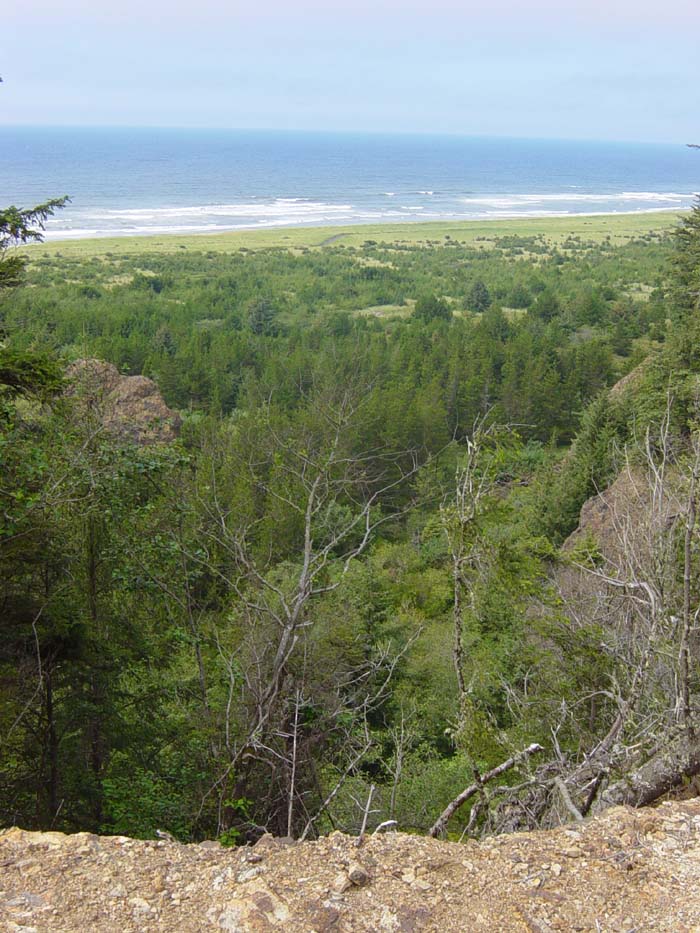 This view is looking the other direction down the beach, from the same scenic overlook.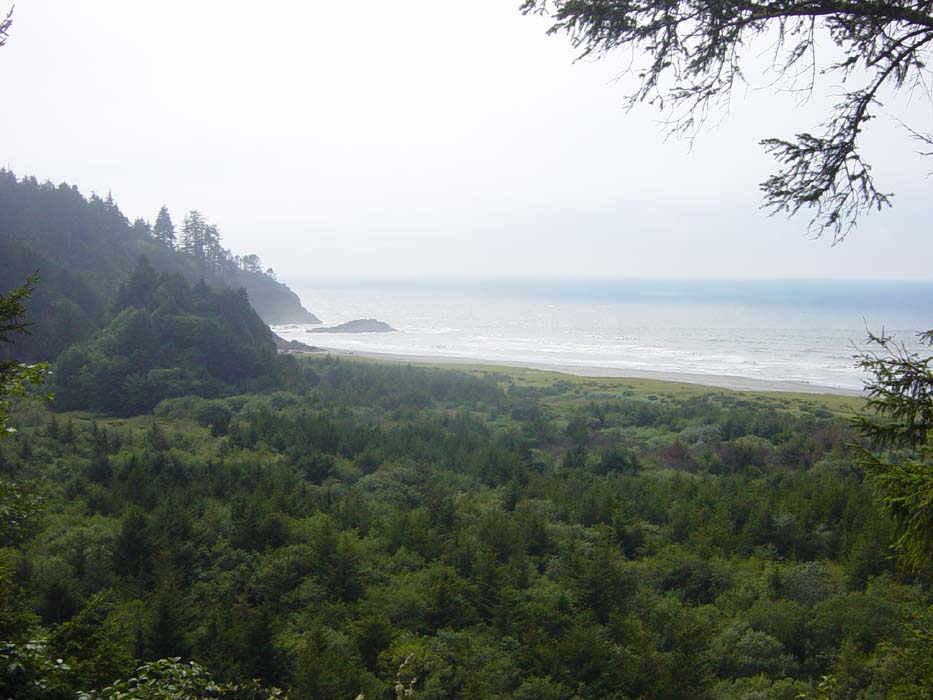 While I was standing there trying to enjoy the view, some guy mugged me and forced me to pose for this photo.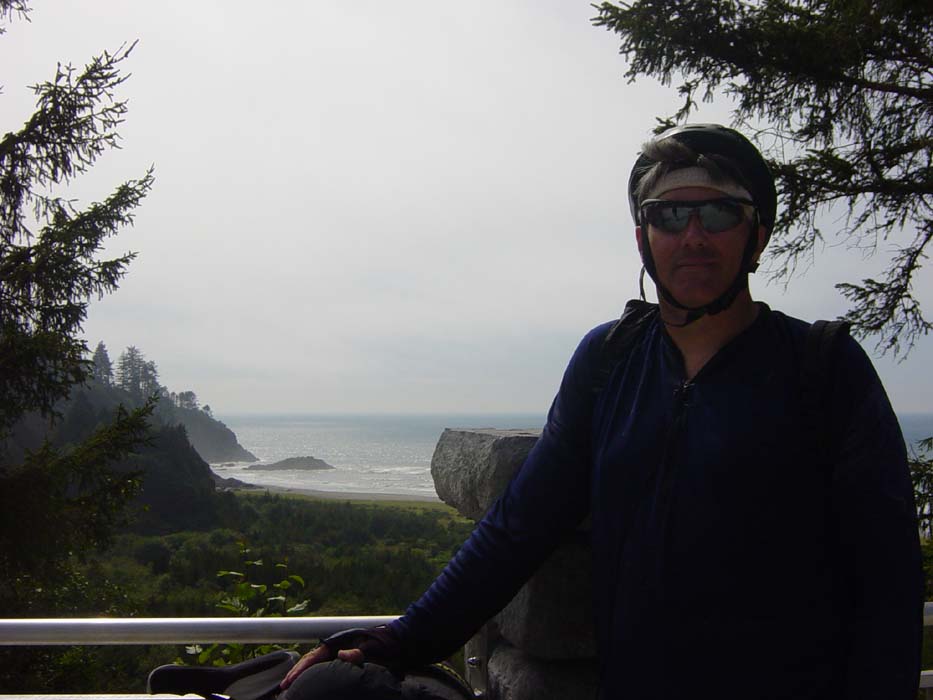 After I got my camera back, I headed on to North Head Lighthouse, another serious bit of climbing, but again not without its rewards. The view from up here was incredible.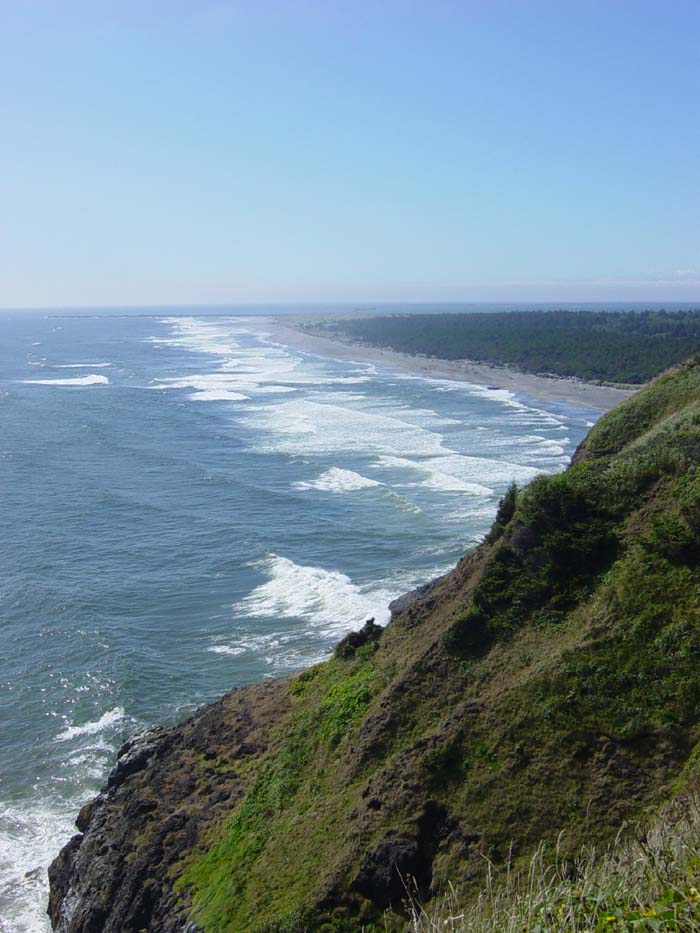 Careful, don't fall in!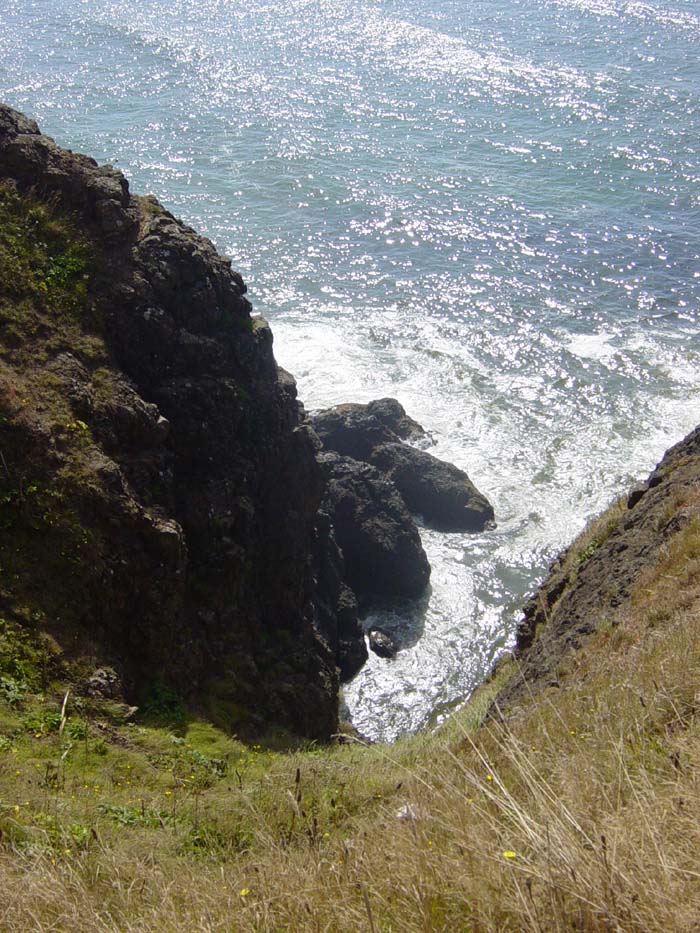 The opposite direction down the coast...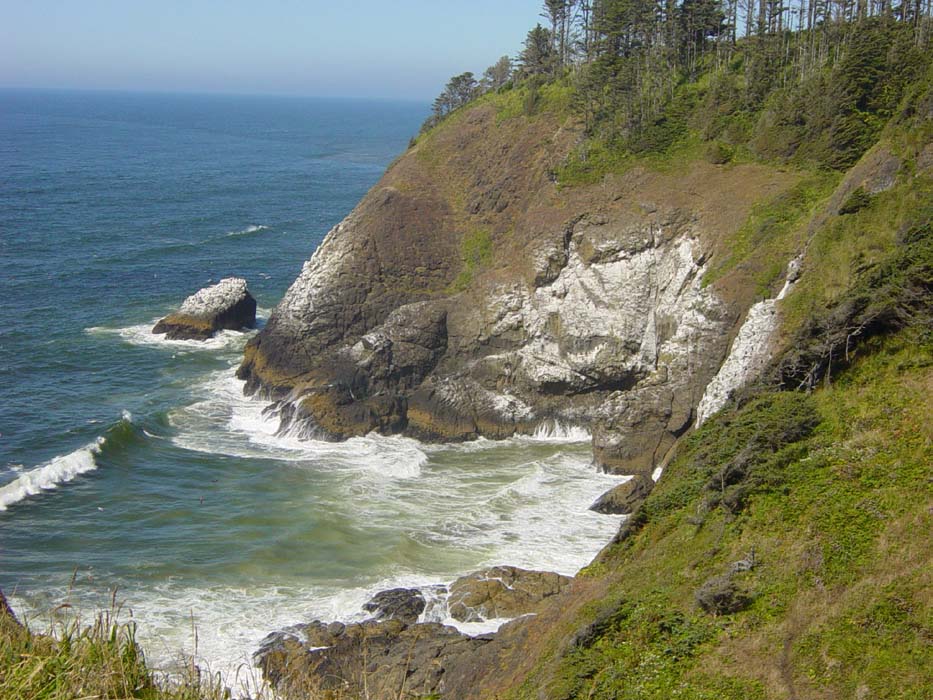 Oh yeah, that's right, there's a lighthouse here, isn't there? I suppose I should get a picture of that, too. This lighthouse, by the way, used to warn ships sailing south towards the Columbia River of shallows and rocks near the coast. I really feel sorry for the poor guy who had to live in this desolate place and keep the thing running 24/7.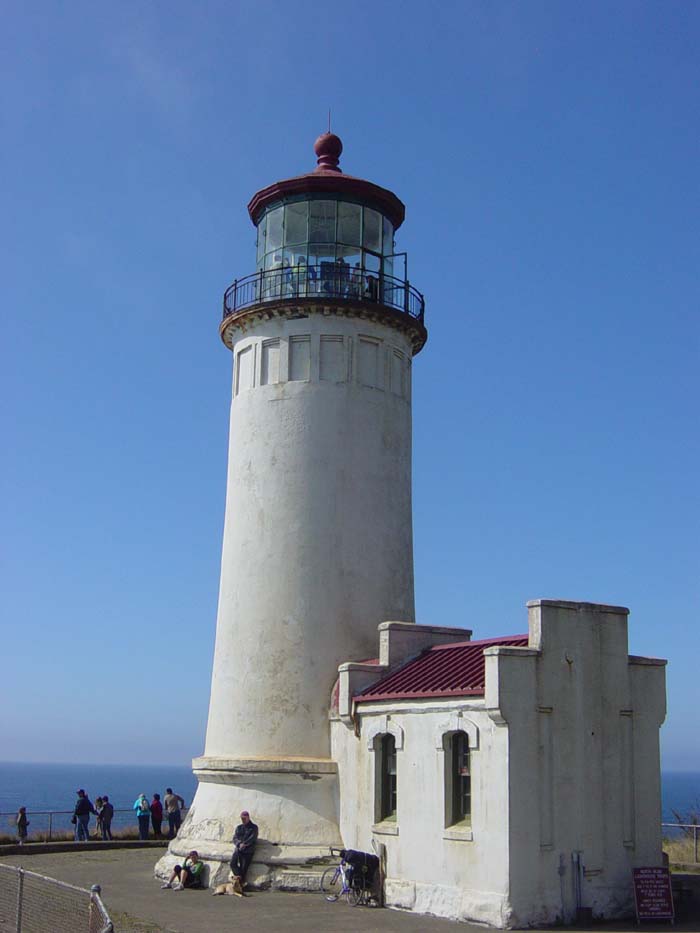 \
After descending back down into the park, I rode around for a bit, had a bite of pizza and managed to take this shot of Cape Disappointment Lighthouse, which used to light the way on the opposite approach to the Columbia River. Unfortunately, you had to hike out to this one, as you can probably guess by the terrain, so I chose not to get any closer than this.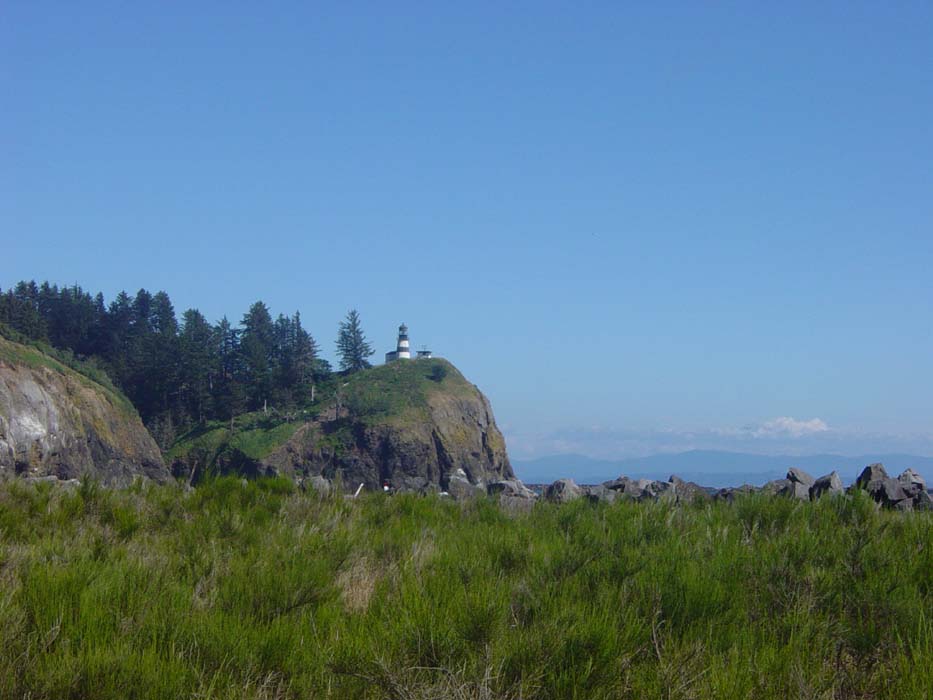 After leaving Cape Disappointment, it was another 12 miles to Astoria, and along the way I stopped to check out Fort Columbia State Park, where there used to be a shore defense base back in WWII and previous. The next batch of photos are all from this site. The first one is of some of the original fortifications that could be used to take cover from incoming shells. In theory, at least. The place never actually came under attack.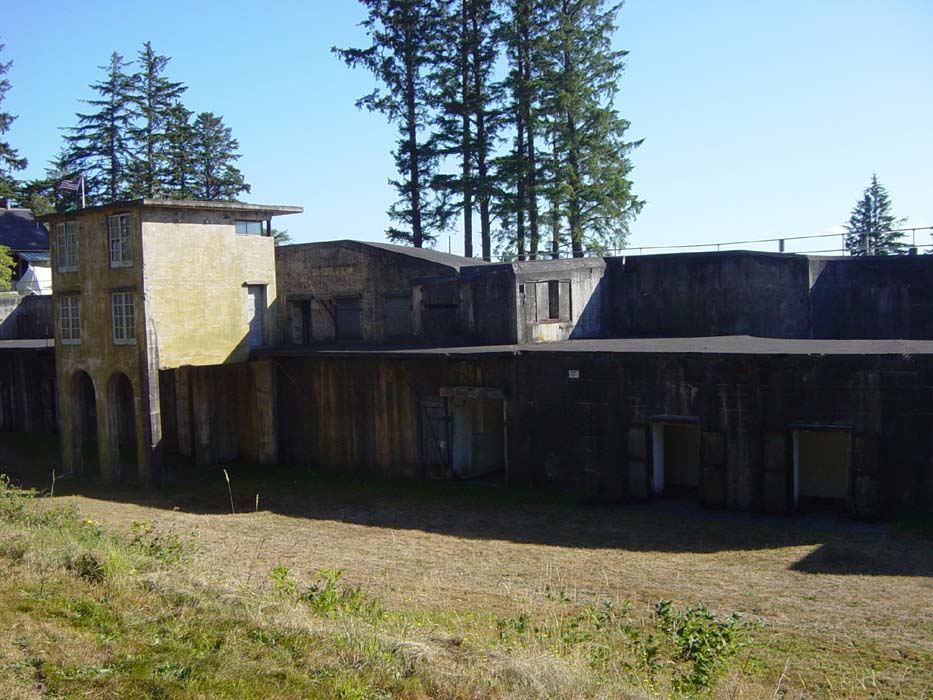 This is a row of houses and barracks (restored, obviously) along with an idea of the view these soldiers had while living here.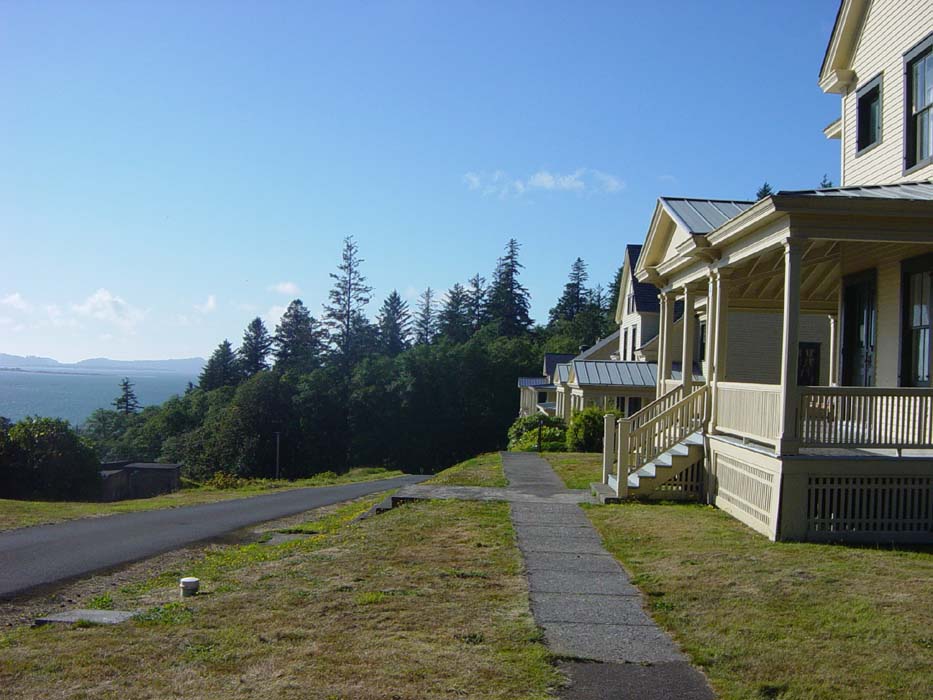 More of the view from the base, looking out at the mouth of the Columbia, which they were tasked to defend (generally against submarines that would, in theory, try to sneak in close to lob shells at coastal targets--this apparently actually happened in a few places, just not here).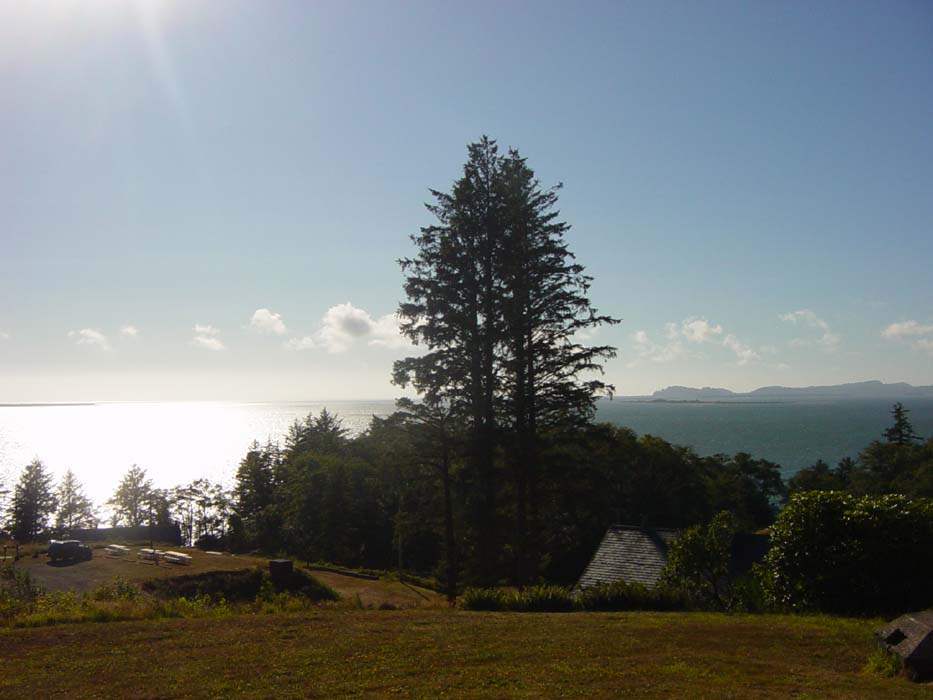 This view is looking left from the previous photo site. The city on the horizon is Astoria, Oregon. Notice that green strip of bridge there? More on that later.
One last picture from the fort, showing one of the gun emplacements. This particular gun was installed, but never fired. In fact, the gun's core didn't get put in until 45 years later, when they were restoring the site. There are 2 of these guns here, out of only 6 ever completed.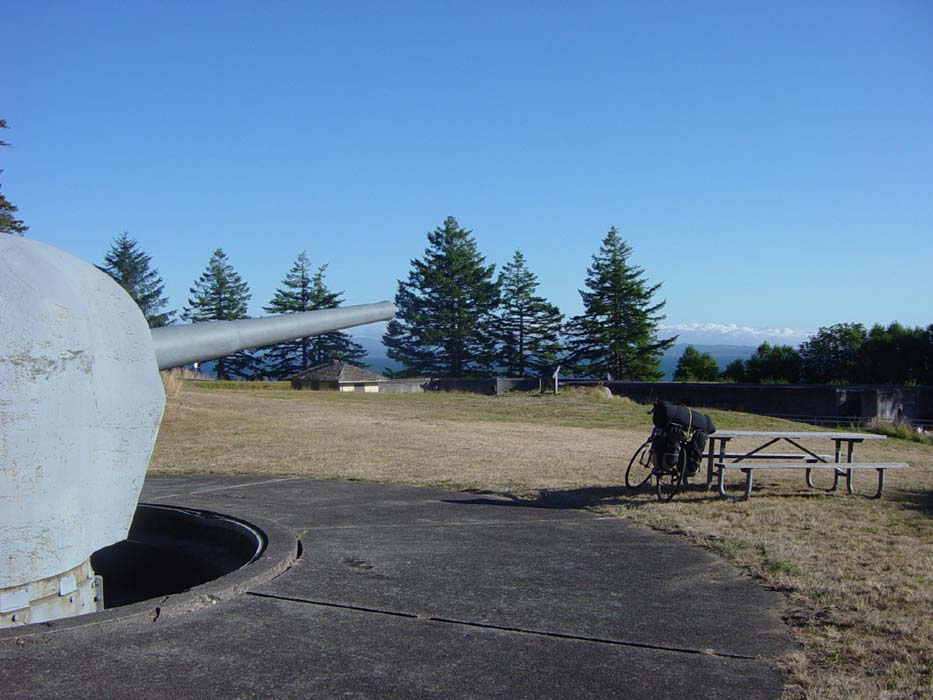 After leaving the park I had to go through a narrow tunnel (there was even one of those buttons under a road sign that would flash to warn motorists of bikes ahead), which I thought was pretty harrowing. Little did I know I was just getting warmed up. Ahead you can see the reason why...a 4 mile section of bridge crossing the Columbia and linking Washington with Oregon. If I didn't want to cross that, my only option was to ride another 25 miles down the river and pay to take a ferry across, which was stupid. So I had to man up and make the crossing. Doesn't look too bad, right?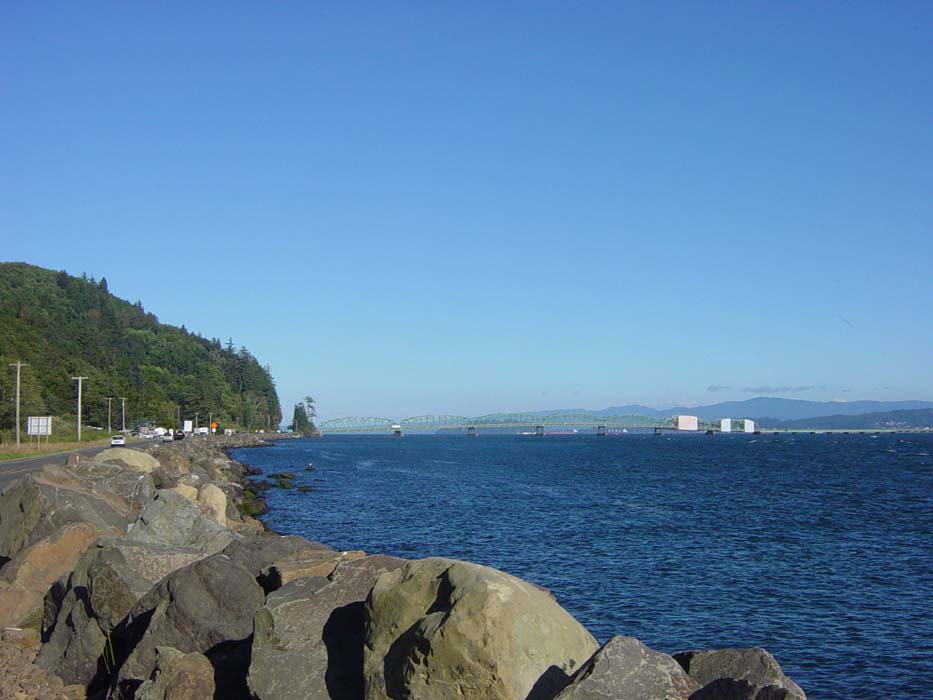 Ah, but it continues. Off to the right of the previous picture, the bridge just goes on and on until finally it hits a massive climb over the section where boats can pass underneath. Here's the rest of the bridge (be sure to scroll to the right to see what I'm talking about).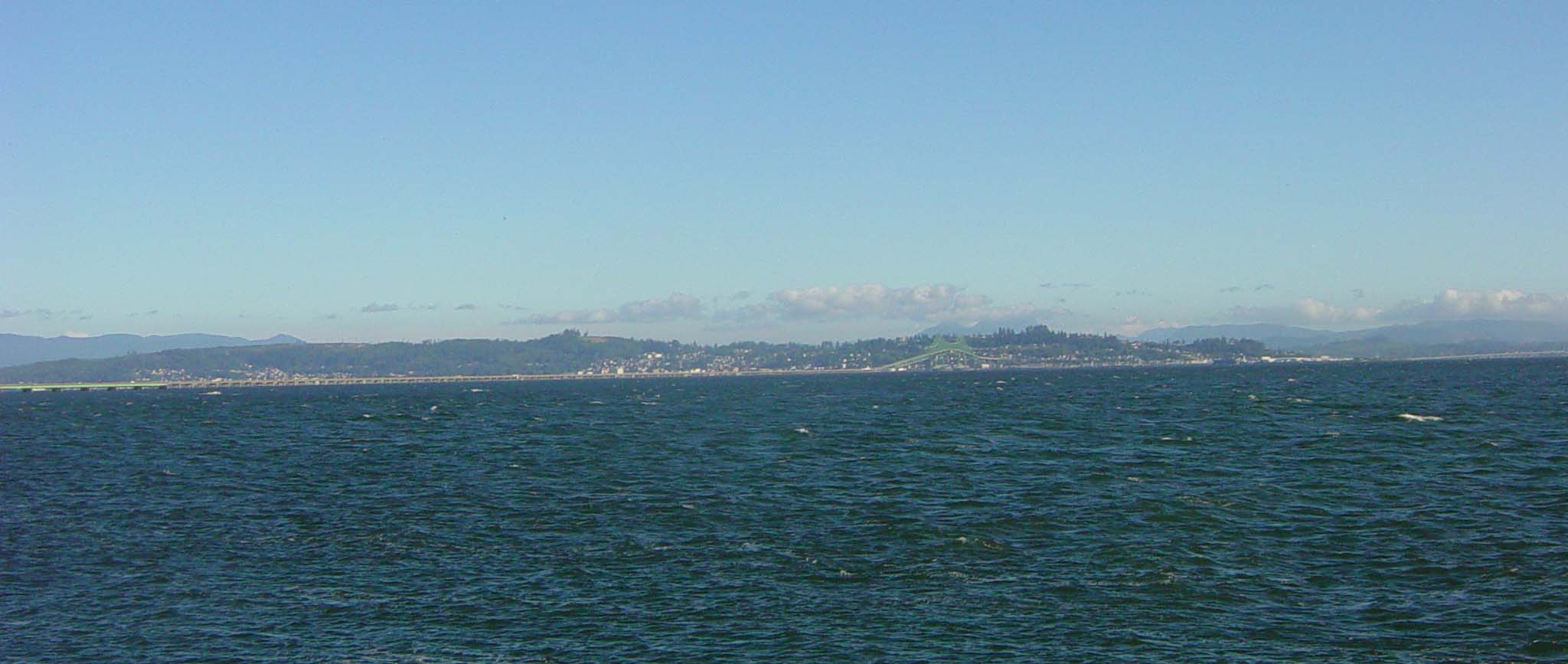 I had actually been warned about this bridge earlier in the day, so I knew it was coming, but the reports I had were conflicting. Some people said you couldn't ride over on a bike, others said you could but didn't want to, others said it was fine. I also heard it was a gentle climb, and that there was lots of debris, and no shoulder, and lots of trucks, and dead birds, and on and on. I had no idea what to really expect, other than that it was very long. When I finally got there and had a look, there was actually a sign warning motorists that bicycles might be on the bridge (no button, though) which at least answered the question of whether or not bikes were legal. The shoulder didn't look that bad, either. And it was Saturday, so hardly any trucks were passing over, plus there wasn't any work traffic. Also, as an added bonus, there had been some kind of marathon run that morning, so the bridge was fairly clean. So, knowing all that, I set off. Here's a shot I managed to take during a break in traffic (this was taken without stopping):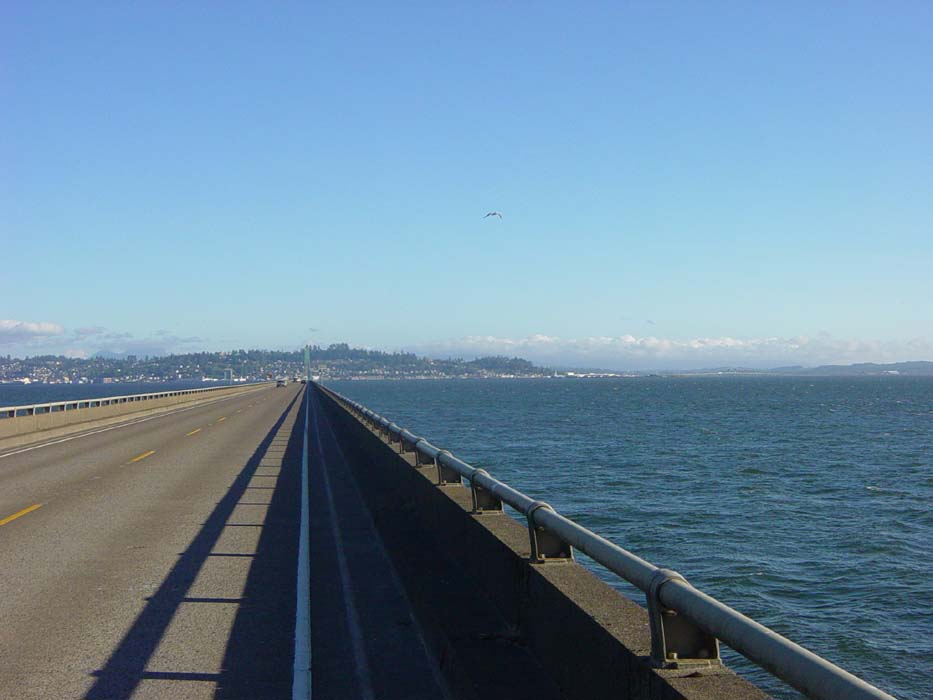 I'm completely surrounded by water, which was a bit rattling, and the wind was coming from behind and to the right of me, very strong and sometimes knocking me around a bit, but the lane was wide and cars were able to give me a lot of extra room. Not too bad, huh? Well, then came the climb. See straight ahead in the picture above? That thing that kind of looks like a tower rising up in the air? That's the hill built into the bridge, which goes up at a steep angle for quite a while. Climbing that was downright nerve-wracking. Once I got to the top, I actually stopped, figuring I earned the right to take one picture, and snapped this shot of the harbor below, before quickly pressing on. I probably shouldn't have done that, but too bad.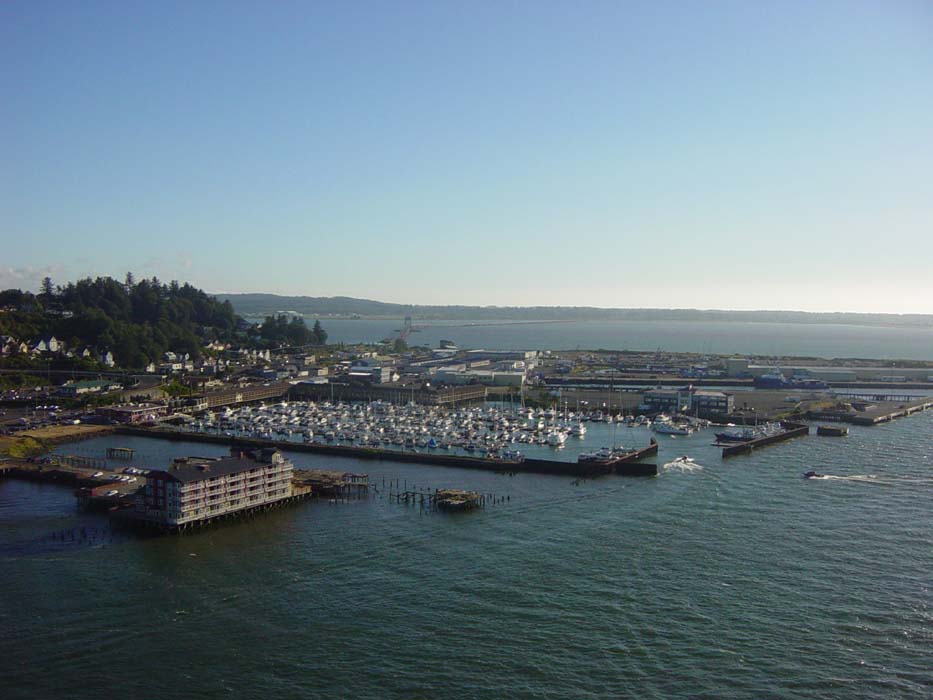 Then came the descent, which was the worst part of all. The downhill run was steep, forcing me to white-knuckle grip the brakes, plus it curved around to the right, into the wind, and then finally looped around dropping me at a red light. I was just happy to be done with that, and while it was certainly an experience to remember, it isn't something I ever want to do again. Just in case you aren't getting a good idea of how high and dizzying the whole climbing and descending part was, here's the bridge from ground level. I took the previous photo from right about the middle of that top section.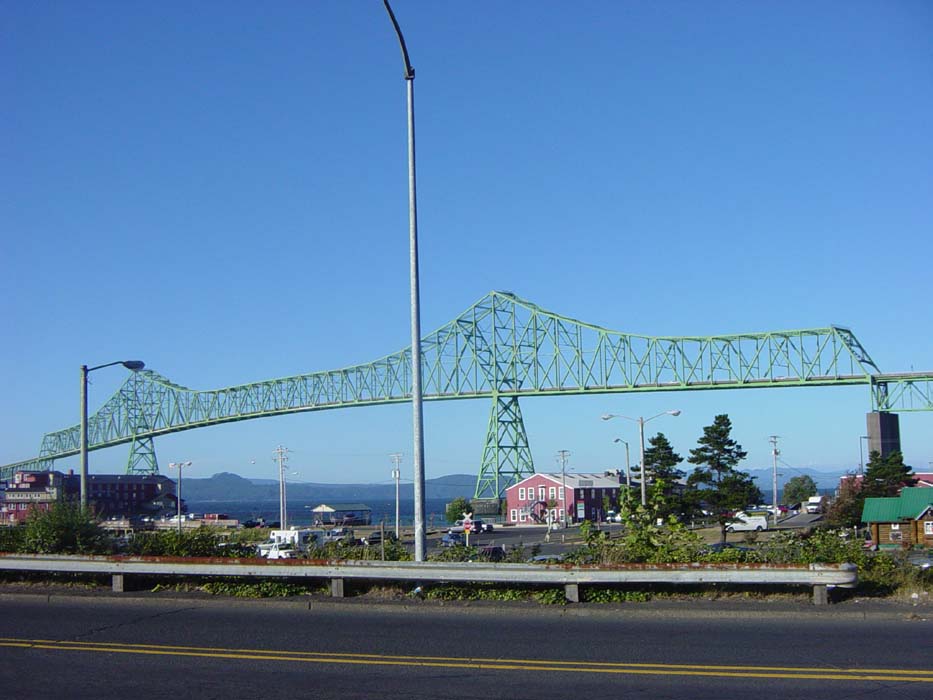 After that, I started looking for a place to stay, but as it turns out, that marathon run (a relay race from Mt Hood all the way across this bridge and down the coast a ways) had sucked up all the hotels in the area. I was lucky to get the last room in a downtown hostel, which wasn't a bad choice as it turned out. The place is cheap and has everything I need, including laundry. I will have to look for hostels more often.
Also, my friend Tom decided to drive out to visit since it's the weekend and he had nothing better to do (ha), so I'll be taking a day off tomorrow. The ride resumes on Monday as I press on through Oregon.