View Larger Map
Day 17 - September 4, 2010
Port Orford to Brookings, Oregon
Miles: 62
Terrain: Tough climbs all day long
Weather: Sunny, cool, and windy
The day started out with an immediate climb out of Port Orford, alongside that harbor I took the last pictures of yesterday. The hill wasn't terribly long, but it sort of set the mood for what I had to look forward to for the next 8 hours. Here's a couple more views of the bay, taken on my way up: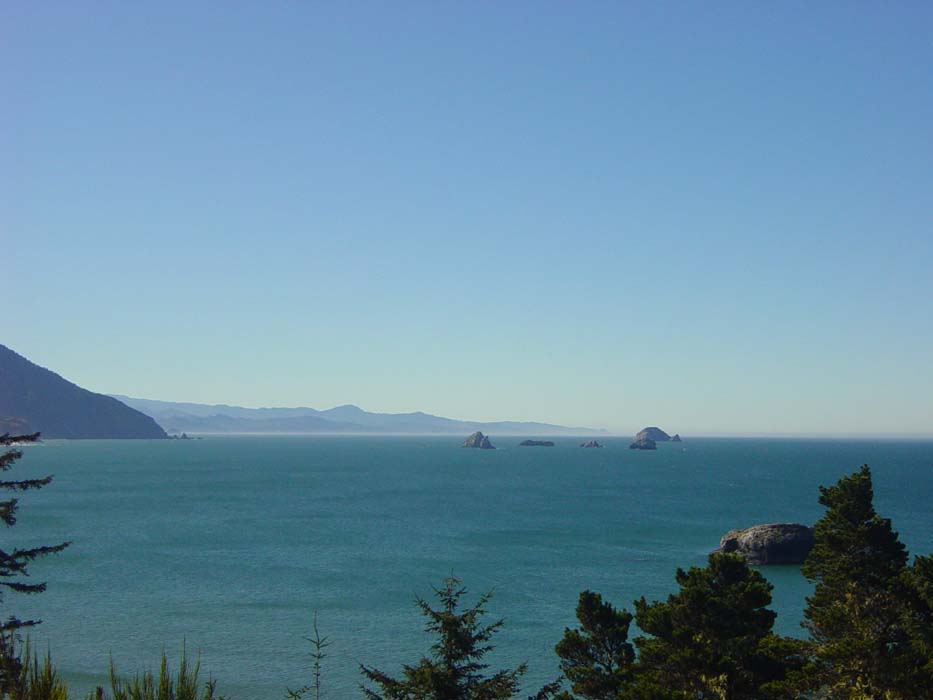 In this next one, that's Port Orford tucked away in the right hand corner.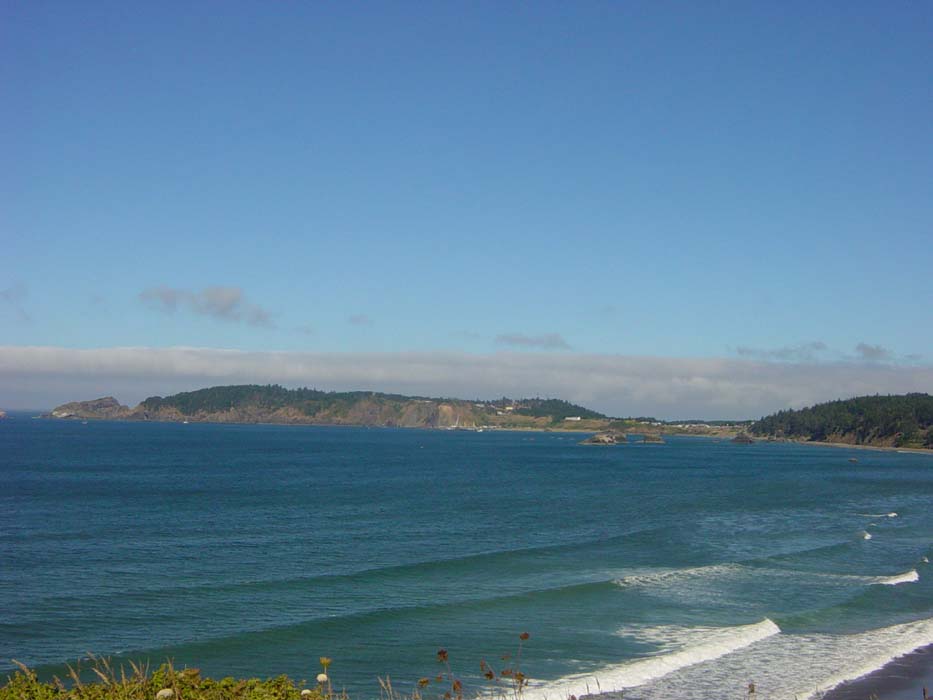 This view is left of the previous one. That's the road I'm on, heading gradually up as it approaches the impassible barrier of Humbug Mountain (elev. 1800 ft).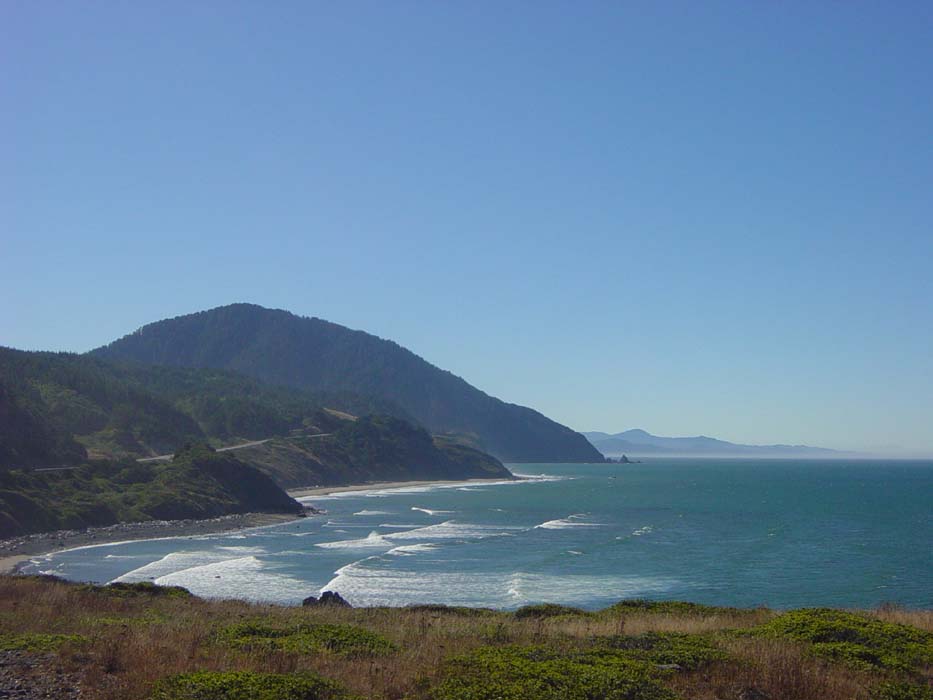 After following the road some more, it finally veered inland between the hills, leaving me with a parting view of these rocks off the coast. The winds haven't picked up yet, so the water is still fairly calm. Without waves breaking over them, these rocks look like they just don't belong.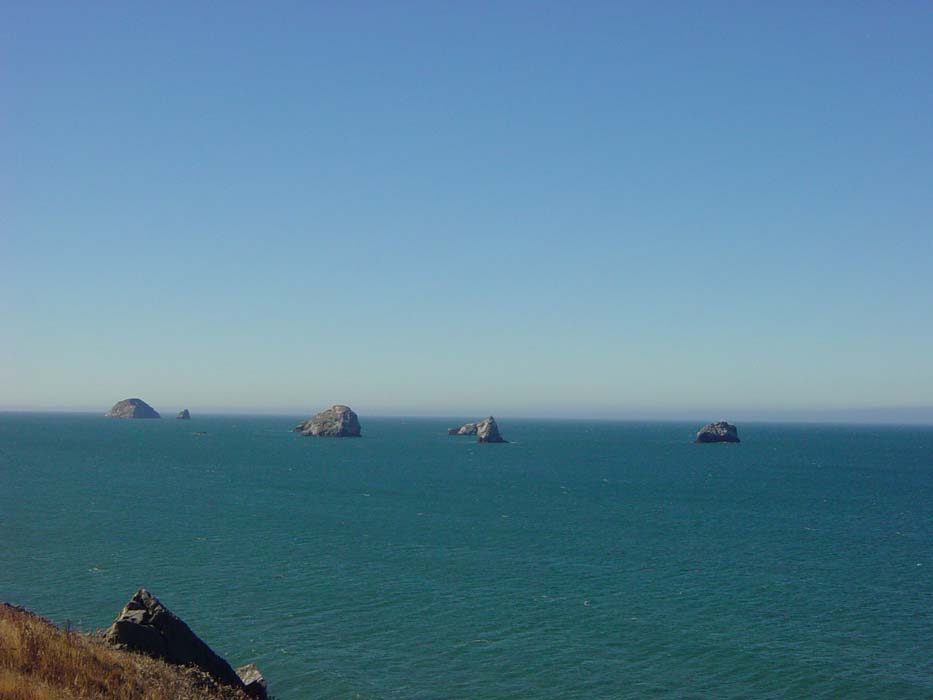 Random Wildlife Sighting! Shortly after leaving the coast the road started winding through the forest, and right there alongside the road was this black-tailed deer. Just like the last deer I saw, this one seemed to have no fear at all of humans. It actually approached me curiously (after I stopped, of course) before a car raced by and scared it away.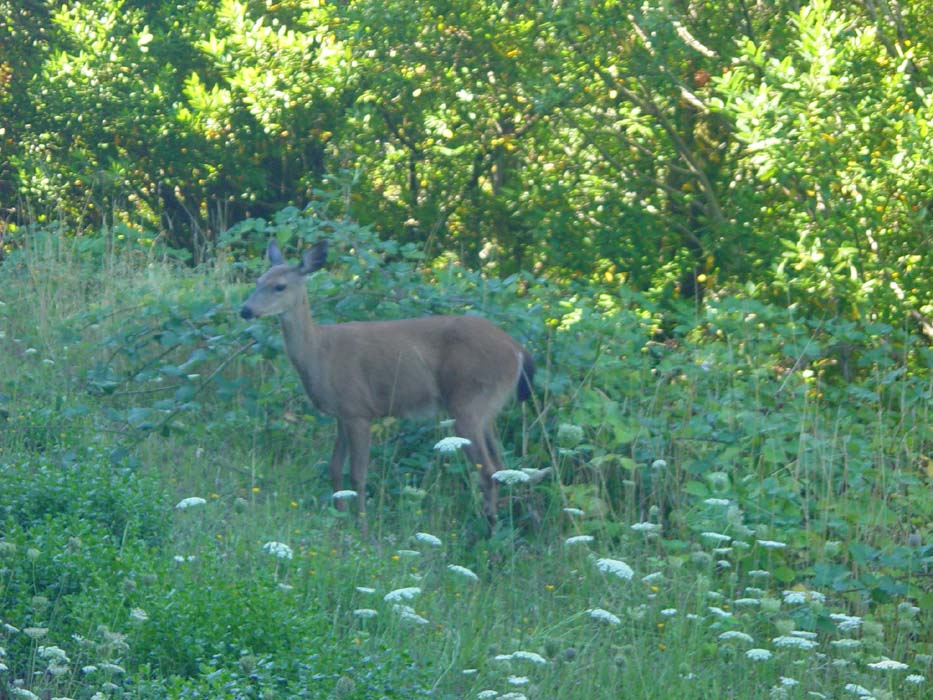 I had expected to be climbing Humbug Mountain, but actually the road went around it, slowly climbing before finally getting into a 1.5-mile steep spot that brought me to a new view of the coastline: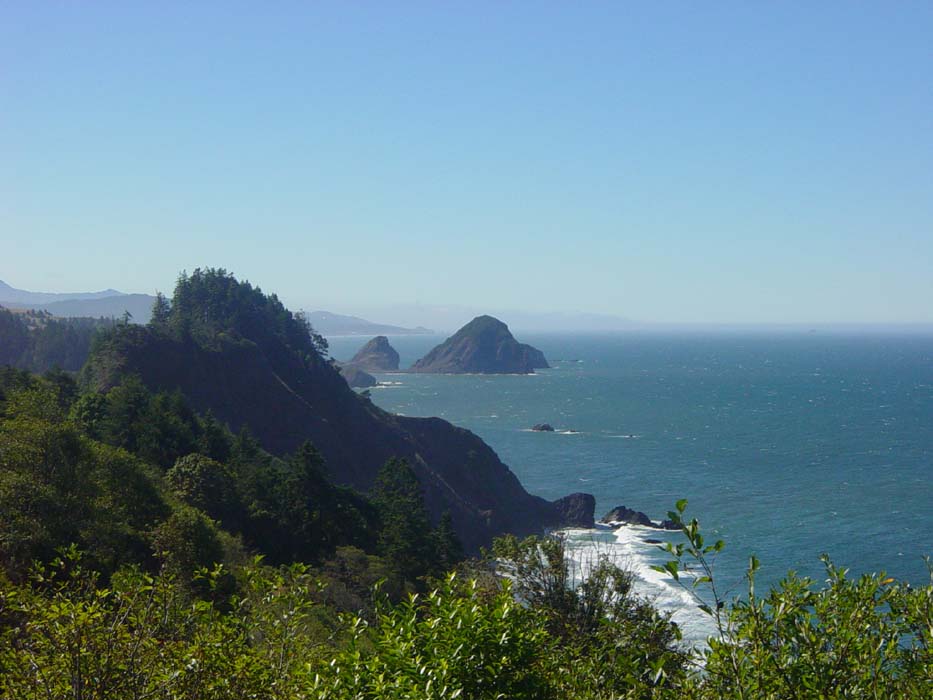 A bit further on I came to this unusual rock formation.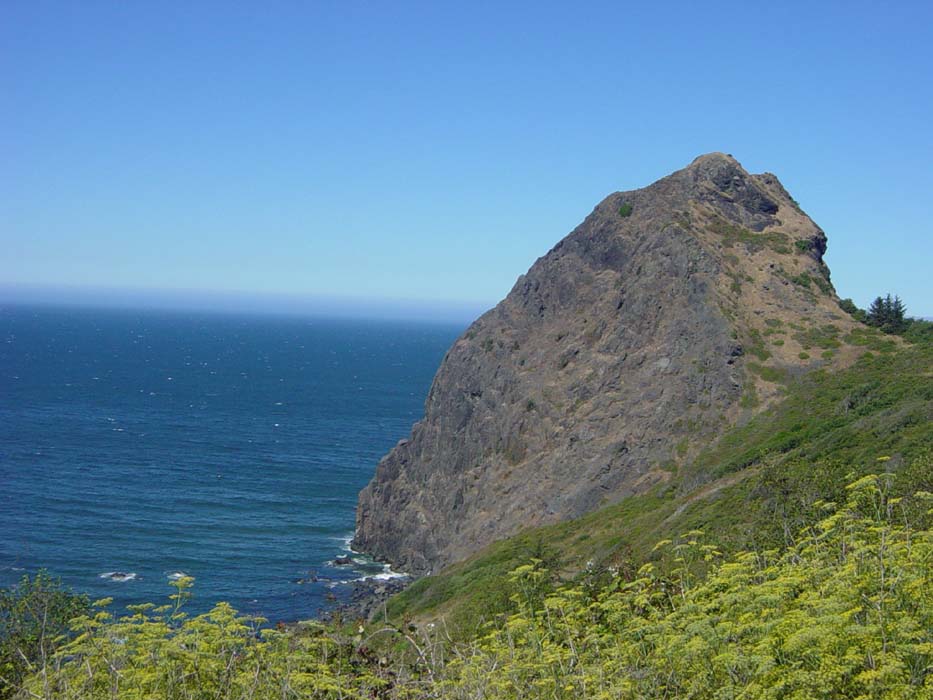 After this there was another steep climb (the pattern for the day, actually) and I got to enjoy this view looking back at the coast I just passed. I wonder how much that house cost?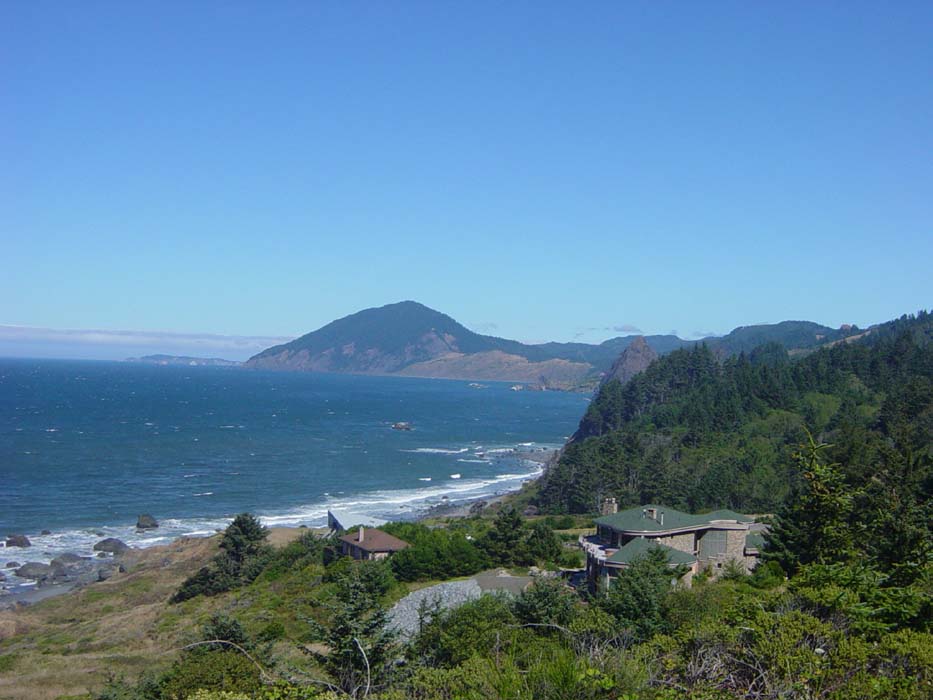 Just to the left was this next shot. There's actually a beach down there.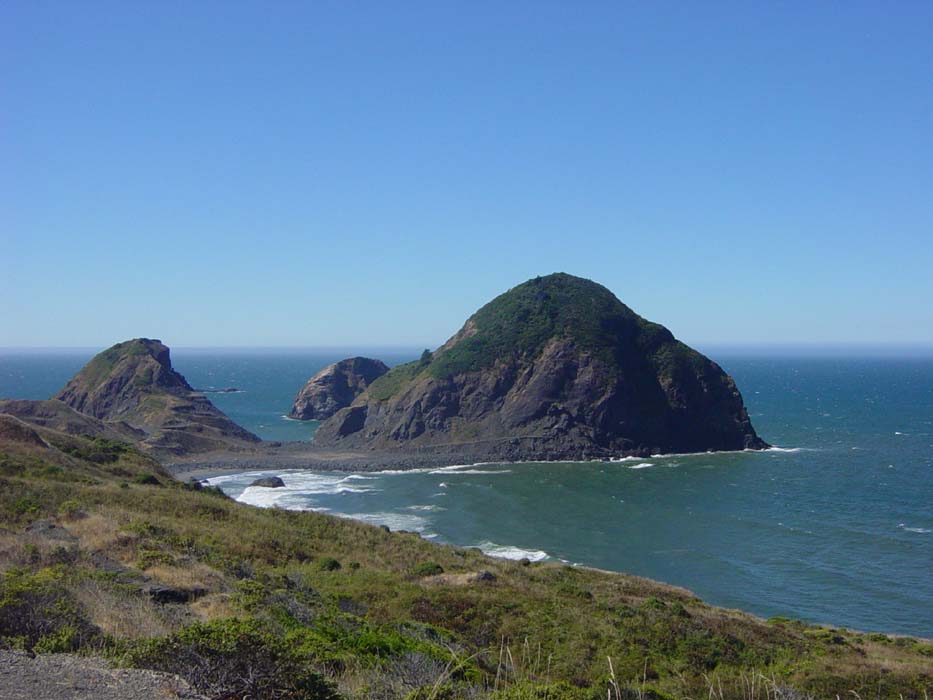 A bit further on (after another big climb) was this rock that looks like some giant came along and split it with an axe.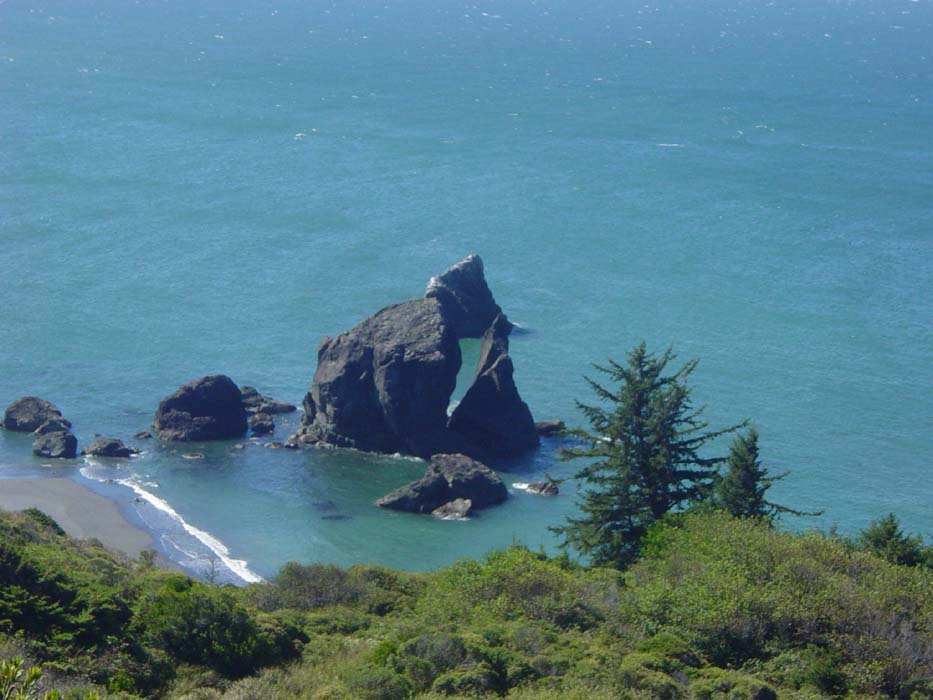 This is the view looking left from the split rock.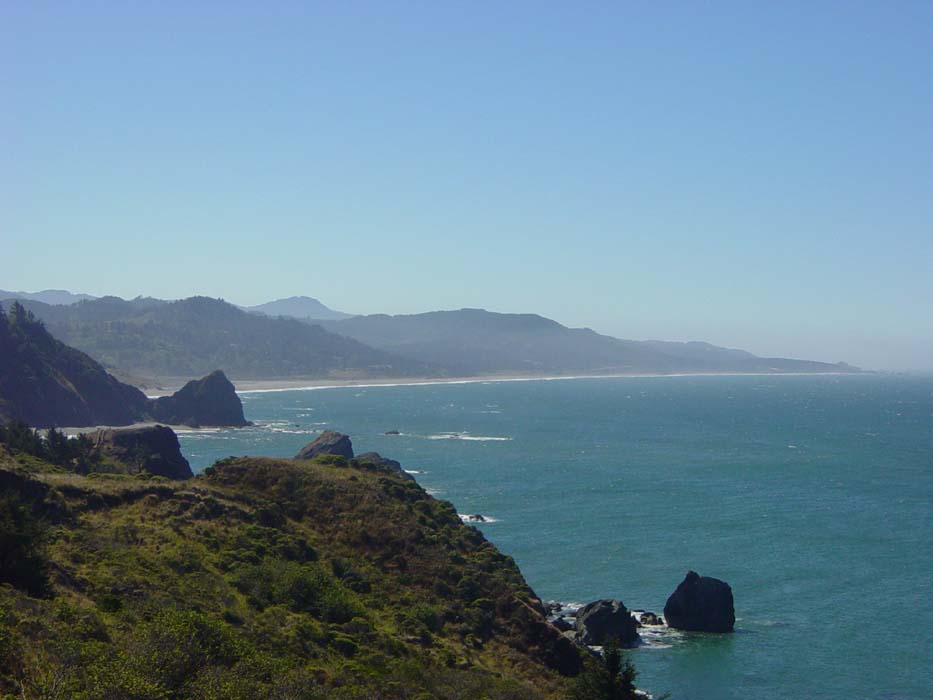 After yet another climb (my legs are hurting already and it's only been about 10 miles) there was this nice view of a stretch of beach flanked by more of those coastal boulders that are so scenic.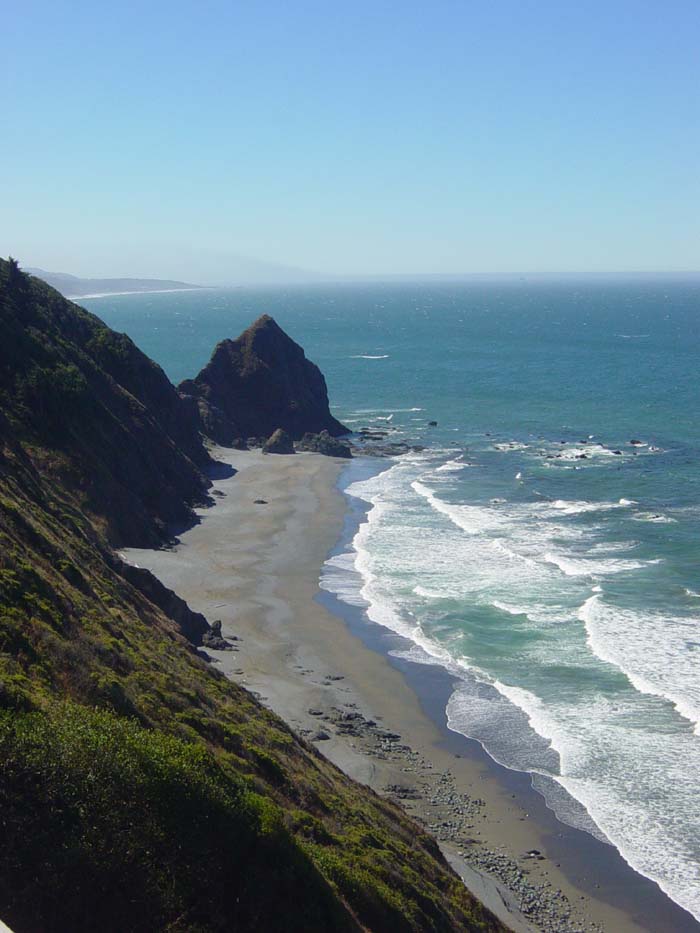 After descending off this hill, the road passed through the small town of Ophir before continuing the climbing session. Here's a view of the carefully guarded harbor entrance into town, if only to show that not every view today was all that terribly spectacular.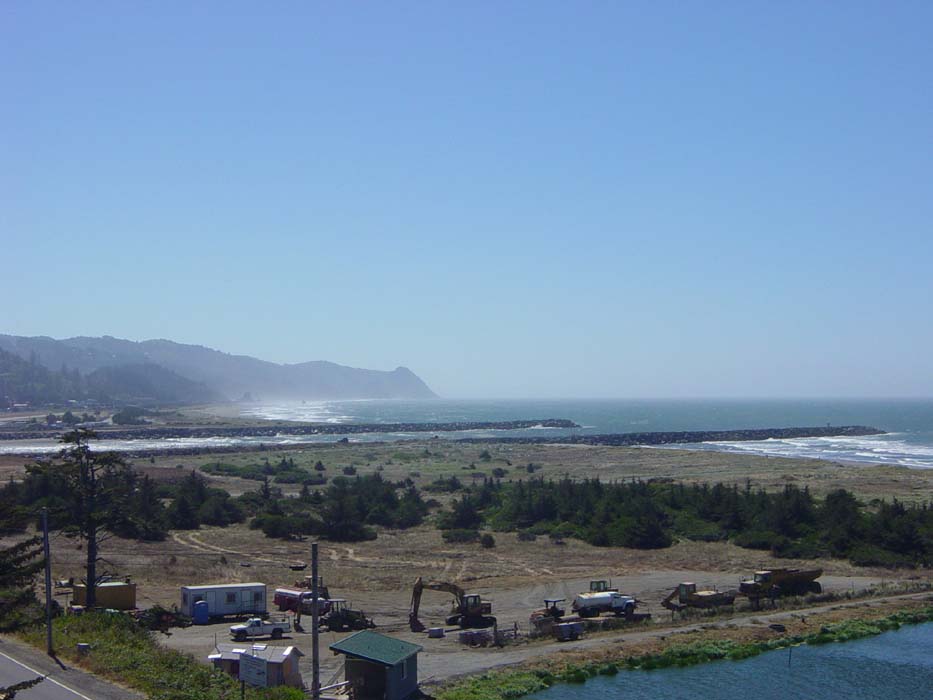 Leaving Ophir behind without stopping, there were more oddly shaped rocks along the coast, like this one that kind of looks like a shark fin:
Shortly after this the road became a long, torturous climb that dragged on and on for over three and a half miles. The wind was at my back and fairly strong by this point, but once I'd left the ground level and reached the trees higher up, it didn't really help. All I could do was pedal ahead very, very slowly, hoping for something amazingly scenic at the top. Instead I came to a little side road leading to a supposed viewpoint, but the road there was so steep I couldn't even ride it. I tried, but I couldn't get the bike to go fast enough without falling over. Nonetheless, I pressed on, but this was the only view I could get up there. Oh, look, it's the ocean seen through thick trees. Nice.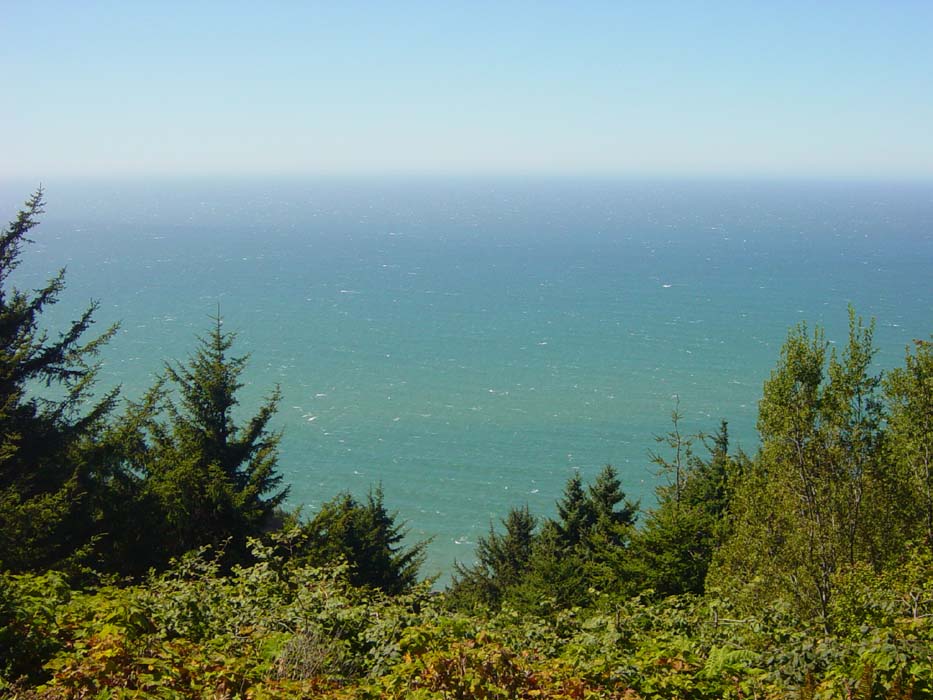 The huge climb was then wasted as I descended all the way back to the beach. Just once I'd like to grind my way up some monster hill and then enjoy a long, gradual 20-mile downhill slope to coast through, but nooooo, it always drops straight back down so all I can do is hang on and keep the brakes clamped down as tightly as I can. Anyway, at least I was able to catch this shot of the beach ahead just before getting to sea level.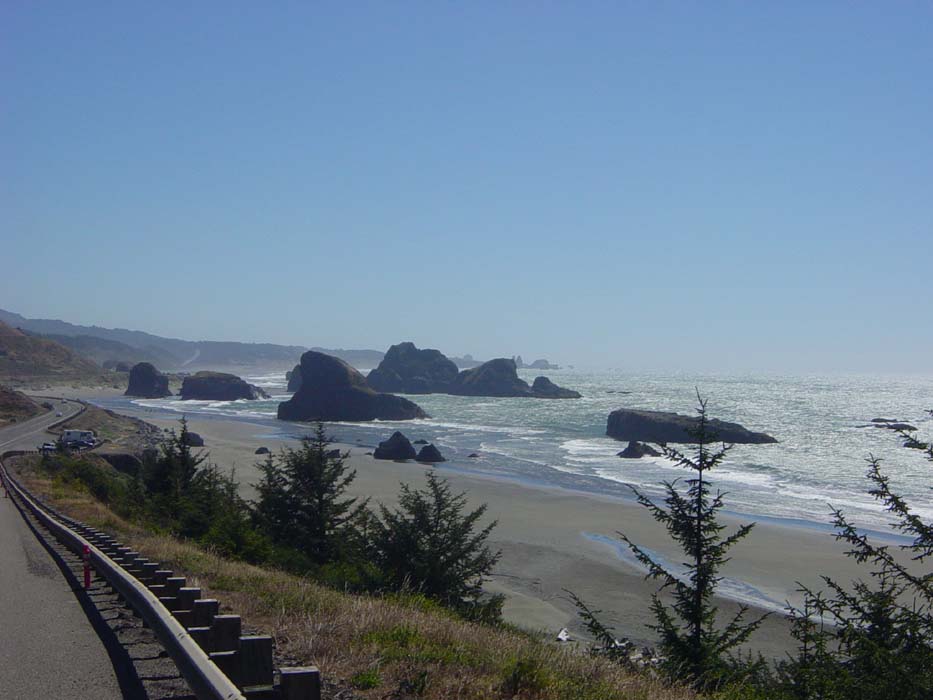 The road then became very smooth and flat for about 9 or 10 miles into the town of Gold Beach, which was where I theoretically might've reached last night had I kept riding right up until dark. I felt a bit vindicated upon arrival when I saw the first couple of motels (one of them a fairly large Motel 6) had "No Vacancy" signs up. Had I actually tried to press on to Gold Beach, I very likely would've been left stranded. Recalling once again that this is Labor Day weekend, I kept this in mind the rest of the afternoon.
There was one more good photo left along the beach before the road turned inland and uphill once again: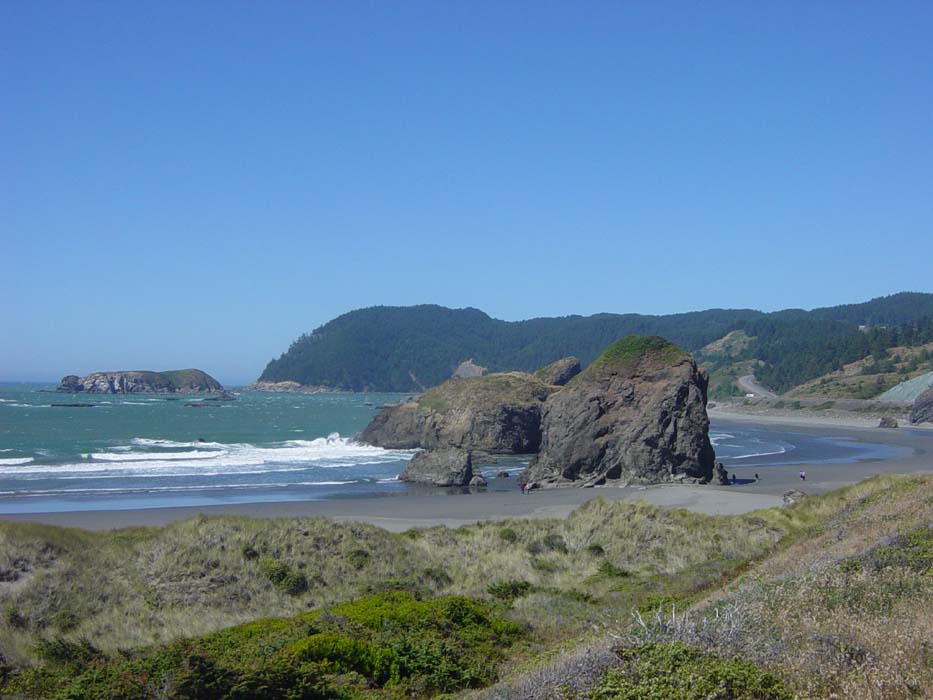 Up and up I went, for about another two or three miles, and maybe 600-700 feet of elevation gain (there was an actual pass marked on the map I was using, so it must've been pretty high). The road then began a series of long up and down stretches that seemed endless. The only good thing about them was the views that popped up here and there. Here are some of the better ones.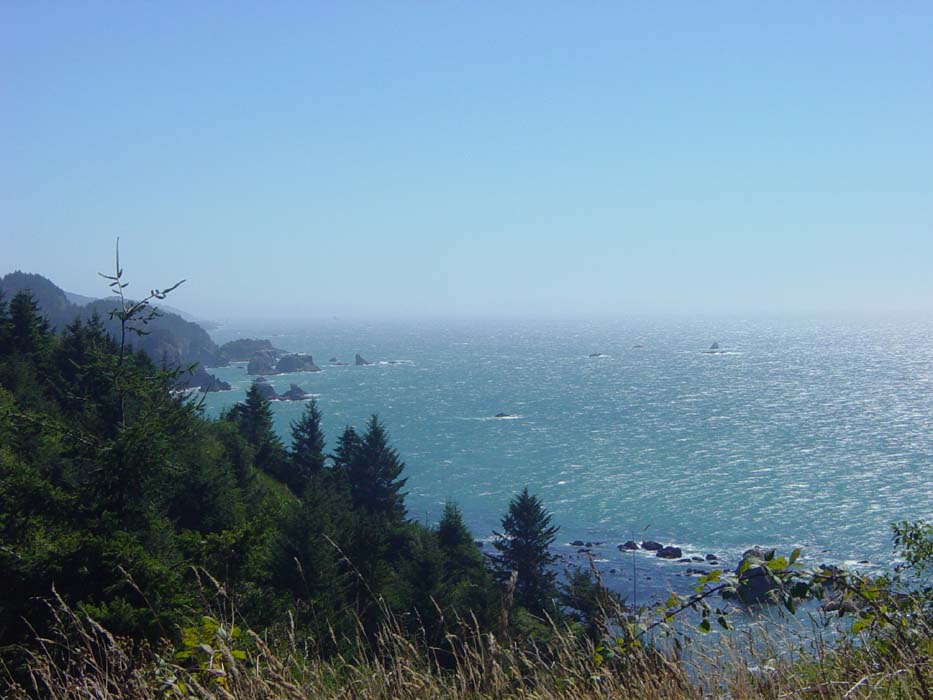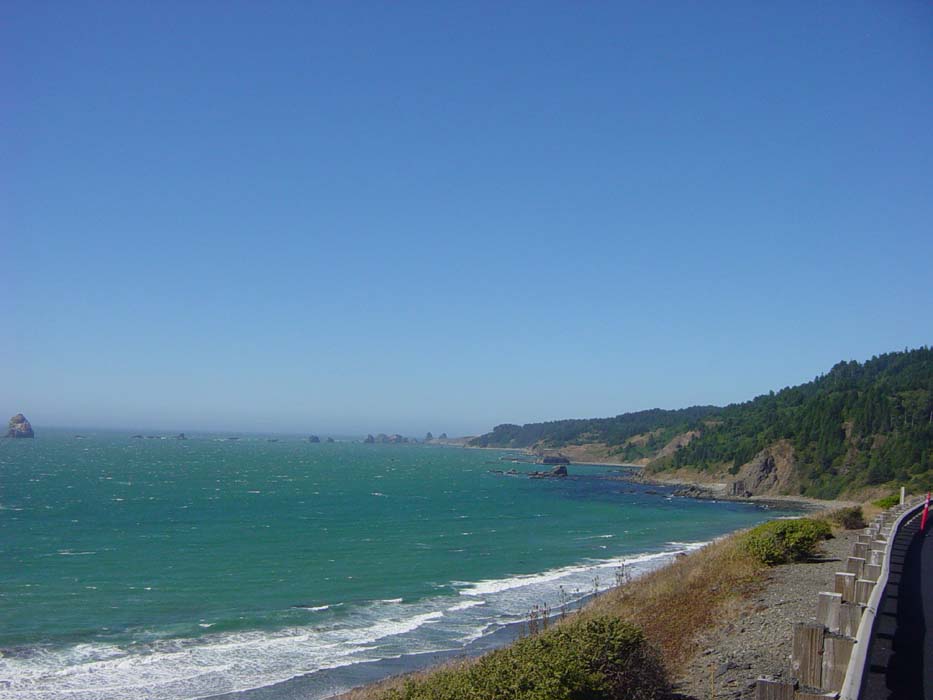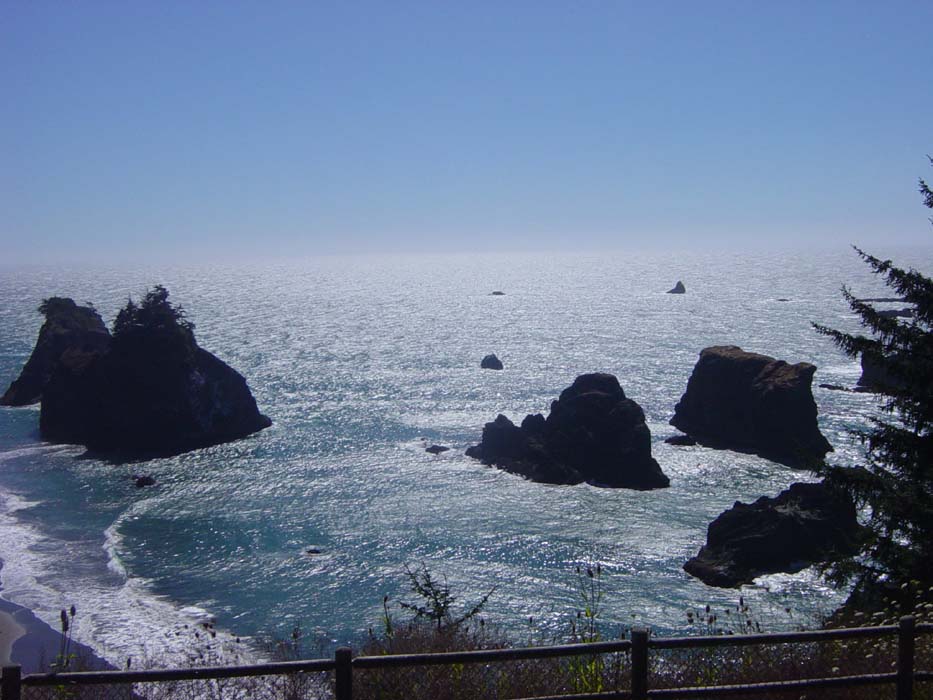 You probably can't make them out in the next photo, but there are some small sea caves along the waterline. The most obvious one looks like a dark spot on the rocks just where the beach has started.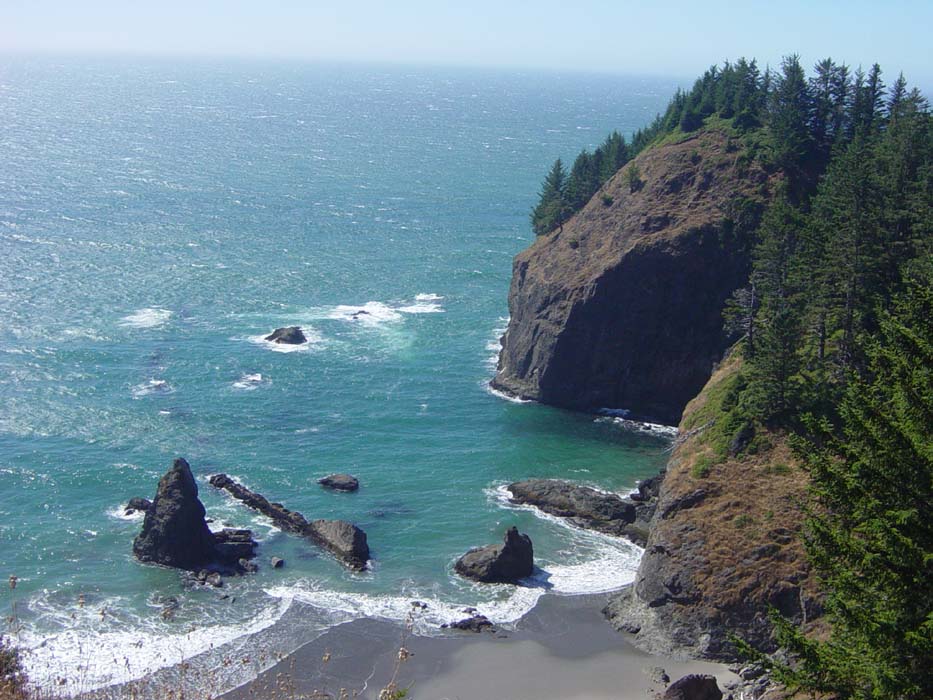 At one point I crossed a bridge that was marked as the "Highest Bridge in Oregon" at slightly under 400 feet. Here's a photo looking over the edge at the beach far below.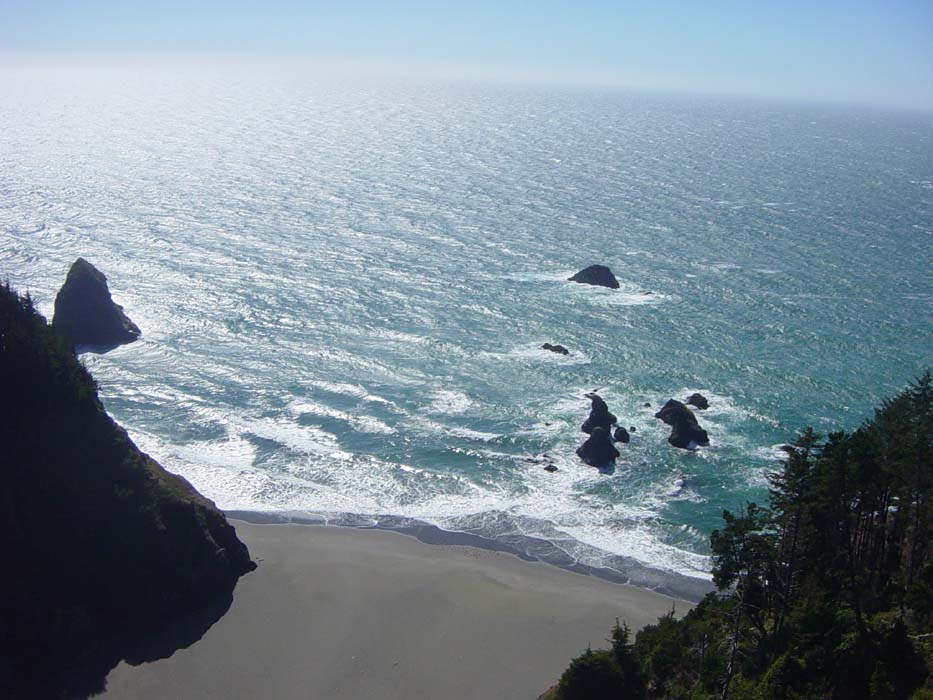 Around here something strange happened...I actually caught up to another couple of bicyclists heading up the next hill. Normally I go so slowly that catching up to someone else is unheard of. In fact, I'd already been passed by a pair of cyclists today (admittedly they were on racing bikes) and yesterday a group of three passed me in one of the towns. Usually I try to chat with other riders, but the hill was so tough all I could do was say "good afternoon" and slog my way past. Once again, the view at the top was worth it.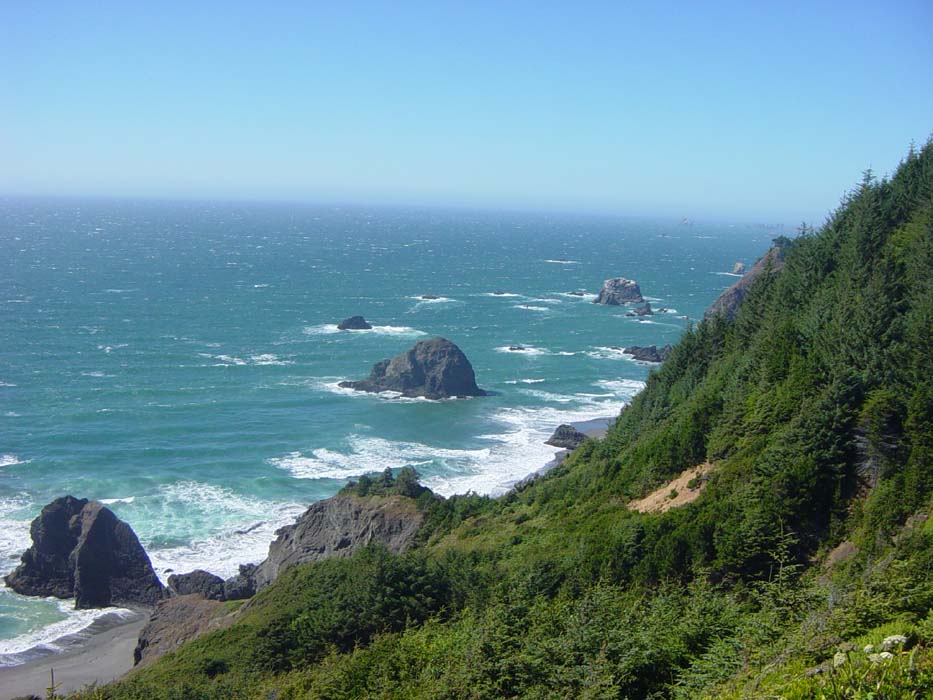 The endless climbs continued, and there were several more little side roads leading off to supposed viewpoints, but I wasn't going to be fooled by that again. Besides which, the few looks I got at them looked like I'd have to do a little hiking to get to the actual photo spots. Forget that.
There were at least a couple of views through the trees, like this one of Whaleshead Rock: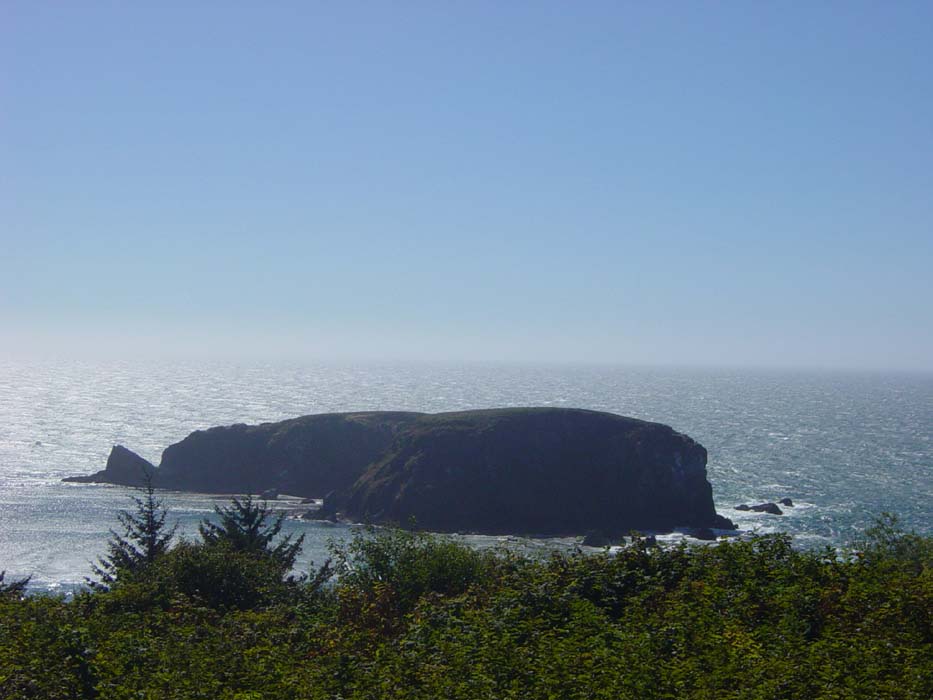 Finally the hill climbing got a bit less intense, signaling the approach to Brookings, my potential stopping point for the day. I took this one last picture before reaching town.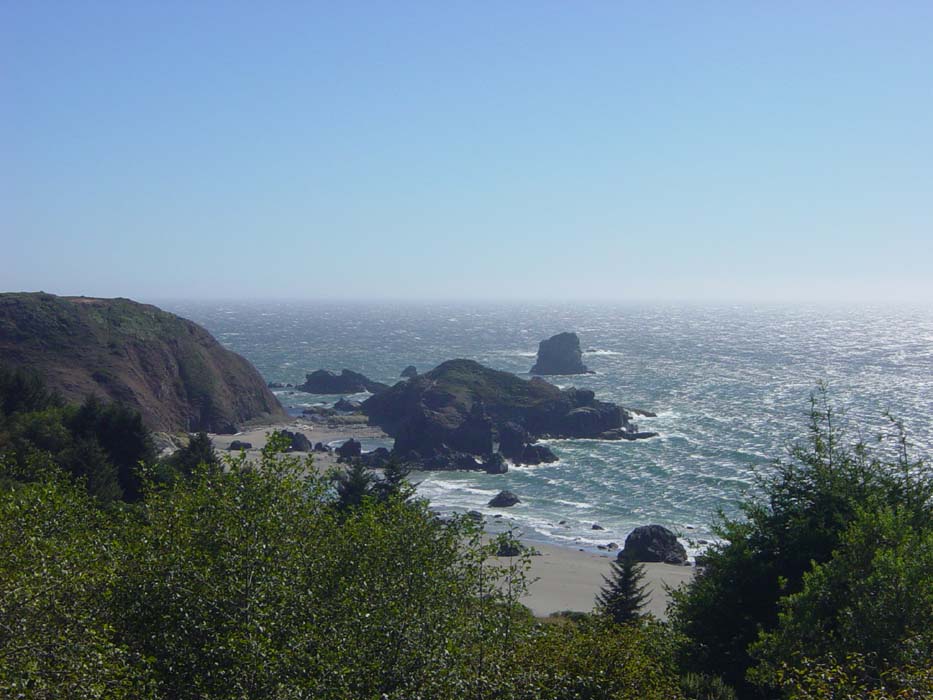 I got to Brookings at about 5:30, and the campsite just before town was full, which wasn't that surprising. There were a couple more south of town if needed, assuming they weren't full as well, but I decided to check hotels. Fortunately there was a decent one at $50 a room that still had some space left. It would be cool to say I'd gotten the last room or something, but actually there were still vacancies after sunset, so I guess the Labor Day traffic isn't as heavy as I thought. Or maybe they're just all camping. Whatever. All I know is I got a room for a decent price and got to watch some football before bed.
Today was the worst climbing day of the trip so far. My legs are aching pretty badly. Tomorrow, though, it's on into California, which is only a few miles from here. Oh, and in case you're wondering, I've gone just over 1,100 miles so far on this trip (an average of about 65 miles per day, not counting off days). According to Google Maps, the route from here to the border of Mexico is approximately 1,050 miles (not counting any side trips). So, basically, I'm halfway there!