View Larger Map
Day 28 - September 16, 2010
Big Sur to San Simeon, California
Miles: 71
Terrain: Brutal climbing for the first 50 miles, then an easy cruise the rest of the way
Weather: Cool and sunny, light crosswinds, some fog later
Last night was spent camping under the redwoods in Big Sur's Pfeiffer State Park. There was a nice area set aside for hikers and bicyclists that cost only $5. (I couldn't find anyone to pay when I got there, so I wound up paying the next morning.) The hiker/biker area had no spots set aside specifically, like the RV and trailer areas did, so you basically just chose any flat area and moved on in. There were a half dozen other tents there, but there was still plenty of room and I had no problem finding a nice spot right here: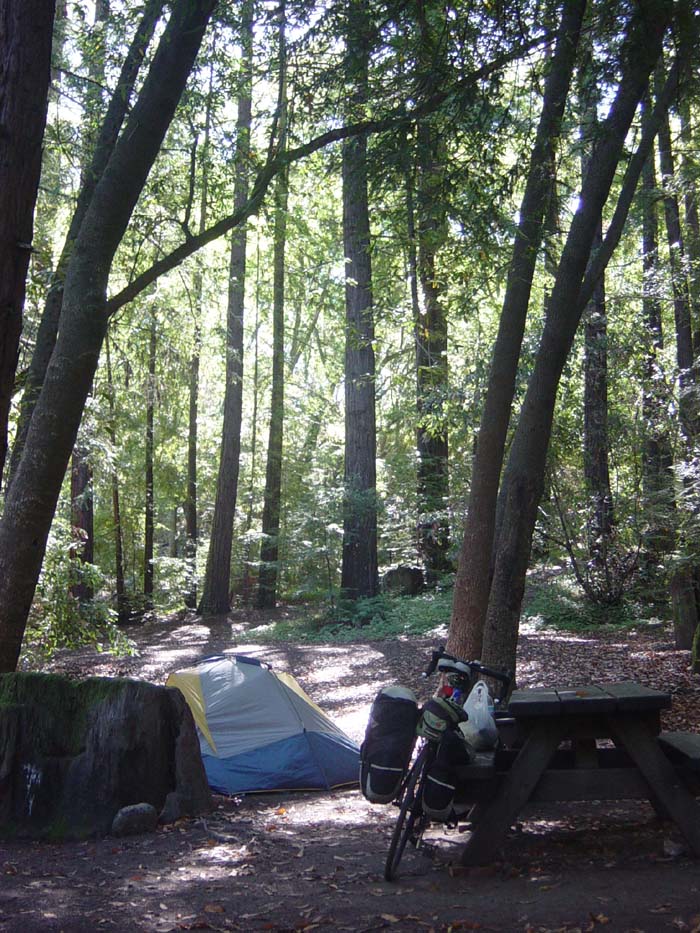 Usually when I camp everyone pretty much keeps to themselves, but I had nice chats with several of the other residents here. There was a couple biking north (I really can't imagine why anyone would go north into the wind every day), and another guy from the local area who was just riding out to camp for the night. Then there was this guy, Jason, a hiker who was going off into the Ventana wilderness for a couple of weeks alone. When I first met him he had this entire table covered with stuff, mostly food items he was carrying along with him in case he got stuck out there for longer than expected. I really still have no idea how he fit all of it into his backpack along with his tent, but he pulled it off. I took a picture of the pack (it looks almost as tall as him) and he let me try it out. Imagine picking up 90 pounds of stuff on your back. That's what this was. 90 pounds. He said he could last 2 months in the wilderness with the food in that pack, and I don't doubt it.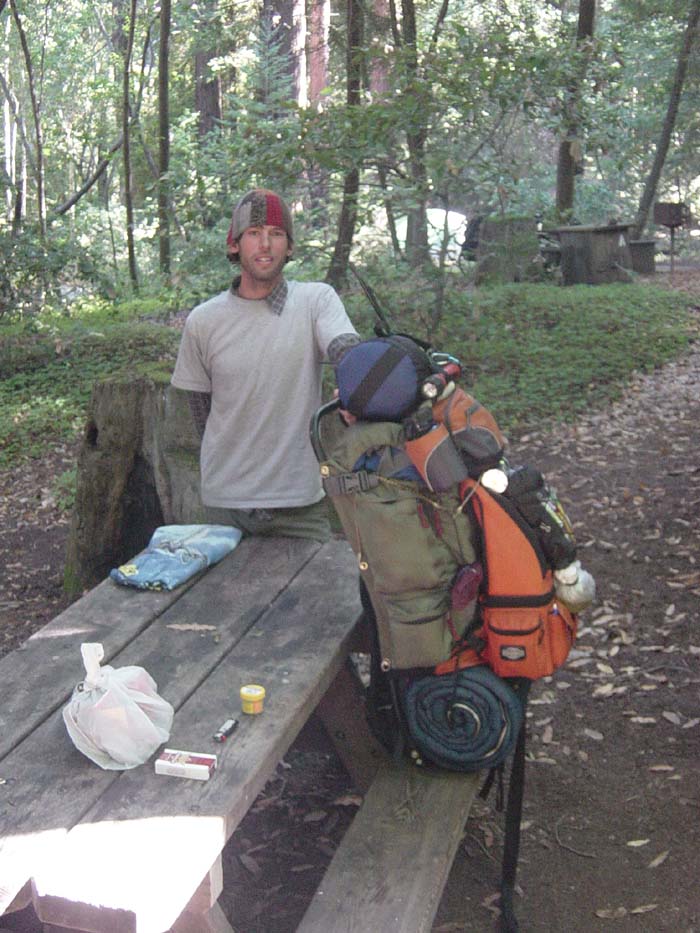 I wish him luck, he's got his work cut out for him hiking for miles uphill into the wilderness, but he looked like the sort who can pull it off. Of course, I had my own trial to endure today so I set off, unfortunately a bit later than I wanted to, a little after 11am. (I slept too long, or should I say, I huddled under the sleeping bag shivering too long.) Then I had to endure a grueling 3-mile climb out of Big Sur back to the coast. Here's what the view looked like at the top of that climb:
There was a little bit of fog, but it was warm enough now to unroll the sleeves and lose the sweatpants for a while. I coasted down and snapped an even better photo before getting back to sea level: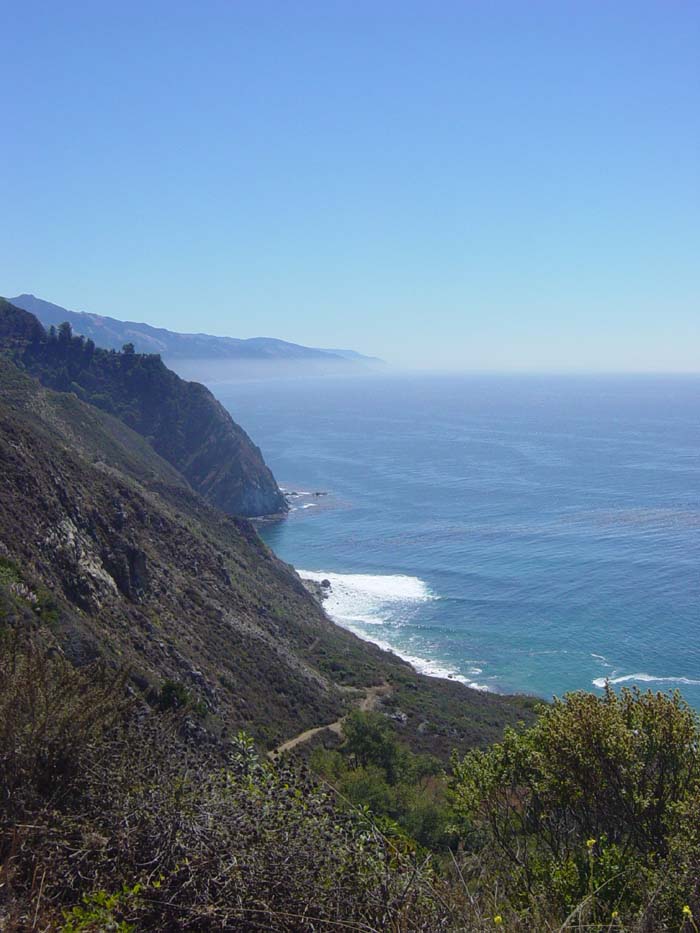 At this point, the road began a series of long climbs followed by long descents that were, fortunately, not terribly steep. I took a ton of photos over the rest of the day, because the Big Sur coast's reputation as one of the best drives in the world is not undeserved. Here's one looking back at the road early on.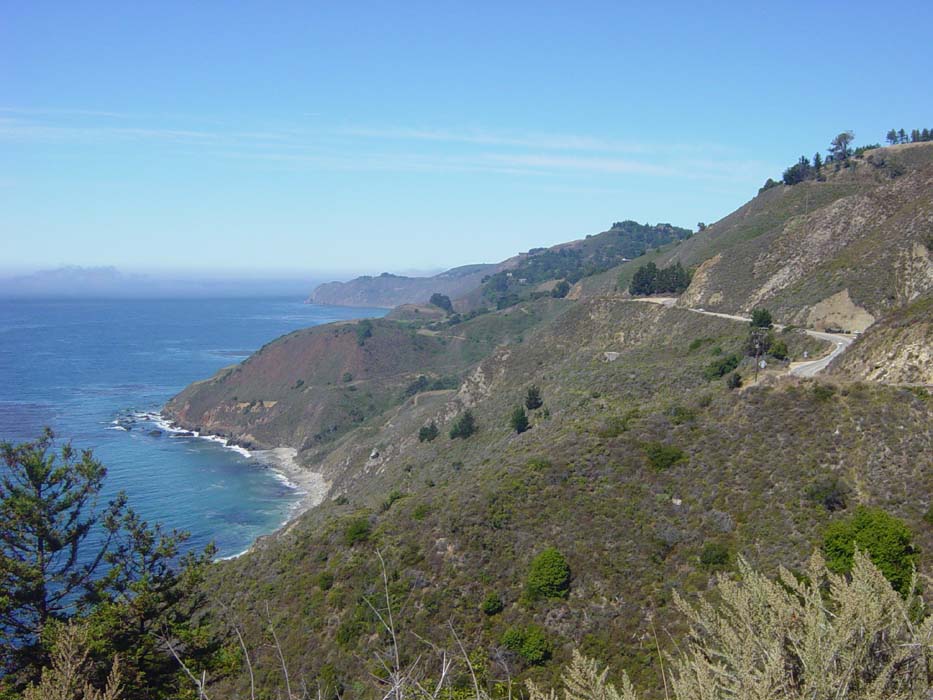 Turning back south, this is what the terrain looked like ahead of me. There's still some residual fog but this will clear up shortly.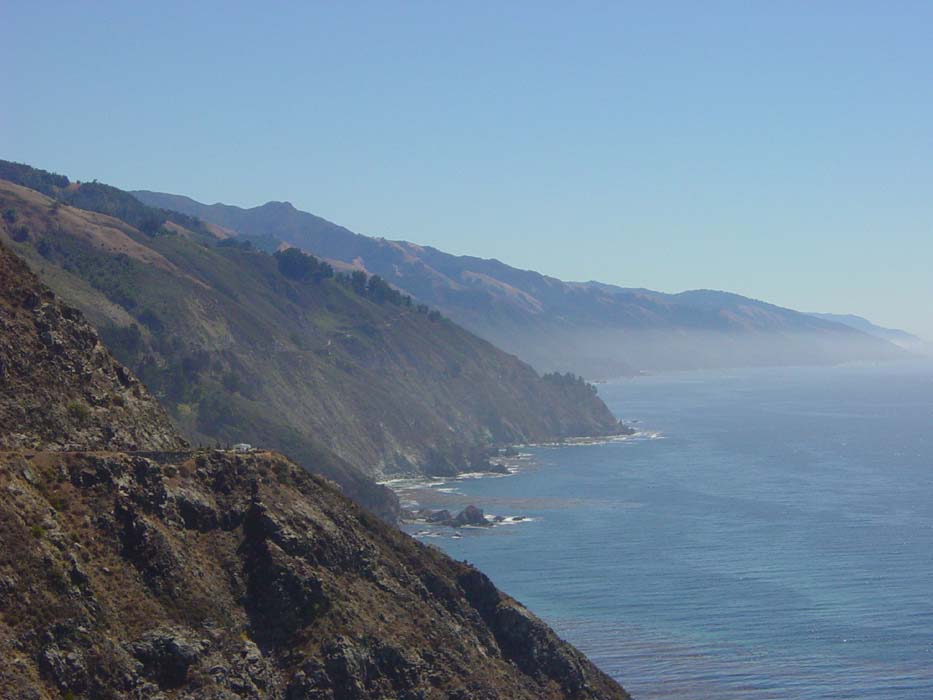 Another view from a bit farther on, with more coastline visible now.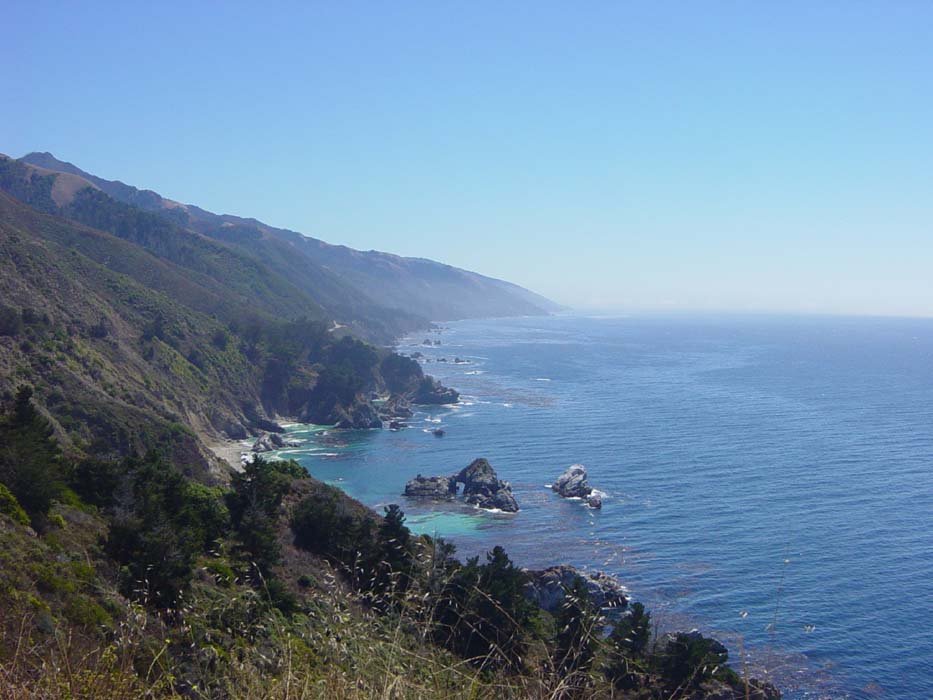 There were numerous spots like this where little coves formed tiny, secluded beaches that would make nice recreational spots if you could only get down there to them.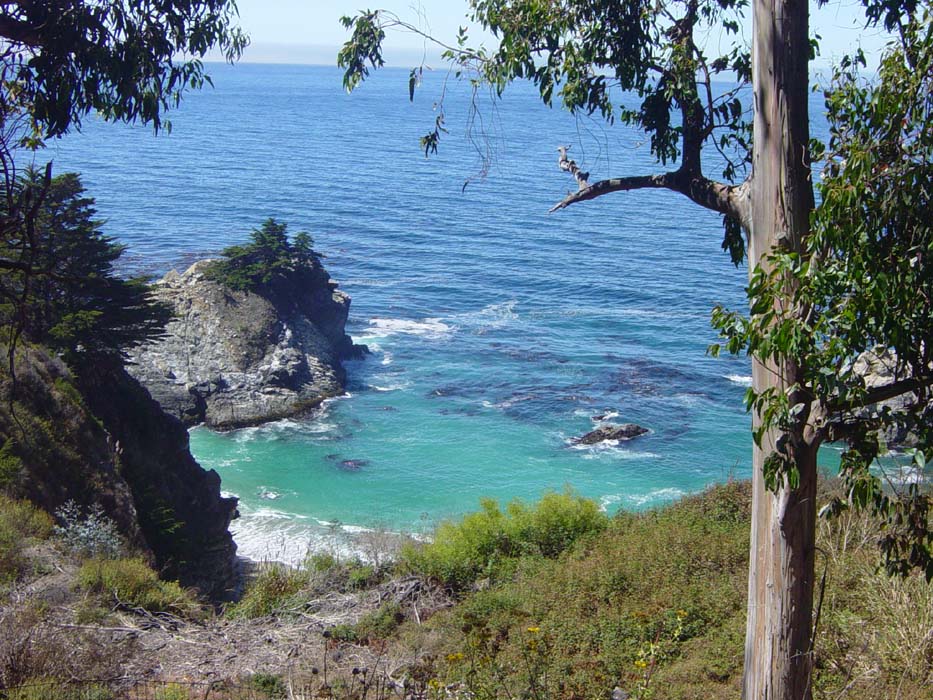 The coastal ride continued like this pretty much all day. A lot of these pictures just sort of speak for themselves.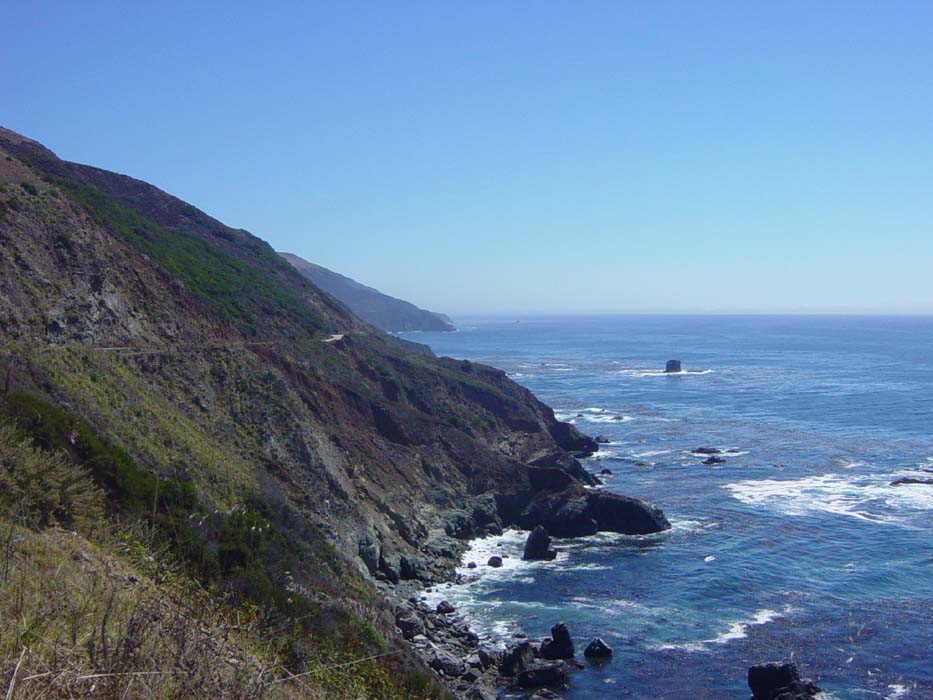 Looking back from the same spot.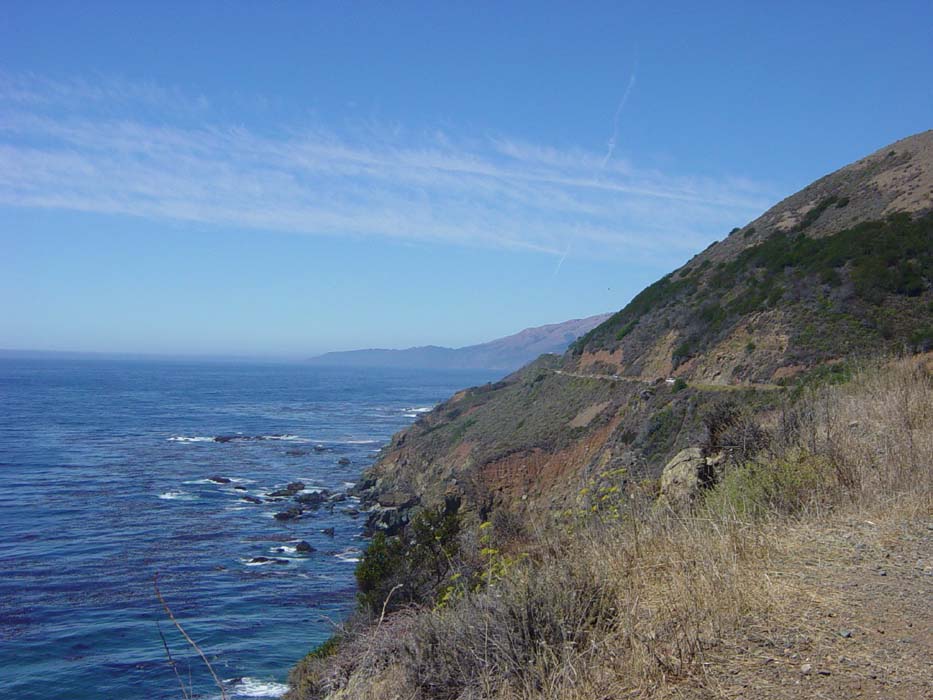 Another private looking beach that was absolutely deserted. If you could figure out how to get down there, you'd have the place to yourself.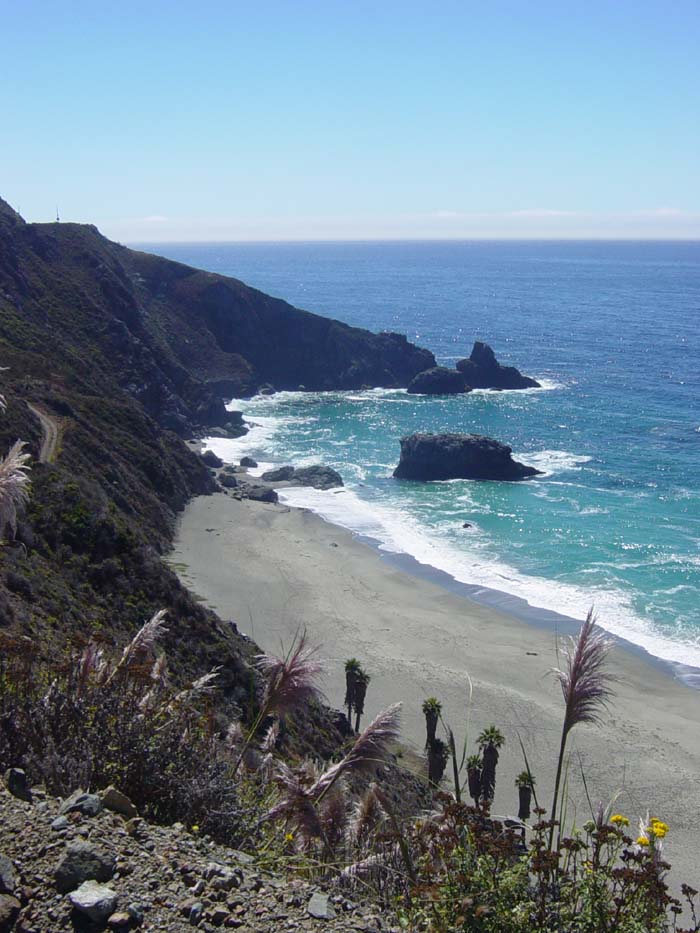 Not every rock was barren; the outcropping down there is completely covered with vegetation.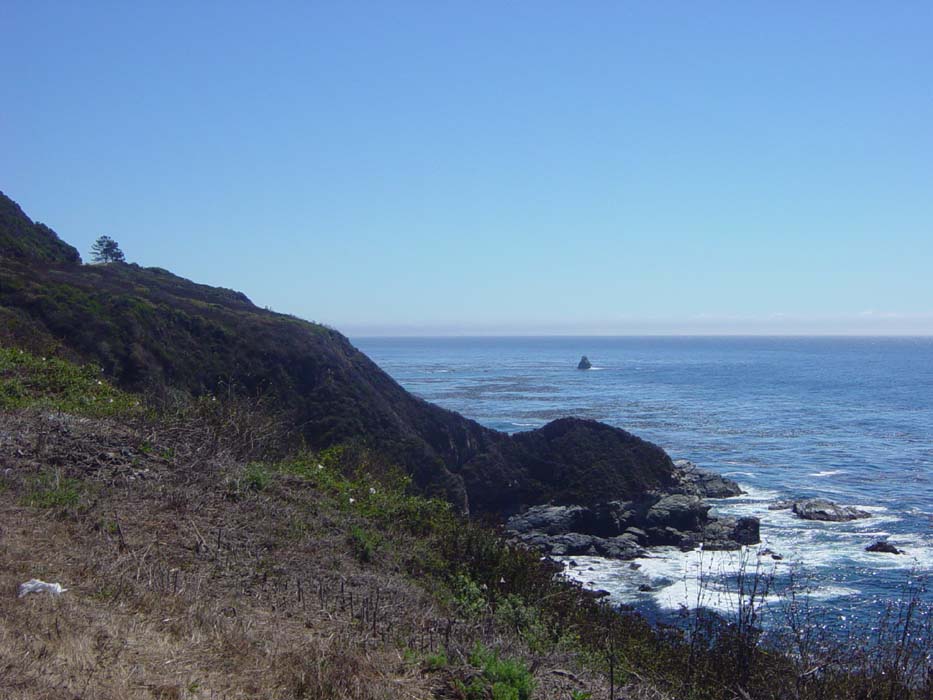 The road wound around penninsulas all day and each one brought a great view of another chunk of upcoming coastline. I tended to snap a photo of each one as soon as I got there, and more later just to be sure I didn't miss anything, so pardon any apparent duplications.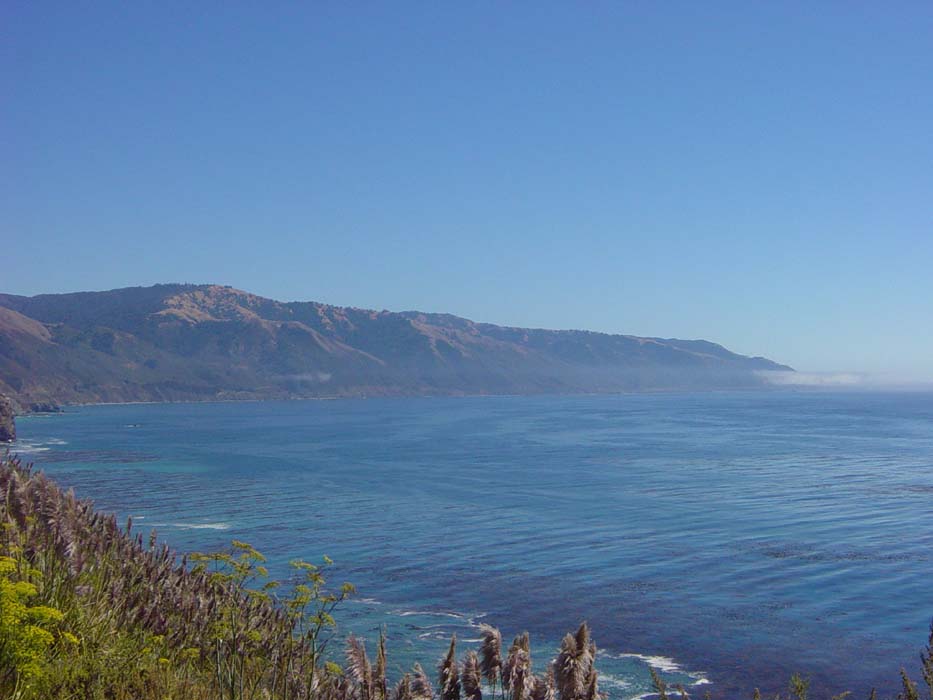 The same coast from another angle, so you can see that down below are more little beaches and rocky shorelines.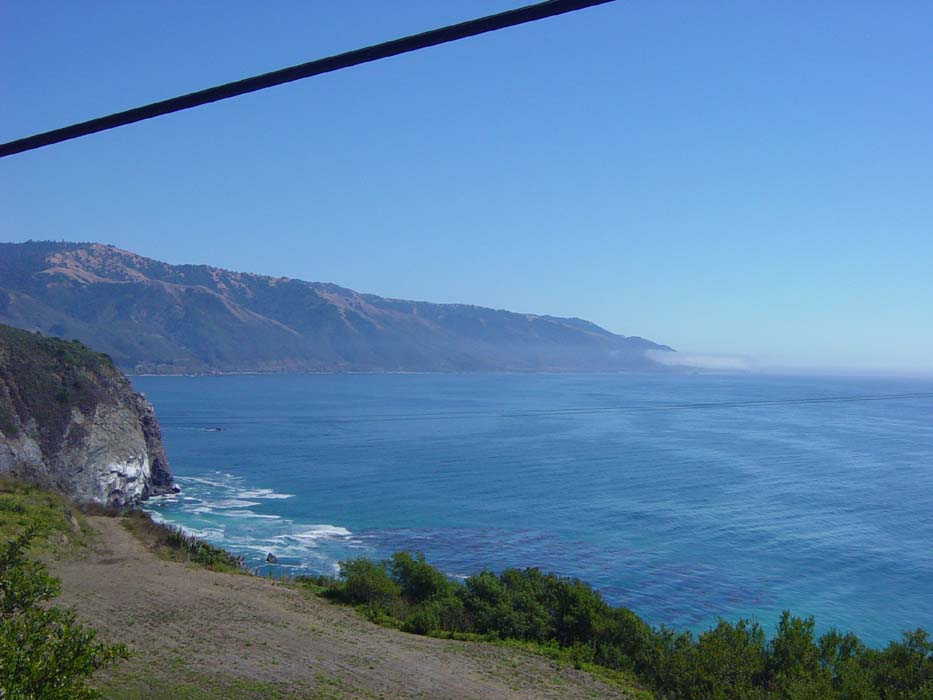 An even better view. By the way, notice way down there just right of center, you can see the road starting to work its way up the side of that hill. It doesn't look too bad right there, does it? Well, it gets worse.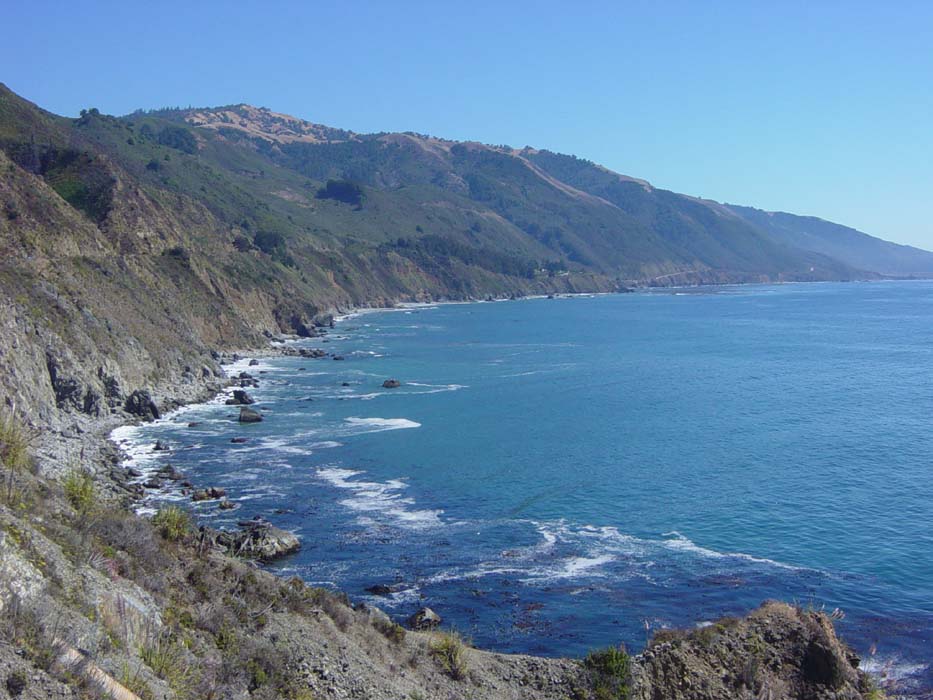 Now you can see what I'm facing with that road. This was the pattern for the day, long climbs right alongside some of the best scenery on Earth. Ah well, something to look at and take my mind off how hard the ride is.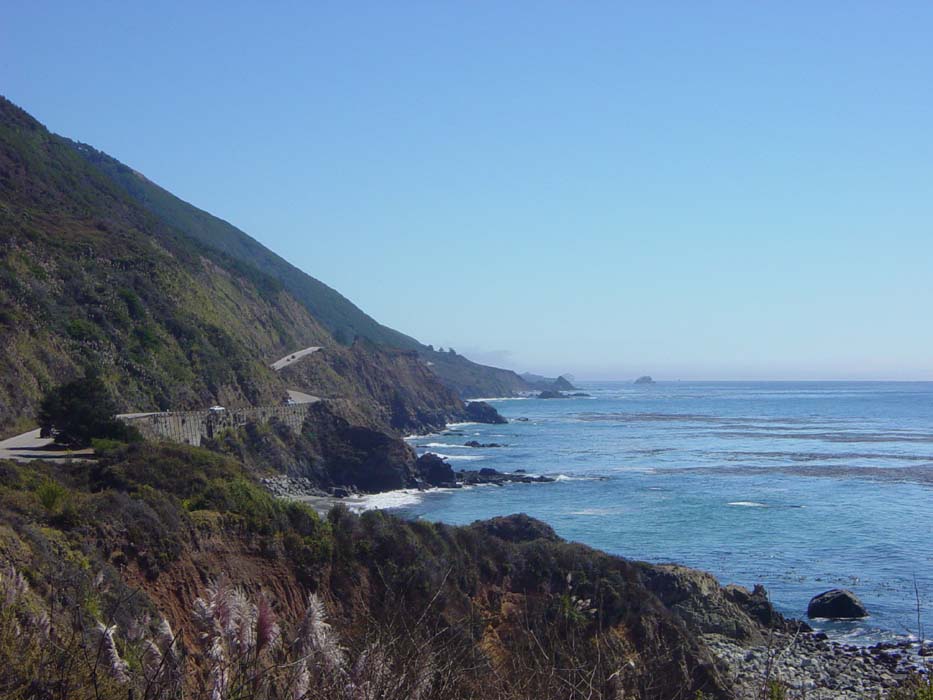 Here's the view from the top of that climb: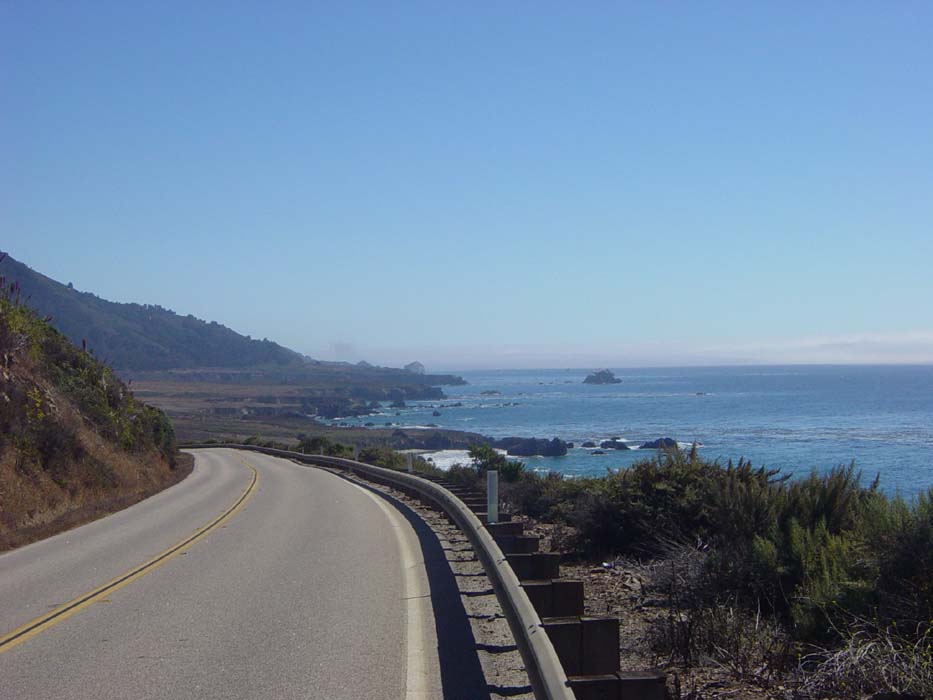 Now the road swept inland a bit, did a couple ups and downs and came back around to where that rock is visible on the horizon in the previous shot, about in the center of the picture (not the one out in the water). This is what that looked like closer up.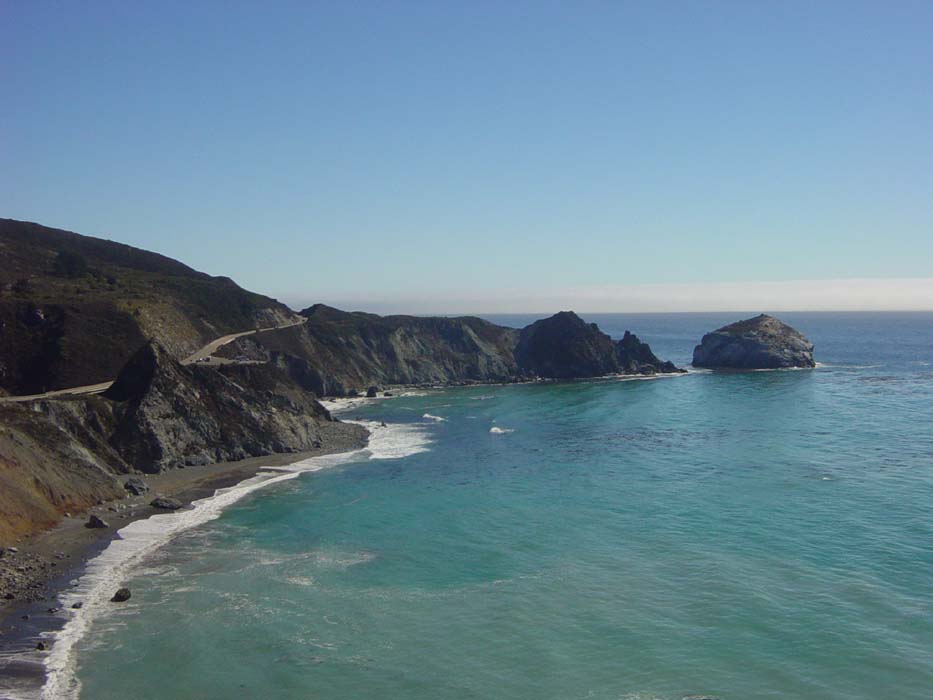 Again with the climbing on the way around. Typical. Here's the view looking back from there, at where I was when I took the previous pic.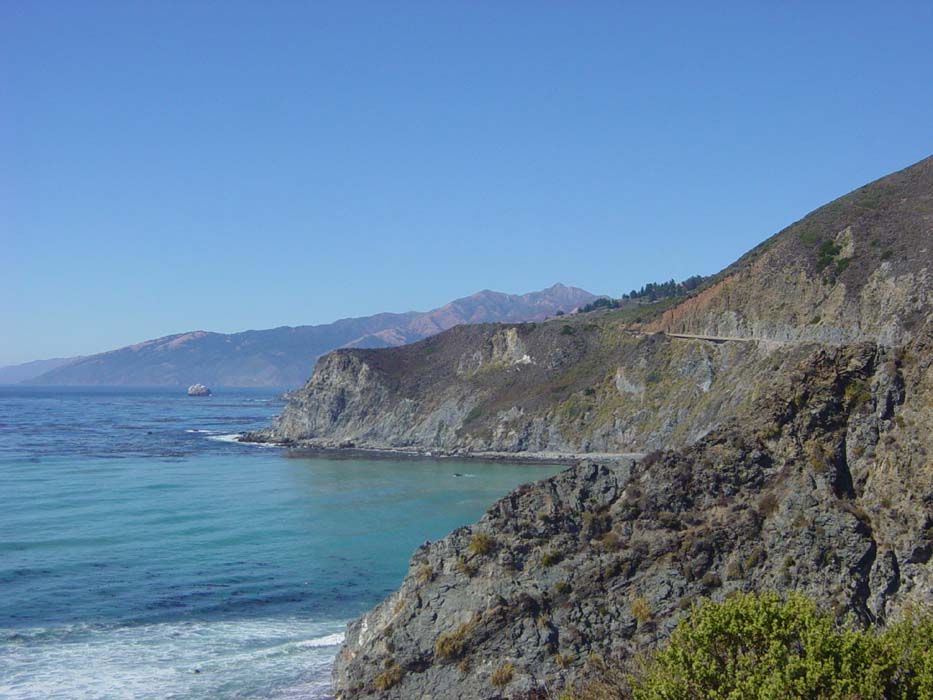 The next bit of coast to deal with...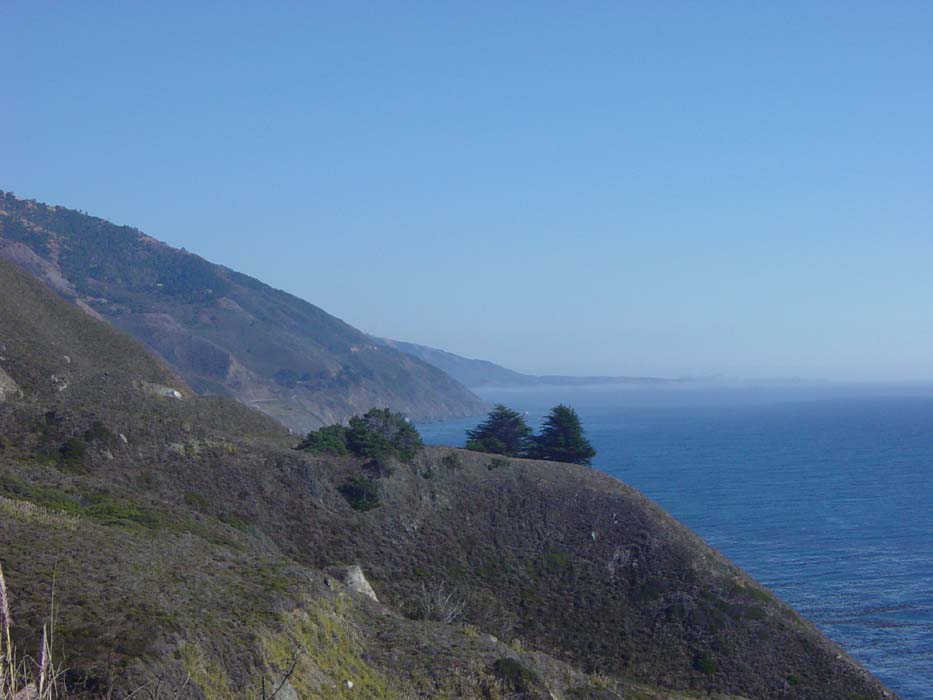 This interesting rock formation looks like someone balanced a smaller rock on top there, but actually looking from the opposite side it's just another piece of the same stone.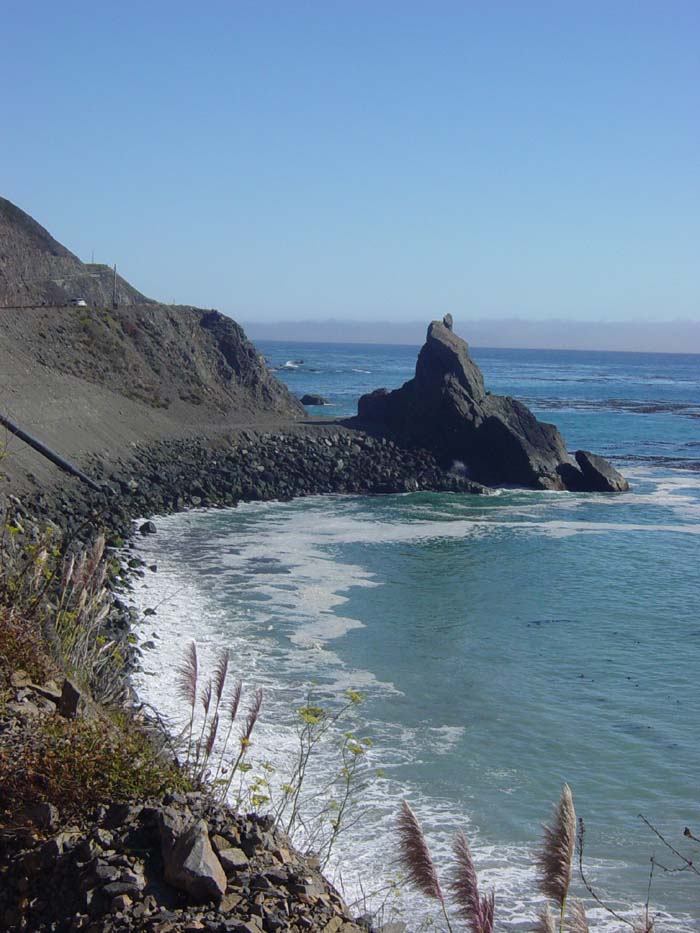 After this I had another big climb. Looking back, I noticed that the fog was creeping up on the shoreline now. It's chasing me!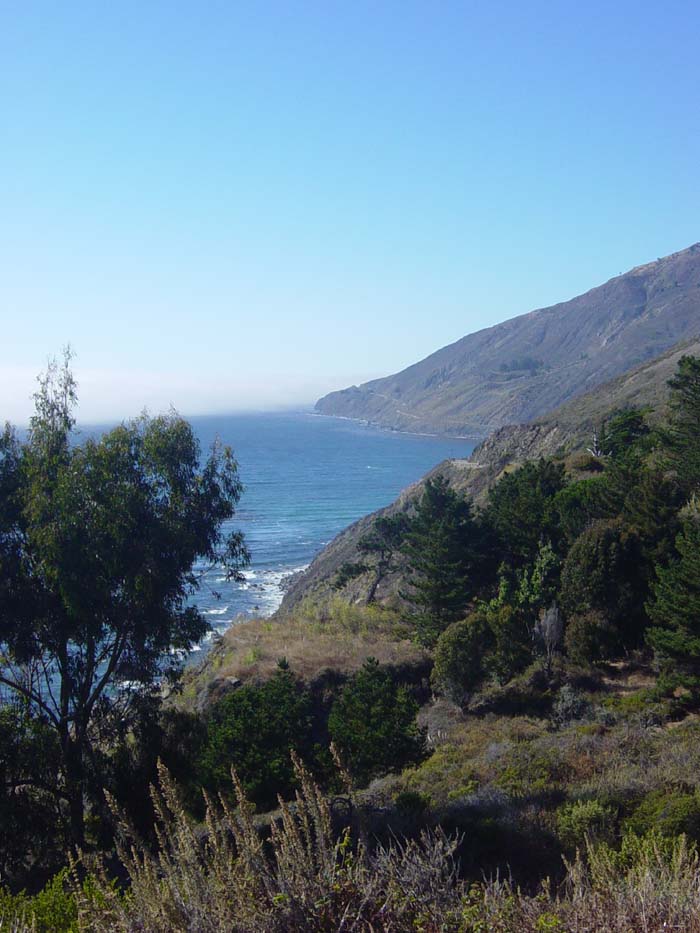 A view from one of the many sheer dropoffs up here: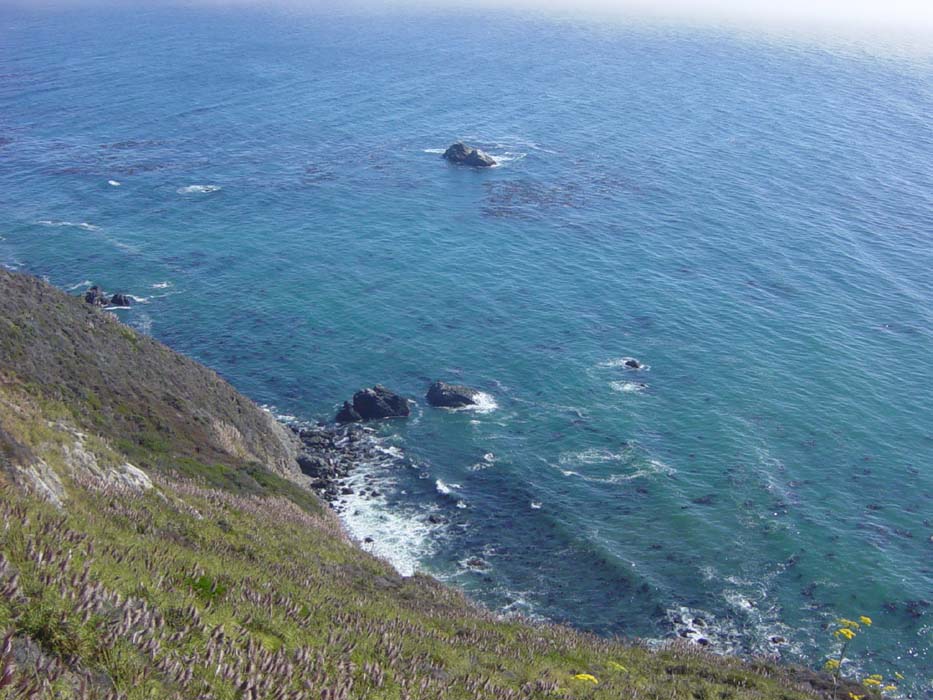 The climb ground on, as it was turning out to be one of the worst of the day. And the fog grows ever closer...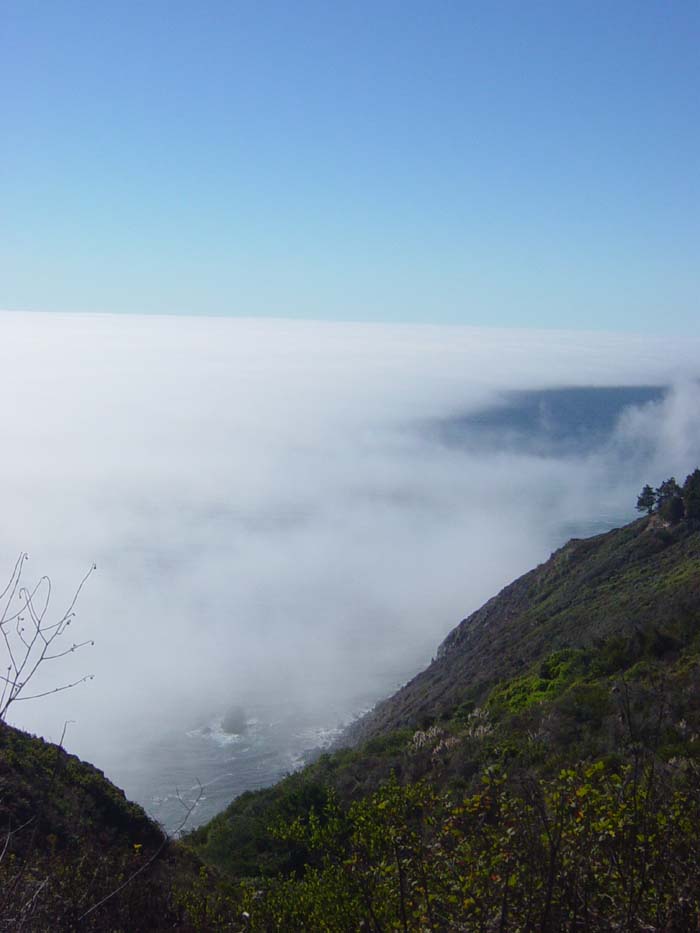 By this point I'm getting really tired but I can't let that fog catch me! Must ... climb ... faster...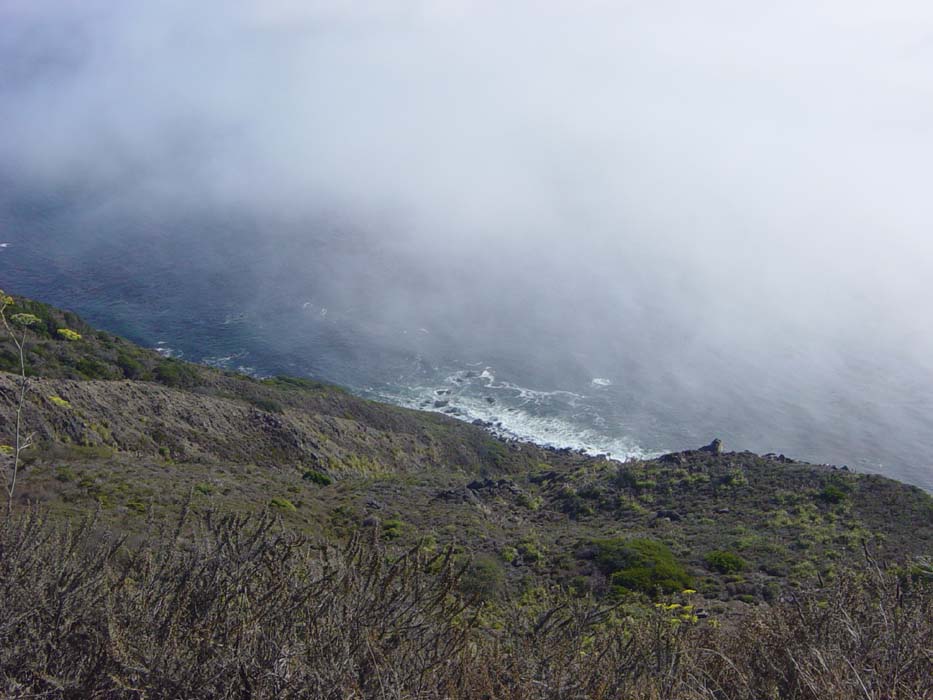 Ah, there, I'm above it now. This is the terrain up ahead. More hills, but smoothing out a bit down there on that long penninsula, which was a spot called Ragged Point. I'd been told before today that this marked the end of the climbing for the day, so that was sort of my goal. I figured if I could make it there, the rest of the ride would be relatively painless. Still about 10 miles to go before that, though.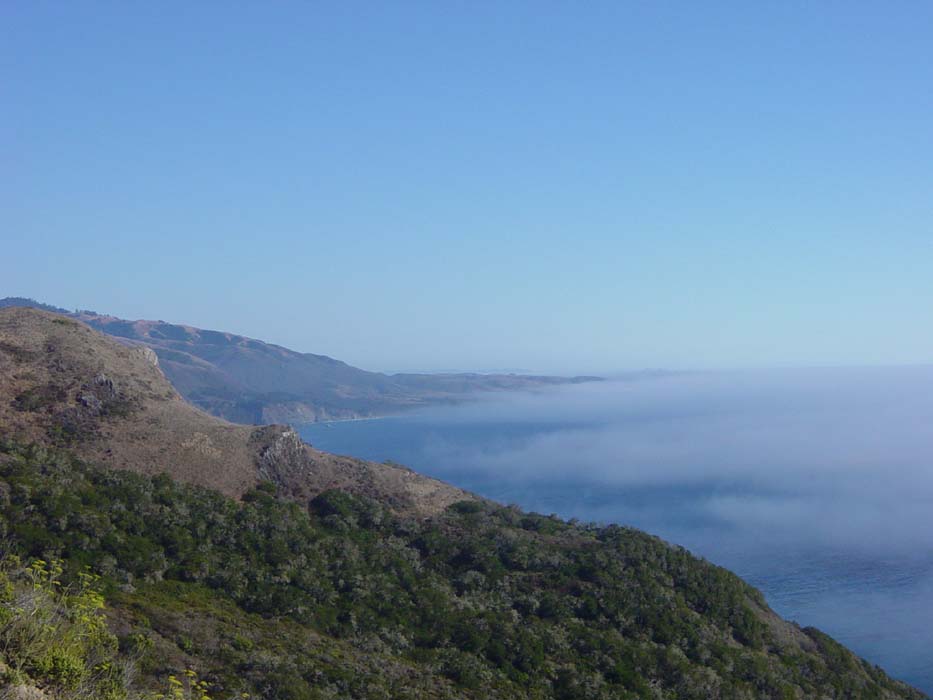 Another view of the road ahead...well, sort of, seeing as it goes behind that rock there, but it looks like it's going downhill. I should be so lucky. Actually, around that corner, it began to climb again, which it did for about 3 miles, then descended for maybe 2, and climbed another 2 more before it was finished. I was starting to shake by this point, so I stopped for some cookies, and prayed there was no more climbing. There wasn't anywhere to eat up here and I was getting really hungry.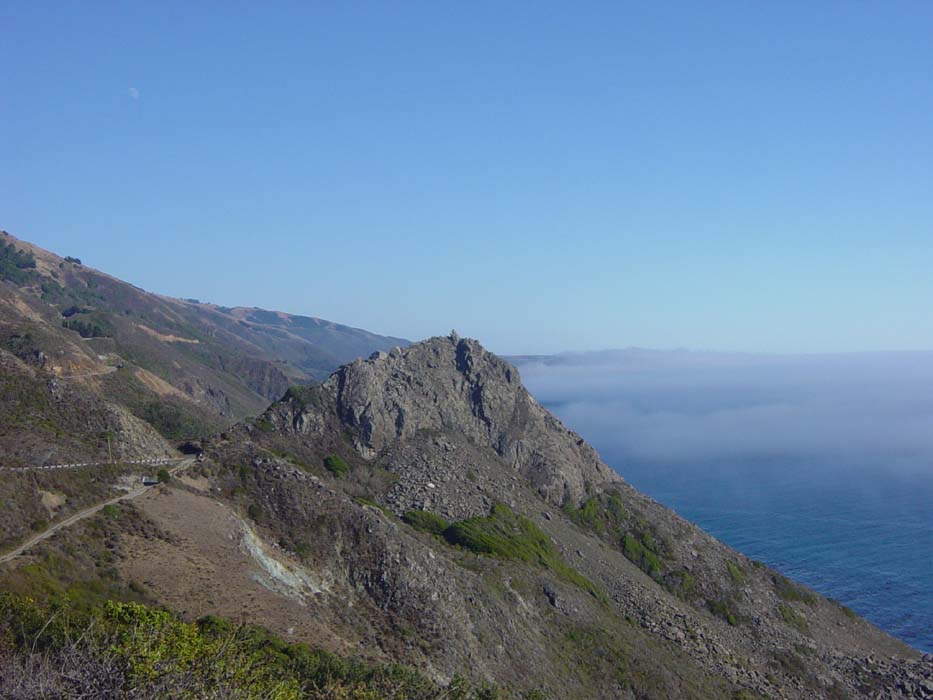 Looking back, the fog looks like it might be receding a bit.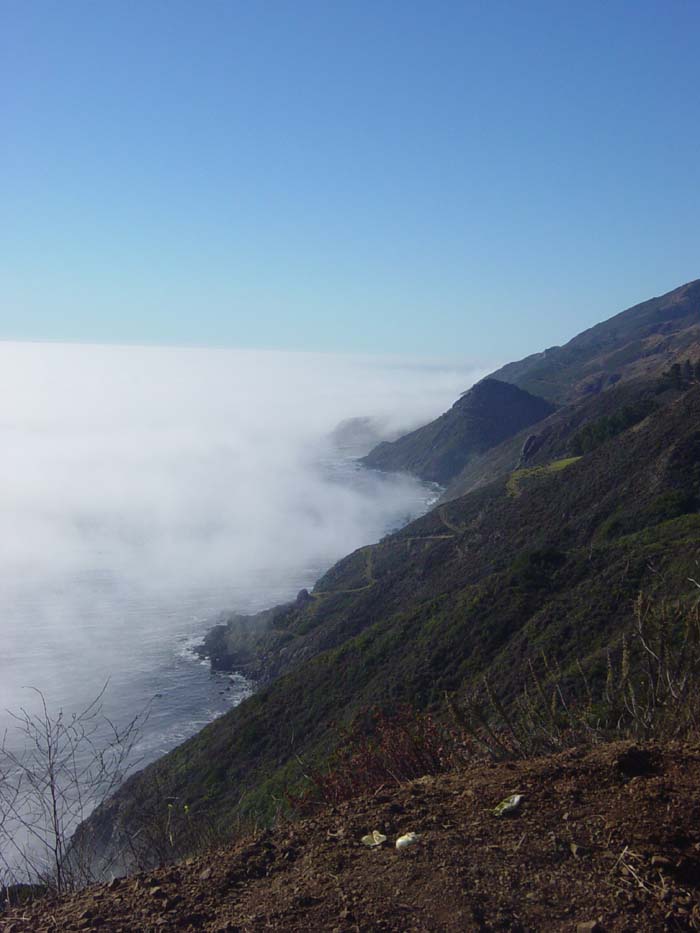 Or not.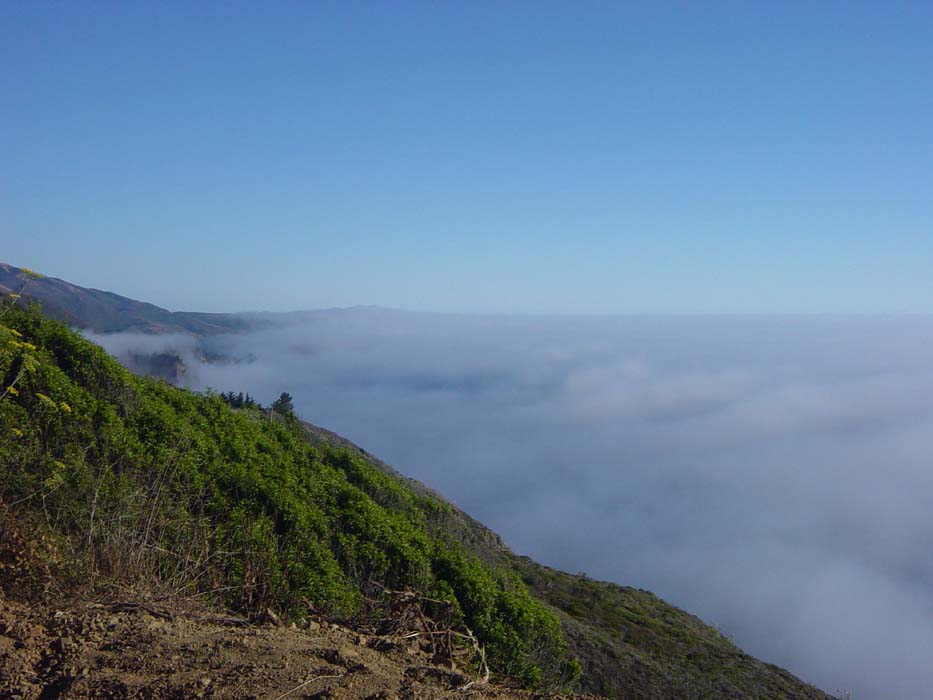 Yep, it looked like it was back to stay this time. Plus it got cold, so I put the jacket on and headed downhill, through Ragged Point, where as I quickly discovered, my previous information was correct. Once out of the hills, the road began to cruise along with only a few minor rises and falls. However, it was impossible to tell what was coming most of the time, because this was all I could see:
From here it was about 15 miles to my destination, but as I'd hoped, they were pretty easy miles. I needed that, though. If these had been hills like earlier in the day, I never would've made it before dark. As it was, I no longer had any reason to hurry. The road went along the coast a bit, but again I couldn't see much due to the fog: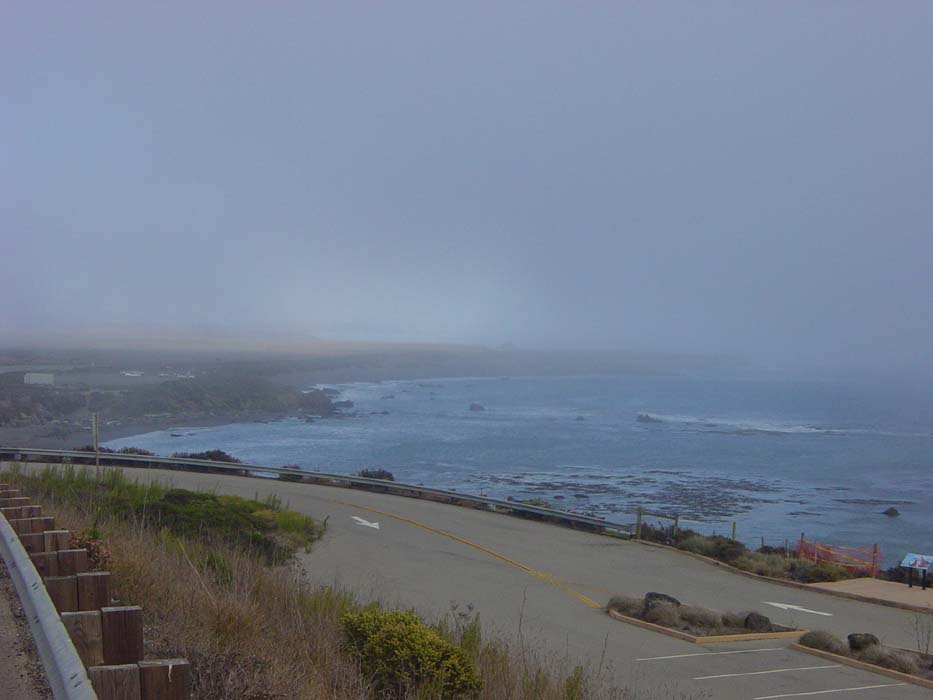 Random Wildlife Sighting: The road passed by an elephant seal rookery, a spot where these creatures return to every year for mating (in the spring) and molting (autumn). There were still a whole bunch of them here, mostly lying around doing nothing of any real interest, but occasionally one of them would make a kind of guttural hooting growl. Otherwise they looked a lot like those harbor seals from yesterday, a bunch of giant blobs lazing about on the sand.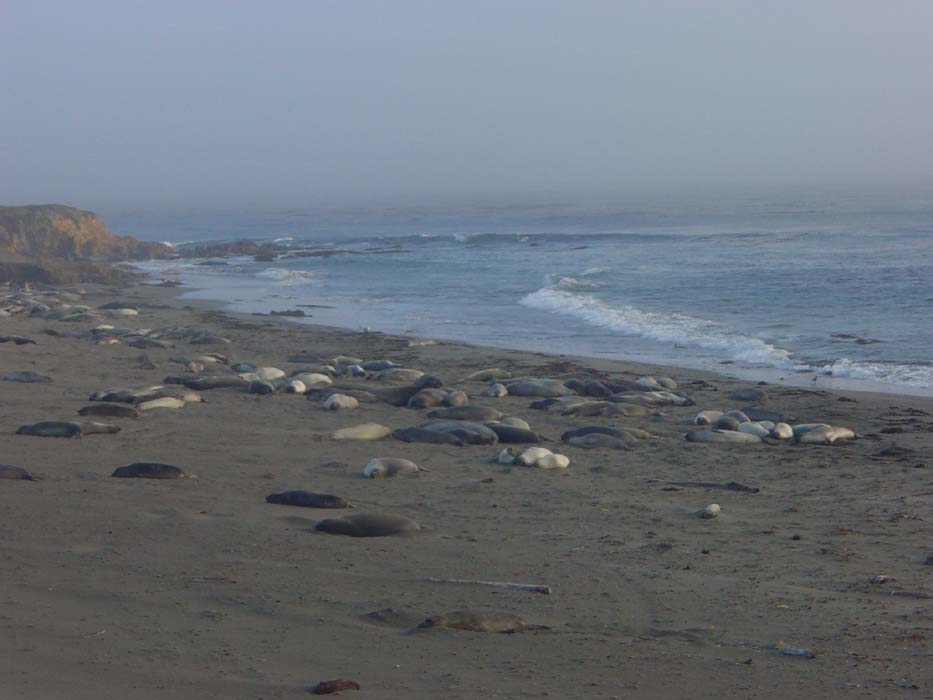 Here's a close up of a younger seal: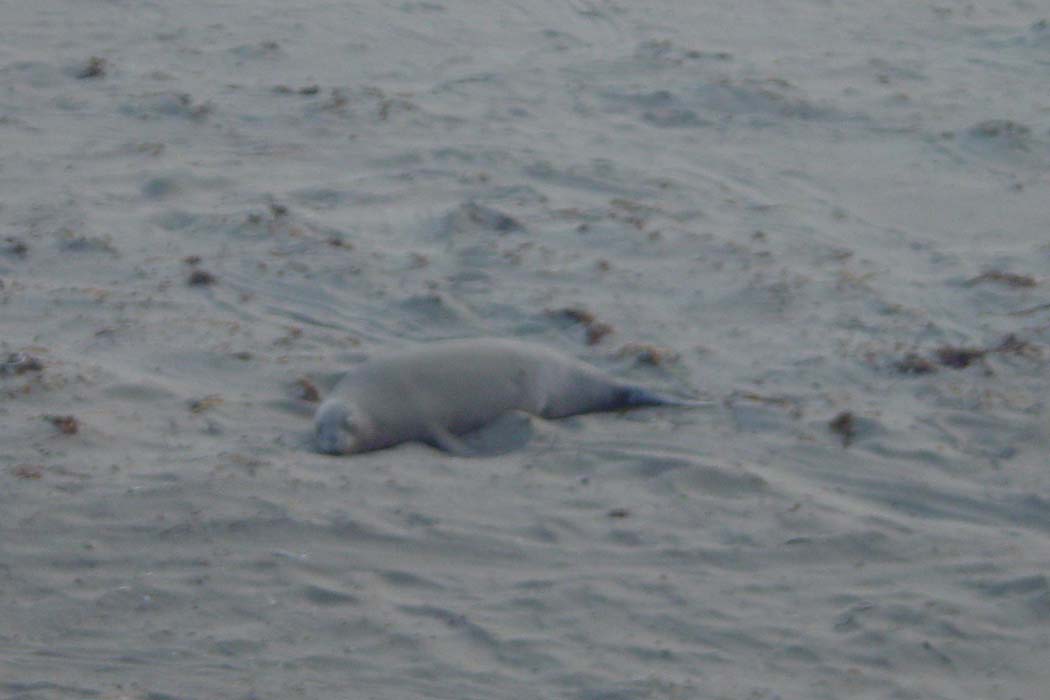 And this is one of the big boys: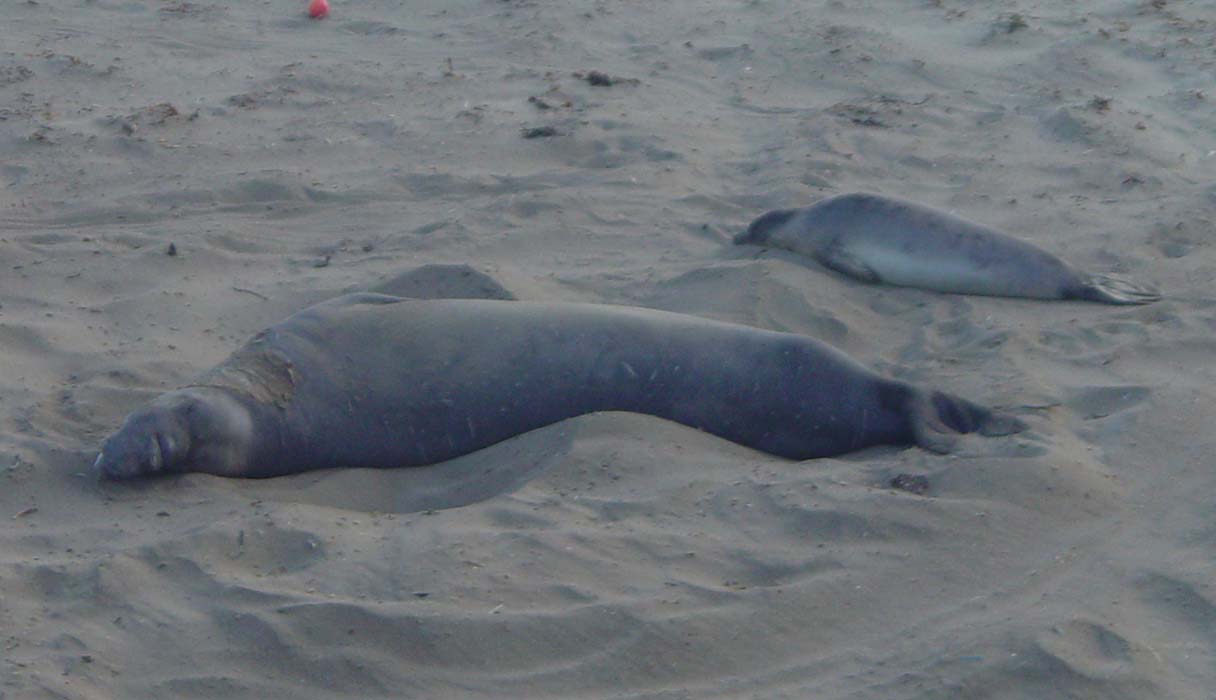 A few minutes after I left the rookery, the fog broke up and disappeared, leaving the sky blue and clear ahead. The road passed by Hearst Castle, which is where William Randolph Hearst created a private retreat that's now a historical monument. I was afraid the fog would block my view of it, but it was gone by the time I passed by. This is all I could really see from this distance, though. You have to sign up for tours in advance, so I won't be going there this trip.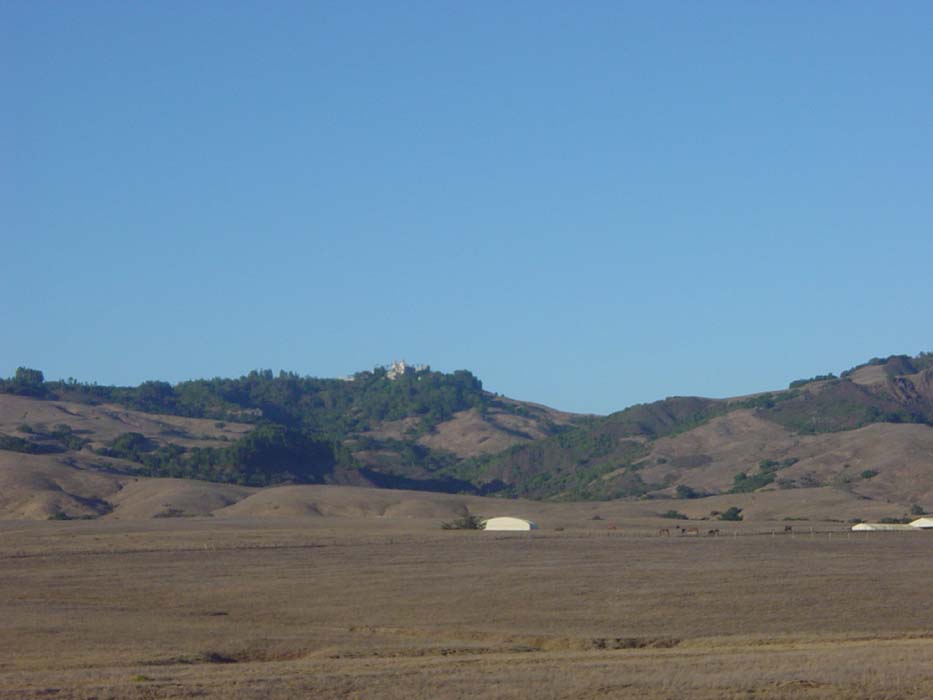 San Simeon was only a short distance farther along, but when I got there, it was just a few historic looking buildings and a state beach that didn't allow camping. I started to panic. Where were the hotels? Surely there had to be some around here someplace, with all these tourist spots way up here on the coast. Yet there was nothing at all. The land all about was mostly farmland, with no buildings in sight, but there were plenty of signs saying "no camping." Not that I had any intention of stopping, because I still needed dinner. So I rode on, hoping to make it to the next town before nightfall. Then a funny thing happened...I came over a hill and saw this: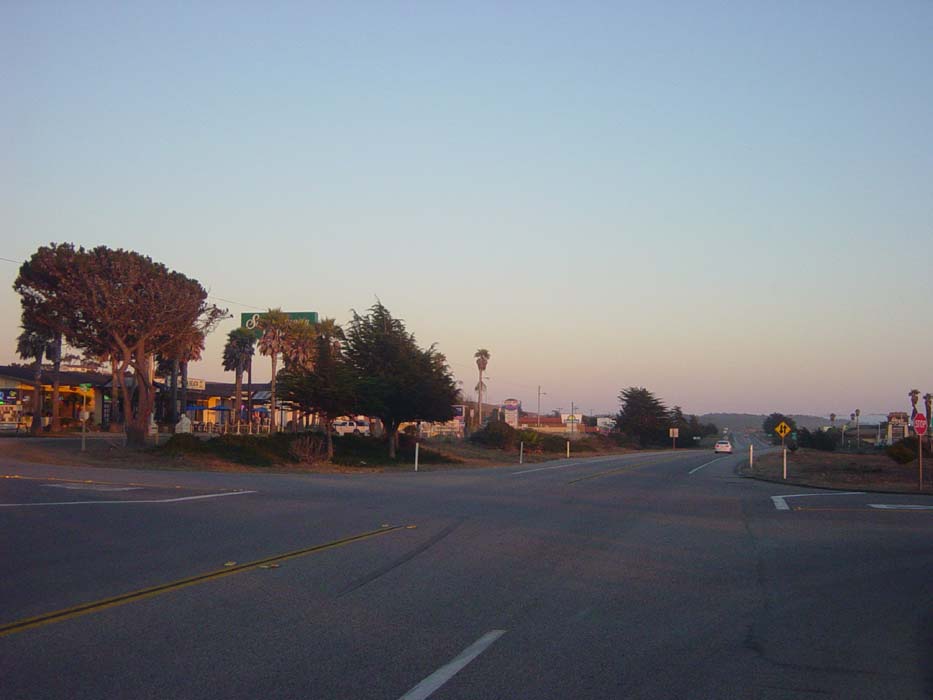 Right in the middle of nowhere, here's this strip of hotels (on either side of the road), each with their own restaurant attached. Then, at the end of the line of hotels, back to more nothing. It's like someone just dropped a big stack of hotels right here and nothing else. This must be the only area of land for miles around that they could zone for this stuff, so that's where all the hotels had to go. Plus, they were packed. There were tourists and tour buses everywhere, probably here to visit the castle tomorrow or the next day. In any event, I found a room at the 3rd hotel on the left for only $45 (when told there were only upstairs rooms, I started to leave, but was immediately offered a double room for a $5 discount). Then I stuffed my face with nachos at the local Mexican place, and settled in for a much needed night's rest. Ah, heated hotel rooms, and showers, and TV, and Internet...I've missed you so.