View Larger Map
Day 29 - September 17, 2010
San Simeon to Santa Maria, California
Miles: 75
Terrain: Varied, lots of small hills, a couple of big ones
Weather: Cool and fog, warm and sunny, cool and fog, cold and more fog; winds all over the place
Every day when I look over the potential routes for the next day, I pick several possible starting points. Usually these are a short range target, a medium range one, and a long range destination that I'll try to get to if the stars align. Today's long distance ride was to Santa Maria, located about a third of the way to Los Angeles from where I was staying. It'll take three straight days of long rides if I want to make it there by Sunday night. There's nothing magical or special about doing that, it's just one of those minor goals that come up from time to time when doing multi-day rides like this. The point is, though, if I wanted to get to LA in 3 days, I couldn't settle for one of the other rides today; it had to be Santa Maria.
On paper it should've been relatively easy. The forecast was for sunny skies, 74 degrees and 12mph NW winds. Plus, there was really only one serious hill according to the (admittedly limited) route map I was using. So I figured if I just left at 10am instead of 11am, maybe I could pull it off. The only problem was, when I actually did leave at 10, the weather wasn't anything like predicted. It was cool and foggy and the winds were out of the south, i.e., in my face. I spent the morning looking at this and wishing the wind would come out of the northwest like it was supposed to.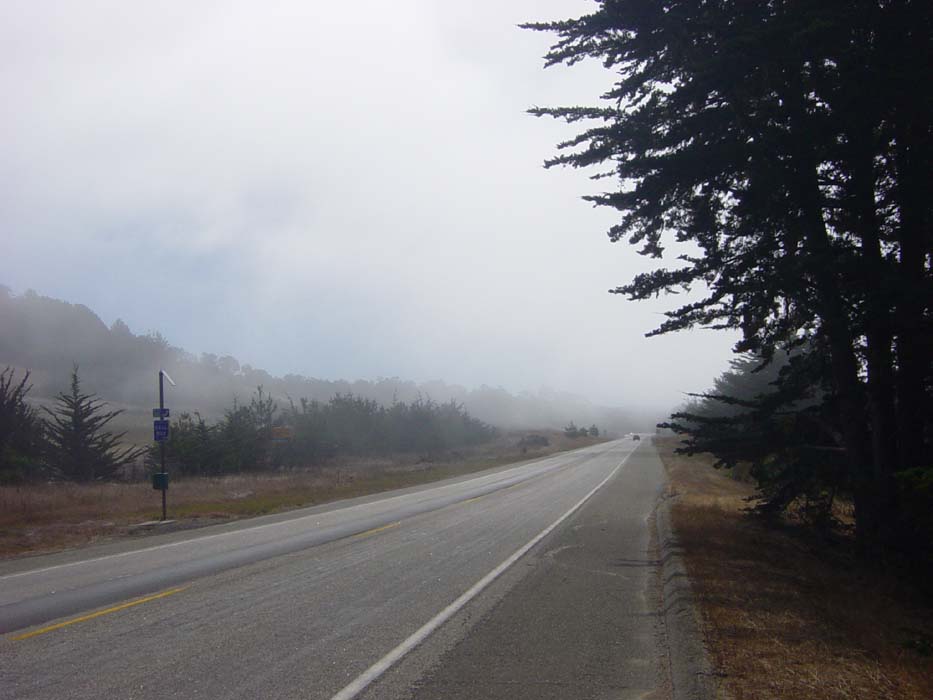 After about 25 miles of this I found a Burger King and got some lunch, and while I was there the fog sort of melted away and the winds shifted a bit in my favor. Lunch re-energized me as well so I sped off towards San Luis Obispo and made much better time. The road there looked mostly like this all the way, clear skies and brown hills all about.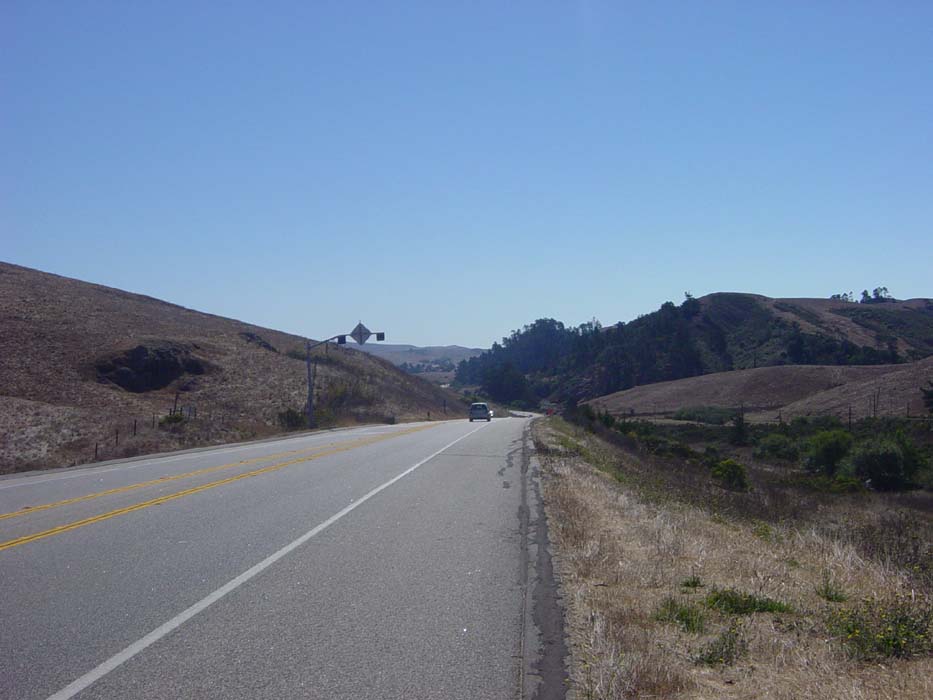 But wait, what's this? The fog's back.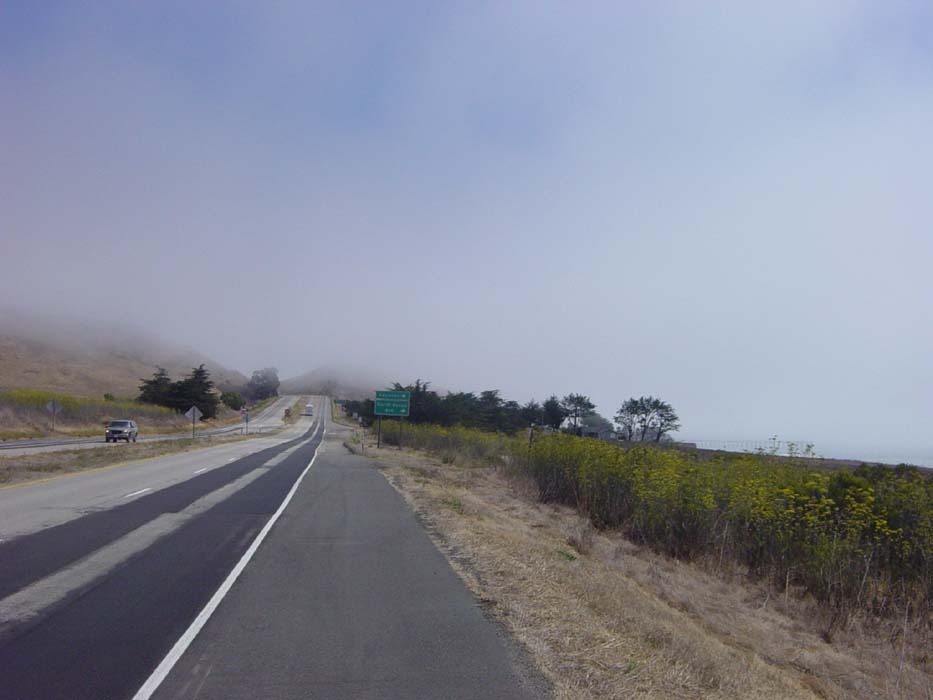 Okay, there, it's gone again. This is a much better view than all that gray nothing.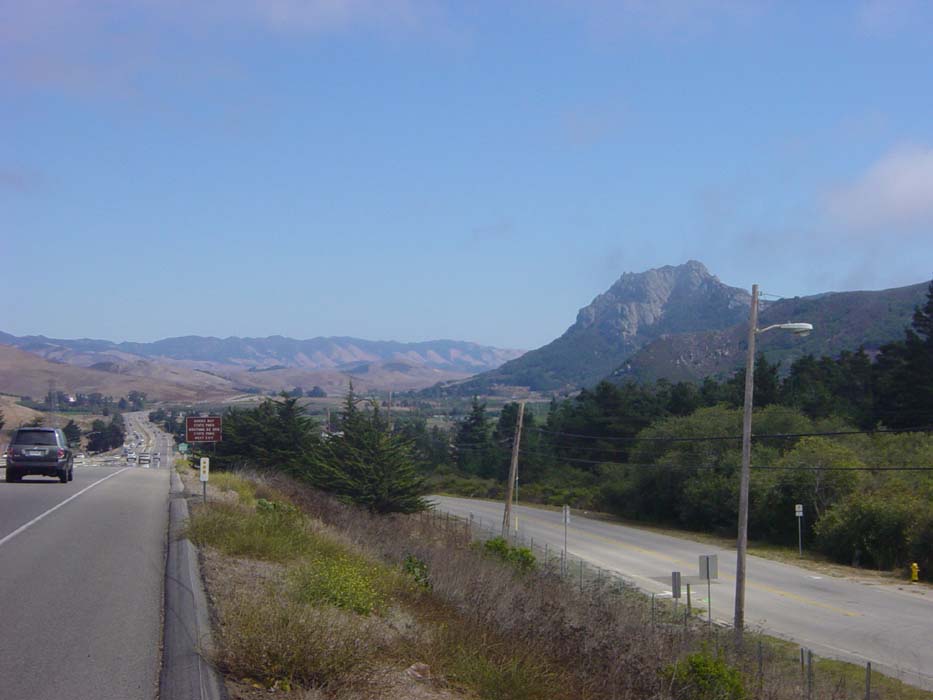 Here's a better look at that mountain I was passing, which looked like a rock climber's paradise.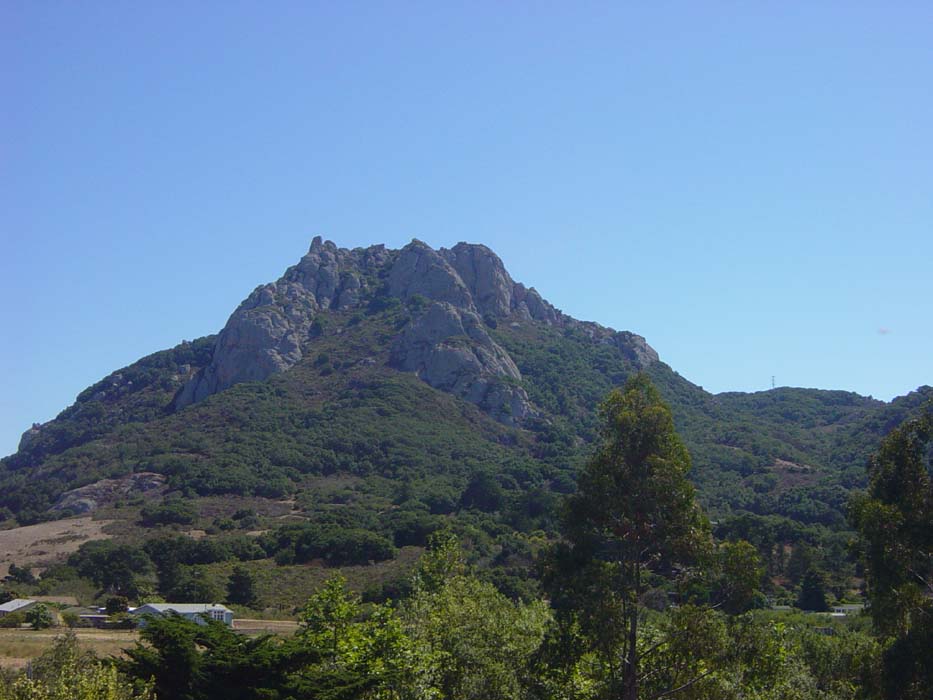 Shortly after passing this, about 18 miles out of my lunch stop, I made it to San Luis Obispo and took another break for some lemonade at a gas station. The weather had warmed up enough that I shed the sweatpants and rolled up the sleeves, rather looking forward to the rest of the day. I did have that one big hill coming, but with the wind at my back I figured I was in good shape. The problem is, for whatever reason, the wind was now in my face again. You can look at the map yourself, I came into SLO on Route 1 and left it on 227 which heads in the same direction, yet now the wind's made a radical shift to come right in my face. I thought maybe it was changing every time I took a break, so I stopped again at this spot, but no luck. I still had to fight it most of the rest of the day.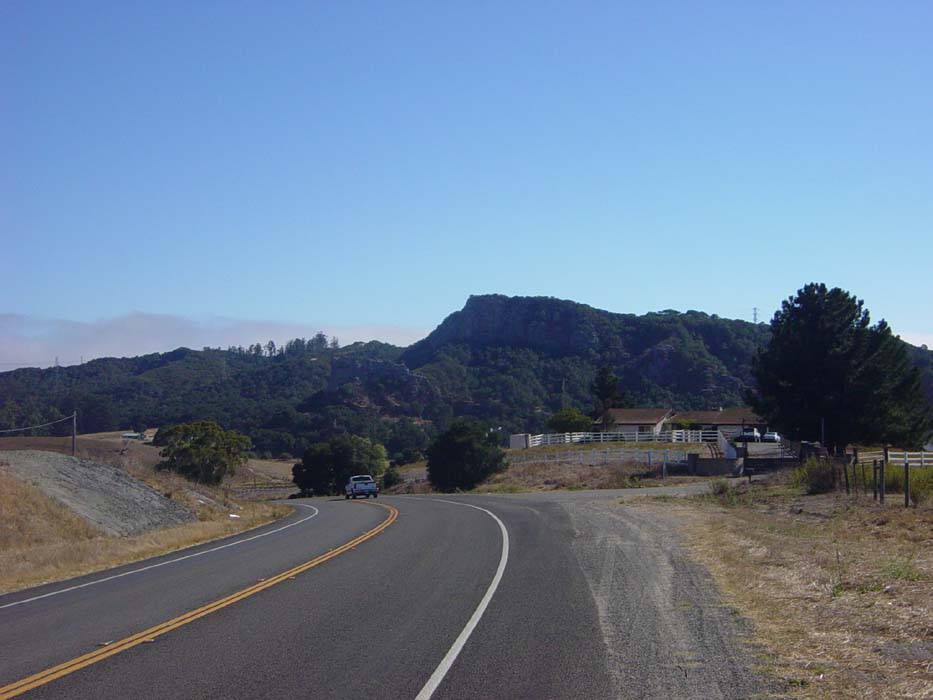 This picture and the previous one are from the same spot; the one below is to the right of the above photo. Notice the fog hovering over the top of those hills. It just sort of lurked there, waiting for its chance to pounce on me again later on.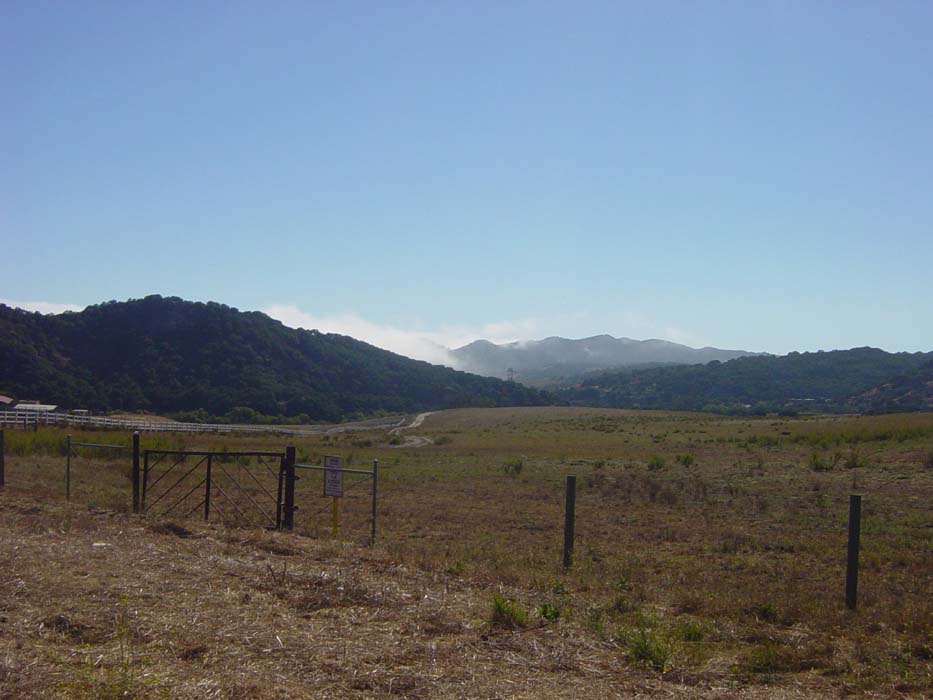 Continuing down the road I came to that hill I mentioned (actually the third hard one of the day, since a couple others were hiding on the roads before this, and there was one more later). This proved to be exceptionally steep, maybe 2 miles long, and up a narrow, twisting canyon road. Difficult as it was, I knew I'd done 10 of these yesterday so I just pushed on up, glad the day was relatively easy by comparison. There wasn't much of a view from the top as there were too many trees all about, but here's the one picture I did manage to take.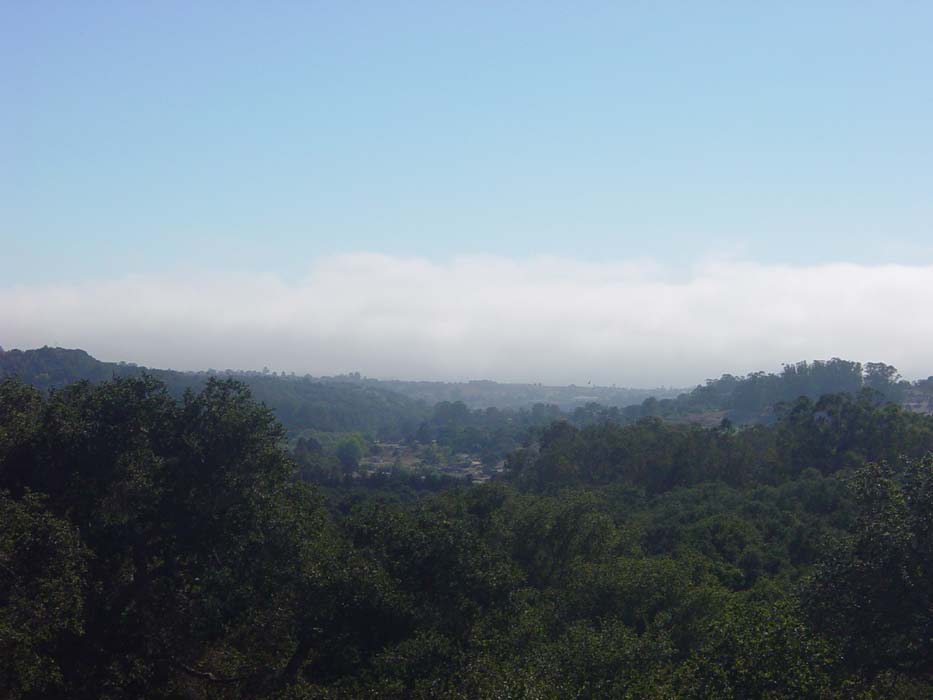 About 5 miles later I came to the last hill of the day, which was as steep as this previous one, but only about half as long. I was back on Route 1 now and there were more trucks, but otherwise it wasn't too terrible. Plus the view at the top was better. This is looking back at the town of Arroyo Grande: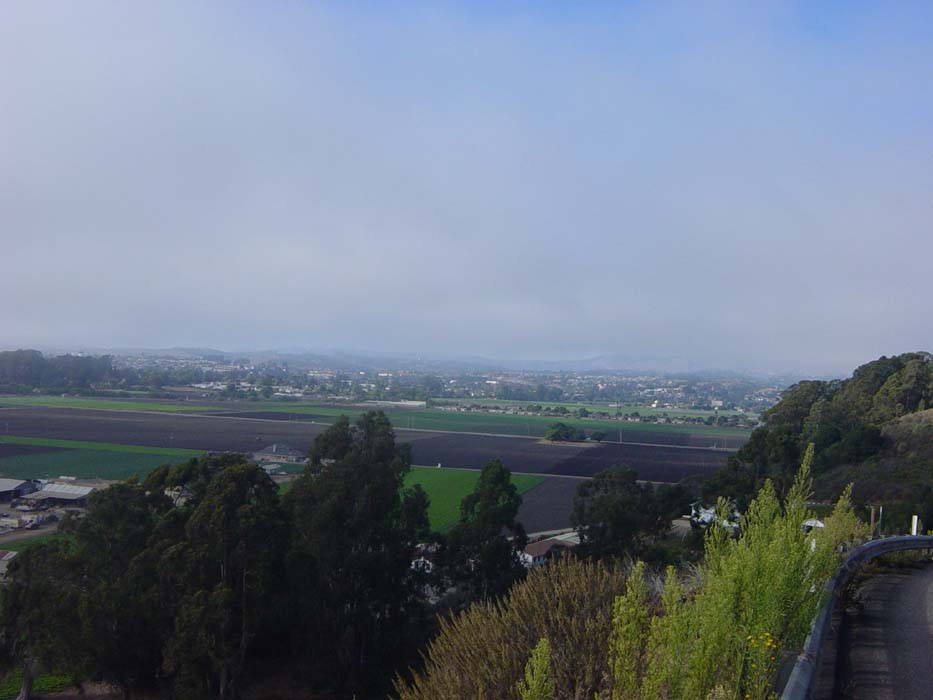 A view to the left of the previous picture. I was about to enter some sprawling farmland, as it turned out.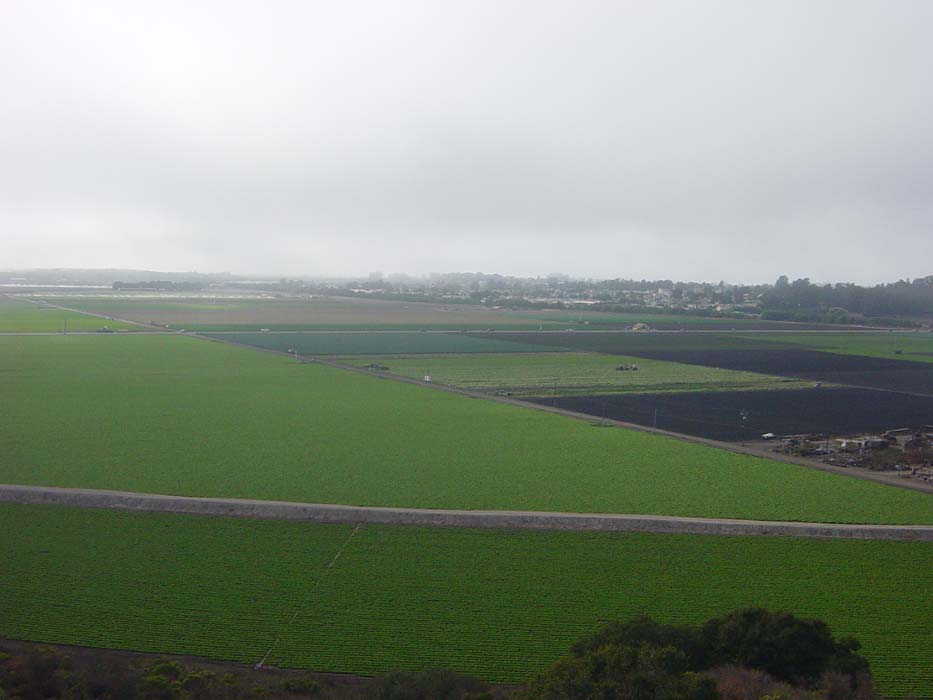 Not just yet, though. First I had a few more miles of up-and-down hills (nothing big, just little annoying climbs) as well as the long-awaited return of the fog. This time it wasn't going away, either. There was a moment where I thought maybe it was dissipating, but the road banked right and I wound up riding for another hour or so into the wind.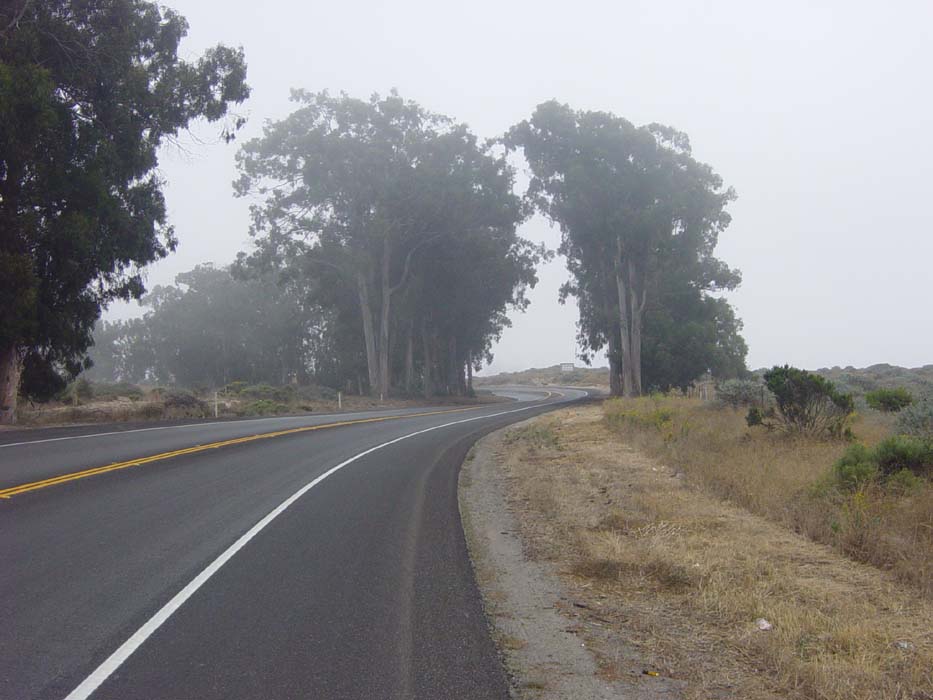 With maybe 12 miles to go in the day's ride, the up-and-down hills came to and end, and everything from that point on was farmland. There were all kinds of different crops out there, some fully grown and other just planted. Here's a shot of a typical look at the roadside, and yes, the fog was so thick I couldn't see more than a hundred yards or so. All the cars had lights on, and I was glad I had a nice wide shoulder to play with.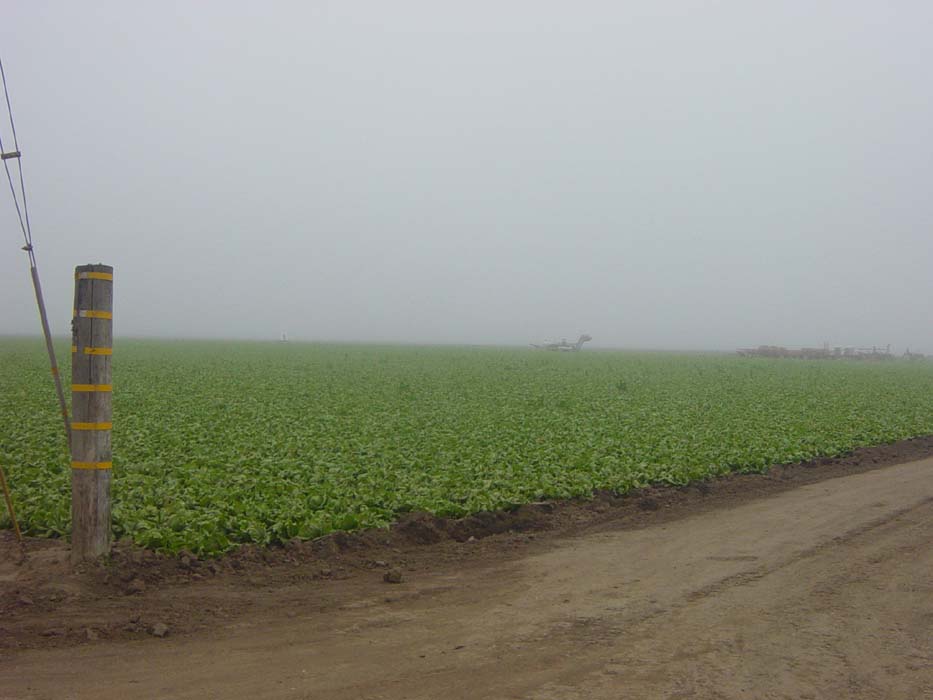 After a while I made my final turn of the day and headed the remaining 7 miles to Santa Maria, with the wind finally at my back again. This was a pretty long day without much really to look at, and if the wind had only cooperated it might've been a lot more fun than it was. Tomorrow promises to be more of the same, with morning clouds/fog, and "northwest" winds again (yeah, right). We'll see about that.