Day 1 - September 4, 2011
Salzburg, Austria to Waging am See, Germany
Kilometers: 61
Terrain: "Undulating" (that's the word they used in the tour maps)...i.e., moderately hilly
Weather: Hot and humid, very little wind
We got up around 7am (both of us apparently woke up sooner, and couldn't get back to sleep, so rather than disturb the other we stayed where we were). Having been used to riding most of these tours alone, having a friend along has its advantages and disadvantages, obviously. I do like having someone else to talk to, though.
The tour people told us we had to take our luggage down to the front desk by 9am, so that whenever the transport showed up to move the bags to the next hotel, it would all be ready. So we did that and then had some breakfast. The hotel provided a pretty big breakfast buffet as part of our room rate, so I ate my fill, since I was pretty sure we weren't going to leave on the bike right away. In fact we hung around until 11am, and I was able to get on the internet long enough to upload yesterday's pics, among other things. When we actually did check out and head for the bikes, the luggage was still sitting there (I guess 9am was too early) so I was able to get my computer into my bag so it didn't have to be carried all day on the bike.
Of course, because I foolishly ate a big breakfast, I proceeded to get nauseous within about 15 minutes of leaving and the problem stayed with me all day. I should know better than this by now, but of course it was a FREE BREAKFAST!! (omg!) so I naturally had to eat some. And so I felt bad the rest of the day. Tomorrow, it'll be something light if I get anything at all.
Anyway, time for some pictures. First off, let me show you what our rental bikes look like. Not too bad, actually. They gave us each a large saddlebag and a smaller front bag (which also has a map holder on it), as well as a basic repair kit and tools. We installed our own seats and pedals, as I mentioned before, and you'll also note the lack of water bottle cages. We have water bottles, but somehow just figured there would be bottle cages on the bikes so we didn't bring those with us. Something to remember for next time.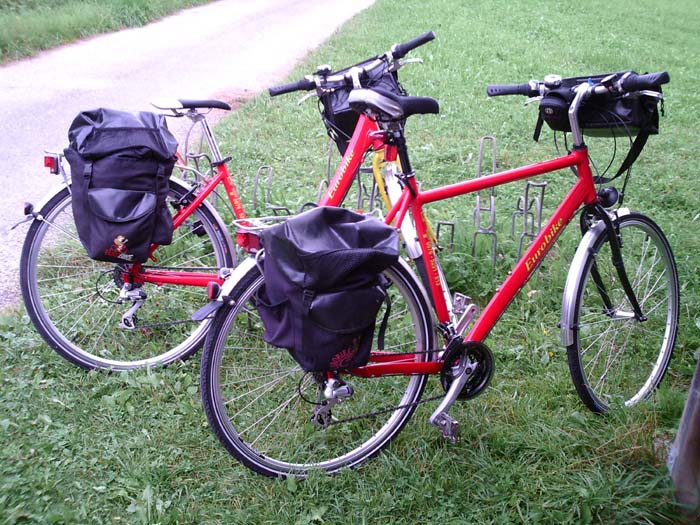 This next shot is of the Holiday Inn from last night, which doesn't look much like most Holiday Inns I've ever seen. I'm not sure why it looks sort of distorted in this shot, but don't worry, the walls aren't really curved like that.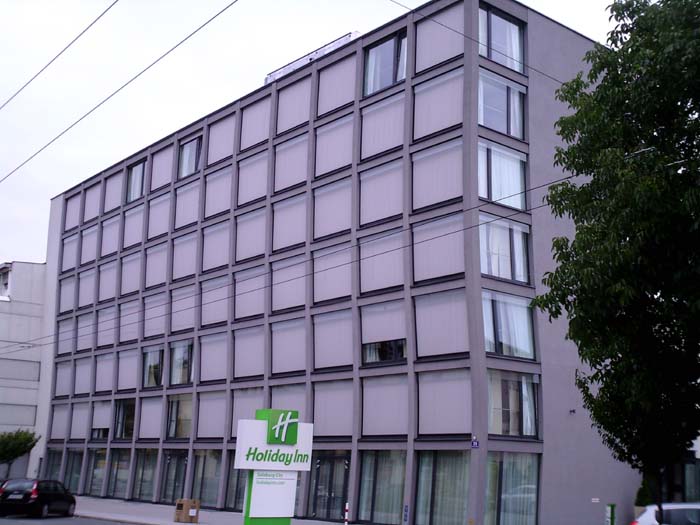 This is where we had dinner last night (the large doorway on the left) along with a good view of what the streets in this area of Salzburg look like. By the way, one annoying thing about Europe is they charge an arm and a leg for pretty much anything you get to drink at a restaurant. Sodas are over 2 euros, and you can't just get free water, you have to buy bottled or "sparkling" water for about the same price. Oh and free refills...yeah, good luck with that. So I have to suck it up and buy a tiny soda (usually 0.2 liters, which is almost nonexistent) at concession stand prices, and then carefully manage it to last the entire meal. Plus they usually don't have ice, either. (sigh)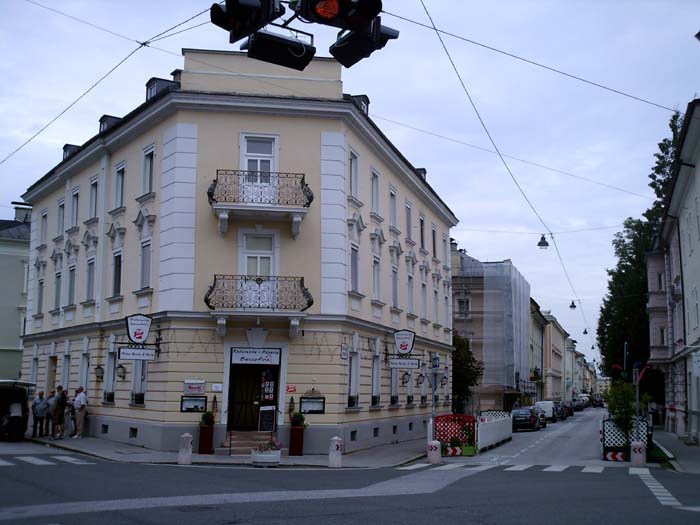 One thing I haven't really made clear about Salzburg (at least not in pictures) is that there are a couple of large cliffs and hills around the town. This one we rode past literally had parts of the city built alongside it or even into it. Here's a pic of a parking garage we found that was dug right out of the side of the cliff.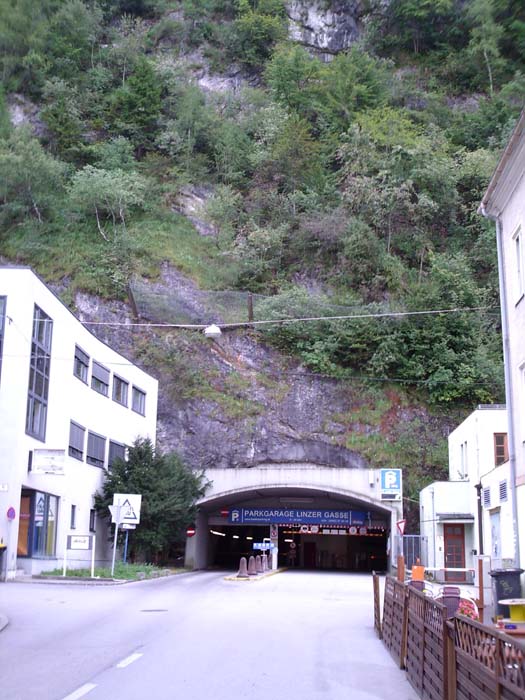 The route today took us along the same route we rode yesterday, along that same river path, so for the first few kilometers we saw nothing new. Once we were past the outskirts of the city, the path rode along through less populated areas, but was still crowded with other bicyclists. Here's a picture looking out over the river at one of the more scenic spots.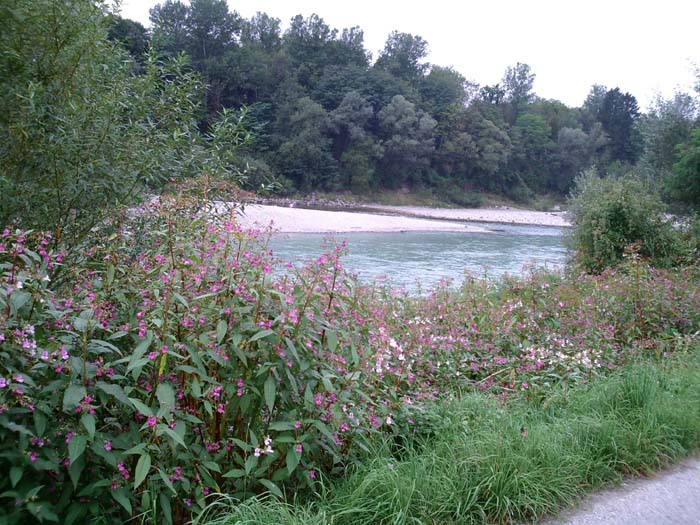 As we rode along we were following some directions that were somewhat vague, and suggested that we ride along the river until the path ended, then take a right towards Oberndorf. What they didn't explain was that there were a couple of turns away from the river before you got to the end of the path. Further confusing matters, the path we stayed on actually did end at almost exactly the distance listed in the guide, and took a right into a singletrack path. This is what it looked like: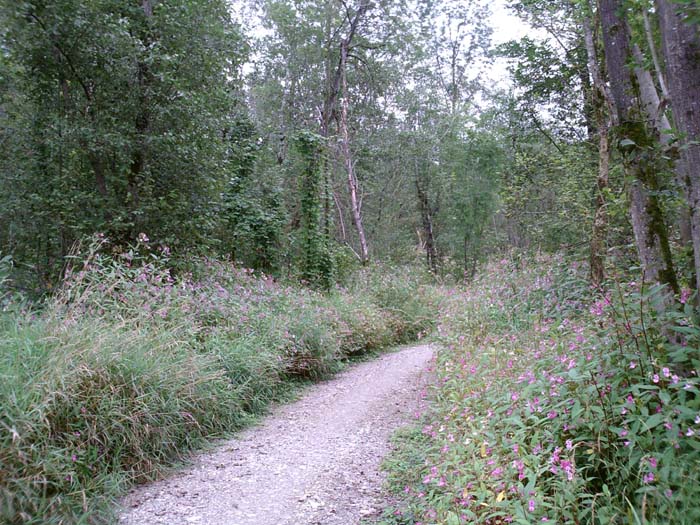 After a couple of kilometers where we didn't actually reach Oberndorf (or even see any evidence that we were getting anywhere near civilization) we turned around, and about 5 km back found our missed turn. There are these little "E" symbols on signs that are supposed to lead us the right way, but we didn't realize they were only a couple of inches across, having not seen one yet on the ride. Plus, this one was partially hidden and on a sign well off the path. Lesson learned, we continued on. The directions at this point actually were extremely confusing so we resorted to just ignoring them and following the "E" symbols, now that we knew what we looked like. Eventually, we got into Oberndorf: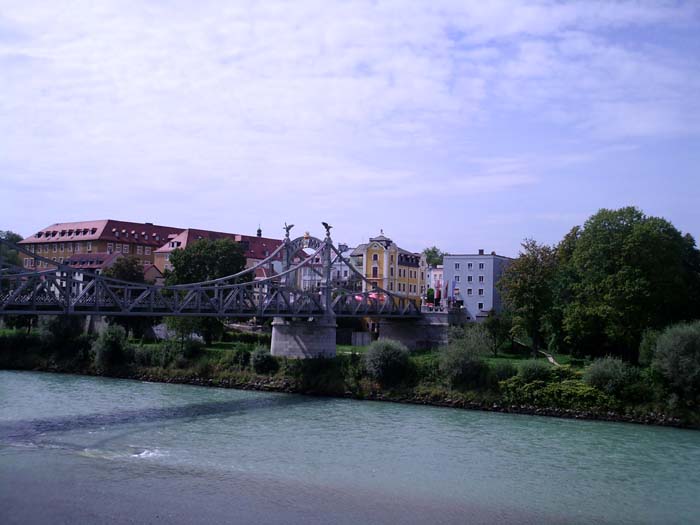 Kelly noticed along this part of the ride that his rear tire was losing air, and upon stopping for a rest in town, we discovered a chunk of glass that was causing a slow leak. During the break we changed the inner tube for the spare one the tour company gave us. This delay was mildly annoying, but we needed the break anyway and since we were in no hurry whatsoever, it wasn't that big a deal. I was still feeling nauseous from breakfast anyway, and this stop helped a lot. Anyway, here's the spot we took our break...there were some signs there marking it as a place of historical interest, but since they were all in German I had no idea what was going on.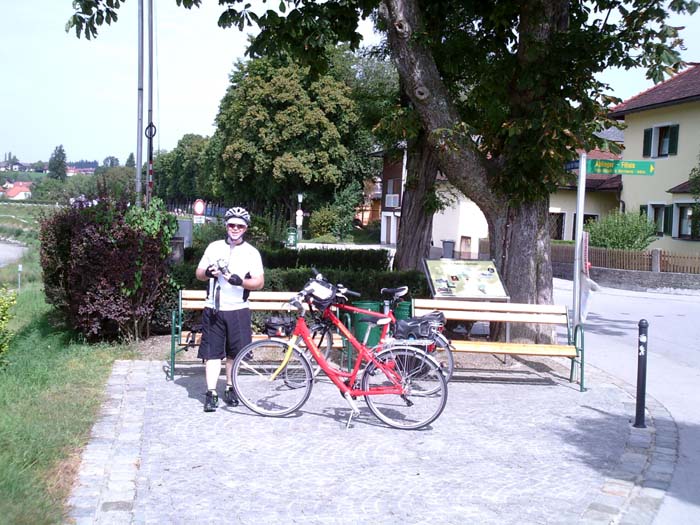 From this point we rode on to an old church called the "Silent Night Chapel," where we were able to fill up our water bottles (a good thing too as there are precious few water sources along the way). Here are a couple of pics of the place.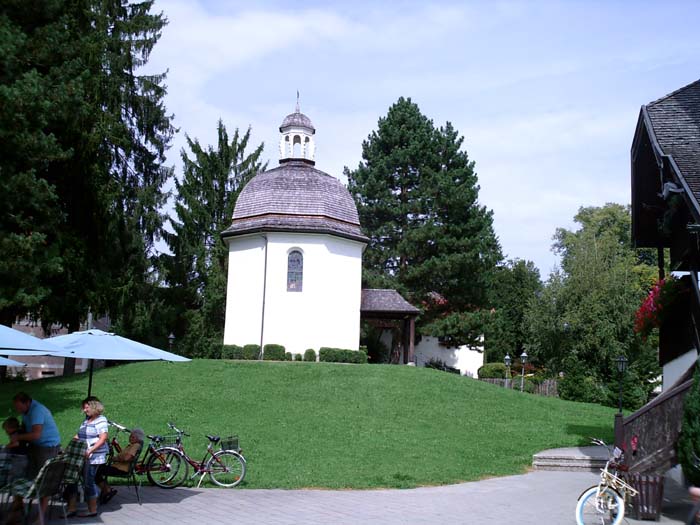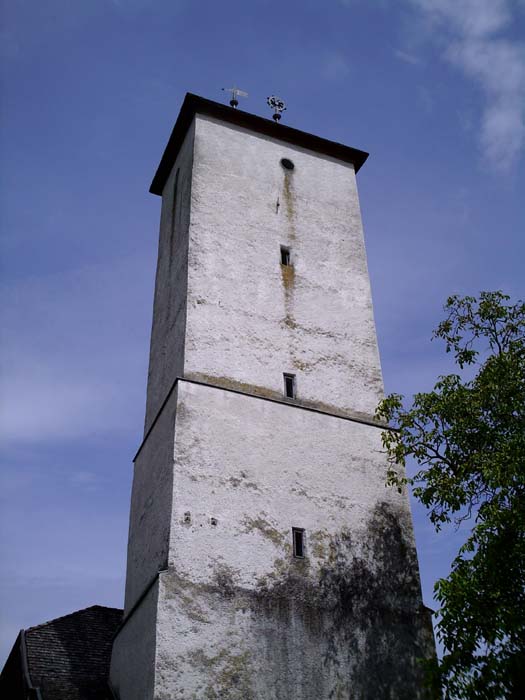 Leaving the church, we managed to go the wrong way again, because we followed "E" markers leading out of town that went a completely different direction than we were supposed to. I guess they had multiple "E" routes or something and we picked the wrong one. In any case, going back to the chapel led us to the proper path and so we headed on into Germany (up until this point we'd been in Austria).
Once in Germany we moved out into the countryside and passed a number of small towns, meandering through farmland and sparsely populated areas. I'm not going to bother with too much explanation for these next few images, which are just representative of what we were seeing for the next 20 km or so.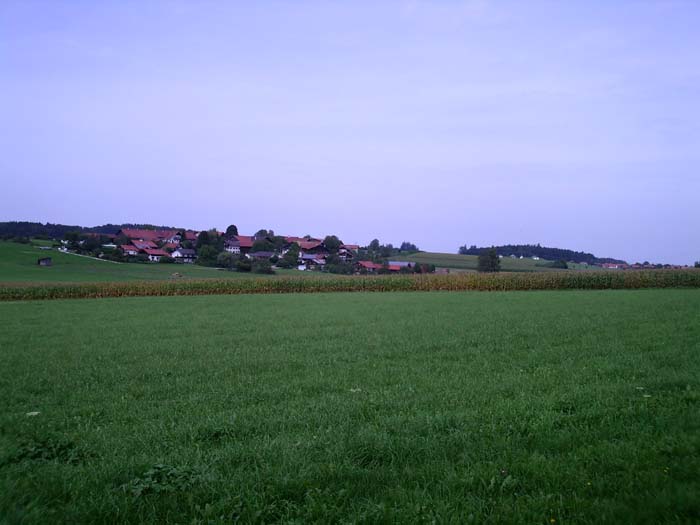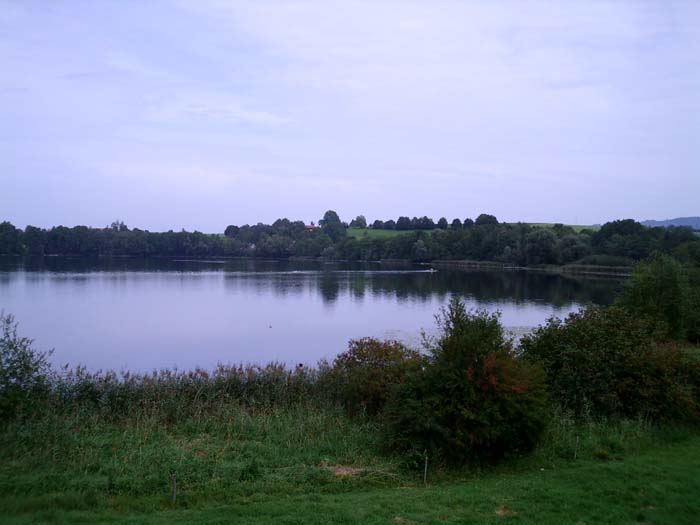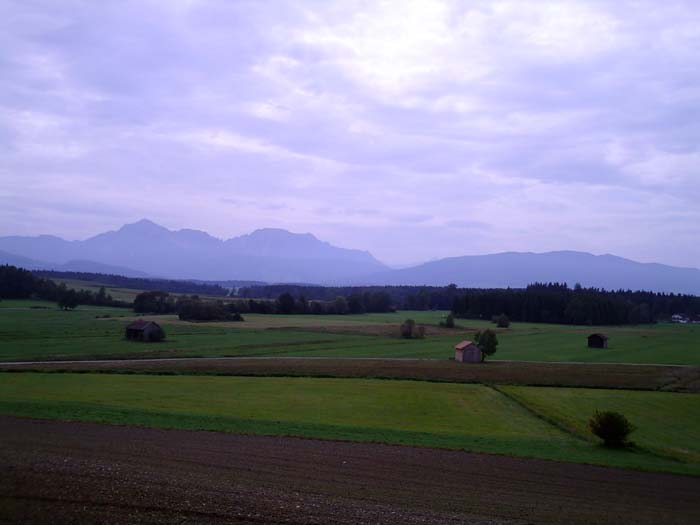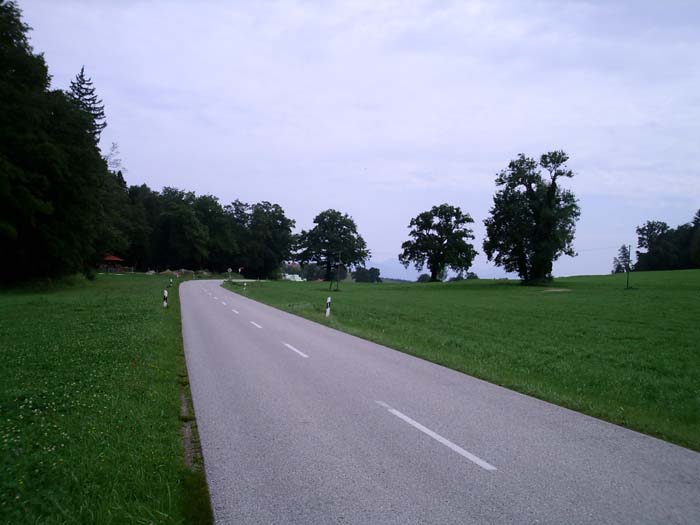 This is the scenic little town of Petting. Feel free to add your own jokes here.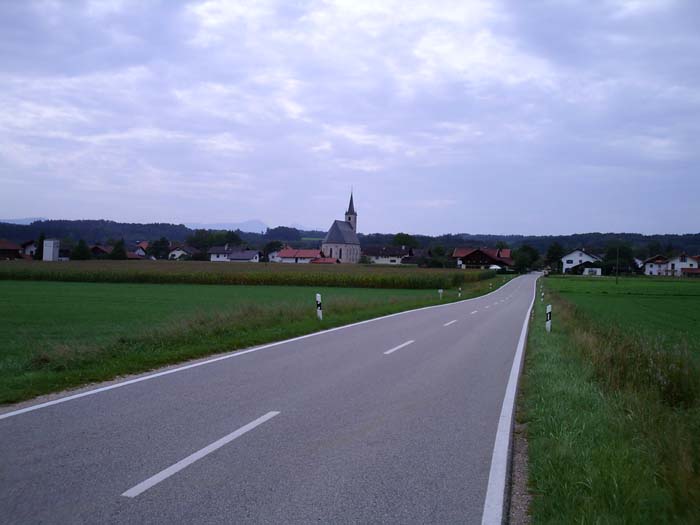 And now back to the countryside...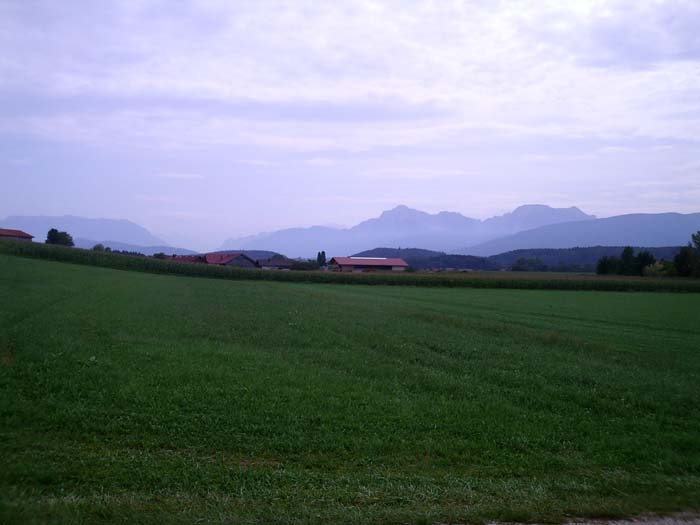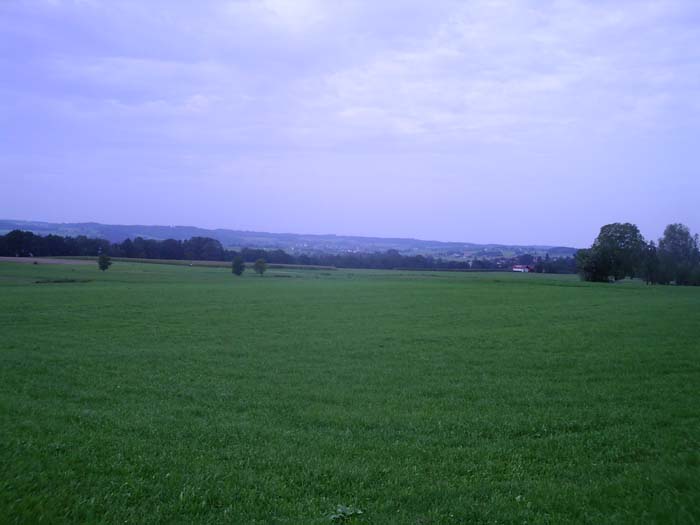 HEY! Who put corn here?? I see enough damn corn back in Ohio!!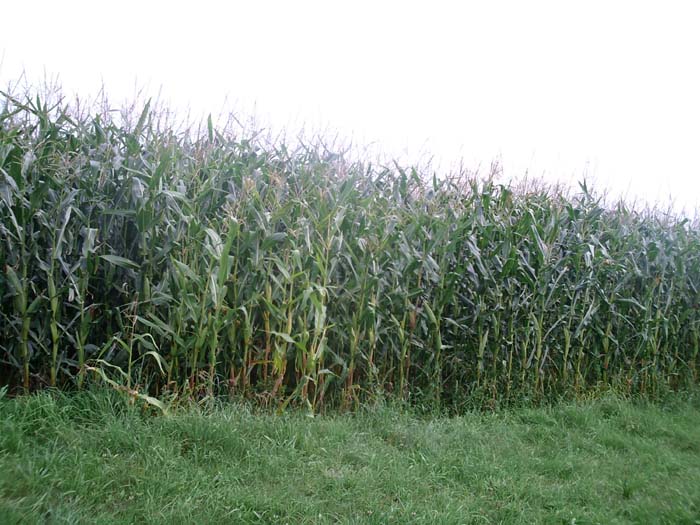 Eventually, after quite a few hill climbs, stops for breaks and failed attempts to find free water (you just can't get any beverages free around here) we made it to our destination, Waging am See. Finding the hotel was a bit difficult as the entrance was buried in a corner of what looked like pretty much any other building. Here's the entrance so you know what I mean (Hotel Post down in the lower right):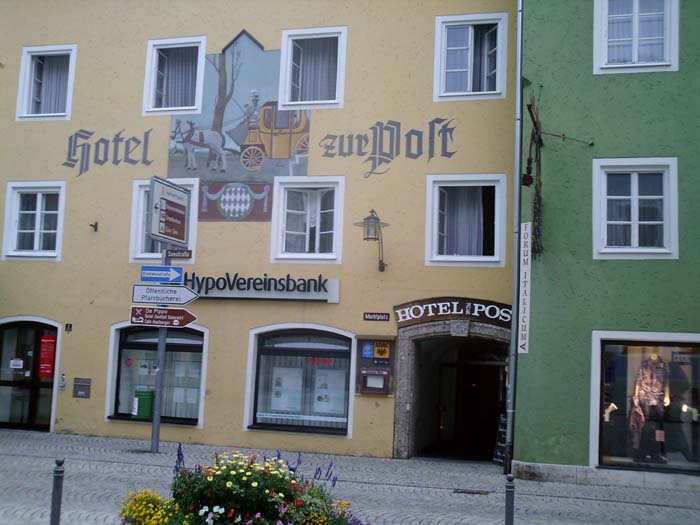 This is a view from our room (actually the middle window in the picture above):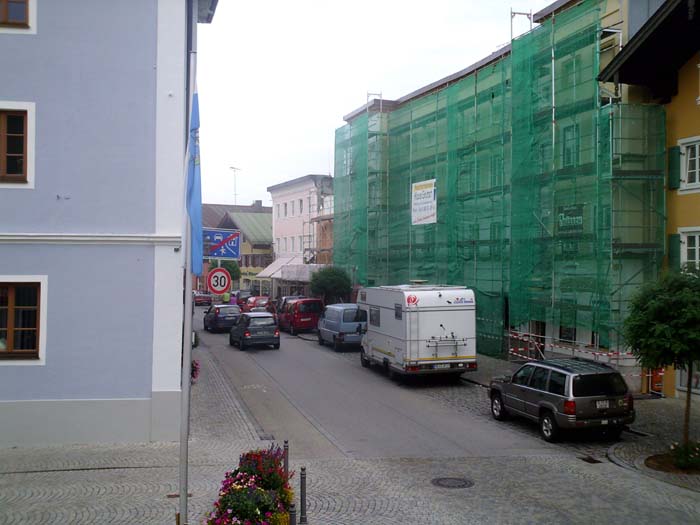 After settling in and complaining about the lack of air conditioning, we walked around the charming little town, had dinner in a local gasthaus (restaurant), and fell asleep shortly after dark. For dinner I enjoyed a huge plate of schweineschnitzel (basically fried pork), fries and some kind of soup, and felt much better. This is what the restaurant looked like: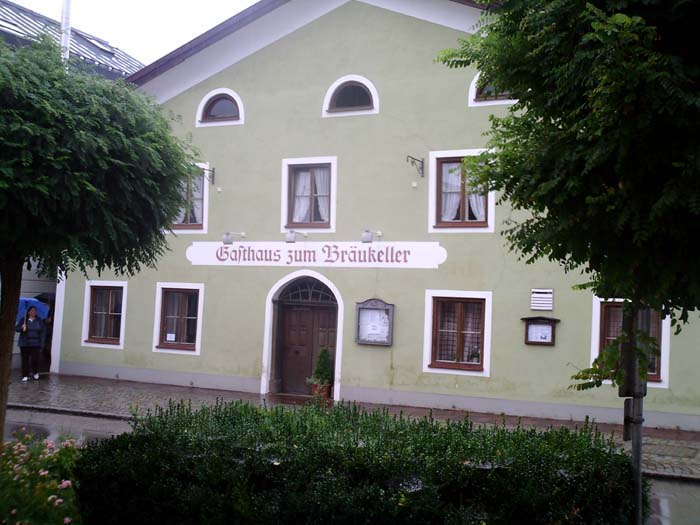 The schweineschnitzel was awesome, and I'm hoping to try it again sometime before we leave Germany. The food was tasty and satisfying, and by the time I went to bed, the early day nausea was pretty much gone. Tomorrow I won't eat as much breakfast and that should solve the problem. Hopefully.