View Larger Map
Day 0 - June 5, 2012
Casual loop around Key West, Florida
Miles: 25
Terrain: Flat (get used to it...the highest point in Florida is like 300 feet)
Weather: Partly cloudy, hot and humid (get used to this, too)
This was the arrival day. After a 3-leg flight that starte at 5:20am, I reached Key West just before noon. I didn't have any carry-on bags and wasn't in much of a hurry, so I waited for a city bus rather than use a taxi, and let them drive me halfway around the island before I reached the UPS Store. As you'll recall if you read the preliminaries, all my cycling and camping stuff got here Friday, and when I reached the store, it was all waiting for me over in a corner. I hauled everything outside and spent the next hour and a half or so putting the bike together in the insane humidity (which reminds me, I need to drink some more water). Everything seemed fine and I had no trouble except for the front rack, which didn't want to stay on. I finally figured out how to make it work, and now I just have to hope it stays on for a while.
The hotel (a Days Inn) wound up being only a couple of miles away, right at the exit to Key West (adjoining the Overseas Highway, which I'll be taking tomorrow). Once there, I cooled off in the glorous air conditioning, unpacked and sorted everything, and realized I probably brought too many clothes. Oh, well, I can always abandon them, or ship them home, or something. With temperatures like they are (80+ and not likely to drop until I get much farther north), I doubt I'll need sweatpants or my usual heavy rain jacket...although the jury's still out on that last one. We'll see if I sing the same tune if I get caught in strong rains, which I'm sure to do eventually.
At about 3pm I headed out and rode around the island, taking my time and seeing the sights (see photos below). Eventually I got some pizza at a local place (skipping the nearby Pizza Hut, which I can visit any old time back home), picked up a couple of supplies, and went off to see the sunset at Mallory Square. This left me 6 miles from the hotel after sunset, but I didn't care because they had a nice wide bike path taking me almost all the way back to my room. As I write this, I'm extremely tired (seeing as I only got about 2 hours of sleep between the very short plane flights), and I'll likely get to bed very early tonight.
Anyway, on to the pictures! This first one is out the window of the plane...my first look at the islands I'll soon be biking through, probably on that road right there.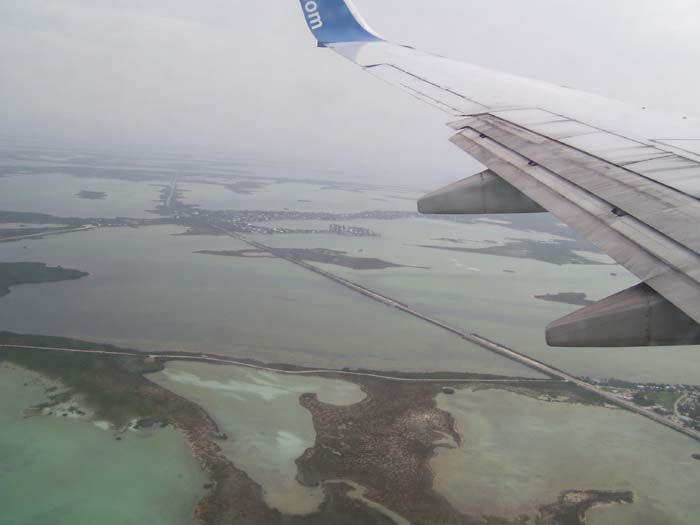 After I got settled in at the hotel, I headed out to find a bike shop, so I could pick up a second spare inner tube and get my tires pumped up to full. (I have a new hand pump, but it's only good for about 65 psi and I need 80+, especially with this load...in fact, with only 60-65 in there, the bike is noticeably hard to control). Anyway, this is the quaint little bike shop I found, complete with the pyramid of recycled bikes. When I stepped inside, the proprietor was wearing a Cincinnati Reds cap, and was swapping Ohio stories with his only other customer...so all 3 of us wound up being from Ohio. I love how the universe works sometimes.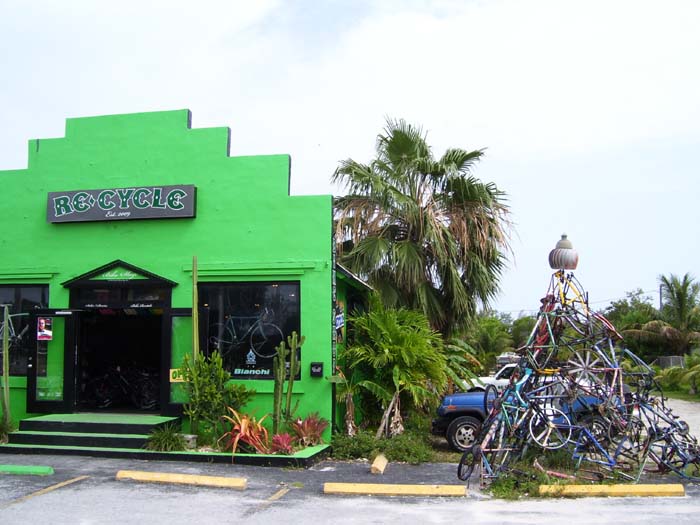 Moving along, I started riding around the island. Here's a shot of one of the historic piers, where you can take your pick of fishing boats to rent for your next offshore fishing extravaganza.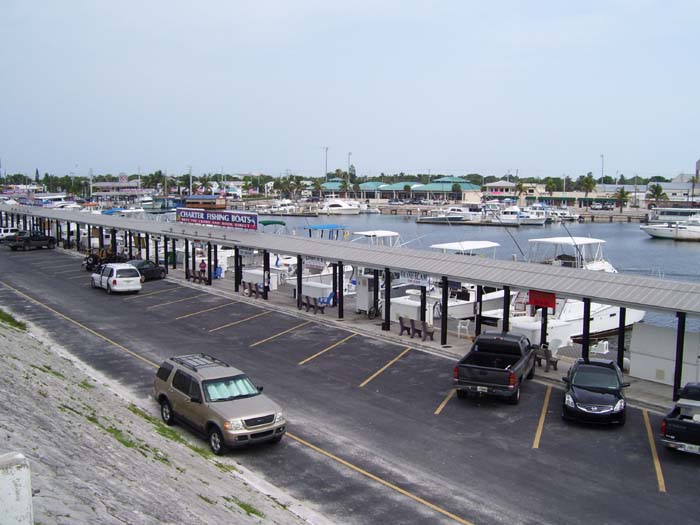 This is Duval Street, a cute little tourist shopping area that runs through most of the western side of the island. Things are very slow paced here...those pedicabs in front of the car were keeping it basically at a crawl. If you're an impatient type, don't try driving down this street! But if you like to shop for souvenirs or knicknacks or whatever, you'll love it.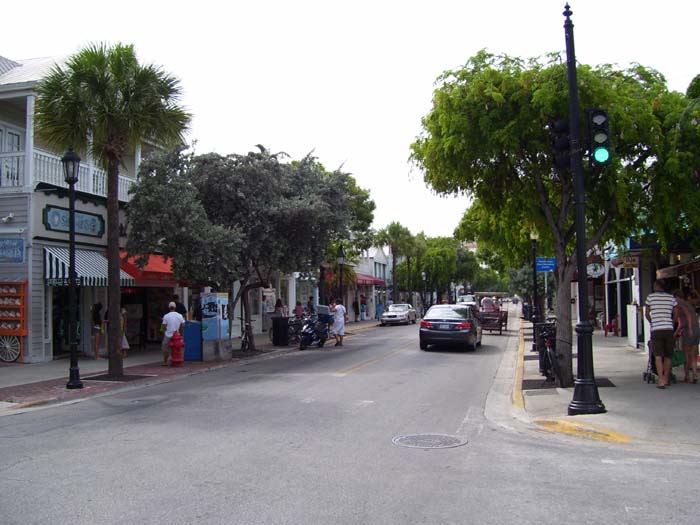 This bar is famous because Ernest Hemingway used to hang out here. Or something like that. Don't let the deserted-looking appearance fool you--I got lucky and snapped a shot just at a moment when nobody happened to be passing by. Inside, the place was packed.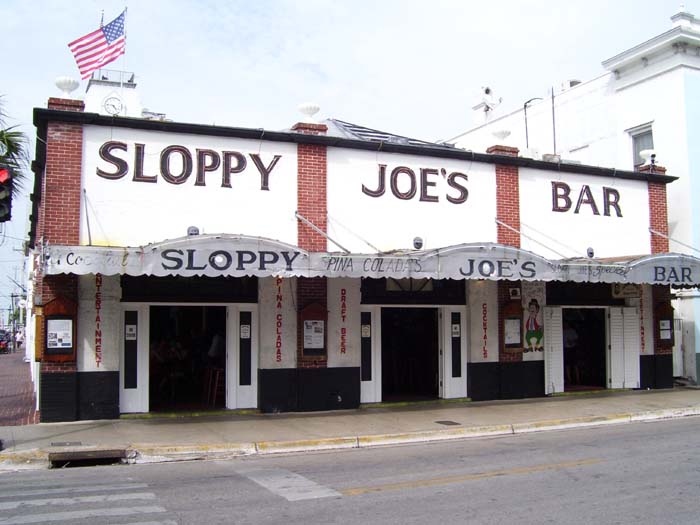 I thought this was interesting because the hotel there on the right basically sticks out over the water, so it's like your vacationing right on your own private pier.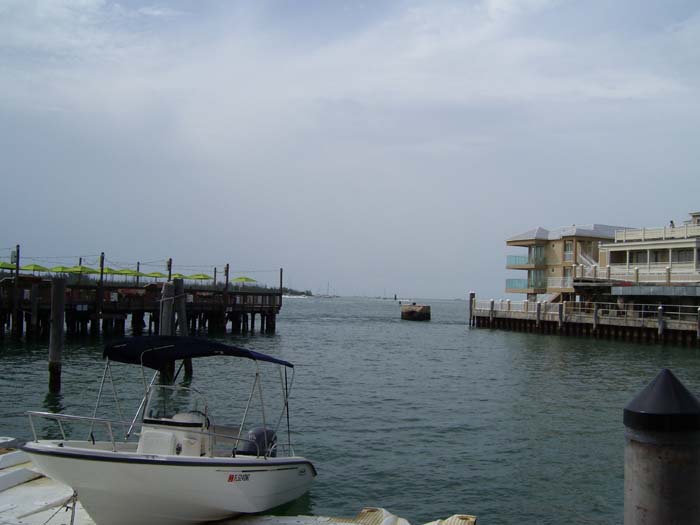 Apparently, cruise ships dock here rather often. (To get an idea of the scale, see, the little door open on the side, just before the word "Carnival"? Well, there's a crewman standing there on that gangplank. You can hardly see him, but he's there. The ship's freakin' huge!!) While I was waiting for the bus today, I was chatting with a local, and he gave me some advice...basically, don't try going downtown right after a cruise ship docks, because they dump like 3,000 shoppers on the town all in one shot. In this particular case, the cruise ship was about to leave, so I didn't have to worry about that today, but it's something to keep in mind if I ever return.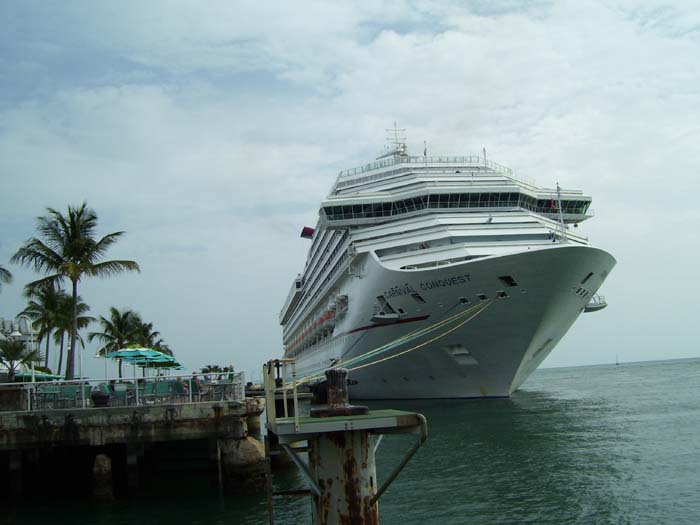 While riding along I came across this sign, marking the start of Route 1 (with the infamous "mile marker zero" to mark the spot). So since I rode back to the hotel from here, if I get to the other end of the country, I can safely say I rode the entire length of Route 1.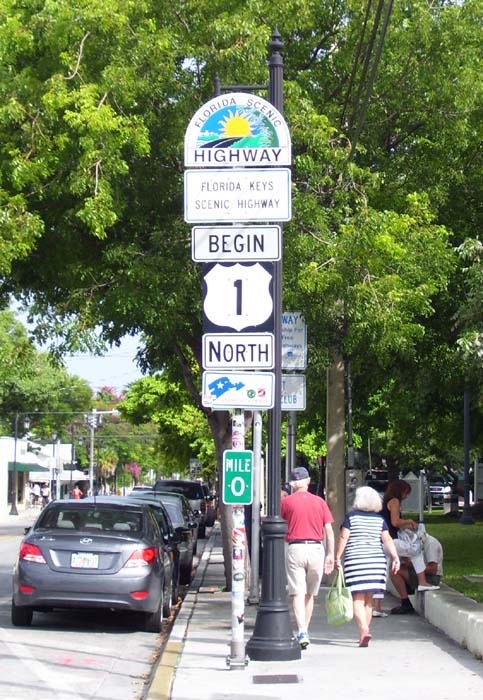 Close by that spot I saw several chickens running around loose. They're like this all over the place, actually. I'm not sure why, but there they are. Does this mean they're community property, so anybody who wants to cook up their own special brand of KFC can just grab one and head for the deep fryer...?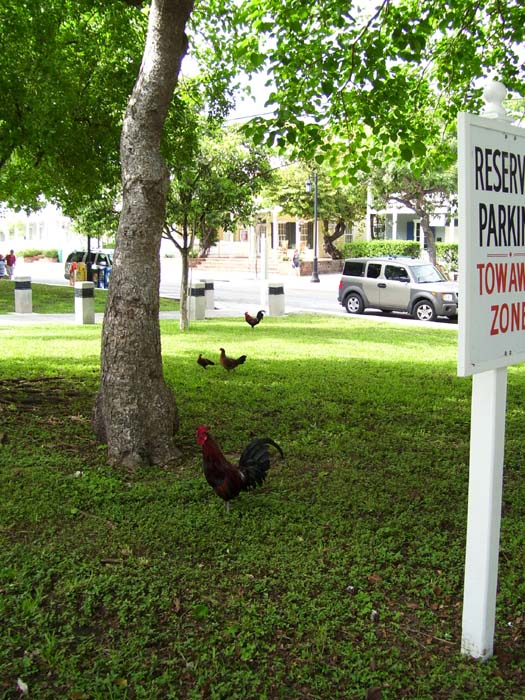 A bit later I came across this marker showing I'd reached the southernmost point in the continental US (Hawaii has the southernmost point if you include all 50 states). So I had someone take a picture here to mark the occasion. I'm going to consider this the official starting point of the ride, and in fact, I reset my trip counter to zero here. At the end of the ride, when I post the final stats, I'll report the total mileage from this point right here.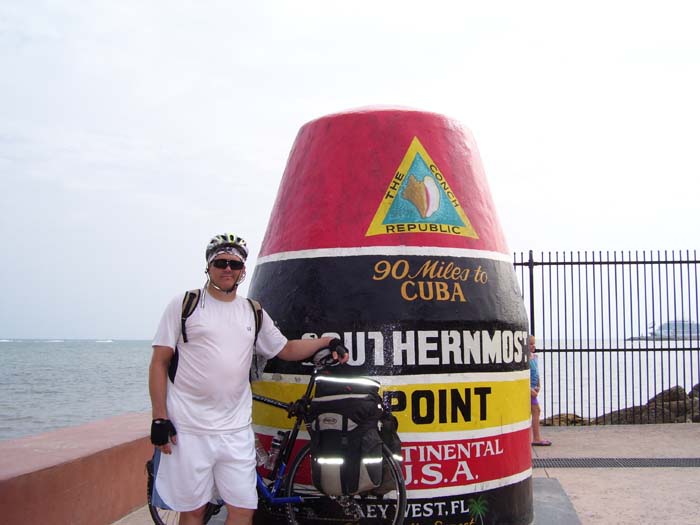 After this I headed back to the hotel for a bit. Here's some of the coast I passed along the way (I went out to the end of a pier to get this shot).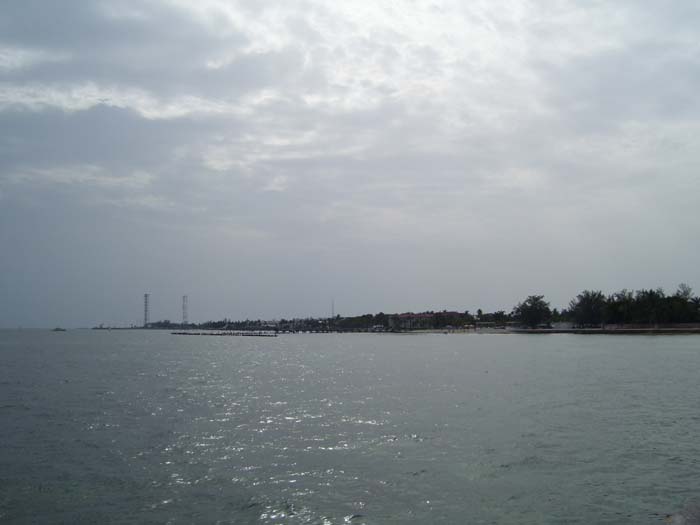 As you can see, there's a huge bike path on the right-hand side of the road, almost completely circling the island (except for a bit in the northwest). As long as I stayed on this, I had little trouble with traffic (much of which seemed to be electric rental cars, pink taxicabs, or rental scooters).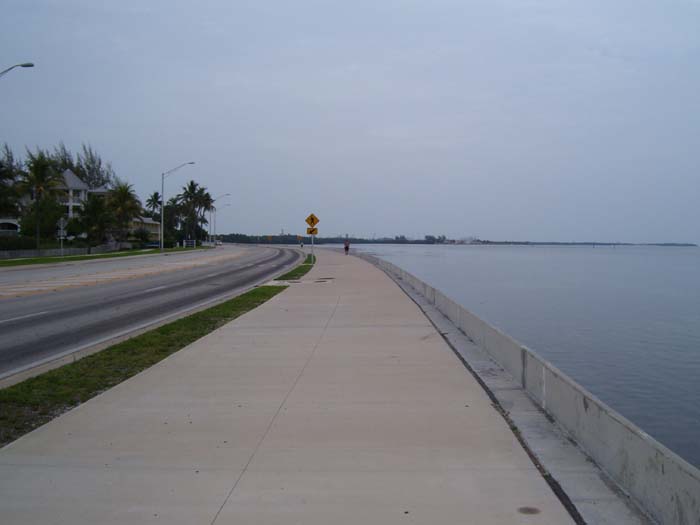 Random Wildlife Sighting! I saw these iguanas several times, but this is the only one that let me get close enough for a picture. Including the tail, I'm guessing its total length at about 3 feet.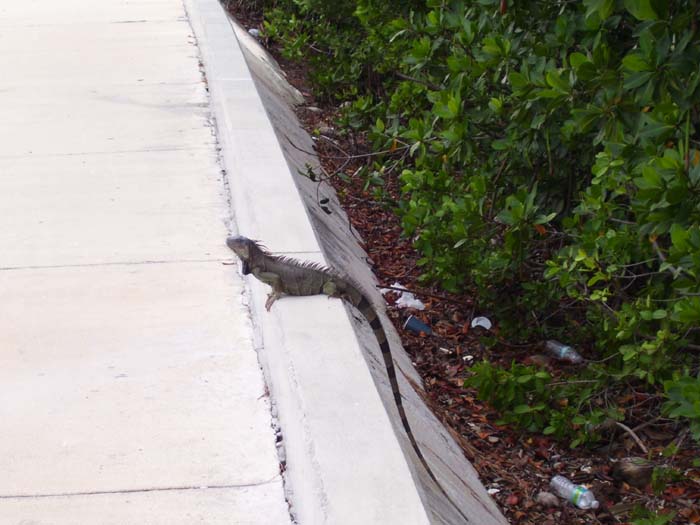 Once it got closer to sunset, I went back out to Mallory Square because supposedly that's where you can see some of the prettiest sunsets anywhere. While waiting for that, I watched some of the local performers. This guy here had a bunch of trained cats. Yes, you can really train cats, apparently. They didn't seem like very quick studies, though. Every time he turned his back, they'd wander off.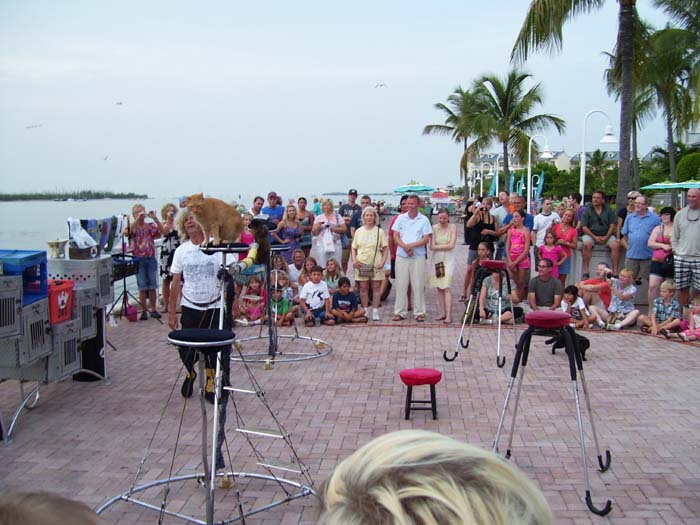 This second guy did a juggling and comedy act while riding an 8-foot-high unicycle, which never moved more than a couple of feet. He did a couple of tricks, like juggling under his leg, and catching his hat on his foot and tossing it back up on his head. Not bad. He should try out for "America's Got Talent."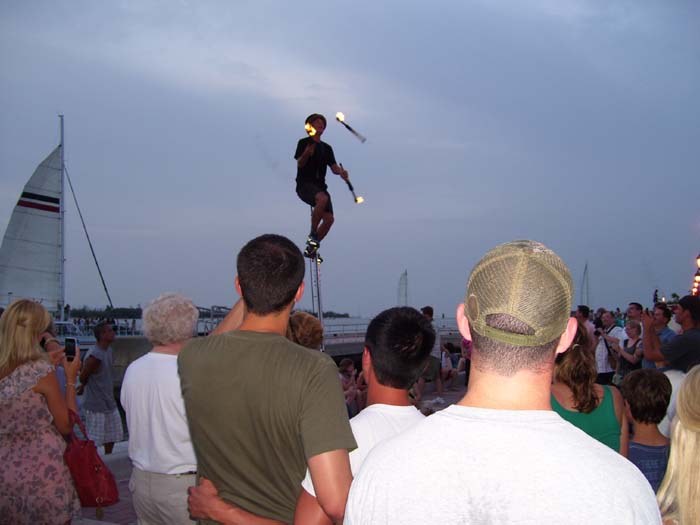 And finally, the sunset...which wasn't too impressive, actually. That's because the sky was too cloudy, though, so I withhold judgment on the Mallory Square thing.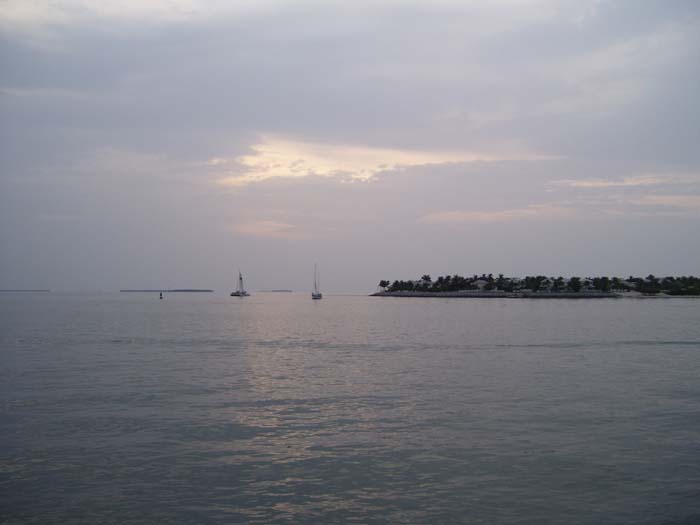 I'm not going to be here for another try tomorrow, though, so it'll have to wait a while. By tomorrow night, I should be in Curry Hammock State Park, about 50 miles east of Key West.