View Larger Map
Day 24 - June 29, 2012
Fredericksburg to Arlington
Miles: 64
Terrain: Rolling hills (some steep)
Weather: Sunny, ludicrously hot, 10mph west wind
Okay, so, I thought I'd had some hot days on this tour before now, but today I got to see what real heat was. 105 degrees or more...and for several hours in the afternoon, too. Plus high 90s almost the entire rest of the ride. That, plus all the constant hills, and the west wind not really helping...pretty close to the worst possible bicycling conditions imaginable. In fact, it's safe to say I've never ridden in anything worse than this, pretty much ever.
Nonetheless, I viewed it as a challenge. I set the goal when I got up this morning and reserved a hotel in Arlington using a site called bookings.com, which looks for low rates in major cities on the day you intend to arrive (ideal for last-minute travelers). Having spent some time looking around at the usual cheap places and not finding any (at least not with rooms available in the DC area the Friday before Independence Day), I went to the usual low-cost chains...Super8.com and Motel6.com. Their offerings were either too far away, or still $80 or $90 or more (it's rare to find a Motel 6 with rates that high, but around here you can). Anyway, bookings.com came up with a suite near Arlington National Cemetery for only $79 plus tax...so thanks to them, I got to stay in a suite a stone's throw from DC on the hottest weekend of the year. Nice.
But first, I had to actually get there...and this proved to be no easy task. First off, I headed into Fredericksburg and stopped at a bike shop to replace my front tire, which I last photographed a few days ago...and it looked much worse now. There was hardly any tread left at all. Still, I managed to ride a couple hundred more miles on it without too much trouble, so now I know when the rear tire starts to go, I don't have to find a bike shop right away. And no more swapping tires, either. The one I put on this time is different, and belongs on the front wheel exclusively. Here's a photo of the bike shop (nice, friendly people there, by the way) with the new tire in place. You can barely tell in this photo, but it's there.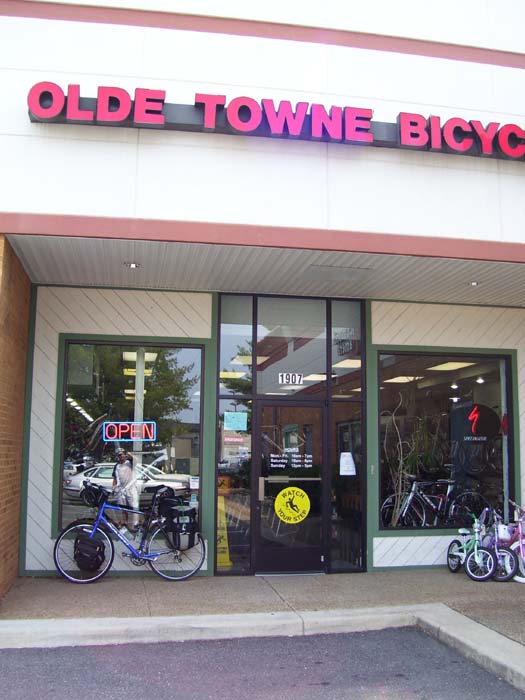 After that diversion, I headed into downtown Fredericksburg to have a look around. At the visitor's center, I found this marker that explained pretty much everything I needed to know. Click on the pic for a close-up view so you can read it for yourself.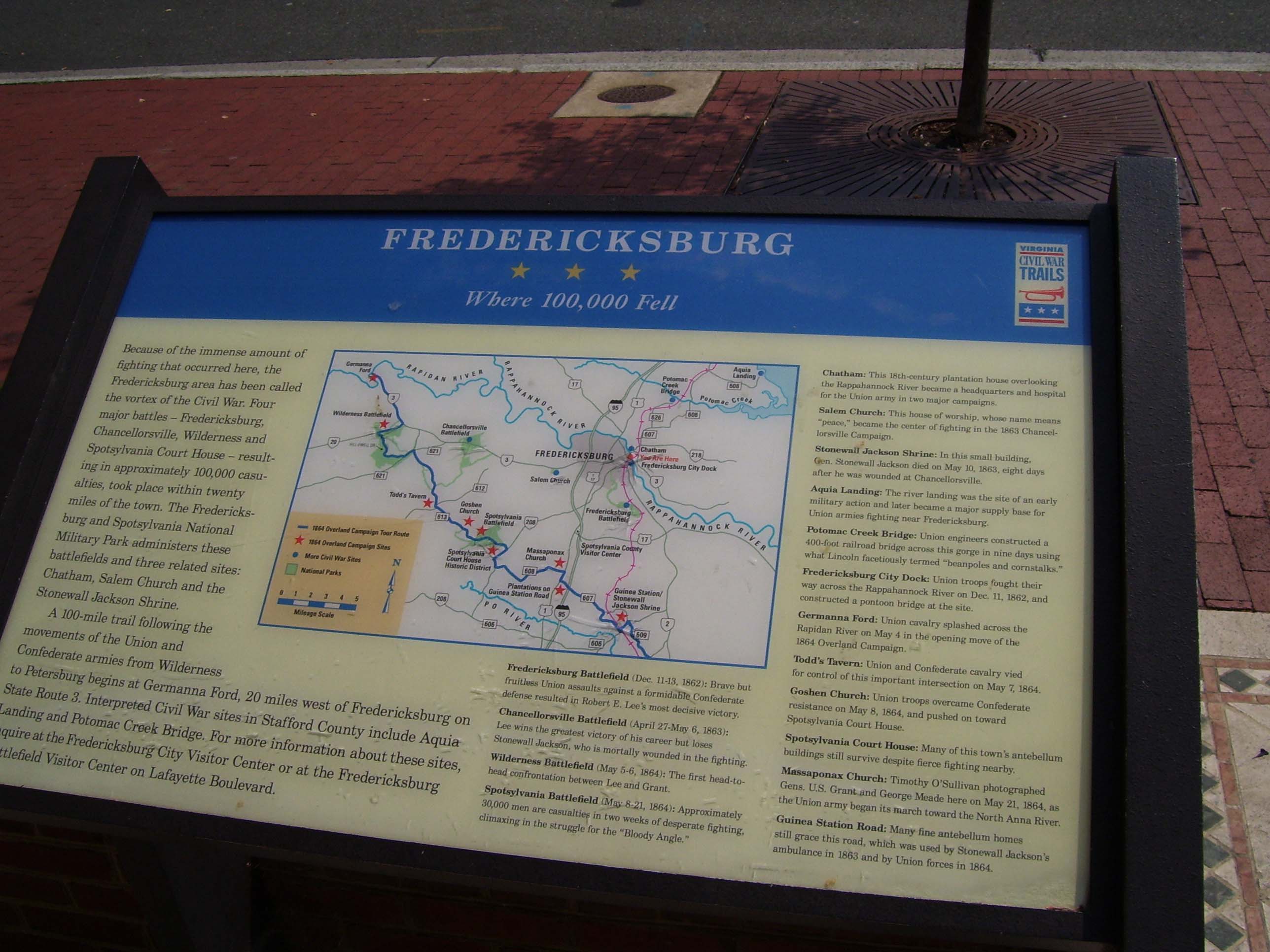 Then, after watching a short video (and enjoying the A/C) inside, it's off to have a look at the town. This view here is typical of the streets around the historic district: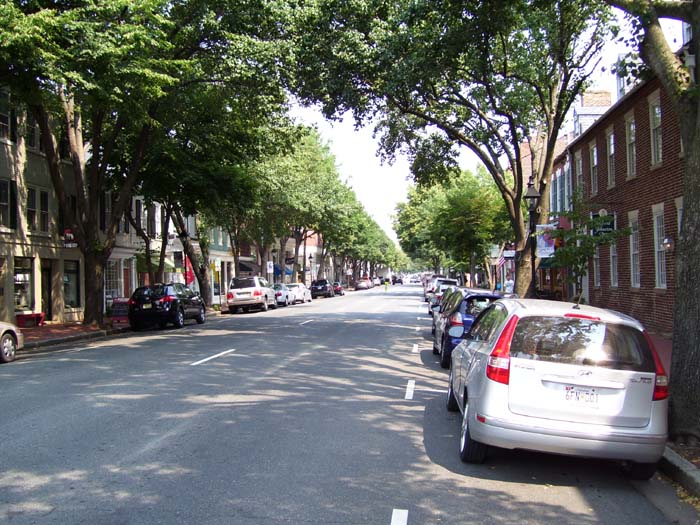 This is the apothecary house of Hugh Mercer, a friend of George Washington and brigadier general during the American Revolution. His shop has been restored, and many of the things he used to treat illness and injury back in the 18th century are still used today (he was a big believer in using leeches, for example).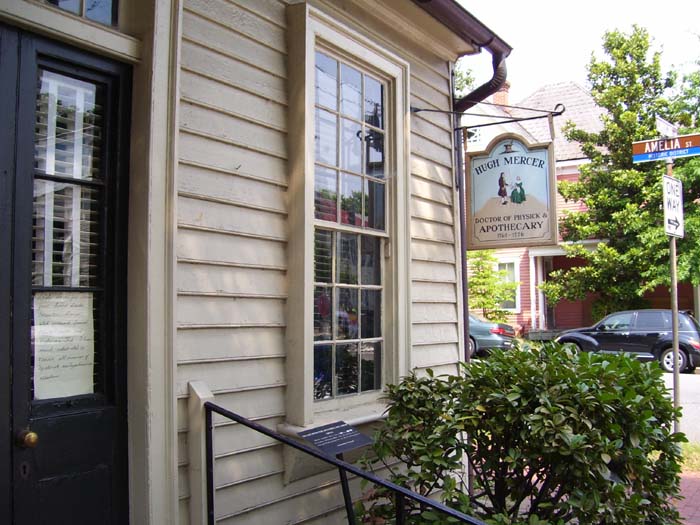 I've been seeing lots of beautiful churches as I ride along, and Fredericksburg is no exception. Here's one example...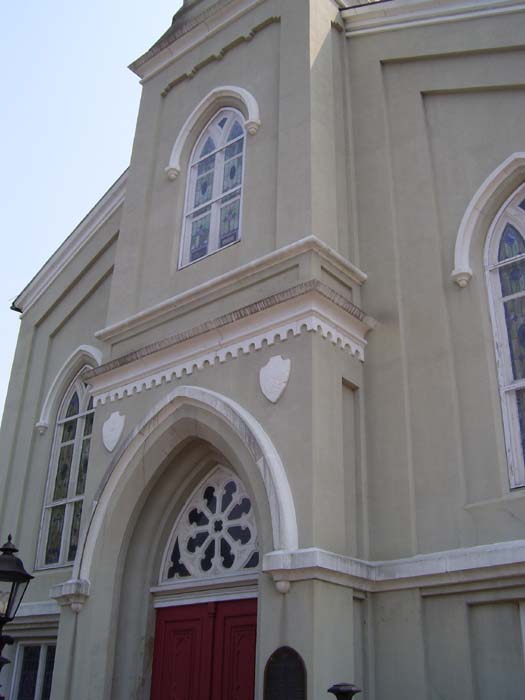 Moving around in town I almost missed this, a little corner-mounted monument to the slave trade...apparently the local slave auction block used to stand on this spot. Not the most pleasant of things to think about, but repulsive though it may be today, that's how things were done back in the 1700s.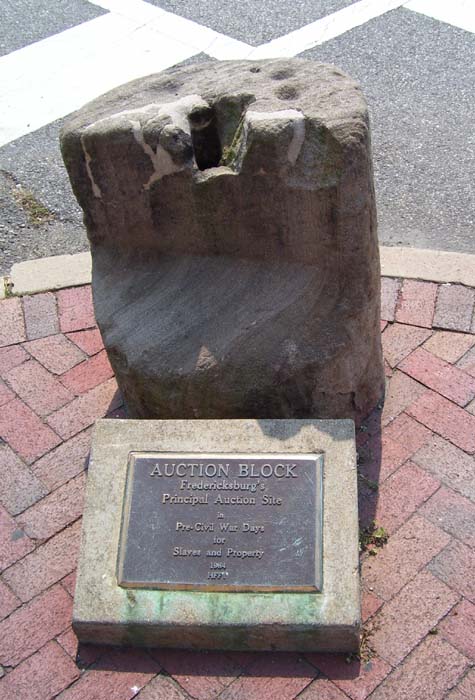 This was the home of Mary Washington, mother of the father of our country...so the grandmother of our country, I suppose you could say.
This memorial represents her final resting place.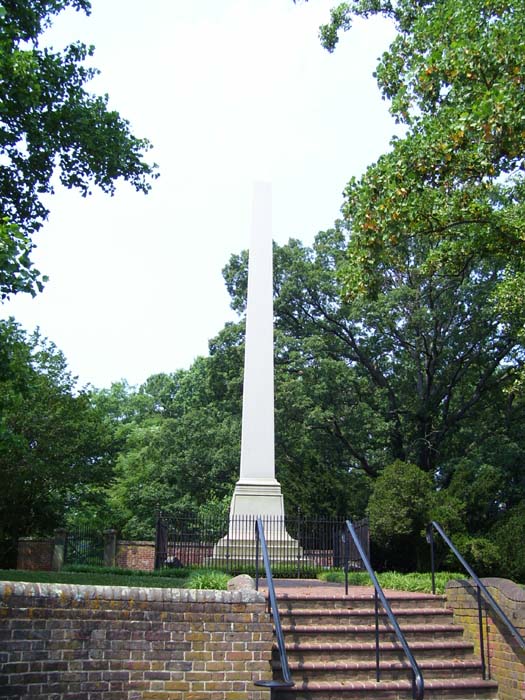 Near that, I found this monument to free religion. Thomas Jefferson and several others drafted a document called the Statute of Religious Freedom, laying the groundwork for one of the more important facets of the new country.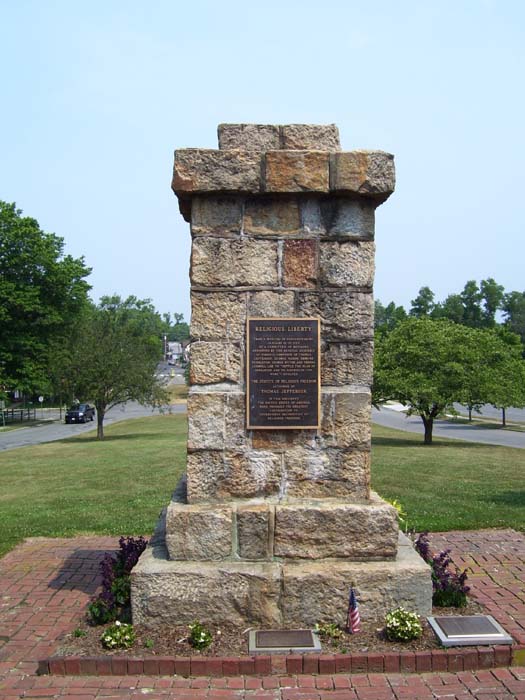 That's enough for Fredericksburg, though...time to move on. I've got 55 more miles to go and it's already burning up out here. This is what I got to look at most of the day..four lanes of US-1, with no shoulder (and the edges of the road coming apart), and hills like this one coming back to back. Getting through thisi took a lot of breaks, a lot of water and a whole lot of cursing, but I stuck it out.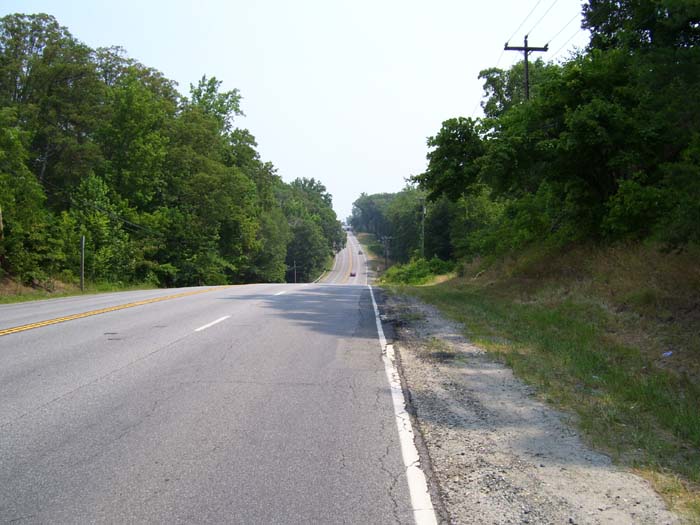 One of the major difficulties was dealing with the overcrowded, terrible conditions of US-1, so when I finally got to the turn-off point to head north (US-1 heads east a bit farther than I wanted to go) I eagerly followed the GPS's instructions...only to run immediately into a roadblock as the street I'd taken dead-ended at a fence. So I had to backtrack a bit.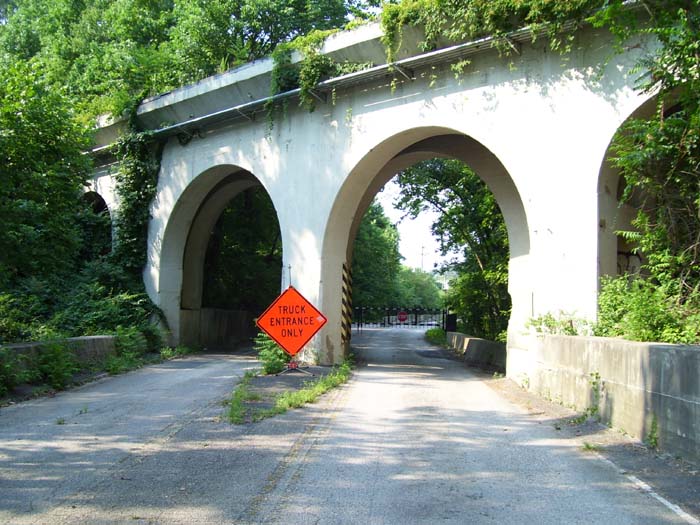 The reward, though, was well worth it...I came to an actual bike path (the first one I've seen in days) and got to ride along by myself for a few miles, without any cars buzzing me, and better yet, without so many steep hills. In fact, between about mile 45 and mile 55 of the day, I actually enjoyed some reasonably flat terrain. As soon as I got to Arlington, though, it was back to climbing...in fact, the downtown area there has some of the steepest hills I've seen yet, including one far to steep to even think about climbing (I just went around, and as it turned out, it would've been a huge waste of time anyway as I had no real reason to go that way).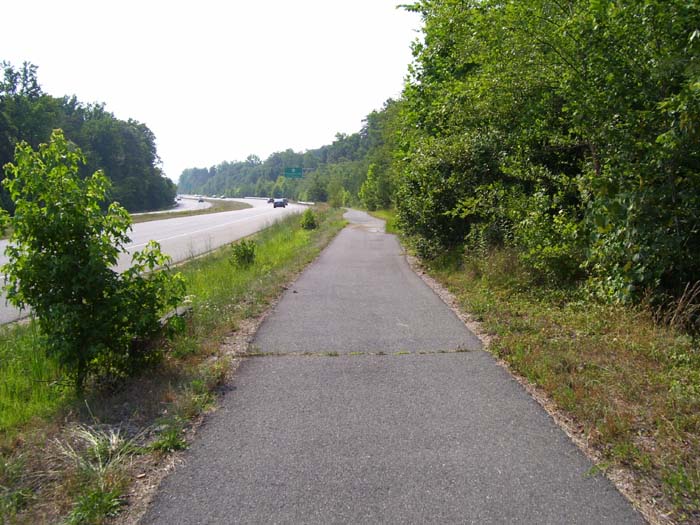 So that brought me to my hotel, the swankiest one I've seen this whole trip...and yet, not the most expensive (that honor goes to that marina hotel a few nights ago after that big thunderstorm).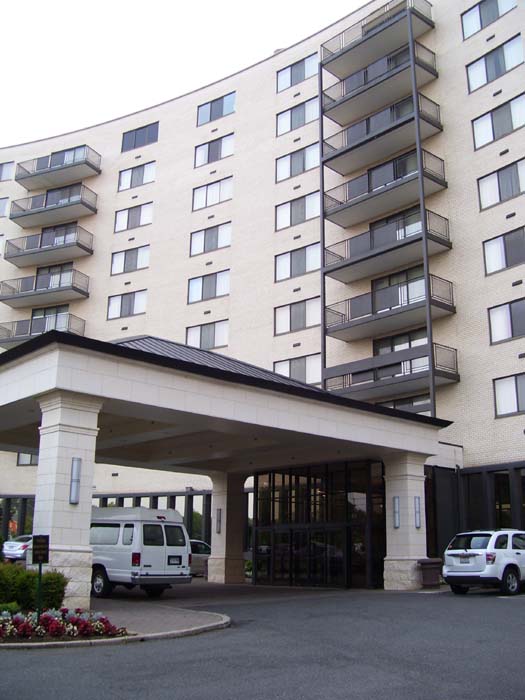 Tomorrow, the weather's going to be almost as bad, so I intend to spend a few hours cruising around DC and arranging some photo ops with well-known landmarks. Then it'll be a short ride of maybe 30-40 miles to Baltimore...nothing too stressful. It's going to be in the 90s probably the entire rest of this tour anyway so I might as well not push it while it's still in the 100s.