View Larger Map
Day 29 - July 4, 2012 (Independence Day)
South Amboy to Fort Lee via New York City
Miles: 63
Terrain: Gently rolling hills, a couple of steep climbs
Weather: Sunny, hot and humid, 10mph west wind
After spending yesterday getting into position, today it was time for me and my trusty bike to head into the Big Apple. I left early, just before 9am, to be sure I'd have time to do everything once I got there, which I figured would be midafternoon. There were 40 miles or so of riding between me and the Staten Island Ferry, so we'll start with that. Brace yourself, there's a ton of pictures from today, so I'll try to keep the narrative short.
First up, immediately after leaving the hotel, I had to contend with Bridge #1, the stretch of US-35 that crosses the river adjacent to the Edison Bridge. This turned out to a fairly steep climb, with another waiting for me on the other side, so the first 4 miles of the day gave me two hefty hills to deal with. Fortunately, the rest of the day proved to be pretty light on the climbing, except for a few places in Manhattan that I barely noticed because I was too busy staring at the buildings and watching traffic. But that's later. First I had to cross this bridge.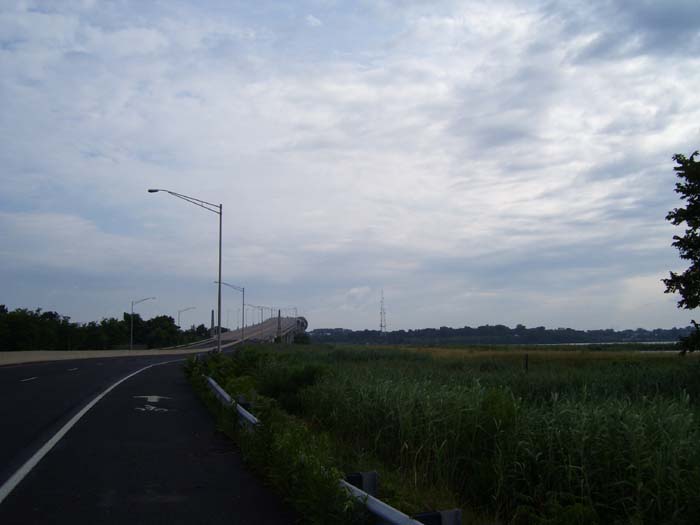 As usual with any bridge climb, here's the obligatory view from the top, complete with riverboat casino.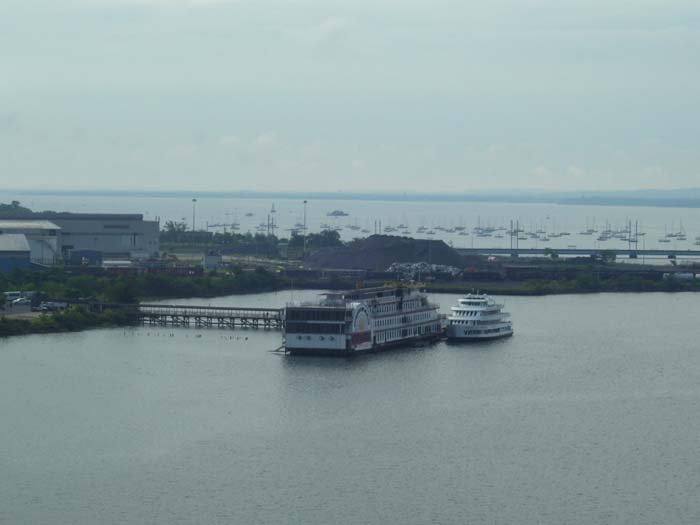 Then it was back out into New Jersey, where I headed along county roads because US-1, the ideal route, turned out to be partially restricted access (as I found out the hard way when I encountered THE SIGN). Anyway, this particular road here was in pretty good shape, with a bike lane no less, but that didn't last. The roads today were mostly bad.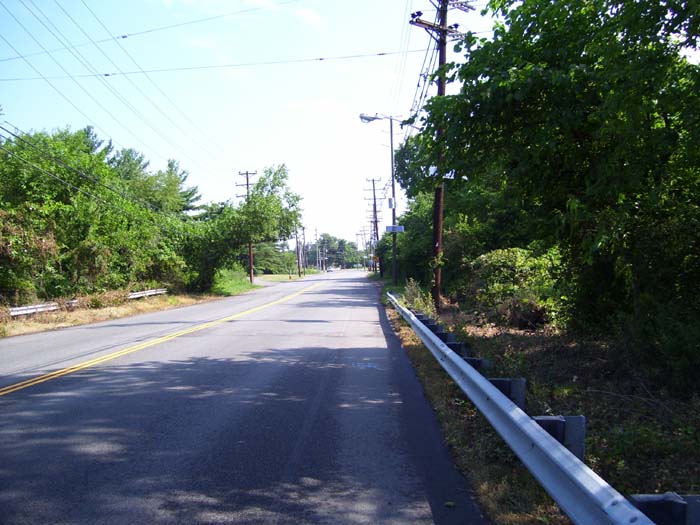 In Elizabeth, about 15 miles down the road, I got this New Englandesque shot. This is also the town where I took my first break, a McDonalds that not only didn't have the "$1 any size soft drink" deal, they also didn't give refills. That sucks, because I usually get 2 or 3 refills before heading out. I had to make do with just water this time. So I basically paid $1.89 for about 12 ounces of fruit punch.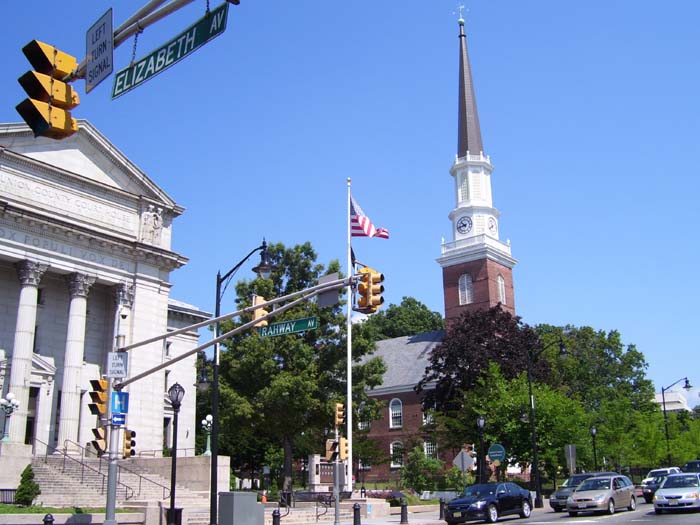 Anyway, moving on, I rode northeast until I got to Newark (shown here), then turned southeast for a bit. I had to make a kind of S-turn to get to the Staten Island Ferry from my starting point, because the only way to ride onto Staten Island is over the Bayonne Bridge, located on the north end of the island.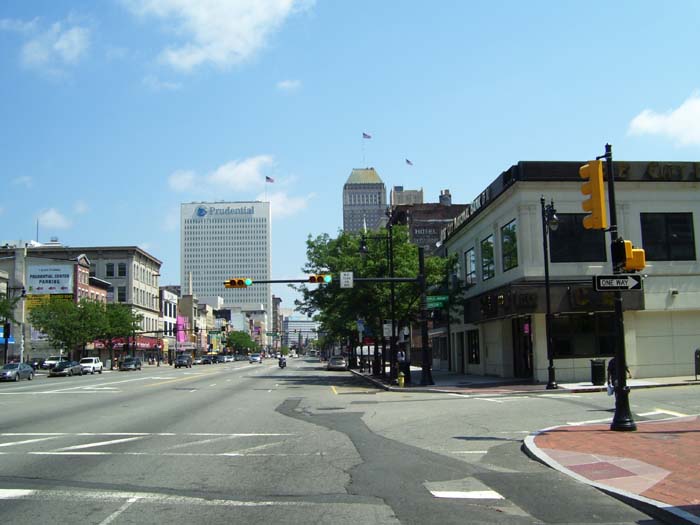 Before heading southeast I had to cross Bridge #2 in the Jersey City area (actually a par of bridges). The first one wasn't too bad. Here's the view: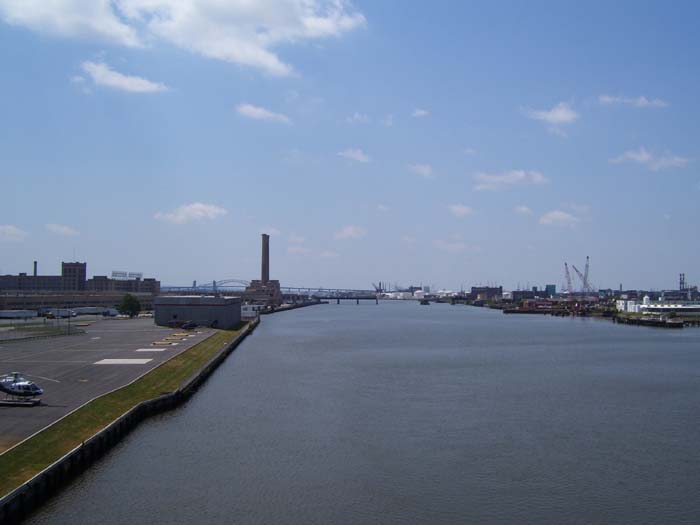 Now the second one, which afforded a brief, distant look at the NYC skyline...my first sighting of the day.
Unfortuanately, at the end of this bridge's pedestrian walkway (perilously narrow as it was, see above photo) just vanished, leaving behind this horrible dirt path right next to a guardrail too high to lift my bike over, even if I would've wanted to (which I didn't). So I had to creep along through all the bushes, dirt, rocks, and broken glass. It's a miracle I didn't have 3 flats after this little diversion.
Moving right along, I entered the town of Bayonne, which is noteworthy because it had a streetlight at every single intersection (one every 0.05 miles...I measured it). And they all changed at exactly the same time. Kinda creepy, actually. The net result was I missed about every 3rd light, guaranteed, even when nobody was waiting. I thought I'd never get through this stupid town.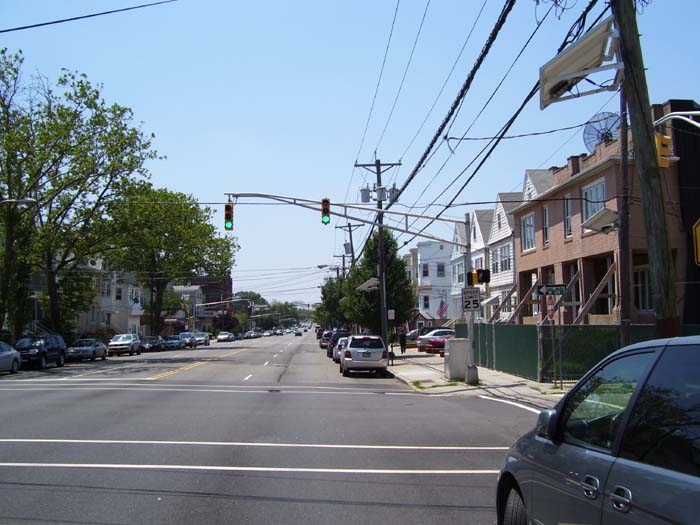 Eventually, I did, though (and yes, I got frustrated and ran a few of those ridiculous lights...it was good practice for later). This brought me to the Bayonne Bridge, the only way to ride a bike onto Staten Island. But first, I had to climb some stairs. My bike weighs a ton, so this is harder than you'd think. Good thing I don't have the camping gear anymore, or I never would've made it without having to go through the hassle of taking it all off the bike. As it turns out, the stairs would be good practice for later, too.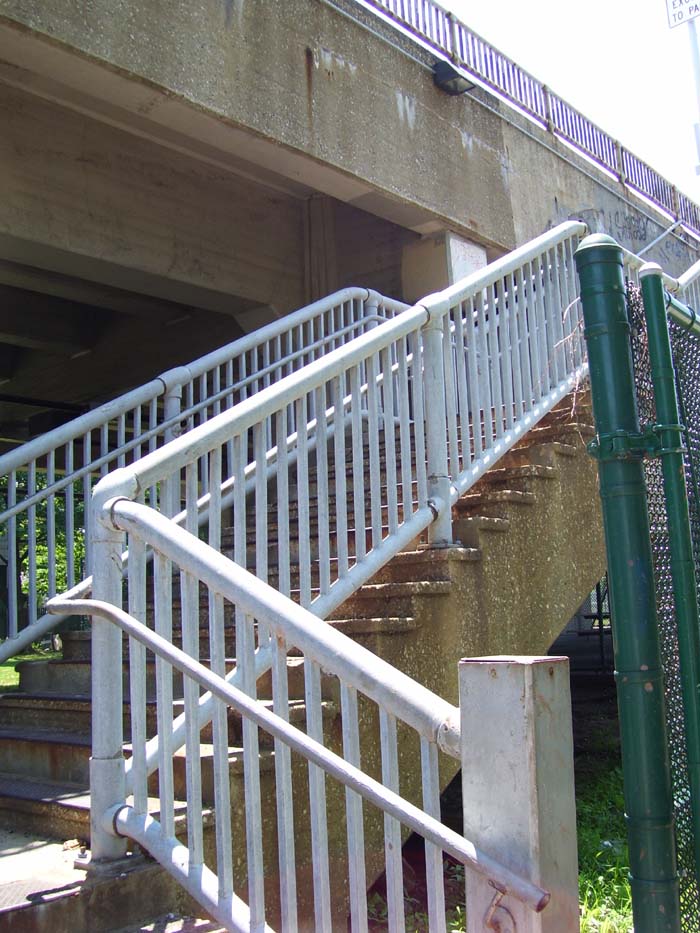 And now, the Bayonne Bridge, which at least had a nice, wide path to ride on.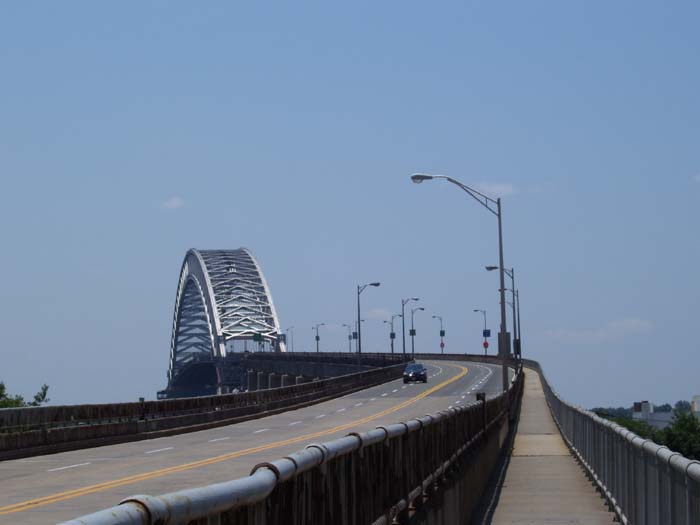 The obligatory view, with Staten Island on the left. Arriving at the other end, I found myself in New York State, although there weren't any welcome signs or anything.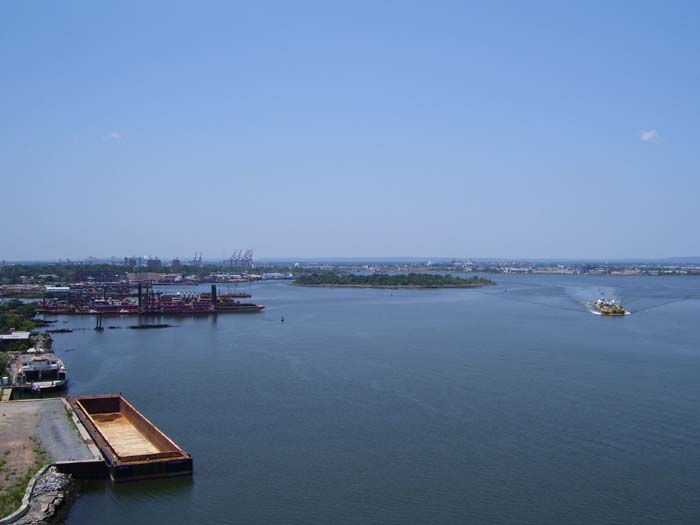 Then it was a brief 5-mile ride along the shore to the Staten Island Ferry terminal, where I arrived at 1:32, just in time to watch the 1:30 ferry leave. This gave me 28 minutes to wait, but I needed the break anyway, and besides, I was able to wander a bit and get this nice shot of the distant city I'll soon be touring.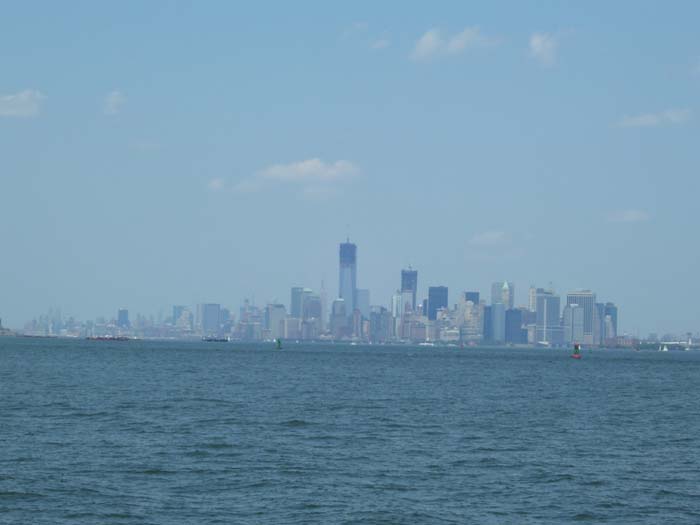 The ferry looks like this, by the way. Compared to the other ferries I've been on this trip, it's positively massive. Plus it doesn't carry vehicles (not even motorcycles) so loading is quick and easy. I'd been sort of worried that it might be packed on the Fourth of July, but it wasn't. Oh, and also, it's completely free to ride.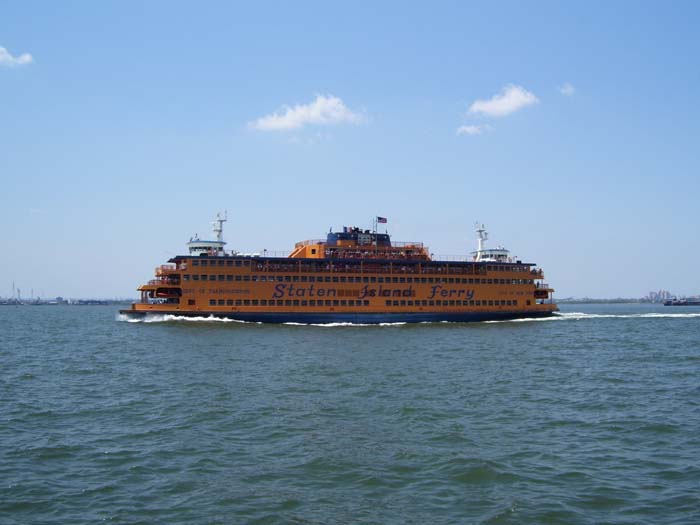 See what I mean? This is what it looks like inside on the lower deck. Hardly anybody here (most were up on top, but bikes had to be loaded on racks in this section, and I refused to let my precious mode of transportation out of my sight.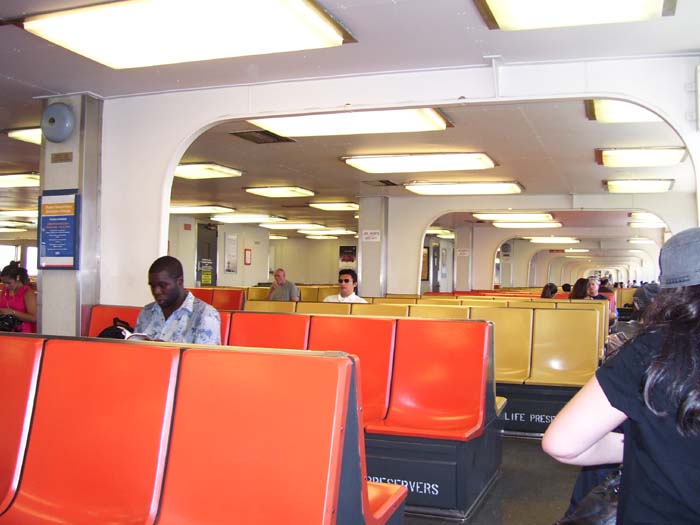 The view out the front shortly after the ferry headed out: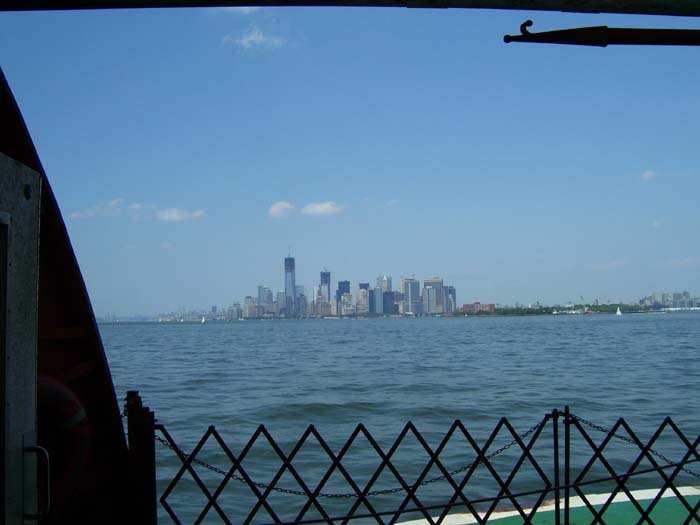 I was on the left side, affording this nice view of the Statue of Liberty and some of New Jersey as a backdrop.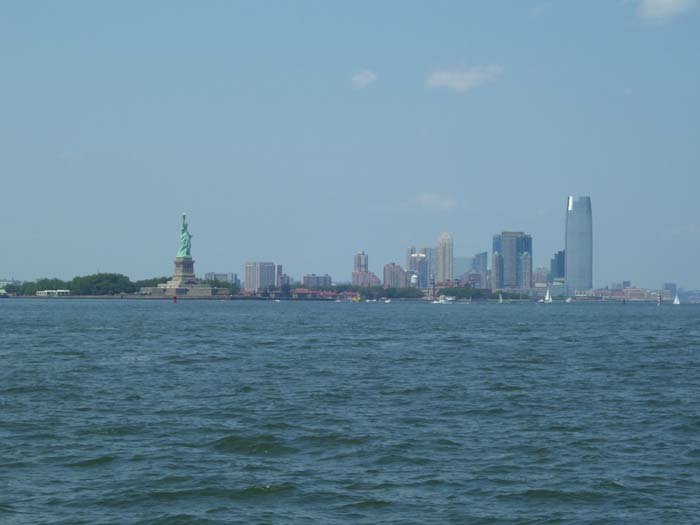 A better view of Lady Liberty.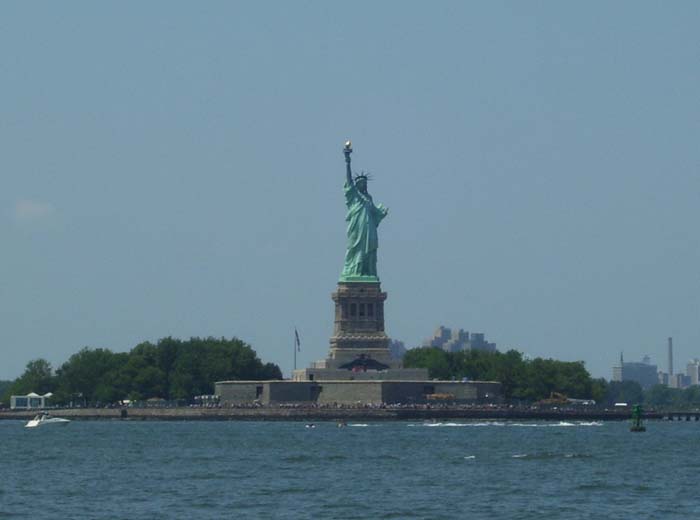 As we got closer, the skyline got even more impressive: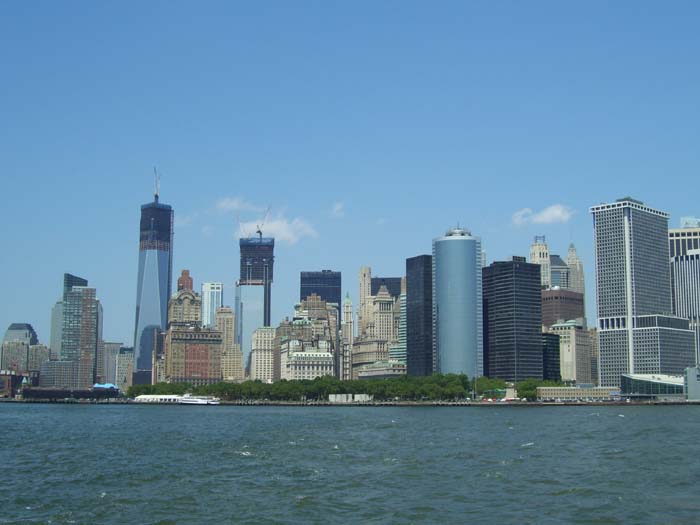 Once the ferry docked, everybody just filed out, and the bicyclists scattered every which way. I went left, over into Battery Park, to begin my tour of the city after filling up my water bottles. While doing so, I came across this statue, the East Coast Memorial, honoring servicemen who died in the Atlantic during WWII.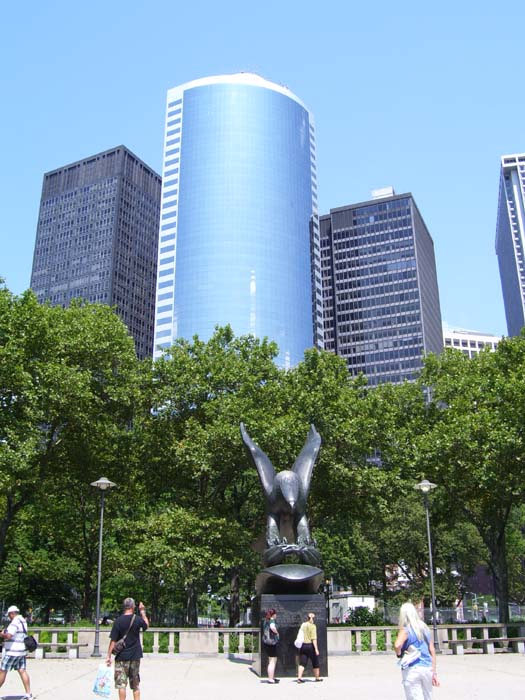 The park was packed with people, many waiting for harbor cruises to the Statue of Liberty. Speaking of which, I also encountered these festive citizens doing their best Liberty impresions...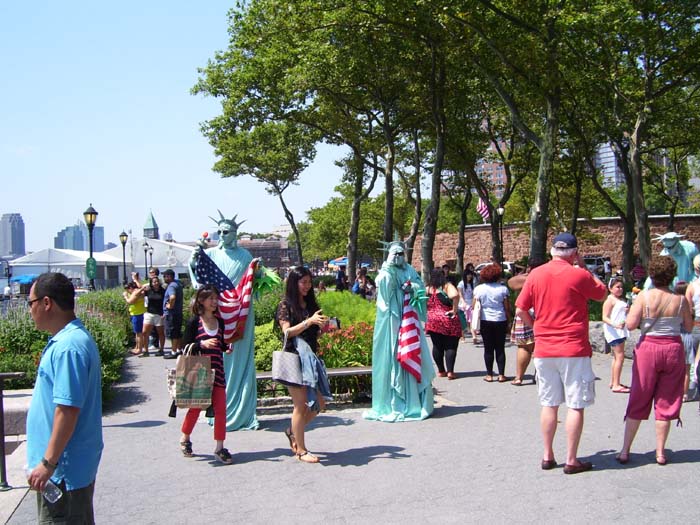 The park is also home to Castle Clinton, the last remnant of the fort that used to guard the entrance to the Hudson River here.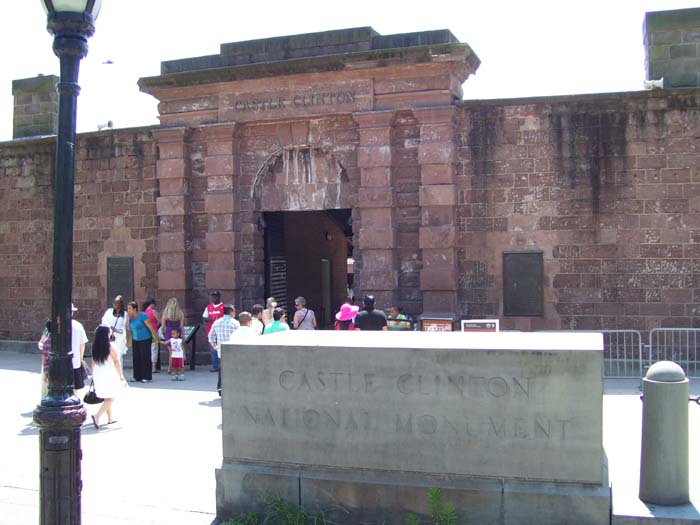 After finishing exploring Battery Park, it was time to get moving into the city. I'd really been dreading this all day (actually for several days) because, well, NYC can be pretty intimidating. Fortunately, though, I happened to time my arrival for Independence Day, meaning traffic was light, as you can see below. This is the first set of streets I navigated, and it only took a couple minutes to realize this wouldn't be hard at all.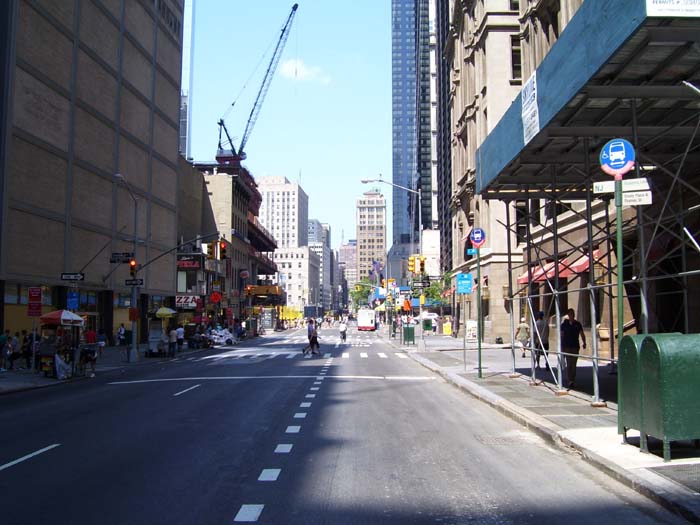 My first destination was the World Trade Center site, where I intended to visit the memorial there, but construction projects made getting onto the grounds impossible, and I couldn't even see it to take a photo. So I just moved on to Wall Street, where outside the Stock Exchange I found the famous iconic bull statue, in all its anatomically correct glory (and also completely surrounded by tourists).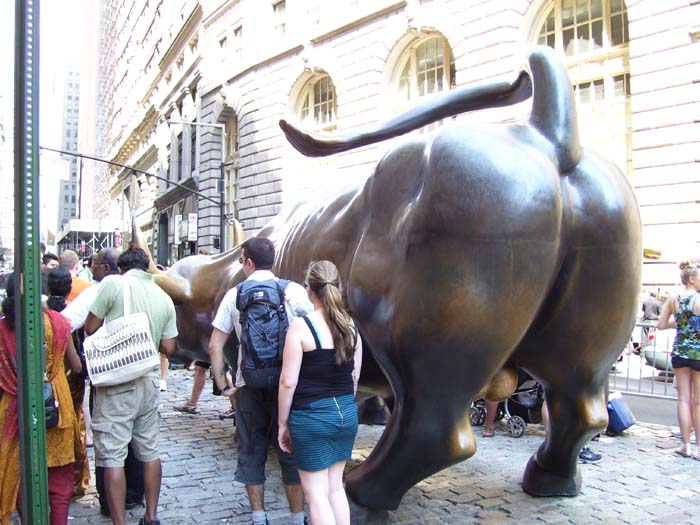 A view of the financial district. Damn, these are some pretty huge banks.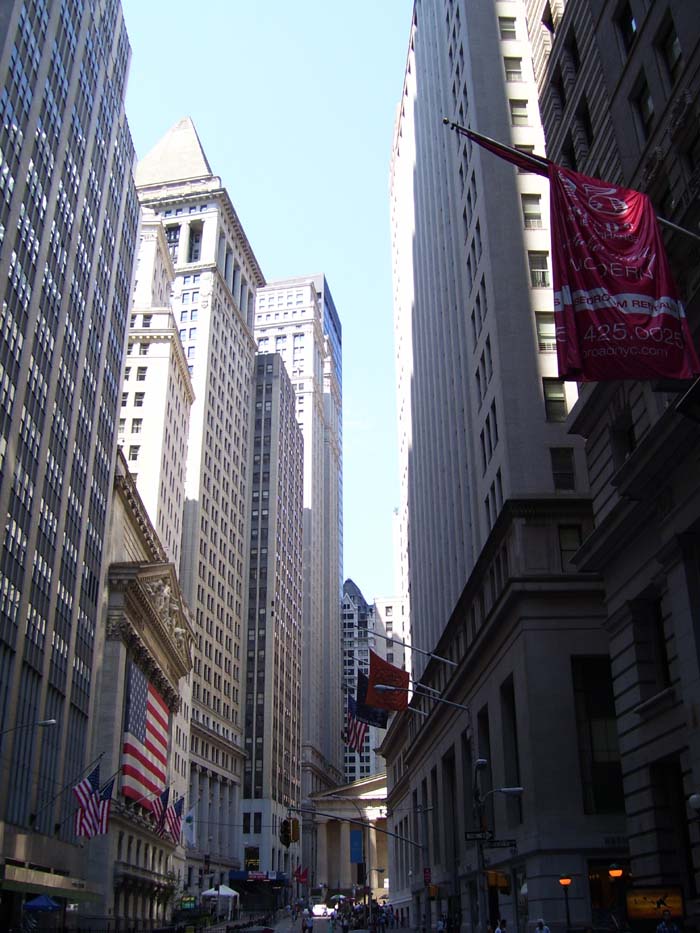 Next stop was City Hall Park, which had this gorgeous fountain: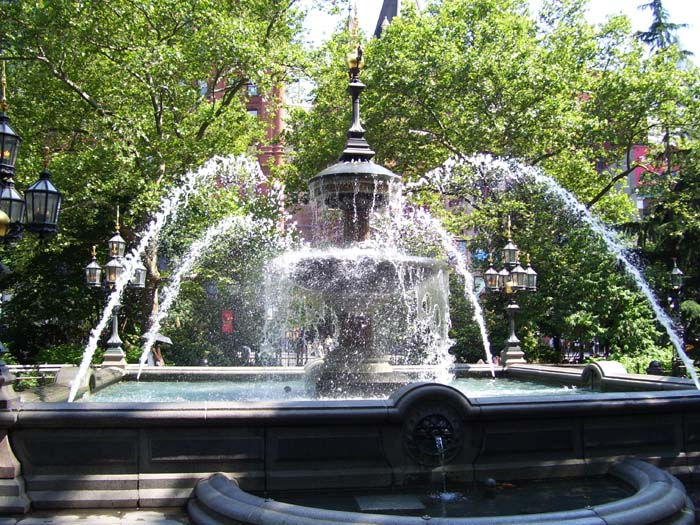 And it's adjacent to this building, NYC's City Hall.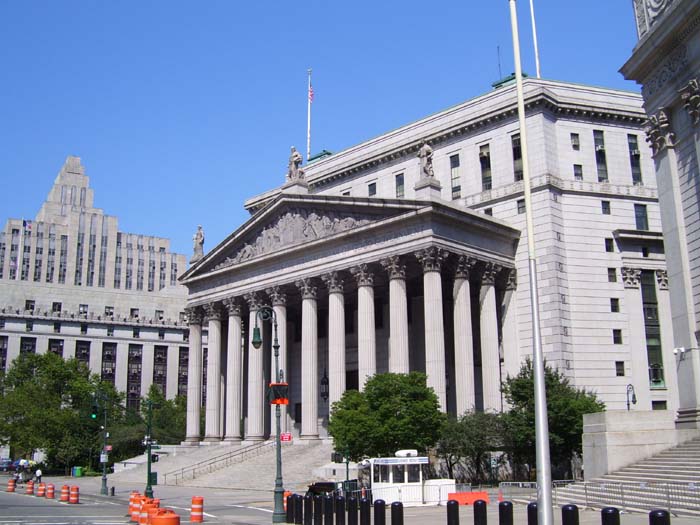 After leaving here, I'd originally intended to head northwest to the river and ride the Greenway (a bike path off the main roads) up to 33rd, but then I figured it'd be way too much riding out of my way to do that. Besides, riding on the streets was so easy and fun, I didn't mind just heading uptown. Here's a shot of a typical street on my way north.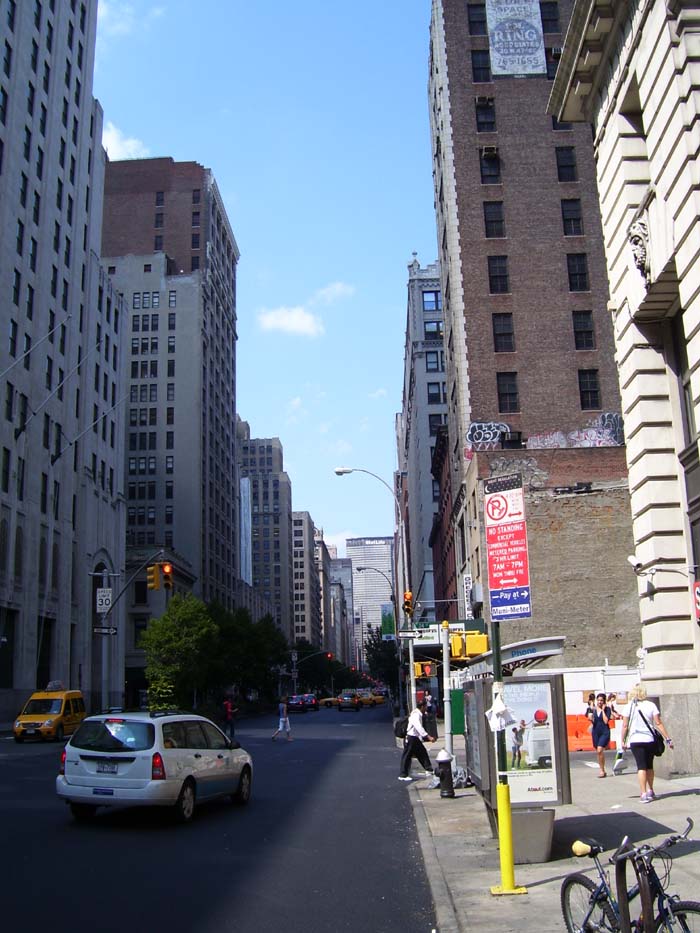 And later on, another nice view. Those pedicabs on the road were everywhere, too, cruising slowly around the city and often getting in my way. They did have turn signals on them, though, which is pretty cool.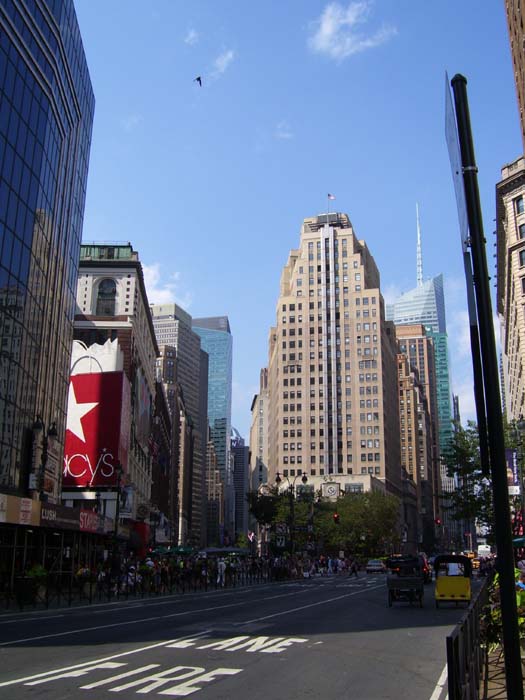 Upon reaching 33rd, I headed over for a look at Madison Square Garden: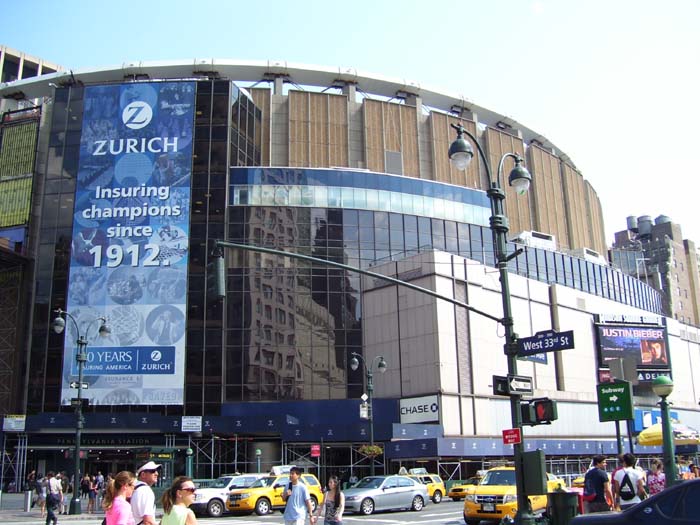 Then back to the other side of Broadway to find the main branch of the NY Public Library (which you can see in the opening moments of "Ghostbusters," among other films).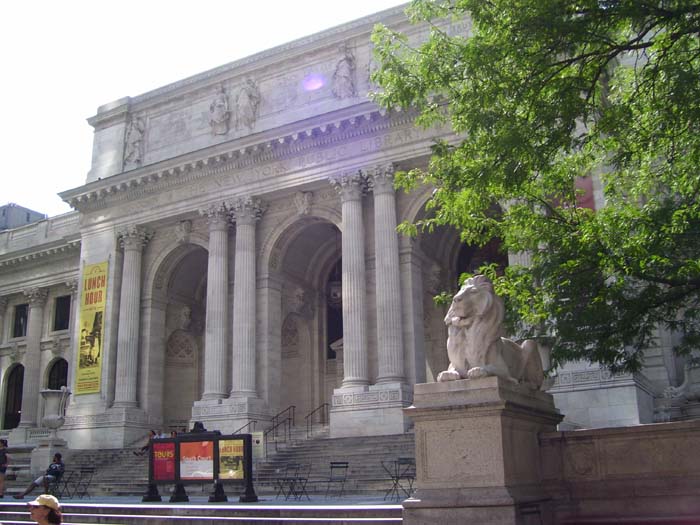 Then uptown a bit further to Grand Central Station.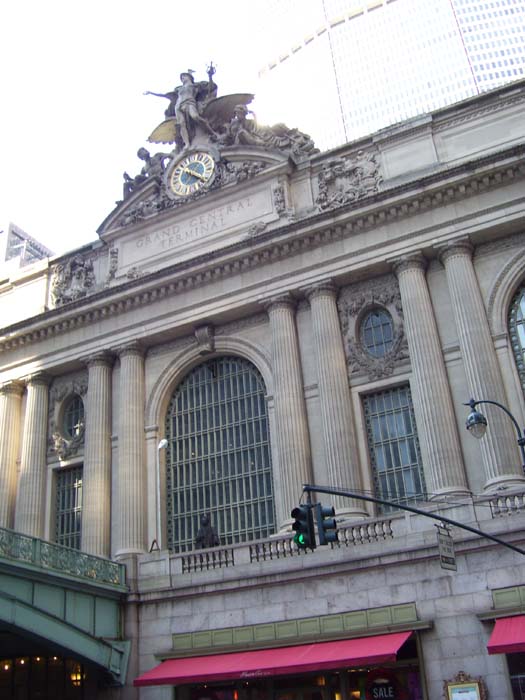 And, of course, no trip to NYC would be complete without a visit to 42nd and Broadway, aka Times Square.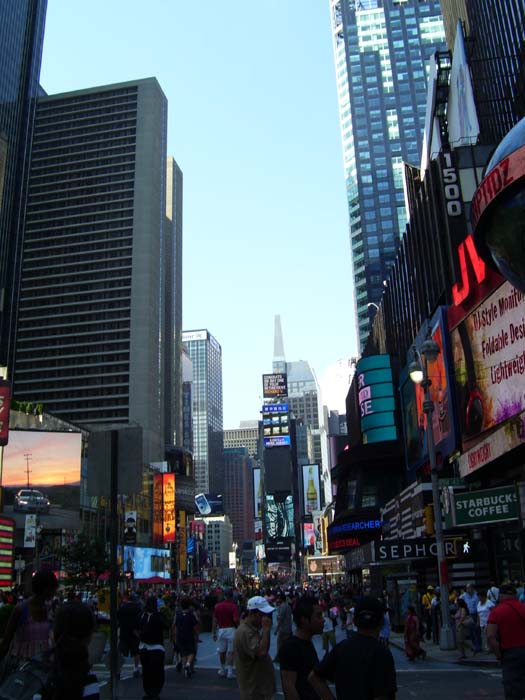 Another view from a slightly different angle.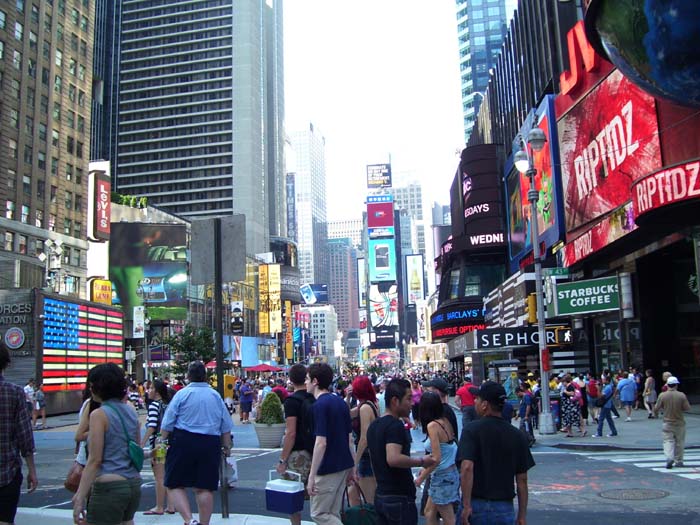 And the view looking back the other way. It sure was crowded! But notice how they had most of the streets blocked off, so cars couldn't get through. Not an obstacle to bikes, though. (Very little is, actually. You can ride right through traffic barriers, go through red lights if there's no traffic or pedestrians crossing, go the wrong way on one-way streets if you're careful, and basically do whatever you want. Wheee!)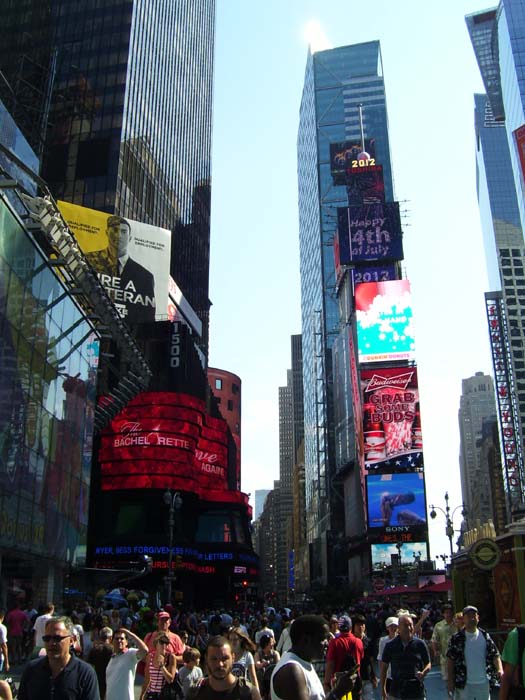 Anyway, continuing the tour, Radio City Music Hall wasn't far...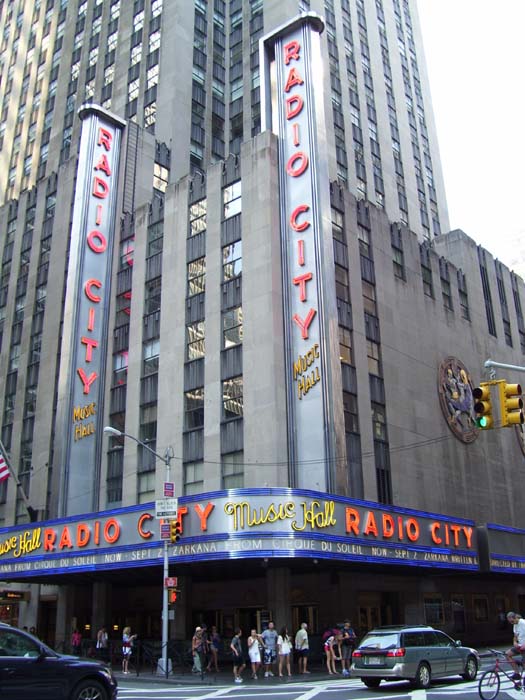 And just down the street I found the Ed Sullivan Theater. (Letterman's on reruns this week, so there weren't crowds waiting in line in hopes of getting into the studio audience. I've actually seen Letterman before, wayyyy back when he was on NBC.)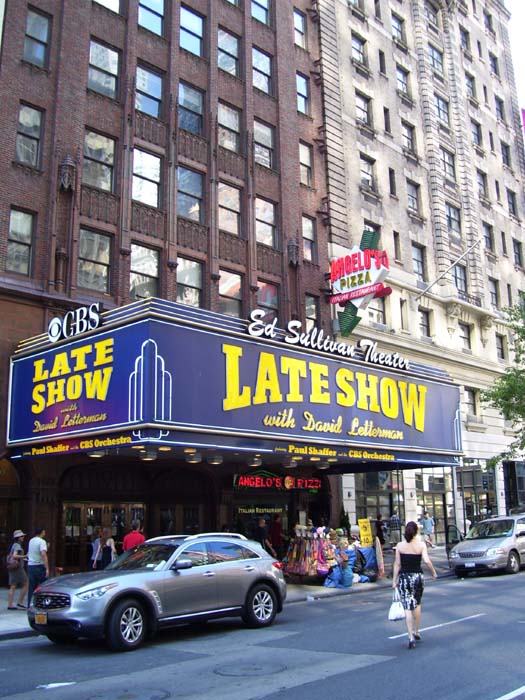 A couple more blocks north, I reached Central Park and set out to ride all the way through the place. Unfortunately, they only allowed bikes on the roads, not the pedestrian paths or trails, but that was fine, because otherwise I probably would've stayed there all day.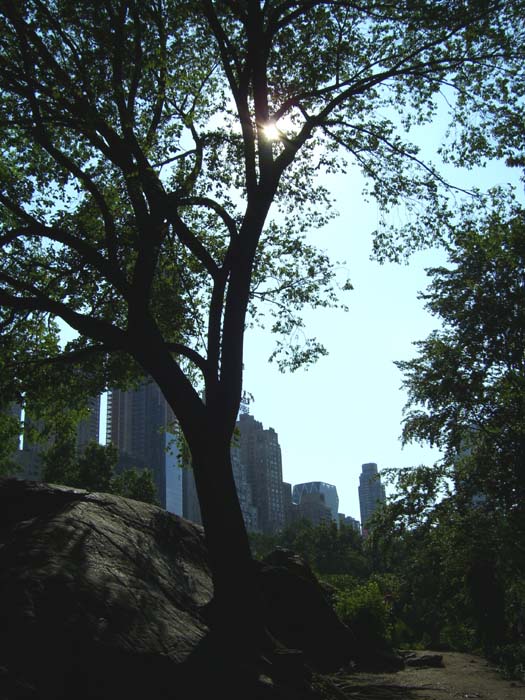 Here's a view looking out at a section of city on the other side of the Reservoir.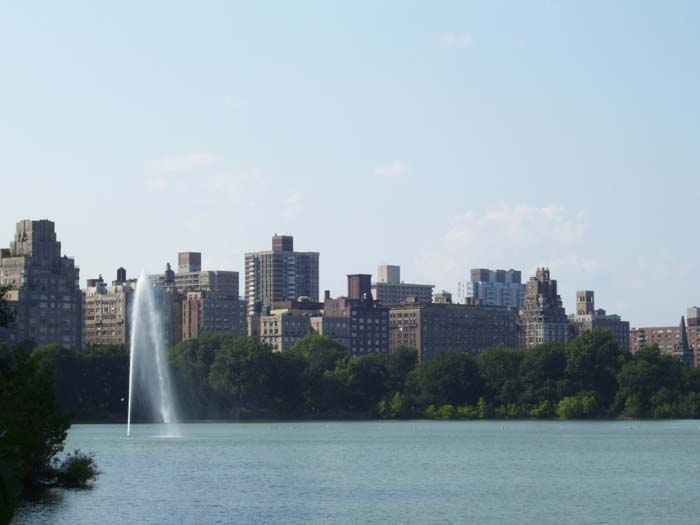 That picture was taken off to the left of this building, the South Gate House. Notice it's already after 5pm. At this point I've been on the bike since 9am and it's over 90 degrees, so the heat started getting to me. I filled up my water bottles at the fountain just to the left of this doorway, and moved on.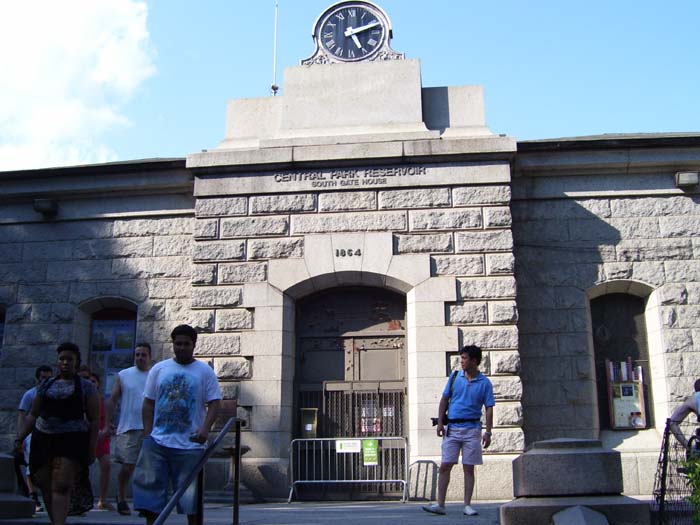 Another view of the city over the Reservoir.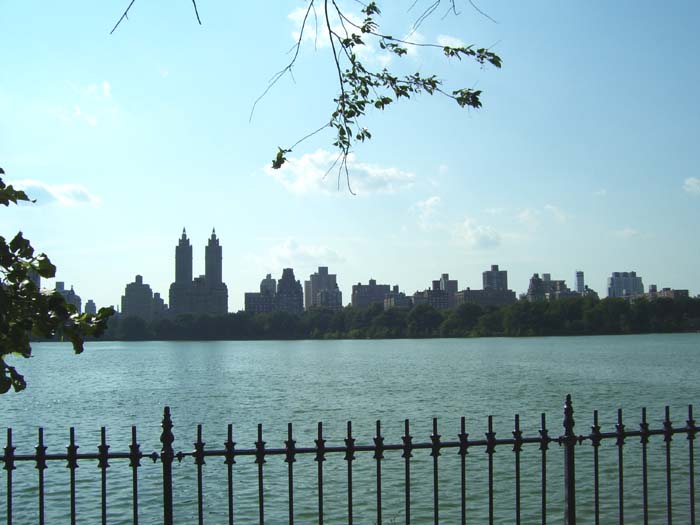 This is Lasker Swimming Pool, understandably packed because of the heat and the holiday. I didn't even know they had a pool like this in Central Park.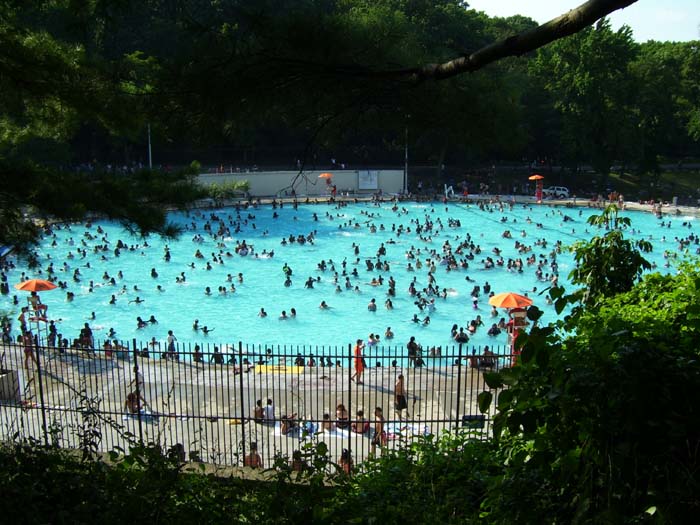 By the way, the bike ride around Central Park is lovely, but also hilly. I exited the park after looping through about 2/3 of it or so, and headed northwest towards the river. Heading north on Riverside, I came to this tomb located at about 122nd St. You probably have heard of this tomb, but didn't know where it was before now...I sure didn't. Anyway, it's Grant's Tomb. Bet you can't guess who's buried there...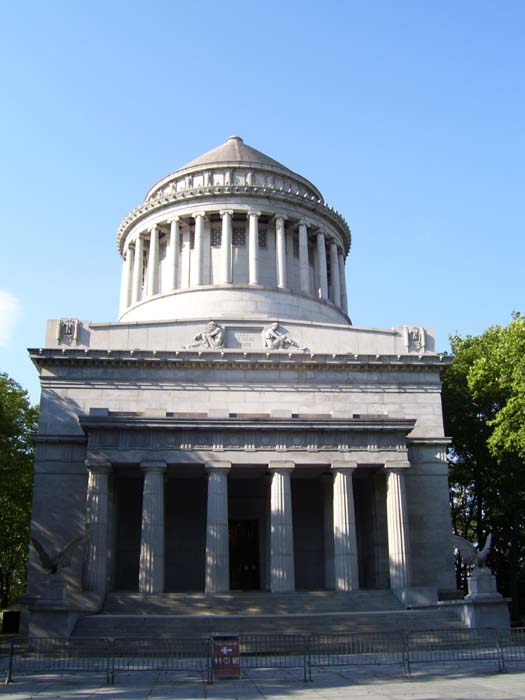 Then it was a few more miles of riding along Riverside towards the George Washington (GW) Bridge.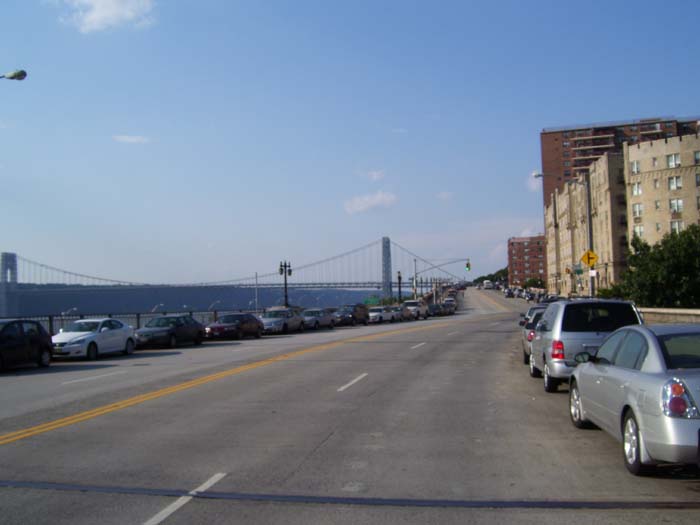 Upon arriving there, I had to climb up a pretty steep stretch of road, locate the pedestrian access (not exactly well marked) and finally climb a series of steps (first up, then down and under an overpass, then back up on the other side). This is where the practice I mentioned earlier comes in. Lugging my heavy bike left me almost completely wasted, so I had to wait a few minutes before riding on. Here's a look at the city in the distance, from a completely different angle than earlier (in fact, almost the opposite side).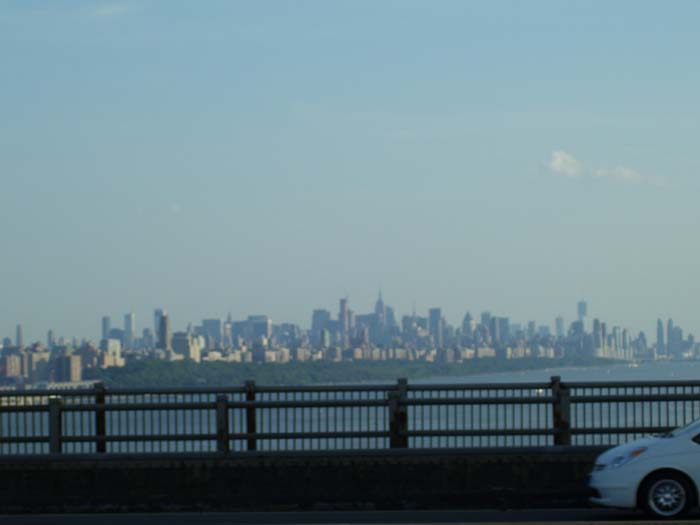 The view the other way...not much to see that way up the Hudson.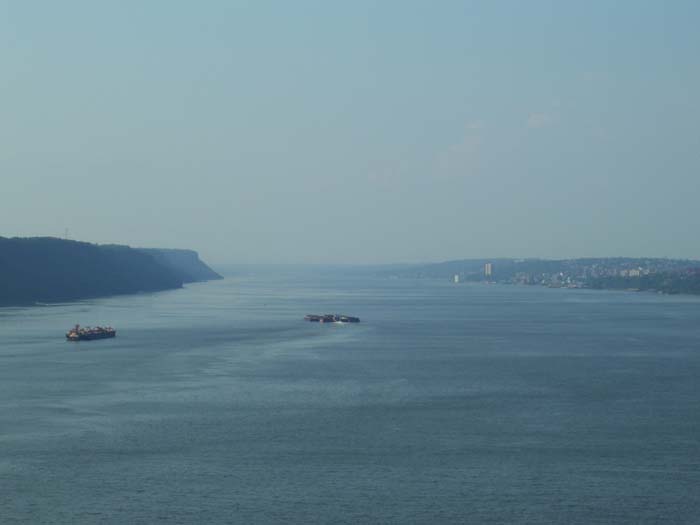 And looking across towards the Jersey side and Fort Lee, where I'll be staying tonight. I managed to find an EconoLodge with a room for only $55 a night on the Fourth of July right next door to NYC...that was an astounding stroke of luck, actually.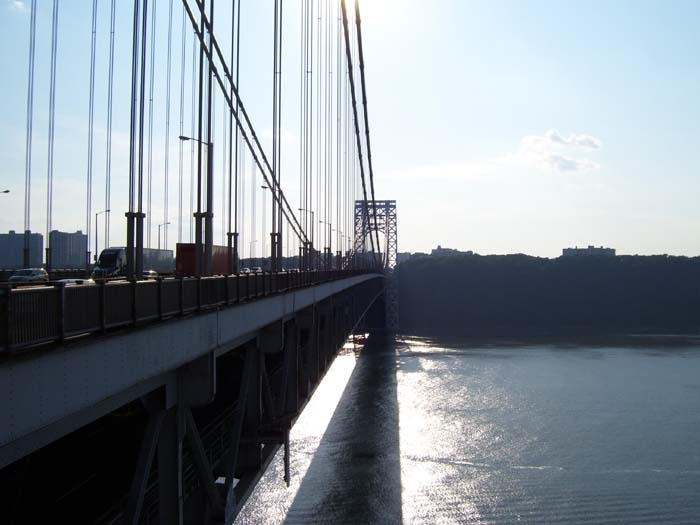 The hotel's downside is it's right next to the GW Bridge, meaning I get to listen to traffic sounds all night. Not a problem...I just turned the A/C's fan on full speed, and it's not an issue.
Oh, and then to put the icing on the cake of my best touring day yet, NYC had its fireworks display over the Hudson tonight, so I walked back onto the bridge (leaving my bike in the hotel) and watched the show from there. Needless to say, quite a crowd packed the bridge...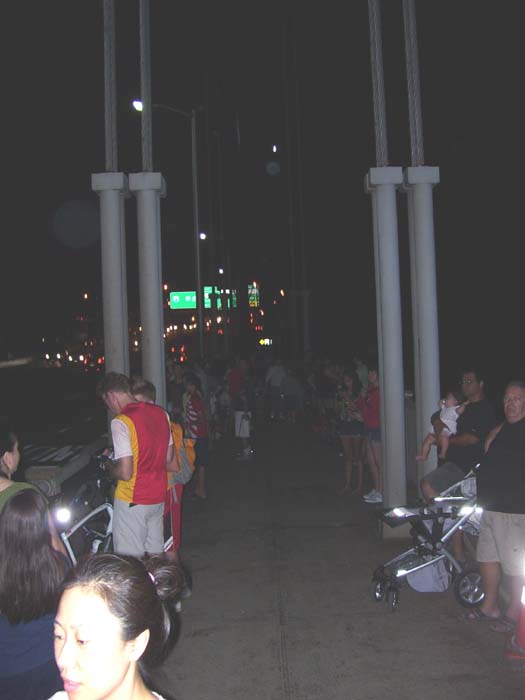 The fireworks were pretty spectacular, too. I tried to take photos, but most of them didn't come out...it's hard to take fireworks photos with a digital camera, so I set the exposure to 0.5 seconds and tried to hold it steady (not an easy task with the bridge shaking under your feet every time a car goes by). Of the 20-odd photos, this is the only one that looks any good at all. The red streak is a car's taillight zooming by during that 0.5sec exposure.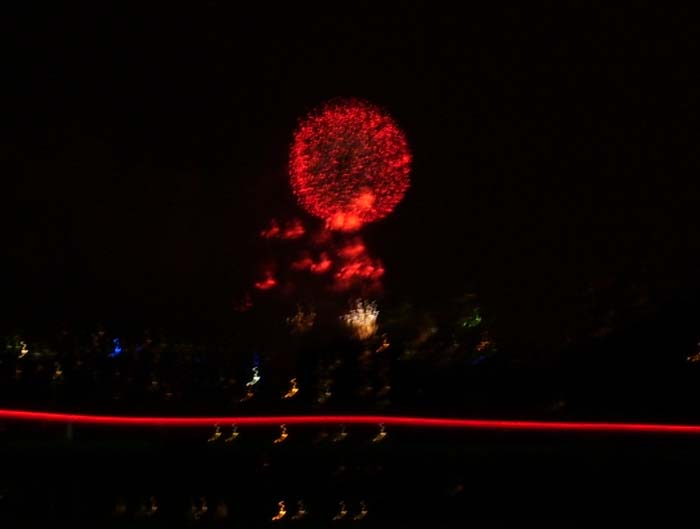 After that I headed back to the room, turned on the TV and spent the next few hours sorting through all these photos and getting the site updated. Now I must sleep. Tomorrow, I'll try to make it to Connecticut.