View Larger Map
Day 30 - July 5, 2012
Fort Lee, New Jersey to Milford, Connecticut via New York
Miles: 70
Terrain: Rolling hills, with some tough climbs
Weather: Sunny, hot and humid, 10mph north wind
In case I didn't make it clear yesterday, I had a fantastic time biking around in NewYork City. In fact, my trip through Manhattan was the highlight of my tour so far, and I doubt anything's going to top it, either. So it's somewhat understandable that today would seem like a letdown by comparison. I didn't really want to get moving, not only because it was already 85+ degrees by the time I started stirring, but also because I dreaded going over those stupid stairs. Well, once I finally got out the door, I had a pleasant surprise...the north side of the bridge was closed (the pedestrian path, that is), so I had to go over to the south side...and that meant I didn't have to deal with the obnoxious stairs shown here.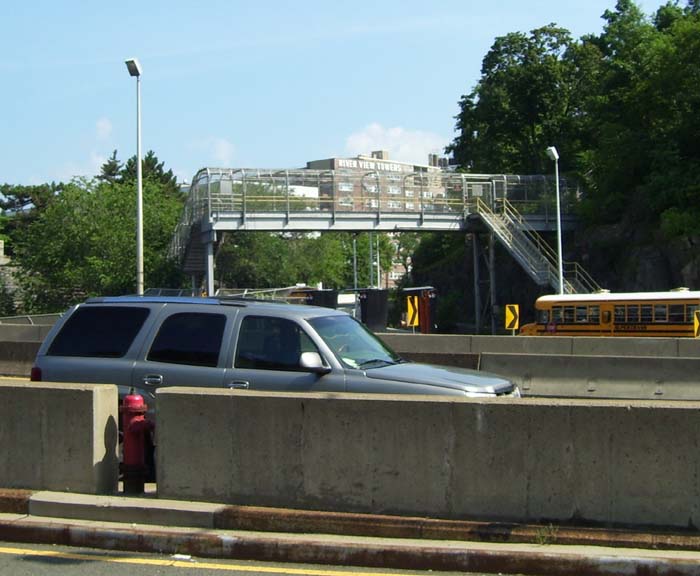 Instead, there weren't any stairs on the south side. I just got to ride straight on across the bridge. Same thing on the other side, too...just a ramp heading down around a sharp turn, and out onto the street. That's so much better than yesterday, you have no idea.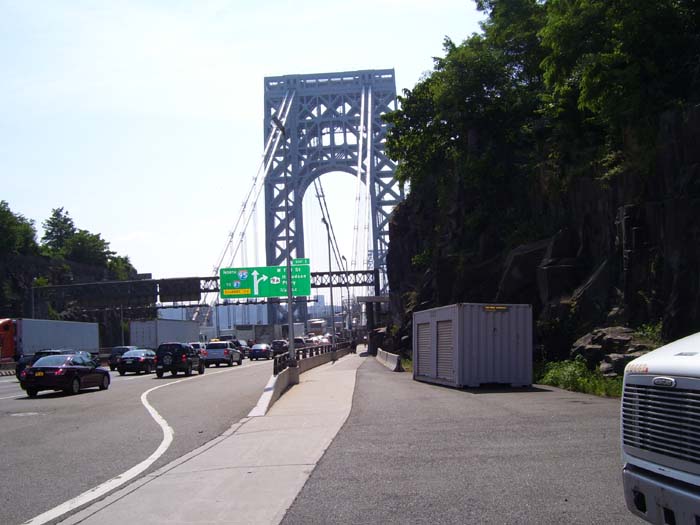 I did pause on the bridge one last time for a shot of the Manhattan skyline (already hazy from the heat). This time, there's no bridge or cars going by to ruin the picture.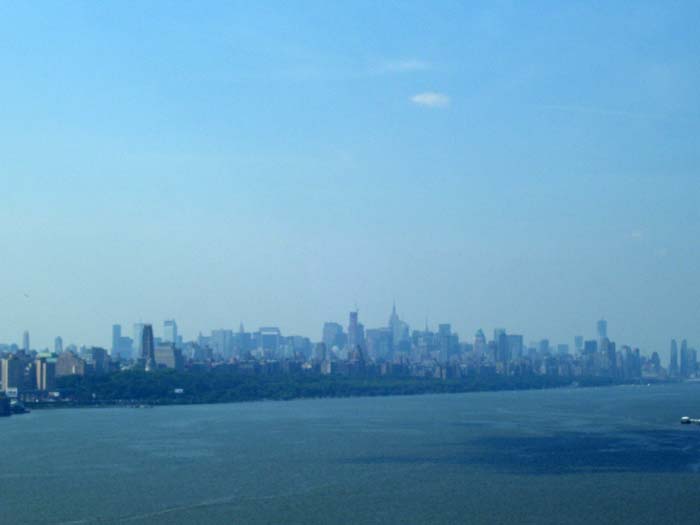 Once back on Manhattan, I just hopped over a few blocks, took a bridge off the island and into the Bronx, and rode along some bike routes I'd picked out the night before. Except for a stint riding along University and Fordham, I mostly got to avoid traffic altogether (but even so, it wasn't that bad). Upon reaching Pelham, I jumped onto the bike path and stayed there all the way through a couple of parks like this one.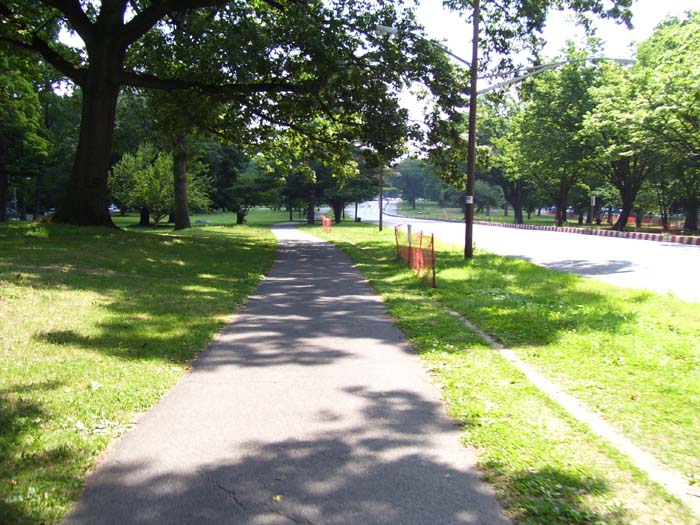 Once through that, the urban terrain gave way to ordinary streets, by which point I'd left New York City behind. I even found a nice private bike path for a few miles, in among the trees where it was cool.
The hills weren't too bad yet, but when I reached this point (at about 25 miles), that's when things got tough. The border of Connecticut also turned out to be the start of a serious string of climbs...not quite as bad as Baltimore, but close. You probably can't get a good idea of the slope involved on this picture, but trust me, it was pretty steep.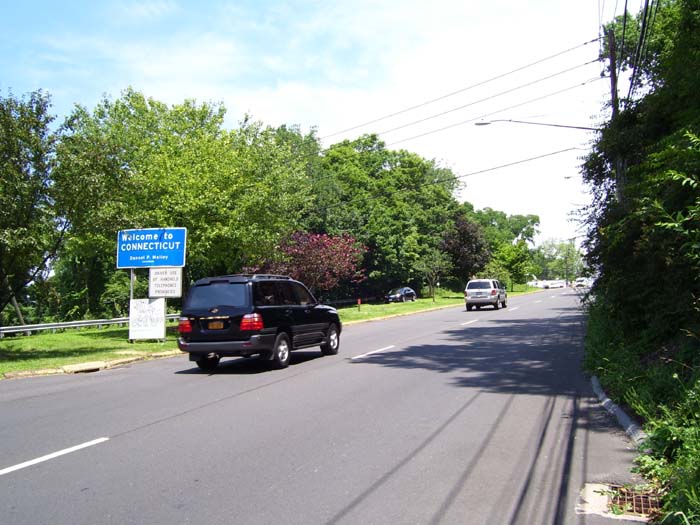 At the top of one series of particularly challenging climbs, I came upon yet another gorgeous church.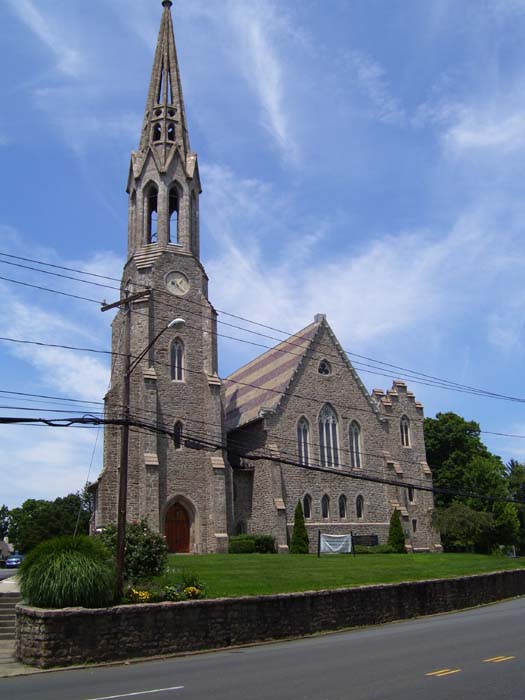 Now for some complaining. Can we please do something about sewer gratings like this? In addition to the slots parallel to the road, that would surely flip my bike if I landed in there, the concrete square around it doesn't sit flush with the asphalt and usually has big cracks and ruts all around. That means every time I come to one of these (which was pretty much everywhere in Connecticut, because this seems to be all they use) I'd have to swing out into traffic to avoid it. Sometimes they'd even have two of them next to each other, forcing me to take the entire lane. In some areas I just gave up trying to dodge them and rode right down the middle of the street, which didn't make passing motorists very happy. Well, if you don't want me doing that, then fix your damn sewer grates, already.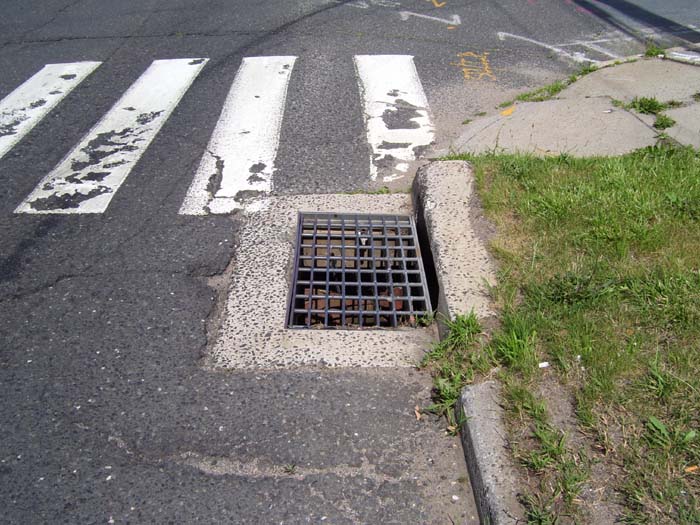 Anyway...I'll put the soapbox away now. Have I mentioned lately how hot it is? In case I forgot, here's a reminder.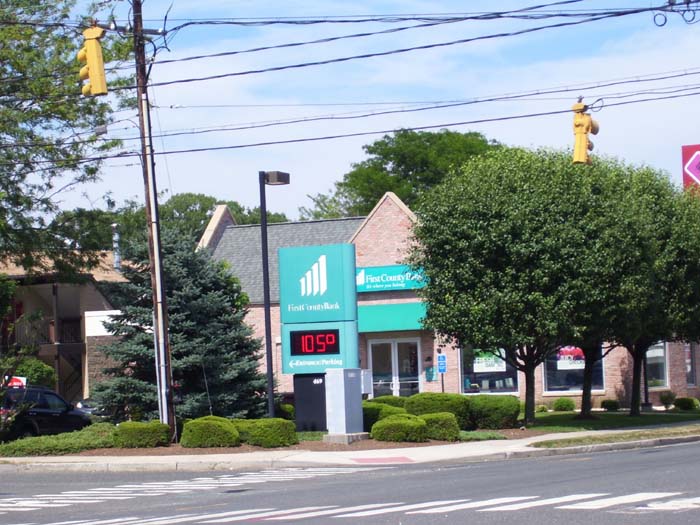 One nice thing about today's ride were the little towns I passed through that still had holiday decorations out. Here's an example. This was one of the few times today where I actually had something resembling a shoulder, too. Not that it mattered, because I'd either be climbing slowly up some hill, or going slowly down the other side, unable to speed up because the roads were so bad, and missing damn near every light anyway so I couldn't get any momentum for the next hill.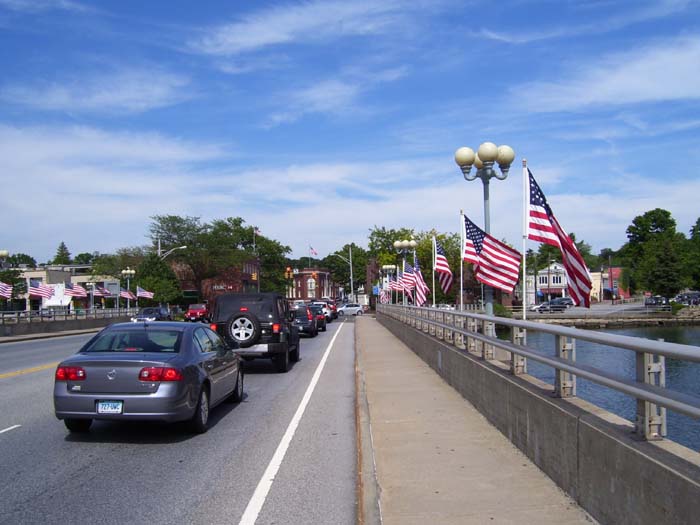 See what I mean? I said today was bound to be a disappointment, and that's exactly what happened. Ah, well, tomorrow it might actually be under 90 degrees for the first time in a while. I sure hope so....I could use some cooler temperatures. Sad when you're actually happy to see 87 degrees because it's "cooler," huh?