View Larger Map
Day 34 - July 9, 2012
Danvers, Massachusetts to Olgunquit, Maine via New Hampshire
Miles: 65
Terrain: Rolling hills, some tough ones early
Weather: Mostly sunny, comfortable, 15mph north wind
Finally, the heat fades at last! This is the first time I haven't had to suffer under the high temperature and/or humidity pretty much this entire ride. If it weren't for that north wind hitting me in the face all day, it would've been near perfect, at least as far as the weather goes. The hills were also really bad early on, but after about 15 miles they started to flatten out a bit, and later on they just rolled pleasantly along for the most part. In fact, I very likely could've ridden 80 or 90 miles today, but a bit of bridge trouble and a fortunate hotel sighting stayed my hand. More on that later, though.
First off, I left at about 9:30am and headed out onto US-1, which began the day very highway-like, complete with on- and offramps like this here. Traffic was light, though, because most people were already at work, so I had little trouble (except for the seemingly endless series of hills).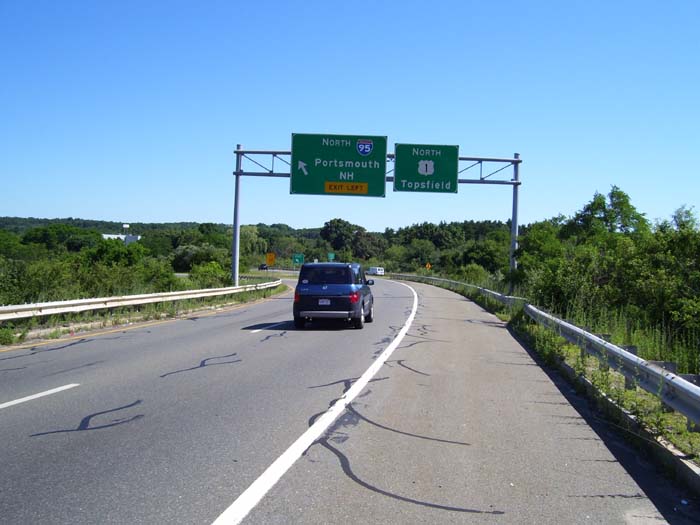 In fact, here's one now. Notice I've lost the second lane and most of my shoulder by now, and the shoulder isn't in very good shape, either. Most of the time, when going downhill, I'd have to take it slow to avoid all the potholes and bumps. At least it wasn't hot, right?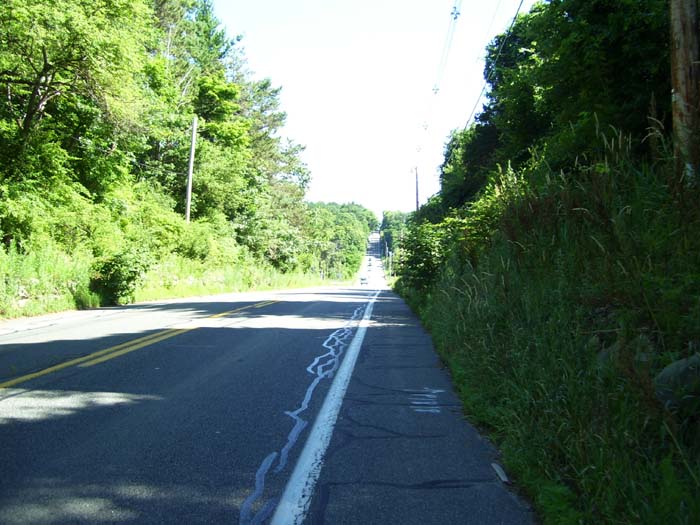 Once the road started to even out a bit, I started passing salt marshes like this, which are fairly common in this area.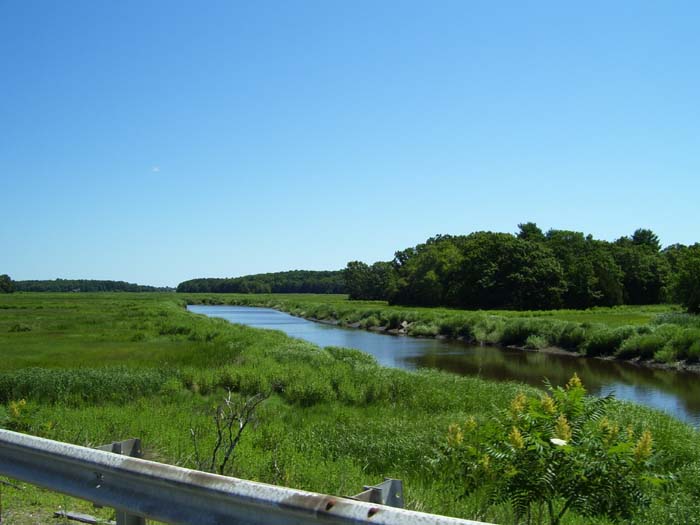 Apparently it's frequently windy here, too, which I can certainly believe considering how strong the headwinds were all day. At least sometimes the trees would work to block it a little.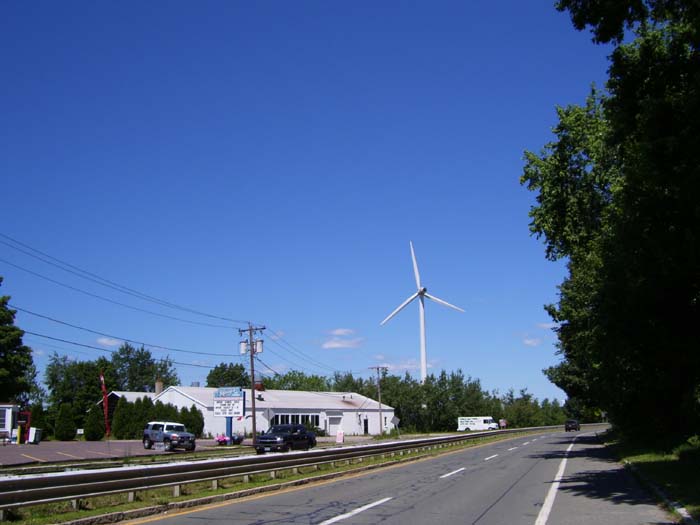 Here's a look at Newburyport, one of several small harbor towns I passed through today.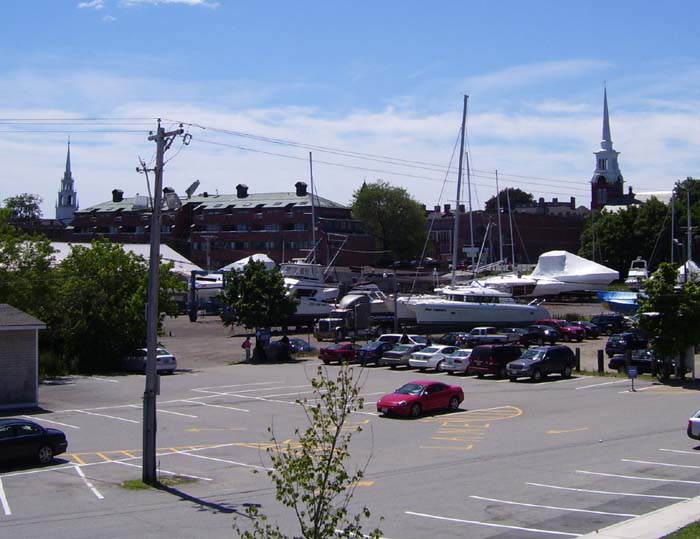 The bridge between Newburyport and Salisbury had a strange, pointless sign...since it was yellow, I took it as a warning (more of a guideline than a rule) and rode anyway, without any problems.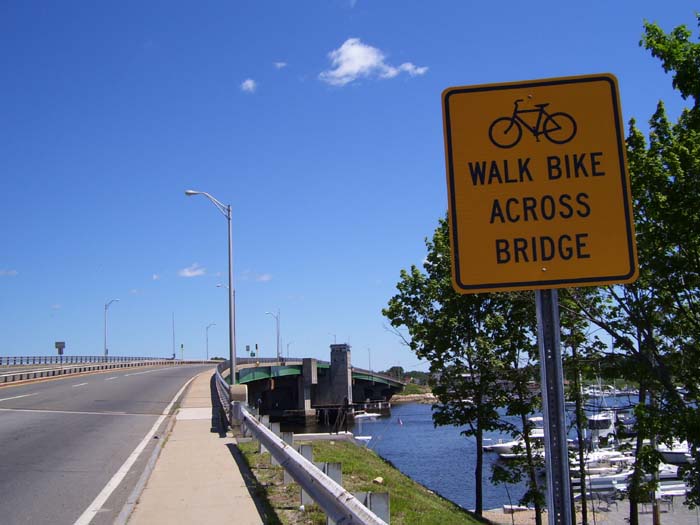 The obligatory view from the bridge.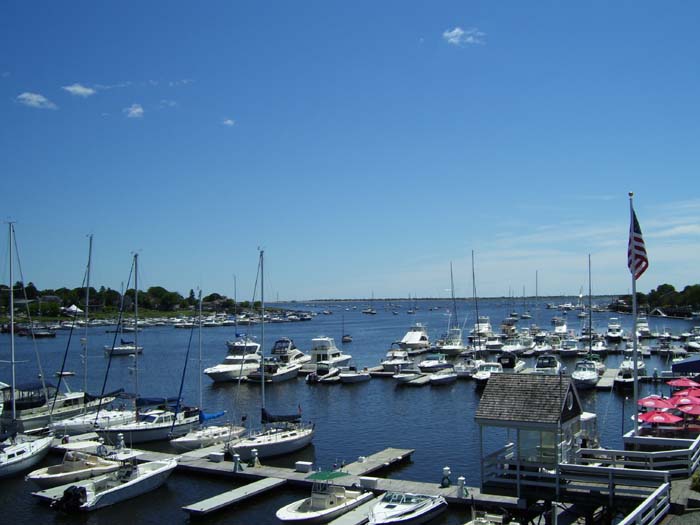 A short while later I crossed the border into New Hampshire. The roads are getting a lot more manageable now, too, without nearly as many climbs.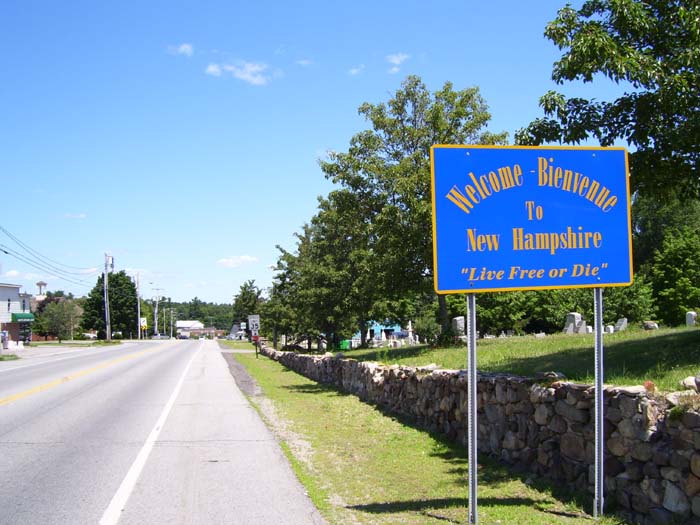 I ran into some trouble in Portsmouth, where the US-1 bridge (the Memorial Bridge) was closed for repairs and neither of the other two bridges allowed pedestrians or bikes. After a few miles of riding around following detour signs that only led to more "no bicycle" signs, I found this building here and asked how to get across the river into Maine. Turns out I'm not the only one who needs to do this, so the town had an hourly shuttle service. The helpful Chamber of Commerce employees on staff told me where to go to board the van, so off I went.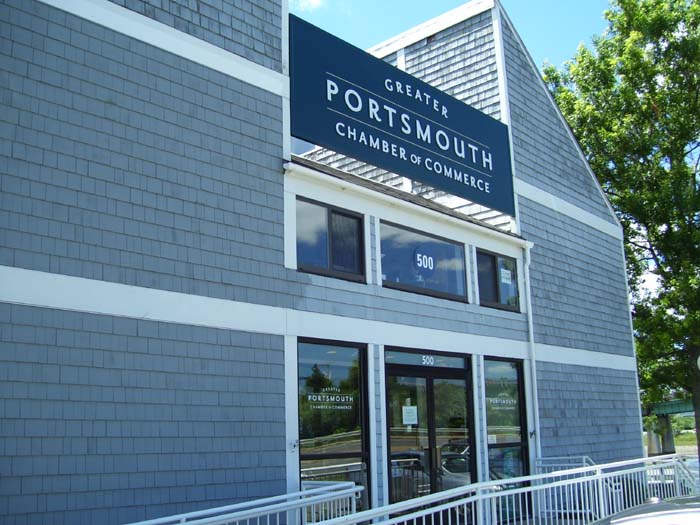 And here's the site, buried deep in the middle of town, without any signs at all routing bicyclists here (you'd think they'd have put some up somewhere near the bridges, or a bicycle detour sign, or something, but nope). Naturally, I'd just missed one of the hourly trips and had to wait 50 minutes for the next one.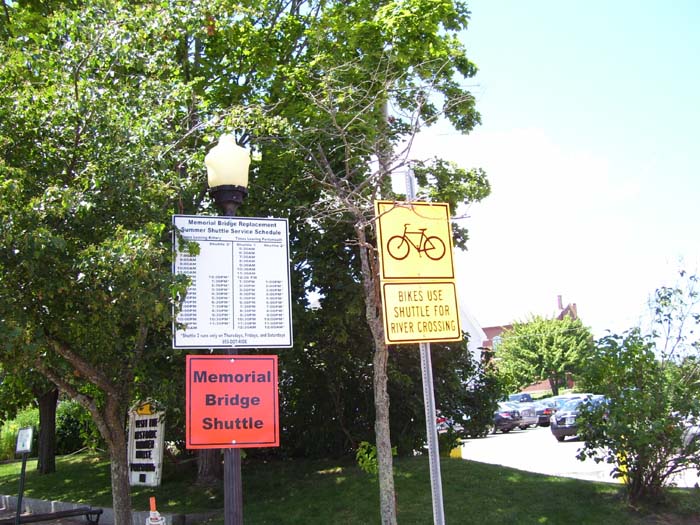 That at least gave me time to ride around Portsmouth a bit, grab something to drink, and take this photo of some classic New England architecture.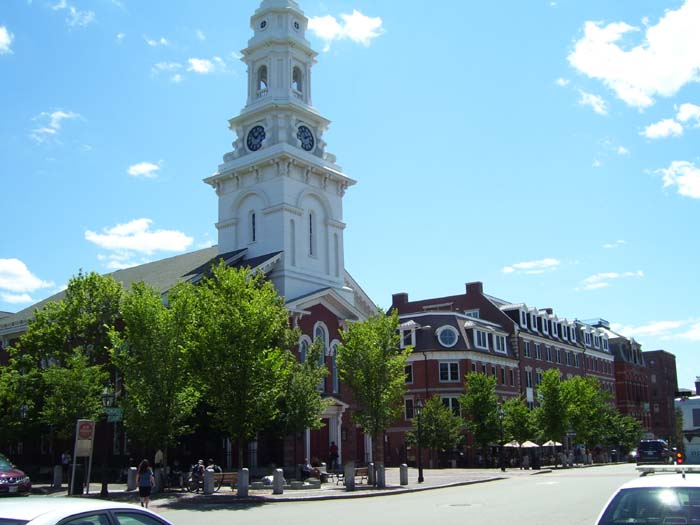 The van was nothing special, and I loaded my bike in the back rather than put it on one of the flimsy-looking rear-mounted racks. There was even room for someone else with one of those super-long recumbent bikes. Every seat on the van was full as we pulled away at 2:30. Upon reaching the other side, after about a mile and a half of driving, I headed out back onto US-1 and almost immediately found a sign welcoming me to Maine, the last state I'll visit on this tour.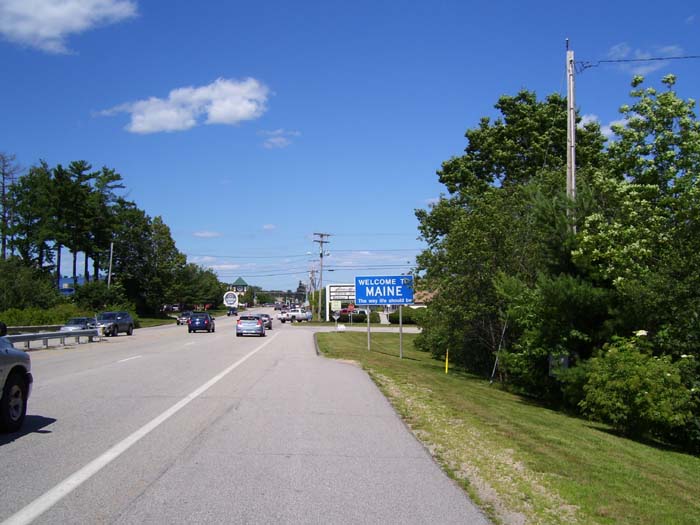 Just after leaving Kittery and before reaching York, I ran into about 10 miles of repaved roads with no marked shoulder. Sure, it was smooth, but I got to spend the whole time listening to tar-covered rocks bounce around in my chain and drivetrain. I'm not sure which I preferred, this or the bumpier shoulders from before. The hills were mostly gone by now, though.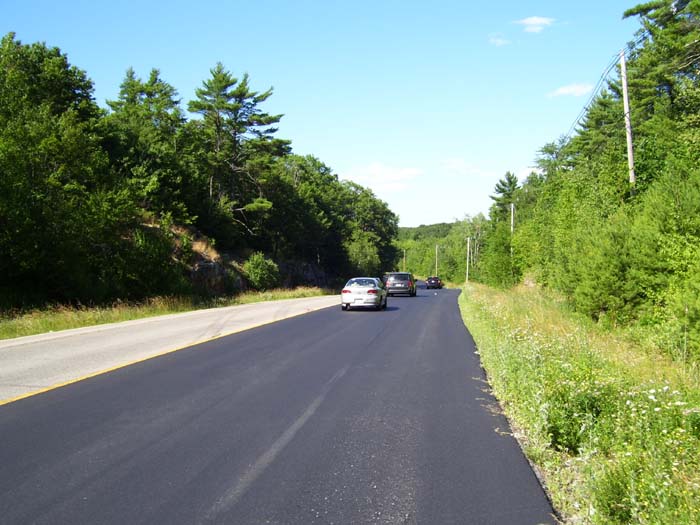 At the 60-mile point I came to the first of several small beach towns where I might potentially find hotels. Since I'm now firmly planning to end this trip on Friday, I really didn't need to go more than 60 miles today, so I figured if I found anything reasonably priced, I'd stop. The trouble is, I already knew from prior research that nearly everything in this area is either expensive or full. I honestly expected to have to go on through the Kennebunkport area (very expensive) and into Biddeford, another 20 miles further up the road. If even that failed, I might have to go all the way to Portland at almost 100 miles for the day. All those hills earlier left my legs tired, and so I started looking, and while hotels were everywhere, they were all out of my price range, or full. Have a look at the traffic as I get into the Olgunquit area and you'll see why...lots of summer vacationers out here, it seems.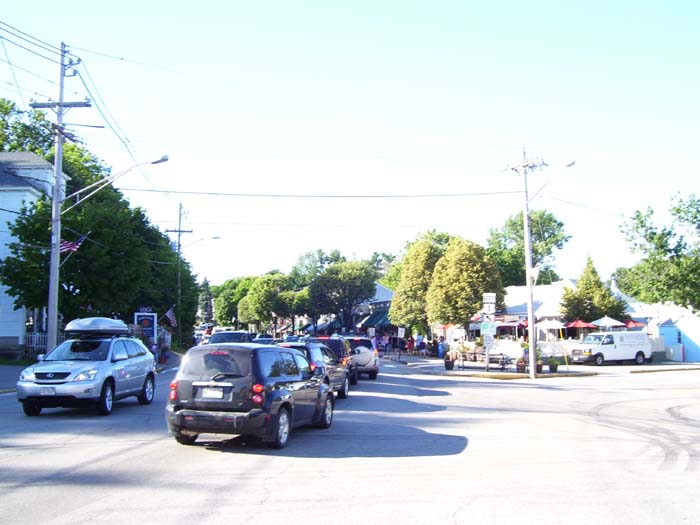 But then, as I rounded a curve, I spotted this...a nice-looking hotel, with vacancies, and internet, and breakfast...for $59, in a beach town? Sign me up! The room was a smoking room, as it turns out, but I've been sitting in here all night and haven't noticed any smoke smell yet. Grateful for the decent price and to not have to ride further, I stopped and enjoyed the rest of the evening.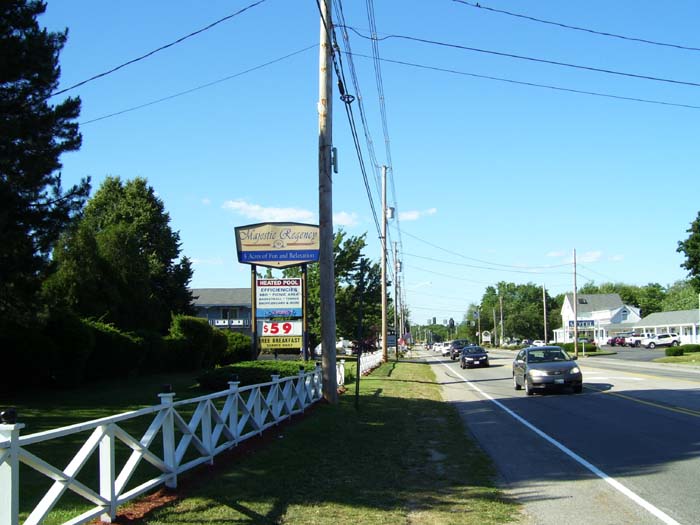 Tomorrow, according to the weatherman, I might have a taiilwind...and the weather will be comfortable again, so if the hills cooperate, it should be an easy, pleasant day. That'd certainly be a nice change of pace.