Day 31 - March 28, 2015
Grove Hill to Monroeville (Repair Day)
Miles: 38
Terrain: A few climbs including one long, steep one
Weather: Cool and cloudy (clearing up later); light variable winds
Yesterday's broken chain left me alternately depressed, anxious, and filled with determination, often changing from one minute to the next. I never considered quitting or anything silly like that, but having a chain break not once but twice on the same tour (and this one a new chain) certainly bummed me out. The anxiety came with worrying about how I was going to fix it with no bike shops anywhere nearby and on a Saturday, when places were less likely to be open. I battled these emotions with sheer stubborn determination to find a way to get this latest challenge taken care of and make it back on the road. If I had to lose a day (or even two) of biking to make it happen, I could handle that, but the ideal solution would enable me to at least get some riding in today.
With that in mind I got out of the hotel by 9am and my first stop was the front desk to check out. I intended to start walking and visit hardware stores, car repair places, and car dealerships in town until I found some way to either fix the chain or get a car to drive to Mobile, which I said yesterday was 50 miles away but turned out to be more like 85 miles...each way. Fixing the chain seemed highly unlikely, unless someone I talked to just happened to know some local citizen with a bike stand in his garage and an extra chain lying around, so more than likely this was going to take a long car ride, one way or another. The absolute last on my list of options was standing on the road thumbing a ride to Mobile, but I was prepared to do that if I had to. (In addition to the risk, it would've taken me almost 90 miles off track and add another whole day of riding to the trip, as I certainly wasn't going to hitch a ride back here afterwards...I just would've ridden onward, following the Gulf Coast all the way to South Carolina.)
Anyway, with all that said, I never even got out of the hotel. I'd already explained my situation to the manager last night, and he had a few suggestions for me this morning. First off was to call both the used car dealership in town as well as two other new car dealerships, one a bit north and the other south, as they might be able to send someone to come get me. The used car place and the closer new car place both had no cars available (as they had all been rented for the weekend) and the farther place had one, but it was too small for my bike (which I really needed to bring along). They did have a minivan, but no way to get it to me, and they closed at noon and were located almost 15 miles away. With no way to get there, hitching a ride started to look more promising.
However, the hotel manager, Jay, had one more option for me. He knew a local guy by the name of Stacy who worked in Jackson and the surrounding area as a traveling DJ for weddings, family reunions, clubs, and that sort of thing. He'd helped out Jay before when his car broke down, and let him know that anytime a customer at the hotel needed a ride somewhere, he'd be available to help. Quite often, someone like me will wind up there without a vehicle and need a ride to the airport in Mobile, or to some work site someplace, and in such situations Stacy was the best option. Plus, because he worked nights, he was almost always available during the day. I agreed to give it a shot, even though I knew it would be somewhat expensive, but probably no more than what it would've cost to rent a minivan for the weekend (it would've been the entire weekend because they would've been closed when I got back). Plus it would be safer and faster than hitching, and not leave me out of position in Mobile. So at Jay's recommendation, I made the call. Here's a photo of Jay, who was really the guy who made all this happen...if you're ever in Grove Hill, make sure you pick the Windtree hotel over any other option!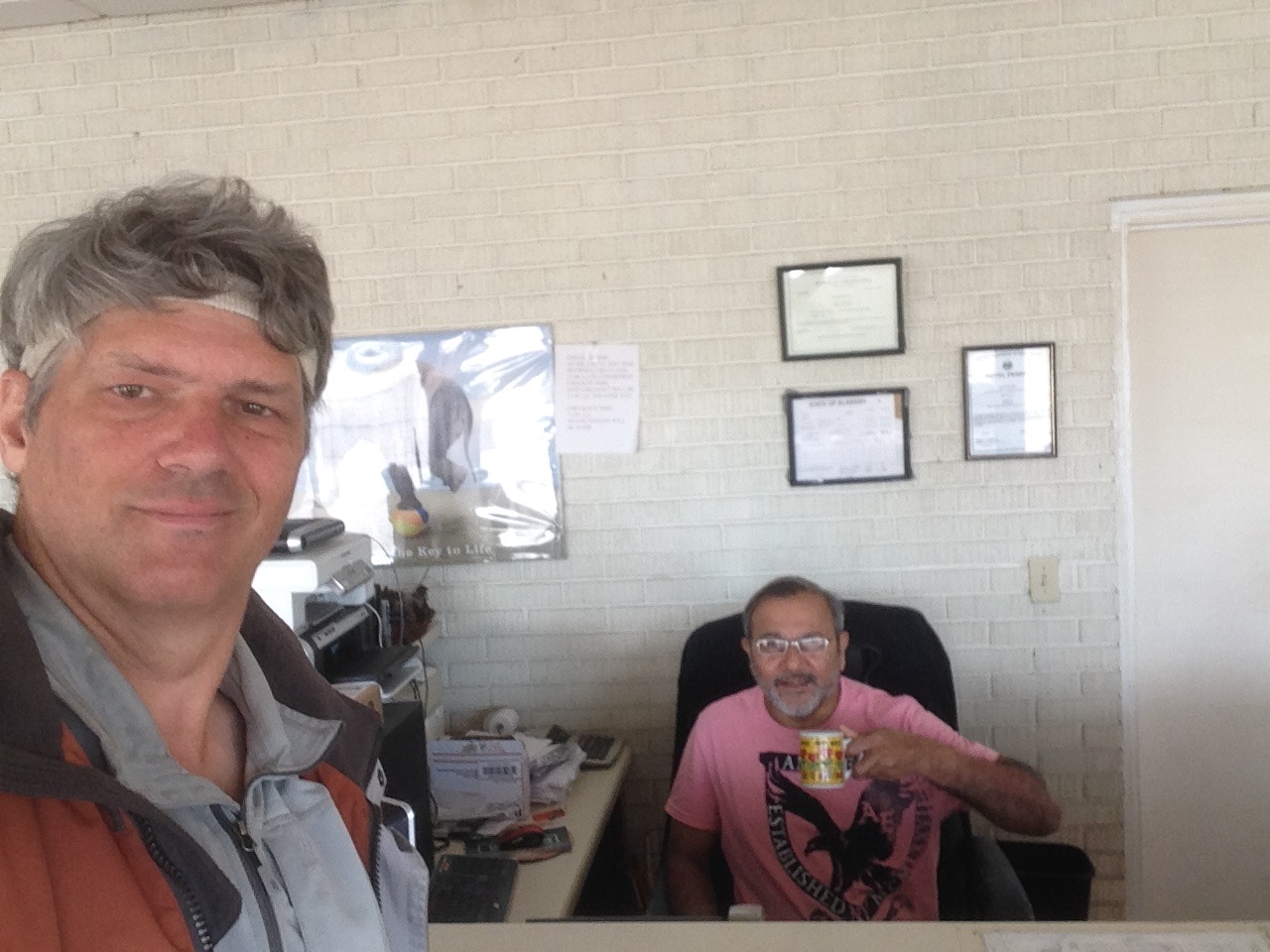 Stacy was located in Jackson, about 15 miles south, so there was a bit of a wait. Plus I totally failed to explain on the phone that I was on a bicycle and that said bicycle would have to be brought along with us. (Jay had already explained we'd be in a Tahoe, which I knew was big enough for me and a bike, so I never even thought to explain that part.) Note to self: when you say you're on a bike, half the time people are going to think you mean a motorcycle, not a bicycle! I did mention that I had a broken chain, but of course motorcycles use those too so it didn't really help matters. Stacy arrived thinking he was taking me to a Harley-Davidson dealer, not a bicycle shop, and of course all the rear seats were still in the Tahoe, so we had a fun time laying them all down, spreading some sheets over them and getting the bike into it without damaging anything. Anyway, we were on the road just after 10am and driving south to Mobile.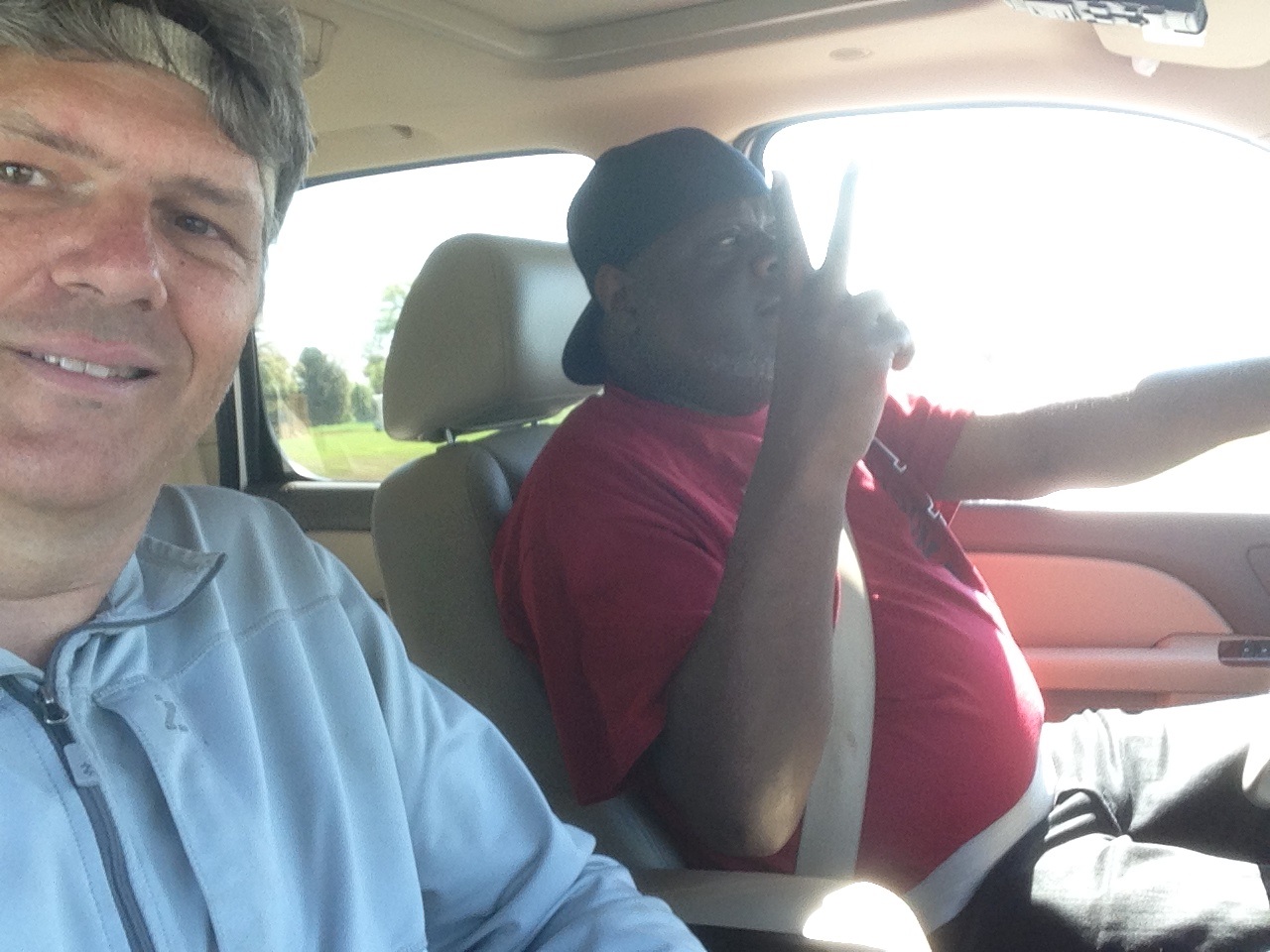 While I waited at the hotel, I'd done some research on the closest bike shop that was open on Saturday, and found one not too far off the highway called Adventure Earth. This turned out to be a super choice, and not just because they were right down the street from a Raising Cane's (where we had lunch). Instead it was because of the immediate and friendly service from the staff, who not only installed my new chain but also tuned up the bike a bit at no extra charge. The chain still slips a bit, but it's new and will eventually stretch into place. It shifts into gear perfectly, though, and I can use the big ring now (whereas before it wouldn't shift there). He also took the time to adjust my brakes a bit. Here's the skilled mechanic at work...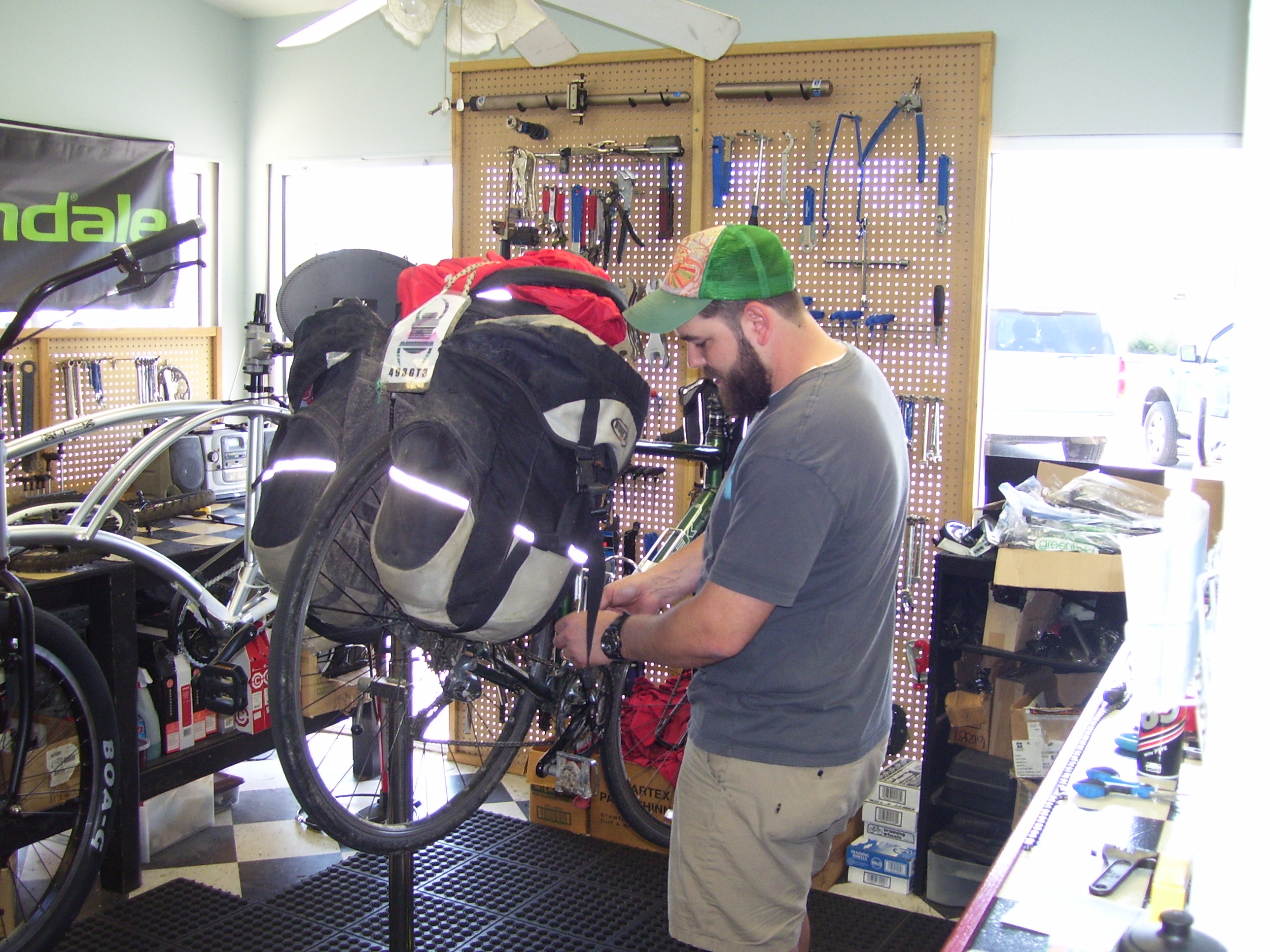 I wish I'd gotten his name, but anyway, he took one look at my old chain and looked baffled by the lack of what's called a "master link," which apparently allows a chain to be removed or replaced quickly. It's a link designed to snap on and off yet remain just as strong as the others. I actually have one of these in my spare parts bag, but because the broken link I showed you yesterday was bent so badly, I couldn't put it on. Even if I had, there was still another bad link that would've popped off soon enough. Anyway, when I explained that the repair shop in Amarillo didn't use a master link but spliced links together (twice, probably resulting in the two bad links I mentioned above), I was told that's not the way chains are supposed to be installed, that the master link is designed to make that unneccessary, so that exactly what happened to my chain doesn't happen. In other words, the Amarillo store screwed up and set this whole disaster in motion way back on Day 17. It was inevitable my chain would break...the only question was when, and yesterday was the day.
Anyhow, with the new chain in place, we set off for the drive back to Grove Hill. Here's one last look at Adventure Earth, my bike shop of choice if I'm ever in Mobile, Alabama again...thanks guys!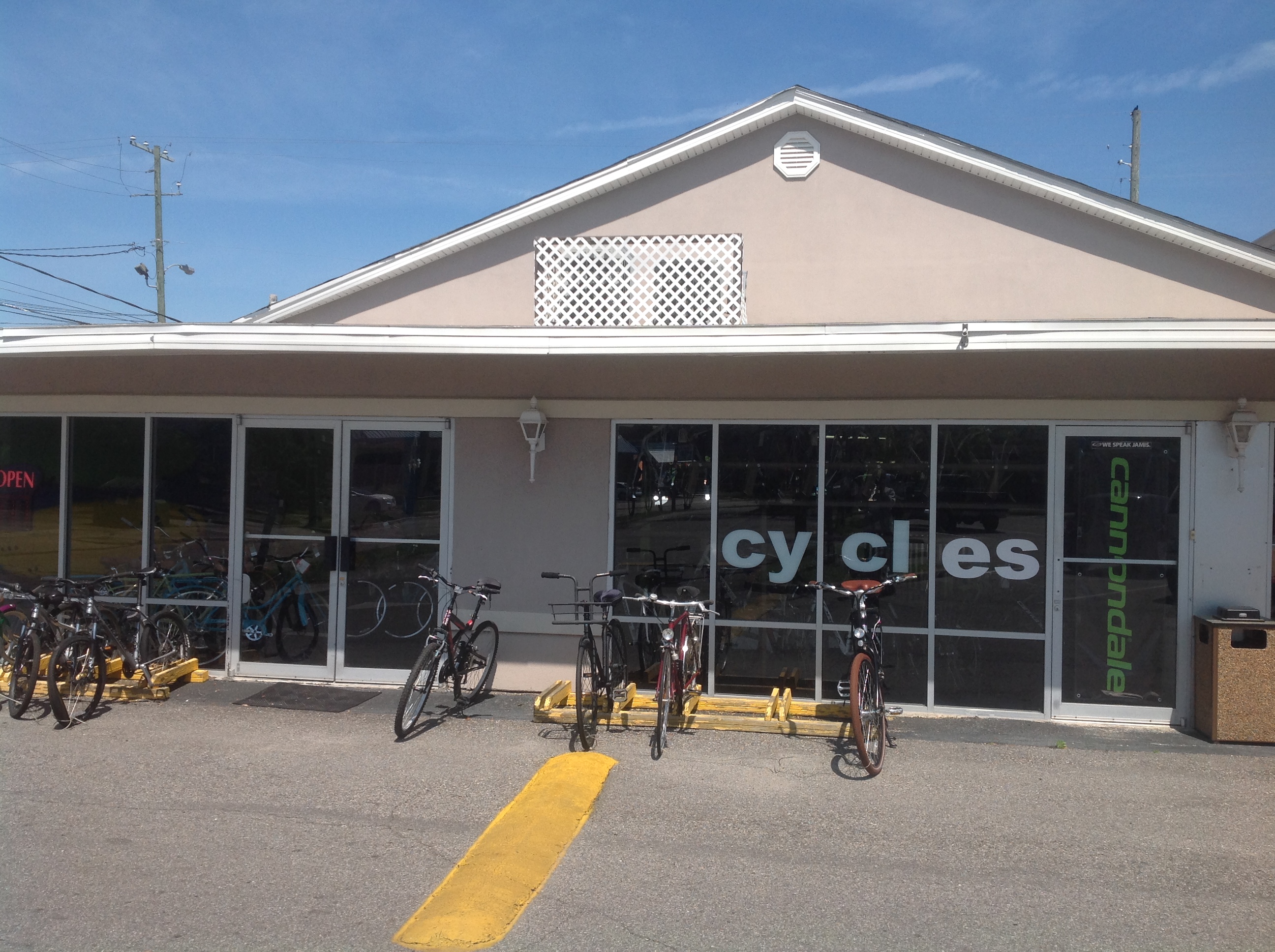 With a lot of time in the car (an hour and a half each way), Stacy and I passed the time talking about a wide variety of subjects, and once I noticed he had on a Crimson Tide shirt, I brought up the subject of football. I had intended to mention I'd spent a year at Auburn (the Montgomery branch) for my first year of college, but never got that far. As soon as we started talking football, he said the team he roots for now is the Oklahoma Sooners, because his nephew is their freshman running back.
As many of you know, I went to Oklahoma and follow OU football pretty closely, even going so far as to attend a few games since graduating, despite living very far away from where the Sooners usually play. I'm also usually very bad at recalling names, but this one time my memory didn't fail me, and I turned instantly to Stacy and said, somewhat in disbelief, "Are you really Samarje Perine's uncle?"
Stacy was stunned that I knew that name from memory, even if I did pronounce it wrong, because most random people wouldn't have had a clue who that was. But I remember that Samarje rushed for over 400 yards in a single game last season, and now holds the NCAA record for most rushing yards in a single game. And here I was sitting in a car with his uncle for over 2 hours! I couldn't believe it. Stacy broke out his cell phone and started showing me all kinds of photos of Samarje, including high school All-American pics, shots from an awards ceremony in Atlanta, various family photos, and even Samarje's prom picture!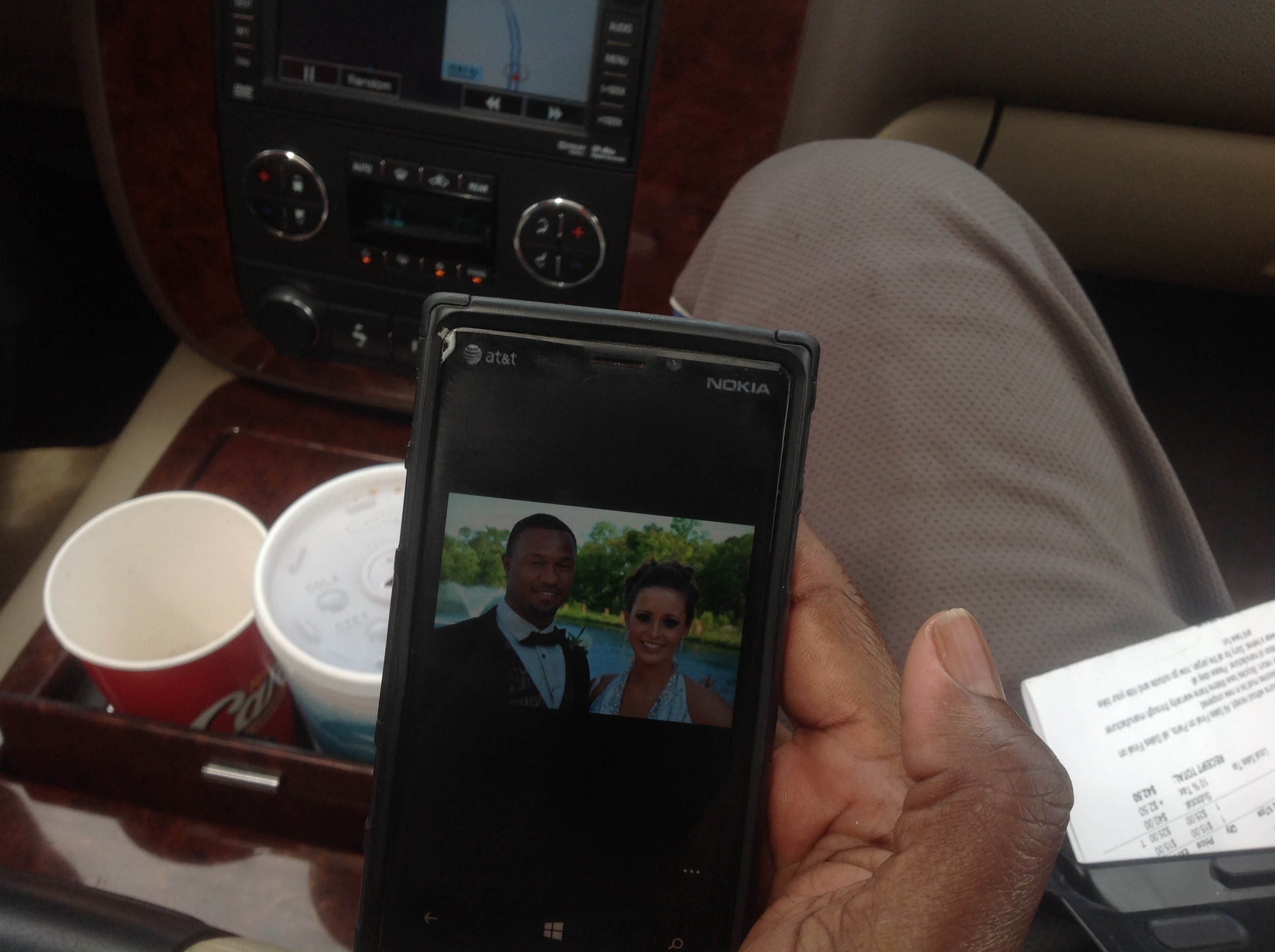 Anyway, we spent the next hour talking about all things Oklahoma and Perine and football, and it wound up being totally worth it to lose half a day for this (and fork over $100 plus gas and lunch for the drive) just for that experience. Stacy dropped me off at the US-84 junction back in Grove Hill and after a quick bathroom break and McDonalds, I headed off on the bike to get at least a half day of riding in. Back to the road!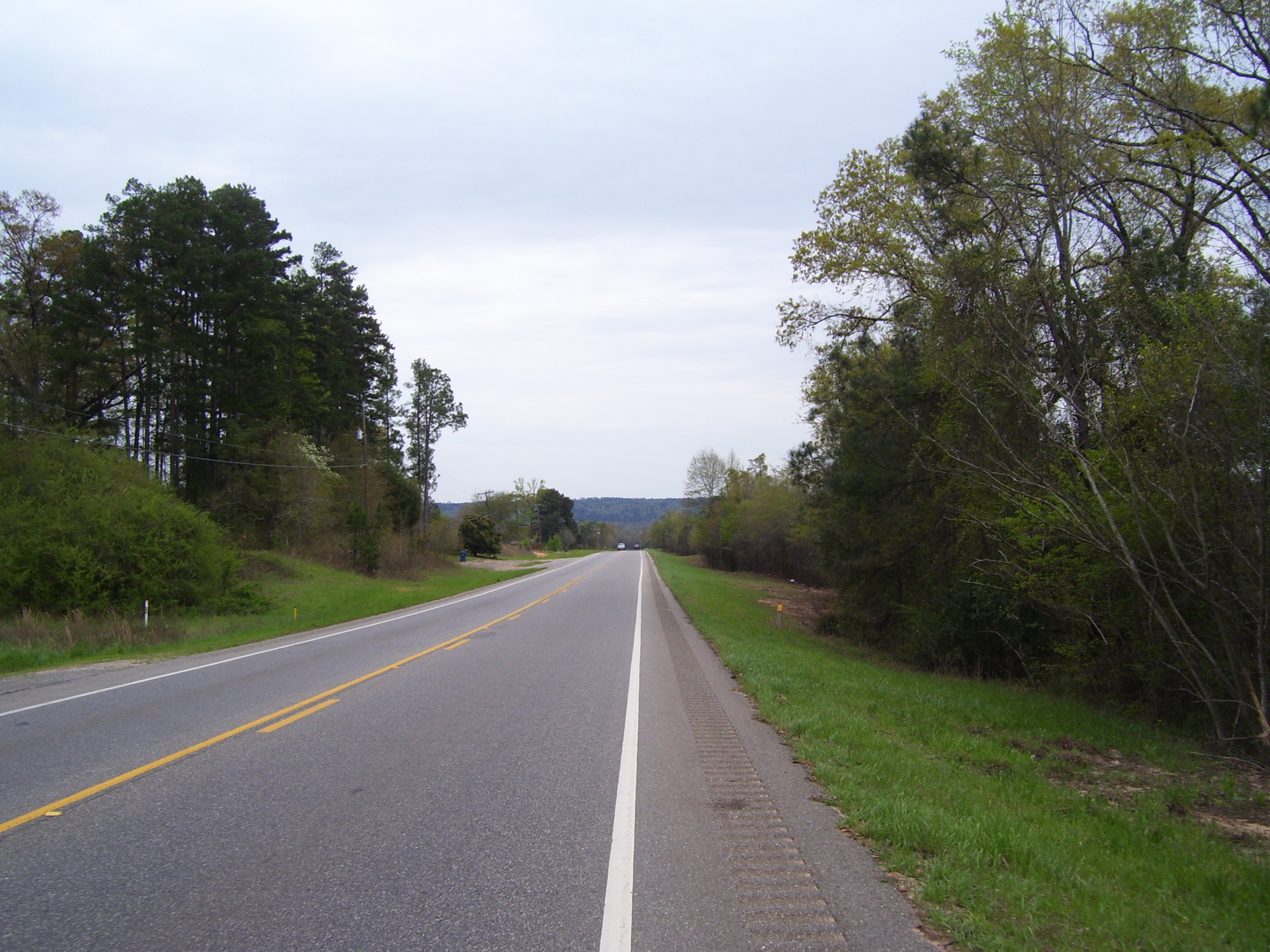 I figured I couldn't possibly make it to Evergreen (60 miles away) but Monroeville was a good bet, even with the sun setting just after 7pm and my official start time right around 3pm...the latest start of any day this tour. The skipping chain gave me some trouble early but I found a few gears that worked and used those exclusively, especially the lowest gear for several of the steeper climbs. The hills seemed just as numerous today as the last couple of days, but of course since I only rode about half the distance, I didn't experience as many of them. Actually, my legs didn't mind the half day off, I don't think.
The route took me past several historical markers...here's one of the better ones, with a bonus extra tidbit on the second sign.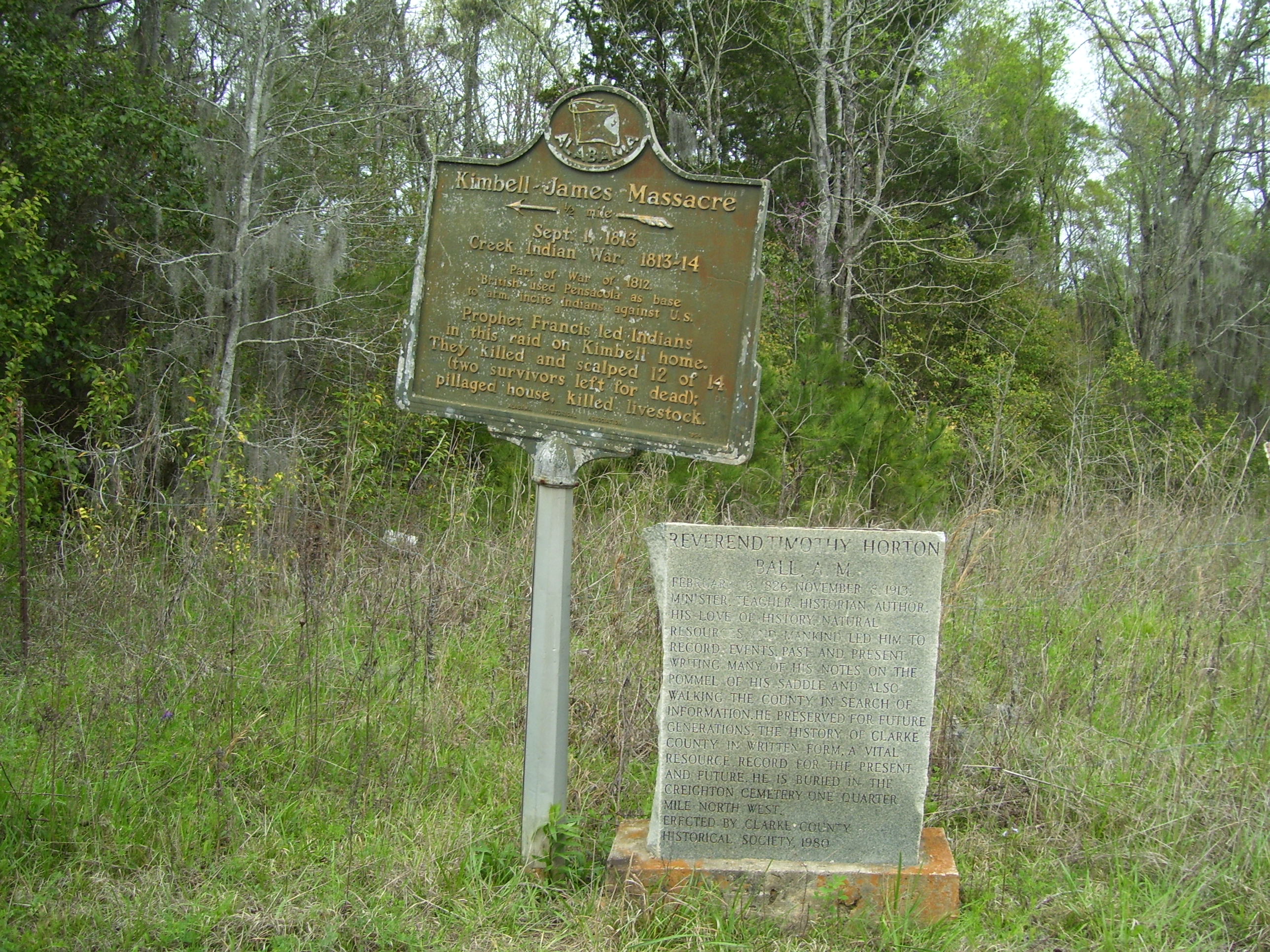 About a quarter of the way to my destination I ran across a really long, tough climb that actually gave me something of a view from up top. Mostly just trees, but still, it's something.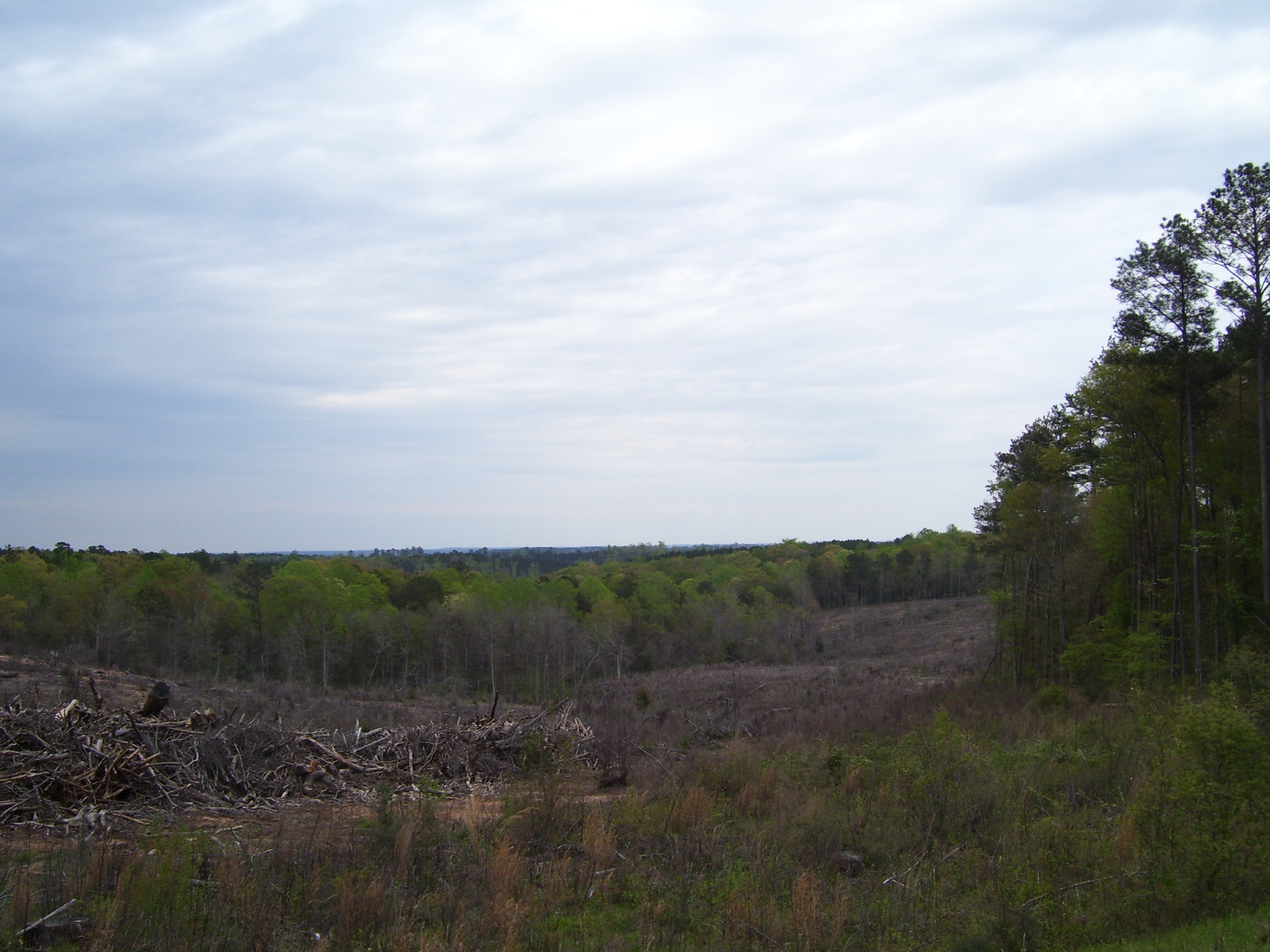 Another nice thing about climbs is you tend to get descents afterwards, and here's one of the better ones, complete with a view of a distant factory over the trees below. The road, by the way, continues to be only two lanes with that stupid rumble strip on the right that really makes things harder than it has to be. There's a certain thickness to the white line so I can't really stay stable on that, which basically forces me out into traffic pretty much all the time. Cars go around me well enough, but still, it's unnerving.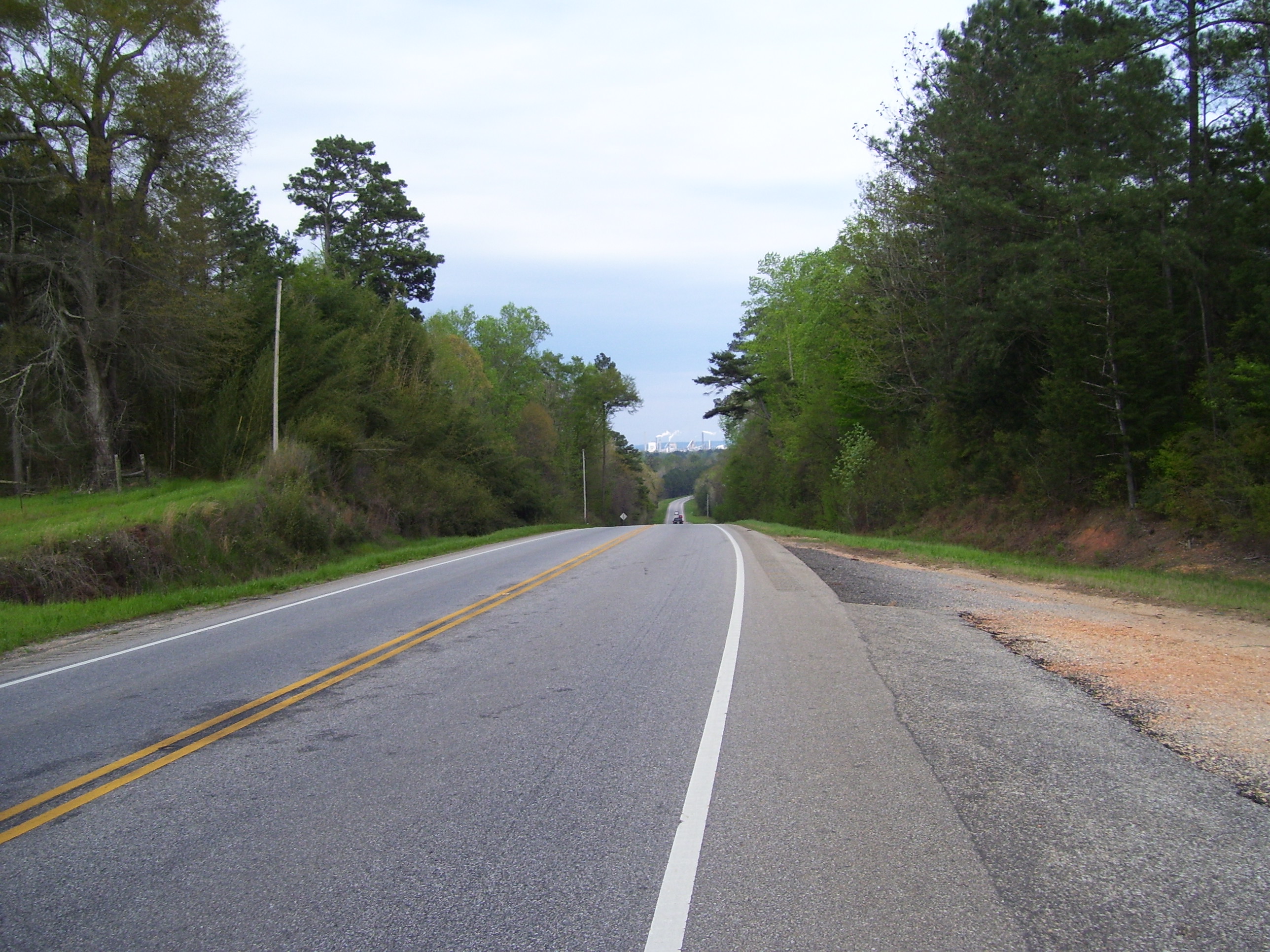 At one point I crossed a fairly major waterway, which turned out to be the Alabama River.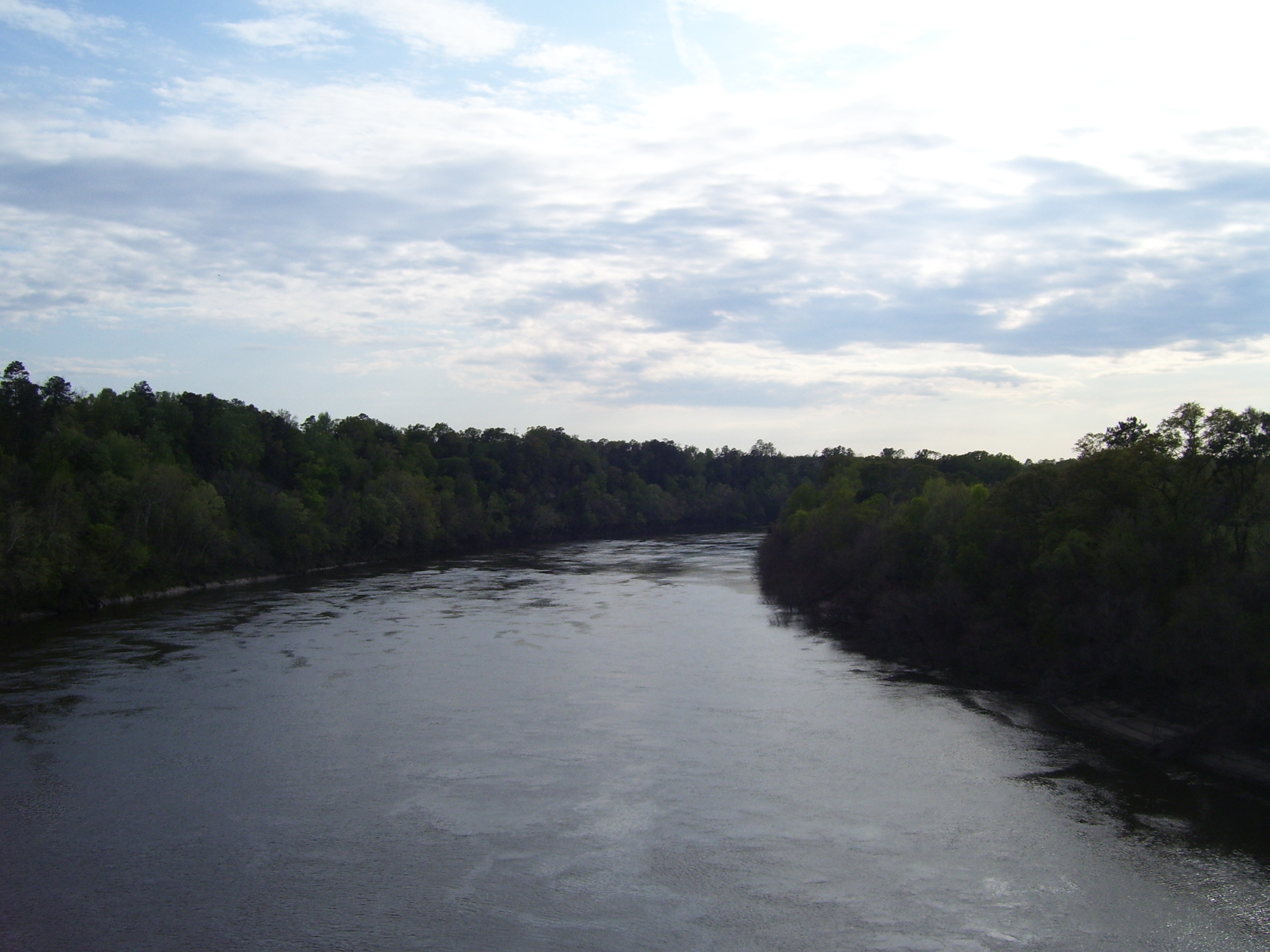 There are two ways into Monroeville from the west, one of which takes you in via US-84 directly to the hotels and fast food joints, and the other more northerly route drops you into downtown. Well, I'd already looked ahead at the geocaches in town and noticed a couple located near historic spots, so I took the "scenic" route in (which also wound up being extremely hilly). This led me to an amazing building, the old courthouse, which as it turns out was used in the movie "To Kill a Mockingbird." Plus it's just a fantastic looking structure. (If you can't quite make out the words on the historical marker, click on the picture for a close-up.)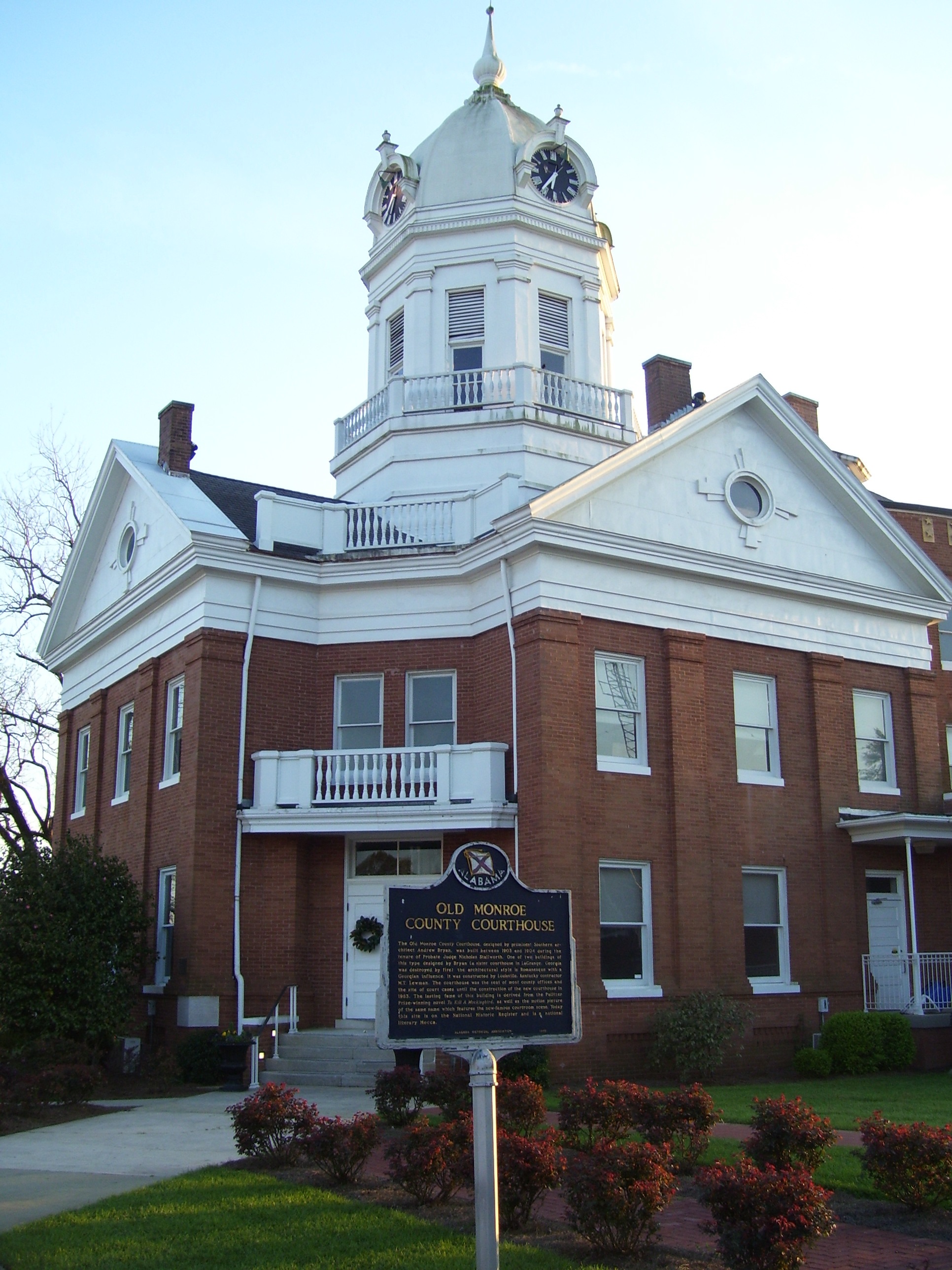 Just a couple blocks south of here I came to another historical spot of interest. By the way, the sign for Monroeville called it the "Literary Capital of Alabama." After just these two stops, I can see why.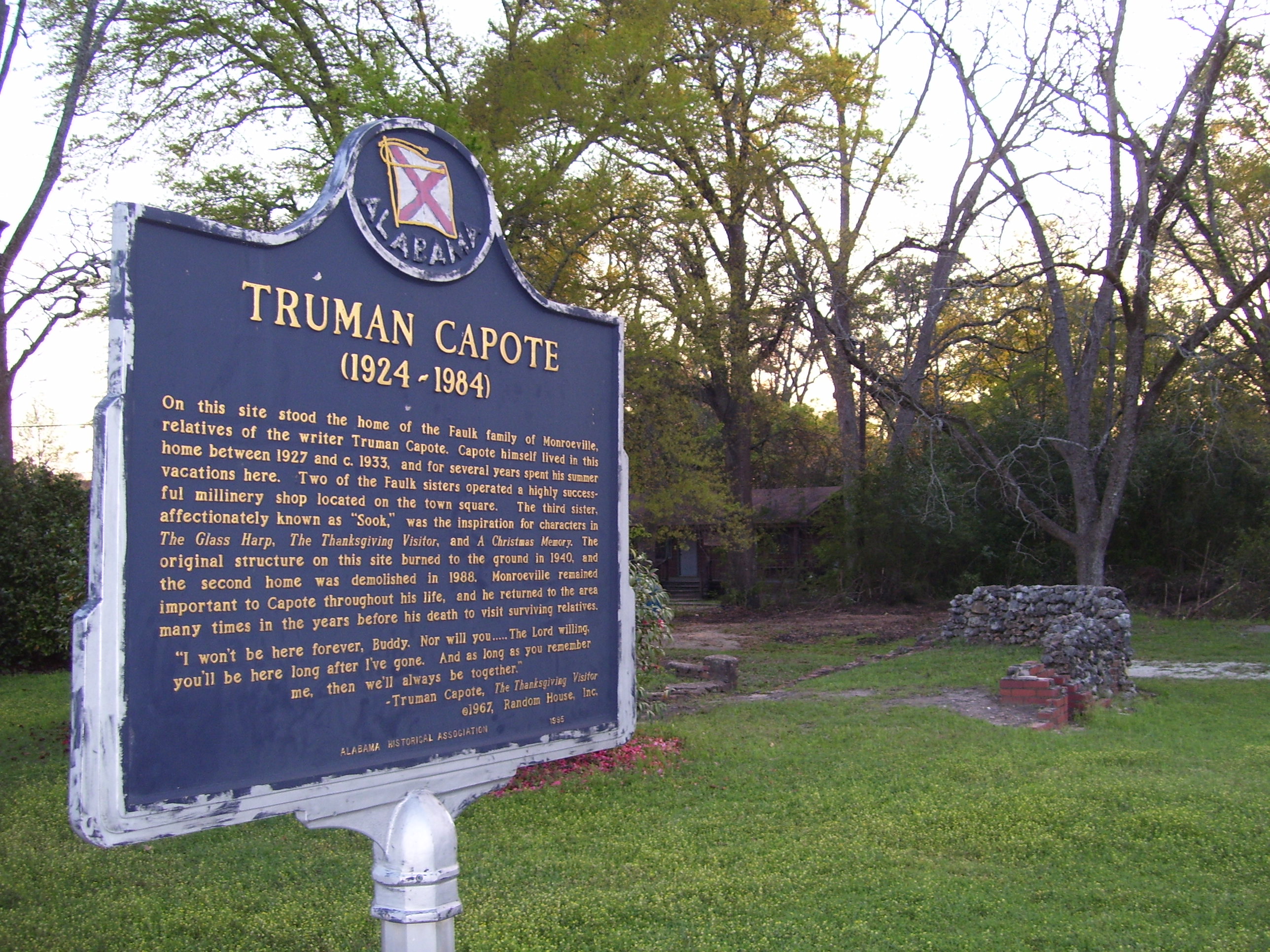 Even on a short day, I managed to squeeze in just a little sightseeing before dark. The closer I get to Eastern Time (at the Alabama-Georgia border), the earlier the sun sets, so it feels like I lose a little daylight every day. I barely managed to make it to the hotel by dark, but even so, I still had time to dash across the street to Captain D's for a fish dinner (take-out, of course). Now to get some sleep and see how far I can get tomorrow. This tour is back in business!