Bikeabout 6 Wrap-Up – July 8, 2022
I got up at about 0530 this morning, not even needing an alarm, because I was still on edge from the theft and also excited to be returning home. Getting ready didn't take long. Nobody else was even moving in the hotel so I made my way out the door with no trouble just after 0600. Since nothing was open yet, there were few people about—just a few hanging around the one bus stop I walked past on the 3-block trek to the train station. Trains going to Heathrow stopped there every half hour at x:20 and x:50 so I knew if I got there by 0620 I could be on that train instead of having to sit around waiting. As it turned out I got there about two minutes before the train arrived so off I went on the nearly empty car with no hassles. (I love how you don't even need to buy a ticket, you just use your chip card at the start and end and it charges you appropriately.)
When I got to the airport I took my time walking to the arrivals desk (I already knew to be in Terminal 5 thanks to an email from British Airways, so there was no guessing as to which train stop to use) and when I got there found out I couldn't even check in until 0730 so I sat down to wait. When the appointed hour arrived, I checked in with no issues (thank goodness the USA eliminated all Covid test requirements a few weeks ago) and got the bike case dropped off at the oversize luggage desk without issue. To my amazement there was no oversize bag charge at all, probably because it didn't exceed 23 kg and didn't actually have a bike in it. I'm sure they would've charged me if there'd been an actual bicycle in there, for insurance reasons (or so they always say). Sometimes you can get away with calling it a "mobility device," but they're kind of wise to that now. Regardless, I expected to pay about 100 bucks and didn't have to, so you can think of that as a discount on my new bicycle purchase, coming soon to a credit card near you.
After that I had some food and waited out the arrival of the aircraft. This was one of those huge 3x5x3 planes, I don't know the type, but it seriously took an hour to load. Making things awesome, I got an exit row with no seats in front of me so plenty of leg room. Shortly after takeoff we had lunch, and then I went to sleep for maybe an hour, followed by movies the rest of the way. Chicago was the usual hassle of claiming your bag then re-checking it, but nothing went wrong there and I made it back to Dayton with no problems...right on time, in fact. The Sister kindly picked me up, we had dinner, and off to home, whereupon I took a quick bike ride (on the Brompton) to keep the daily challenge going, after which I got to bed super early thanks to the usual jet lag. So if you don't count the bike getting stolen, the end of the trip was pretty straightforward and went exactly as planned. Come to think of it, pretty much everything on the trip went exactly as planned, with the exception of having to cancel the visit to Ireland. However, I think I always knew I wasn't going to be able to do everything on that original itinerary. Losing out on a couple days in Ireland is not that big a deal...I'll go back there one of these days, of this you can be sure.
Here are a few photos from the final day of the trip: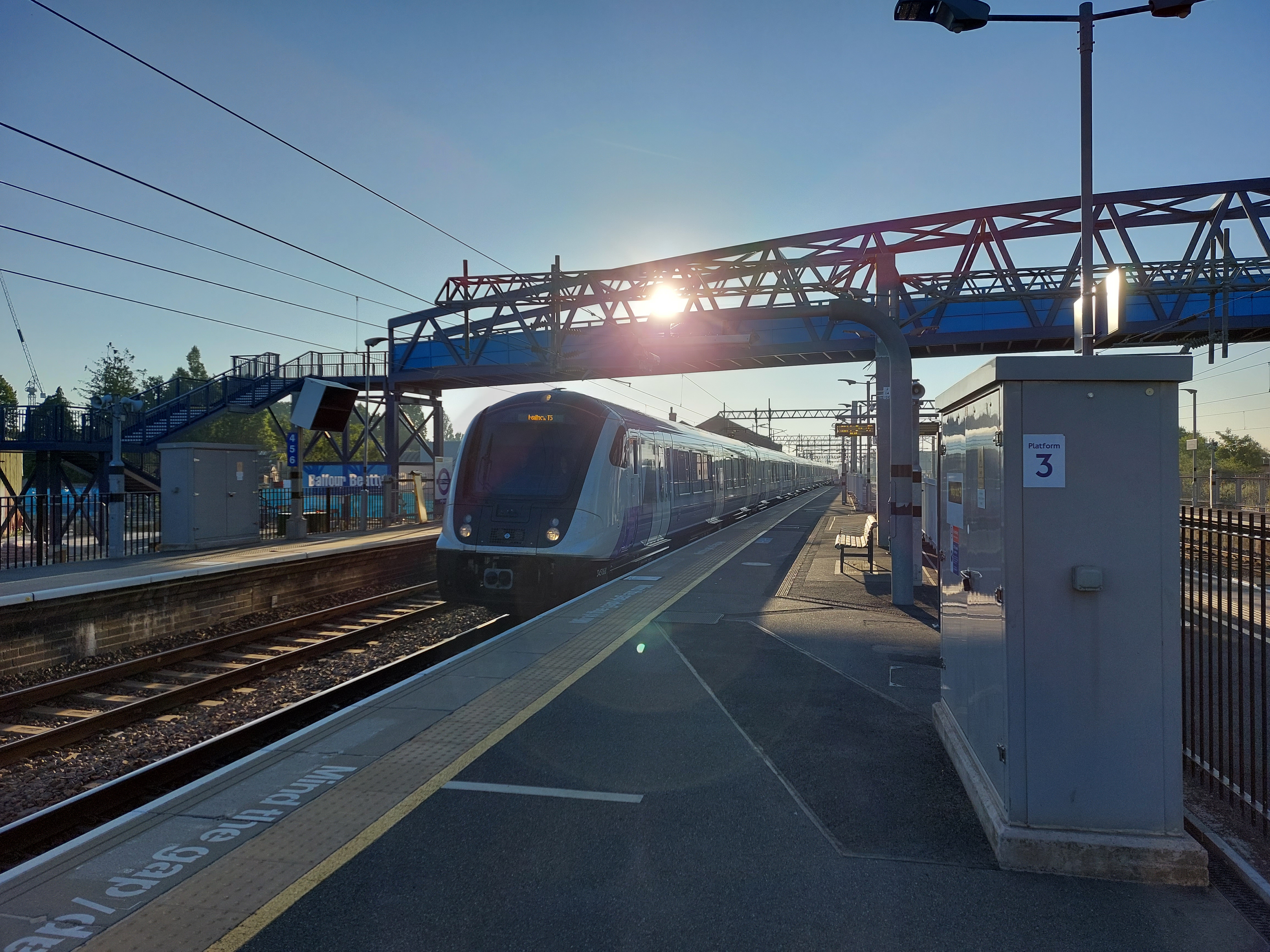 My airport chariot arrives.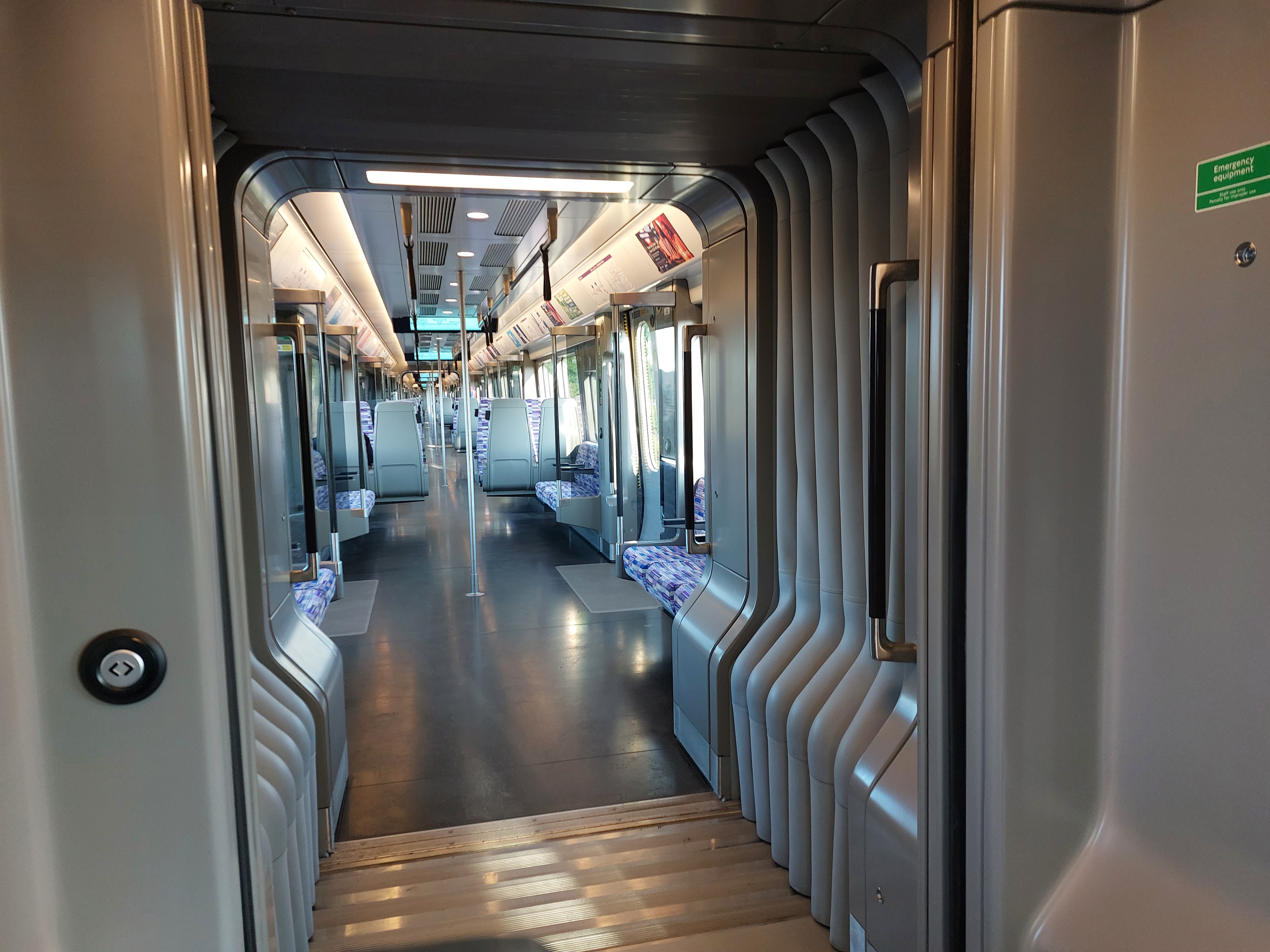 Inside the train. Pretty immaculate compared to similar stuff in the USA. Hardly anyone here, either...I rather expected more since this is going to the airport right at the start of the day.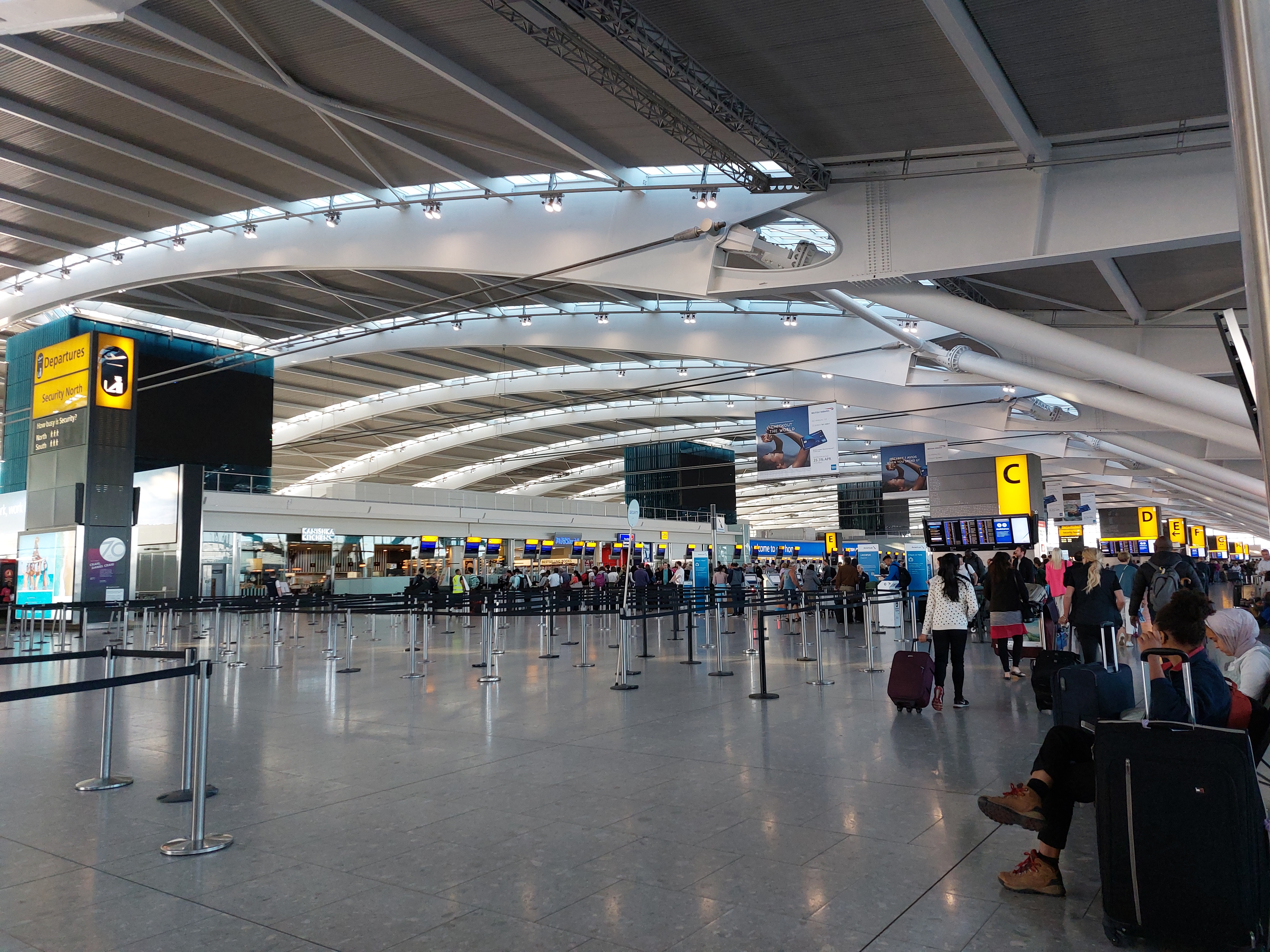 Terminal 5 wasn't all that crowded, really. I got through check-in after maybe 5 minutes. One of the shortest waits at any major airport ever.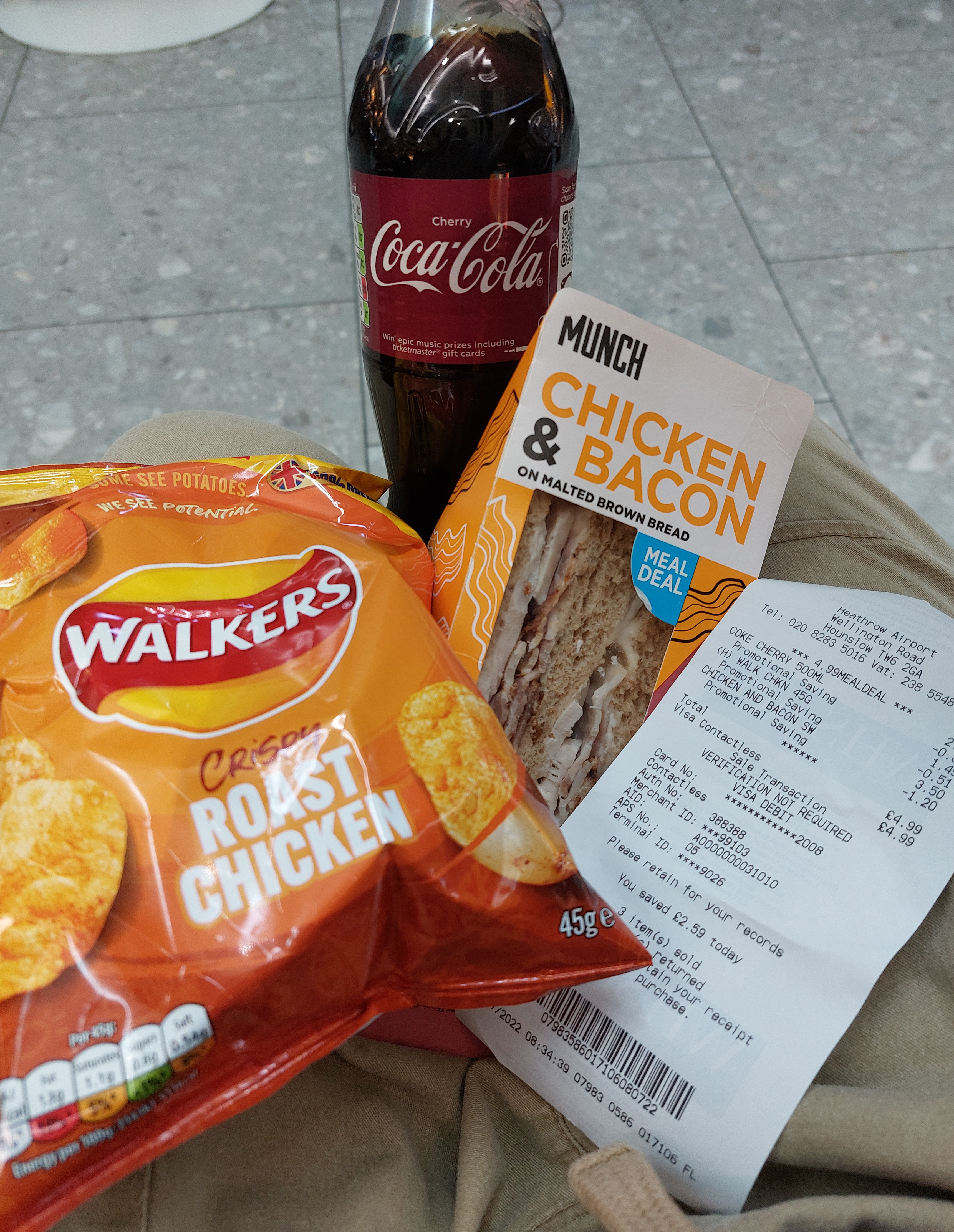 Best deal in the airport...a sandwich (without any yucky lettuce, even), bag of tantalizingly flavored crisps, and a 500ml soft drink for only 4.99 pounds.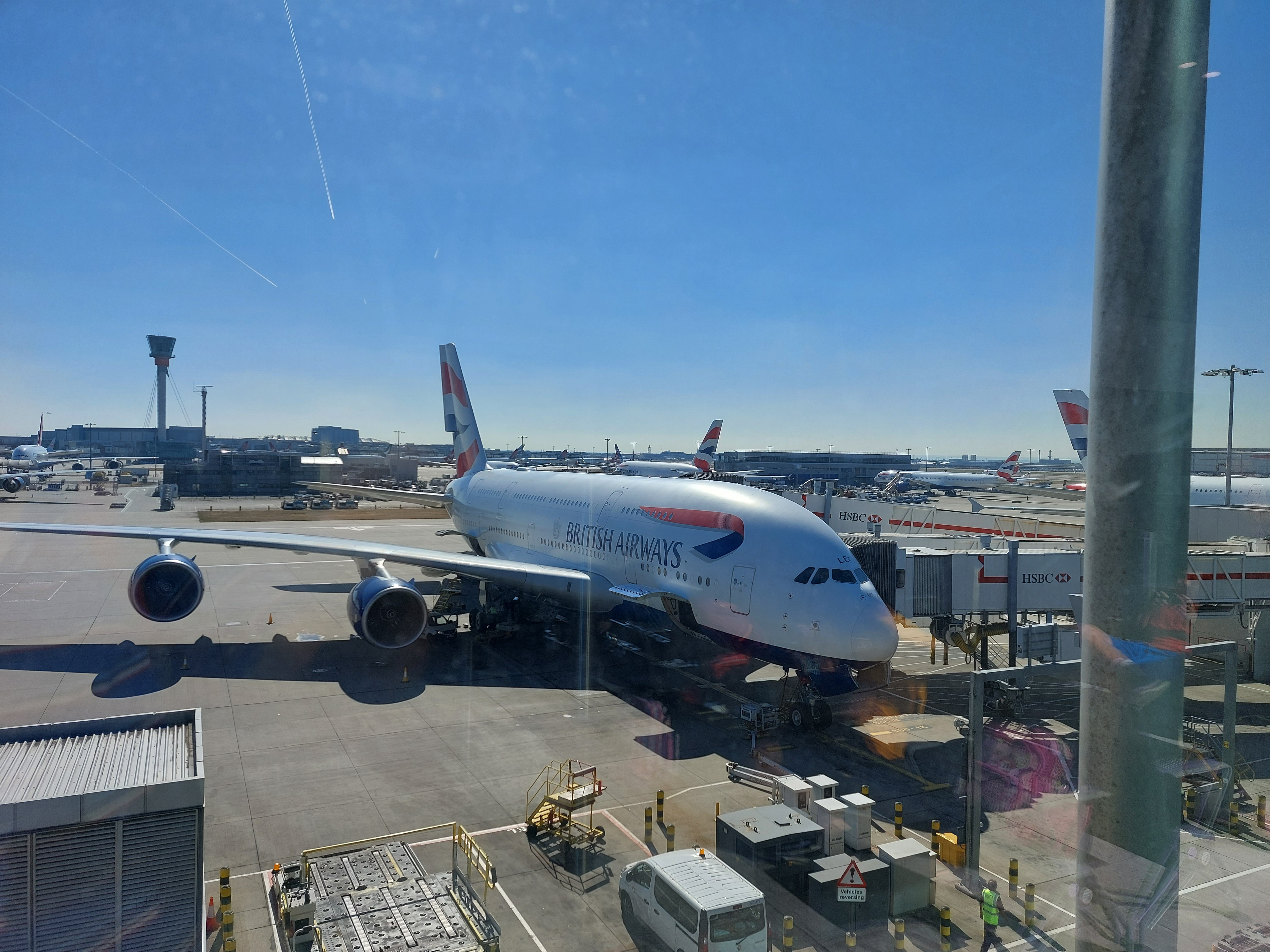 And here's my ride home. Good weather for the flight today, too.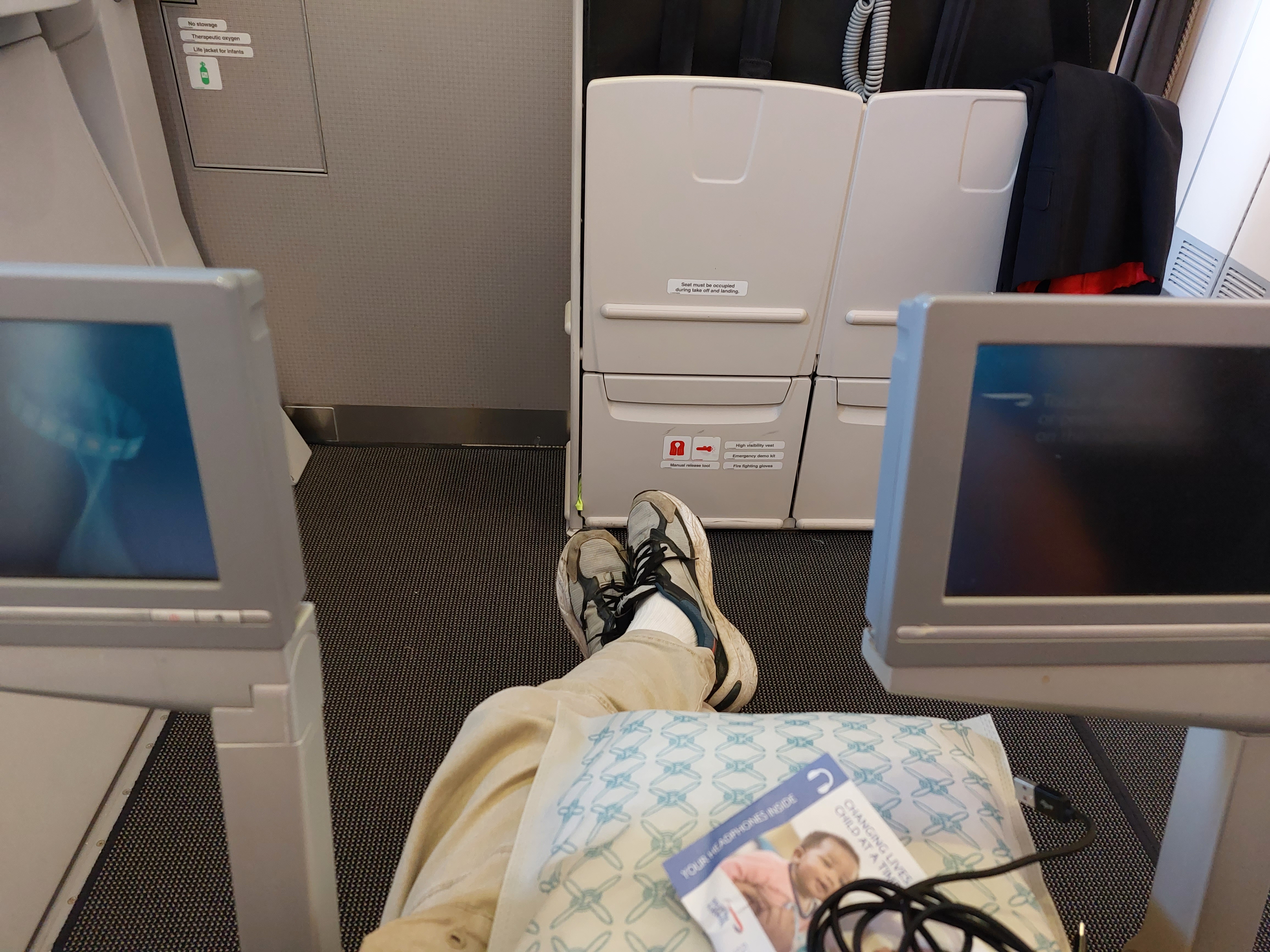 Look at all that leg room! And the monitors come out of slots next to the seat so you can stow them when you want to sleep or get up and walk around. No extra charge for the exit row! Definitely a pleasant ride home, that's for sure.
So that takes care of this trip. Quest complete!
Now for the requisite post-ride stats...
Days riding: 28
Days off: No official ones, but several touring days
Total miles: 1,423
Average: 50.82 miles/day
Tires worn out: 1
Flat tires: 0 (yay, not a single puncture the whole trip!)
Broken spokes: 4
Other bike problems: None, other than it getting stolen at the end...
Accidents: 1 self-inflicted crash, and 1 harmless bump from a trailer
Close calls: Let's not talk about those... :)

Noteworthy observations:
Hotel prices ranged from a low of 15 pounds (at one of the hostels) to a high of 63 (at the "Duke Suite").
I camped only 7 nights (the night of the caching event, 4 nights in the Channel Islands, and two on farm pitches).
I only did laundry once the entire trip. Yeah, I know...eewww....I probably could've kept that detail to myself, right?
Except for a couple of times on ferries, I ate the same thing every day: four meat-and-cheese sandwiches, a couple of soft drinks, and some crisps or cookies.
No century rides this trip, and the only day over 75 miles was the 90-mile Day 3.

Things I didn't do for 28 straight days:
Ride in or drive a car
Eat a hamburger, hot dog, pasta, doughnut, or pizza
Watch TV or a movie
Play a game
Do any work

Some of my better decisions:
Carry a full sized floor pump along. The thing got used as much by other cyclists as it did by me, by the way. Several times I helped out other people with low or flat tires.
Buy a second UK-US electrical adapter. Just one is not enough.
Buy a new, high-power rechargeable battery pack (brick). I needed this on several occasions when I couldn't find a power outlet.
Use the Safestore storage place to hold my luggage, instead of a hotel or other place. This saved a ton of money and hassle.
Pre-arrange all my ferry and camping days for the Channel Islands. I had to survive that 90-mile riding day to make it, but once out there everything went perfectly.
Skip Ireland and go to Scotland. I could've hung around the Isle of Man a couple more days and gone to Ireland, but then the rest of the trip would've been cut short.

Some of my less better decisions:
This one is a "Duh" but it has to be said...staying at the hostel in London when they didn't have a way to secure my bike. I should've gone somewhere else.
Keep carrying the camping gear after the Channel Islands. I should've shipped it all to the storage place and stayed in hotels/hostels the rest of the way.
(That's really it. Everything else went pretty well.)

Things I lost or broke along the way:
A bar of soap (and its container) at one of the campgrounds
One pair of cycling shorts (worn out)
The bike (sigh...)

Things they say differently in England:
Flat tire → Puncture
Tire → Tyre
Go for it → Give it a go
Awesome → Brilliant
Chips → Crisps
Fries → Chips
Highway → Motorway
Rent a bike/car → Hire a bike/car
Pullout/rest area → Layabout

Most memorable days:
Racing the clock to make it to the event on Day 2 and then getting to spend the evening chatting with other geocachers
Meeting another touring cyclist in the rain on the way into Scotland and having someone else to talk to for one glorious hour
Crossing the deserted bridge into Northern Scotland
Half a day without all the gear to go get a webcam in the beautiful Lake Country, and making it back to my room just before sundown
All the days on the islands
Those last couple of easy days as I rode back to London

Geocaching highlights:
Five more webcams and all twelve regions of England
Geocachers, click here for more statistics and details
So that's a wrap for another Bikeabout. I don't know if I'll try another unsupported, solo trip like this again, or if from now on it'll be organized tours where I can leave all that heavy gear behind, and have someone to talk to for at least some of the time. We shall see. In either case, any new trips will be found on the home page. Thanks for reading!