Day One (May 4)
63 miles, Hoquiam to Lacey
Well, my flight from Dayton to Seattle was cancelled yesterday. Amazingly, however, the result of this was that I got to Seattle an hour EARLIER than expected. The replacement flight (on another airline) had only an hour layover, not two hours. When was the last time having a flight cancelled actually helped you? This trip is already off to a good start.
Anyway, this morning was typical Seattle...overcast, with a threat of rain. While it drizzled a couple of times, though, we never got seriously wet. I say "we" because for the only time on this trip, I had a friend riding along. Tom Gondolfi (those of you from B5W will know him as the author of several stories, and he also had a hand in the development of SFW) accompanied me for the 63 miles of today's ride, and I stopped at his house for the night, where I'm writing this. Tom's longest ride before today was 20 miles. Needless to say, his legs, hands and posterior are none too pleased with him right now, but I'm happy he was able to join me and hope he recovers quickly. :)
Today's ride started at the ocean, where I ceremoniously dipped the rear wheel of my bike into the water (we couldn't find a beach, so I used a handy dock). See photos below. The idea is to show I started "in" the Pacific, and will eventually finish "in" the Atlantic when my front wheel hits the water many, many days from now.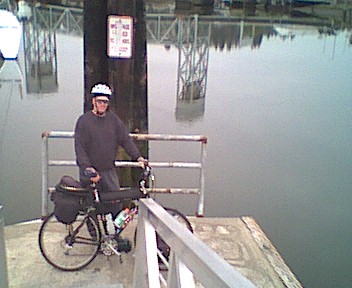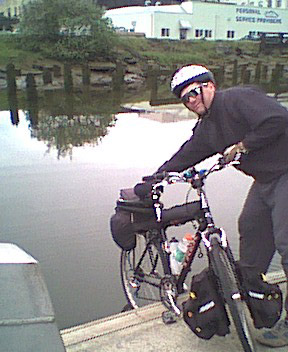 I kept saying to myself...just don't drop it!!
Along the route today we saw trees...lots of trees. Plenty of rolling hills, too. Temperature-wise, it was cool, but comfortable. There were streams just asking to be fished in, and countless number of logging trucks on the roads. Here are a couple of photos of some of the scenery we saw along the ride.