Day Twenty-Three (May 26)
86 miles, Three Lakes (Michigan) to Munising
Another miserable day in the Upper Penninsula. At least the rain was just off-and-on instead of the usual steady and constant. Of course, after I stopped for the day, the sun came out (sigh). Tomorrow's forecast looks better...it might actually get up to 60F degrees, and the rain should lessen, but the wind will still be in my face all day. I continue to live in hope that it will shift back to the west, where it belongs.
Now, as things went this was actually about an average day for this trip. For every easy day I had on the plains, it seems like I've had a tough day in the mountains or fighting the wind. So, this seems like an appropriate time for...
A Day in the Life of a Cross Country Rider
0430 Woke up in the middle of the night (as usual). Used the restroom, guzzled some water and went back to sleep.
0630 Woke up again and began a regular cycle of drifting off for 15 minutes or so, then waking up again. (This has been a regular pattern this trip. I need the sleep, but can't seem to get it all in a row.)
0830 Finally got up. Turned on the TV looking for a weather report, but Three Lakes is so remote there's no cable service, so all I can do is search local channels. No luck there. Looking out the window, I see the road's wet but it's not raining, so maybe I'll get out between showers.
0845 Brushed my teeth, shaved and used the restroom one last time. Packed up the bike and checked the air in the tires (which was fine, but you never know when a slow leak will drain them overnight). It's supposed to be warmer today, so I didn't put on the thermal gear and went with just the T-shirt, sweater and jacket combo. The rain gear (including the waterproof gloves) was stored in an outer pocket for quick access. I did, however, put on the socks-plastic bag-shoes-plastic bag-boots combo on the feet, as this takes forever to put on in the field, and even if it never rains it'll keep the toes warm.
0900 Watched TV for a few more minutes and finally gave up on a weather report. Sat for a bit longer getting mentally prepared for the ride. Decided that today's goal was to get to a real town where I could finally establish a cell phone connection and upload the last couple days' reports. (Sorry about that, but when you've got no service, there's not much you can do.) Getting motivated for each day can be difficult.
0910 Finally got started. Couldn't find a radio station, so I put in a tape.
0915 It started raining, but the winds remained light. Stopped briefly to pull on the rain pants (over my sweatpants) and gloves.
1040 Finished off the 90-minute tape I was listening to and noted I was at 17 miles, about one-fifth of the way done for the day. Making good progress due to the winds, but the rains continue. Searched for a radio station, and found a decent one playing top-40 stuff. (Though that's what I prefer, I've learned not to be choosy. I've listened to oldies, smooth jazz, classical, rock, Christian, and even country on the trip so far. In the remote areas I've been to, you get a lot of religious and C&W stuff.)
1130 Got to Ishpeming, but wasn't hungry enough to have lunch yet. With Marquette only 14 miles ahead, I figured to go on and have lunch there. (About 3 miles later, my stomach growled, and I regretted that decision.) I haven't been eating breakfast at all, not since early in the ride, because it makes me feel ill. Some days I'll go until 2 or 3 pm before I get around to eating anything.
1245 Bypassed a Wendy's in Marquette, hoping for a McDonalds (I much prefer their Hi-C Orange drink to anything any of the other fast food places have. Also, two McChickens make a good lunch that won't upset my stomach like hamburgers will. Burgers are OK after a ride, but not during one.)
1300 Reached the Route 28 breakoff from Route 41 (I left Route 2 a couple of days ago and have been on Michigan's 28 and/or 41 since) and realized there would be no Mickey D's. Went to the A&W, but it was closed permanently. Wound up at a gas station, where I bought a Gatorade, breadsticks, and a couple of fruit pies. (The stix are good carbohydrates, and the Gatorade replaces much of what I've already sweated away today. The pies are for later, possibly tomorrow.) Ate quickly, as my shirt and sweater are soaked and if I take too long I'll get cold.
1310 Refilled water bottles and pushed on. A sign tells me Munising, my destination, is 38 miles away. I begin counting down, as the winds have picked up and the going is slow. At least the rain has faded to a few off-and-on drizzles. Also, I'm over halfway there already. Barring problems I should hit the target by 1730.
1330 Reached the coast of Lake Superior (last seen a couple of days ago) and snapped off a photo (below). I thought the bird sitting on the pole was particularly appropriate.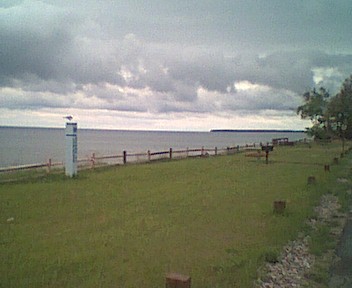 1430 My route takes me along the coast of the lake, which I figure will be pretty flat, but about this point I began to encounter long, steep hills. Each is followed by a similar descent, but my legs began to feel tired.
1515 Stopped at the bottom of one of these hills for a break and took another photo: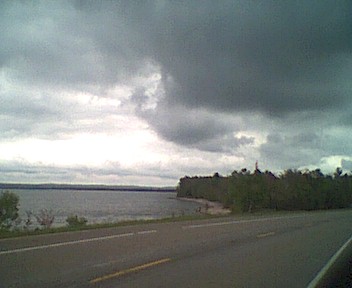 1530 Shortly after the above picture was taken, it started raining again. Inside the waterproof gloves, my hands are soaked with sweat and all wrinkly. I need to take the gloves off, but it's too cold here by the lake (the temperature's probably 5 degrees lower than it was this morning, I'm guessing around 50F). Left them on anyway.
1630 Less than 10 miles to go and I'm exhausted. Another hill looms. I stop, guzzle some water and find a new radio station (the Marquette one I got this morning is about gone). The only thing readily available is an oldies station, so I leave it there and move on.
1715 Finally roll into Munising, a medium-sized town on the lake and just across from Grand Island. The target distance for the day (according to my mapping software) is 84 miles, but I don't get to the hotels until 86 miles. I see several in a good spot (near a convenience store), but skip the Days Inn and Comfort Suites and aim for the local ones. The Munising Motel is a likely prospect. It looks inexpensive, but the sign reports it has HBO (which means cable TV and the Weather Channel, unlike last night's place). What I really need is a fan (electric) heater and not radiator heating, so I can get my wet clothes dry without having to visit a laundromat. I'm in luck, and the place is only $35 per night. The owner tells me he has only one "single" room left due to holiday travelers, and I take it. We talk more, and he tells me normally he'd be full over the Memorial Day weekend, but the price of gas and the weather have kept travelers away. So, despite all the bad things I've been saying about the weather, it did at least ensure I'd have someplace to stay tonight.
1730 Order a pizza and head across the street to grab a 2-liter of soda. (Drinking a 2-liter every night seems to replace most of my water loss from the day and replenishes sugars & stuff, plus it's cheaper than that much Gatorade.) The store doesn't sell 2-liters, only 1-liters, but for some strange reason, two 1-liters costs twice as much as one 2-liter. I head next door to the grocery, and remember on my way that I need another small tube of toothpaste. I pick one up along with a Hawaiian Punch and head back to the room.
1800 The pizza shows, and I start eating. Searching the channels on the TV, I discover they're replaying last Wednesday's Star Trek Voyager series finale (which I missed due to lack of a UPN station that night), so I settle in and watch it. It's good and a satisfying ending, but why do Star Trek series runs always have to end with a time travel story?
1900 The pizza long gone, I start working on this update while watching the show. I'm still writing when Voyager ends, and I find a Cincinnati Reds game. This must be my lucky night for TV; I haven't seen a Reds game since I left Dayton (and they've been losing almost every night since then...I blame myself).
2045 Finish updating this page and checked tomorrow's route. There's only one hotel between here and Sault Ste. Marie (120+ miles off), and it's only 60 miles away. Every other town is too small for hotels, so unless a miracle wind springs up tomorrow or a local tells me about a hotel somewhere a little further on, it's going to be a short trip. Fortunately, I earned a short one tomorrow with my long ride today. Since I'm heading inland again, I'll probably be climbing a lot of hills, so I'll need it.
The day's not over, but I'll spend the rest of the night just relaxing in the room and watching TV. I'll enjoy a long shower shortly, and get to bed around 2320 after watching the local weather forecast. It's looking like one of those fruit pies will be a late night snack.