View Larger Map
Day 5 - June 10, 2012
Ft Lauderdale to North Palm Beach
Miles: 58
Terrain: Flat (except for more of those stupid bridges)
Weather: Mostly sunny, hot and humid, 15mph east winds (mostly)
As you might recall from yesterday's report, I'd broken a spoke and needed it repaired, but found a bike shop close by that would be open at 11am. Check-out time at the Budget Inn was 10, so I left then, headed across the street to McDonalds, and had some hotcakes for breakfast (that's it, just 3 hotcakes, plus some of the soda left over from yesterday's dinner). After that I rode out to the bike shop and found a sign there saying they were closed on Sunday, but that their other location some distance to the south (i.e. the wrong way) would be open at 11. Well, I had no intention of heading the opposite direction, so I figured maybe I'd ride on and hope to find a store along US-1, but before going I stopped at a Marriott nearby and asked if anyone there knew of any bike shops that might be open. This turned out to be a good move, because one of the hosts there suggested the Bicycle Spot, about a mile away, where he took his bike, and he knew it was open at noon on Sunday. So I rode over there, and sure enough it opened at noon, so I chilled in a Wendy's reading for another 45 minutes or so.
Once the store opened I explained my problem and waited a bit while the employees (I think it was the owner and mechanic) set out some display bikes. They asked where I was going (seeing as my bike is loaded with gear) and we swapped touring and biking stories for a while. Turns out the owner had been injured recently when a police officer ran him off the road accidentally, which I guess is something to watch out for around here...every time I heard a siren after that, I moved off onto the sidewalk. Anyway, the repairman eventually explained that my rear wheel had been built for strength everywhere except in the spoke connectors (one of which had sheared off), which were aluminum when they should've been brass. He even handed me a bag full of the correct kinds and advised if I ever had a lot of free time (such as during a rest day, if I take one) I should swap out these connectors one after the other, an extremely time-consuming process, because otherwise I'm going to lose more spokes during my trip. So, yeah, I'm going to have some words with my local bike shop when I get home, because they didn't use the right materials when they built my new wheel.
But anyway, the best part is that after doing all this work, the proprietors wouldn't take any money from me for it...not even for those spoke connectors, either. They insisted I have a safe trip and go on my way and refused to take any kind of payment. That's by far the nicest thing anyone's done for me on a bike tour since I rode through Michigan on my cross-country trip over 10 years ago (you can read about that by clicking here). I guess I'd forgotten people like this existed, because it left me stunned for about thirty seconds as I just stood there dumbfounded, unable to think of what to say. So I decided instead to take a picture of their store and say that if you're ever in Ft Lauderdale and need bike service, don't go anywhere else but here. (That's 5074 N Dixie Highway, by the way.)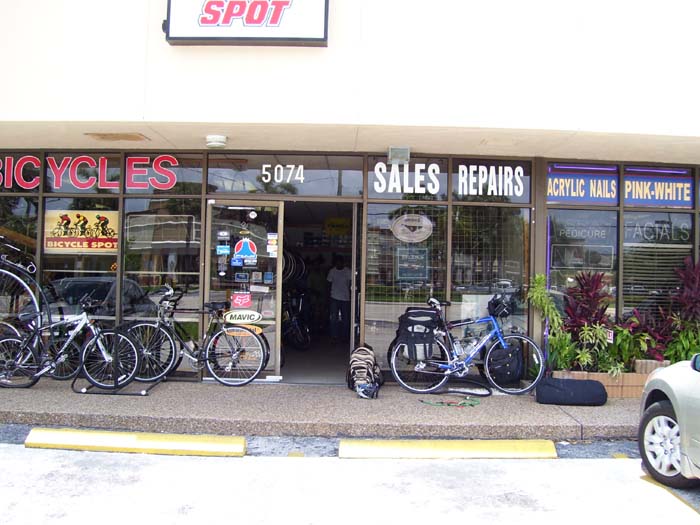 Anyway, so after all that, I finally got started actually riding, heading north on A1A (I moved off to the beach area to see if I could catch some of that east wind as a sea breeze...it didn't really seem to do all that much, although occasionally I'd feel an all-too brief cool wind that just as quickly faded). For a while the road looked much like this, with the beach basically out of sight to my right, behind hotels and timeshares.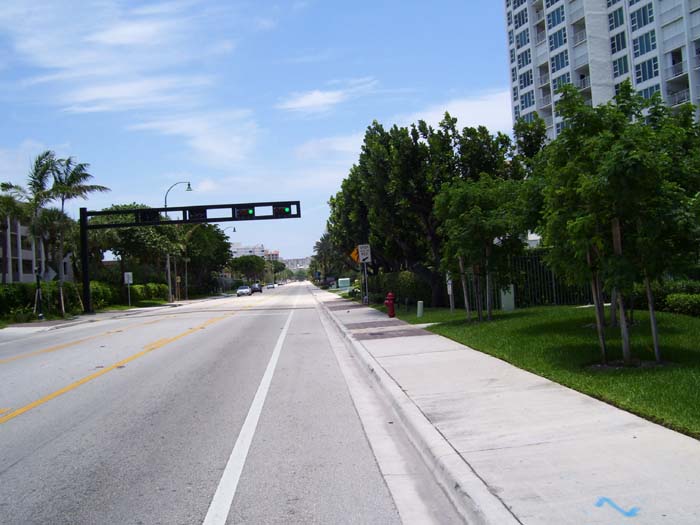 After a little while, though, I came to a pier and rode out to the end of it, dodging fishermen and other tourists. From there I took the next couple of pictures, one looking down the beach the direction I'm heading, and the other looking back to show what it looked like right at the start of the pier.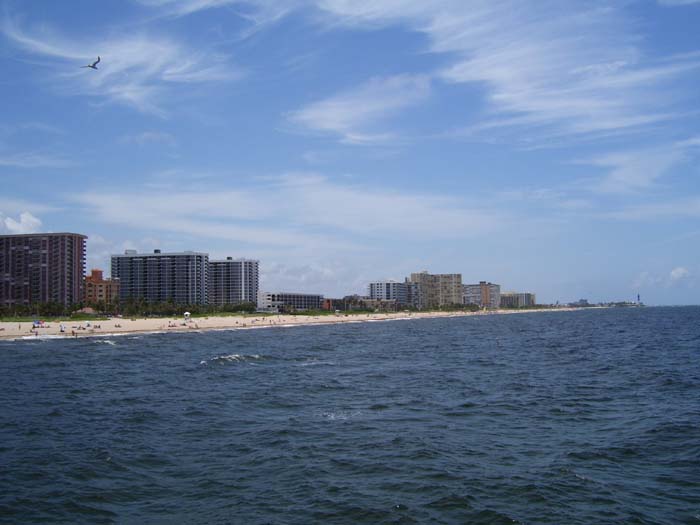 This looked like a good spot for a break, so I bought some Gatorade at the concession stand and rested for a bit before moving on. A few miles later, I came to the first of these drawbridges (I probably had to go over 5 of these today). Notice the light's on and there's traffic waiting...yeah, I had to sit there a few minutes waiting, and every time I have to stop for anything (usually streetlights) I sit there in the hot sun sweating like mad and wishing it weren't so damned hot.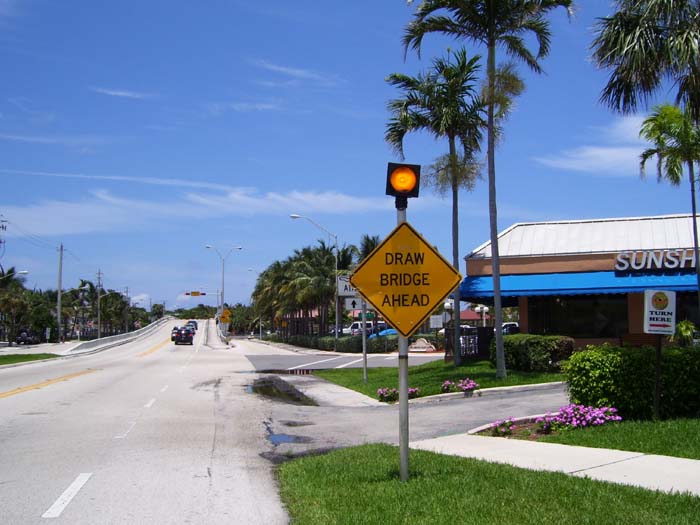 Once the drawbridge went back down, I snapped this shot from the top of the bridge...then scooted along again in case that boat coming in would need to make the bridge go back up.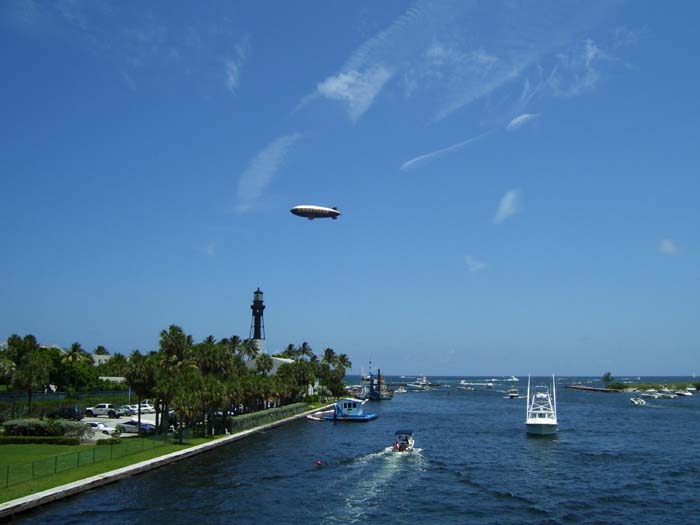 Moving on into the Delray Beach area, most of the timeshares faded and there were actual stretches of beach visible from the road, sort of like this here. Notice all the vegetation...you weren't allowed to walk through that, because apparently it's part of some kind of environmental damage control program. Instead, they'd built tunnels under the road, so you'd park in lots out of sight to the left, and walk underneath to get to the beach. Not a bad idea.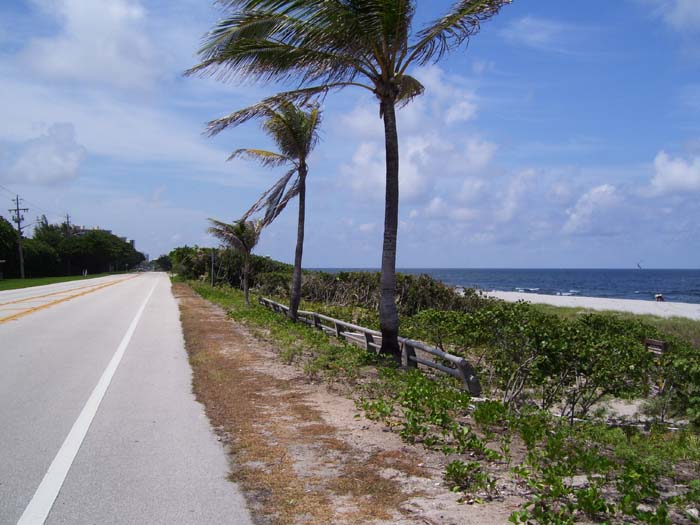 Here's a better shot of one of the beaches, which were a whole lot less populated than I would've thought. Oh, I should mention, this shot (and a whole lot of others, pretty much anything taken when I'm on the road) was snapped while riding. It's actually quite easy to pull out the camera, turn it on, take the picture and put the camera away in the space of about 10 seconds, while coasting along. Not blurry at all, either.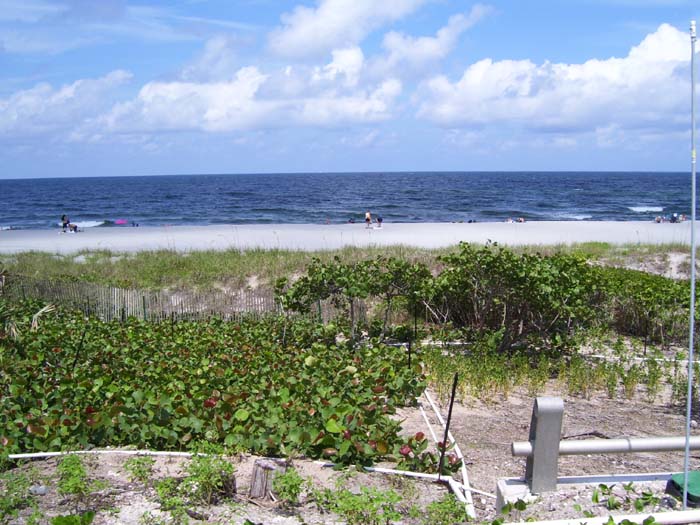 Some time later I came to another drawbridge and got to wait while that ship right there went sailing through...sigh...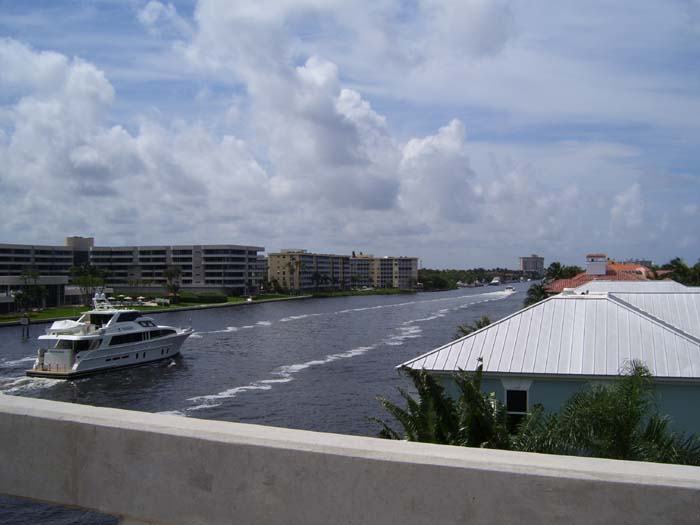 The day wasn't all hot...sometimes I got to ride along in some lovely shaded areas like this. Unfortunately, they were few and far between.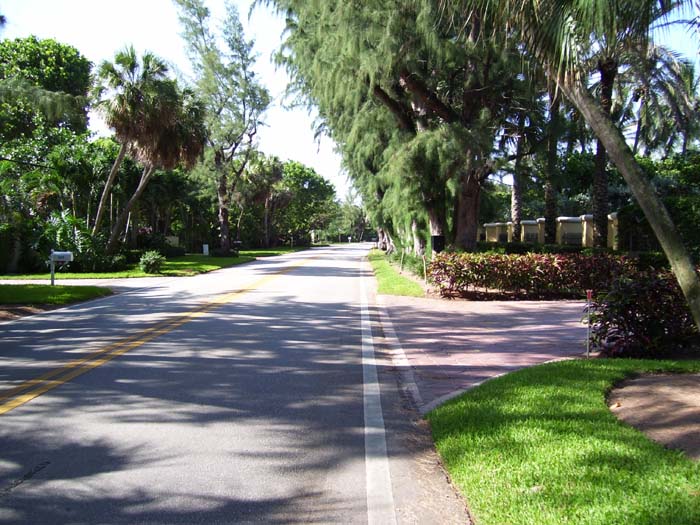 In West Palm Beach I stopped at another pier and took these two pictures. The beach got a little more crowded around this area, even though there were plenty of rocks around. I guess people didn't mind.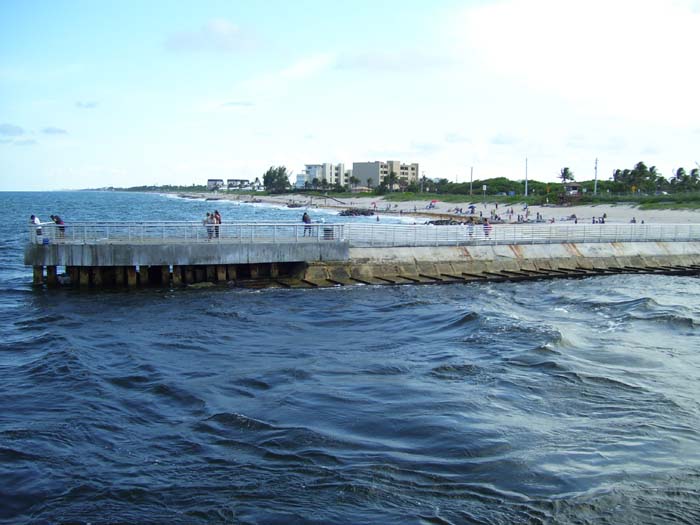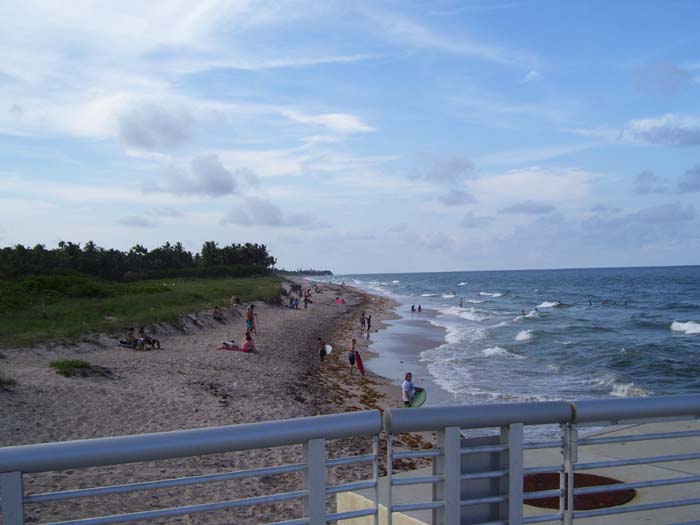 Then it was back to US-1, where I had to ride along through more boring urban sprawl.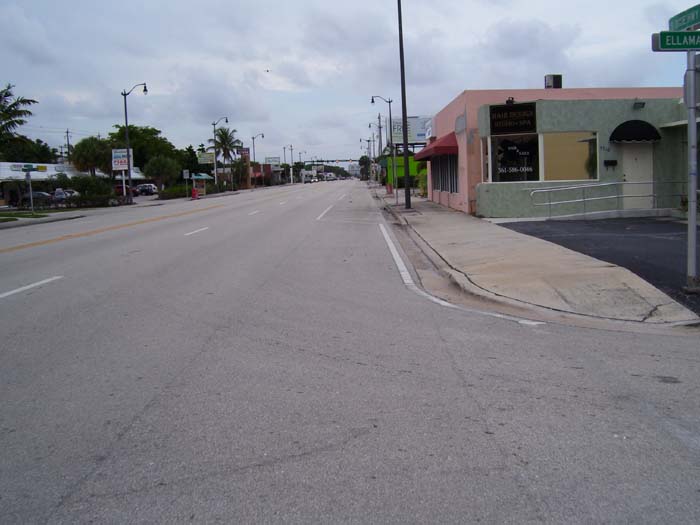 As I headed out of West Palm Beach, I found a cheap hotel, but they only took cash, so I rode on. The proprietor warned me not to stop riding until I got to North Palm Beach, because of the crime rate in the area, so I kept on going, adding an extra 5 or 6 miles to the ride over what I'd originally intended. She was right, though...that whole area didn't look very nice at all. Barred windows, pawn shops, closed businesses, people loitering everywhere, looking at you strangely as you ride by...yeah, I got a little nervous. But North Palm Beach turned out to be pretty nice. Here's a look as I come over the last bridge of the day, approaching the town...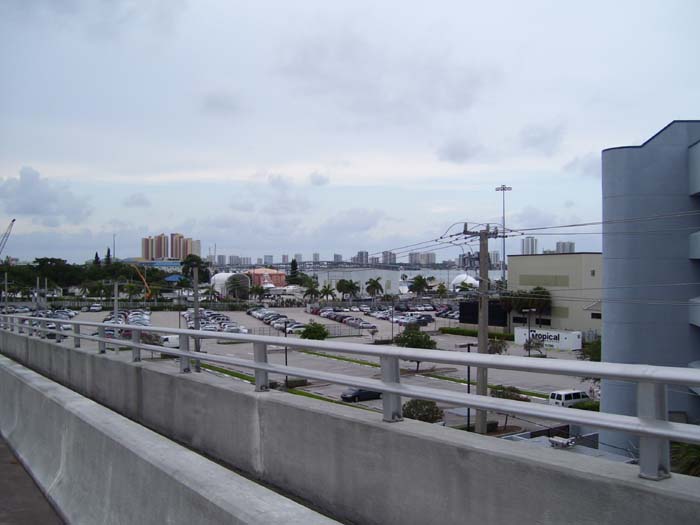 A couple miles after that I found a Super 8, and that's where I stayed. They had a AAA discount, and free wi-fi, and A/C, and everything else I needed...even laundry. So now I've got clean clothes to wear tomorrow, which should help out with the rashes I've been getting on my...well, you know, the part of my body that sits on the bike. The less said about that, the better.