Day 14 - March 11, 2015
Moriarty to Santa Rosa
Miles: 88
Terrain: Mostly uphill for the first 24 miles, then mostly downhill with a few small climbs and a couple major ones
Weather: Cool and sunny, light tailwinds most of the time
Before I get started with today's narrative, let me explain something...I wasn't going to make this trip about fund-raising for any kind of cause or anything, since the trip was always supposed to be about getting out and having fun and exploring the country by bike. However, as you know if you read the home page for this bikeabout, I lost my mother to cancer late last year. Then, just a couple of weeks before I was to leave for this trip, someone I've worked with for over 20 years died of leukemia. In one way or another we've all had our lives impacted by cancer in some negative way. My decision not to try to make this trip about helping raise money for cancer research has weighed heavily on my mind these past two weeks.
Meanwhile, my sister, Cathy Hebert, has been actively working to raise money for leukemia and lymphoma research, and has put me to shame with her efforts. It's too late to make this trip into my own fundraising vehicle, but I would ask that you readers take a moment to check out her page here: http://www.mwoy.org/pages/nm/nm15/chebert and consider making a donation. Even a small contribution would help and you can even do so anonymously if you choose. There...that's the one and only time I'm going to hit you up for money or donations this trip! I promise!
Anyway, now let's get on to the bike tour news!
I had a nice surprise waiting for me this morning - my front tire was flat. You'll recall me mentioning yesterday that I had noticed it was low and added air, and then it seemed okay. Well, that didn't last long. I spent an extra half hour this morning figuring out what was going on, and found not one but two punctures (both caused by tiny bits of metal lodged in the tire, one so tiny it reminded me of a splinter you can't quite get a grip on to remove. I suspect that's probably the one that caused the original slow leak. Anyway, I patched both, pumped up the tire and went on out.
No breakfast today...some days the hotel has something (like the Super 8) but most of the time not. I'll eat something if it's presented, but otherwise won't bother. I've mentioned on previous tours that eating early in the day tends to make me feel ill. I haven't felt like that yet this trip, even on the few days where I've had a bite to eat early on. Not sure why that problem has gone away, but I'm not missing it, that's for sure.
Anyway, today's ride went reasonably well. The front tire did lose a little air partway through (probably because the valve stem is a little out of whack and I didn't screw it back on quite right, because after I took more care with it, I experienced no further air loss). I spent 95% of the day on I-40, because there were no more frontage roads for me to enjoy, but amazingly I got no flats at all. Over 80 miles on the interstate without a flat...I really thought I'd have at least one and probably two. The shoulders on this stretch of highway were smoother and had fewer cracks, so maybe that's why. I hope they stay like that because I have to ride on them again much f the day tomorrow, too.
I was worried about the chain, which did a lot of skipping and jumping thanks to the bent link I mentioned yesterday. In fact, here's a photo...let's see if you can identify the bad link. Shouldn't be too hard...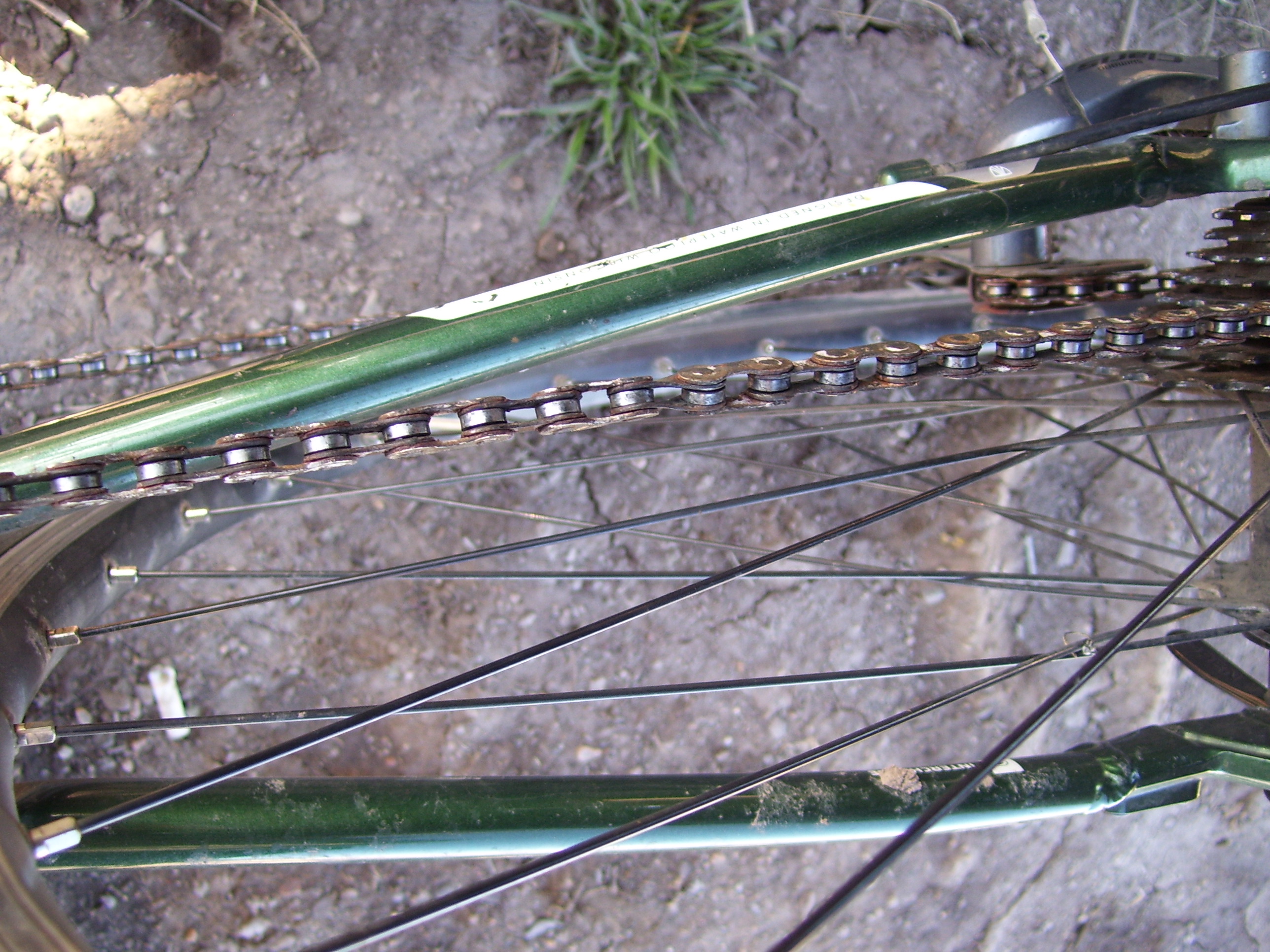 So yeah, I rode that for 88 miles, so how bad could it be? Well, there were a couple of gear settings I could use that rarely caused problems, but most of the time in the others it just skipped all the time, so I tried to avoid those. On the climbs, in the big ring (in back...middle up front) it almost never jumped around, so I could handle the hills just fine. It gave me more problems in the flats and downhills, so I just resorted to pedaling as little as possible in those stretches, which isn't a bad idea anyway.
The ride didn't go past much in the way of scenery...some mountains in the far distance, and mostly floodplains and arid land in every direction otherwise. This stretch of I-40 used to be Route 66, so occasionally a historic sign or building would appear, most often in ruins or faded with age. I spotted a gas station sign advertising gas for $1.13 a gallon, so you can well imagine how long ago that had to be.
I started the day in Moriarty, which had some old vehicles scattered here and there. Here's an example: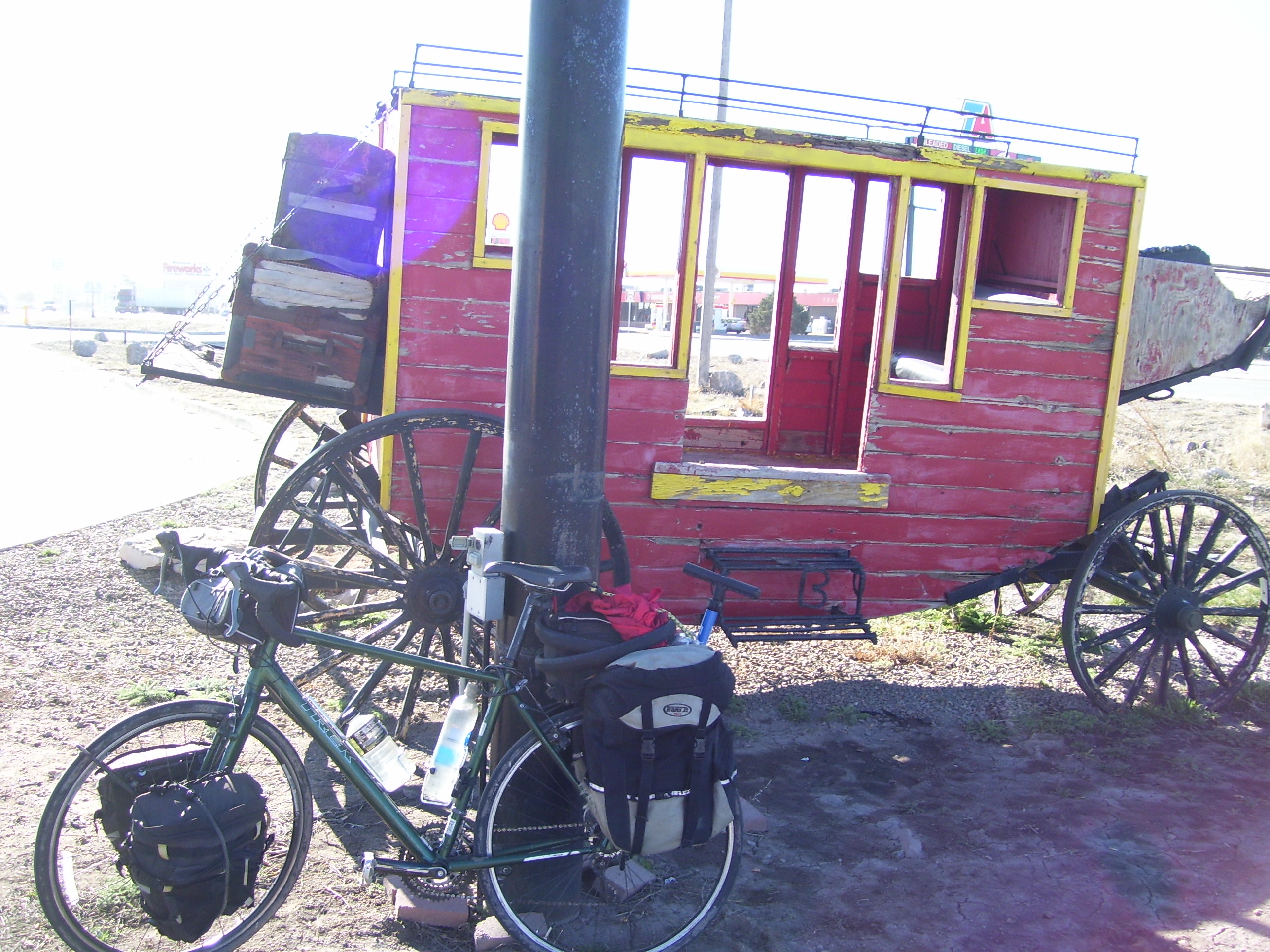 Then it was on to the freeway and over 20 miles of gradual climbing. This is a shot looking back at Moriarty in the distance. Also you can see how many trucks there were on this highway...I thought I had it bad back home around I-70, but I'm pretty sure this is worse.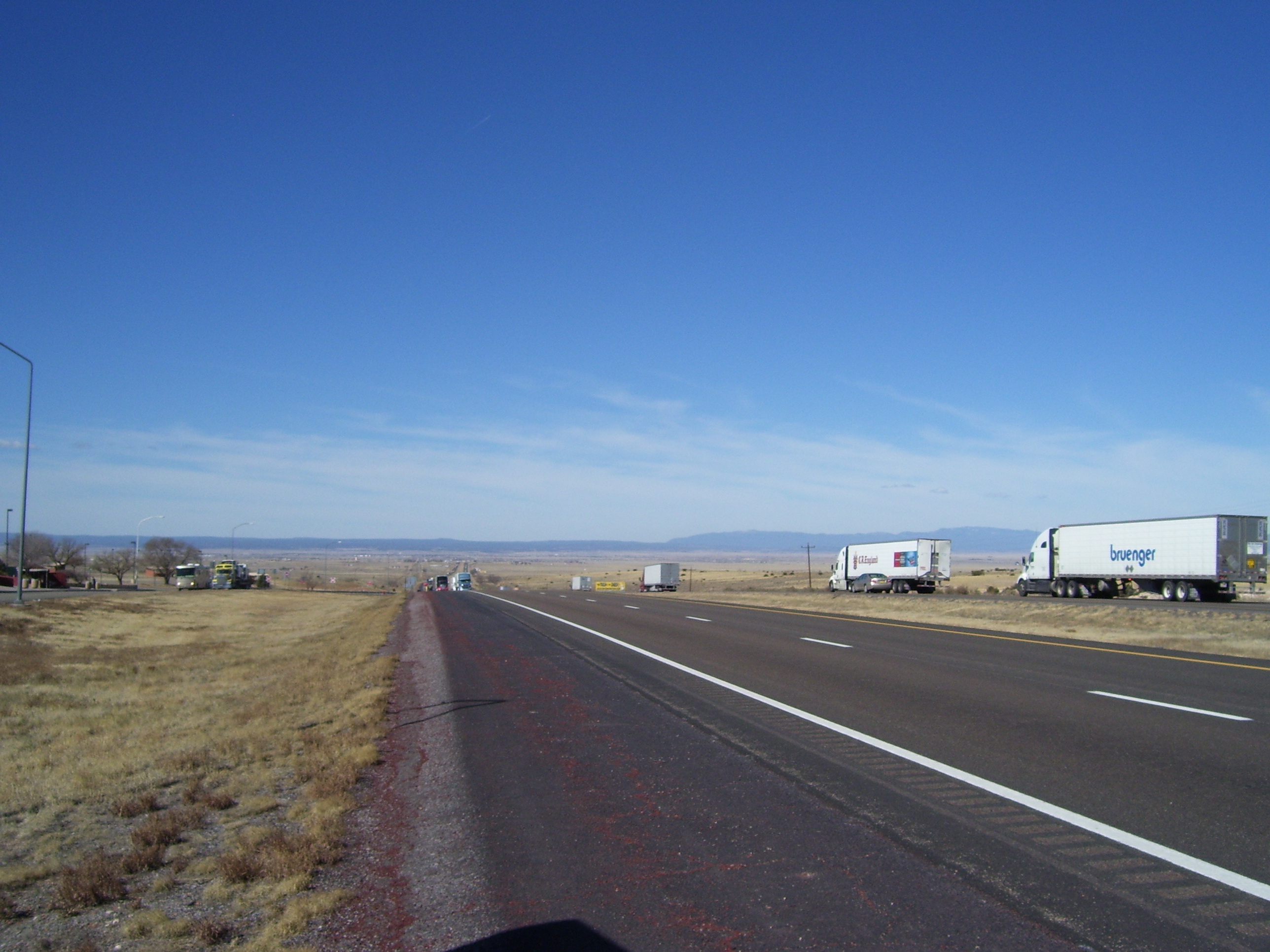 Most of the day the terrain looked something like this...just highway stretching on to the horizon, not much else to see anywhere around.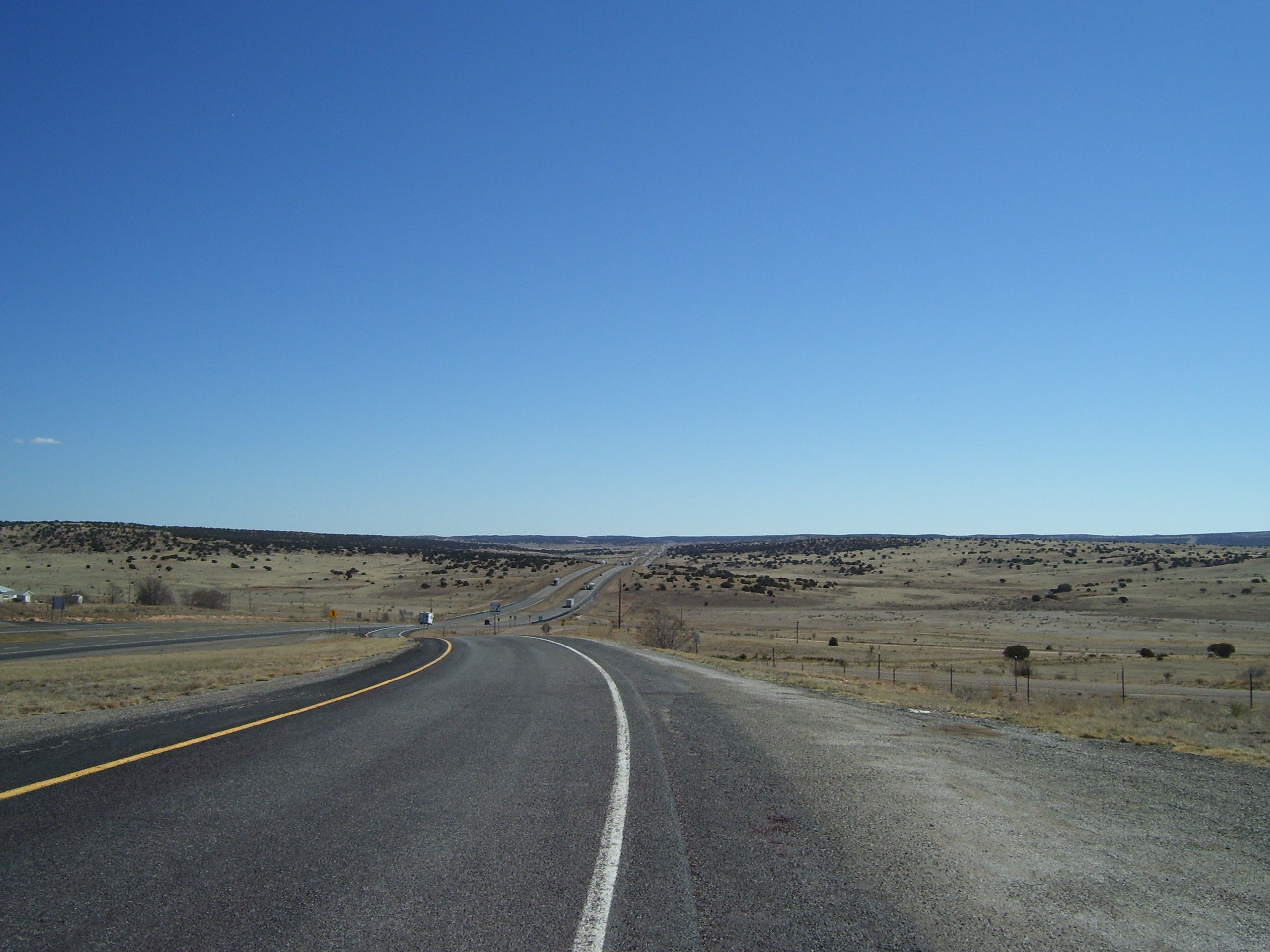 Oh wait, here's a bit of a hill to look at...but no, still not interesting after the amazing scenery a couple of days ago. I guess I'm entering the boring phase of this trip, huh?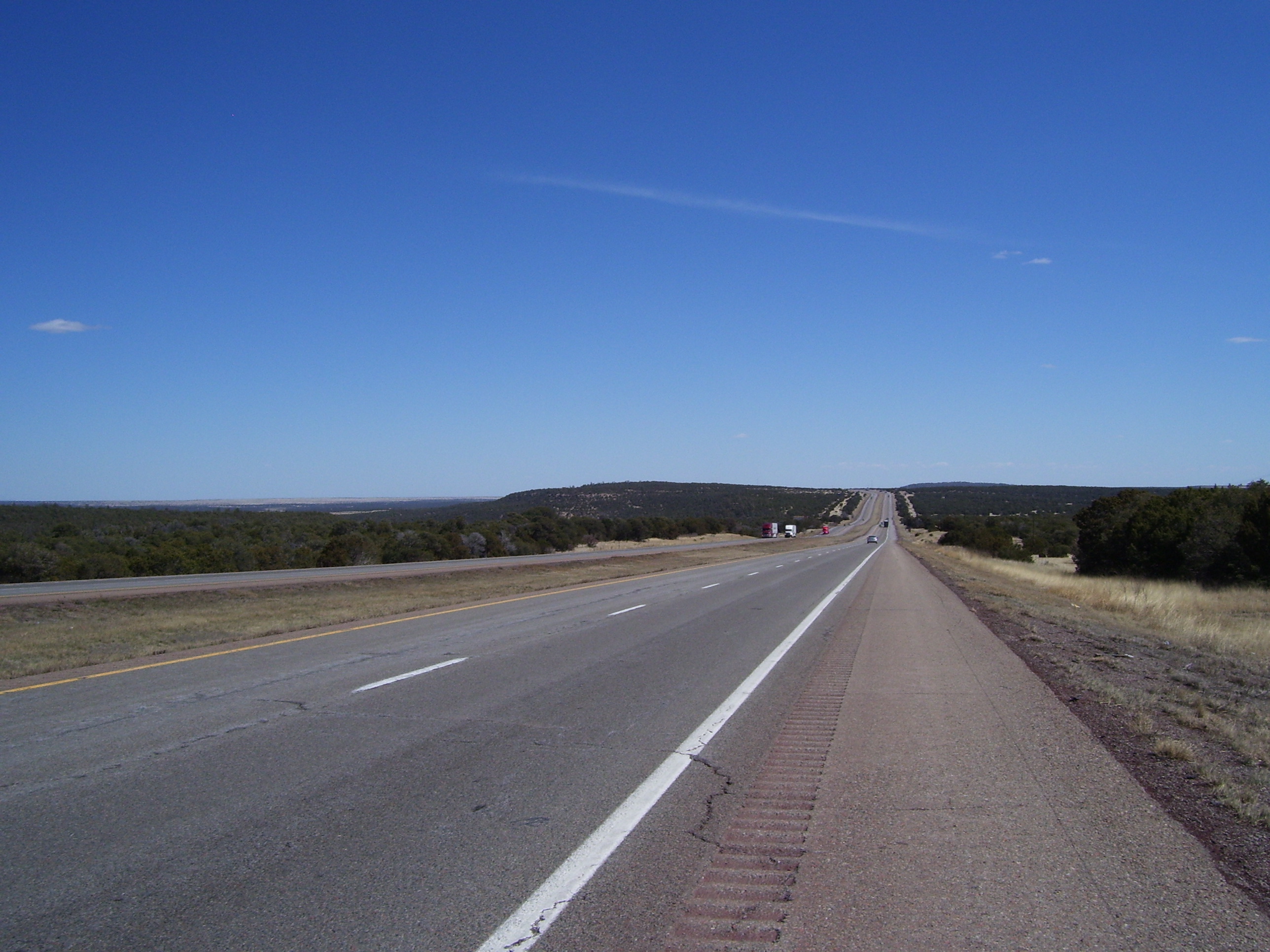 Here's one of those dead Route 66 businesses I was talking about. So sad.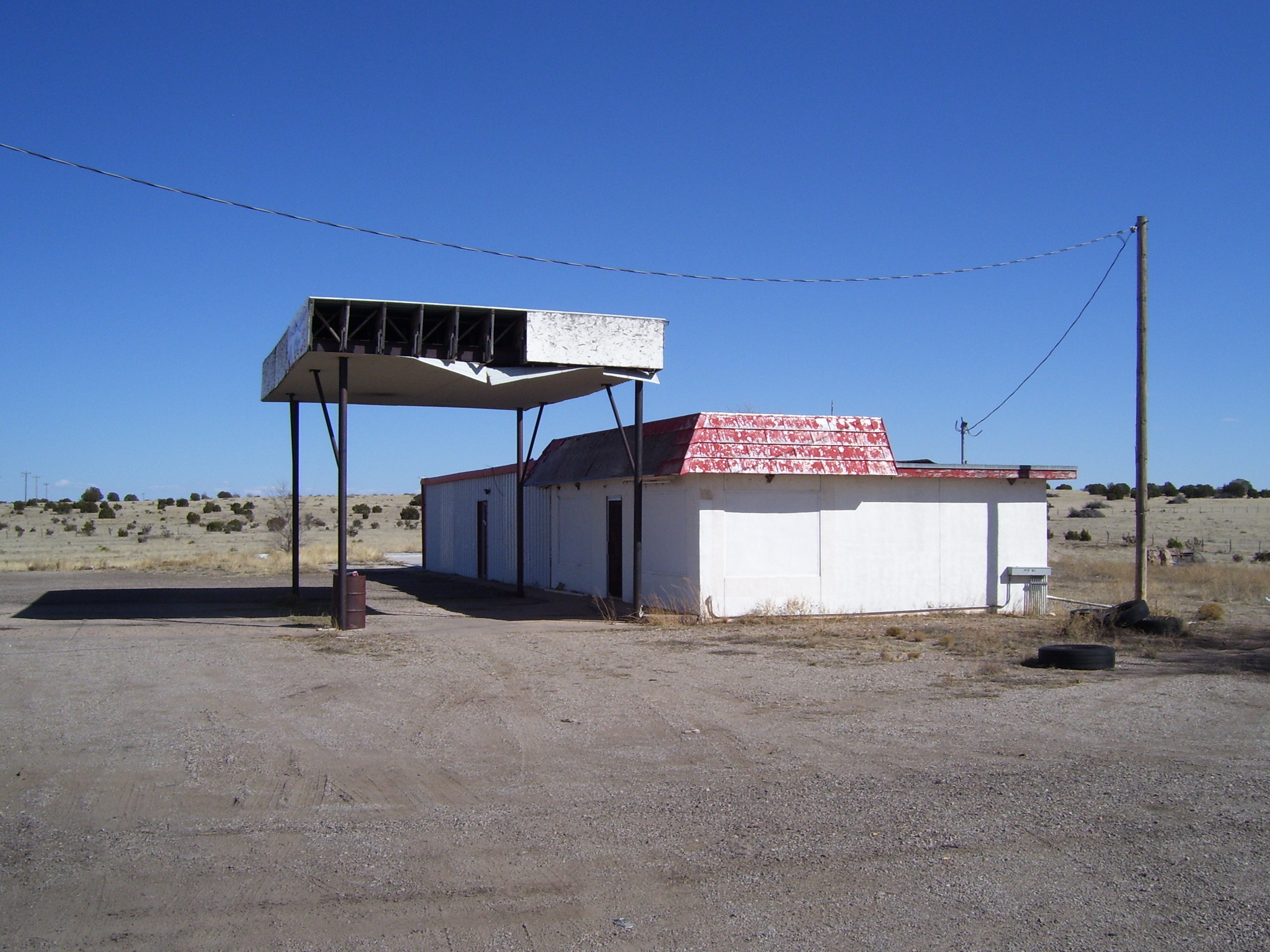 Now back on the highway for more of this....oh well, at least the weather's good.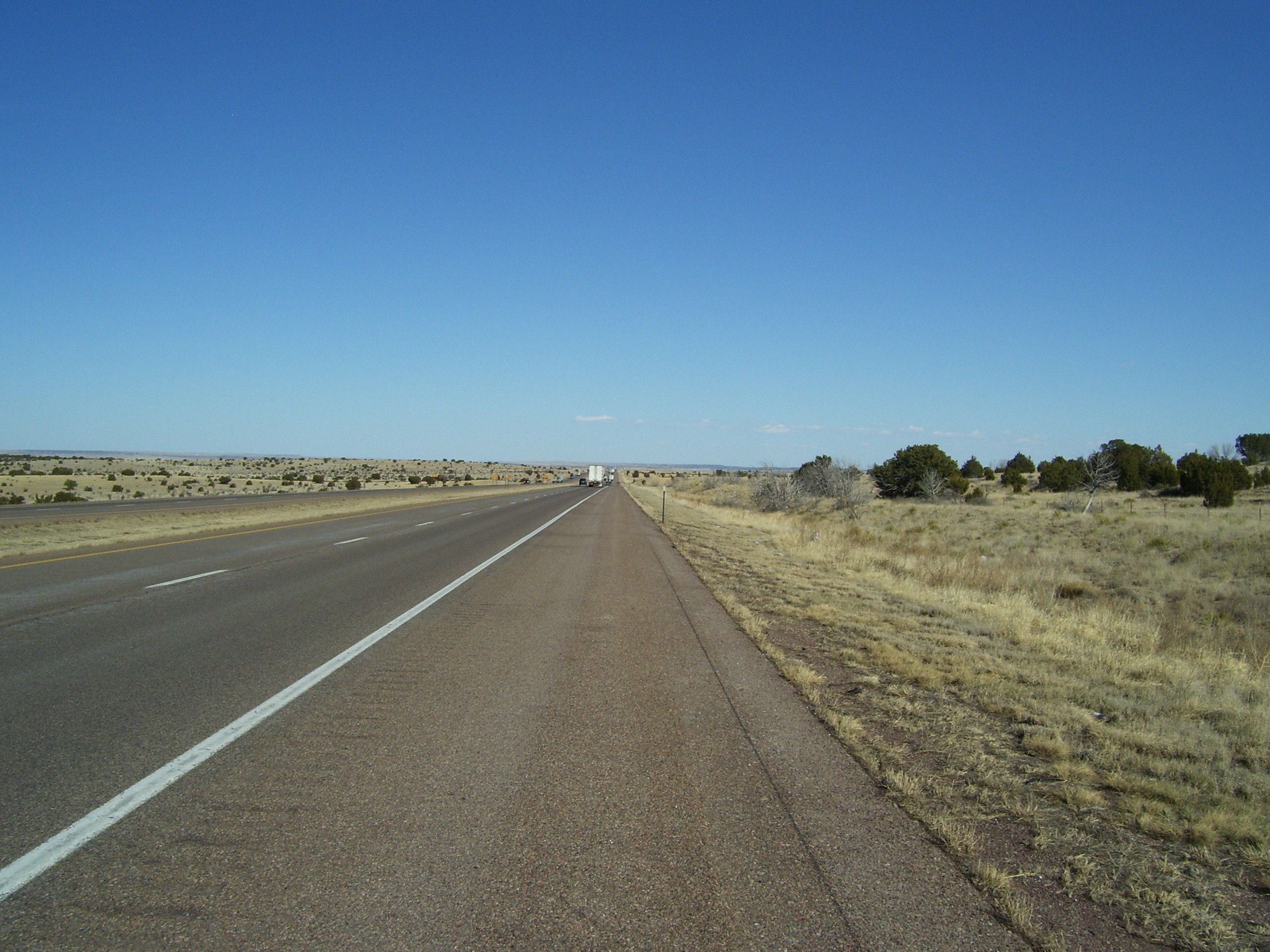 So far on this trip I've met a lot of interesting people, and here's another great example. I was riding down the road and ahead saw something yellow in the shoulder, which I guessed might be another bicyclist. Aha, someone to talk to! I grew closer and soon realized this was no bicycle, but a man pushing something. You might recall many days ago when I met the policeman who told me he'd seen people jogging or walking across the country, and now I was about to do the same. This is Kang, from South Korea (I assume, anyway, based on the flag), who is running from Los Angeles to New York City, pushing a trailer full of food, camping gear and supplies all the way. We talked for a few minutes but it was very hard to understand him....what I was able to get for sure is he started on February 1, on the beach in LA, and came through Flagstaff, where he got snowed in for 2 days, but otherwise has been jogging the entire time. He camps at rest stops and truck pullouts, rarely using hotels, and isn't in any kind of hurry. When I ran into him it was about 3pm, and he was going to run another 5 miles and call it a day at a rest stop just ahead. All I have to say is...wow...I thought biking across the country was hard...I can't even imagine trying to jog the whole way. It would take 6 months, or thereabouts. Kang, I salute you, and good luck!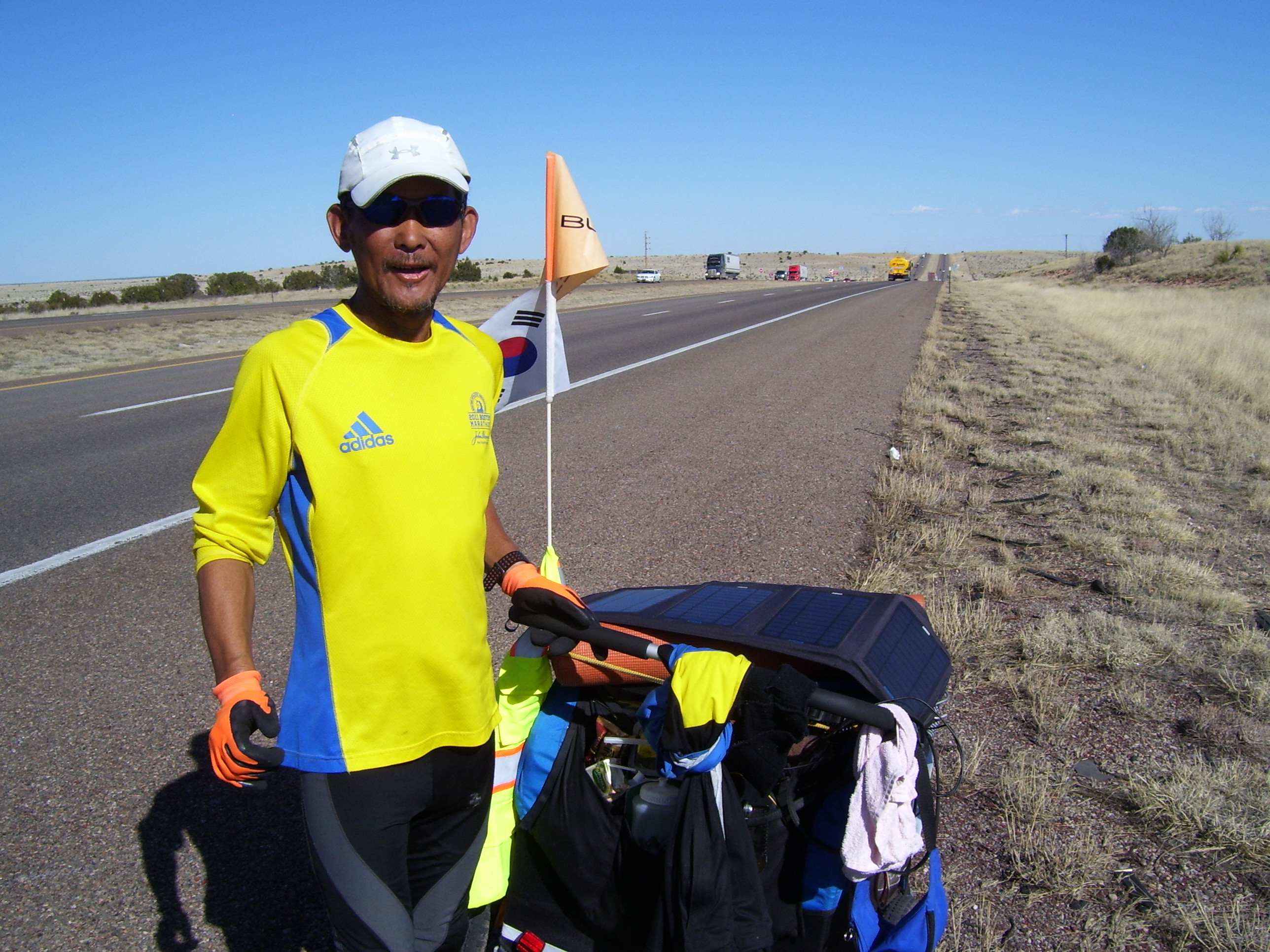 Then it was off to continue my ride, shaking my head and grinning after that encounter. The best part was when I rolled up behind him and said hello. I thought he'd jump right out of his shoes! He probably never expected to hear another voice along that highway.
Shortly after this I came to a particuarly long hill...it's funny how the hills around here always seem to stretch on and on for miles....I'm pretty sure most of my previous trips have never included anything quite this long. They might be steep but they only go on for a mile or two, never 5+ miles like this one. Anyhow, at least I knew where the top of this one would be.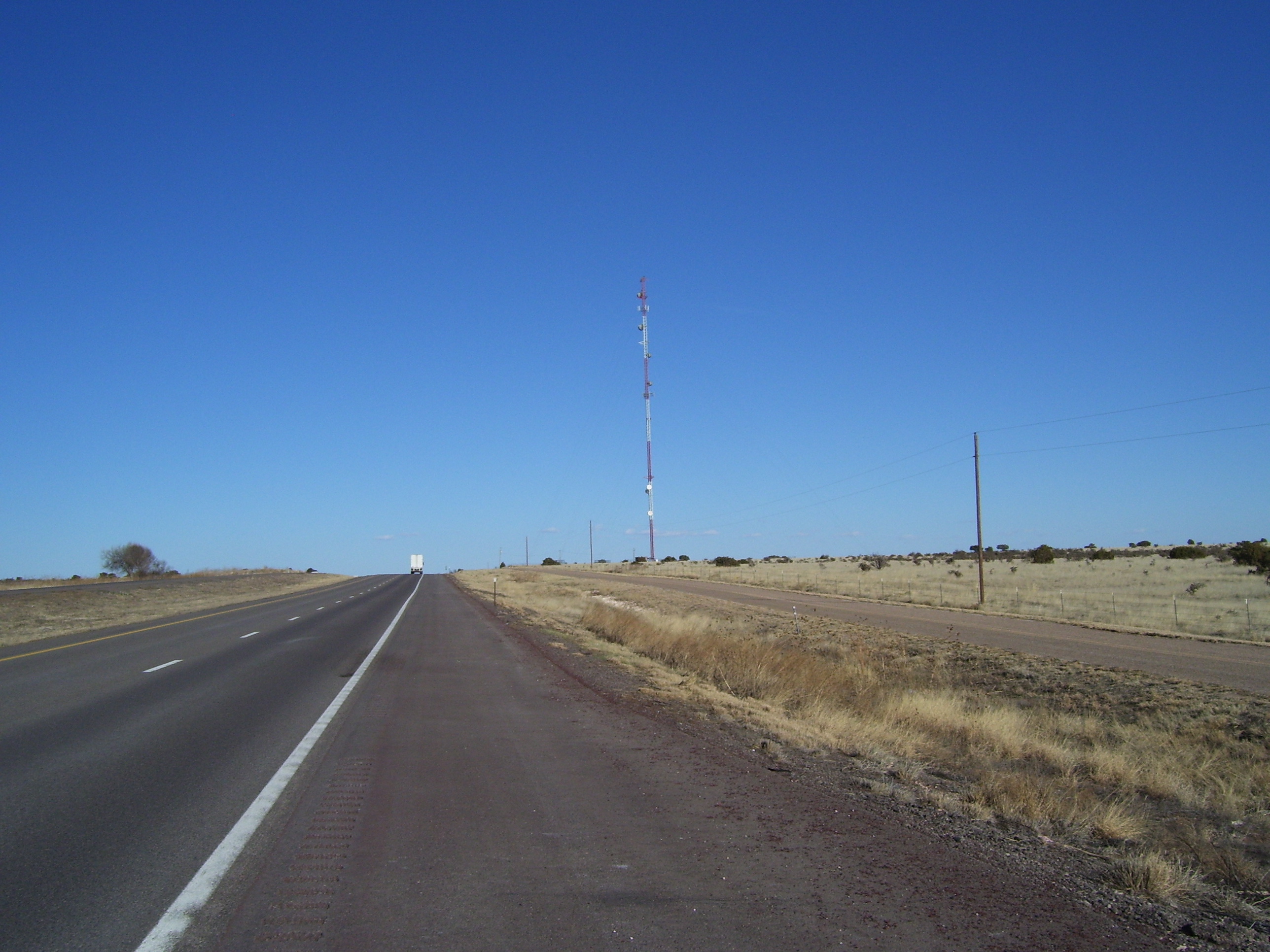 Las Vegas? I must've made a wrong turn back in Albuquerque...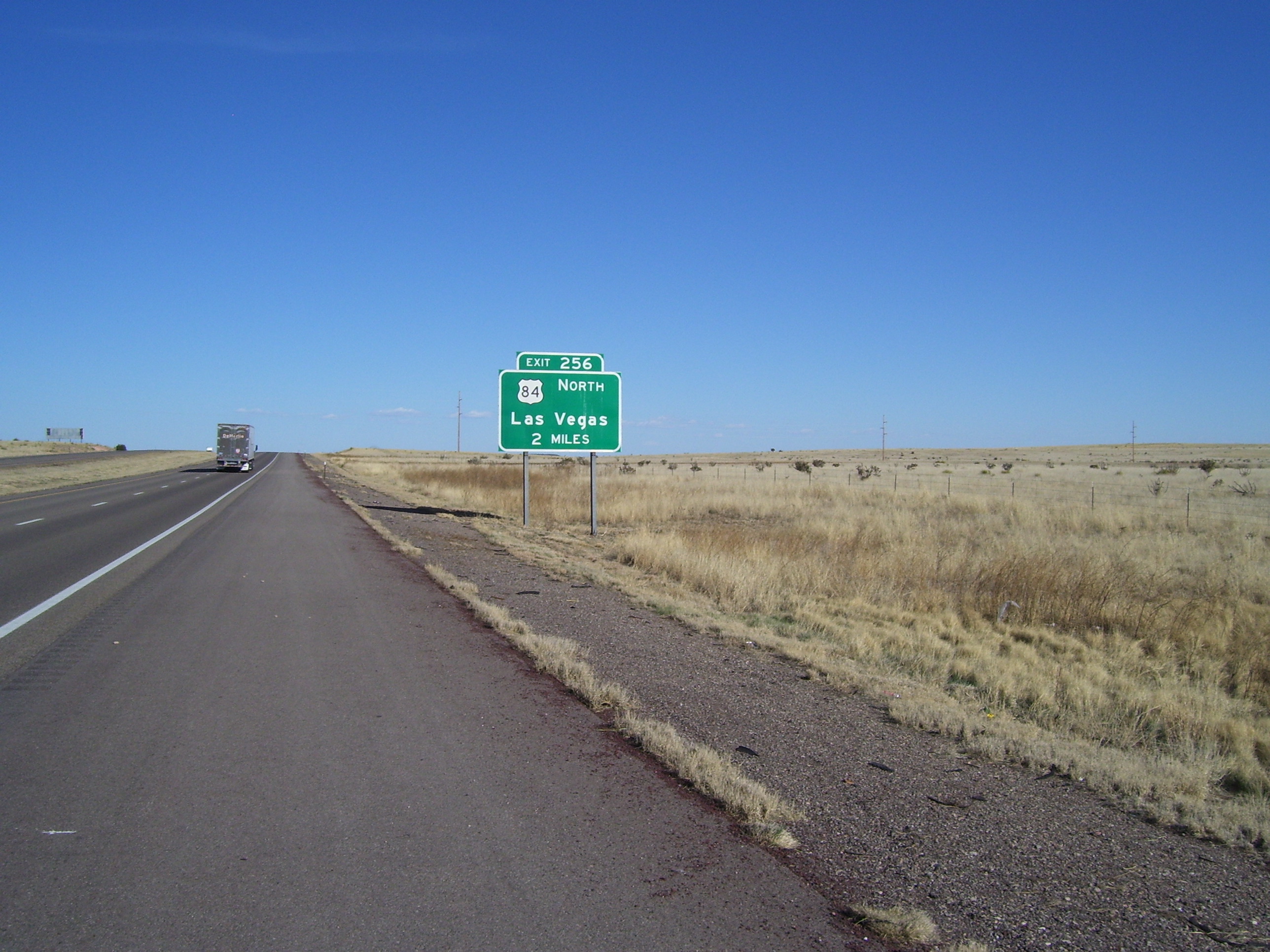 There's actually a Las Vegas, New Mexico, apparently...I'm sure that never causes any confusion! Anyway, after that, I finally came to this picturesque little valley with the town of Santa Rosa nestled therein. Notice I'm at my destination and it's not dark! Amazing. Thank you, Daylight Savings Time.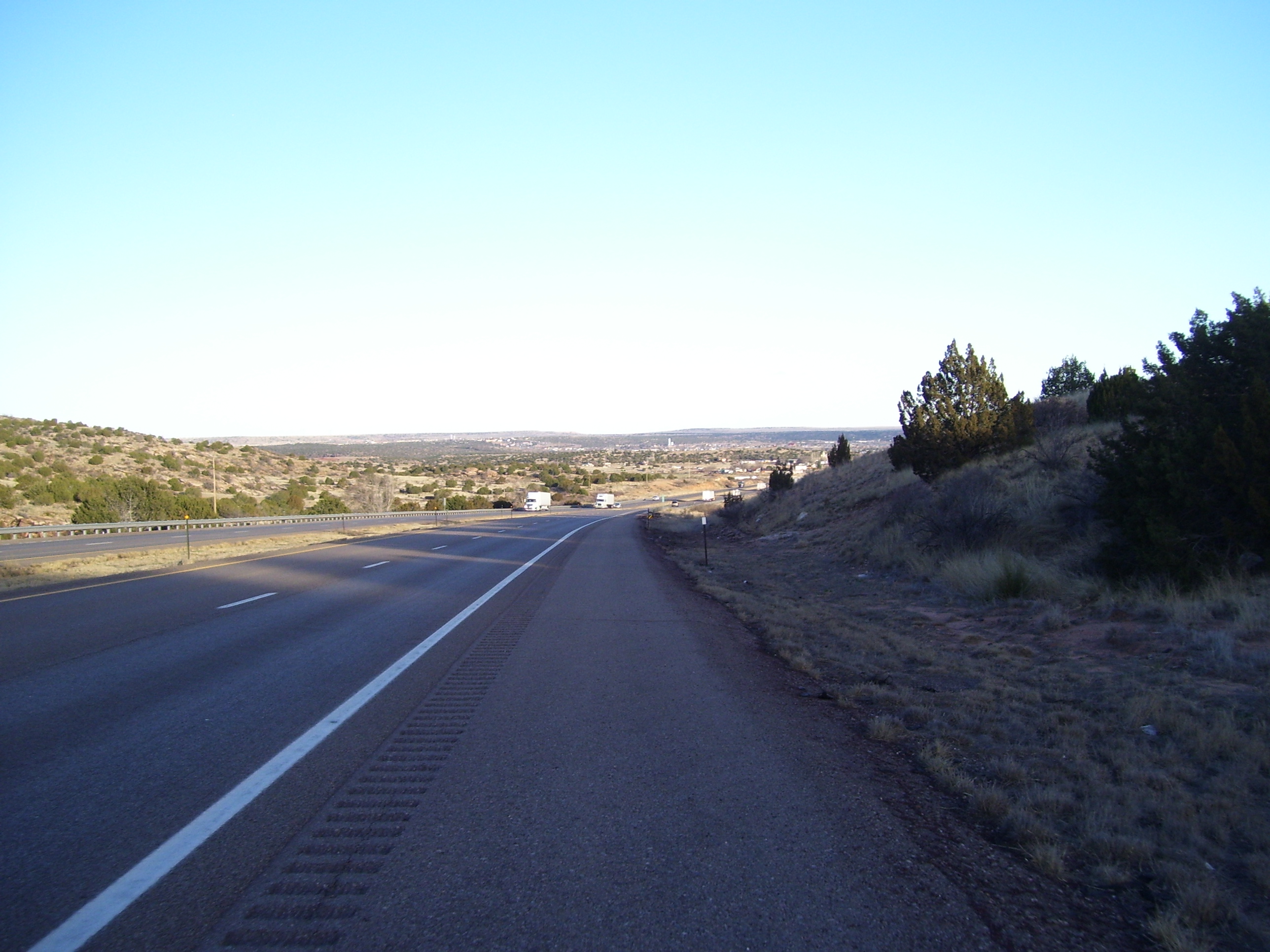 Here's a bit more info about Santa Rosa.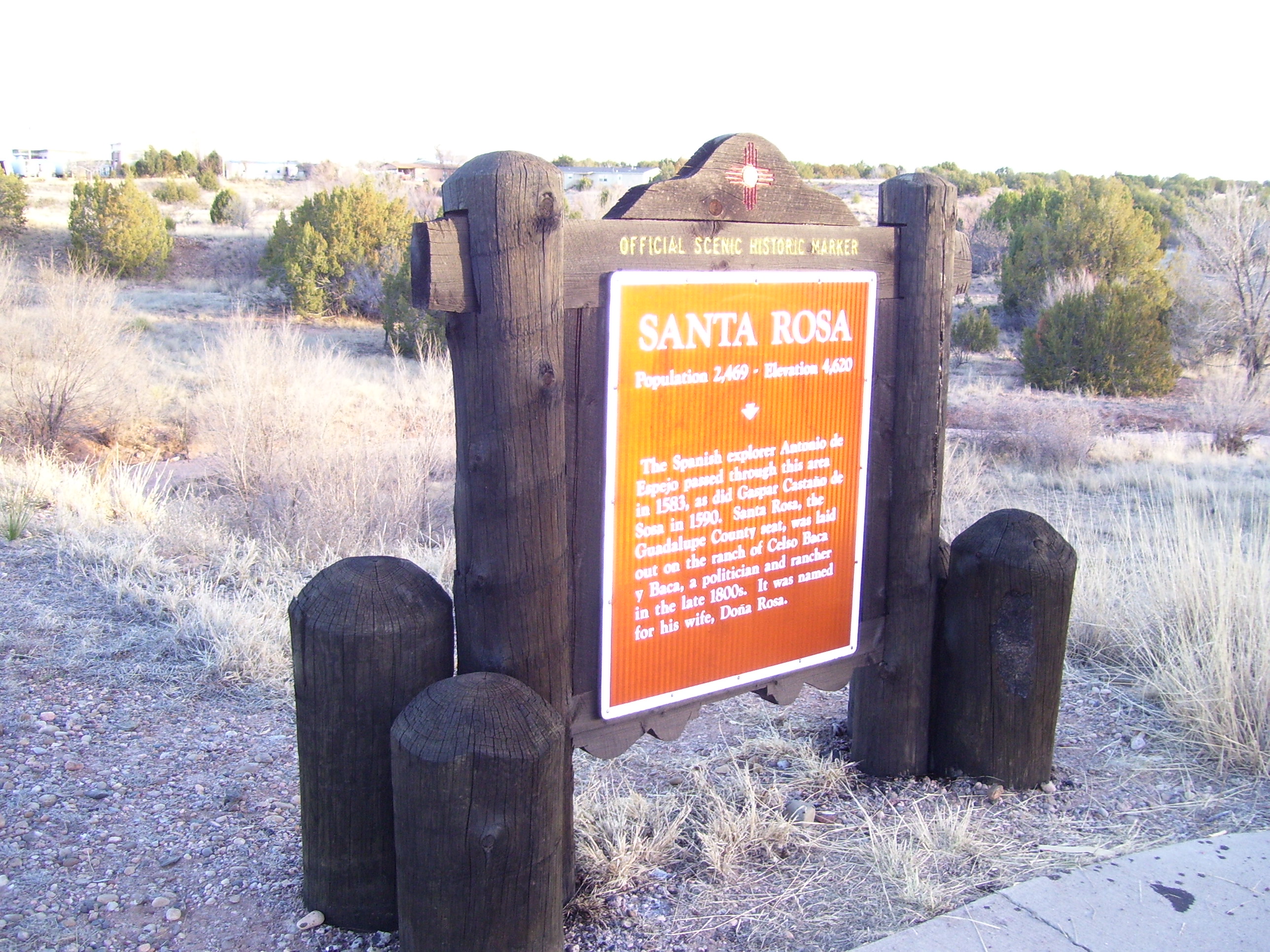 I saw quite a few of these classic style restaurants and other businesses all along the road on the way into town. Very cool.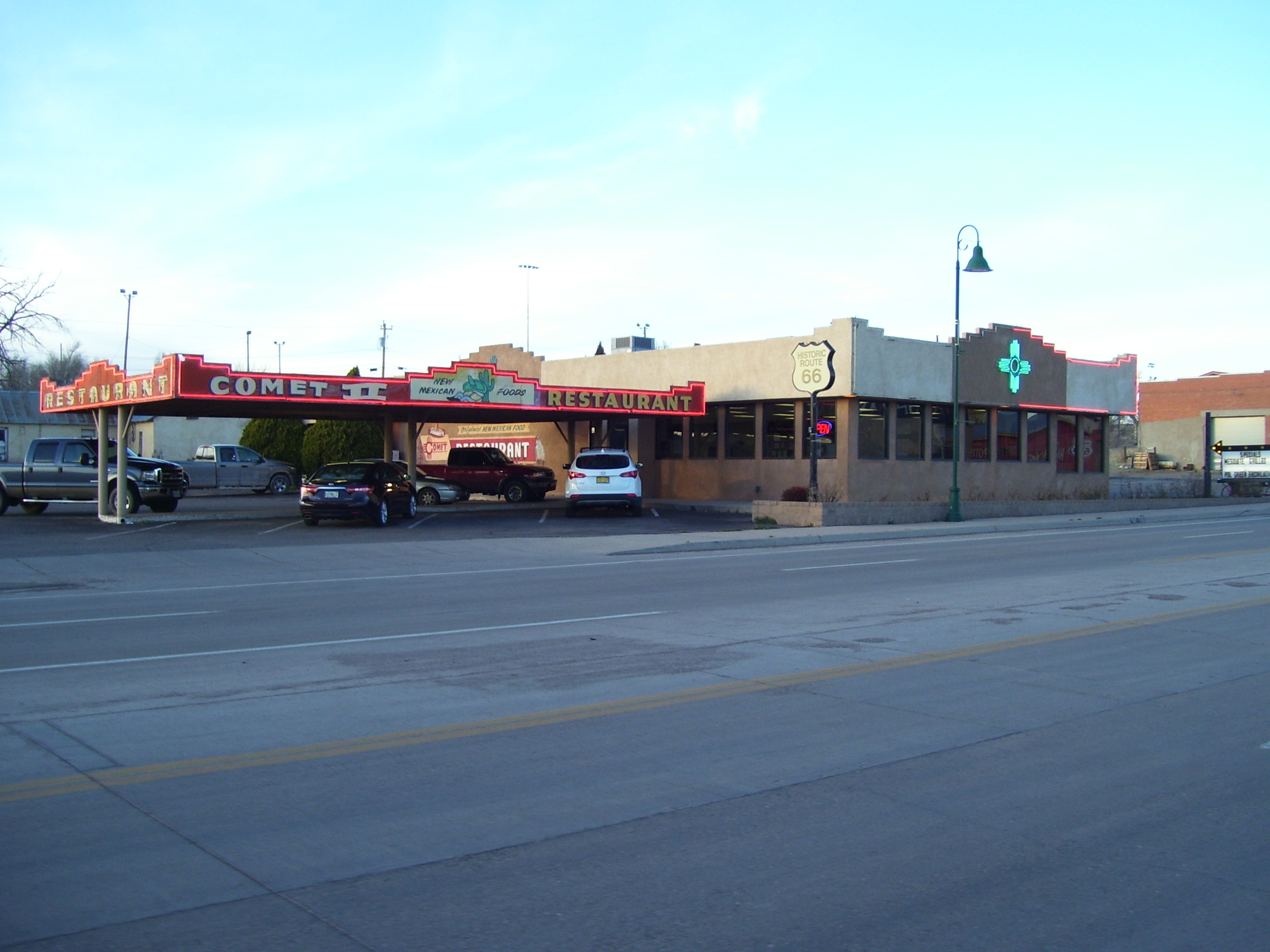 Santa Rosa is also famous for something called the Blue Hole, a natural artesian well that is a popular spot for SCUBA diving. Yes, that's right, SCUBA right here in the middle of New Mexico! Who would've thought? Anyway, here's a photo of the site with some informational signs.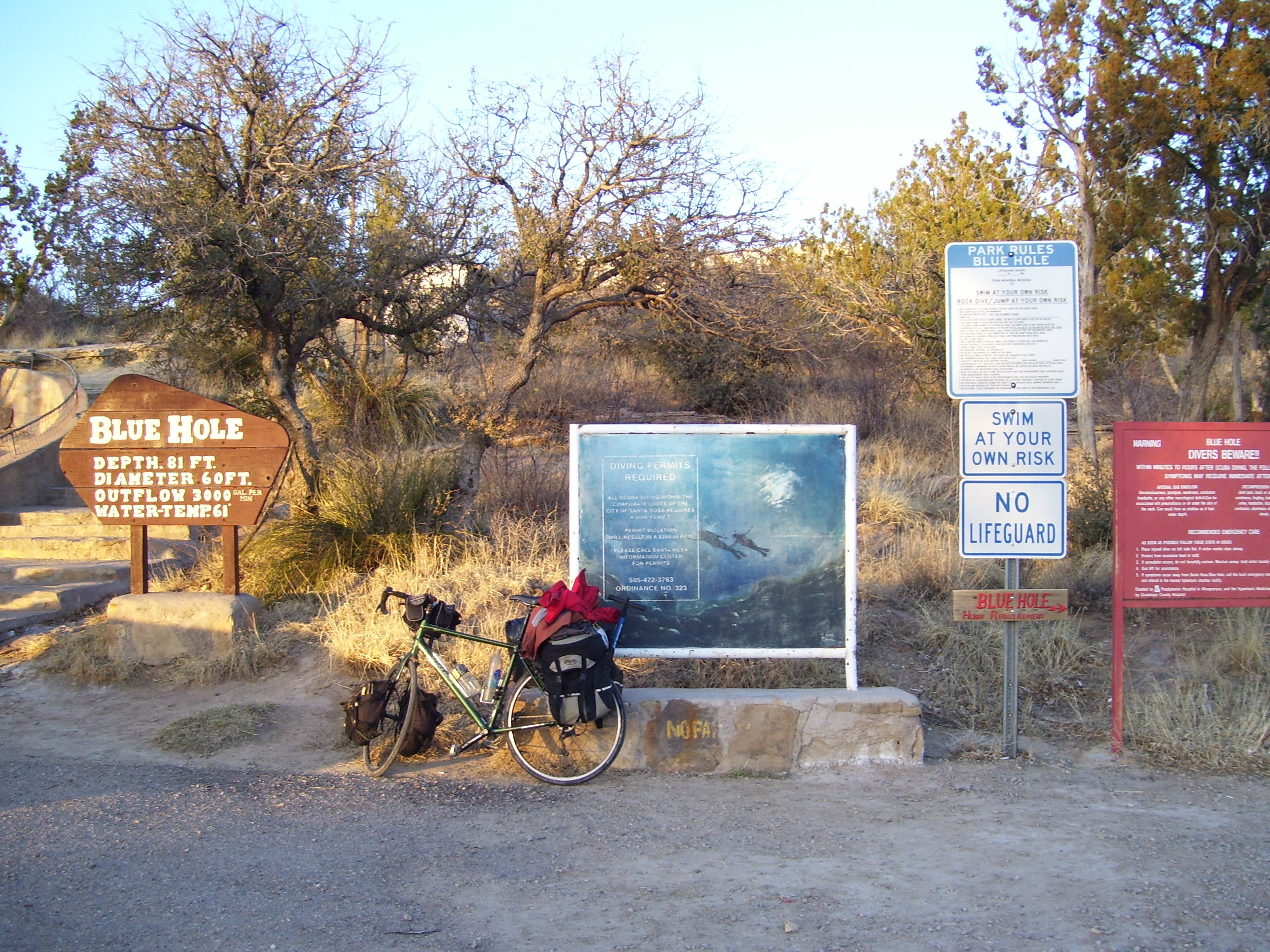 I walked around the back of the Hole and took this photo from up above...it was getting too late in the day to get an idea of the depth, but apparently that square shape in the lower left is all the way at the bottom (it's a fence to keep divers from trying to go deeper underground, because somebody died trying it once). The sky certainly reflects off it nicely, too.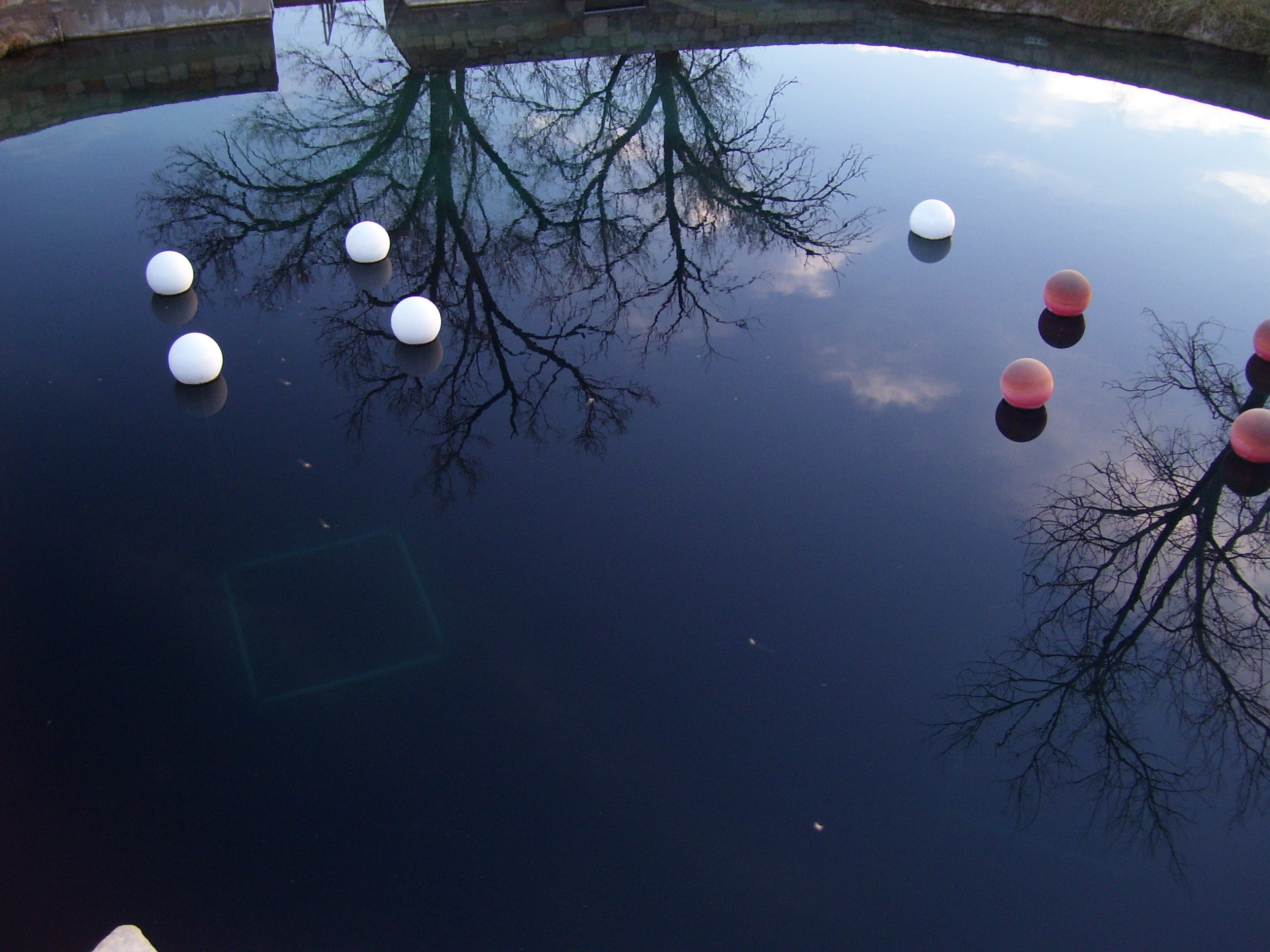 After that I rode on to my hotel, which was at the top of a very steep hill (the steepest one all day, actually). When I got there and tried to check in, they informed me I was actually at the other Motel 6, about another mile down the road...why this town has two Motel 6s so close together, I have no idea. Regardless, I got there early enough that I could actually do laundry, which I desperately needed. Once that got started and I had a shower, I got some pizza and worked on today's update. Bedtime should be early tonight as I have another long ride tomorrow.