Day 15 - March 12, 2015
Santa Rosa to San Jon
Miles: 84
Terrain: Morning climbs followed by ups and downs, one particularly steep climb near the end of the day
Weather: Cool and sunny, light crosswinds early, light tailwinds later
I decided a few days ago to try to make it to Amarillo by Friday night, for several reasons. One is that I know people there who I wouldn't mind meeting for dinner Friday evening, if possible. Another is a geocaching event on Saturday morning, which I'll explain if I manage to make it there. The final reason is that the only way to fix this pesky chain anytime soon is to visit a bike shop in Amarillo, and they won't be open on Sunday, so I'd better find one on Saturday or else there isn't another one for many more days. So with that in mind I set out to ride over 80 miles for the second day in a row, to the little town of San Jon, instead of stopping in the much more populated Tucumcari. That would set me up for a third 80+ mile day on Friday, hopefully seeing me to Amarillo right on schedule and putting me a day ahead of schedule for the overall trip. If things went poorly I could always stop in Tucumcari, but that would force a century on Friday as hotel options after San Jon are nonexistent. Century rides sure look nice on the profile, but those kind of marathons can really wear you down.
So this morning I moved out hoping for good winds and reasonable terrain, but the first couple of hours were very slow, with the early winds coming out of the southeast and several hundred feet of elevation to gain over the course of about 12 miles. I spent most of that on the freeway, then exited onto a frontage road which I intended to take all the way to my destination, but almost immediately I enjoyed a nice flat rear tire for my trouble. Then about 10 miles down the road, when the winds were finally starting to go my way, the front tire went flat too. Both flats were caused by tiny metal wires that just pierced right through, although the second one was so small and thin I couldn't even find it without running my fingers along the inside of the tire wall several times. It's absolutely vital that the cause of any flat be identified and removed, of course, or you'll just get another one within a few minutes.
Those were the only flats of the day, fortunately. A bit later I actually decided to get back on the interstate and skip the frontage road, which wasn't in very good condition and several times dipped down very low (to allow drivers to pass under the freeway at various points, presumably for residents of whatever ranch or farm existed out that way). Sooner or later one of those low spots was bound to be muddy or covered with standing water, so I didn't risk it. Plus the shoulder of the freeway was quite smooth and wide in this part of New Mexico, so I didn't have any problems, nor did I see any signs forbidding bicyclists from using it (despite the presence of the frontage road).
One other problem I had today was the lack of anyplace to get lunch. I had already scouted this out ahead of time, so I knew it was coming, and bought an extra breakfast sandwich to nibble on around noon. As it turns out, there was a truck stop halfway to Tucumcari that wasn't on my map so I was able to refill the water bottles there, but I waited to eat until reaching an Arby's in town. San Jon also looked like it had no food choices, too, so I went ahead and got a couple extra sandwiches, and ate them in the hotel room. There was a truck stop there so I grabbed a soda and some donuts for dessert, and that was that for today.
Now, on to some photos! Most of the early part of the day featured very little of interest, until I started to see some actual bluffs, like these here.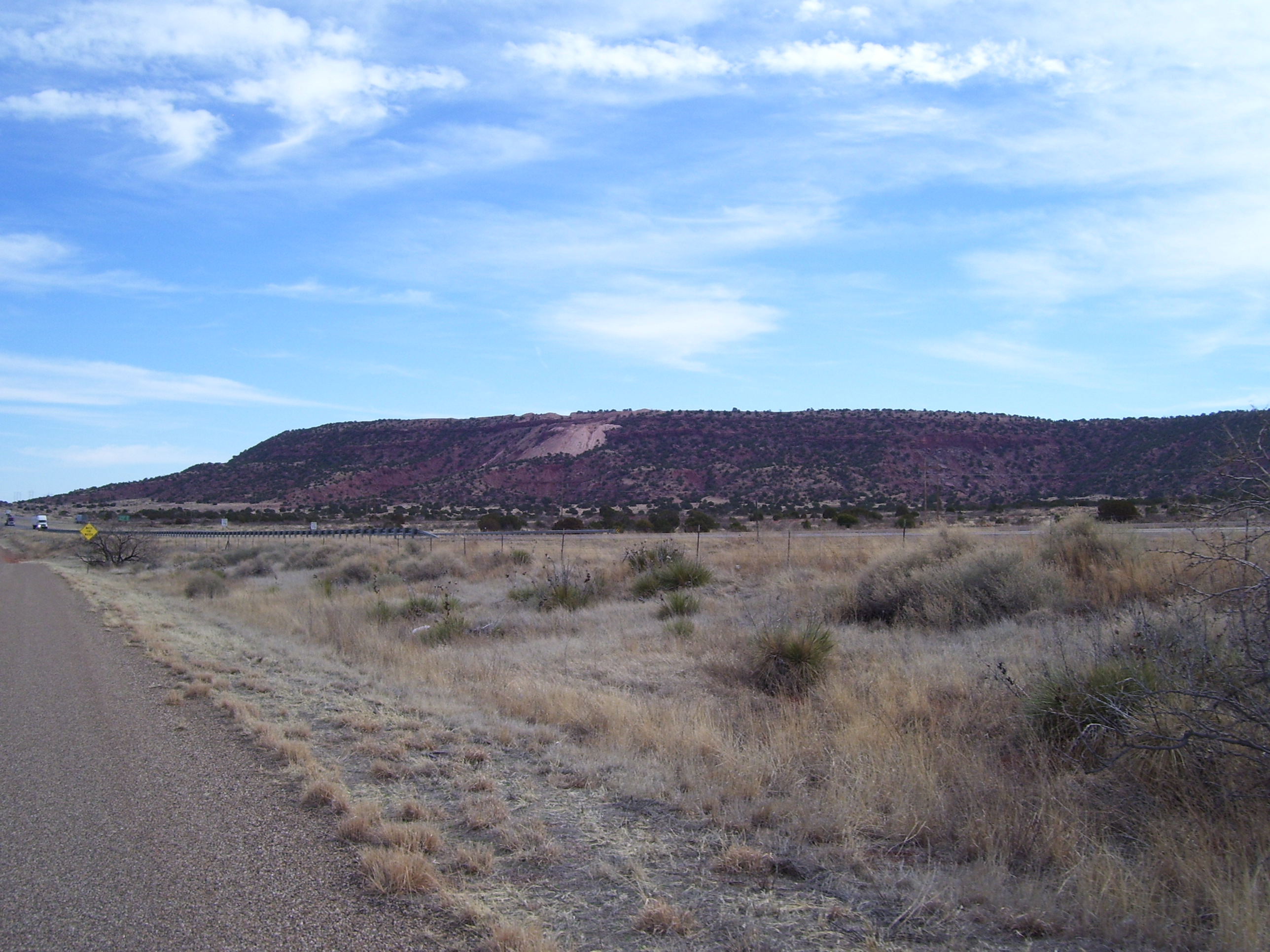 Notice I was riding on the frontage road at this point, the same road that gave me two flats. (I just patched them, so I still have 4 tubes in reserve.) Notice how empty this road is. I think I was on it for over 30 miles, and only about 5 cars passed me the entire time. If that freeway hadn't been right there with all the trucks whizzing by, this would've been a very lonely ride.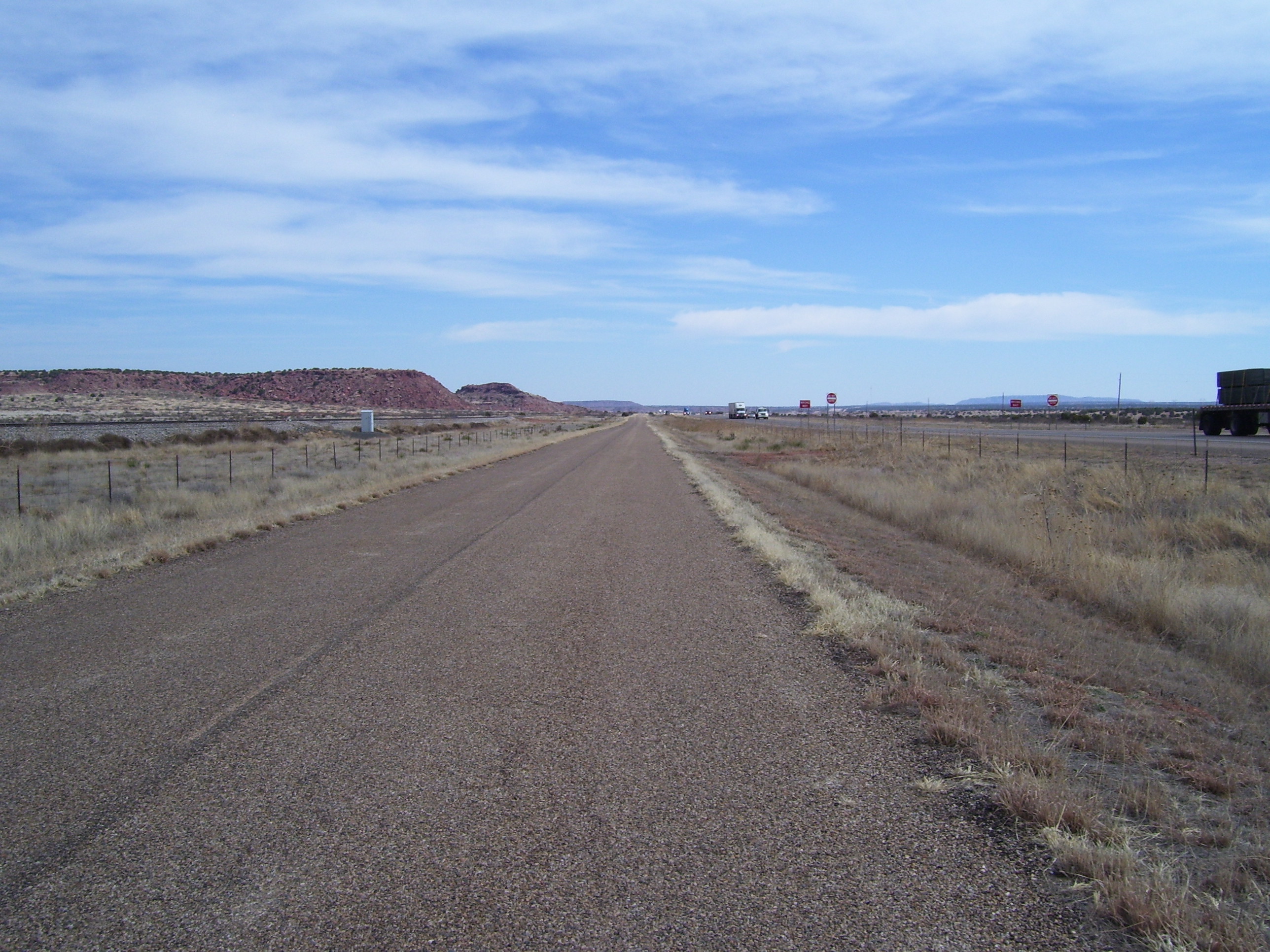 Here's a closer view of one of those bluffs. It looks like a mesa just self destructed.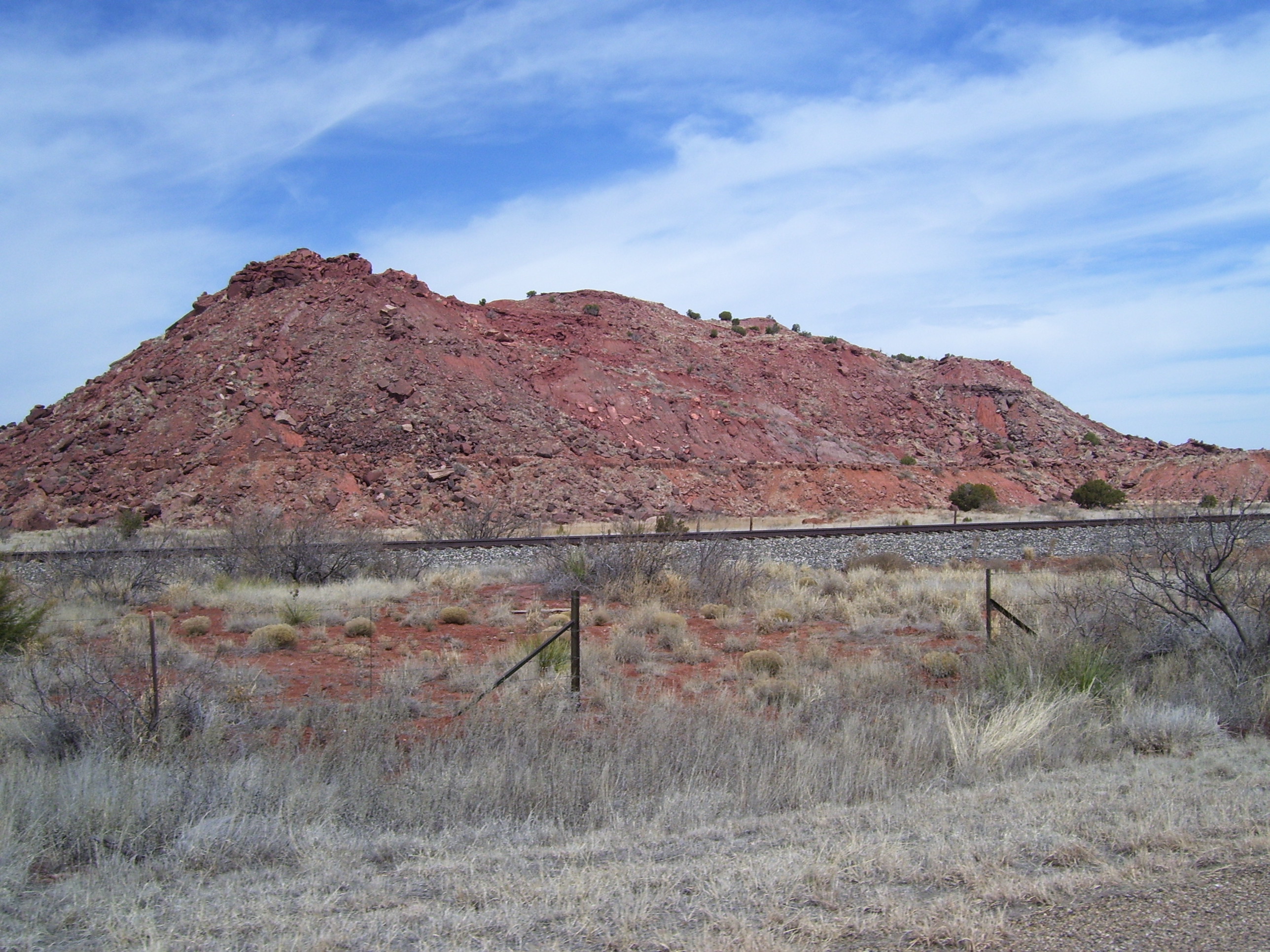 I couldn't resist stopping my bike and going back to take a picture of this cool location, where a railroad bridge perfectly picture-framed a mesa in the distance.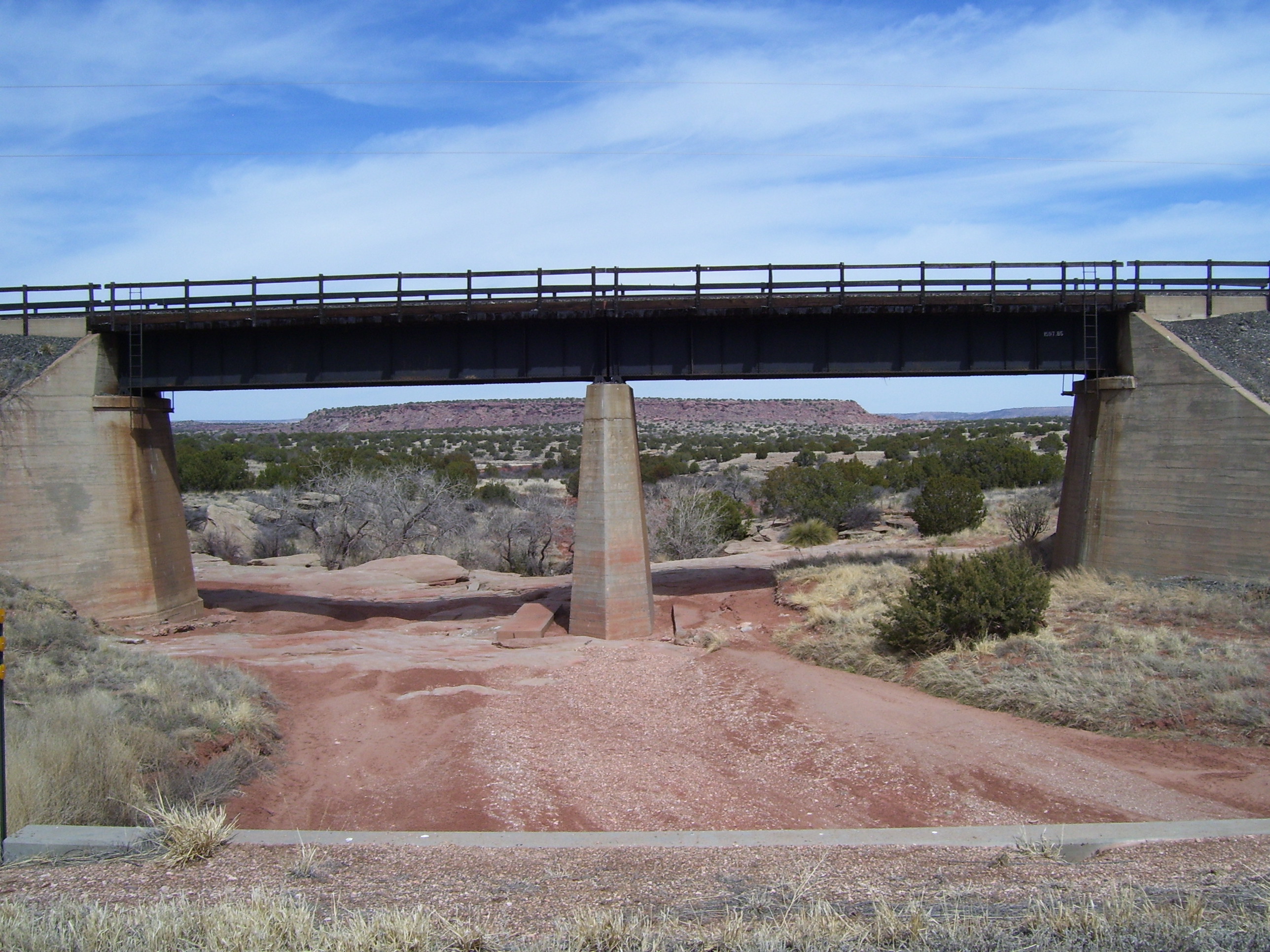 Here's some more of those distant bluffs, which apparently are called the Llano Estacado, a kind of highland plain that stretches for miles. There's almost nothing on top of it, just some thin grasses, no trees or anything...it's like a desert, without the sand.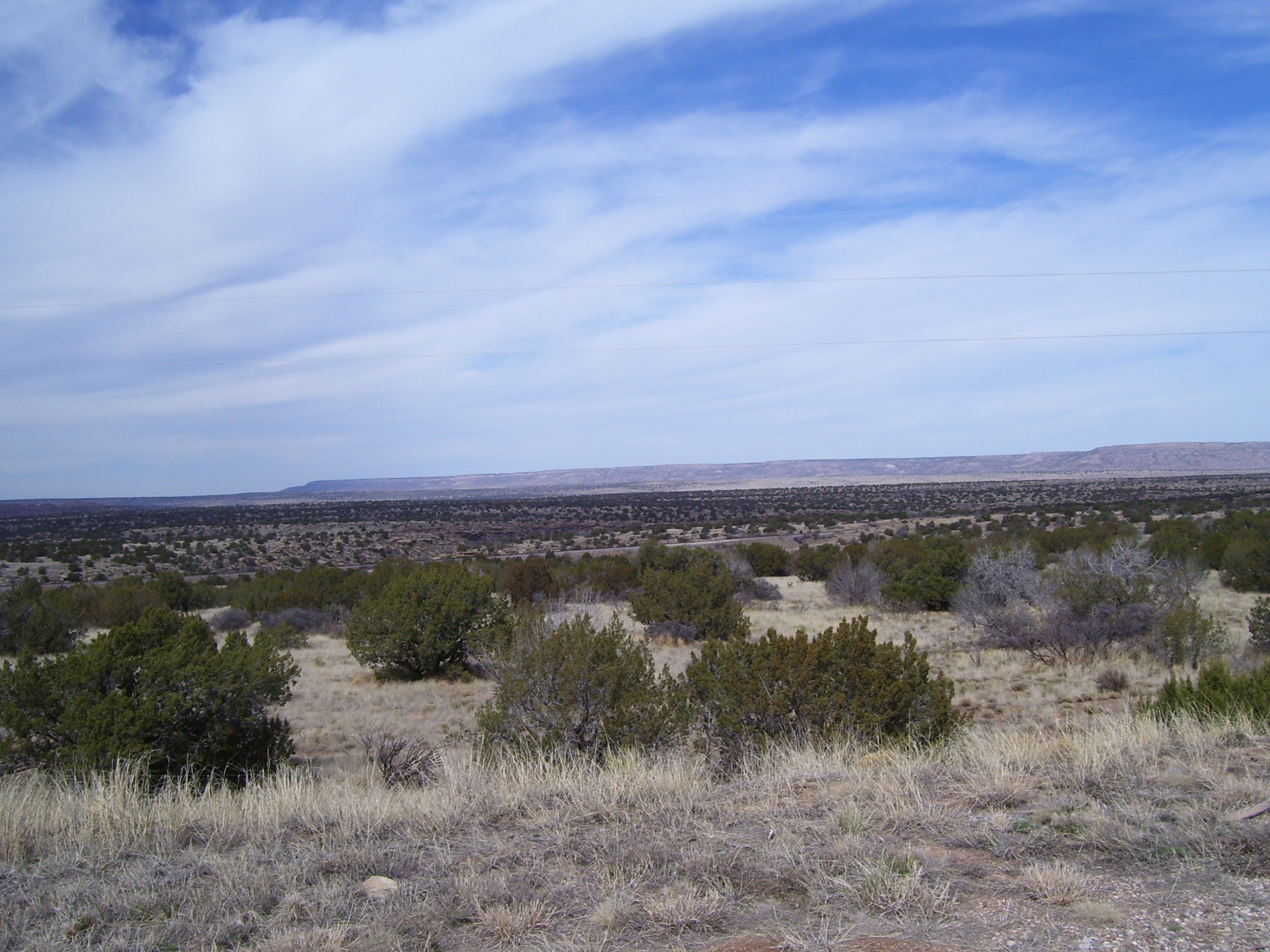 More views of the open road, stretching ahead of me for miles, with a few faint rolling hills...again, totally empty frontage road with nobody on it but me. Eventually, it reaches those bluffs way up ahead and there's a bigger climb, but that's probably 10 miles ahead of where I took this photo.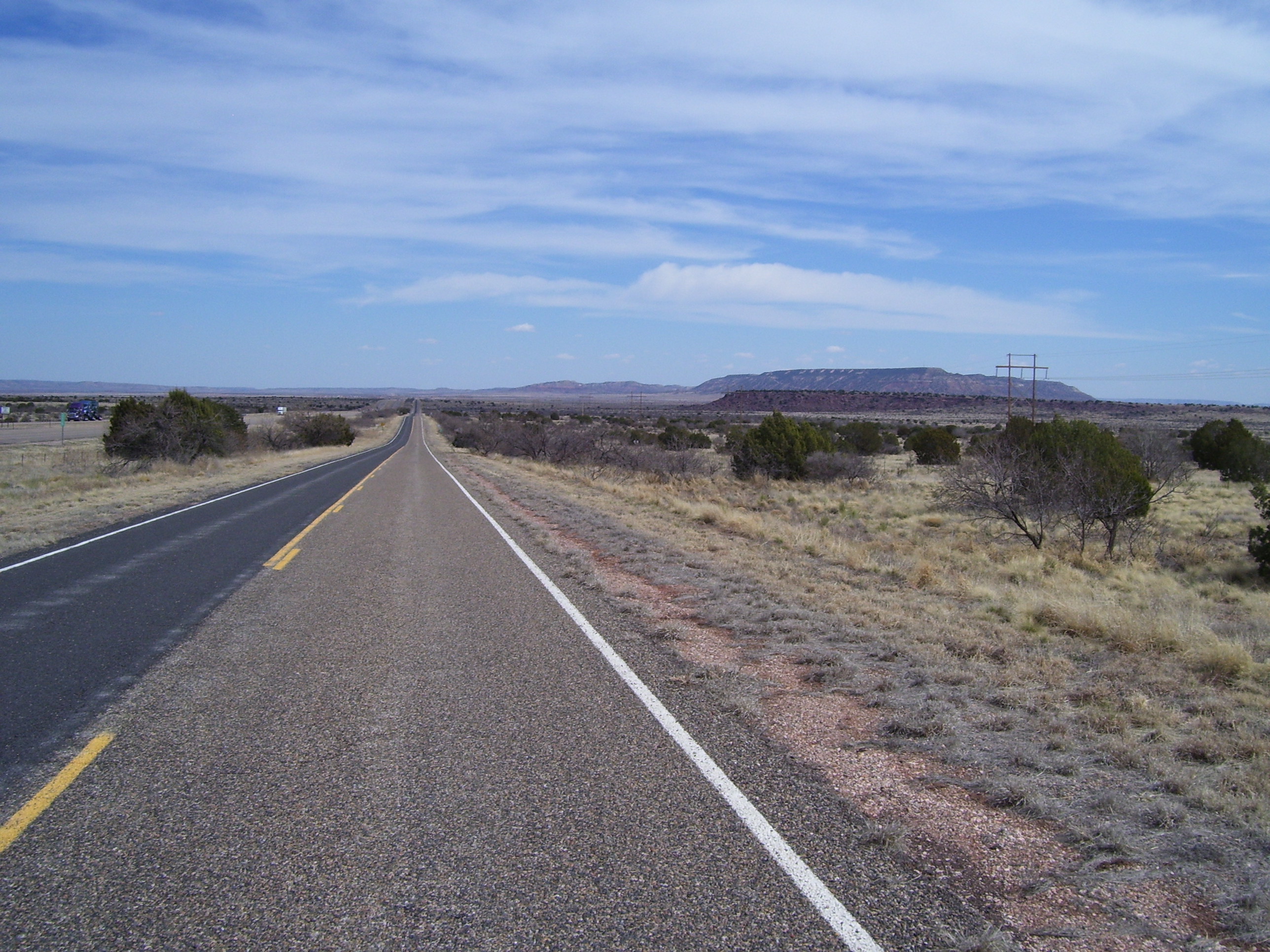 More scenery to enjoy. I was back on the freeway at this point, having abandoned my private road in favor of the smoother shoulder offered by I-40.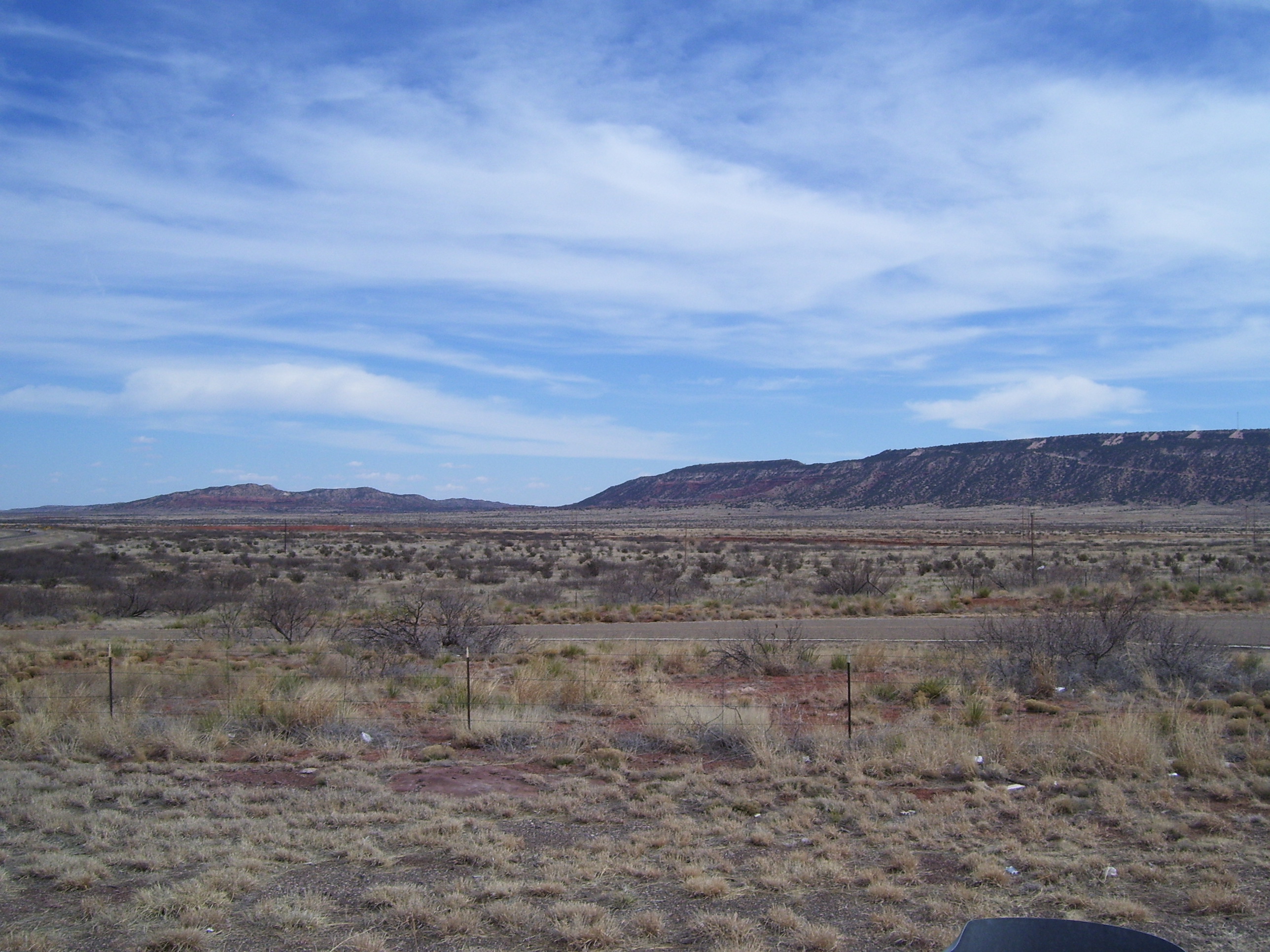 Every day it seems like I meet some interesting people, and today's chance encounter was with Linda and Loren Smith from Alaska, seeing the country in a huge RV that unfortunately had blown a tire about 7 miles short of Tucumcari. In fact this was their second tire of the day (hmmmm does that sound familiar at all?). With the spare already in use, they had no choice but to wait by the side of the road for help from roadside assistance. I chatted with them for a bit while they waited, and I enjoyed the break as the hills in this particular area were some of the tougher ones of the day. (The joke was that I was the roadside assistance crew, haha.) I hope they got their RV fixed...I kept an eye out for them passing me later, but never saw them again. Good luck and hopefully neither of us have any more flats!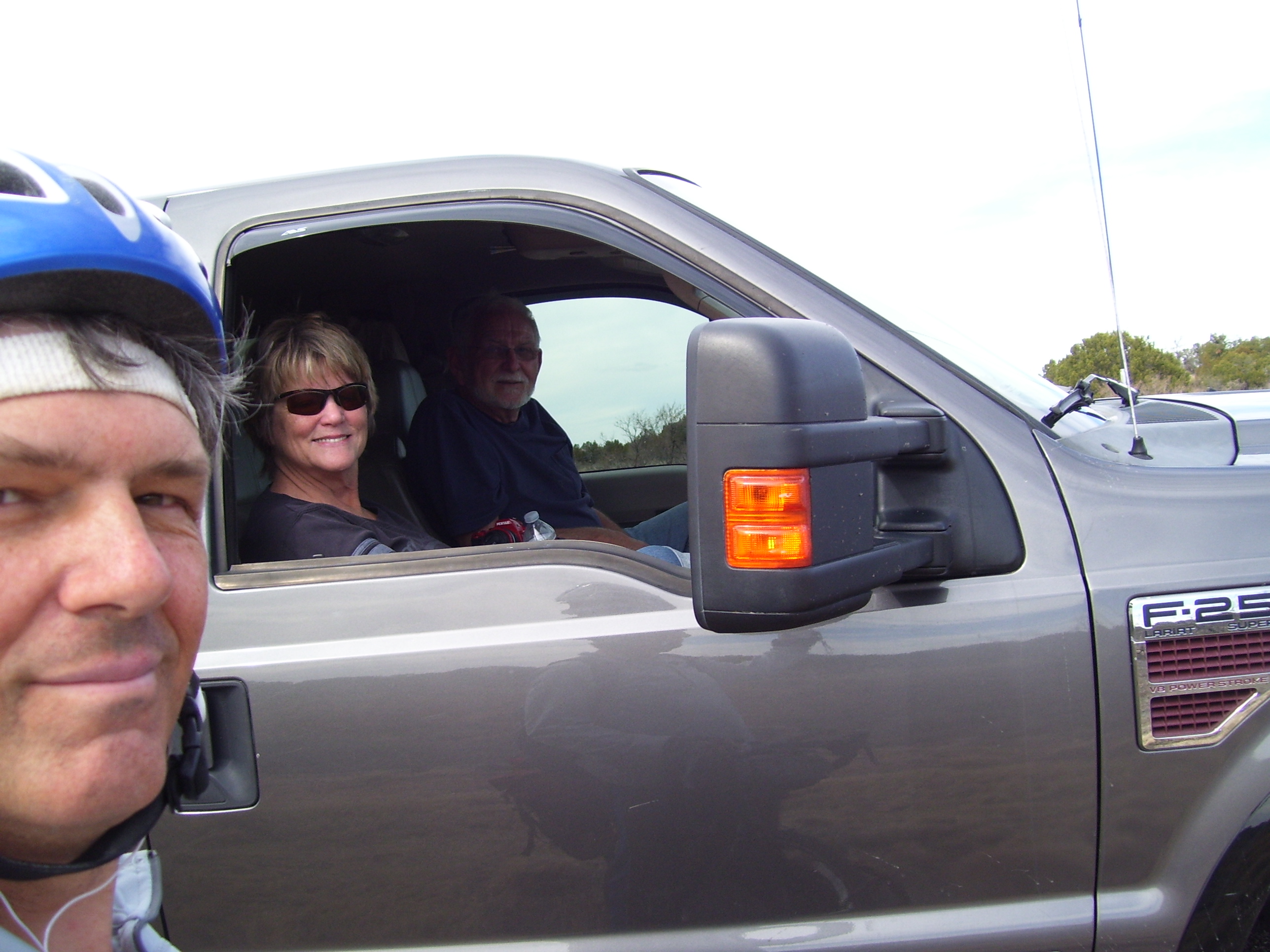 About half an hour later I came to Tucumcari, which is home to this cool-looking mesa (Tucumcari Mountain), which has a giant "T" painted on it. I found out later this feature was copied in the movie "Cars" except that the mesa in that movie has an "RS" on it, for Radiator Springs. Route 66 features heavily in that film so I can see why they'd pick this particular mountain for their inspiration.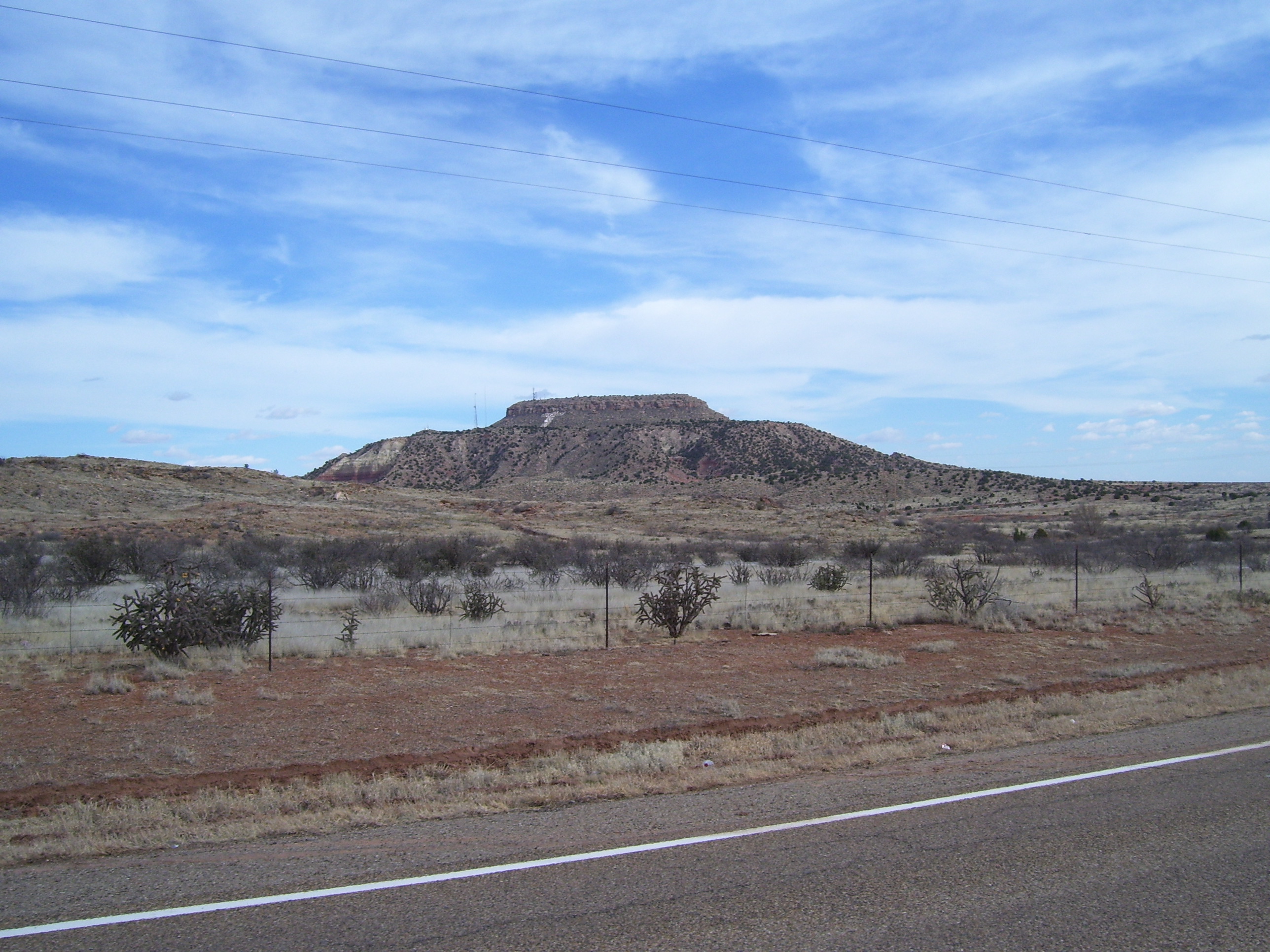 Here's some more details about the mountain, if you're interested...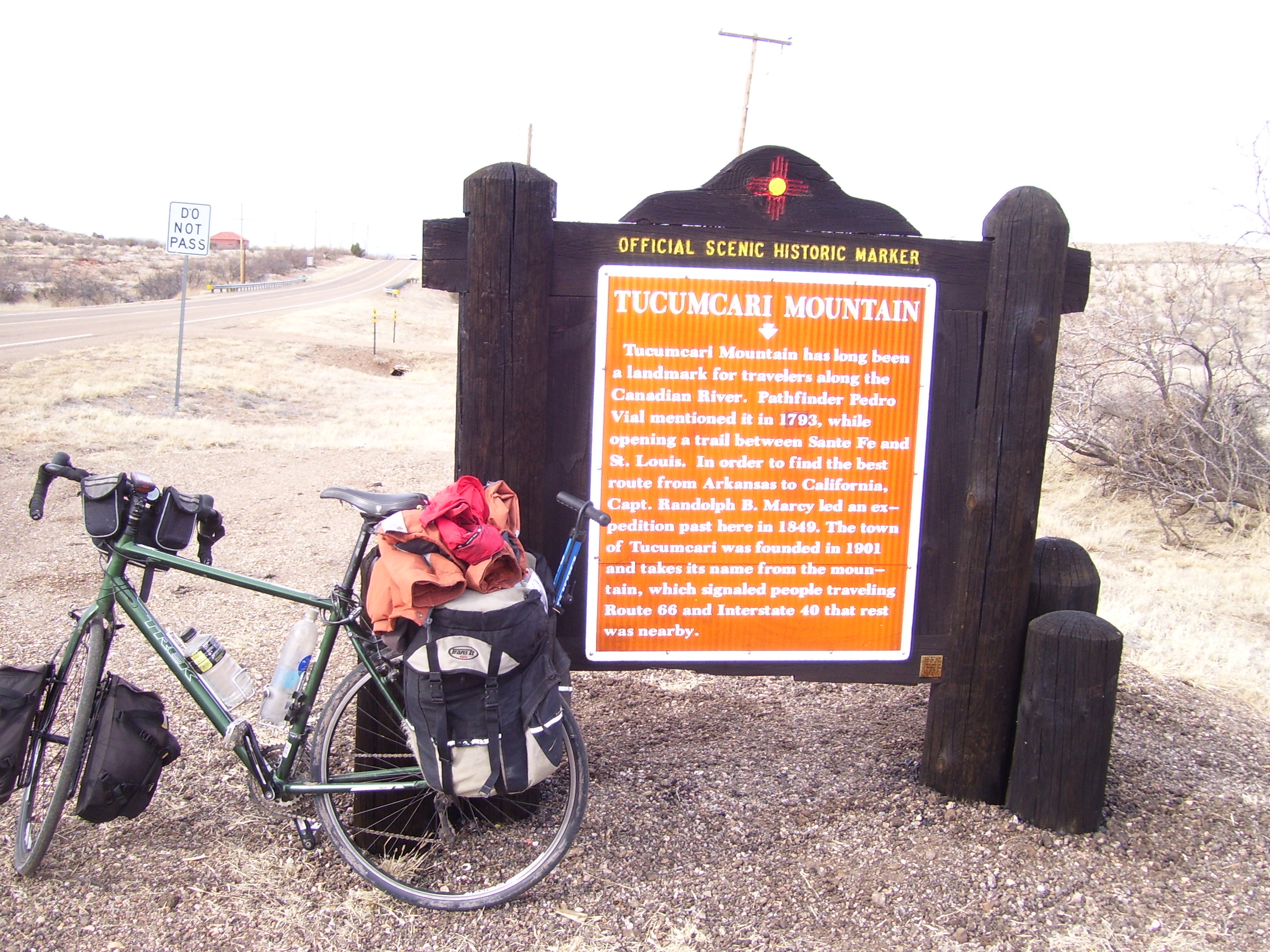 One last view of it from a slightly different angle, where you can see its double-tiered structure (which is pretty unique compared to most of the mesas I've seen this trip). Also notice how the one chunk of it has fallen away, and you can see the lines of rock strata inside (dark red towards the bottom, more yellowish up top). Geologists must love this place.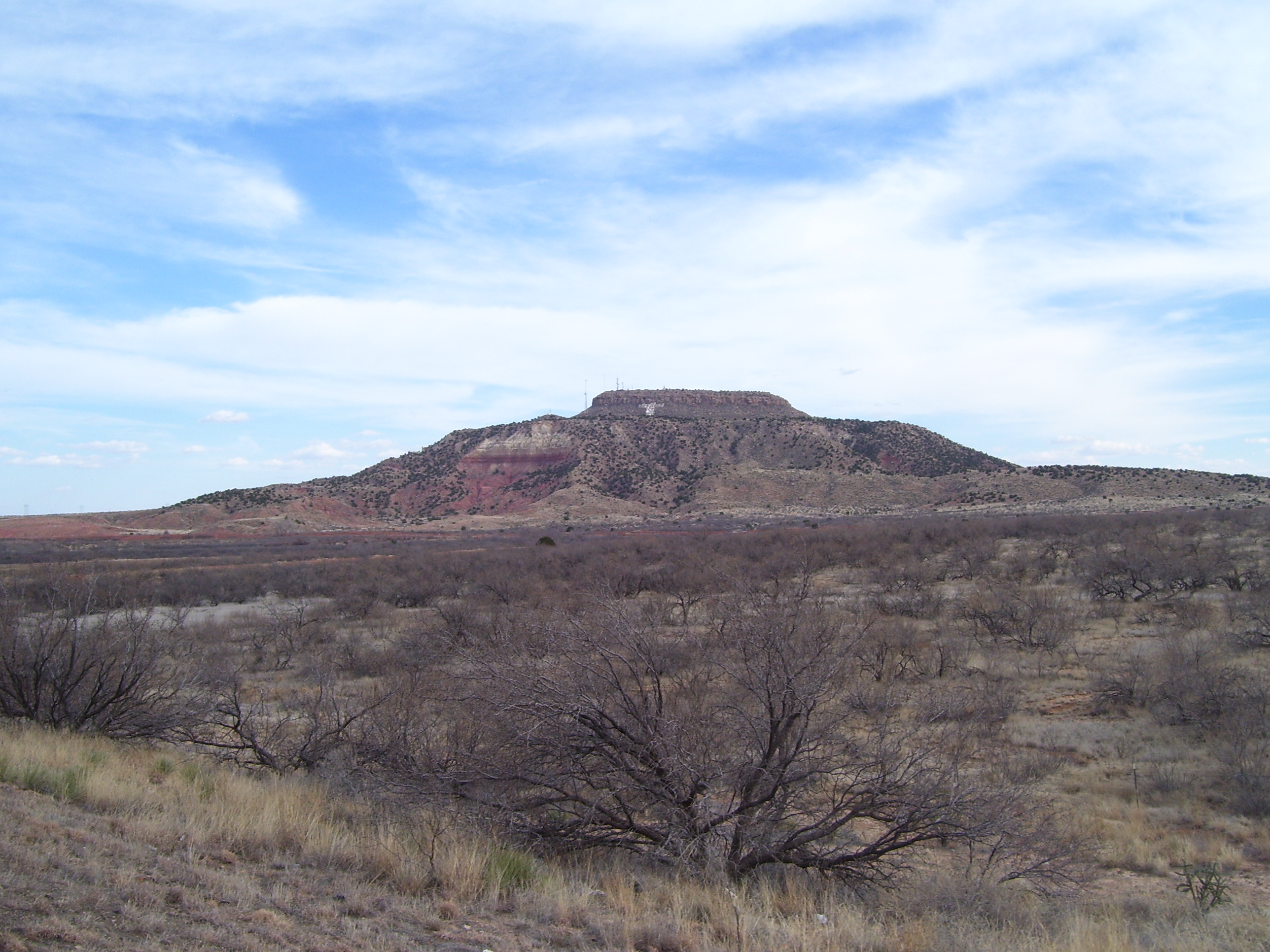 Once I left Tucumcari it was about 20 miles to my destination and there wasn't much else to see. I didn't arrive until just after dark (stupid flats) so I couldn't take any photos of San Jon. Perhaps something interesting will present itself tomorrow morning.