View Larger Map
Day 16 - June 21, 2012
Little River, South Carolina to Wilmington, North Carolina
Miles: 67
Terrain: Gently rolling
Weather: Mostly sunny, hot and humid, 15mph south wind
Lacking internet access last night, I felt disconnected from the world. I really hate not being able to get online...mostly because I didn't feel all that comfortable about today's route, and couldn't scope out options like I usually can. So after getting up this morning, I headed down the street to a pancake house that had free wi-fi. I felt bad about using it without making a purchase, but getting anything to eat really sounded like a bad idea, so instead I begged a bit and explained my situation, and they let me use it. Thanks, Matthew's Pancake House (Little River, SC)! Much appreciated.
Anyway, the issue at hand was...how do I get across the river into Wilmington? The main bridge doesn't have any kind of pedestrian or bicycle access, and the next bridge is many miles out of my way to the north. The other option was a ferry crossing way to the south of town, which wasn't terribly off course because of the way the following day's ride works out. So after doing some checking, I found out the times and how to get there, and set off for the town of Southport. The rest of the day became all about this ferry ride...it was too hot to really think about much else, so I just rode on towards the dock about 44 miles ahead, stopping frequently for water and air conditioning breaks, and wishing the temperature would drop about 15 degrees so I could actually enjoy myself. The irony is, I finally got a tailwind today, for the first time in a couple of weeks, and just like the last one, I couldn't really enjoy it because of the scorching heat.
Shortly after setting out, I came to this sign, telling me I'd polished off SC and moved into NC. I can now check off two more states from my list of states I've bicycled in, with a few more new ones still to come on this tour, if everything goes right.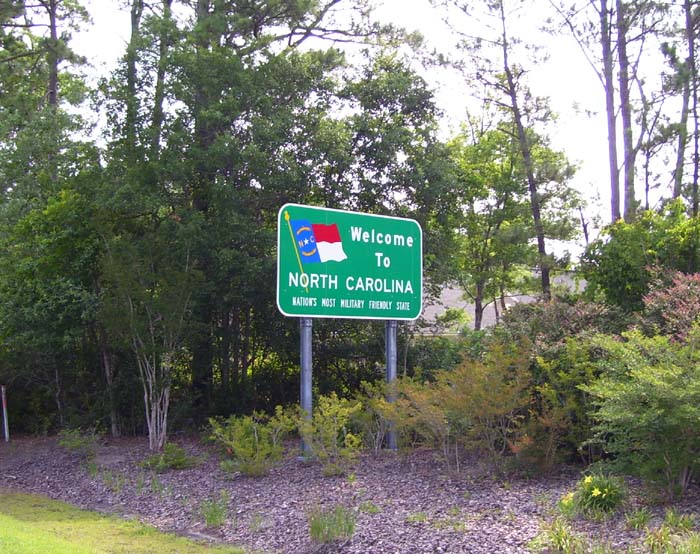 Shortly after taking my first break in the town of Shallotte, where I took the business loop around so I could hit a McDonalds there, I returned to US-17 to find the road completely torn up. You've seen this before...they rip off the top layer of asphalt prior to repaving. Well, this went on for about 5 miles...excessively rough surface covered in cracks and potholes, and worse, they even did the shoulders, so I couldn't even hide there. You can see what I mean in this photo.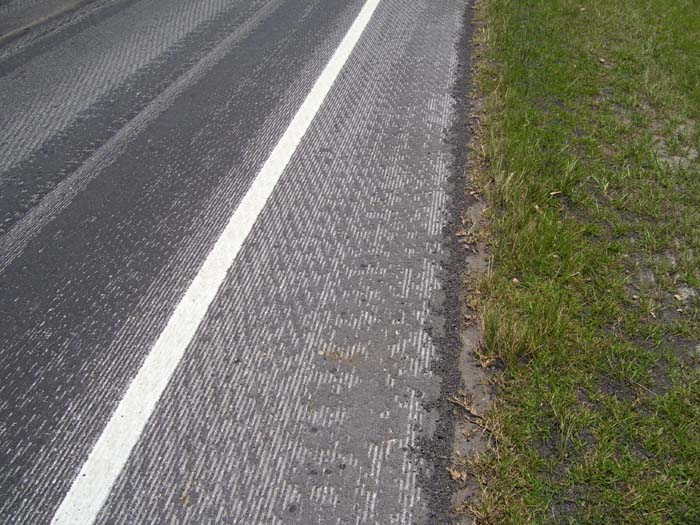 Well, riding on that wasn't going to happen, so my only choice was to cross over (it was a divided highway) and ride on the opposite side shoulder, where fortunately they hadn't started any road work. So for 5 harrowing miles, I got to ride towards traffic, watching the 18-wheelers and RVs and everything else racing towards me at 55+ mph. There's an experience I never want to have again...
So I'll just put that out of my mind for now. The tailwind helped push me along, but still, I stopped every 5-8 miles, well before I could overheat like back in Florida those first few days. This seemed to work all right, but even with the wind, it wasn't all that enjoyable. The temperature was 85 degrees when I left my hotel just before 10am, and by the time I got to the ferry, it was 92 or more (based on signs I passed along the way). After 44 miles, I really desperately needed the long break at the ferry terminal.
Speaking of which, here's my first glimpse of the boat. Not much to see, really. I wondered how they were going to fit much of anything on that.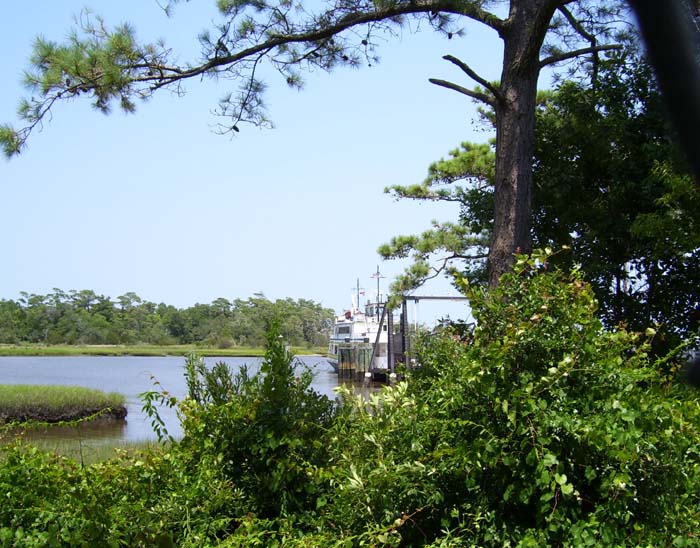 There were plenty of cars waiting, too. They'd lined them up in 3 rows, which provided an almost exact count of how much would fit on the deck. The little shack visible there near the back of the line marks off who gets on the boat and who doesn't, although once they'd parked everyone, they had enough room for 2 more cars (barely). My bike wasn't an issue...I just squeezed it in along the railing.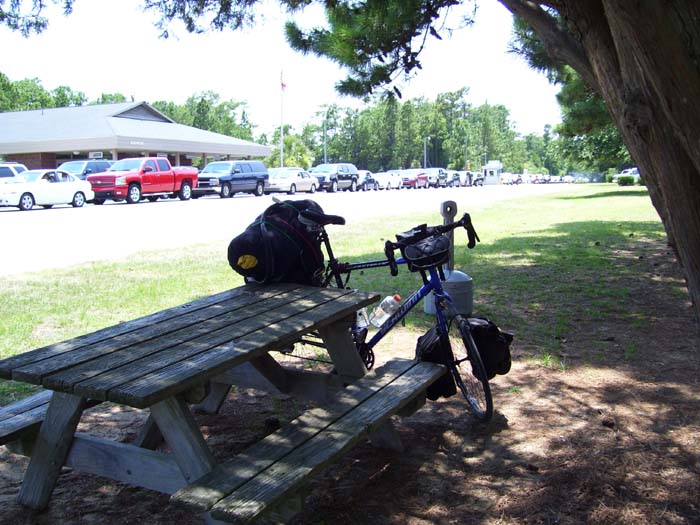 Here's a look back at the dock as we depart on the 25-minute voyage about 4 miles to the other side of the river.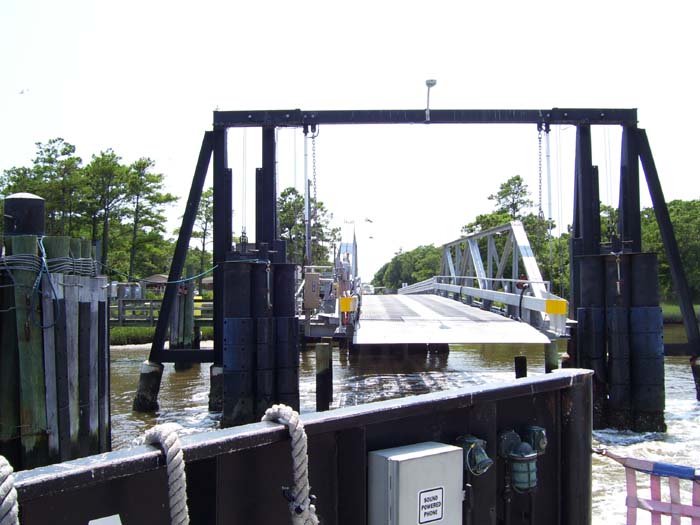 Here you can see my bike nestled in among the edge, where it's not taking up a vehicle spot. They had an observation deck you could go up to (most everyone left their cars during the trip, because you weren't allowed to keep them running, so you couldn't use the AC). All these new pictures come from the upper deck.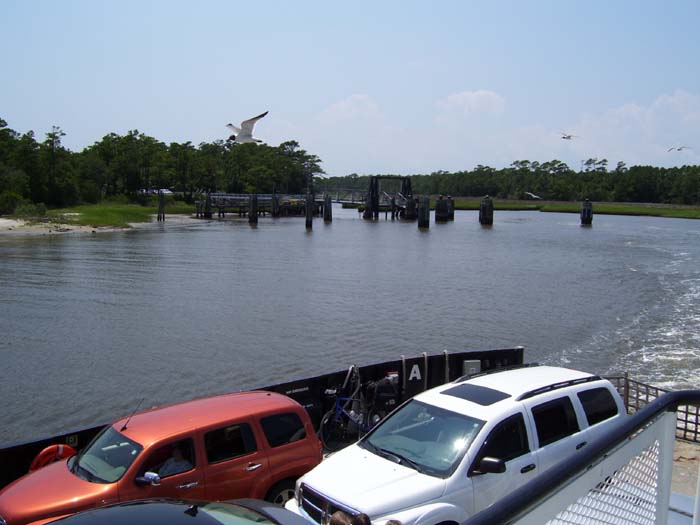 While hanging out and enjoying the breeze, I chatted with another traveler named Peggy, whose son was getting married this very night on the beach close by. She was kind enough to take this photo of my tired self (notice how the underarmor shirt looks stuck to me...yeah, it's pretty much soaked with sweat--it only takes about an hour to get that way, too).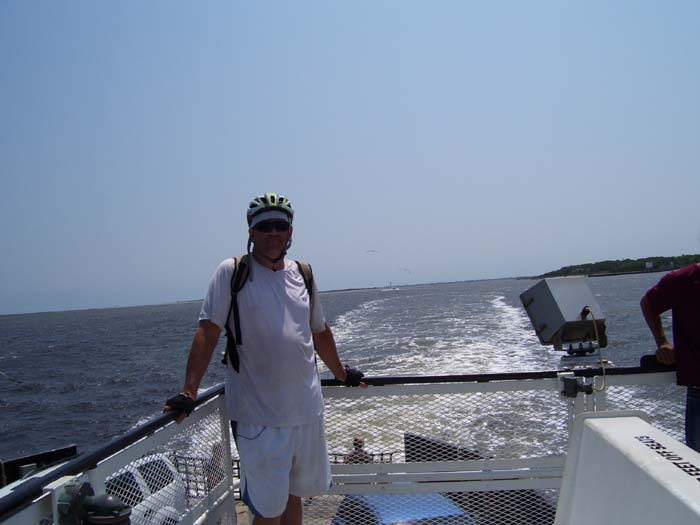 Turns out there's a second ferry, which we naturally passed on the way over. I guess that's how they can keep up their pace of one trip every 45 minutes. They needed it, too...there were plenty of cars left waiting for the next ferry after ours filled up.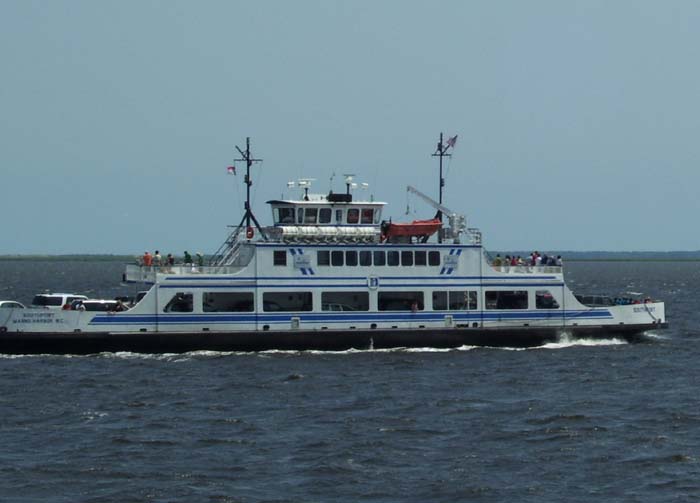 One last shot here as we approached the other side. You can see how tightly packed they crammed these vehicles in here. No trucks or anything like that, though. Oh, and I was the only bicyclist on this run, although I did see someone waiting on the other end after we docked. (Cyclists get on the ferry last, after all the cars are done. And they exit last, too. Not that I minded...it let all that traffic disperse ahead of me.)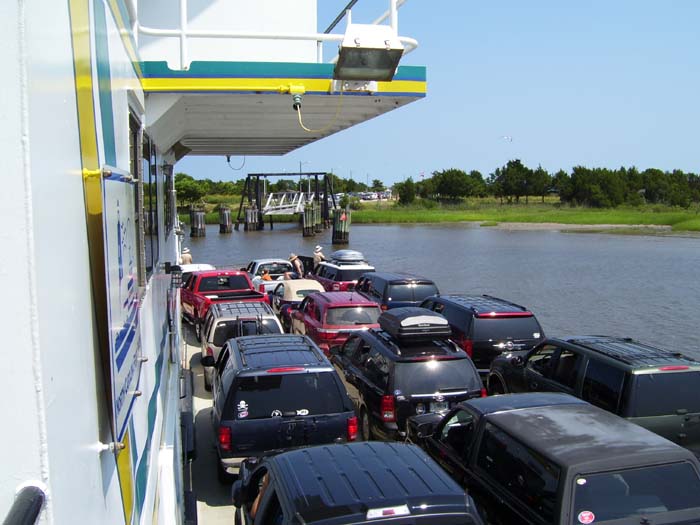 The seabirds around the boat and the piers were almost fearless. This is how close they let me get...about the same as that osprey back in Florida. (Apparently, that was an osprey, as an alert reader pointed out via email. In fact, if you happen to have any comments, suggestions, or whatever, feel free to email me anytime...just click here.)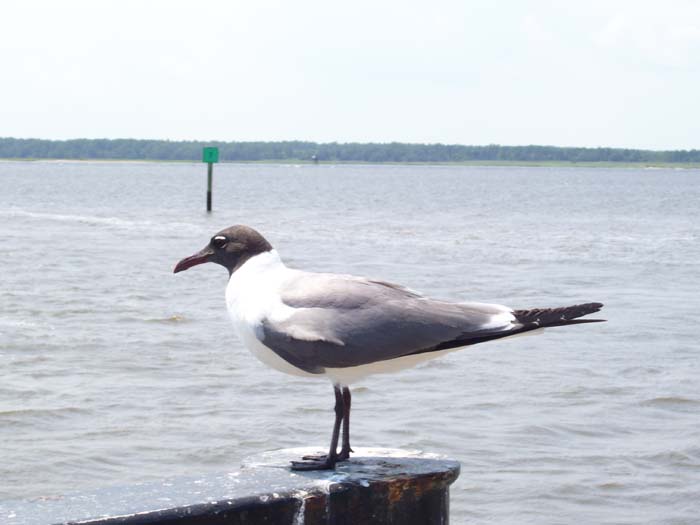 After leaving the ferry I rode through a couple beach towns on what's called Pleasure Island, and had my last challenge at a particularly steep bridge over the intracoastal waterway, where I took this last photo of the day. The buildings on that distant shore looked like pretty expensive resorts...out of my price range, no doubt.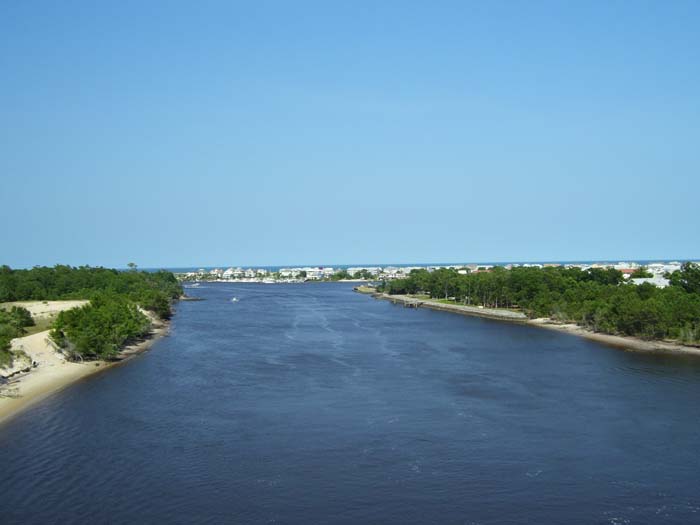 About 10 miles later, after battling my way through some positively awful traffic in Wilmington, I returned to US-17 (I'd left that behind upon turning towards Southport) and immediately found a cheap hotel...one that didn't appear on my hotel map. I'd expected to fork over $65 for a stay in a Super 8 tonight, but this place saved me 20 bucks. Plus I still had half a pizza to eat from last night, so today wound up costing very little. Tomorrow promises to be another hot day (but a shorter ride), and another trip into town hoping to find someplace inexpensive, so we'll see how that works out. Oh...and speaking of things working out, the gel insoles in my shoes seem to be having a positive effect, at least so far. My feet didn't hurt nearly as much today.