View Larger Map
Day 18 - June 23, 2012
Jacksonville to Cedar Island
Miles: 85
Terrain: Gently rolling
Weather: Sunny, hot and humid for the first half, warm and rainy for the second half, 10-15mph south wind throughout
Today I had two options. On one hand, I could ride 40 miles into a town called Morehead City, get a room at any of several decent hotels, and take the rest of the day off. On the other hand, I could try riding out to Cedar Island, another 45 miles away. The problem with that second option was, once I started heading out there, I'd be committed...there weren't any other places to stay anywhere until I reached the Driftwood Inn, the only hotel in town and the only one (except for a couple of $200+ bed and breakfasts) within 40 miles. So I wrestled with that choice all morning.
Things started off well enough. The heat wasn't quite as crippling as yesterday (still close to the 90s, though), and I rode along an actual bike path for the first 5 miles. The path rode along the fence of Camp Lejune, as you can see in this first photo.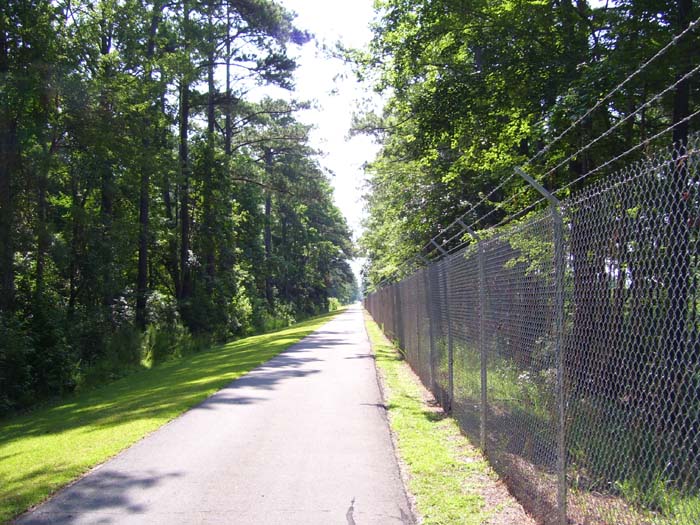 Closer to the main entrance (apparently the gate near where I stayed last night wasn't the main gate after all) I started seeing homemade signs welcoming soldiers back from overseas deployments. I hate to admit it, but this actually brought a tear to my eye. When I think about how badly our soldiers were treated returning home from Vietnam, and then to see support like this for today's military, that's very heartwarming. It certainly lifted my spirits for the rest of the day, that's for sure.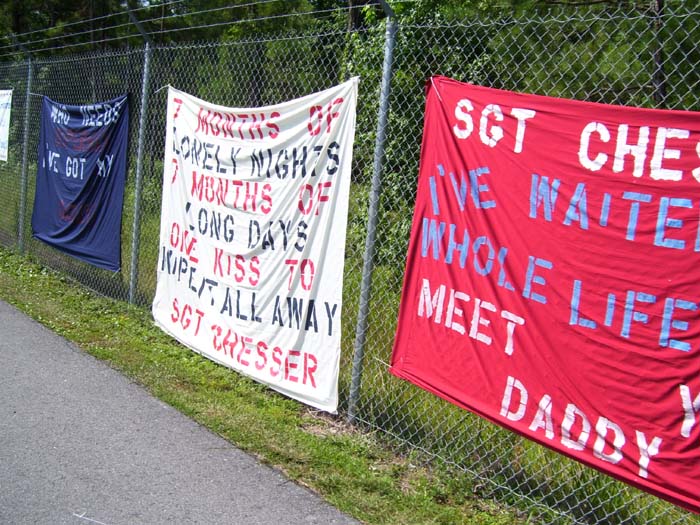 After I got to the main gate (below), the bike path disappeared and it was back out on the main road, which they'd named Freedom Way.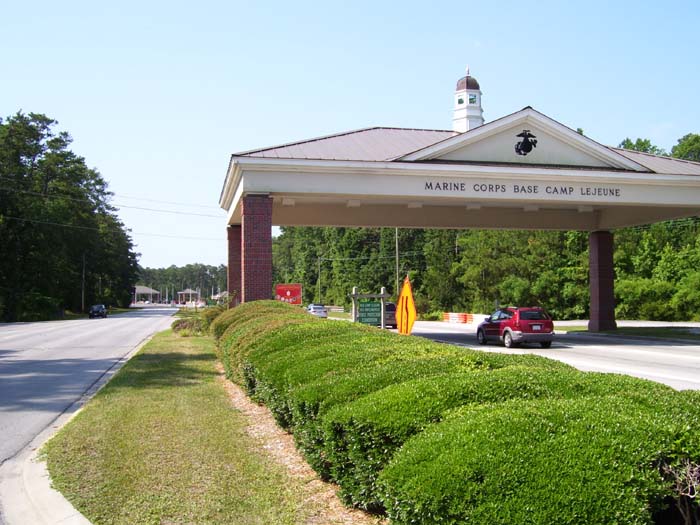 The bike started getting harder and harder to pedal after a while, so I had a feeling something was wrong, even though the back tire looked fully inflated (I can't see the front one while riding due to the panniers blocking my view). The previous evening, I'd noticed the tread finally wearing off the back tire, so that made me wonder if it was starting to get out of shape, making it bump the brakes. Nope, that wasn't it...instead, I had a piece of wire stuck in the front tire, giving me a slow leak. So after getting a drink at Burger King, I patched it up and added the other tire liner, so hopefully that'll be the last puncture I see for a while. (Of course, having said that, I'm totally screwed, right?)
Anyway, back to the ride...the day got hotter and I started waffling about continuing on or stopping. Upon crossing a small bridge on the approach to Morehead City, I could see all kinds of hotels and resorts out on the island across the intracoastal waterway (this region is called the "Crysal Coast," apparently). You can barely see them in this picture here, but a bit further on from this point, I could take a bridge out to that island and have my pick of (modeartely expensive) places to stay. Of course, that's about 5 miles out of my way and off course, so once I did that, the Cedar Island option would be out. I chose not to take the bridge.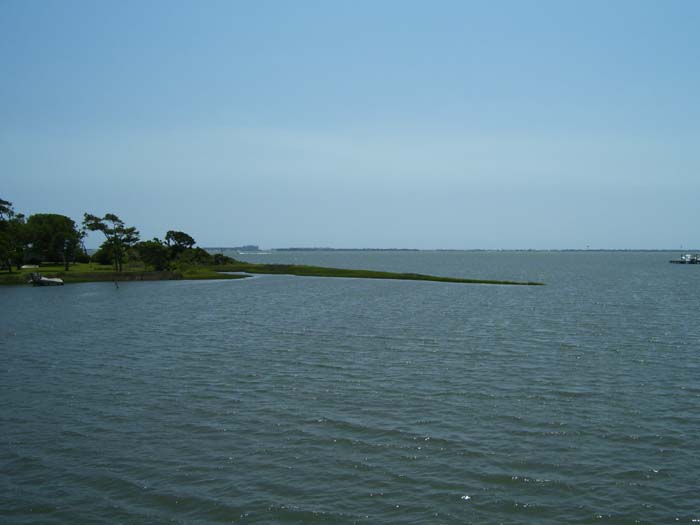 Here's a look at the charming little town of Morehead City, my decision point for the day. After taking another break and making a couple calls to check on the weather (notice that dark sky to the left there), I decided to go for it. It was only about 2:30, after all, so I still had 6 hours to go about 45 miles. Getting to the motel, located right next to the ferry landing, simplified the departure for the next day (I wouldn't have to ride 45 miles to get there and potentially just miss the boat, forcing me to sit around for 2 hours...instead, I could just get up and head over to the boat right on schedule). Plus, I'd then have the entire rest of the day to find a place to stop, instead of arriving sometime around 4 or 5 pm and only having a few hours. Essentially, going on to Cedar Island today would shave an entire day off the trip.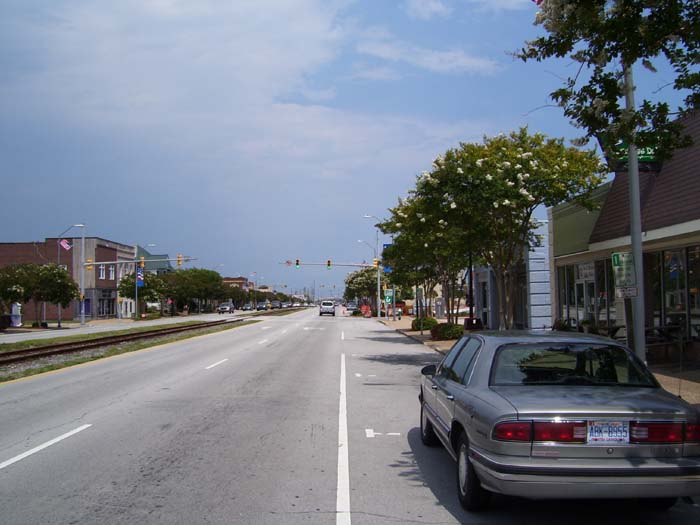 Shortly after making that choice, I got my first test at this nasty two-lane bridge climb that got my legs really hurting. The view from the top wasn't all that impressive, either. That metal thing on the right is a drawbridge for the adjacent rail line...so they built a drawbridge for that, but a steep "normal" bridge for cars. Well, I guess the road was pretty crowded, so I can understand that.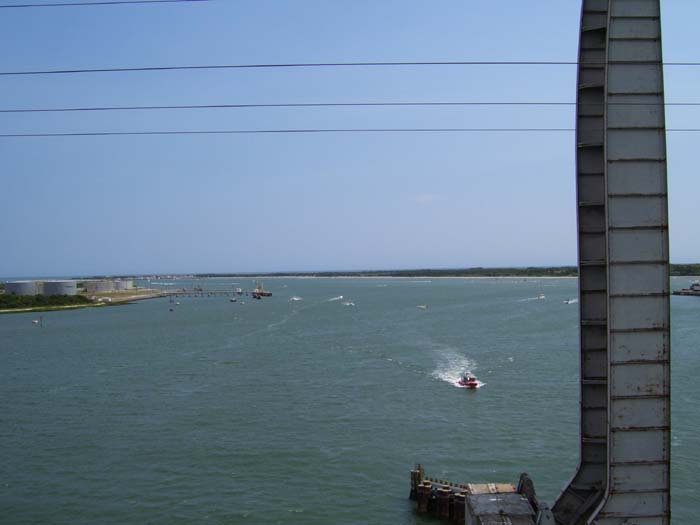 After leaving the Morehead City/Beaufort area, I got on route 70 and headed northeast, following along the coast for a while. This view is typical of what I got to see for the next 15-20 miles or so.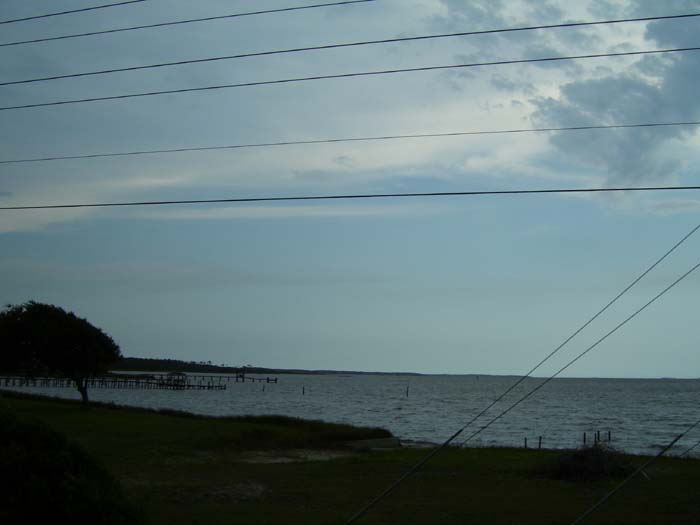 After that, the road moved into swampland and things started looking mostly like this. Around this point it started raining (not too hard, though). Thunderstorms were off my left shoulder the entire afternoon, but I only caught a light rain most of the time. This cooled things off somewhat, but the humidity went up to compensate, so it didn't really help as much as you'd think.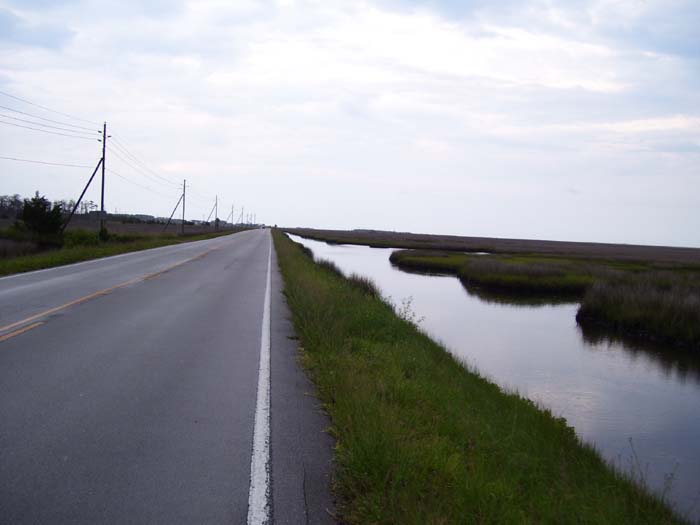 Another bridge reared its ugly head about 20 miles from my destination, giving me this view of the distant town of Sealevel. I did pass a sign advertising a motel and campground there, but the sign looked so old I didn't feel like taking the 5-mile side trip to go check it out. Besides, those storms kept getting closer and closer (slowly), so I didn't want to waste too much time.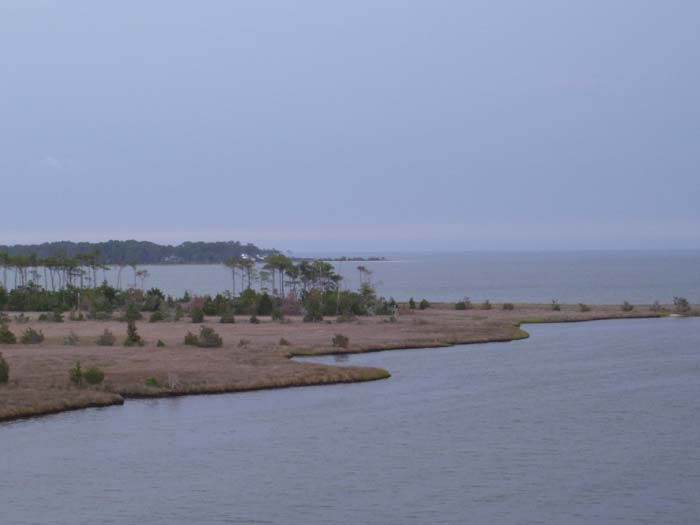 About 10 miles to go, right in the middle of the swamp (and, by this point, a national wildlife refuge), I found this bridge. Ouch, it makes my legs hurt just looking at it. Fortunately, it turned out to be the last bridge of any significance. Notice also that the road's basically deserted...traffic got very, very light by this point, probably because the last ferry for the day left at 5:30 and it's about 6.
Another view of those thunderstorms off to my left, plus the fairly boring swampland I got to look at for a few hours. I should note that this swamp produced some pretty dedicated mosquitoes, which swarmed around the road enough to sometimes land on me (or perhaps get stuck to my wet clothes). It's hard to slap at mosquitoes while riding a bike, as you might imagine. Within about half an hour I was covered with bites...sigh.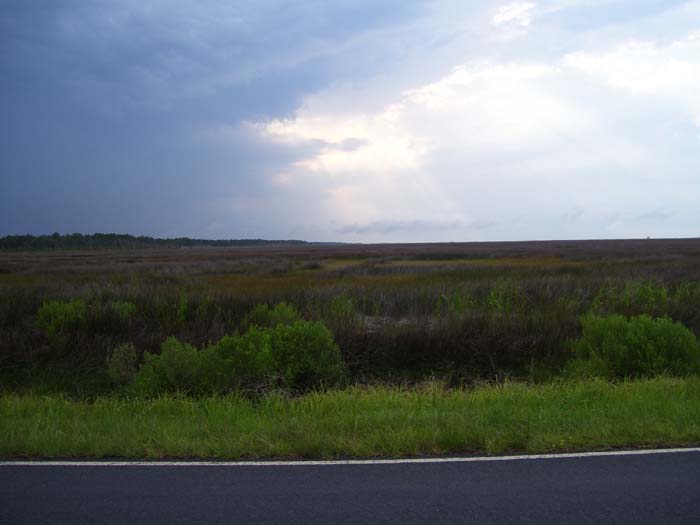 It's hard to see in this shot, but I spotted a rainbow...and it's pointing right at my destination. Divine inspiration, perhaps?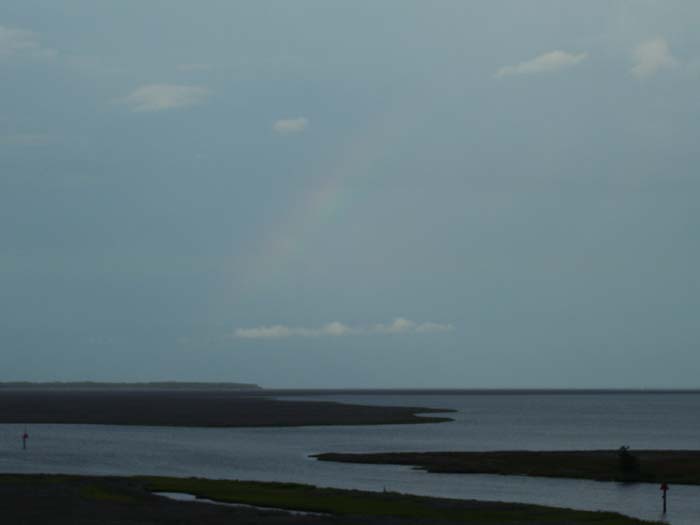 Finally, as I started getting really, really tired, my destination finally came into view on the GPS. I only had to slog my way along for a couple more miles, hoping the thunderstorm would stay away, and slapping at pesky mosquitoes all the while. Just before reaching the end of the road, I stopped at a convenience store and picked up a 2-liter, which is where I realized just how tired I really was, because getting back on the bike really hurt. But the hotel, and ferry landing, wasn't much further...
That's the ferry on the other side of that white car, by the way. The hotel is the long building to the left. That's all that's here, too. This place is tiny...no Pizza Hut tonight, that's for sure. I wound up getting some shrimp alfredo in the hotel restaurant (along with some creamy clam soup...yum), which cost more than I usually pay for food, but whatever. I saved a day's stay someplace, right? Oh, also, they don't have internet in the room, and cell phones don't work around here, either. And no phones in the room, although they were kind enough to let me use the house phone. So no amenities, but still, they had cable, so that's something. Oh, and also, the thunderstorm finally hit about 30 minutes after my arrival.
Anyway, tomorrow, I'll take the 10am ferry to Ocracoke Island, and see what's out there on the Outer Banks.