View Larger Map
Day 20 - June 25, 2012
Waves to Coinjock
Miles: 78
Terrain: Flat to gently rolling
Weather: Mostly sunny (thunderstorm late), warm and humid, 10-15mph south wind
Today turned out to be one of my more interesting days. The hotel worked out nicely and I got a good night's sleep, and for once I had a tailwind helping me out most of the day. Nonetheless, the bike seemed to be struggling, and I couldn't really figure out why. Then I got another flat (something came into the rear tire from the side, missing the liner) and after I started going again, it felt even worse. So I stopped and put in more air, and got some improvement. I'd been thinking this whole time that the hand pump I'm using is good enough to get me on the road, but hadn't realized just how underinflated it really left the tires. (It's hard to tell by looking at them and I don't have a pressure gauge on me.) So I found a bike shop, got them pumped to 80 psi (and bought a couple more spare tubes) and that seemed to solve the problem. So with that taken care of I actually cruised along for a while, one of the only times this tour I've been able to do that. It wasn't even insanely hot, just your normal garden-variety hot.
I knew I'd have a few hours left on the island before having to head inland for a while, so I took some photos and stopped to see a few things. Here's a shot of some of the beach houses along one of the less populated areas. Each of these buildings is a rental--a local told me these small towns actually have very few permanent residents. The rest are all rented out weekly or monthly, usually for $1000+ a week. Sounds like a lot, I know, but if you bring your whole family or get together with a bunch of friends, you could stay for a pretty good price individually. Get 8 people to chip in for a $1200 a week house, and that's $150 each...not too bad for a week's stay on the beach.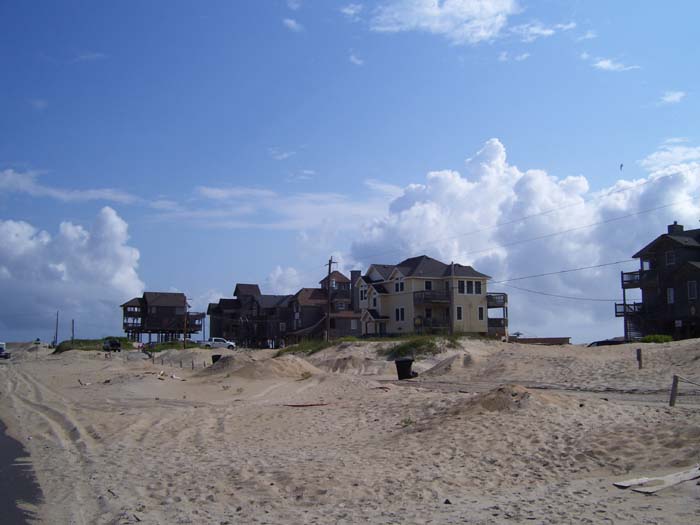 A bit farther along I came to this nice little wildlife viewing center where I cooled off, got something to drink and had a look through their telescopes at birds out in the nearby marsh.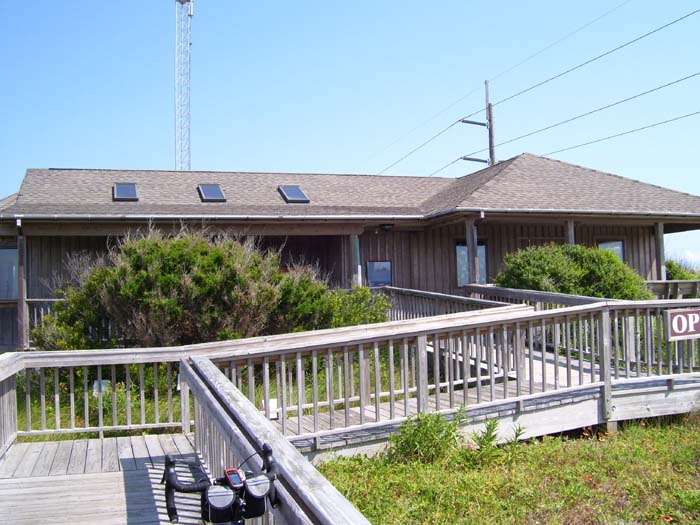 Close by they had a turtle pond. The little guys obviously know the sound of feet tromping on the wooden planks overhead means they might get a handout, so they all rose to the occasion.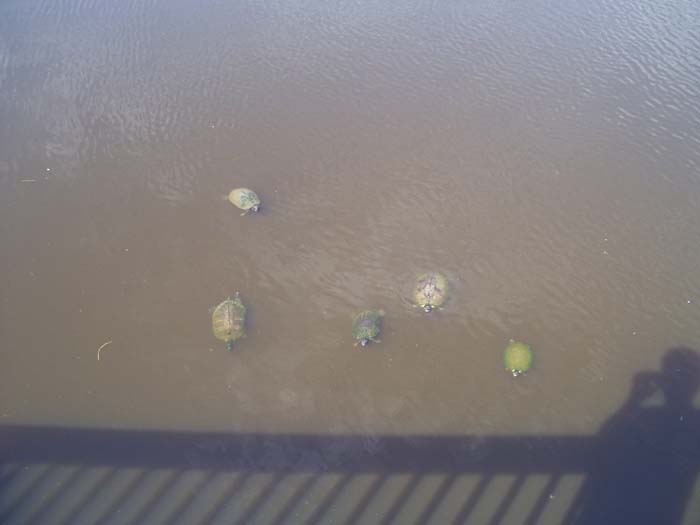 Then it was back on the road. I had a shoulder most of the time, except when the dunes crowded me out. Sometimes they spilled out into the lane quite a ways, but there wasn't a lot of traffic.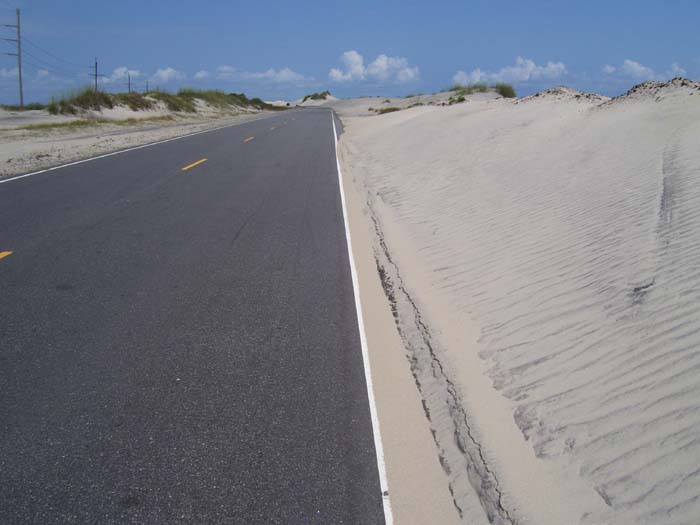 Uh-oh, a bridge!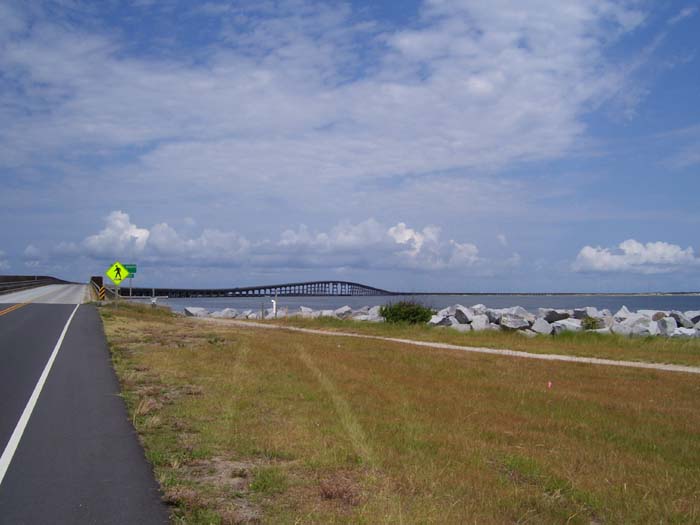 Of course any bridge shot means there will be pictures from the top of said bridge. Here's the view looking back...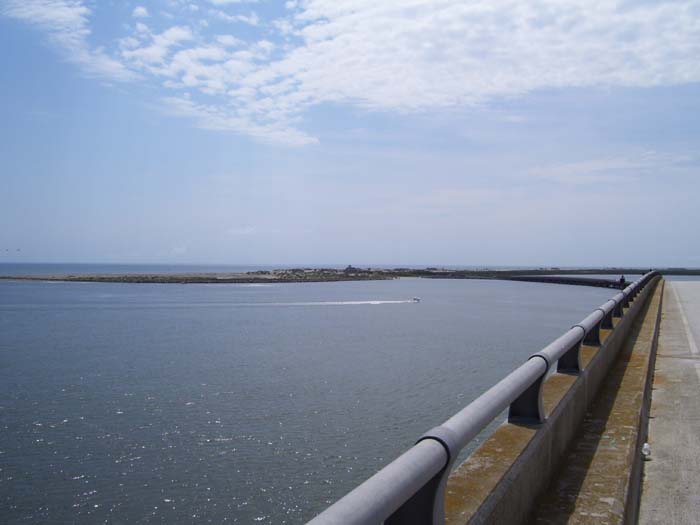 ...and ahead of me. Nothing but flat island for another 15-20 miles. Sort of reminds me of the Florida Keys.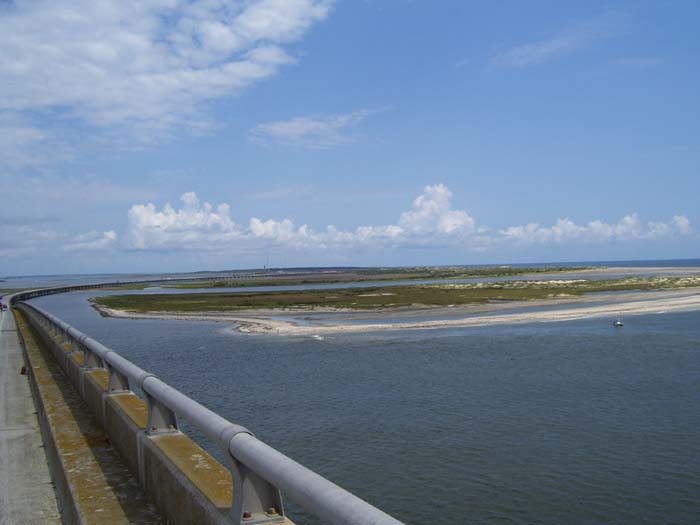 I'd really intended to go over and have a closer look at this lighthouse, but with all that scaffolding up, I didn't bother.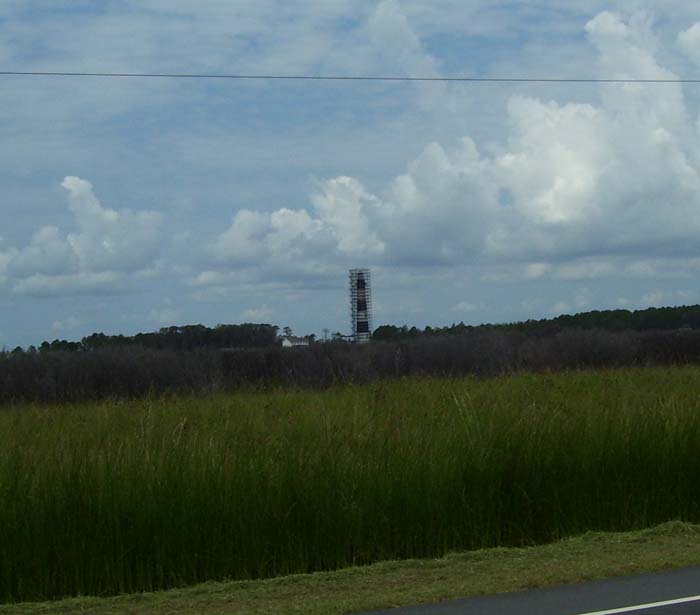 Aha, this is where all the people are...this is the beach close to the first bridge over to the mainland, int he Nags Head area. After this point, things got rather crowded with tourists.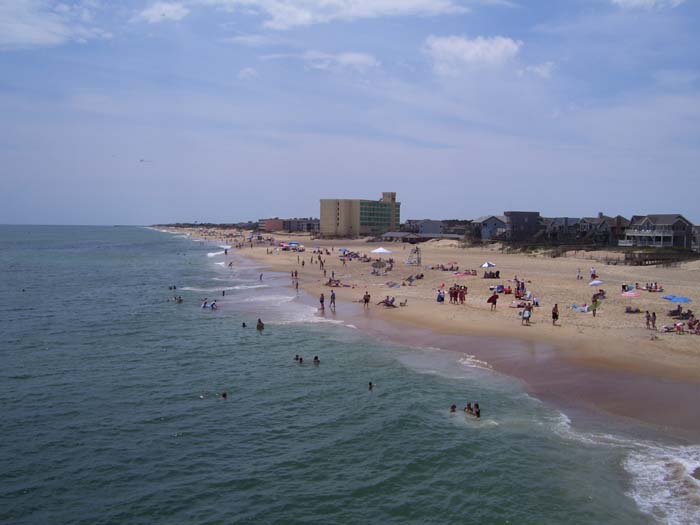 Pressing on, I came to one of the things I really wanted to see on this trip...the Wright Brothers memorial. Living in the Dayton, Ohio area, you get to know a lot about the Wrights, and while I've visited the Huffman flying field, and their bicycle shop, and some of the other historical sites, I'd never been to Kitty Hawk. So now I could see where the actual first flight took place.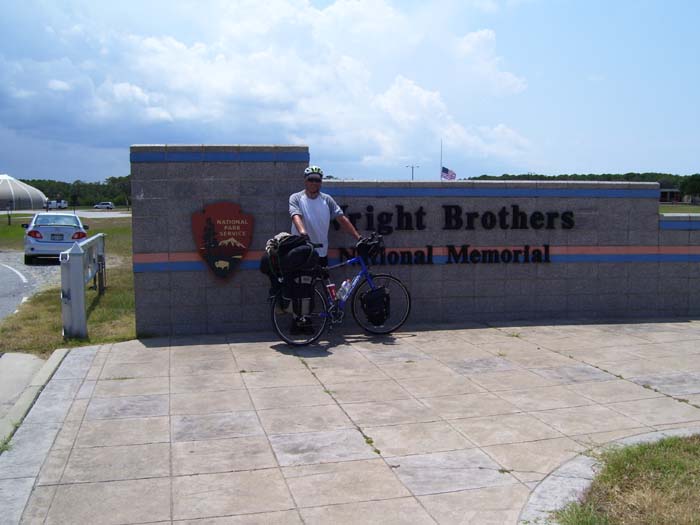 Which, as it turns out, was right here where this rock's standing. The first successful flight of an airplane...and at the time it happened, nobody really paid a lot of attention. The world barely noticed as man took flight for the first time (well, powered flight, that is).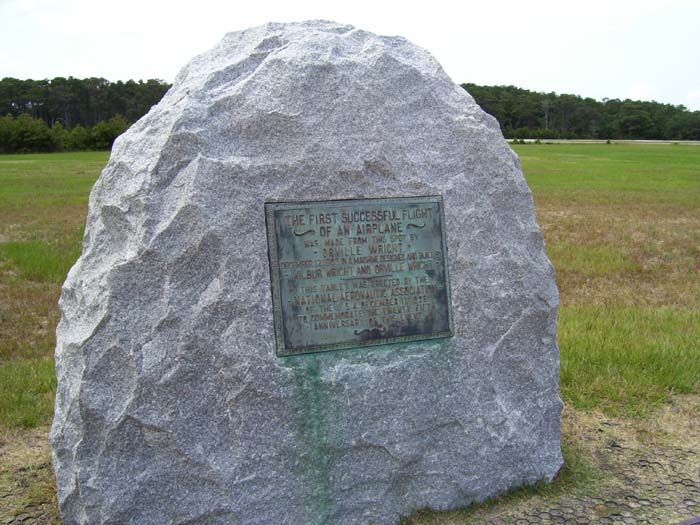 Off to the right of that rock they have markers set up showing the distance for each of the four flights the Wrights did that day. The first one is only 120 feet. The second and third were a bit farther. The fourth, barely visible wayyyy in the distance, was over 800 feet.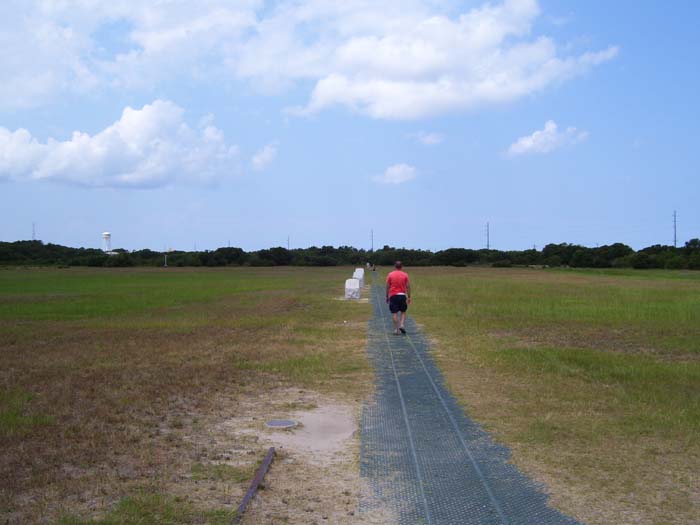 Now here's the actual memorial itself, sitting up on top of a fairly steep hill. They wouldn't let me take my bike up there...too bad. I would've had to walk it up (it's pretty steep) but the ride down would've been fun.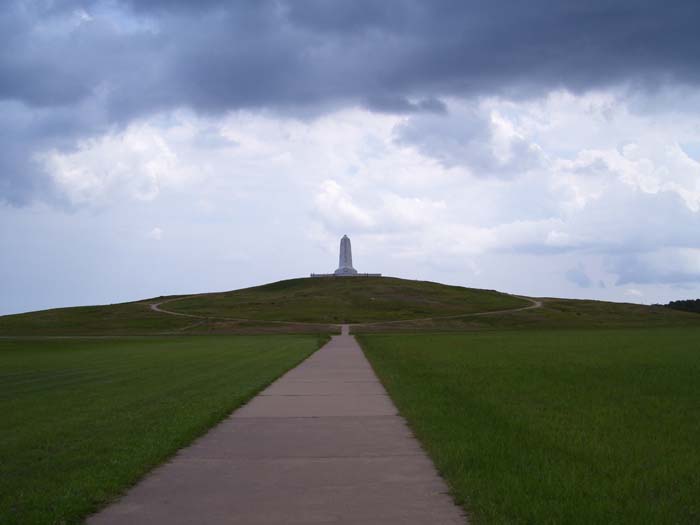 The monument looks like this close up: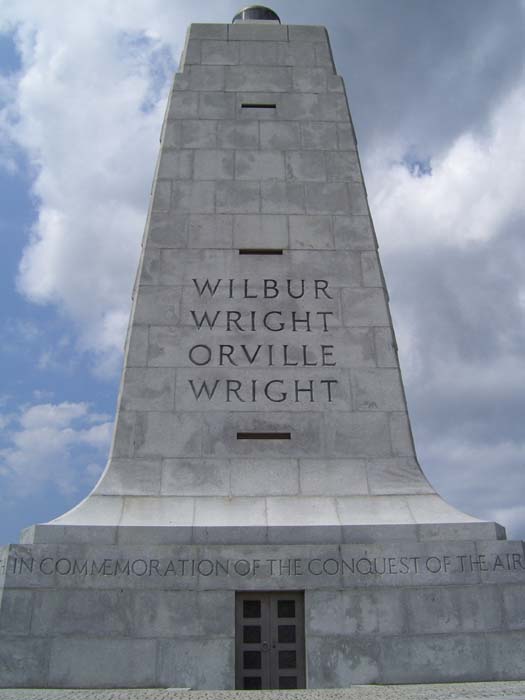 The view from above, looking down at Kitty Hawk/Kill Devil Hills. The Wrights picked this area to fly because it had strong winds, and sand they could land on (they didn't have wheels). I always thought they had everything ready to go when they brought the Flyer to Kitty Hawk, but actually they were here for years getting ready.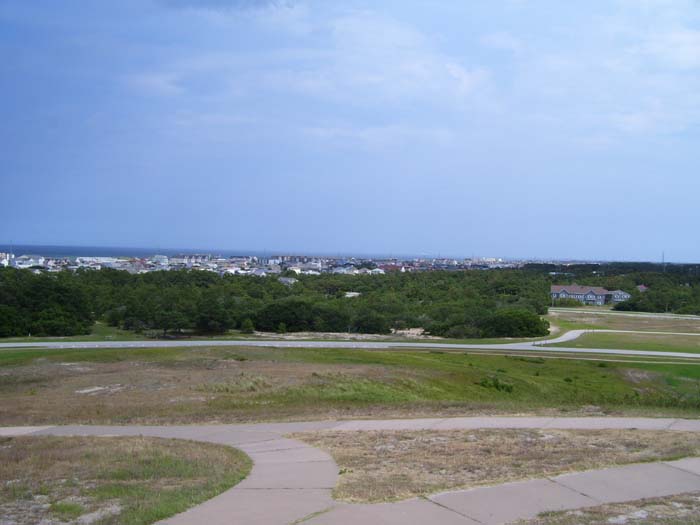 The view looking back towards the museum area and the field where they did those early flight experiements.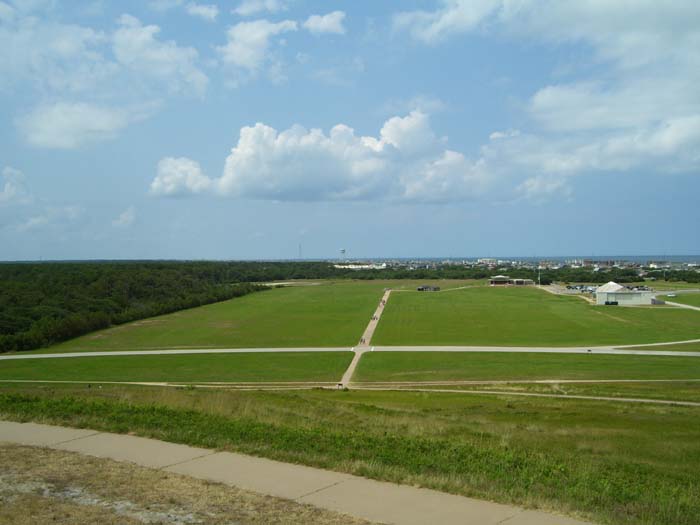 Too bad my bike has to miss out on this view.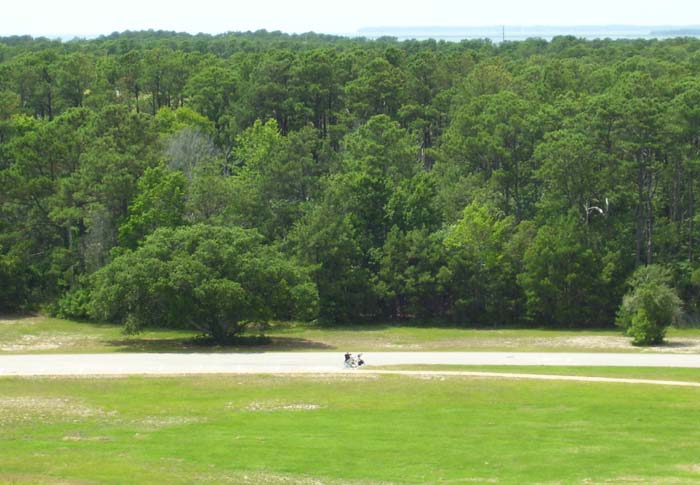 One last view of the monument, from the side this time.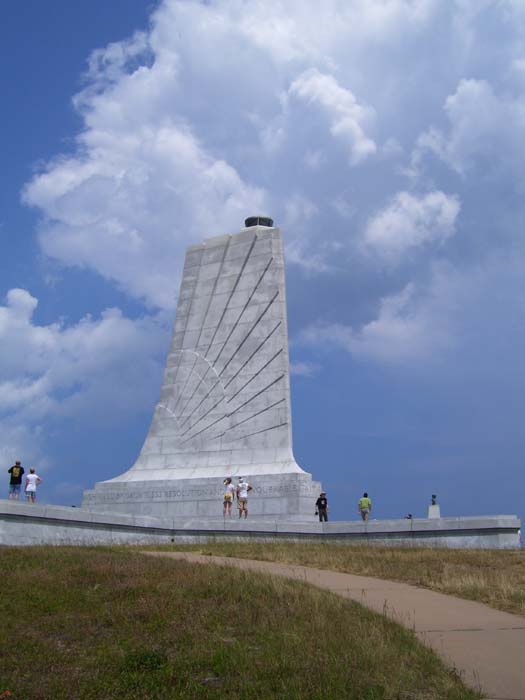 Back in the little museum, they had a full-size mock-up of the Flyer (with working controls). Those people there are watching a presentation given by the staff, showing how the Wrights could make the plane turn or gain/lose altitude. Apparently, on the day they did those first few flights, as they were carrying the plane back to its hangar, a strong wind blew up and wrecked the thing.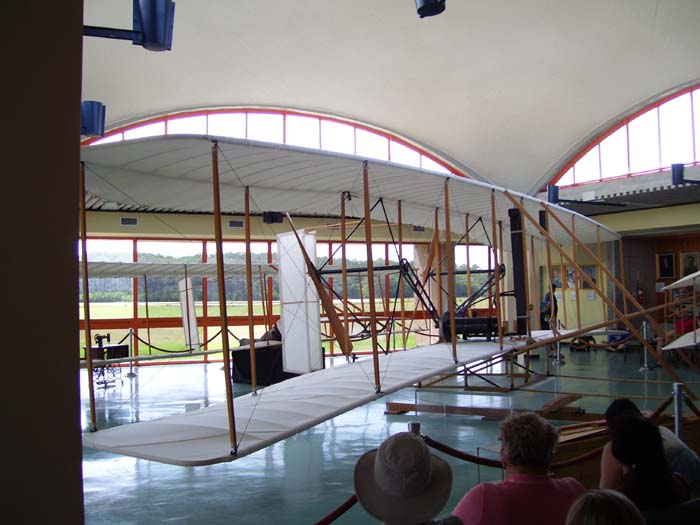 So that was a $4 entrance fee well spent. After an hour and a half or so in the museum and monument area, it's back out on the road, which only proceeded a few miles north before banking west towards the bridge. Here's my last view of the Outer Banks as I head inland again.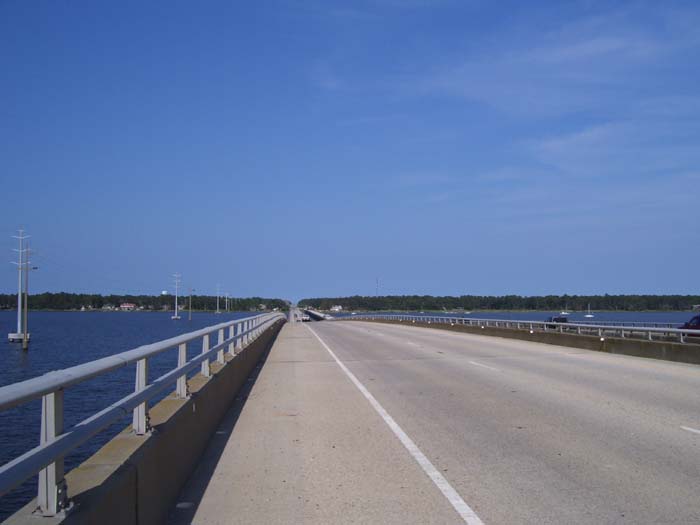 The hotel I'd intended to shoot for was closed, so I had to go on towards one last choice, but now a huge thunderstorm blocked my path. I got fairly close (a few miles away) but when the wind got cold and turned towards me, and the lightning started coming down, it's time to seek shelter. I'd pulled over into an auto repair place, intending to hide under the eaves, where I met this amazingly nice guy who opened up a storage shed for me to wait it out. He said the only thing he asked is that I lock up the fence again after I leave (which I did). Then he gave me an ice cream bar, told me to be safe and drove off. I never even got his name, but I sure appreciate all that kindness.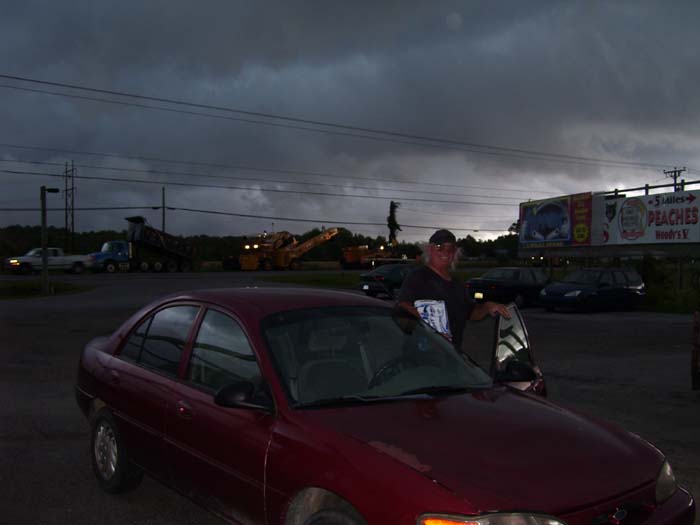 Here's the bike inside the shed. He'd told me I could sleep in here if I wanted, and when the storm got really bad, I actually considered it...but no, I would've been eaten alive by mosqitoes, and besides, I had no food and nowhere to use the restroom.
So once the storm finally let up, I rode on to the motel (a marina one, designed for people on boats to use). The room cost a lot...the most I've paid so far ($80 plus tax) but my only other option was that shed, because the next town was over 20 miles away and it was after 8pm already. Plus, as it turned out, that town was the wrong direction anyway, so it's a good thing I didn't try it. Besides, the BBQ chicken I got from the restaurant down the street was awesome, so everything worked out in the end.