View Larger Map
Day 21 - June 26, 2012
Coinjock, North Carolina to Suffolk, Virginia
Miles: 62
Terrain: Gently rolling
Weather: Mostly sunny, comfortable temperature, 10-20mph north wind
Finally, a day where I'm not suffering in crushing heat! Unfortunately, there was a price to be paid for temperatures in the high 70s and low 80s...that being a stiff headwind that kept my speed down to about 9-10mph for the entire morning. I just kept my head down and plodded along, reminding myself every time I started cursing at the wind, that at least it's not 95 degrees. Gotta keep a positive attitude about this, dammit!
I also tried something different today...I actually set a destination on the GPS and let it route me along, instead of just following the map directly. I've not really needed the routing feature until now because most of the time, my travel path is pretty obvious. It's hard to get lost when you're on islands or following the coast, right? But today, I targeted a hotel location in the middle of a pretty confusing mishmash of roads east of Suffolk, so I decided to try the automatic router. Except for a couple times where it tried to send me on unnecessary side trips, and once when it got confused and tried to have me turn around for no reason, it did the job. I actually wound up getting to the hotel site about an hour or so earlier than I thought, whereupon I found the little hotel didn't have internet and wasn't located near any amenities. So I rode on into downtown Suffolk and turned north, adding an extra 5 miles or so, but in the process saved about ten bucks by locating a much cheaper place (with internet, too). And it was still relatively early, but battling the wind all day left my legs pretty sore...plus this is exactly where I want to set up for a push to Richmond tomorrow, so it's the ideal endpoint.
Anyway, here's today's batch of photos. The first came early on, as I went through some farmland. Why look, it's actual corn...I see enough of that back home, so it's not that interesting. I just wanted you to see how much it's bending in the wind (check the left-hand side of the picture). That's how strong the headwinds were at the start of the day. In the afternoon, they lessened somewhat, so things got a little better.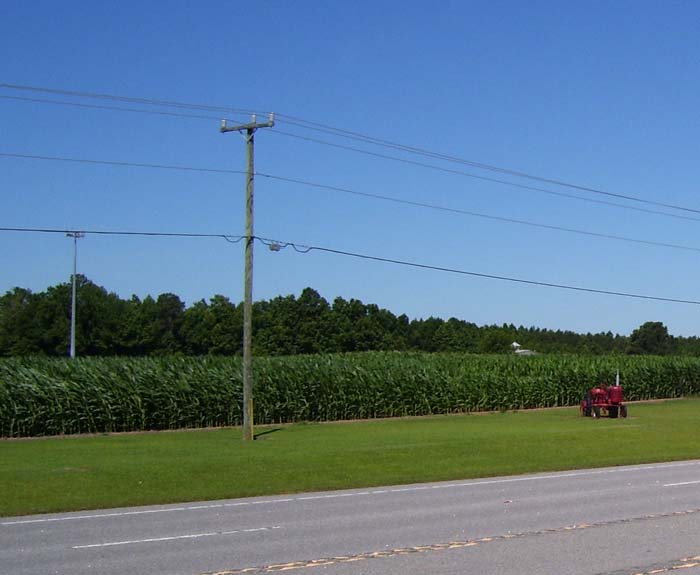 Eventually the corn ended and the marshland returned. Seems I can't get away from that, can I? There's a whole wildlife refuge full of it to my northwest, too...the Great Dismal Swamp, it's called. My route took me around that to the east.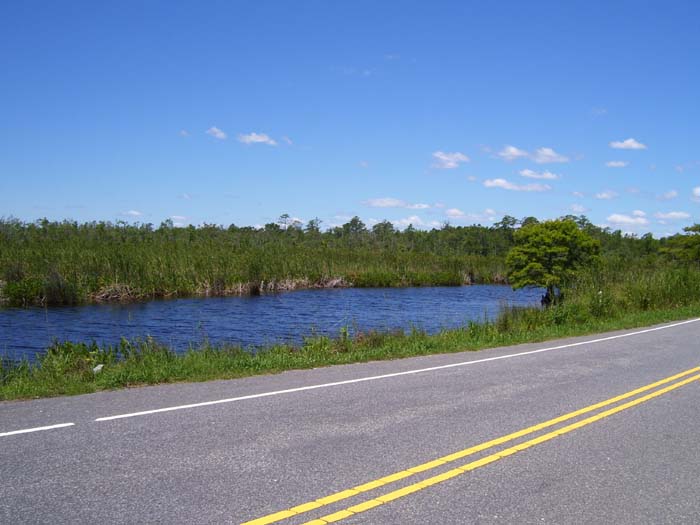 A few miles after that, I came to this sign, announcing my arrival in another state. I've biked here before, though, so I don't get to check another one off my list.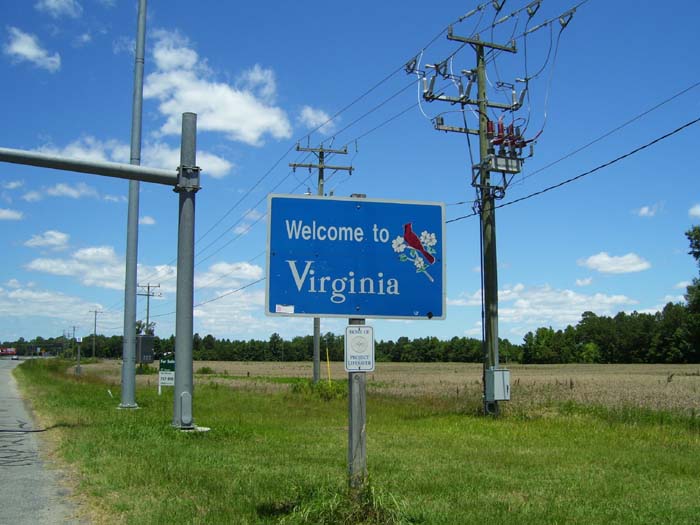 I crossed a lot of rivers today. Here's one of them, complete with a trio of fishermen trying their luck.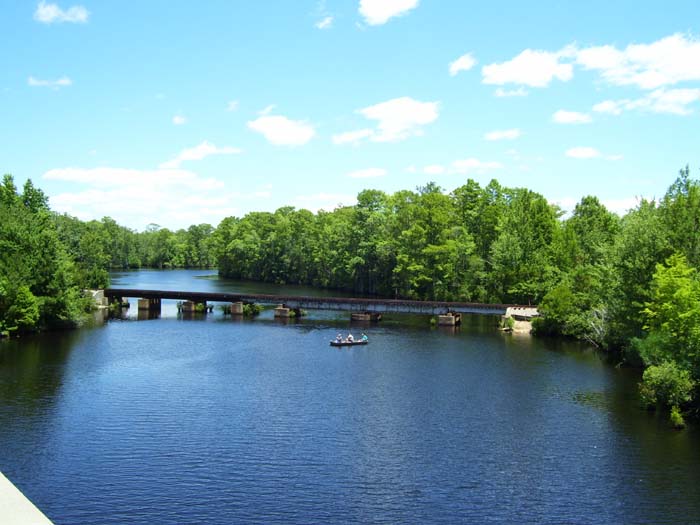 About halfway through the day, I did a magic trick. I made 20 pounds of gear disappear from my bike! Here's what it looked like before...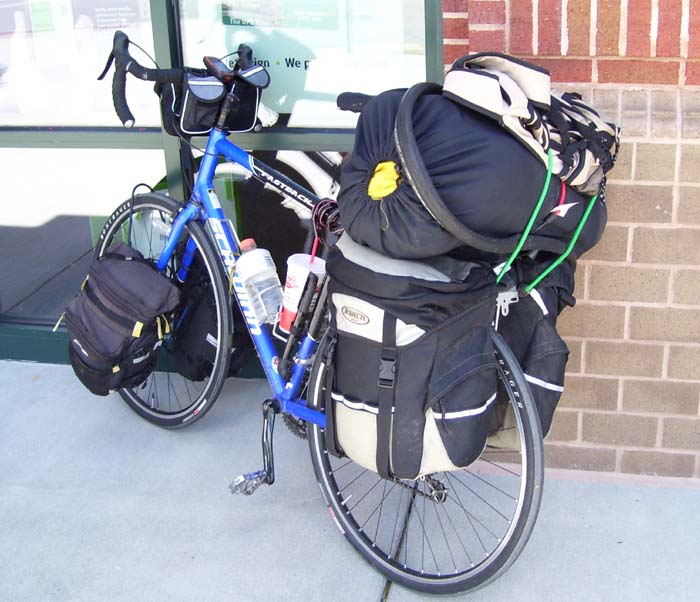 And here's what's left after the camping gear headed off on the next UPS truck. The sleeping bag, which had been in the back left pannier, went into the shipping box along with the duffel bag, while the clothes stored there landed in the bottom of that now-empty pannier, and everything I'd been carrying in the backpack went into the rest of that space. The pack, which finally died yesterday when its right-hand shoulder strap (which had been fraying steadily away for the last week) snapped off, went into the trash, once I'd cleared everything out of it. (You'll notice above, and in a couple other recent photos, that the pack has been strapped to the duffel bag for a while now, so I didn't need it anyway.) That means for the rest of this trip, there'll be no more camping...but not having all that weight will make things a little easier, and also not stress out that poorly built rear wheel as much.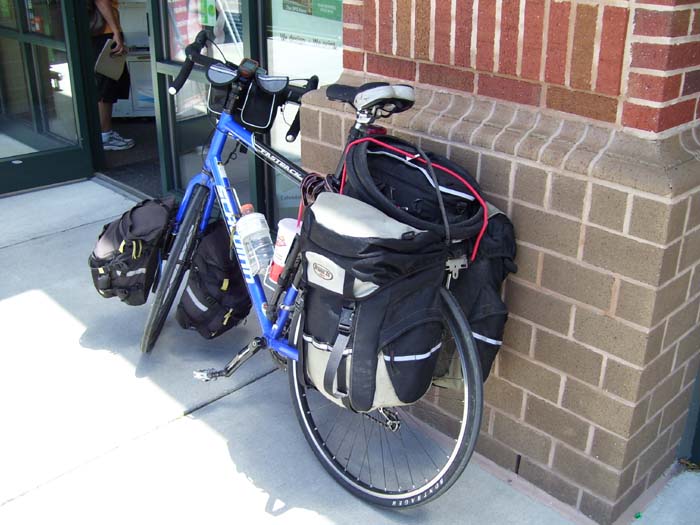 So with that errand taken care of, I moved on, and at this point I noticed I was passing across US-17...which I haven't seen for a couple of states now. It looked just as bad as I remember, though, and I was glad to not have to ride on it any more.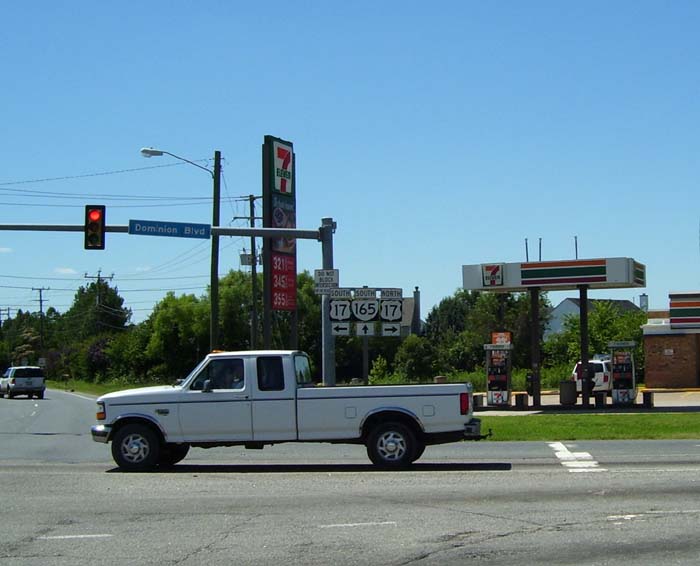 The rest of the day I enjoyed a kind of tour of Virginia's different types of roads, as the GPS routed me through all sorts of stuff. Not just that busy intersection above, but nice four-lane divided roads like this one here (it even has a nice, smooth shoulder, which is like a kind of bliss compared to things like US-17).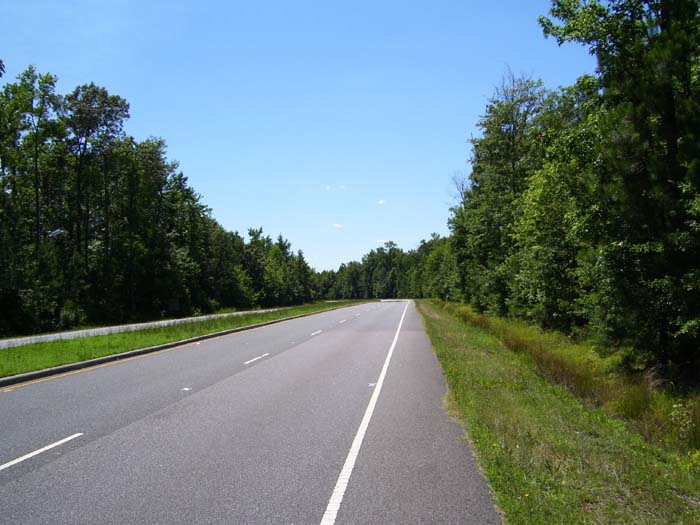 Routing around some of the busier areas (including a tollway) took me through some pleasant residential type areas like this one. Two lanes and no shoulder, but hardly any traffic so it didn't matter.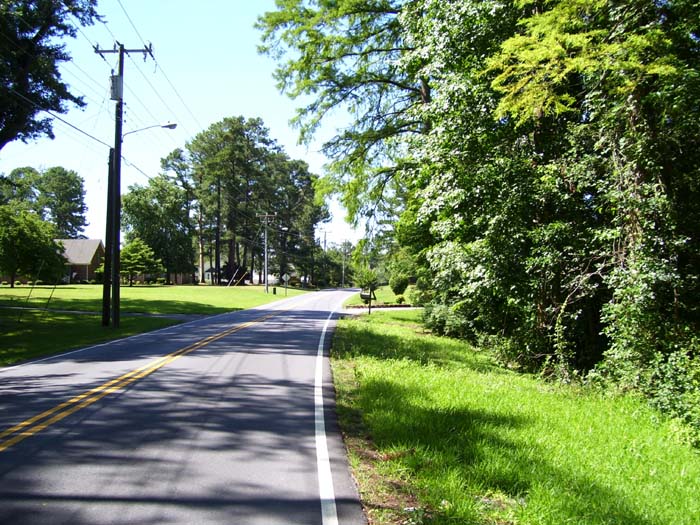 Getting close to that original hotel location took me down this street, a kind of extra-wide one-lane road with no lines of any kind. They'd paved it sometime in the past year or so, probably, and I guess forgot to get around to painting anything on it. I rode about 2 miles down this road and never saw a single vehicle, so maybe they just didn't feel it necessary.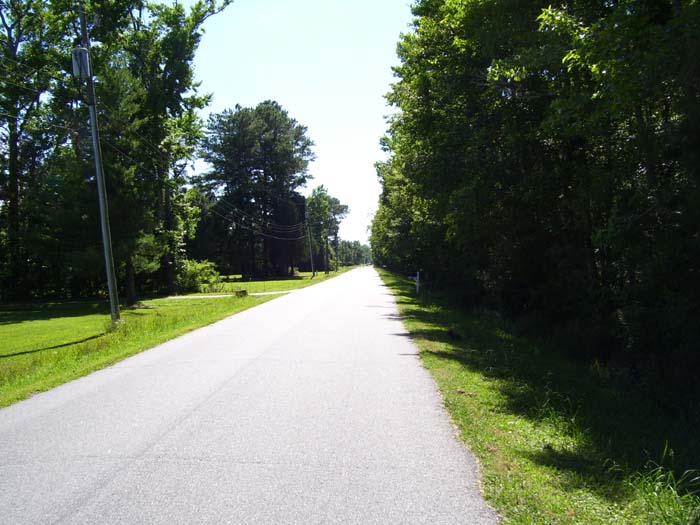 After that, I wound up getting directed onto this six-lane divided highway (the oncoming traffic is on the other side of those trees). The signs said this was some kind of beltway, and traffic was nonstop and 65 mph. However, it wasn't restricted access (there were streets intersecting it here and there) and as you can see, the shoulder is a whole lane wide. Seeing as I routinely rode along highways during my west coast tour, this didn't bother me at all. In fact, the shoulder was so wide, I barely noticed the traffic. The only trouble came as the road started to curve northwest, which is when I saw the "No Bicycles" sign warning me I'd reached a restricted section. I was exiting anyway so I didn't care, but getting down that ramp proved tricky as the shoulder mostly disappeared. So I waited for a break and raced through, and that was that.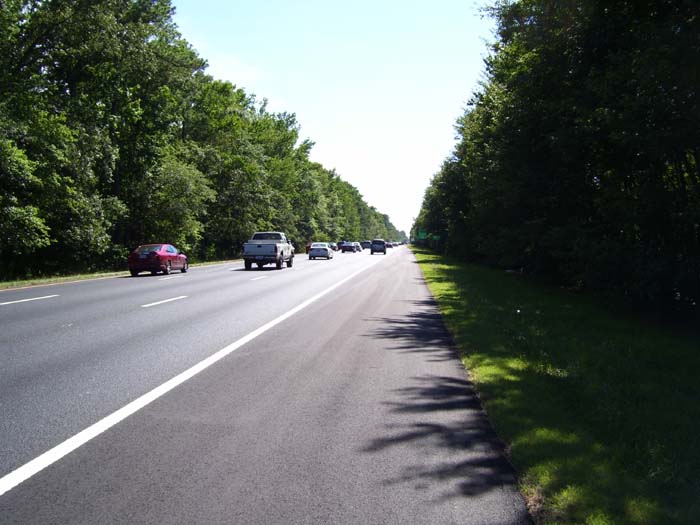 Half an hour later, I came to a Super 8 that wanted $57 a night, and since it was early and I knew there were more hotels north, I headed on. Less than a mile later, the Red Carpet Inn beckoned with its sign offering rooms for $35 a night. Nice rooms, too...fridge and microwave, even, with a Pizza Hut and Wal-Mart half a mile further along. There you go, a perfect end to my third full week of biking.