View Larger Map
Day 22 - June 27, 2012
Suffolk to Richmond
Miles: 73
Terrain: Rolling hills (some steep)
Weather: Sunny, warm, 10-20mph north wind
Today was one of those simple travel days where not much happened, so forgive me if this entry turns out to be kind of boring. The route was simple...just follow 460 northwest to Petersburg, then go north on US-1 on into Richmond. The maps told me I'd find plenty of cheap hotels all along the last part of the ride, including a whole pile of them in a nice little cluster, so I had no reason to worry about lodging. The main concerns were that pesky north wind that won't go away, and the sudden appearance of hills on my previously flat ride. In fact, I climbed more hills today than the entire rest of the trip combined. At least, I'm pretty sure I did (it sounds cool, at least). Certainly it felt like it, anyway.
Other than these challenges, though, not much really happened. I got up, got on the bike, rode into the wind, took breaks like usual, and counted down the fractions like always (one-fifth done, one-fourth, one-third, two-fifths, etc.). That's about it. Here's the few pictures I took, for what they're worth. This first one is a view near the beginning of the day, after I left Suffolk and got on 460, which turned out to be a pretty major route judging by the traffic. (This is before the hills really got started. They began slowly, a few here and there, then got much more prevalent later.) The items worth noting are the complete lack of a shoulder, and those huge trucks that just passed me...they went by like that all day, sometimes giving me no room at all. It may just be Virginia drivers, or it could be that I don't have that huge pile of camping gear any more to make my bike look wider, but I got buzzed by cars and trucks a whole lot closer today than ever before on this tour. One time a guy went by so close I really don't know how he didn't hit me. I need wider shoulders, please!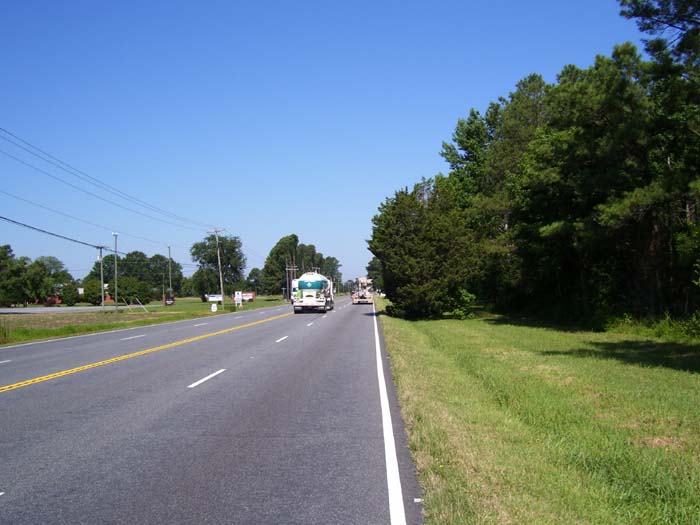 For the first 50 or so miles of the day (en route to Petersburg) I saw a whole lot of farms, much like this one here. I think these are peanuts, actually, but I can't be sure. The only evidence I have is the vast number of places along the way selling peanuts.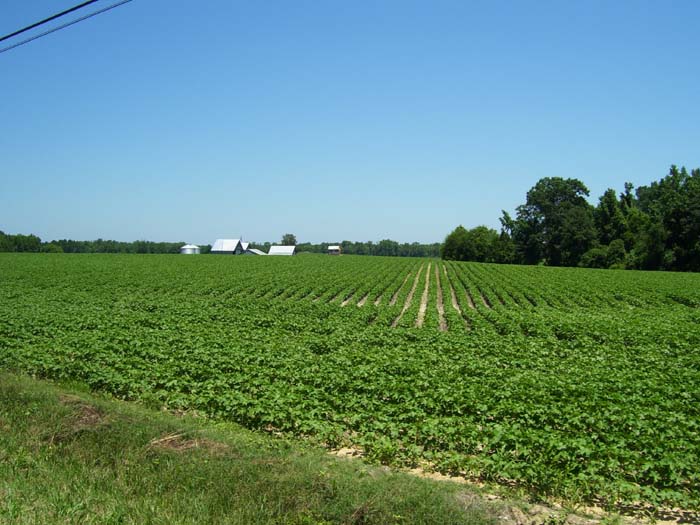 Uh-oh, what's this? Halfway to Petersburg, here's a mile or so of construction that left that four-lane road down to two, and worse, with orange barrels sticking out in the road. Trying to ride on the pavement would be ridiculous...nobody would be able to pass me, so I'd have a line of traffic (and angry motorists) piled up behind me quite a ways. As it turns out, though, the lanes being worked on were rough but rideable, and I managed to get permission to ride there from a nearby VDOT supervisor. So I rode slowly through here without too many problems, fortunately, because otherwise that would've been a very long walk.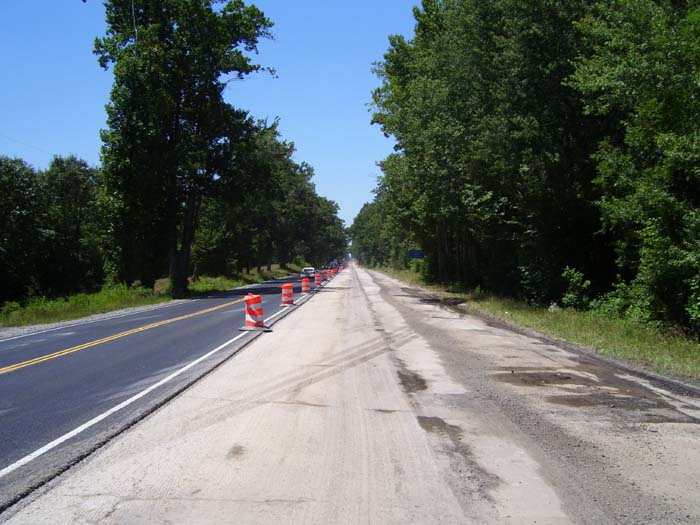 Heading over a bridge on the way into Petersburg, the hills started getting tougher. Have a look at this one ahead of me, which was almost too steep to ride on. Notice also how the flags are already starting to come out for Independence Day, just a week from now. I expect to be near Boston by then, and hotels might be hard to find.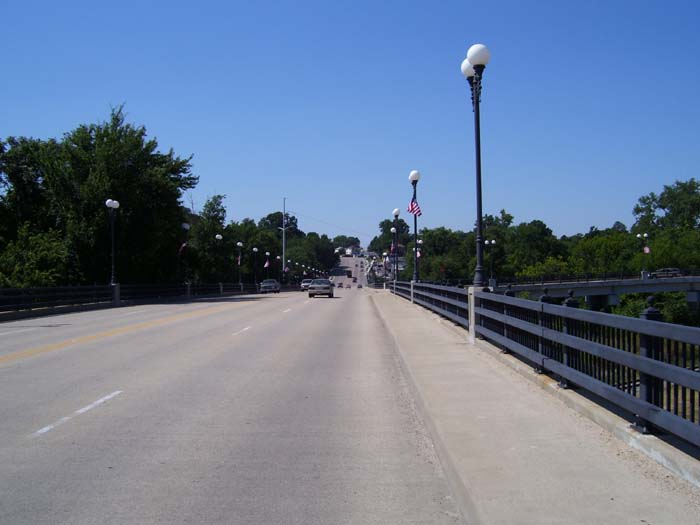 On the other side of town I met up with an old friend, US-1, last seen as I made my way out of Florida. I'll be on this road all the way into Washington, DC and maybe a bit further. Still no shoulder, though, and the edges aren't all that pleasant for bikes. Oh well, it's still not as bad as US-17 in the Carolinas.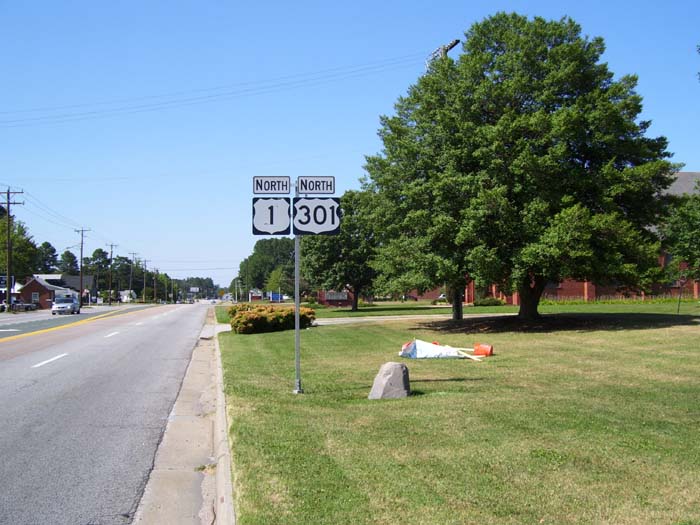 I've started seeing iconic New England styles already, too, like this church here.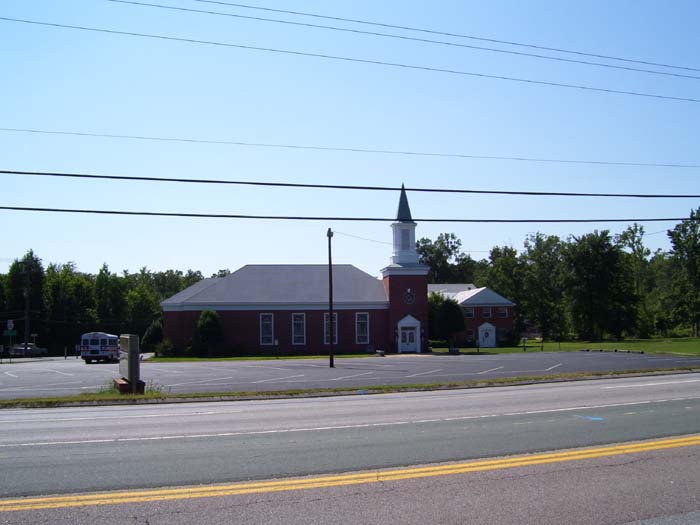 And one last picture showing another vicious hill in my future (it's going up towards the horizon on the other side of that overpass). It was like this almost the entire 10 miles or so I rode from Petersburg to the near side of Richmond, by which time I was more than ready to stop for the day.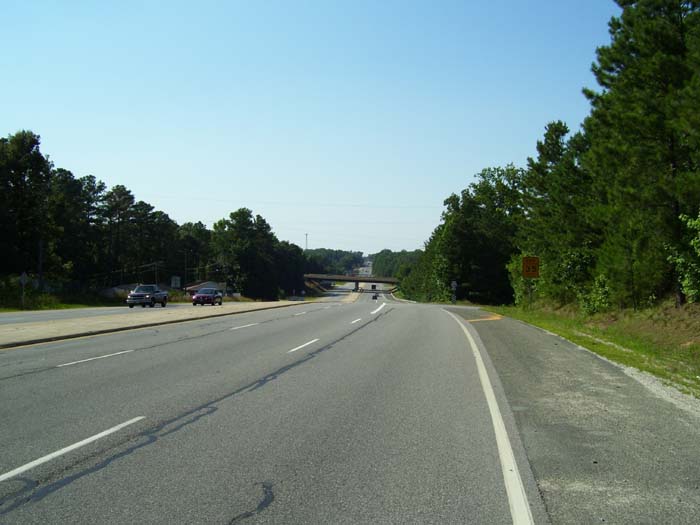 I had my pick of hotels, so when I saw one with a room for $29.95, with free wi-fi and everything else, that's the one I picked. Tomorrow promises to see a return of the heat, as record temperatures hit the area over the next few days. I'm not looking forward to that at all, so expect the ride to be short, the objective being to reach Washington, DC by the day after tomorrow.