View Larger Map
Day 36 - July 11, 2012
Brunswick to Searsport
Miles: 81
Terrain: Rolling hills, lots of tough climbs
Weather: Mostly sunny, warm, 10mph south wind
Today was the hilliest day yet. The climbing started with a steep rise on the way into Bath, followed by the even tougher bridge in the middle of town...and the hills didn't let up for another 60 miles or so after that. Fortunately, though, the weather stayed reasonably comfortable (though it did reach the mid-80s, but after all those insanely hot days, I can hardly complain). Also, the wind came out of the south, providing a cooling tailwind that eased the pain of the hills tremendously. After so many days climbing in terrible conditions, crawling up hills on a nice day didn't seem all that bad. I managed to go 80 miles and finish by about 5:30pm, a little under 8 hours of riding, because I only took two breaks (at 25 and 55 miles). If you'd told me back when I started, when I could only manage 8 or 9 miles in Florida's pancake-flat terrain thanks to the heat and humidity, that a few weeks later I'd ride 80 miles of nothing but hills and only stop twice, I wouldn't have believed you for a second.
Anyway, today's destination was pre-ordained because an evening of hotel-hunting left me with only one decent option, a little motel a few miles east of Belfast, Maine that cost $80/night (about $40 less than any other hotel that still had rooms). So I set off just before 10am and almost immediately encountered this placid scene, one of the best views I've had this whole trip.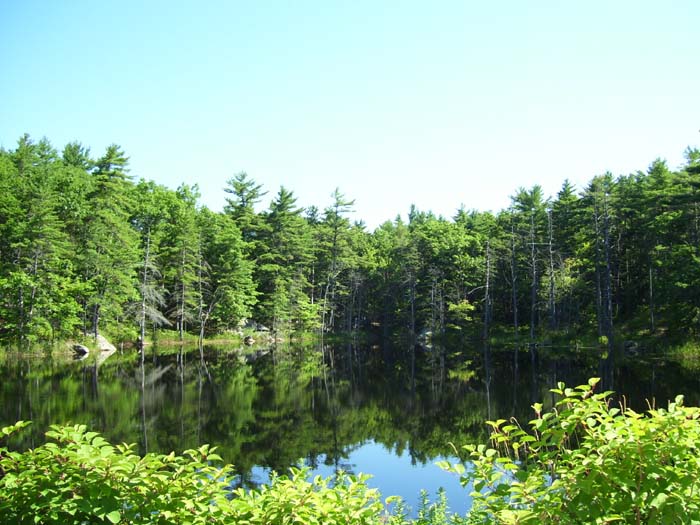 A few miles later I had to deal with this bridge in Bath. This is looking back the way I just came. See that ramp leading up and to the left? I rode down that to get here, right through the middle of the highway...that's always fun.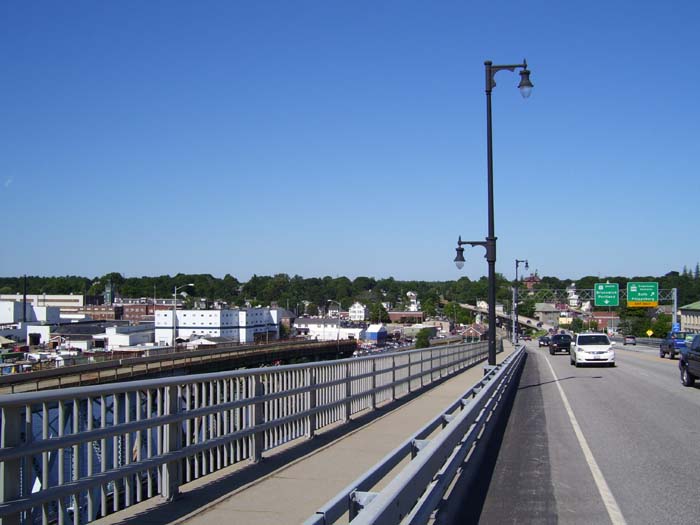 At about the 12 mile point I came across this amazing-looking amusement park, which is part obstacle course and part zipline...it's like nothing I've ever seen before. I watched a couple of people swing across, or climb up the confidence course-style obstacles, and noticed they were all firmly attached via safety lines. The zip lines went down into the woods there in the background. From the sign, it looked like you paid $15 for an hour in there and got to do whatever struck your fancy. Looks pretty cool, if you ask me. (When I was a kid, we had jungle gyms and swing sets...kids today get stuff like this.)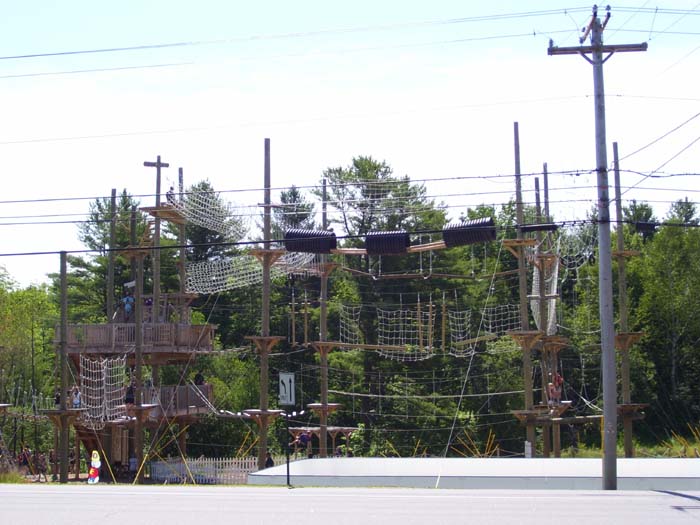 A while later, as I crossed another bridge out of Newcastle, I snapped this shot looking back at this classic little Maine town.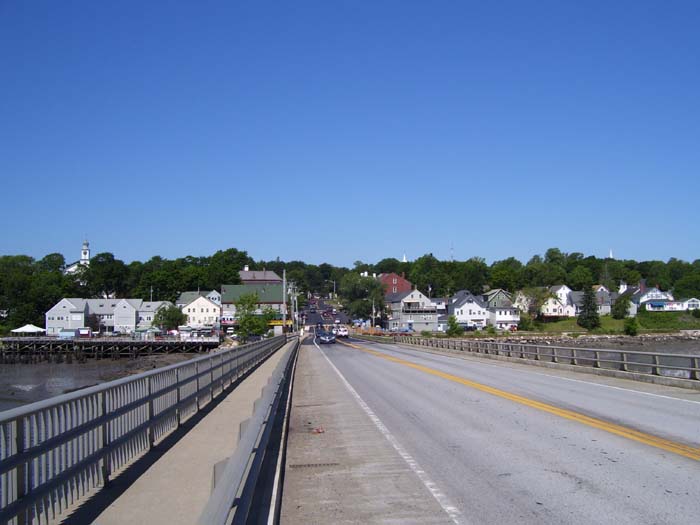 Then it was back out into the country to fight some more hills. This particular one continued on and on and on up and around, for what seemed like forever. At least I had a nice shoulder here...usually they had these long cracks running all the way across, making my wheels go thump-thump all day long.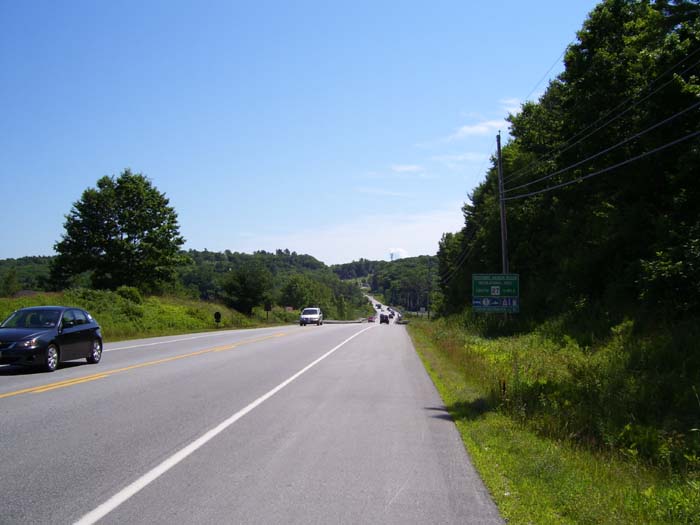 Another one of several small towns I passed through...Rockport, I think, but I can't remember. Each of them looked mostly like this, with cars lined up trying to get through, and tourist wandering the streets everywhere. You'd think it was summertime or something.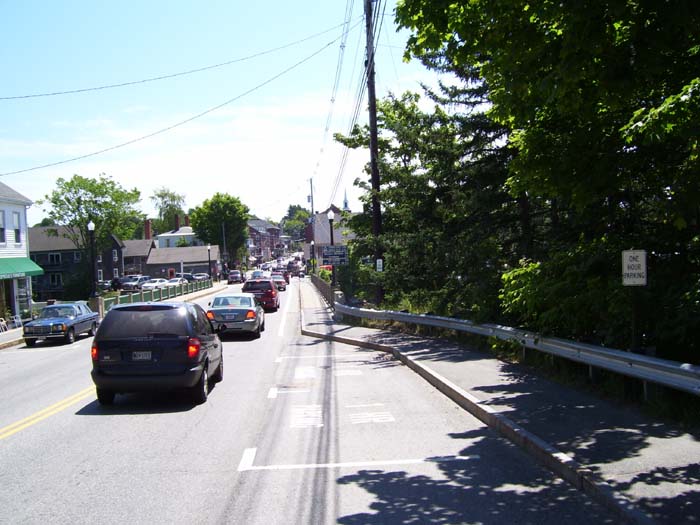 Then back out on the road for more hills. The scenery's nice, though, and like I said, the weather was perfect.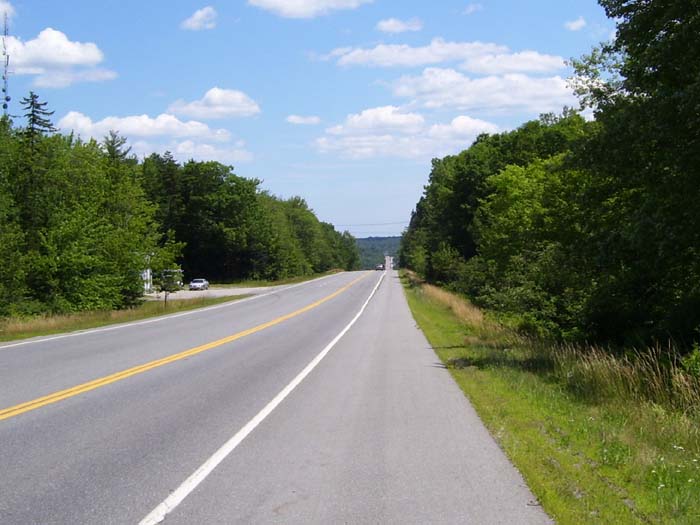 Here's a sign I don't see much back home in Ohio.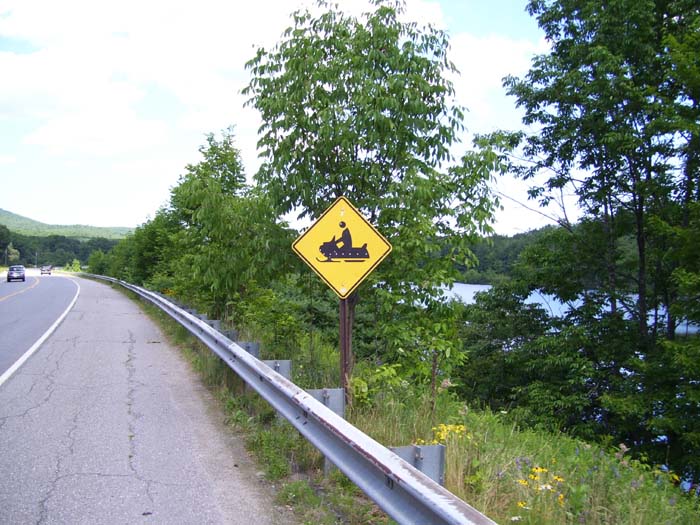 More of the scenery from today.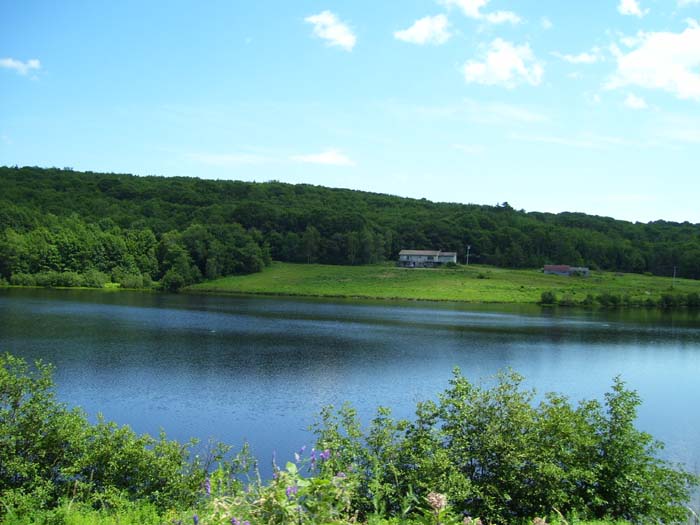 And another small town (Camden, this time). Notice the pattern...out into the open for some climbing, then another small town, then repeat. That's pretty much the story of today.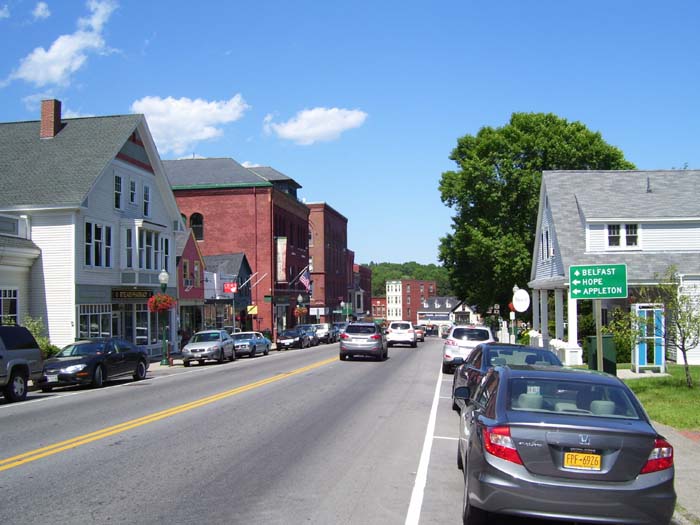 Looking back down the hill at Camden, which was really, really crowded.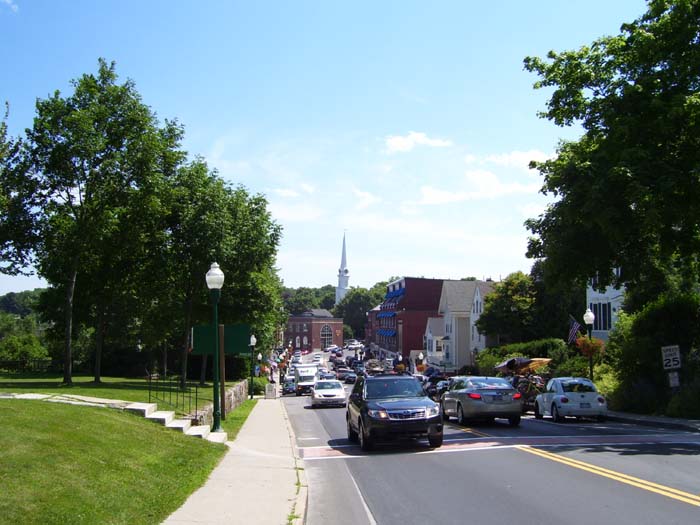 Just to the left of that last picture...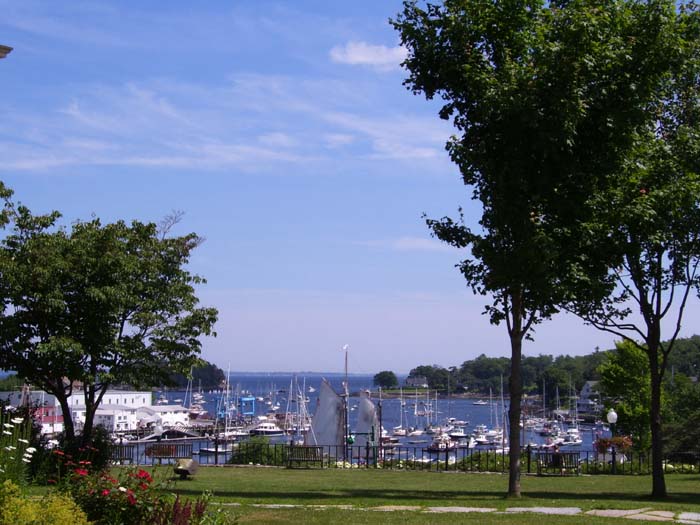 Now things got more interesting as the shoulder completely disappeared for about 10 miles and I got to contend with trucks whipping by on this little 2-lane road (I should mention I left I-95 behind early this morning, as it meanders up towards Bangor, so any trucks in the area basically had to share US-1 with me on their way up the coast).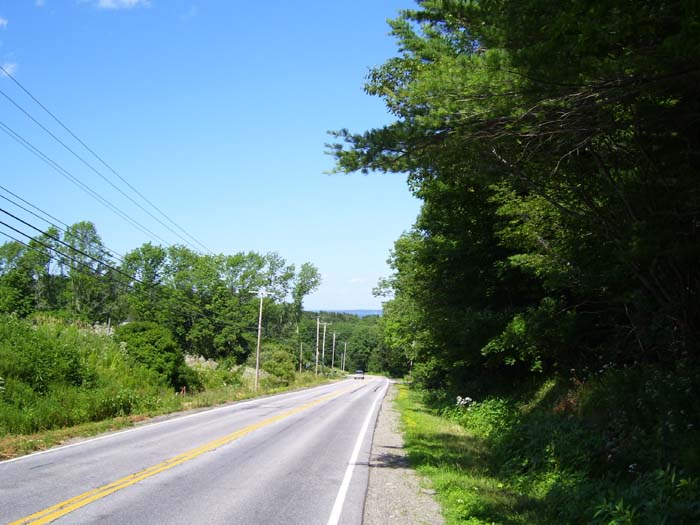 Every so often the trees on my right would part and I'd get a nice view of one of the bays.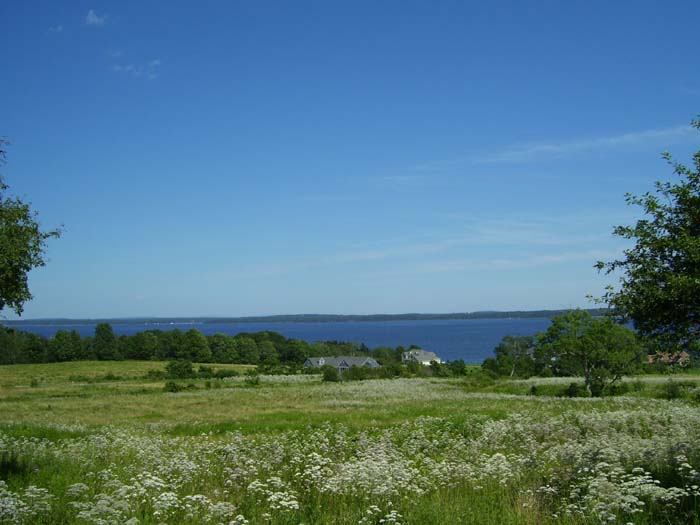 And hey, what's this? An actual beach? Yep, US-1 went right past this little narrow strip of sand, with it attendant seafood restaurant. Of course, dropping all the way down to sea level just meant another big climb ahead, but that was one of the last. Upon reaching the Belfast area, I finally got onto some more level ground. There werer still a few climbs, but nothing like earlier.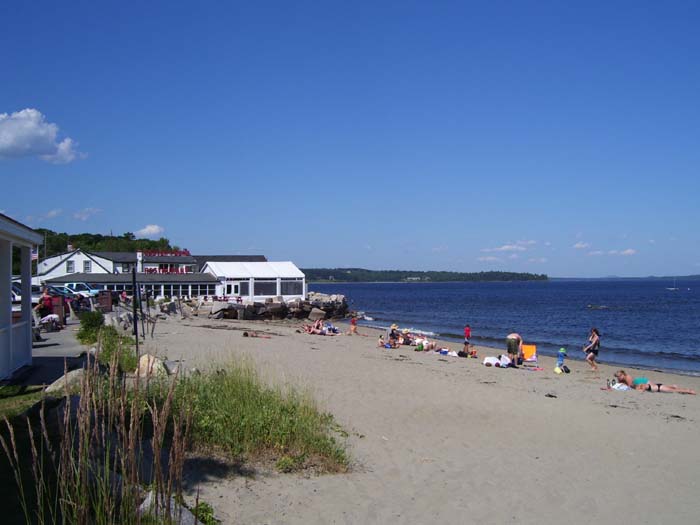 The road passed between the ocean and a particularly nasty-looking batch of hills, but fortunately not too close. You can see those hills in the background here, which is typical of the road for most of the rest of today's ride.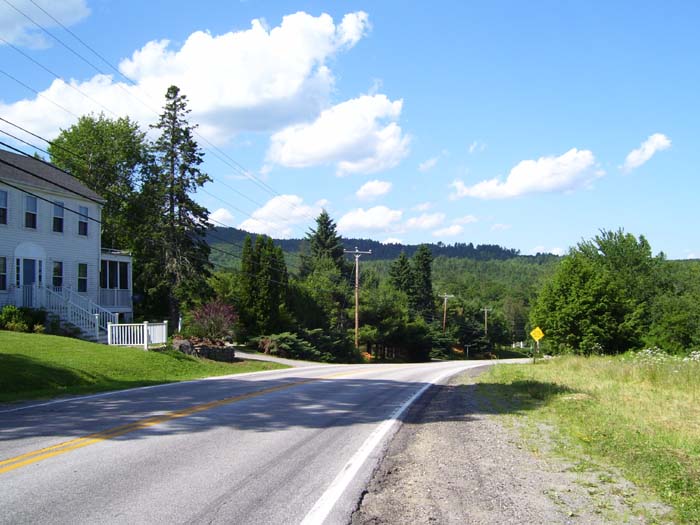 Shortly after that I got my shoulder back, and spent a few miles enjoying this really beautiful country before moving on into Belfast.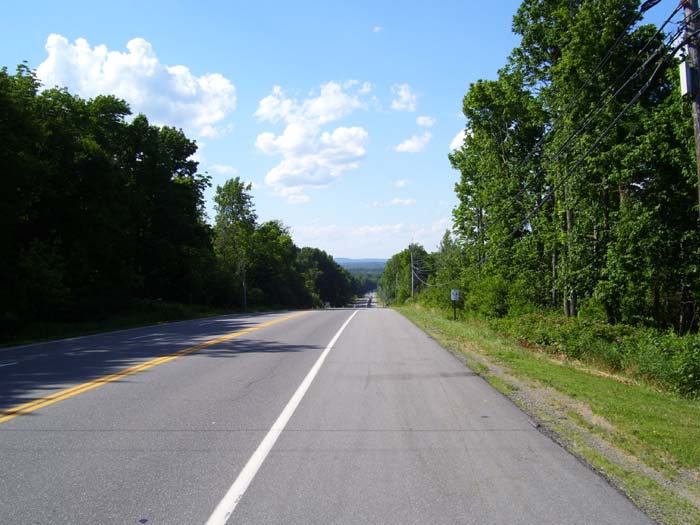 Belfast is another classic-looking Maine harbor town, with the quaint buildings clustered up among the trees there, and boats scattered around the nearby bay. I took my time crossing this long, flat bridge, just enjoying the view.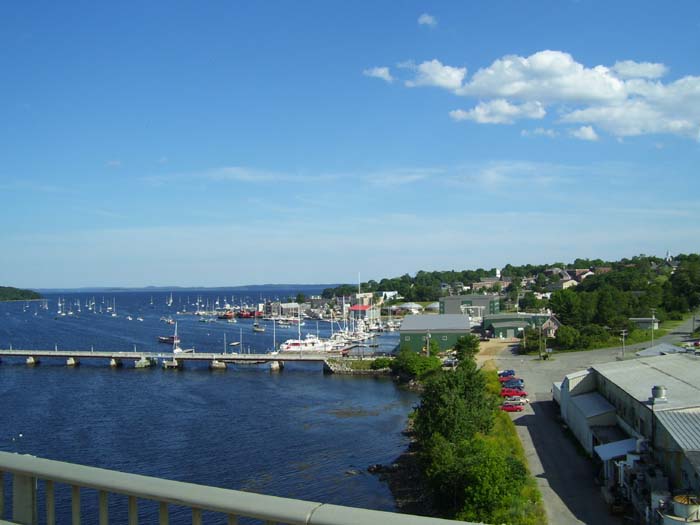 Here's another shot looking back at Belfast as I head on into the much smaller town of Searsport, my destination for the day.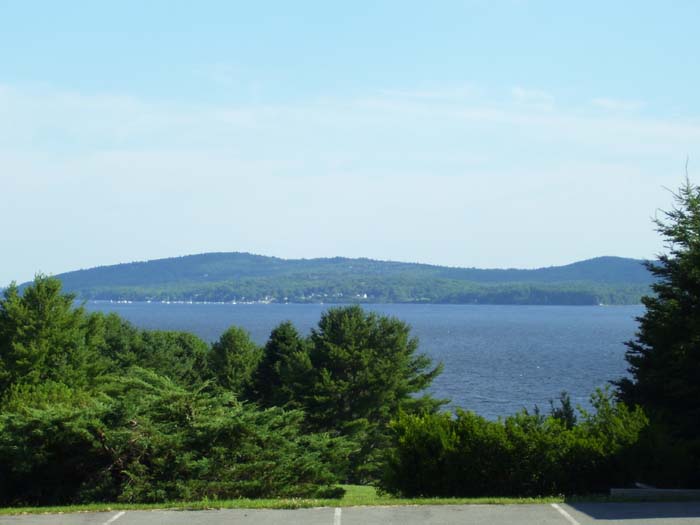 After checking in to the hotel and getting a few things unpacked, I decided to head down the road a bit to get some dinner...and that's when I found out just how bad my legs hurt from all that hill-climbing. I really had to take it easy. A good night's sleep should take care of that, though, and tomorrow's ride should be much shorter, too....though it promises to be just as hilly, I'm afraid.