Day 21 - March 18, 2015
Bowie to Lewisville
Miles: 83
Terrain: Lots of little climbs with a big one in the middle
Weather: Cool and rainy (clearing up by afternoon), light tailwinds
I really didn't want to get moving this morning, because a glance out the window told me yesterday's weather forecast was right: rain early on, expected to last into the early afternoon. The temperature was in the low 50's as well, so that meant chilly air, and cold air plus water equals miserable cycling. However, I couldn't very well sit around twiddling my thumbs until 1:00 or later, or I'd never get anywhere, and besides, what if the rain didn't stop? I had no intention of wasting an entire day sitting around just because of some rain. I've ridden through worse, I kept telling myself.
So I managed to eventually get out of the hotel at just before 10am, at which point the rain had briefly stopped, and got on my way. Very soon thereafter it picked up again and got fairly strong a couple of times. I waited out the worst of it at one of those handy picnic areas I mentioned earlier, and once the downpour was light enough, I rode on. Here's what the road looked like for the first several hours: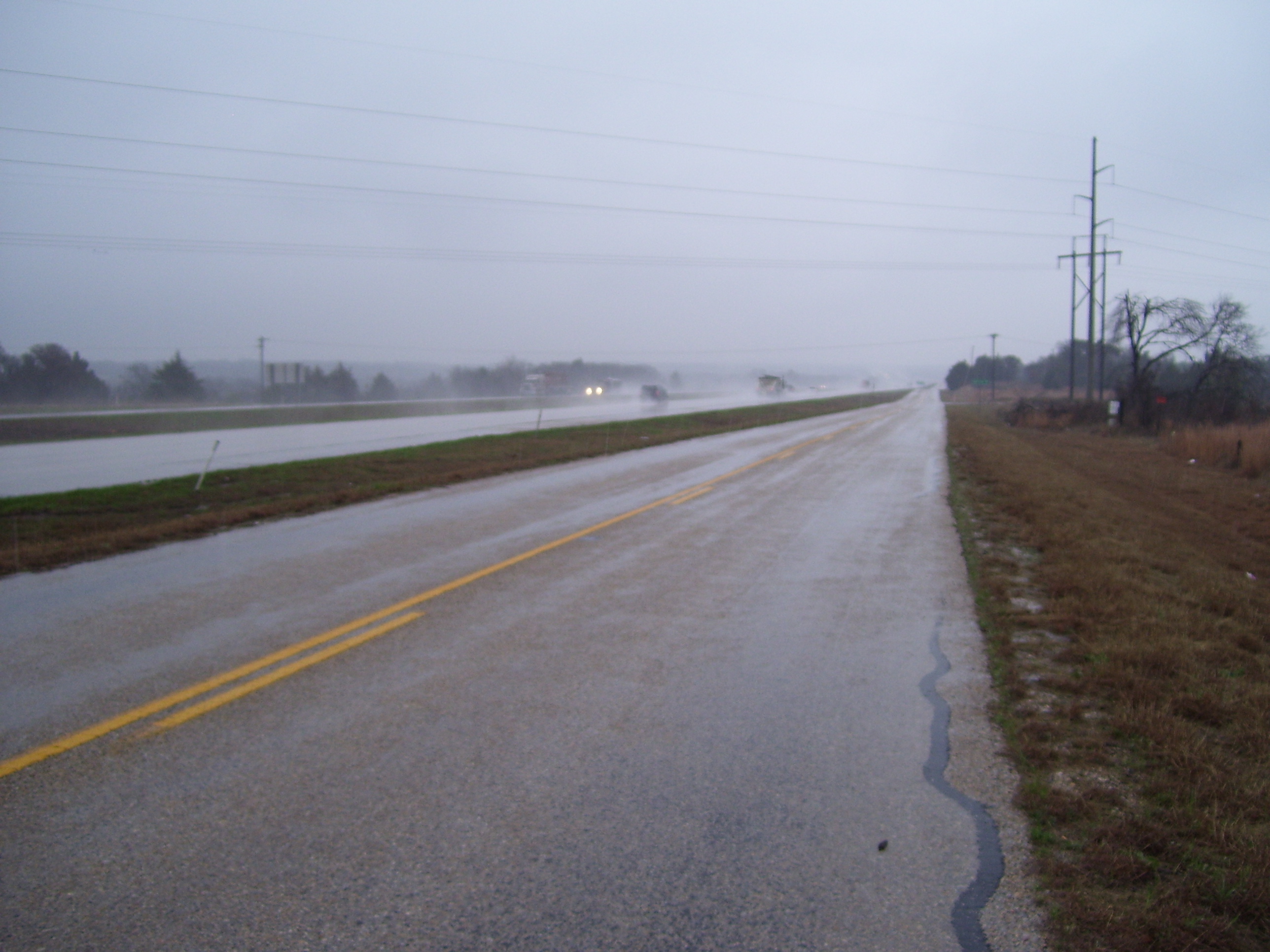 That was fairly early on when I still had that convenient frontage road to ride on mostly by myself. About the time I finished at the picnic area, I had to get on the main road with all those trucks, and remember yesterday when I mentioned how the trucks would almost knock me off the road sometimes with wind gusts? Now add some rain to that, and yeah, loads of fun. At least I had a light tailwind most of the time instead of those ridiculous crosswinds.
About two thirds of the way to Decatur, where I turned east, I ran into a problem with my GPS. I stopped in a little town called Alvord to take a break and find the one and only geocache in town, and while doing that the GPS decided to go into some kind of diagnostics mode from which I couldn't recover. I thought for sure it was done for, and rode on to Decatur with the device switched off. It's funny, you get used to electronic tools like that and then when they're not available, you feel lost. I knew exactly where I was, of course (the road to Decatur is pretty obvious) but still felt like something was missing the whole time. I couldn't just look at the odometer screen to see my speed or how far I'd gone, and couldn't see the distance to my next break, or anything. It sucked! I don't think I could ever take another trip like this without a GPS.
Anyway, in Decatur I had lunch at a Jack in the Box and let the GPS dry out, and all of a sudden it magically started working again, so I guess some water got inside and messed things up. It's still very hard to get the down arrow to work at all (I can work around that most of the time) but it's going to have to be replaced soon, I'm afraid. Plus it's pretty clear I can't really use it in the rain, which is going to make things very challenging the first time I have a 100% rain day. Fortunately, that wasn't today, because I only got drizzled on a few more times after lunch before the skies started clearing up.
On the way east from Decatur towards Denton, I came across a couple of historical markers. I pass these sorts of things all the time but with the weather so bad today, pictures would be in short supply, so I took a shot of these. You may have to right-click and pick "view image" to be able to read these, depending on how detailed your monitor is.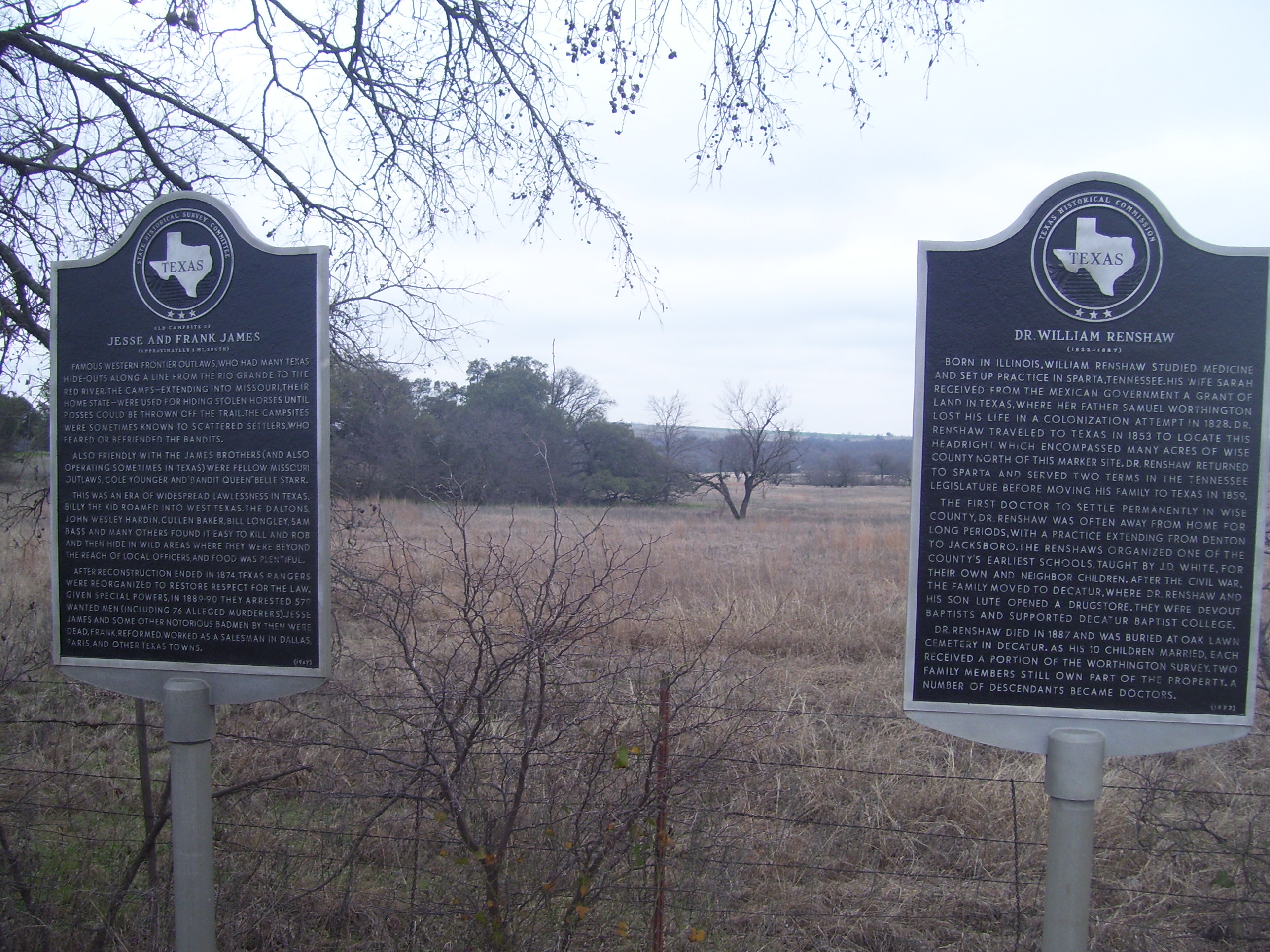 The road to Denton looked pretty much like this for the next couple of hours. The roads were wet, but it stopped raining and eventually everything dried out. Notice how I have a really smooth shoulder today. Thanks, Route 380!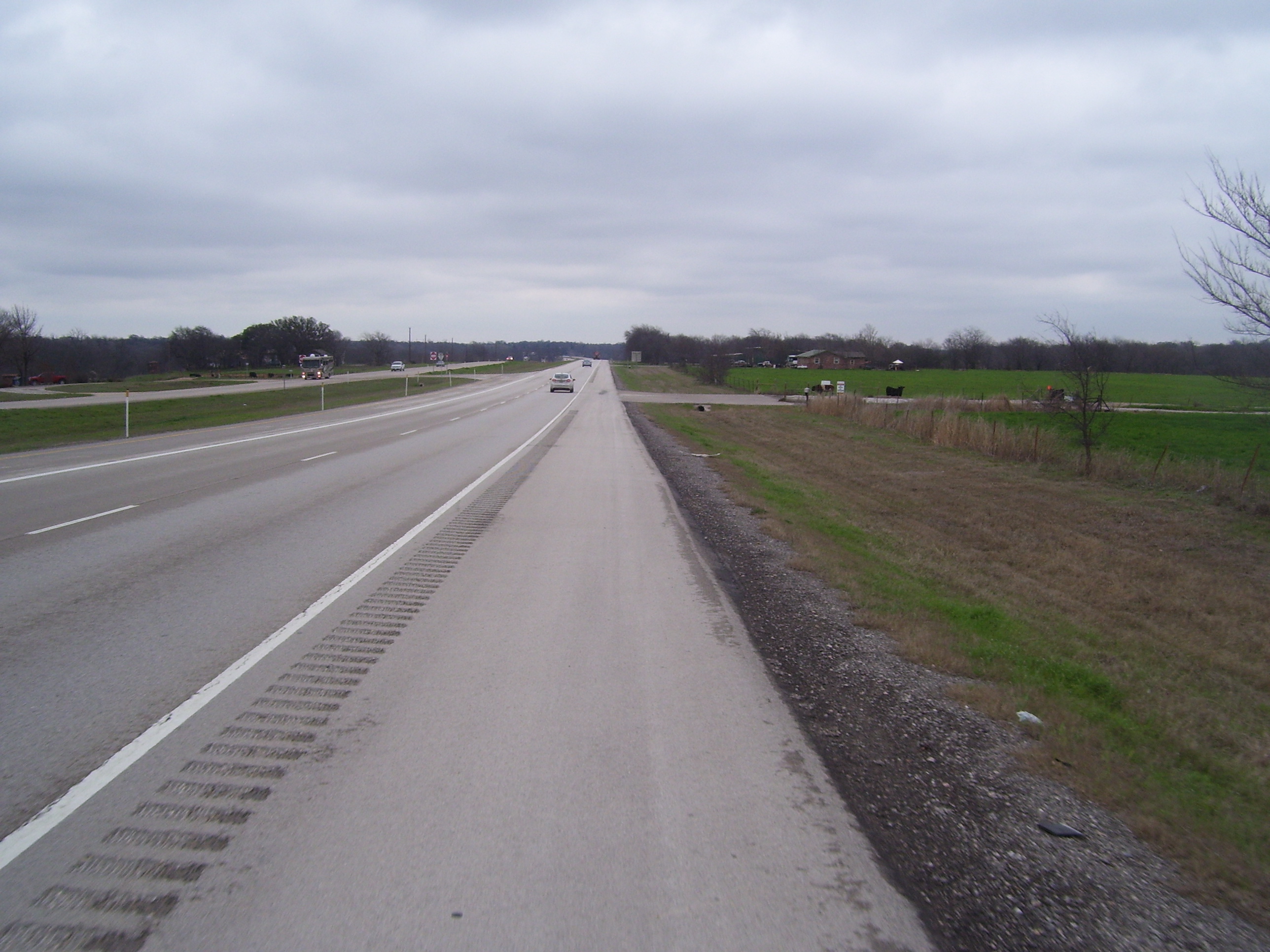 Perhaps I put out my thanks too soon. As I approached Denton, I entered a major construction project that went on for miles. The shoulder was gone, and I had no room for error as I rode along sharing this lane with highway traffic going 55mph or more. The trucks would have to slow down to my speed until they could pass, but everybody else just sort of shot by me without giving me much room. Also, access to most side roads was blocked as well. I finally found an escape route about a mile from I-35, and turned south, so I actually never really entered Denton at all, just skirted it to the west and southwest.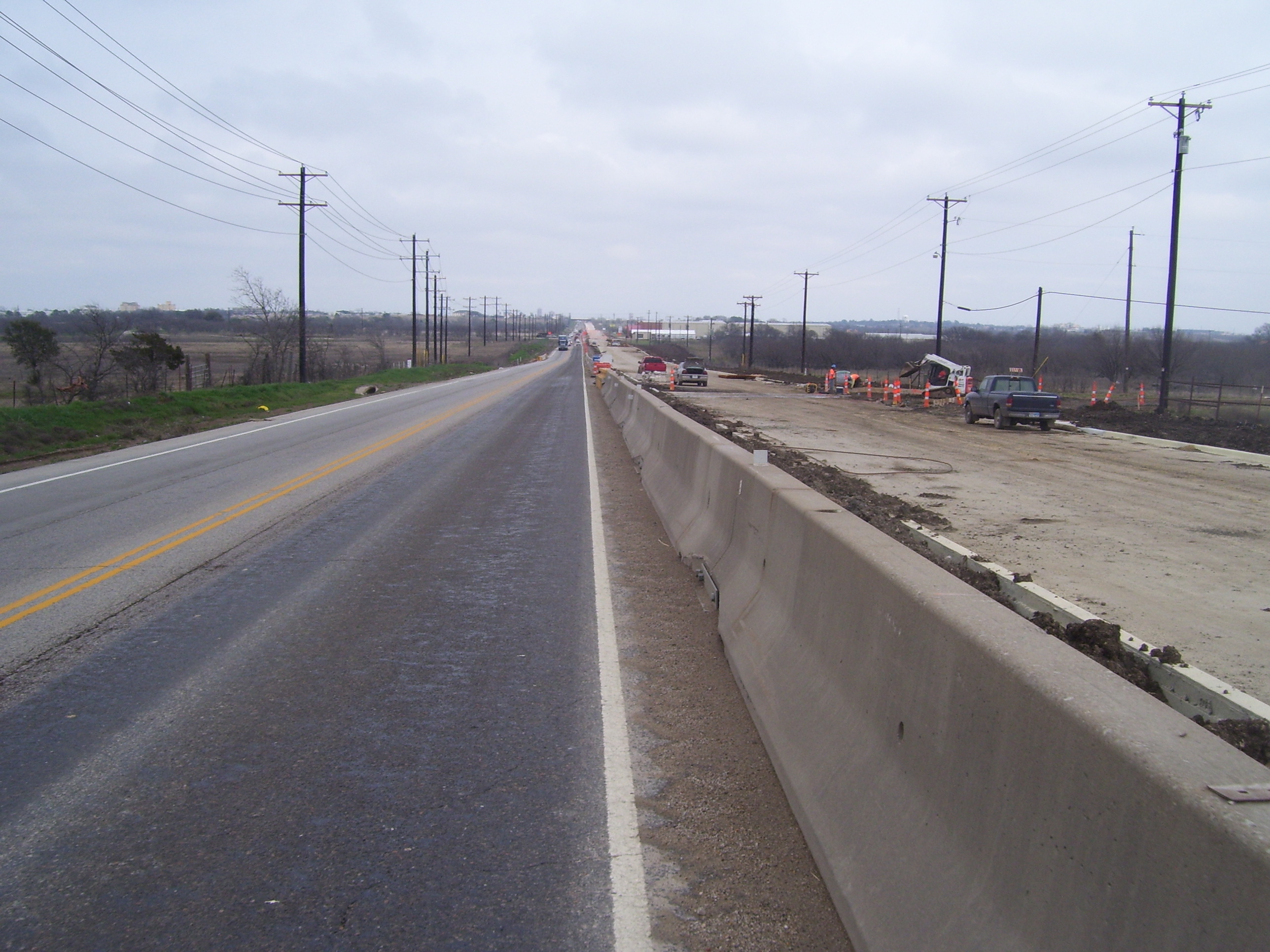 Along the southwest edge of town I rode along another one of these ubiquitous frontage roads that seem to be everywhere in Texas. Back in Ohio and most other places I've visited, you enter or exit the highway at onramps located at major intersections. Not so in Texas. Here, you get on and off using the frontage roads, which are one-way on either side of the freeway. Here's an example of such an onramp. Later on, way up there, you can see the corresponding offramp, which just merges right into the frontage road...and drivers there are expected to yield. If that sounds really dangerous to you, well, yeah, I have to agree. At least on a bike I was off to the right hand side and never had to worry about it, but I'd hate to be the driver who missed the yield sign as a truck came barreling down the tiny offramp at full speed.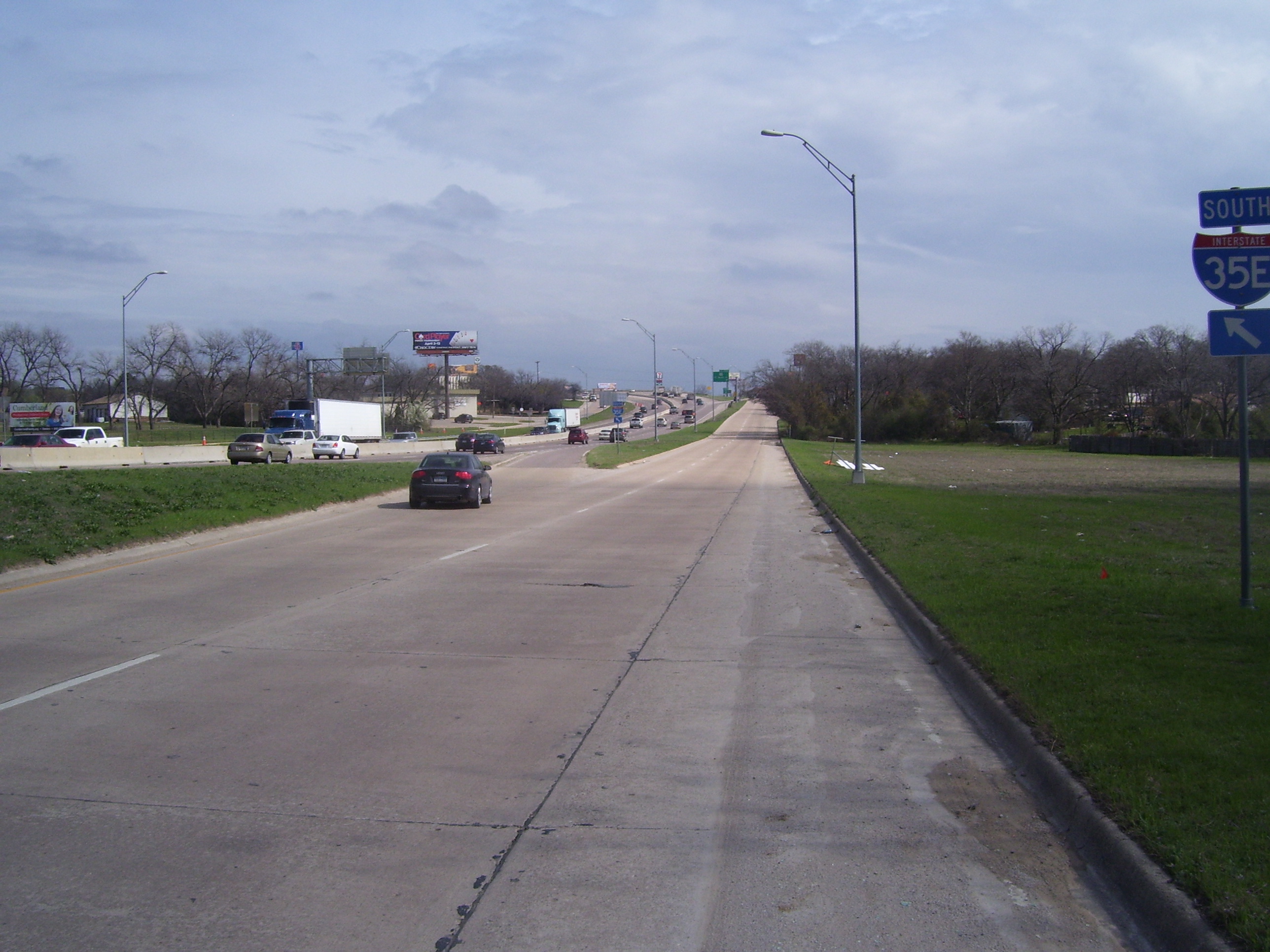 Riding on, I left the frontage road as soon as possible and made my way through residential type areas, that didn't really have much worth photographing except this one pretty little park that actually had a bike path I could use for all of about 5 minutes. After that it was back on the streets.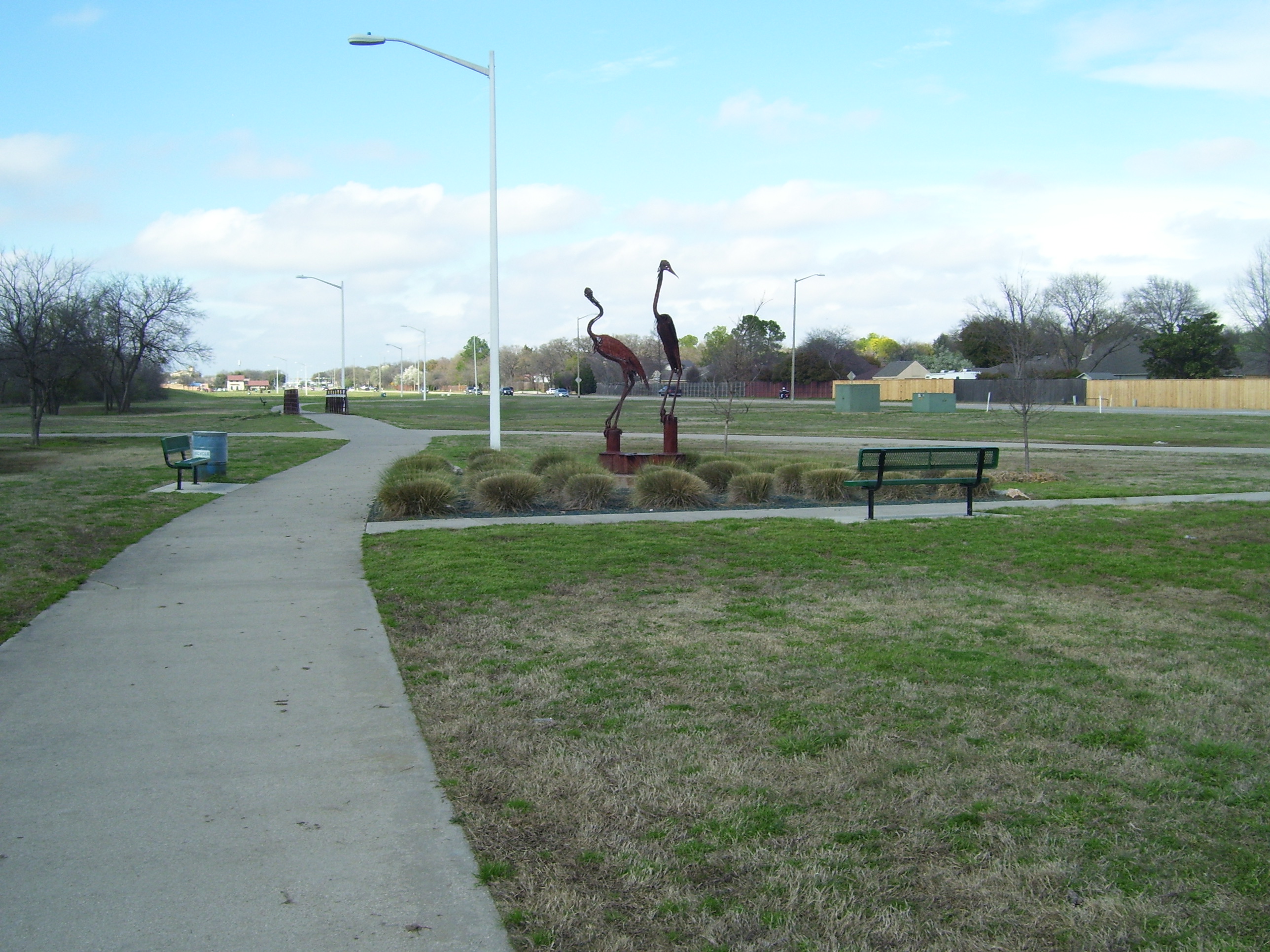 Eventually I reached Lewisville, which is one of the northern suburbs of the Dallas/Fort Worth area. Here they have a light rail system that serves the entire vast DFW area, I assume, since I saw these sorts of trains several times. The signals all operate in concert with the trains (notice the no left turn sign up top) and you're only stopped for less than a minute or so, as the trains only have 4 cars (at least, the ones I saw). Very cool. I would definitely use something like that if I lived in this area.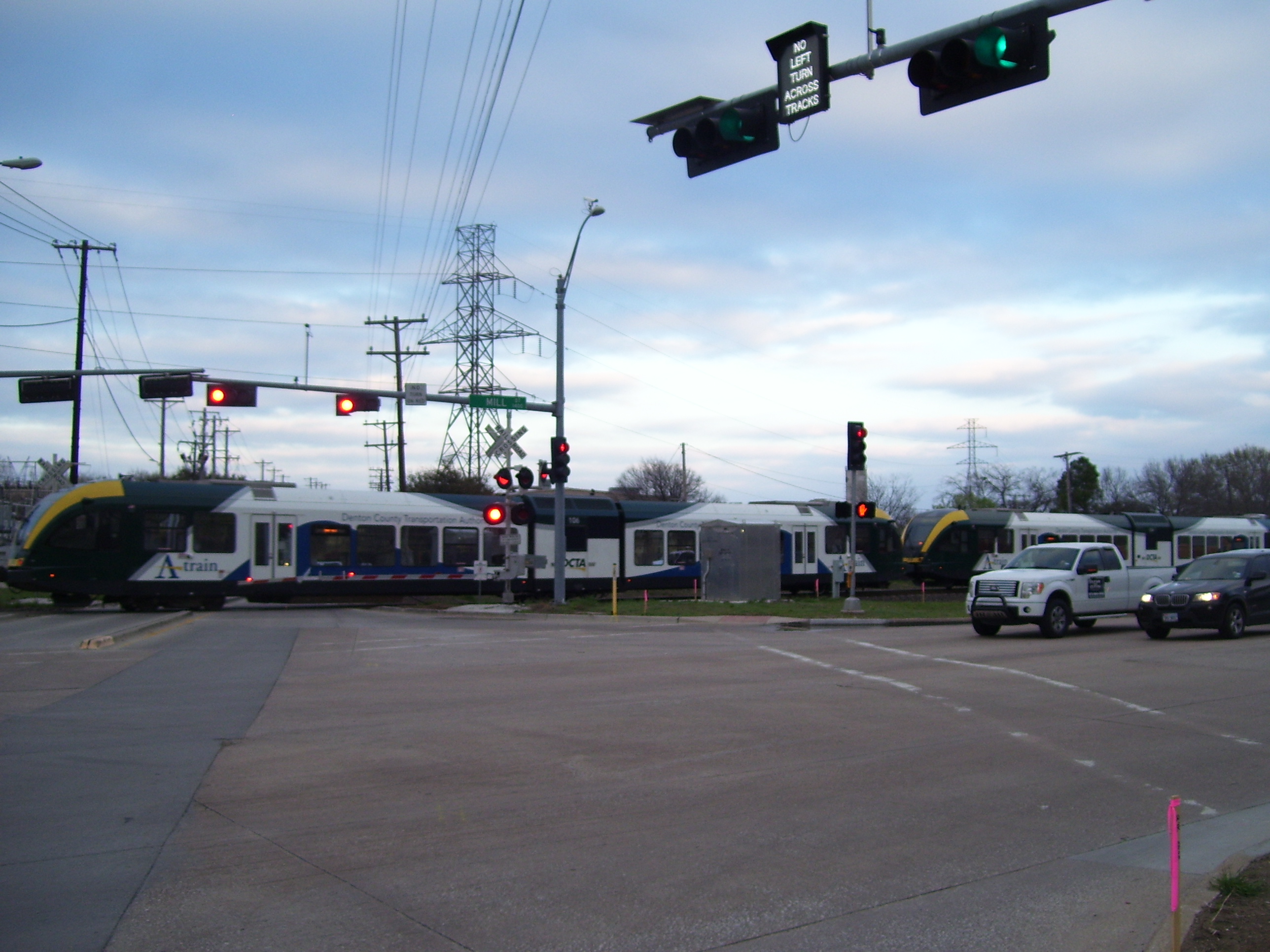 Near the end of the day I found a nice hotel right along I-35 and even had an extra hour of light to ride around hitting a few geocaches. After the terribly wet start to the day, it certainly turned out fine by the end. Of course, my bike is now totally in need of cleaning....this is what a few hours of rain and dirty road conditions will do....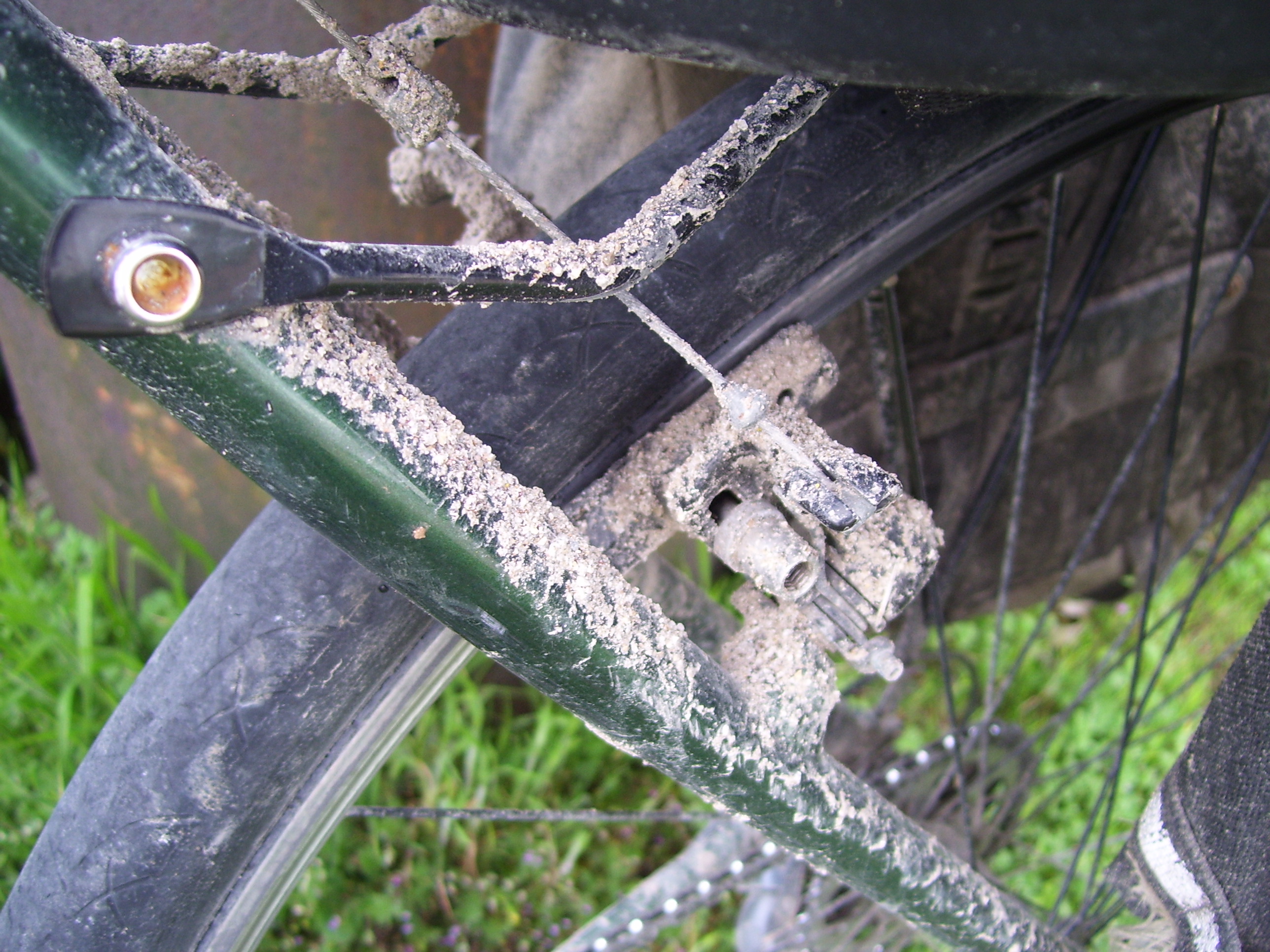 They even had a Raising Cane's restaurant less than a mile from my hotel, so of course that's where I had dinner. Back home, the only Raising Cane's places are in Columbus, an hour's drive away, so I rarely get a chance to eat there. If only one would open in Dayton! This is the first one I've seen this whole trip. I expect I'll start running into Zaxby's, a similar chicken fingers place, the further east I go...but Raising Cane's is still my favorite.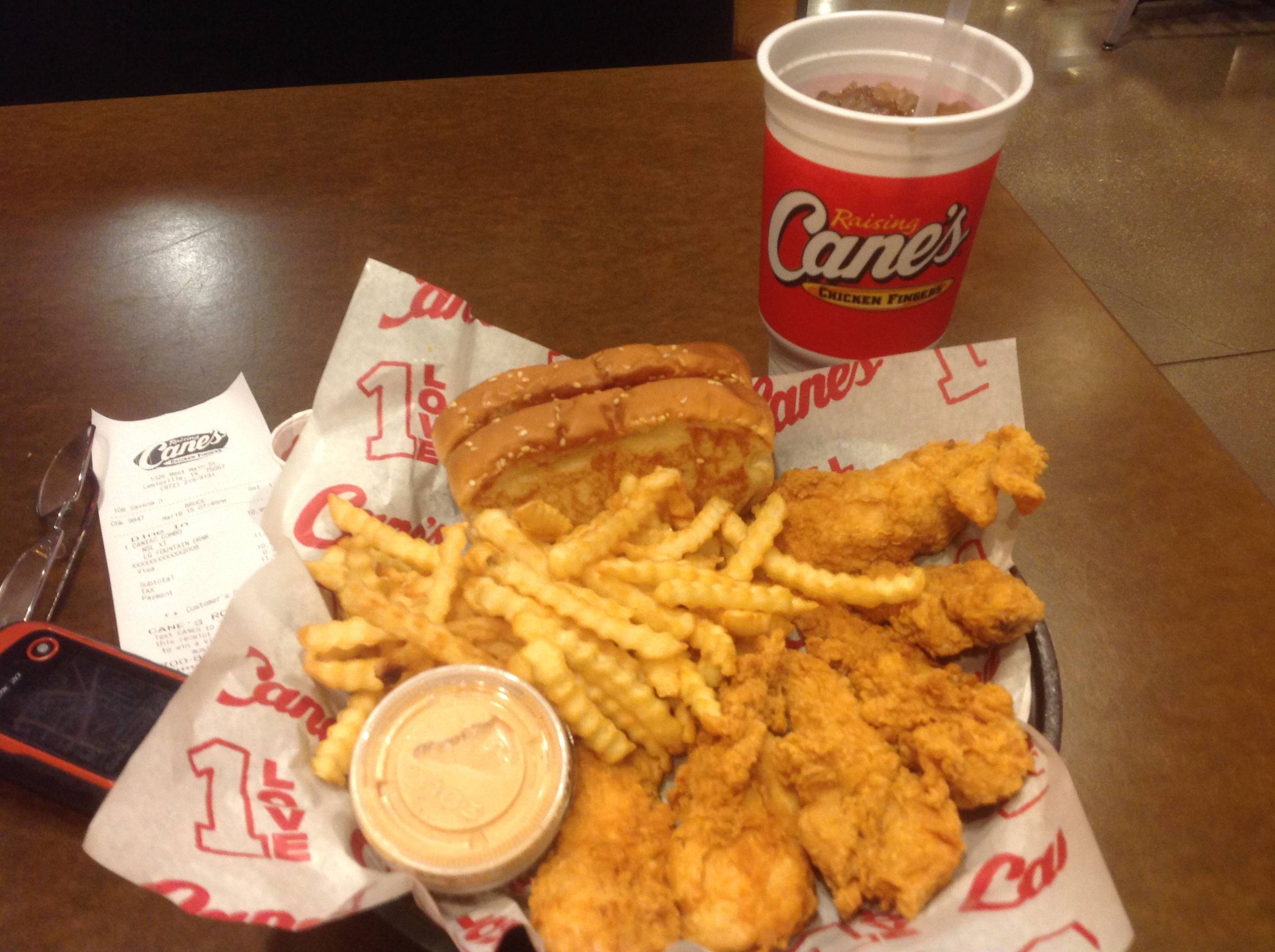 Dinner of champions! Anyway...with that put away, I headed back to the hotel, grabbed a shower and that was it for today. Tomorrow I must make my way through urban city streets on my way through northern DFW...I'm pretty sure I'll be longing for the open road after a couple hours of that!