Day 26 - March 23, 2015
Natchitoches to Alexandria
Miles: 61
Terrain: Mostly flat, with a couple of easy hills in the middle
Weather: Warm and partly sunny, variable winds
After posting last night's update I went back to the maps and started looking for possible hotel locations for the next few days, just to make sure I didn't leave myself stuck somewhere with no hotels for over 120 miles or something crazy like that. I doubt that'll be much of a problem here on this side of the country, but it sure was something to watch out for on the west side.
While scouting around I noticed that my intended destination for Day 27, Natchez (MS), was about 140 miles away and beyond it, there isn't much for a long way, unless I want to change my route drastically. So, ideally, I could do 70 miles each of days 25 and 26, right? Sounds simple enough, but there's only one hotel in that range, and it was in the middle of nowhere, and super expensive (comparatively). I went to bed thinking I'd call them the next morning and make sure they had rooms, then try to make it there and hope for the best.
When I got up, though, I checked the weather and started having other ideas. The winds today were out of the northeast (again...seriously what's with these stupid northeast winds...they're normally really rare) and the route to that proposed hotel would take me northeast for a good part of the day. On the other hand, I could go down to Alexandria, which is not quite as far, but avoids the headwind and also puts me in a far cheaper hotel. Plus, the other route had a lot more hill climbing. I still wasn't sure, though, until I checked the weather forecast for tomorrow, a day I'll be riding mostly northeast, and discovered a south wind is expected for that day.
That pretty much settled that, so just by checking a couple of apps I altered my schedule in such a way as to take advantage of the weather and terrain, without losing any time (in theory, at least, as long as I reach Natchez tomorrow as planned). That's half the fun of this trip, coming up with little tweaks like that on the fly and adjusting as necessary. With all that figured out I left at right around my standard time, about 9:45 (for some reason I always seem to leave between 9:30 and 10am), and headed out onto one of the flattest stretches of road I've seen this trip. You can see on the elevation gain pictured above what I'm talking about. I rode about halfway to my destination before encountering even a single hill, and then just a few minor ones before settling back into flat ground the rest of the way to Alexandria. I actually rode the whole day today without changing gears once, a feat I also accomplished 3 days ago, but it was much harder then. Today I never even felt tempted to shift.
On the way out of town I paused for a couple of pictures. Natchitoches is actually the oldest town in Louisiana and provided the setting for the movie Steel Magnolias (which I've never seen, but probably should). Apparently, there's a bed and breakfast called the "Steel Magnolia Inn" (I didn't ride past it, sadly) that's straight out of the film. The town also has a beautiful historical district with classic architecture and brick streets, and my ride out of town today took me right through it. Here's a shot: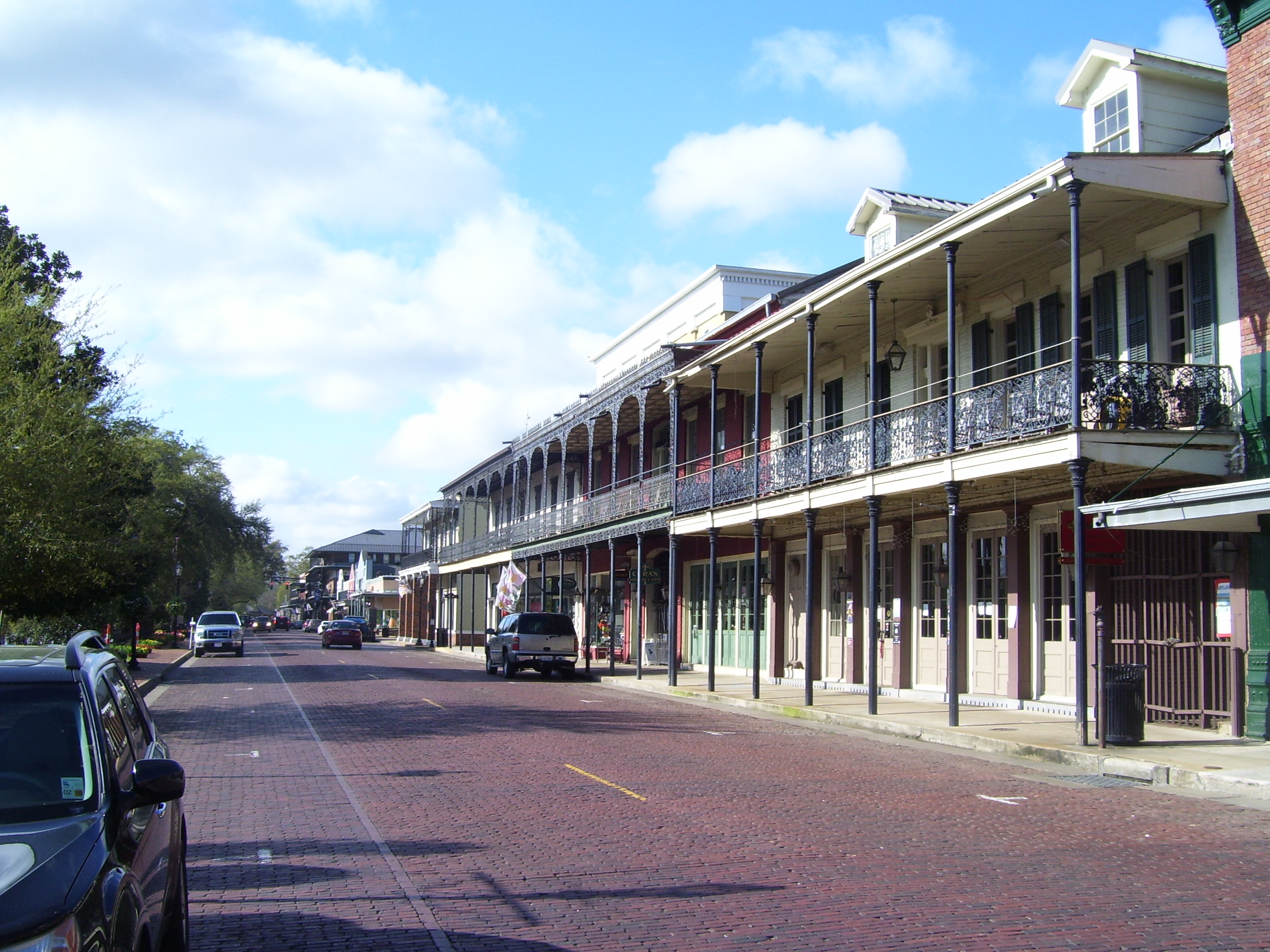 Natchtoches used to be connected to the Mississippi River via the Red River, but the course of the latter waterway shifted and left a lake in its place, known as the Cane River Lake. I rode along most of the length of this riverlake (or is it lakeriver?) for much of the day. This is what it looks like at a bridge crossing right in town. Very pretty.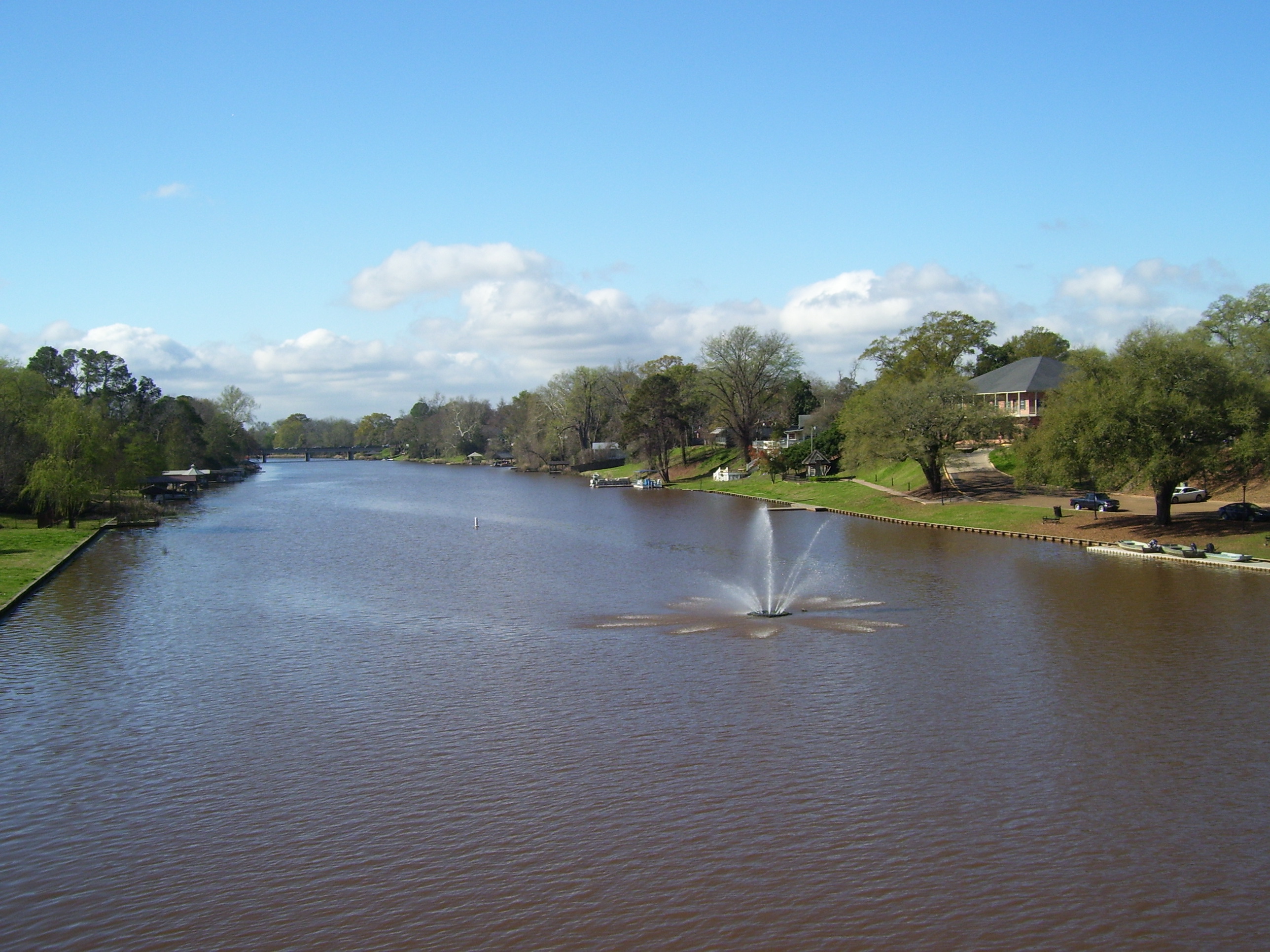 A few miles down the road it looks like this...by the way notice how nice the weather is today. Far better than the last few days, that's for sure. I also had a bit of a crosswind at this point, but nothing I couldn't handle. As I rode along the river, my direction frequently changed and sometimes I even had tailwinds (never for very long, though).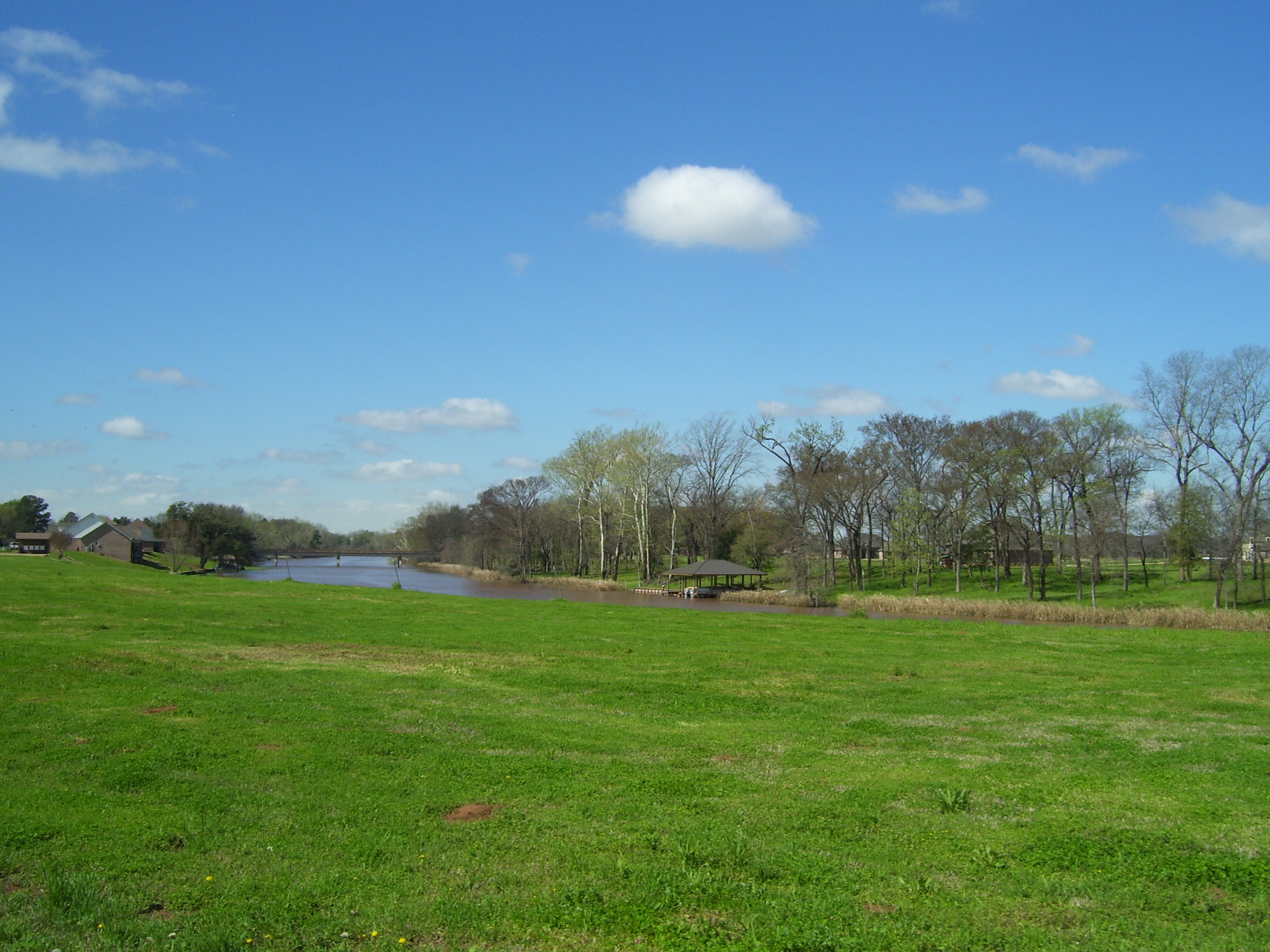 I could've left town on a road called LA-1 that went straight towards Alexandria, but instead I followed a more scenic route called the Cane River National Heritage Trail, which passes through a number of historic plantations and similar sites. Here's one, a privately owned residence called Cherokee Plantation. It looks like it belongs on a Deep South postcard.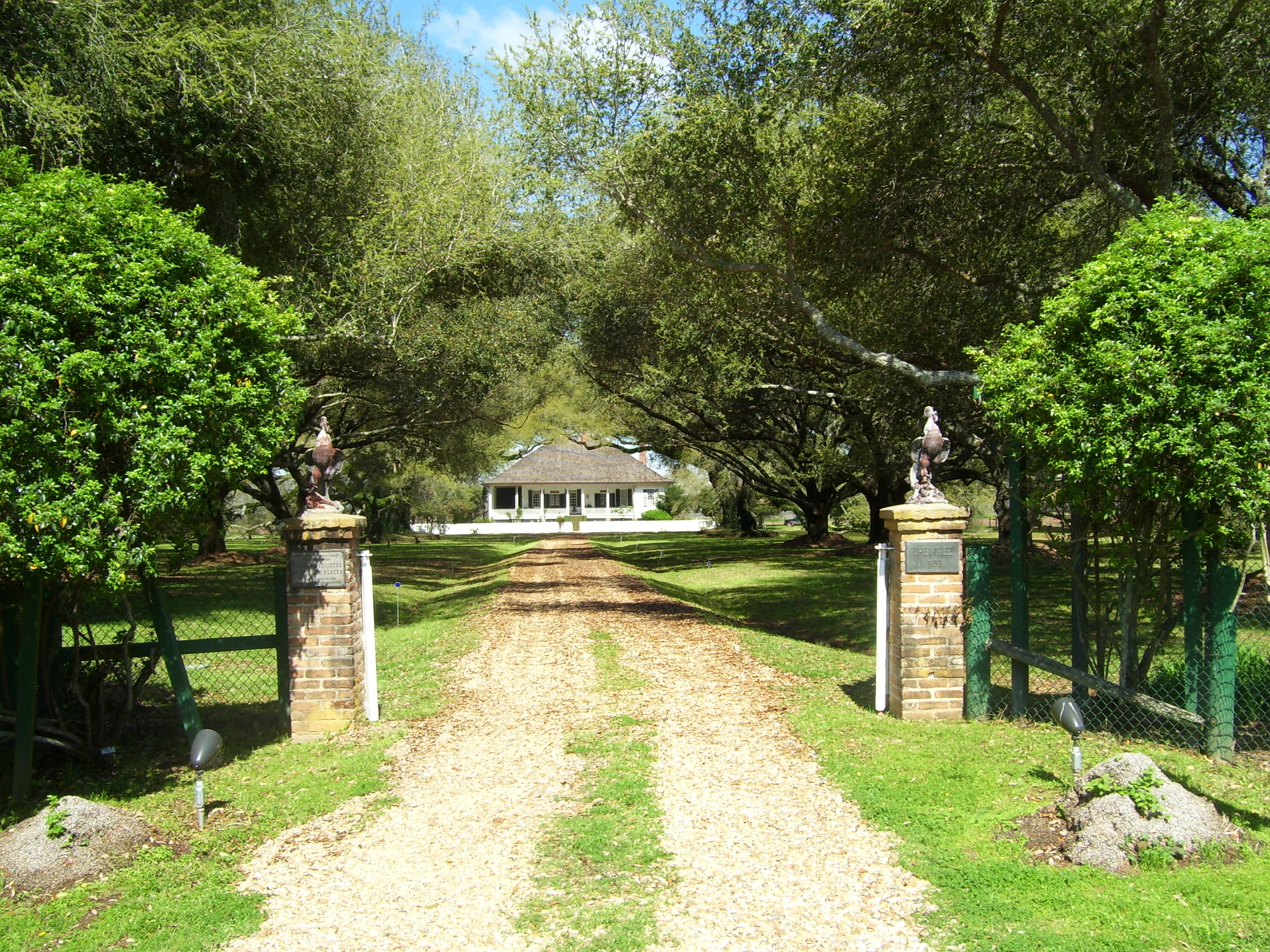 That wasn't the only one, either. This one, Oakland Plantation, sports some of the most amazing trees I've ever seen. Seriously, this is what you think of when someone says "Louisiana plantation."
Choosing to take that scenic road only added a few miles to the trip, but it was definitely the right decision. On a day I already knew would be short, what's the hurry? I enjoyed the great weather and acceptable winds for the first few hours of today's ride, meandering along the course of the Cane River, crossing it several times in the process, with views like this one all morning long.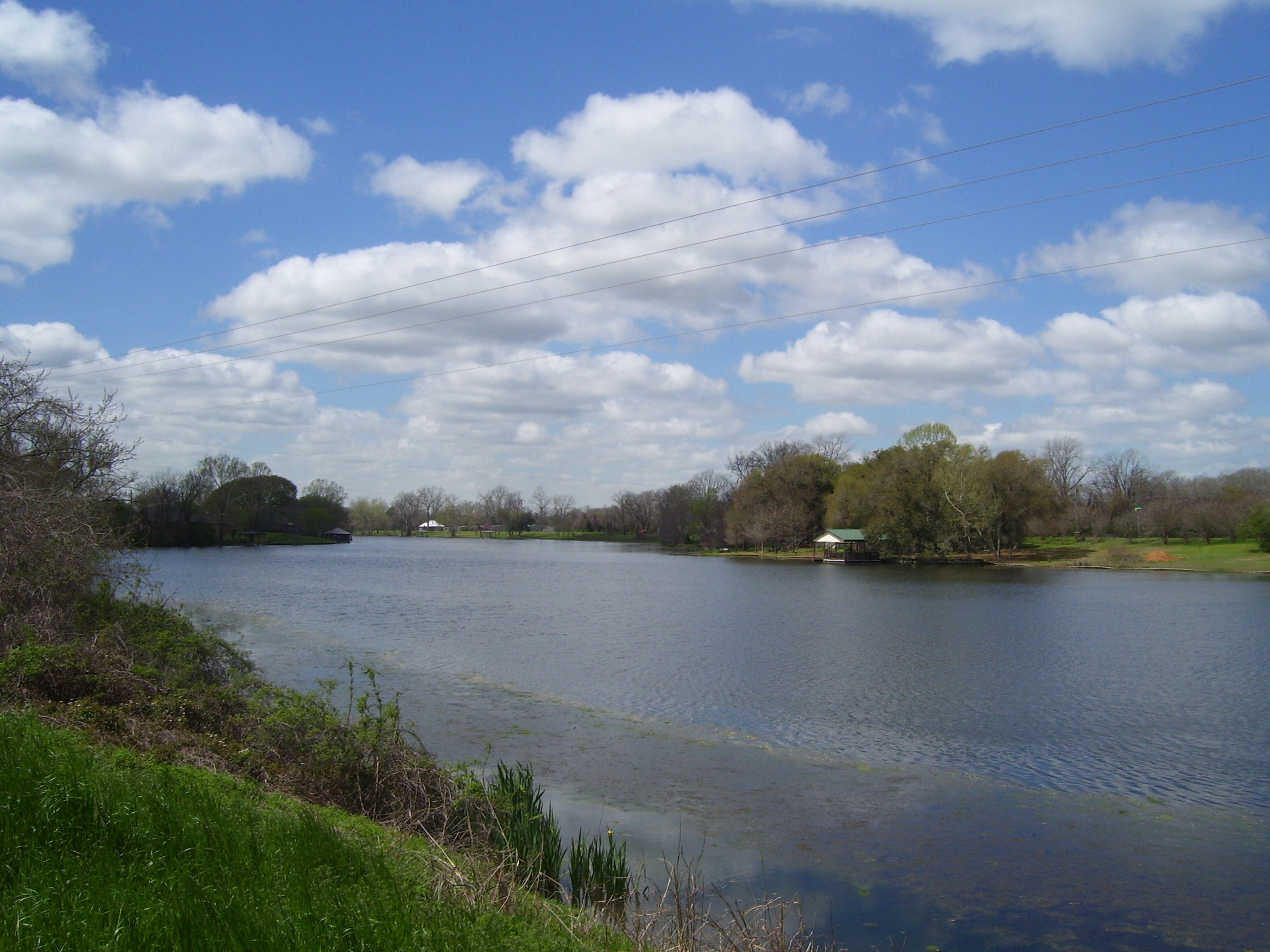 Yet another plantation, with more of those amazing trees. This one is over 200 years old, dating back to the late 1700s.
Plantations weren't around every corner, though. Mostly I saw a lot of this...recently plowed farmland that went on and on. The rains had left many of those furrows covered in standing water. I hope there wasn't too much crop damage from the heavy rainfall.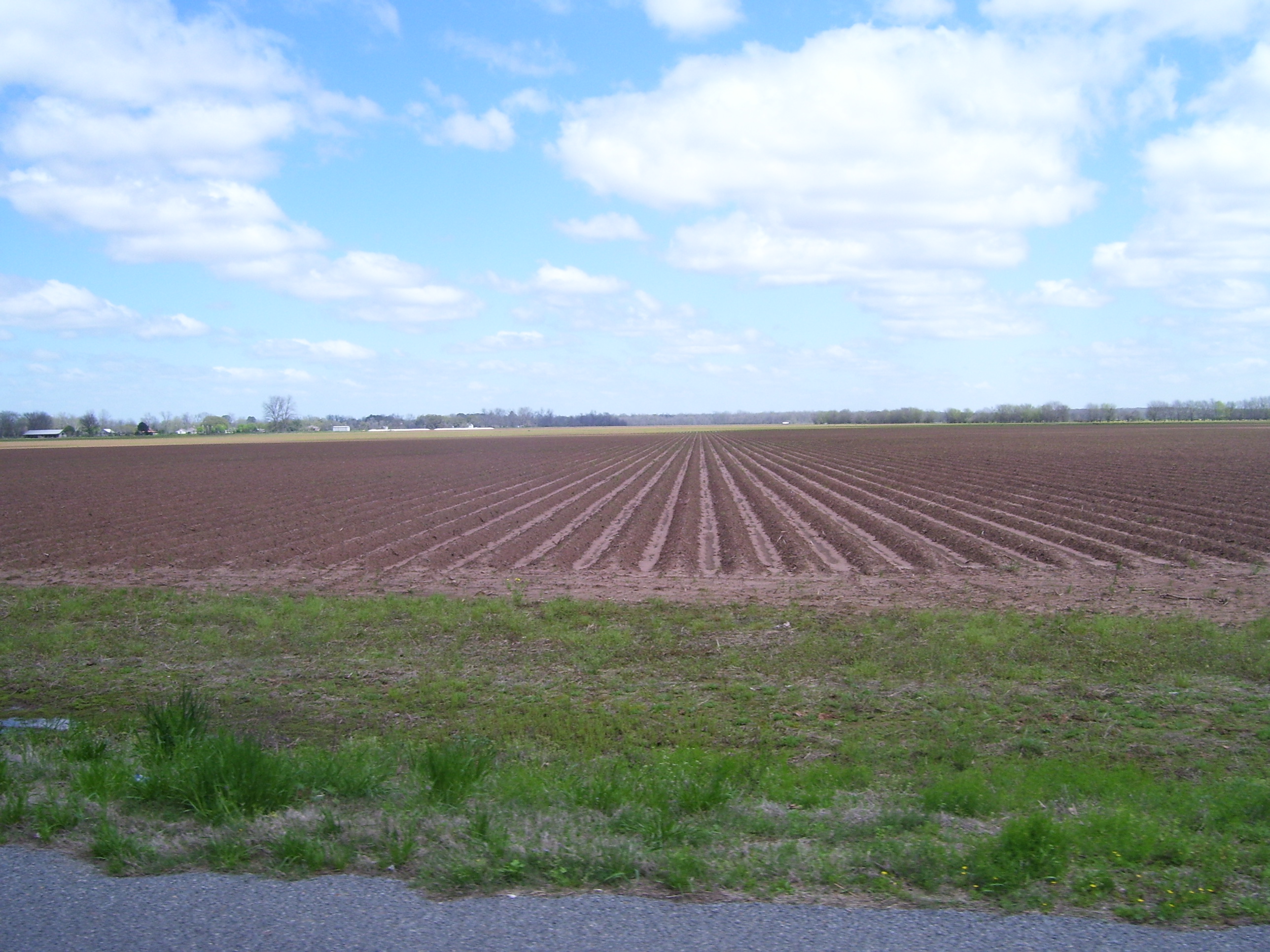 One last time...this is Magnolia Plantation, another historic landmark known for cotton and cattle. This one is open to the public, and I had to dodge a few other tourists, but the place also had a restroom and water fountain, so I could top off my water bottles while visiting. The buildings way in the back there are the original plantation structures, and a map inside explained what they were for: cotton sorting, living quarters, the cotton gin barn, and so on. One thing I never knew about: one of the buildings was dedicated to pigeons, because some plantations used the birds for food (young pigeons were a delicacy, apparently) and to fertilize the soil. The people who worked with the pigeons were called, believe it or not, pigeonniers. No, really. You learn something new every day.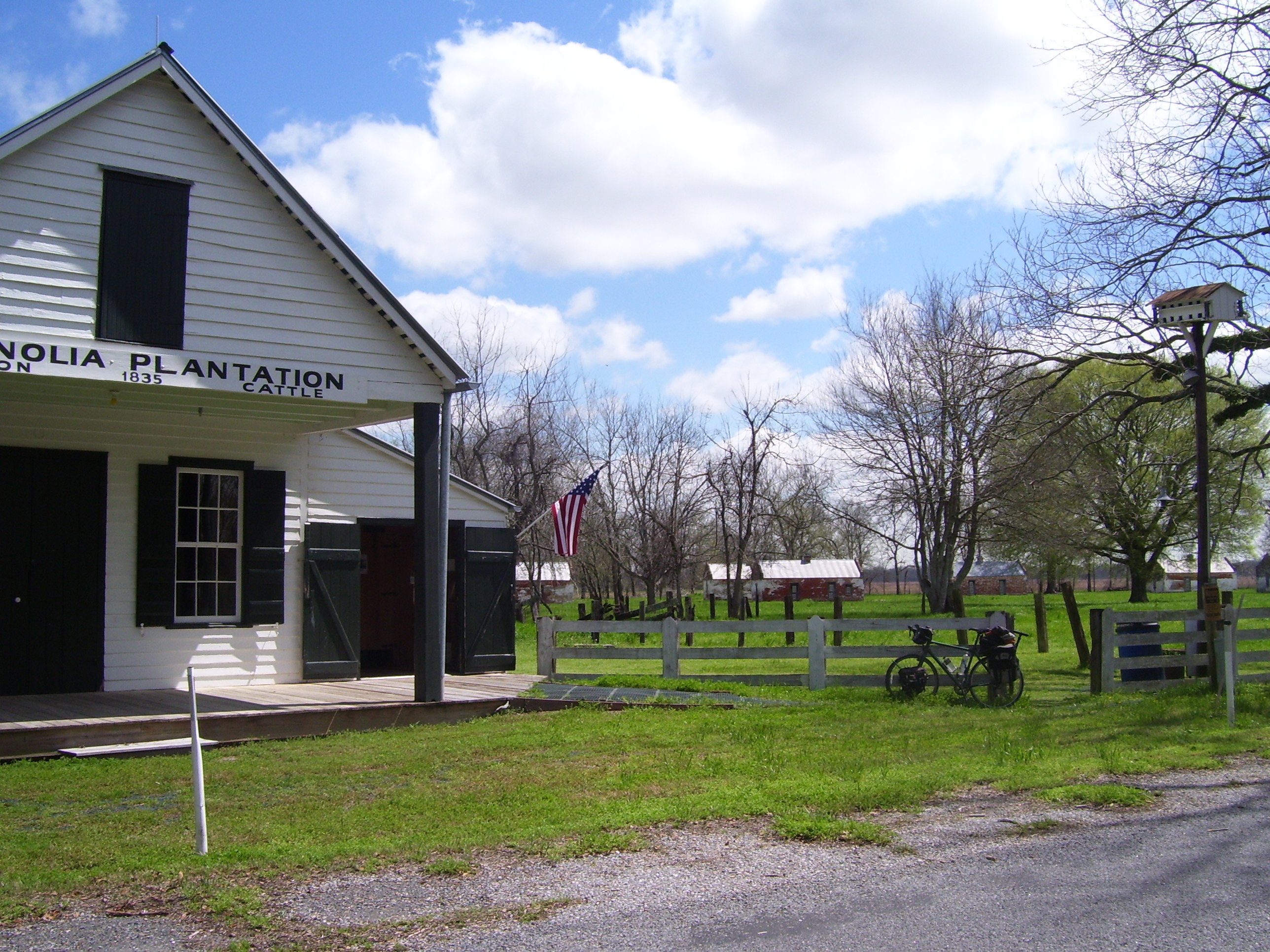 The Cane River historical ride finally came to an end when I left LA-119 and joined up with LA-1 at last. The road crossed the river one last time and entered some light hills, whereupon I found myself in pine forest. Here's what the next couple of hours looked like, with virtually no civilization at all: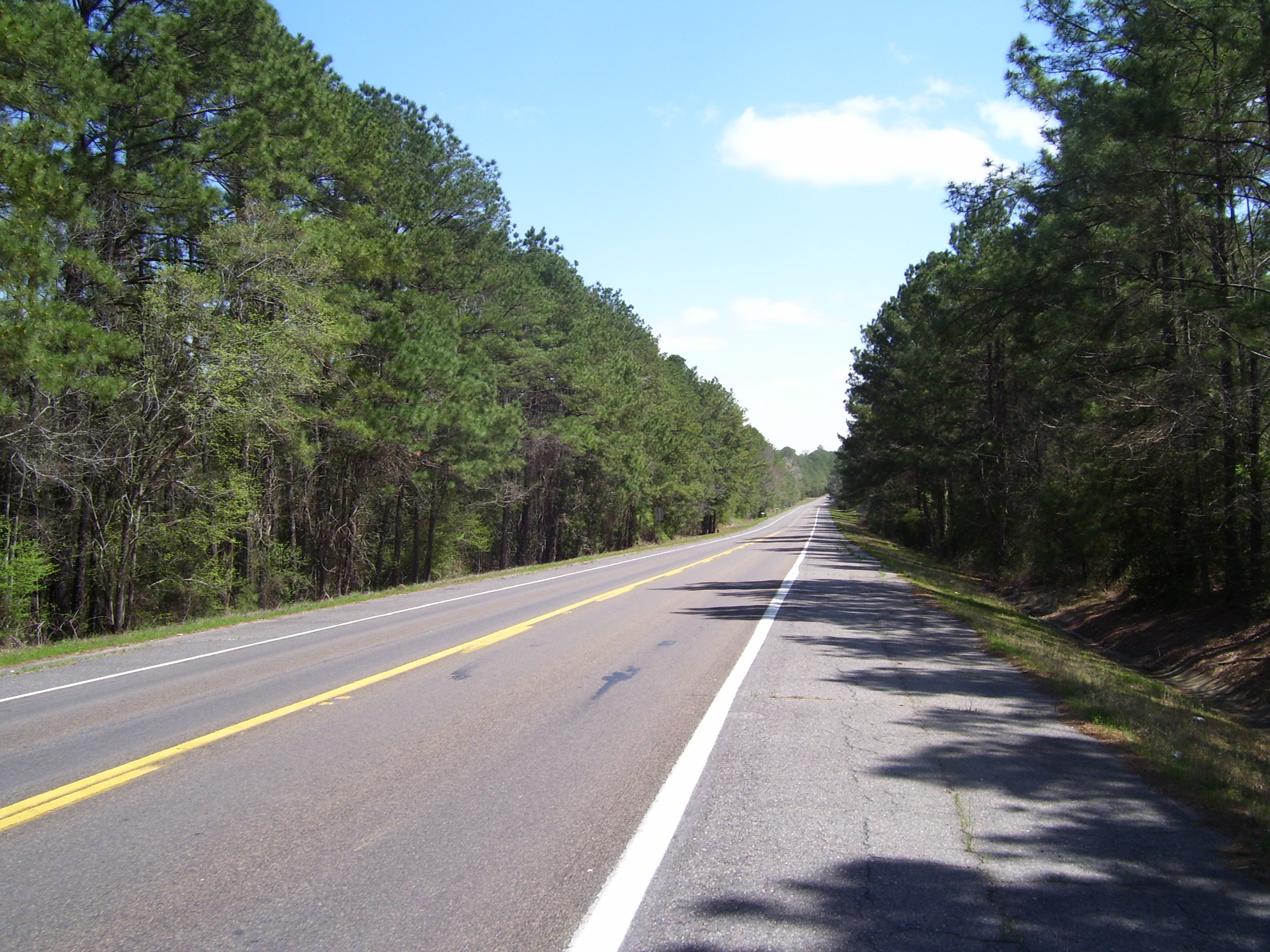 I never did find a place to eat lunch today, so I dined on a dozen or so cookies I had in my backpack. I've actually made a habit of eating lunch every day, up until now, but it didn't really affect me much to skip it on a day when the miles weren't that long. I don't think I would've liked to try that on a century day.
Anyhow, I did run low on water again so when I spotted a tourist info center on the outskirts of Alexandria, I stopped in. Here I met two of the nicest ladies in Louisiana, Bobby and Yvonne (left to right). They hooked me up with one of those handy hotel coupon books and told me a couple of the details I mentioned here and there on today's blog. Plus, they kept trying to get me to try their Louisiana coffee, which I might well have done if I actually liked coffee. Anyway, they told me that every now and then a cyclist will come through, but they hadn't seen any yet this year, so I guess either I'm early or the others just didn't stop here.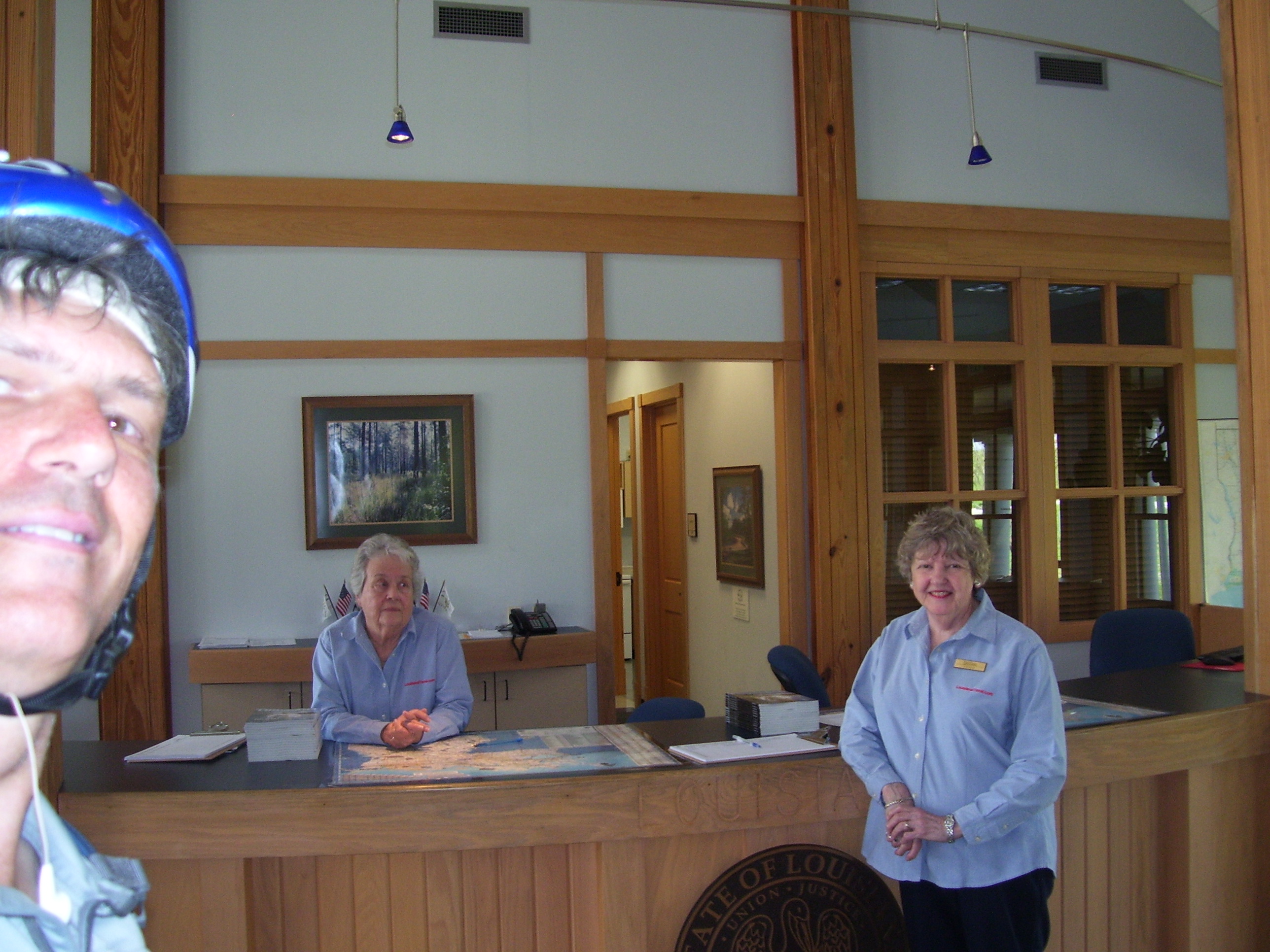 After filling up the bottles with cold water, I rode on another 10 miles or so to my motel, which actually wound up being about half the price of that one I decided not to try for today, so that worked out. Plus I was early enough that I could go out for about an hour of geocaching, and while doing that I spotted this neat clock tower: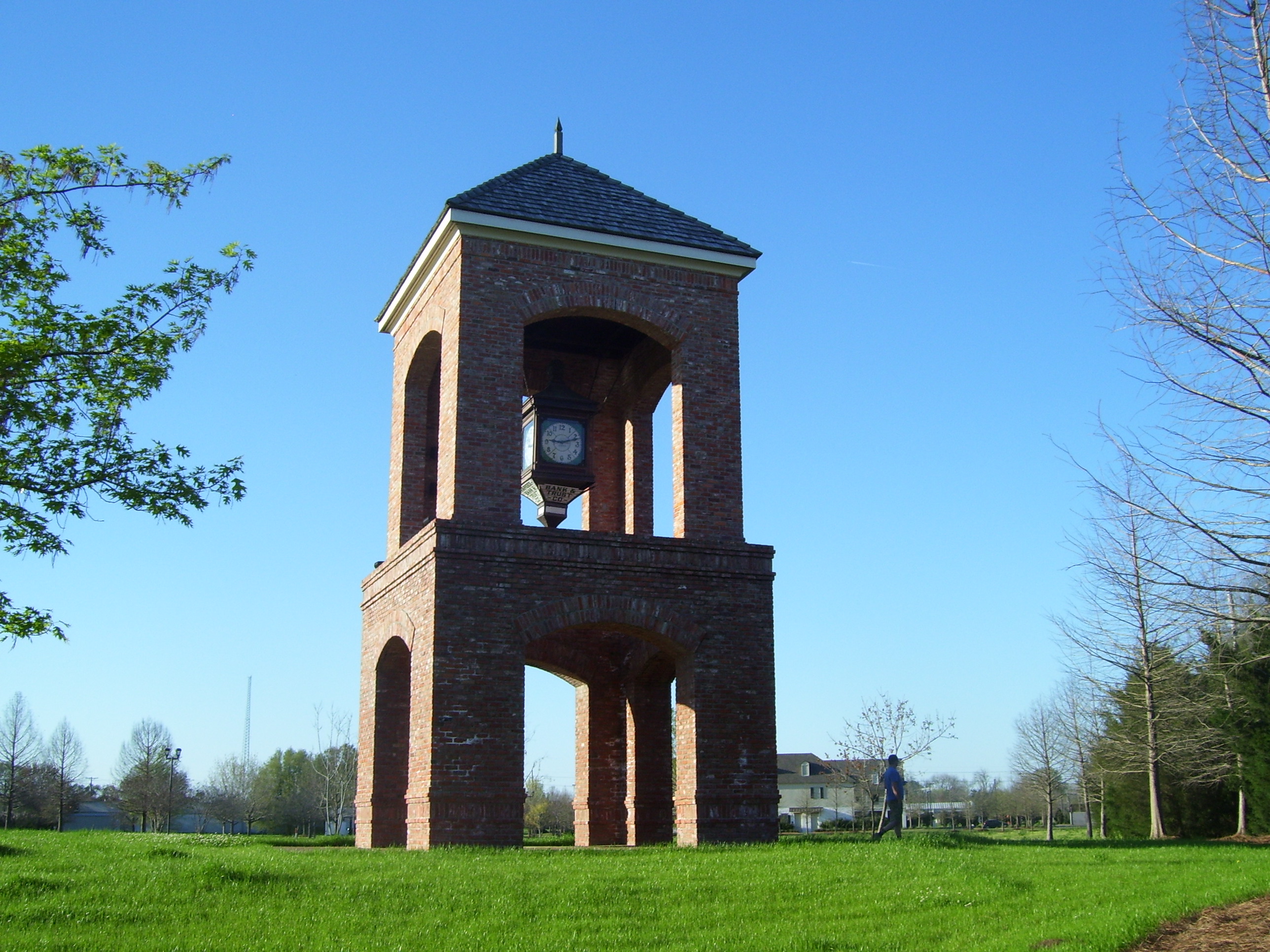 The guy photobombing me turned out to be another cacher, which I realized almost immediately when he headed into those same trees I'd just been in to look for the nearby cache. This is Michael Harvey, who's from Biloxi but drives all throughout Louisiana regularly on his sales job. Geocaching gives him something fun to do on days where he's staying in some hotel far from home and has a few hours of daylight left after work. We exchanged caching stories, bid farewell, went in separate directions, then ran into each other again at another cache later (funny how that works out). Just another great person I've met on this trip!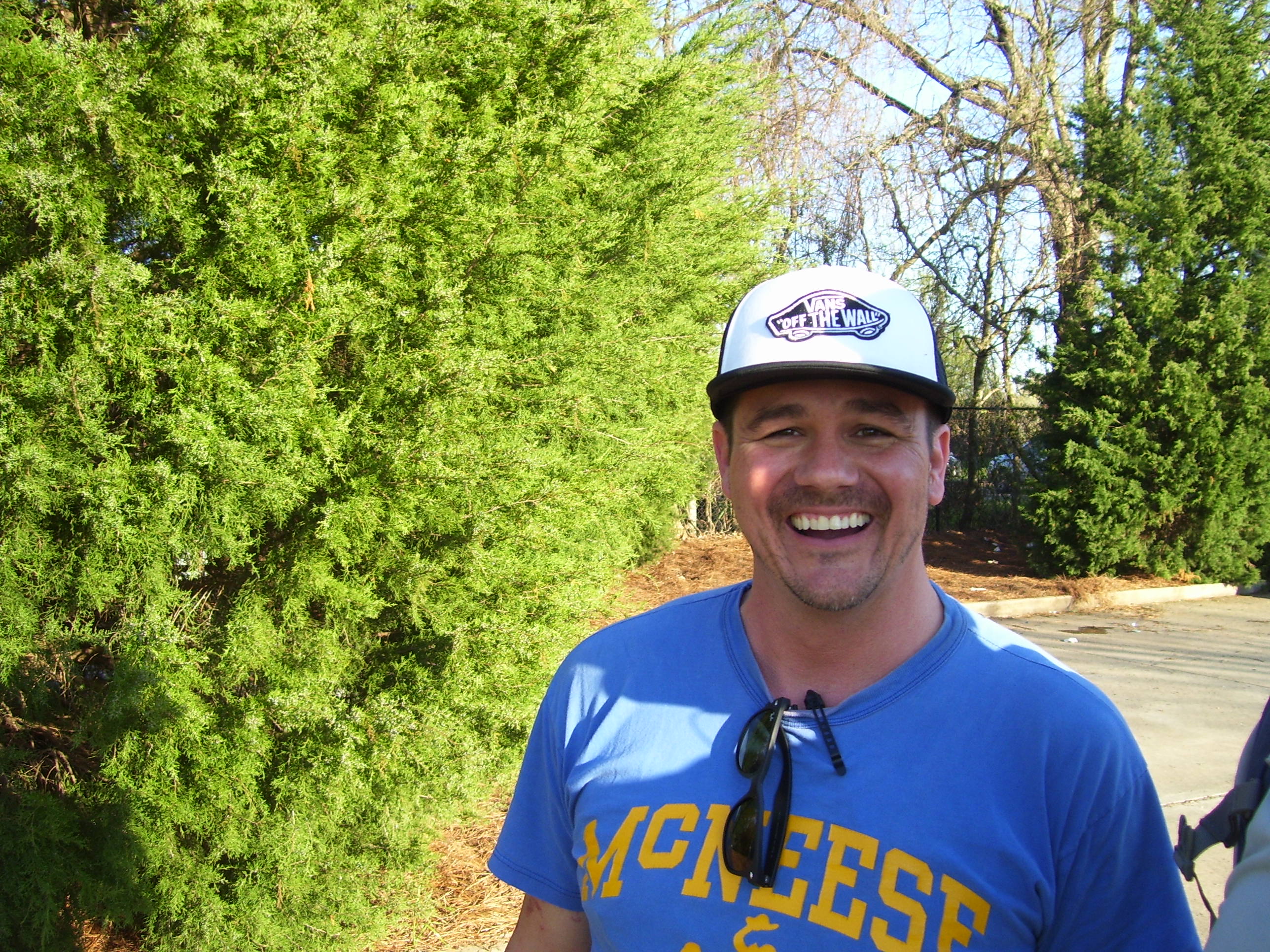 On the way back to the hotel, just before sundown, I passed this nice view of a little bayou they've preserved near a running/biking path. Very scenic.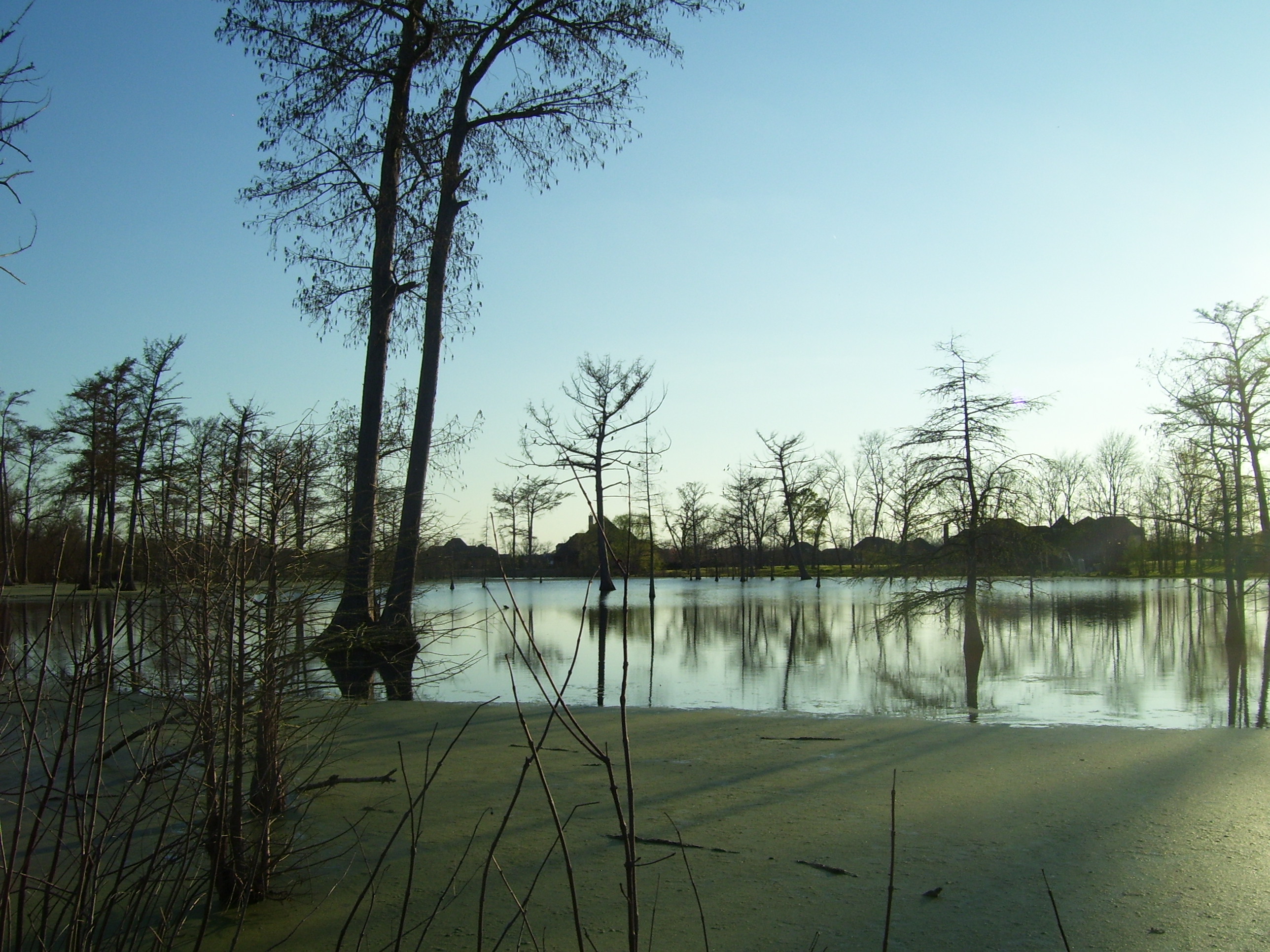 That basically finished off the day, one of the easiest I've had so far (except for those pesky headwinds the last 15 miles or so). Little Caesars Pizza provided dinner and Dollar General a sub-$1 2-liter of soda, so my total food expenditures today came to right about $10, plus only about $45 for the hotel, so this was one of my cheapest days on the road, as well.