Day 38 - April 4, 2015
Point South (Yemassee) to Charleston
Miles: 73
Terrain: Pretty darn flat
Weather: Warm, mostly cloudy; light to moderate crosswinds
So, here I am at the last day of this tour! After over 5 weeks of basically nonstop riding, all that remains is one last cruise on level ground into Charleston. I spent most of the evening yesterday reflecting on everything I went through to get here, all the challenges and pitfalls of the trip, and lessons learned both good and bad. All the people I met, and places I saw...well worth it, every moment, and every dollar spent to get me to this point.
It wasn't over yet, of course. I still had one last day of riding to get through. Today's weather forecast was for rain and mostly north winds, which didn't sound very promising, but as it turns out the rains never came, except for a few occasional sprinkes, and the wind wasn't all that horrible. The only hills were a few bridges here and there (the spikes on the elevation map) and one slightly uphill road that I honestly didn't even notice. All in all, one of the easiest days of riding this whole trip. Plus I was able to get out the door by 9am, so I even had time for a couple of side trips. This may be the last day, but I'm still touring, don't forget.
This area of South Carolina is referred to as "the lowcountry," and that meant a lot of riding through marshy stuff. I didn't mind, though...sometimes those swamps can be quite scenic.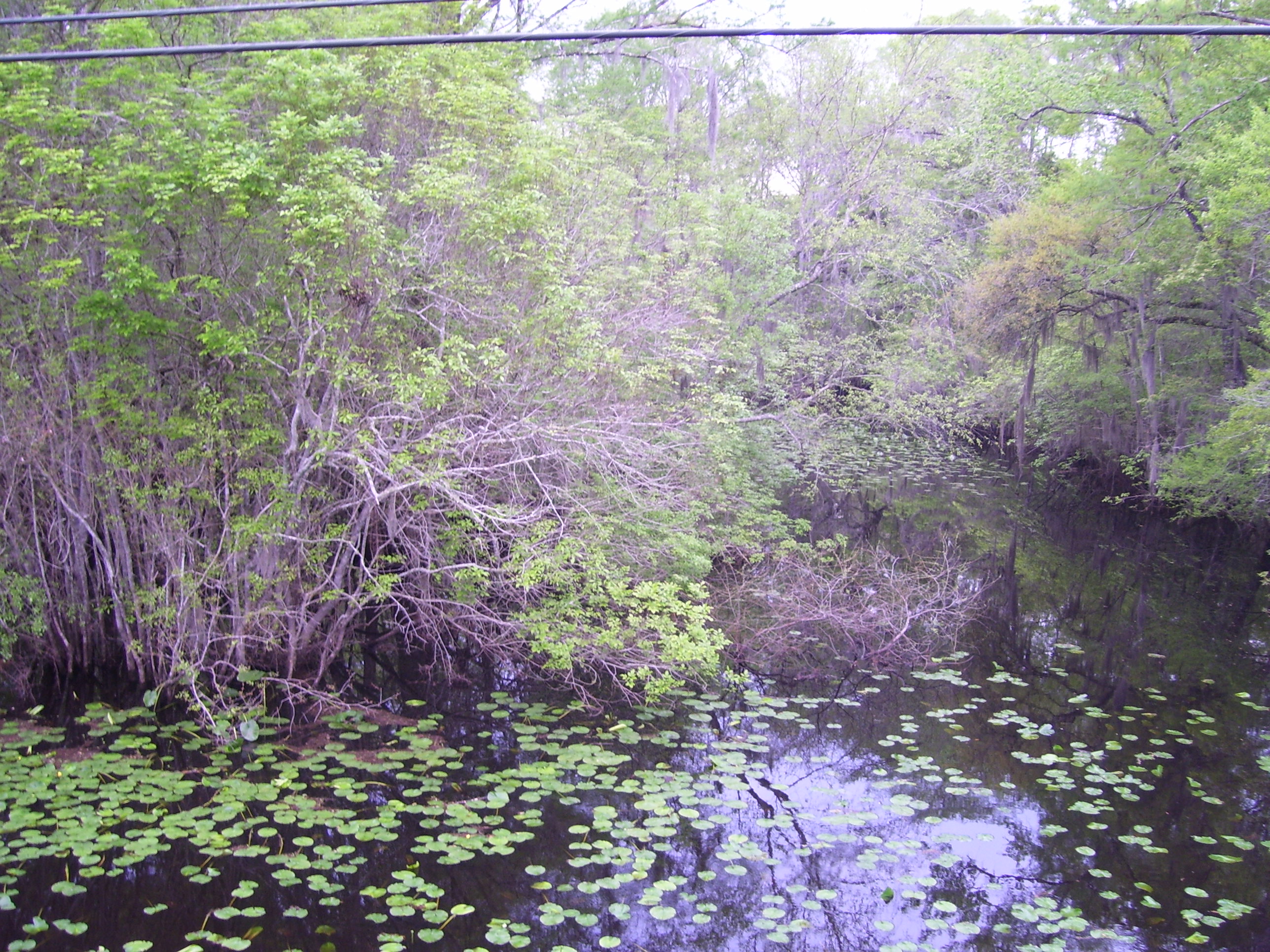 My first side trip took me down a lovely little country road: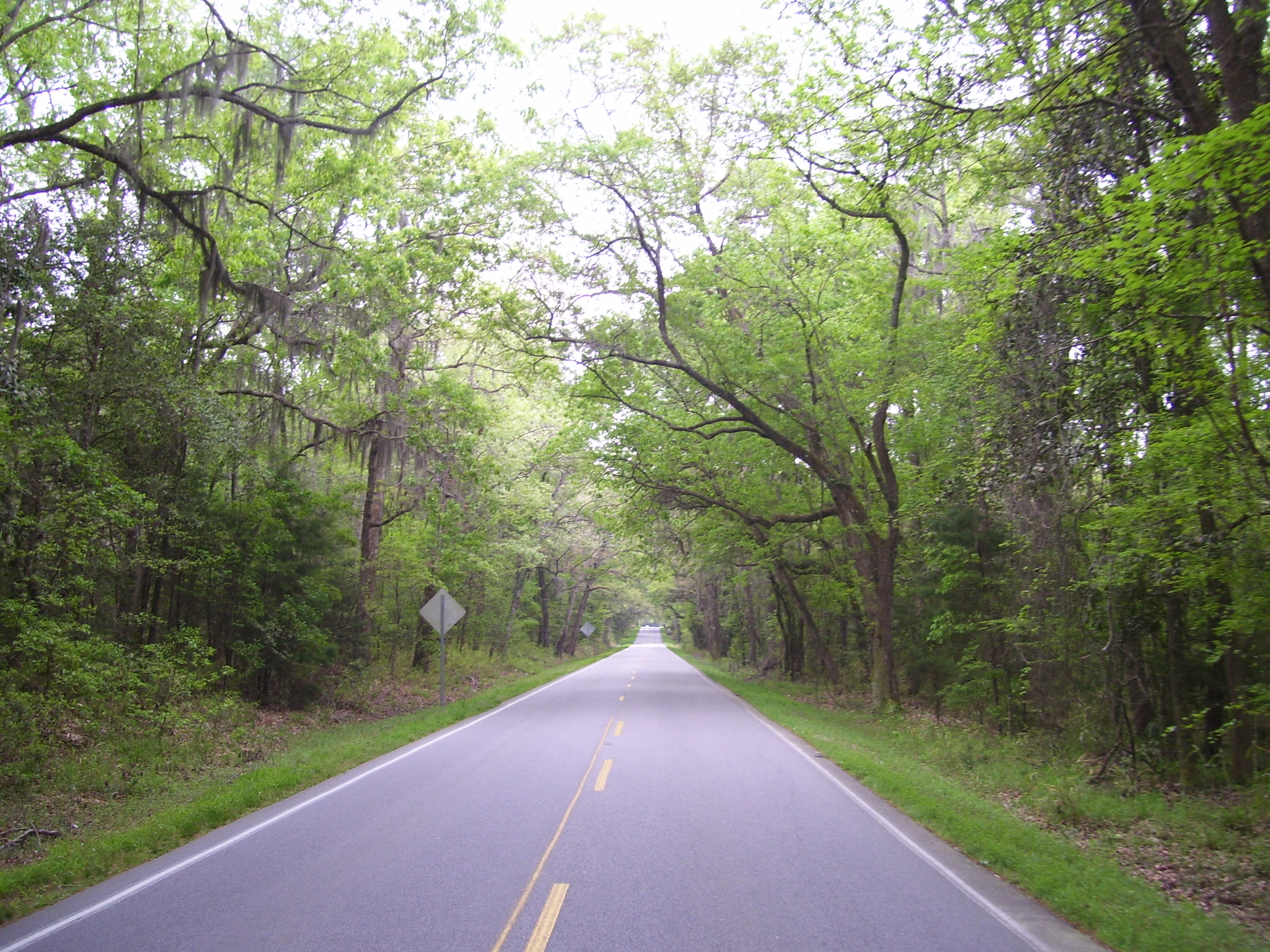 The target was the Sheldon Ruins, what's left of an old pre-Revolutionary War church: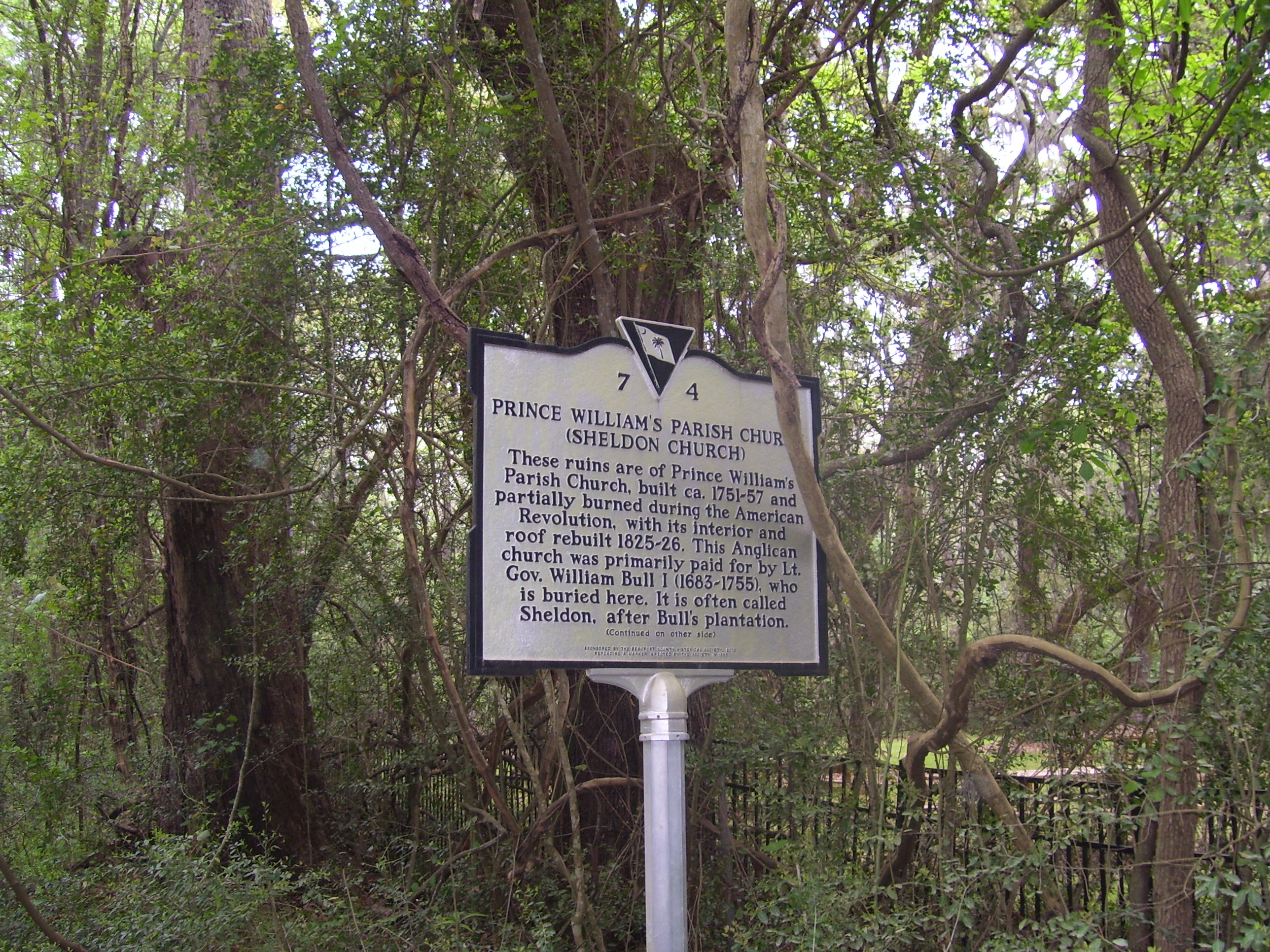 All that's left of this place are the walls and some pillars: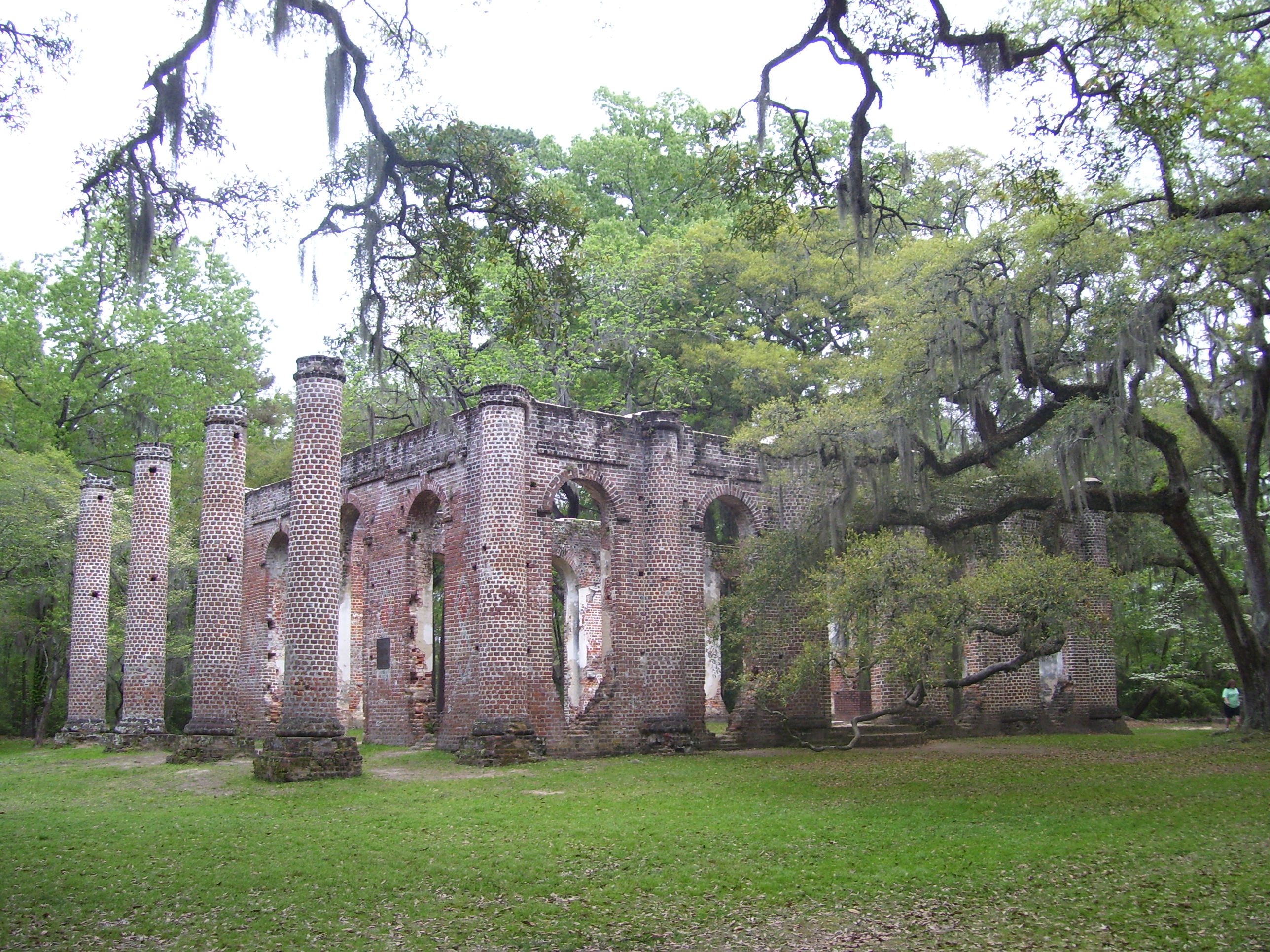 A bit better view of the interior. By the way, there were lots of visitors here today, I just managed to get some photos without anybody else in the frame.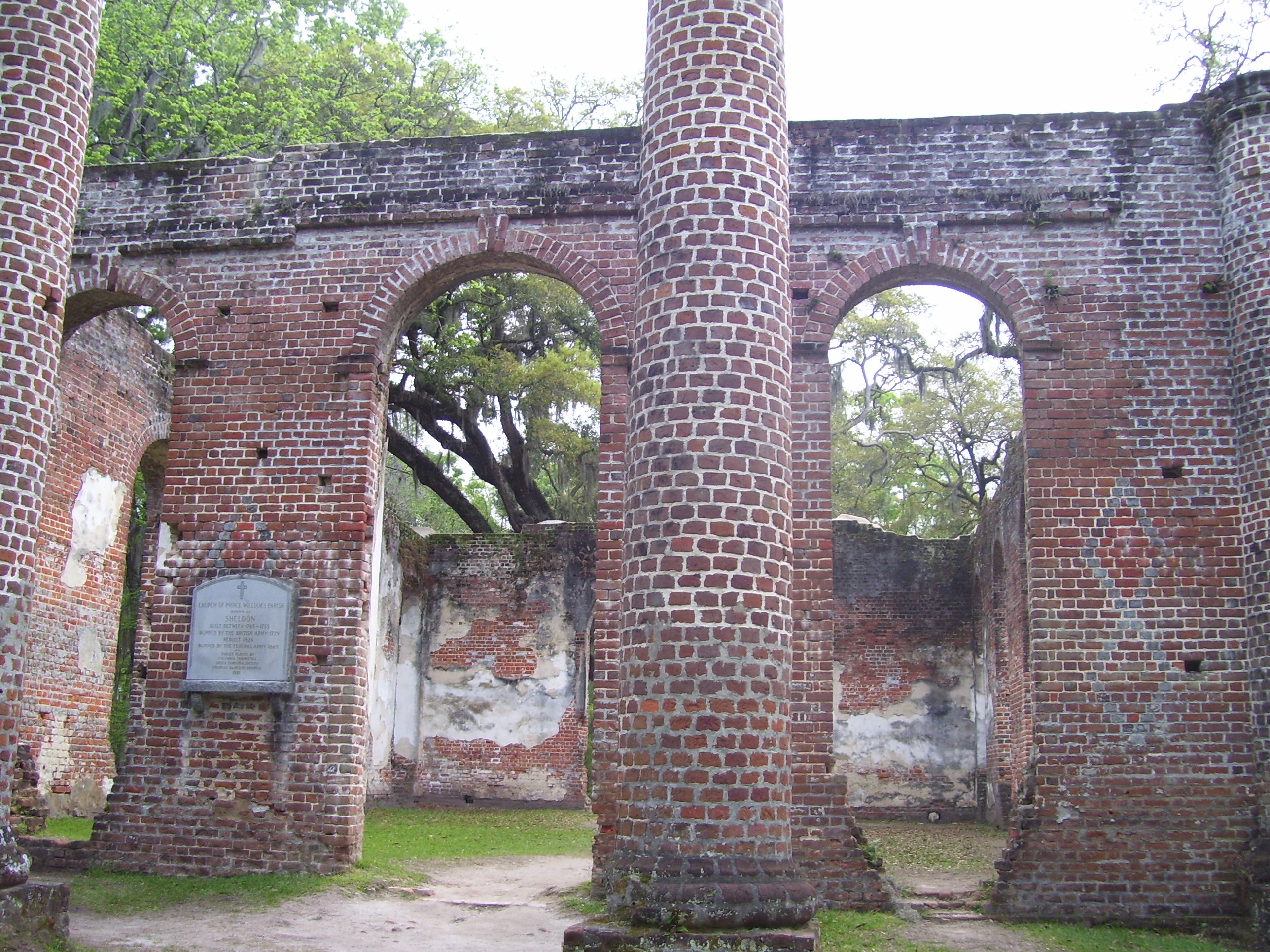 Upon leaving this solemn place, I headed off to link up with US-17, which for a moment looked like it might work out well, since I got a handy bike path: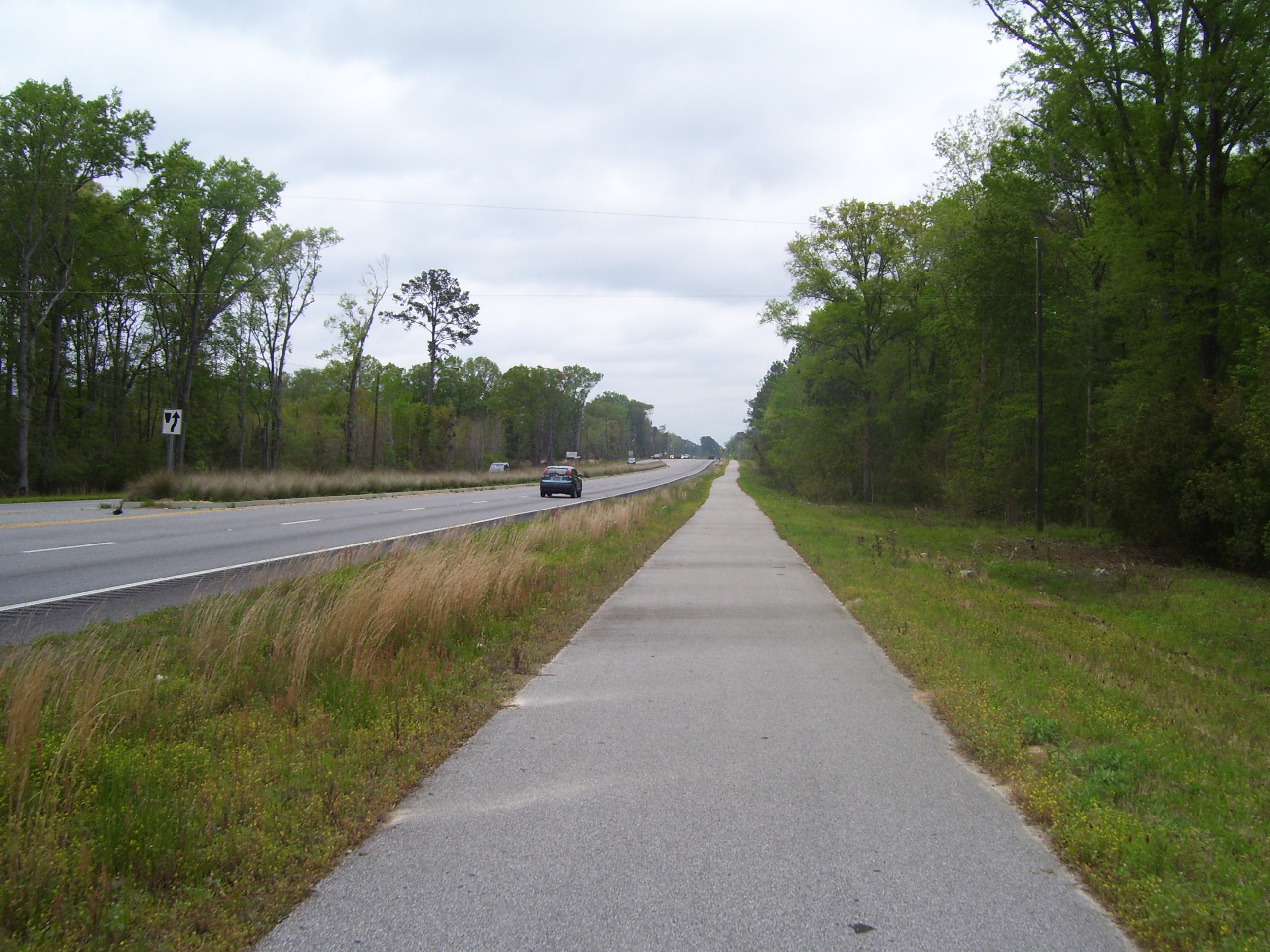 Sadly that didn't last long, but early on route 17 wasn't too bad. Here's a view of it from a fishing dock nearby where I took a water break. The highway is pretty level all the way on to Charleston for here, even staying flat over the water.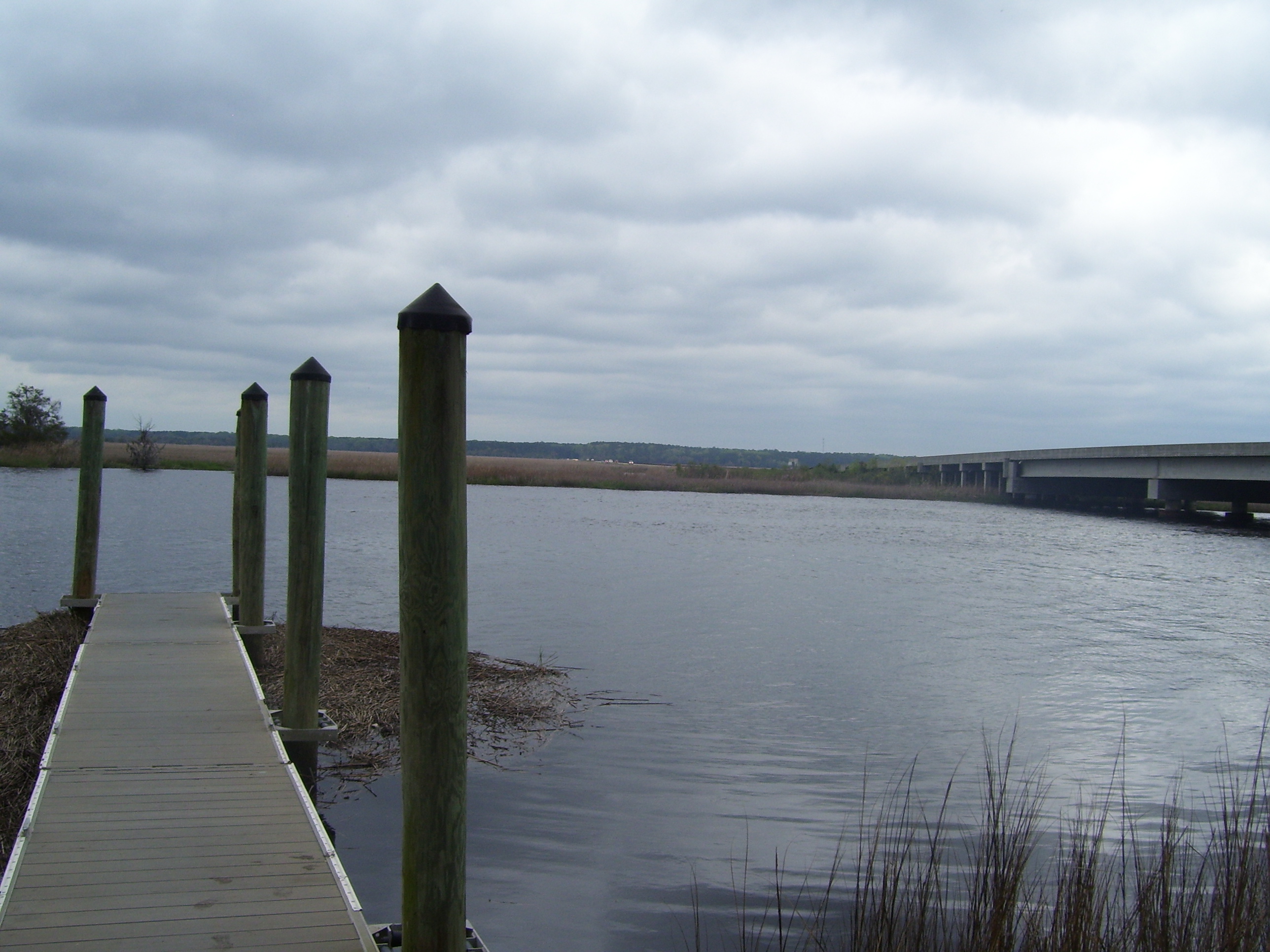 Now THIS is a shoulder! So wide I almost don't care abou the giant RVs passing me on the left. I could've sworn I remembered US-17 not being all that fun to ride on, but it's not too bad so far. (I took this exact same route through Charleston back on the east coast trip. It's actually sort of fitting that I end this ride on an east coast section, when I began on a west coast section back on Day 0.)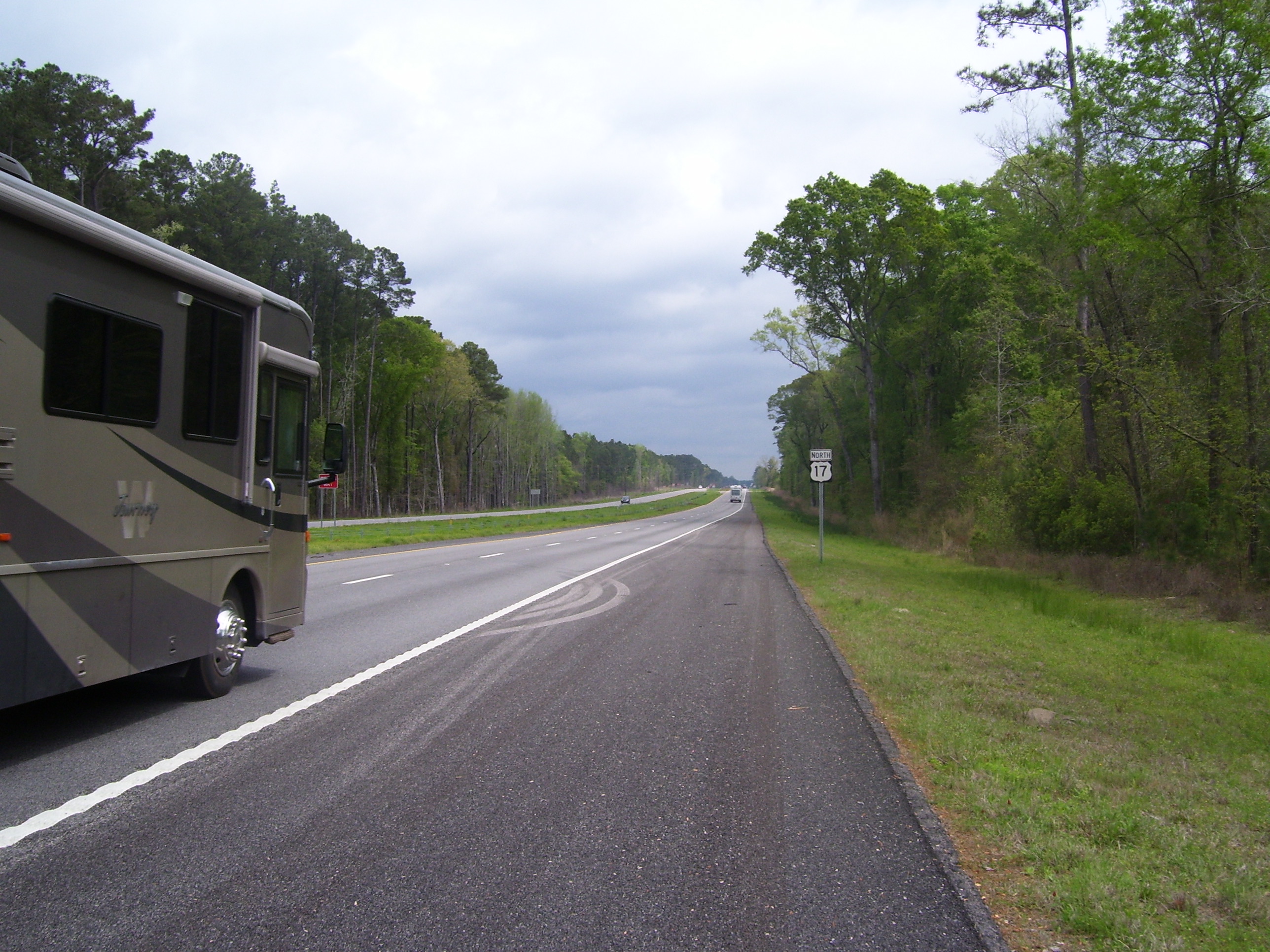 Getting close now...I've arrived in the right county, anyway!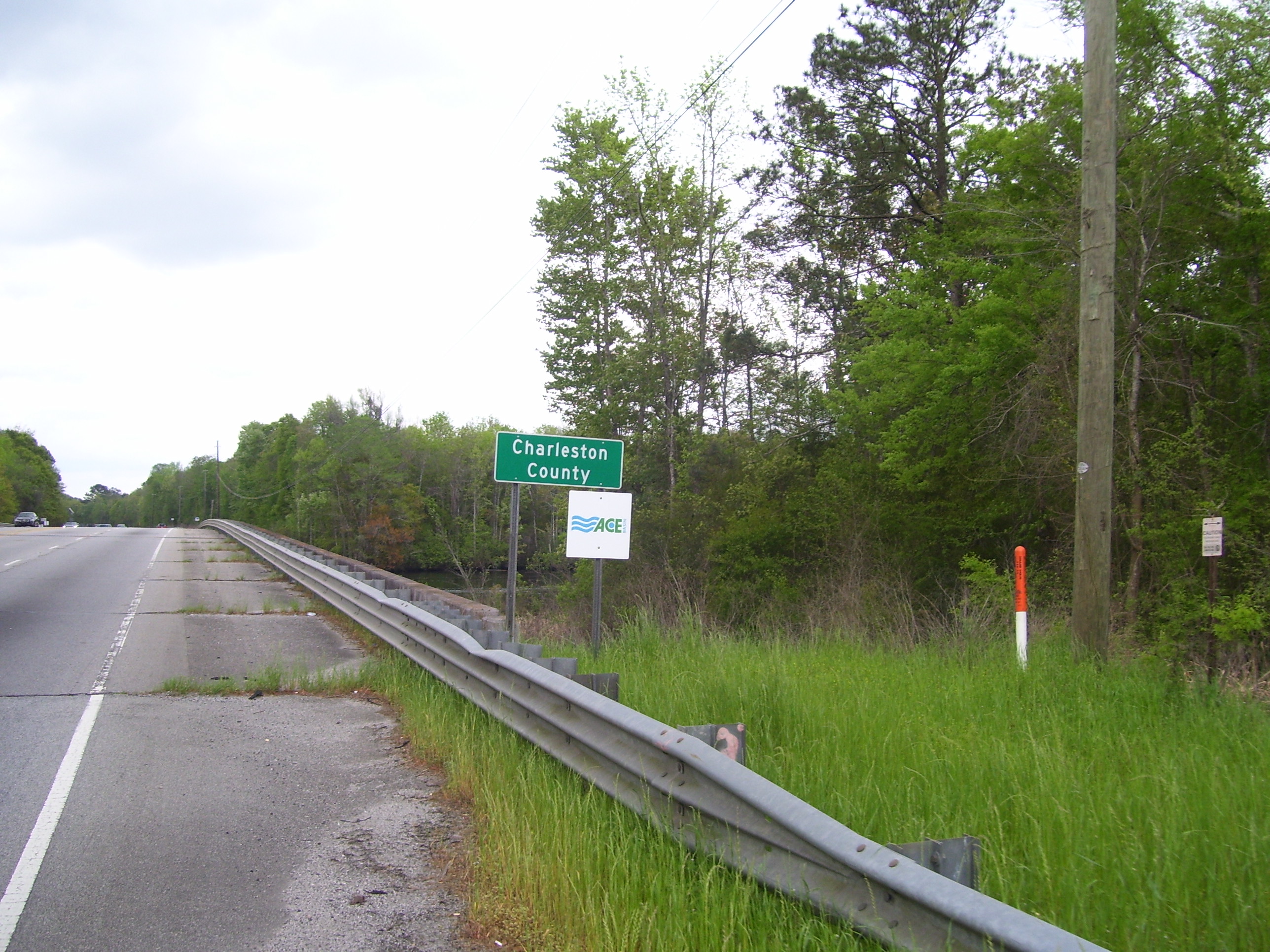 Unfortunately at this point the road became terrible, with no shoulder at all, bumps on the white line to keep me from riding on it, and a rough and rippled surface that had me bouncing along for the next 25 miles or so. I nervously rode along for a couple of hours hoping none of the trucks or RVs got too close as they zipped past at 55+ mph. Just what I need, to have some disaster happen with the end in sight! But nothing of the sort happened and around 4pm I finally reached the destination city: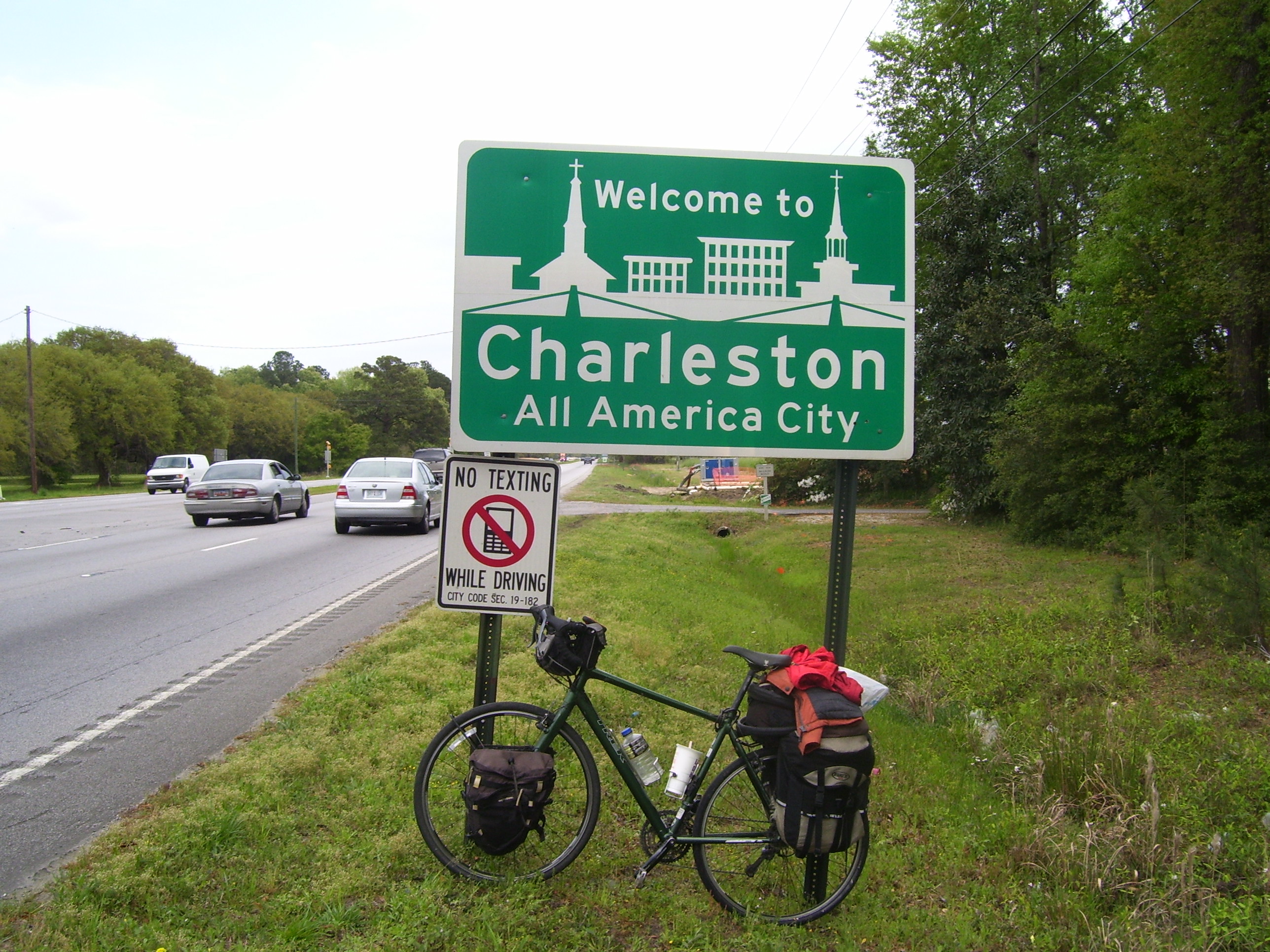 Five miles or so later I was heading over the bridge into the downtown area: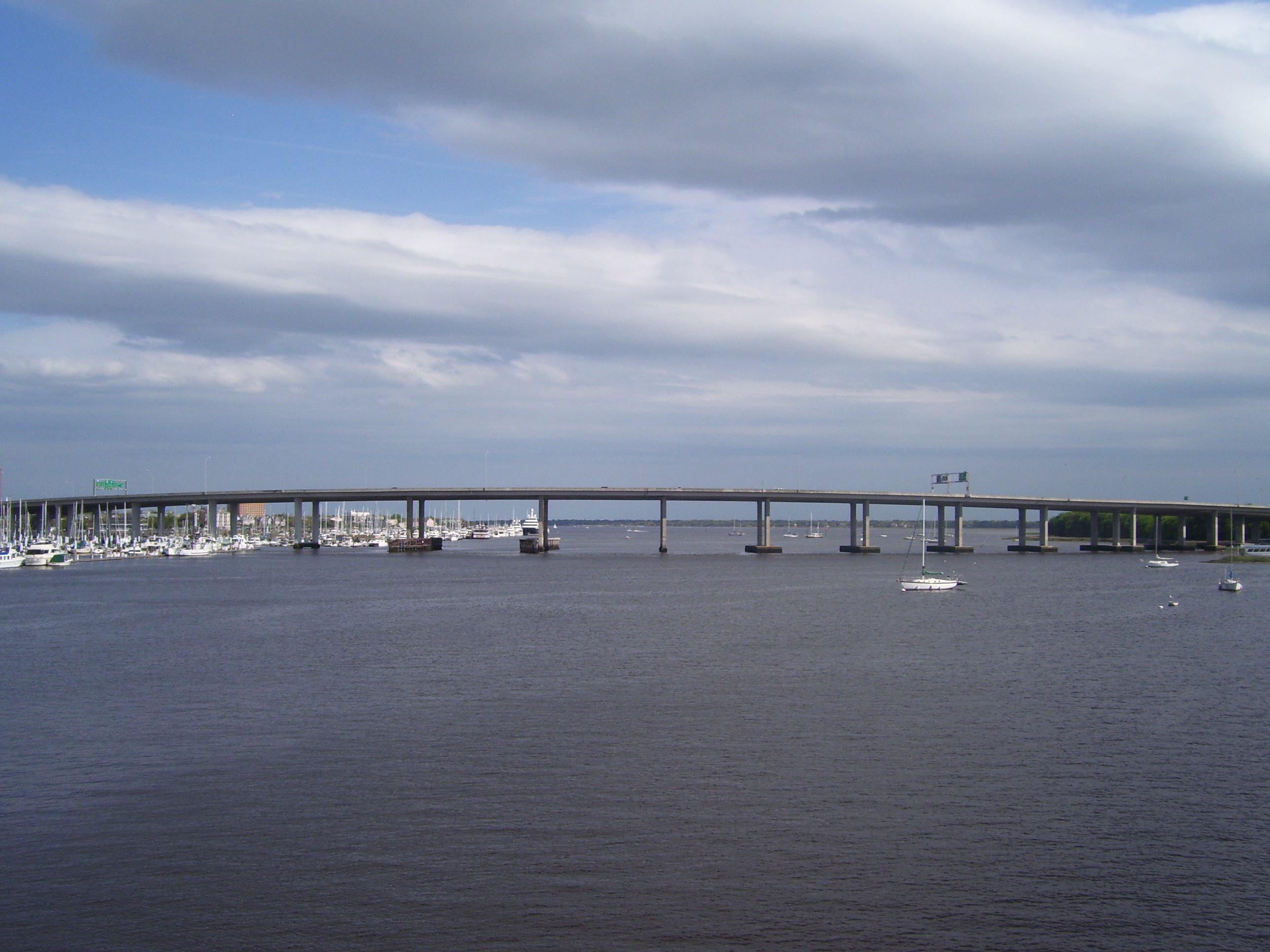 I still had over an hour before meeting my ride home, so I took another side trip and road around White Point to see the park there: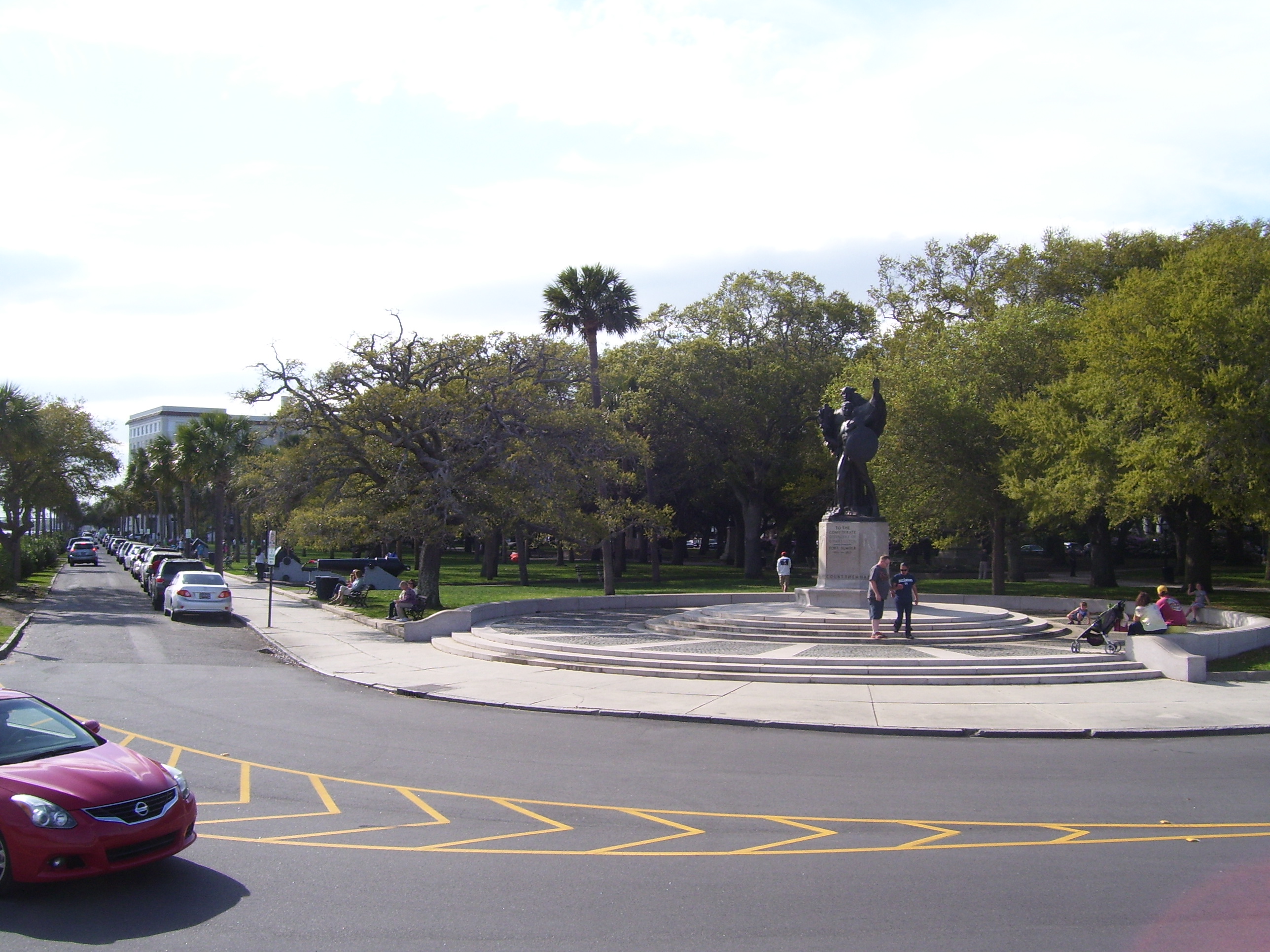 Gotta get one last bit of touring in!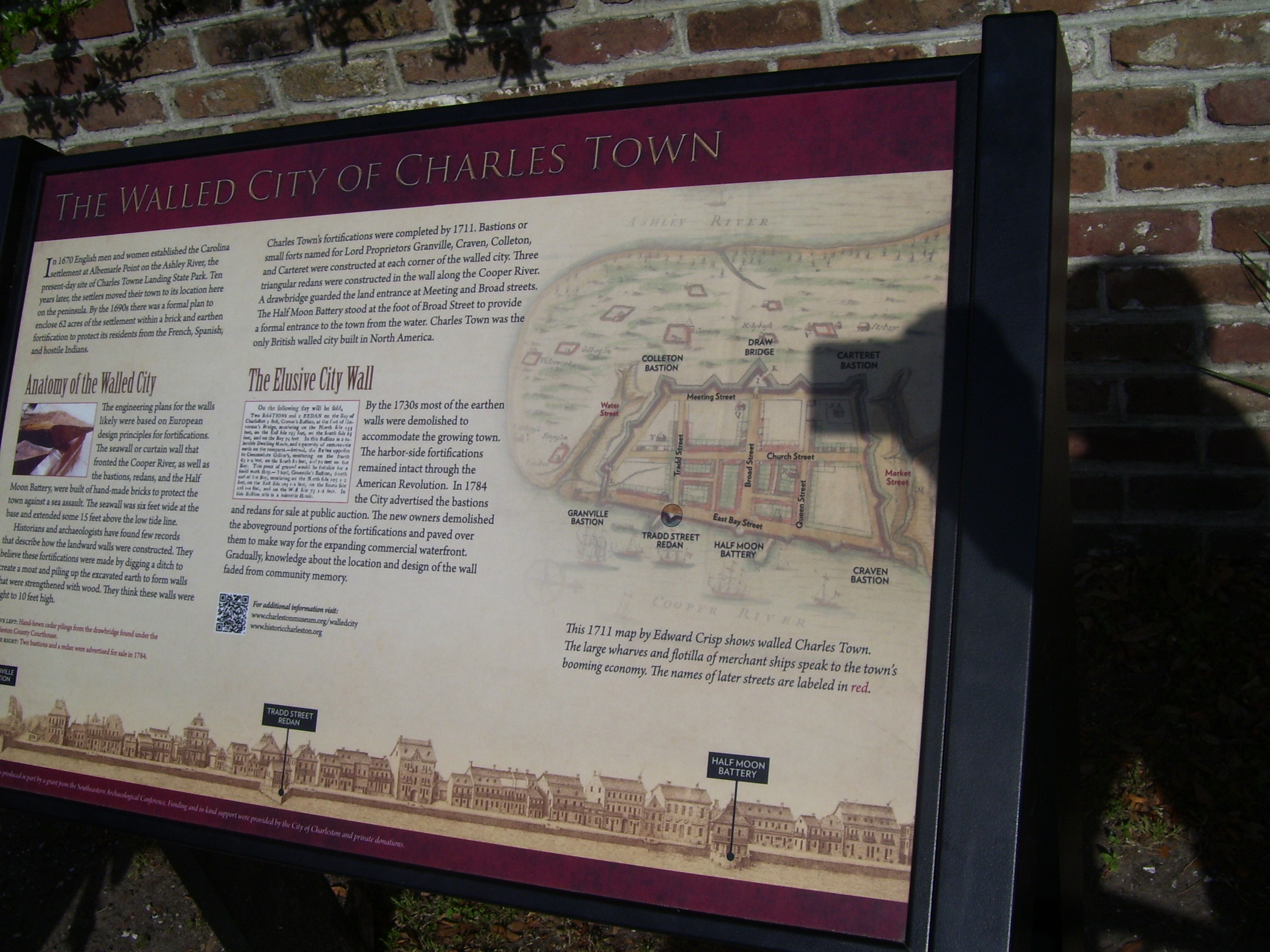 This is Washington Park, where I took my last break of this trip.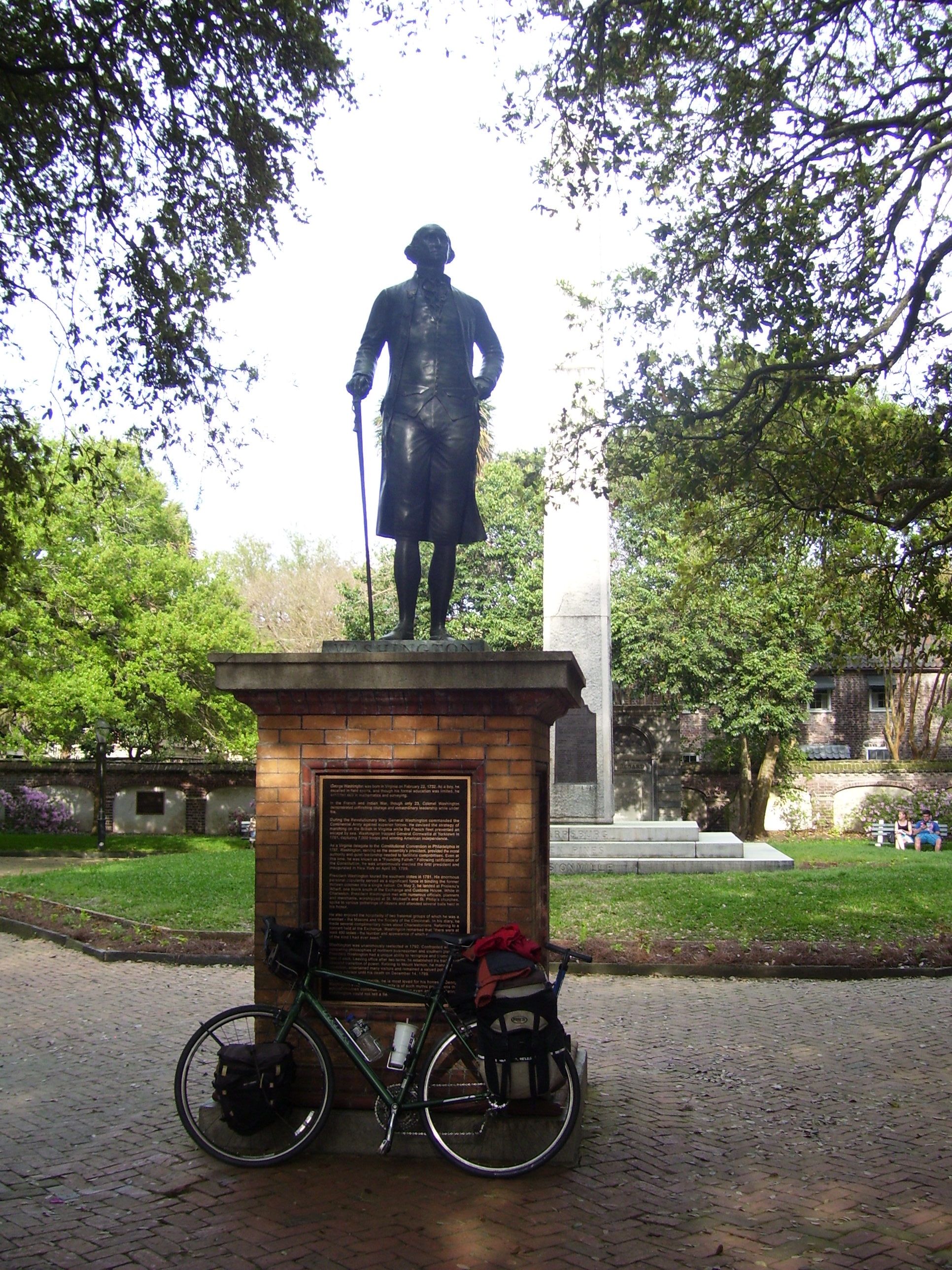 And here's one last amazing church photo (St. Michael's).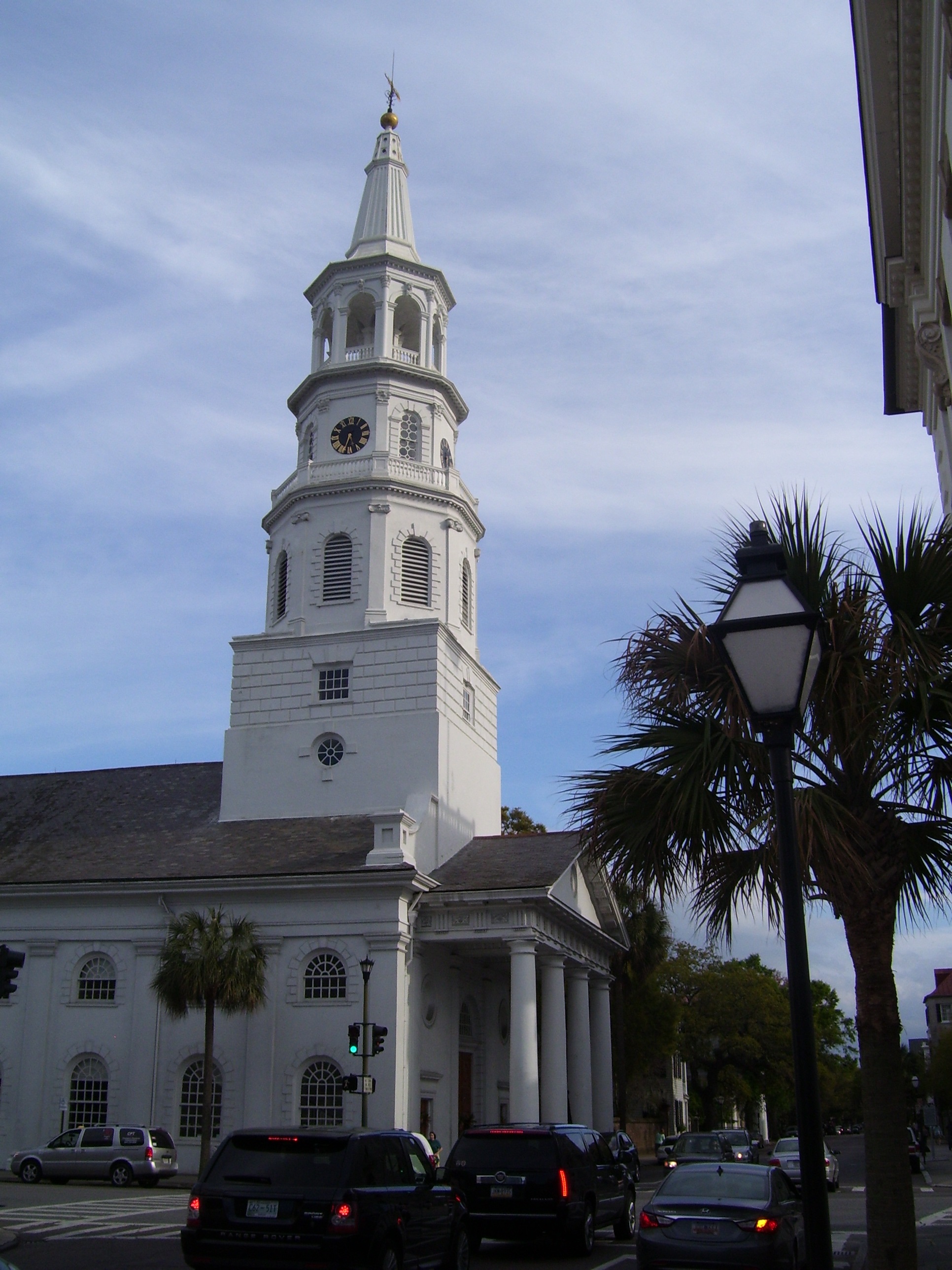 My weary bike rests after bearing me all the way here from the West Coast (Ft. Sumter is just in front of the saddle, to the right of the big tanker ship on the horizon):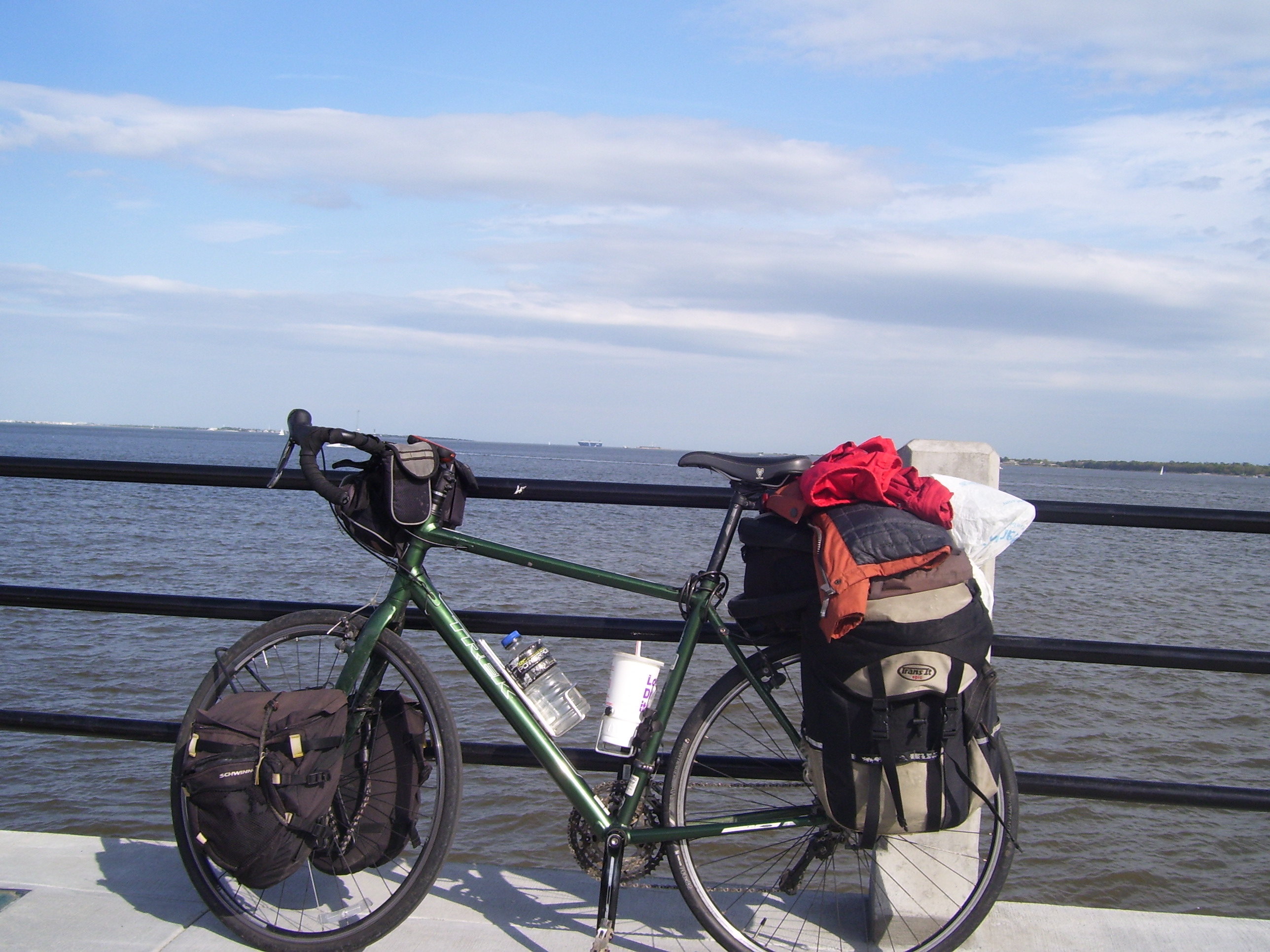 I had a passerby snap a photo of myself standing here, right on the edge of the water...but not quite finished yet! I still had to go out over the ocean before this trip could be official.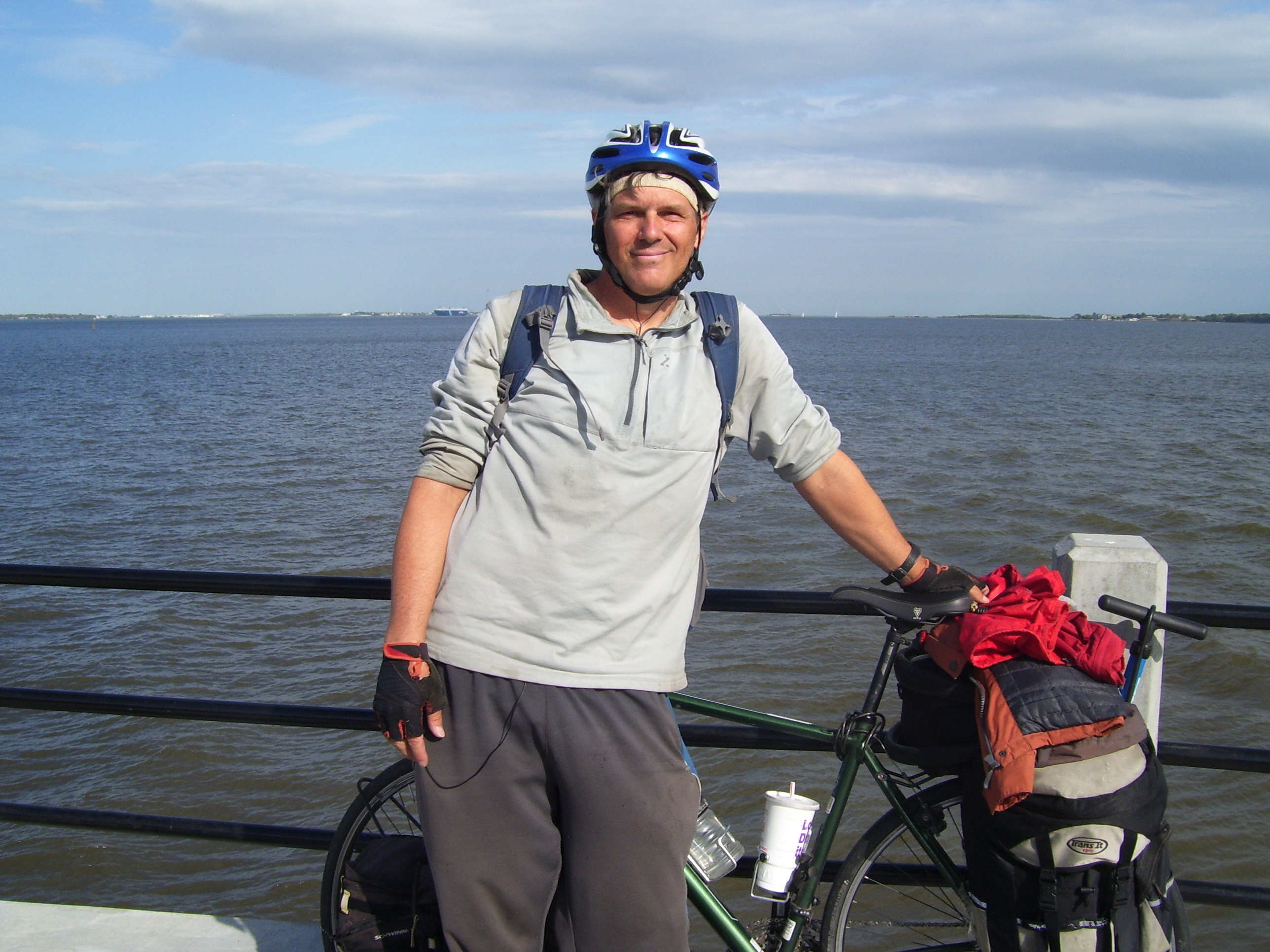 So I called my dad at 5:30, the agreed upon time, and he drove on out to meet me at a nearby Coast Guard station that had a pier...just about the only place around where I could ride out over the water. I proceeded to do just that, and here's the official victory photo: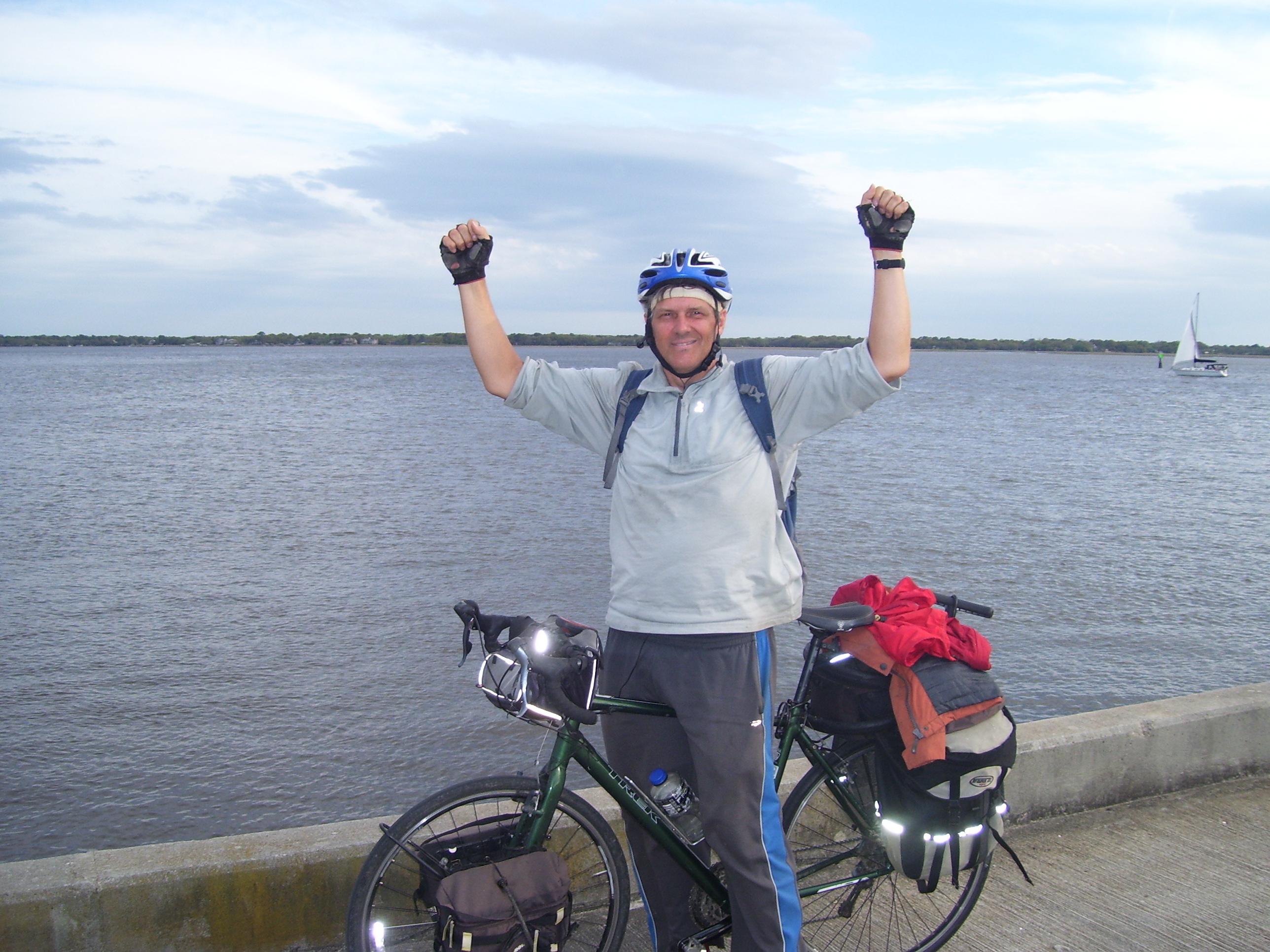 And with that I completed my goal of riding coast to coast across the southern half of the USA. Quest complete!
Here are some stats (I'll add some more later when I get more time):
Total days: 38
Off days: 0 (once again, no days off)
Total miles, not counting Day 0: 2,890
Average miles per day: 76
Tires worn out: 1
Flat tires: 13 (almost twice as many as all my other tours combined)
Broken spokes: 1
Other bike problems: The chain got bent, replaced, broken, and replaced again. Also the tire pump broke and had to be replaced.
Accidents: 0
Close calls: Too many to count
Some noteworthy facts and observations:
I never turned on the television once at any point on this trip (and didn't watch any the night before leaving), so I went 40 days without television. Did I miss it? No, not really. I'm sure I'll go right back to watching when I get home, though.
I stayed in a hotel for 38 straight nights. Most of them were less than $50...I think I only went over that a couple of times. The most expensive was the first night in LA at around $80. The cheapest was the Continental Divide at $25 (tax included).
I didn't have my usual upset stomach problems, and instead of skipping lunch, I ate something around noon every day for a change. I'm not sure what made things different this time around, but it was certainly welcome.
If you count the Day 0 setup ride and the travel day home afterward, I was gone for 40 days, and returned home on Easter Sunday. There's something kind of symbolic about that, actually...
Geocachers, click here for some caching facts and stats about the ride (these won't mean much to non-caching readers, so I'm putting them on a separate page).
A few brief lists to consider:
My best decisions of this trip:
Buying a real floor pump for inflating my tires. I couldn't imagine how bad this would've been trying to get through it with a hand pump.
Getting a good quality backpack to bring along instead of some cheap dime store one.
Getting some decent plastic bags to wrap up my clothes and computer, so they didn't get wet on the really bad rain days.
Deciding not to even attempt camping and leaving all that gear at home. This was so much better without hauling all that stuff, and always getting a good night's sleep.
My most questionable decisions this trip:
Not bringing along a spare chain and learning how to install it in the field. A chain tool and spare master link would've saved me every single moment of trouble that started the day the chain dropped into the cranks.
Taking the inland route through the Deep South instead of going down to the Gulf Coast. Notice I said "questionable" decisions, not "bad" decisions. I don't know if this would've been better or more scenic. The coastal route would've been longer (which is why I didn't go that way) but not as hilly, and more populated. I'll probably second-guess this decision forever.
Hardest days of the trip:
Over 8,100 feet of climbing from Mesa, AZ to Payson
Over 80 miles of brutal headwinds on the ride into Amarillo, TX
110 miles from Indio to Blythe with 2 flats and no services on the freeway
The day after the Mesa to Payson ride, climbing over another mountain
Three things every hotel should always have, in addition to the normal stuff:
At least 4 unused and accessible 3-prong outlets
Packets of shampoo to go along with those little soaps (3)
Wi-fi that actually works.
Some of the more unusual roadkill (in addition to the usual possums, snakes, deer, etc.):
A bobcat
An owl
A beaver
Some other things I found by the side of the road:
Several bungee cords plus countless more I just rode past
A $20 bill
Two $100 Visa gift cards (used, unfortunately) and one American Express credit card
Not just one but two working headlamps
Some things lost or broken along the way:
The cyclocomputer I bought for this trip
The right arrow button on my GPS
Three pairs of reading glasses (sigh)
A whole mess of inner tubes and patches
I still can't believe I had so many flats. If you go back to the west coast trip a few years ago, I actually rode that entire coast (2,200 miles) without even ONE flat tire. Not one. The only time I had to take the wheels off was to swap out a worn tire. The difference was really pronounced. Flat tires cost me something like 7 hours of riding time and a lot of aggravation, plus I had to cut one day short and hitch a ride because the hand pump broke. That's basically an entire day of riding gone because of flat tires. Unbelievable.
All that being said, even with the tires and broken chains and rain and easterly winds and everything else, I had a great time and can't wait for my next tour. What will it be? I have no idea. Maybe a Mississippi River run, or a Circle Ohio tour, or possibly something else in Europe or elsewhere. We'll have to see. Thanks for reading and check back often to see where I'll go next!