Day Twelve (May 15)
160 miles, Havre (Montana) to Glasgow
160 miles is my longest ride ever, on this trip or any other. The tailwind was back and stronger than ever, and when I got to Saco (my supposed stopping point) I had four hours of light left. Even a flat (my first since the trailer got one back on Day 3) didn't keep me from getting to Glasgow fully an hour before sunset. Today's marathon run broke several personal records, including my fastest century (5 hours, 50 minutes), fastest hour of riding (20.1 mph), fastest day's average (17.1 mph), and of course the longest ride in a day (160 miles).
As long as the wind keeps coming out of the west like this, I'll keep doing these marathons. I don't expect my good fortune to keep up, though, so when the wind turns, I know I have a few days of excess miles stored up. I was hoping to average 75 miles a day, so a day like today counts as two.
As for photos, I just have a couple. Not much to see, just more of the same old plains. In amongst these were many, many farms. This one had an interesting combination: horses, cows and llamas. Llamas, in Montana? I'm sure there must be a reason for this, but I didn't stop to ask.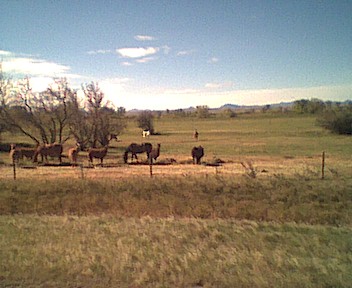 While riding along at ludicrous speed, I also passed over a number of small creeks and rivers. It wasn't long before I noticed that I kept crossing over the same one over and over again. I think I passed over the Milk River at least eight different times. They must have built the road specifically to see how many bridges they'd have to make over that one stream.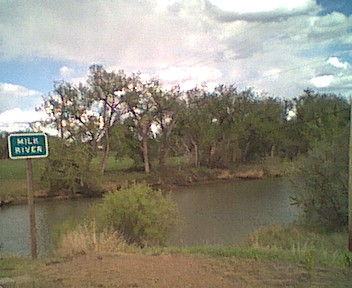 Oh well, that wasn't as strange as the 30-foot high penguin statue I saw yesterday.