Day Fifteen (May 18)
123 miles, Stanley (ND) to Rugby
Got up early today and spent the morning fighting winds and hills. Upon reaching Minot (which took over four hours - good thing I didn't try to make it yesterday) I was exhausted, but felt much better after lunch. A handy Target store was next door, so I slipped in to buy a pair of cushioned insoles. The pedals on the bike have clips on them, clips that attach to a metal bracket on the bottom of my cycling shoes. Well, 15 days of riding have started to give me blisters. The insoles helped (for now).
After the lunch break I rolled on, and the wind finally got behind me. The hills mostly went away, too, so I cruised right past Towner (where I'd hoped to stop) and on to Rugby. It was only 6:30, but the next town was 30 miles away and the forecast had been for late afternoon thunderstorms, so I stopped. Plus, as an added bonus, the little hotel I selected was not only cheap, it had a built in laundromat, AND was right next to a lovely restaurant.
Turns out this town of Rugby actually has a claim to fame: it's the geographical center of North America. In other words, if you picked up N.A. and put it on a pin, it would balance if that pin poked right into Rugby. Here's a photo of myself, after a long day's ride, at the center of everything here in North America: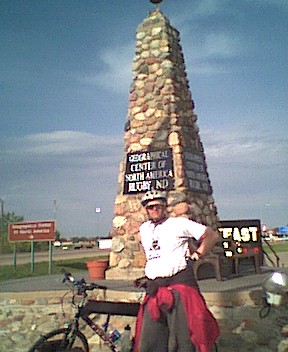 Now, there's not much to see in North Dakota except farms and rolling hills, but those of you who are hunters should note that I've seen more wild ducks here than anywhere else so far. There are tons of little ponds and natural wetlands all over the place, like the one below. I don't know anything about the hunting season up here, but you might check it out if you're into that sort of thing.