Day Nineteen (May 22)
100 miles, Grand Rapids (Minnesota) to Superior (Wisconsin)
Another day, another adventure...
First of all, it was insanely cold today. I don't think it ever exceeded 45F degrees. Topping this off, of course, was a steady light rain all day long. The only thing that made it bearable was the northwest wind, but even that jumped around all day and wasn't all that helpful. Let me just say that getting myself motivated to get moving this morning was extreeeeeeeemly difficult.
Now, my intent today was to get to a small hotel in the south end of Superior (which is directly across the river from Duluth). I couldn't take Route 2, my standard run for the whole trip so far, because short of Duluth it turns into a highway and crosses a restricted access bridge. So, using a handy map program, I put together a lovely alternate route to another bridge south of town. The hotel where I wanted to stop was just on the other side of this bridge. The objective of my trip today became to get to Wisconsin, so that was what I focused on, and in fact was what got me going in the morning (see, you have to set little goals for yourself in order to get to the main goal of crossing the country, otherwise you'll never get there).
Anyhow, after enduring about 75 miles of cold, rainy, windy weather (all of it without a break for fear of my fingers and toes getting too chilly without constant exercise), I broke off Route 2 and started meandering through side streets to get to Gary, where the bridge was. After climbing several big hills, I made it, only to find the bridge was under reconstruction! I tried to go over anyway, hoping there was enough room for a bike, but it was hopeless. I had to go back and find another route.
Here's a photo of the sign to the bridge (the bottom orange sign says it's closed). I apologize for the poor quality, but it was raining and the camera lens got wet.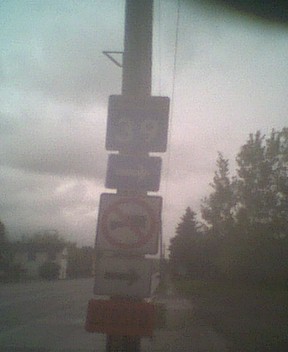 After consulting with a map in a local gas station, and asking some helpful attendants, I determined that the Bong Bridge (I'm not making this name up), 8 miles north and coincidentally the same "restricted access bridge" I avoided earlier, had a pedestrian accessway. So I rode up there, but couldn't find the entrance. Eventually I got help from a friendly local cop, who drove along with me to show me the access point. So, for the first and hopefully only time this trip, I got a police escort.
Once at the bridge, I had to cross 5 miles of broken glass. At least it seemed like it...the pedestrian access was a narrow pathway filled with gravel, glass and metal fragments. I'm still amazed I got over it without a flat. While on the bridge, I snapped one photo (below) and didn't see a "Welcome to Wisconsin" sign at all, otherwise I'd have a picture of that too. (There might have been a sign on the main bridge, but not on the pedestrian accessway.)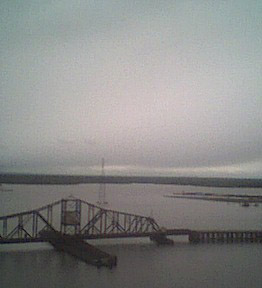 This isn't actually a river, but a piece of Lake Superior, which means I've officially reached the Great Lakes.