Day Four (May 7)
78 miles, Skykomish to Wenatchee
The day began poorly...still not feeling well from the food poisoning or whatever, and had to force myself to eat a light breakfast. I'd need it, as I faced a 16-mile grueling climb to the top of Stevens Pass in the Cascades. Do this, I thought, and I can do anything else that comes up on this ride. Well, 5 hours later, I reached the top, after what was without a doubt the toughest day I've ever had in my bicycling career. All the way up, I wanted to quit...I wanted to quit soooo badly. With 8 miles to go, I started counting down...7 miles...6 miles...5 and a half...five and a quarter...and so on. I managed to drain all four water bottles taking breaks. My body screamed for me to stop, but slowly I plodded up.
Then, on the pavement, I saw a crudely spay painted comment: "The Last Bend." Sure enough, the next bend was the last, and I was at the top. I actually knelt before the altitude sign at the summit. (I didn't pray to it, but I did give thanks.)
Afterwards, I coasted down for a while, giving my legs a break. Eventually things levelled out and I rode a few dozen more miles to Wenatchee. Now, as I write this, the tortuous climb seems like a distant memory to everything but my tired muscles. I will sleep well tonight.
Now some photos from today's trip. As before, the scenery through the mountains was simply staggering. Sights like these made it all worthwhile.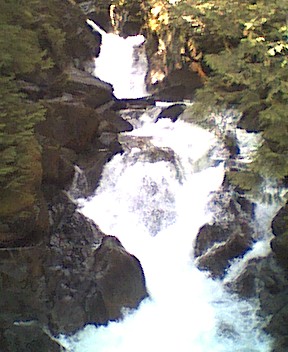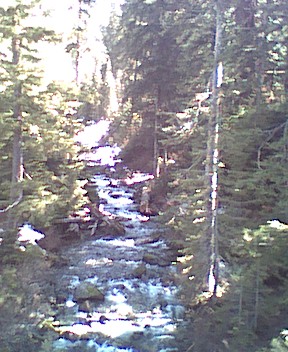 On the way up the pass, there was this white stuff all around...I thought it was snow, but then, this is May, so it couldn't be snow. Oh yeah, did I mention it was cold?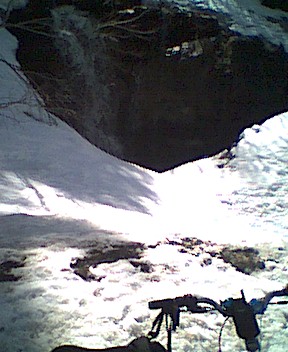 My weary bike rests at the summit of Stevens Pass, 4000+ feet above sea level: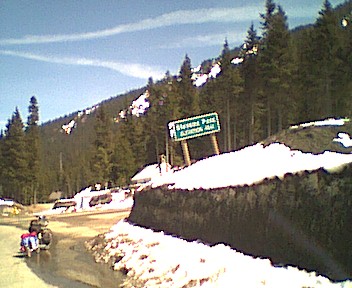 Finally, as I cruised along I thought I had taken a wrong turn and wound up in Germany. But it was just Leavenworth, Washington, a quaint little Bavarian village. Here's a sample photo: