Day Nine (May 12)
104 miles, Libby (Montana) to Columbia Falls
Ah, Montana, where you can live in a log cabin like this: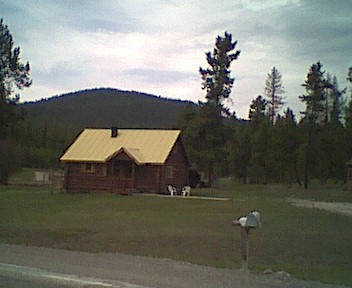 ...and wake up every morning to views like this: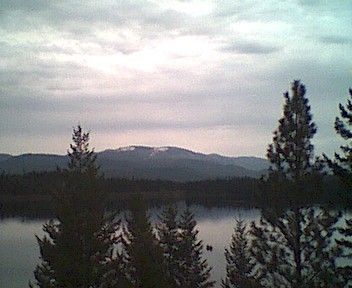 Today was a climbing day as I moved further into the Rocky Mountains. About 85% of the ride was uphill, some of it quite steep. There were a couple of descents, but these were short and steep, and I'd rather just stayed level and flat for a while than waste all that altitude. I actually came to dread these descents as they just promised more climbing later. Somehow, though, I muddled through my second century of the ride, though it took almost 12 hours to complete. (A blown spoke at the 70-mile point didn't help matters.)
Though I was tired enough to stop in Kalispell at 85 miles, I wanted to go as far as possible because of uncertainty about tomorrow, when I enter the Glacier National Park area. I had no information about hotels anywhere for about 120 miles after Columbia Falls (and no camping gear for a stop in the Park), and the Continental Divide is right in the middle of that 120. That means a climb of about 2500 feet over the course of 60 miles or so. Sure, Stevens Pass was 3000 feet in 16 miles, but it's the mileage I'm concerned about. 60 miles of constant climbing (about three times the elevation gain as today's ride)? Not without killing my legs, and I'm not even a fourth of the way to the coast yet.
So, I needed to get as far as I could today to lessen the stress tomorrow. As it is, I'm totally exhausted. I seriously doubt I'll get over the Divide tomorrow anyway, so if there's a motel in one of the little towns before I get there, I'll stop and finish the climb the next day (just like I stopped in Skykomish to get rest prior to tackling the Pass). After that it's all downhill out of the Rockies.