View Larger Map
Day 3 - June 8, 2012
Pennekamp Coral Reef State Park to Miami
Miles: 48
Terrain: Flat (wow, there's a surprise)
Weather for the first 36 miles: Mostly cloudy, hot and humid, 10-20mph tailwinds
Weather for the last 12 miles: Thunderstorms, cooler, 10-20mph headwinds
At 3am in my tent, the noise of thunder woke me up, so I got to spend the next hour or so enjoying the sounds of nature all around. At one point, a bolt hit very close, and when you're outdoors, that's a very intimidating sound. Fortunately, the tent held up pretty well, although it did leak a bit (I just put everything up on the air mattress with me). I had to close the tent flaps, unfortunately, because it probably would've been cooler with the wind blowing through, but so was the rain, so forget that. (I didn't exactly need a sleeping bag here...I'd left it in one of my saddlebags).
The next morning, I collected all my wet clothes (the ones I'd left out to dry got soaked through, but it didn't matter as they were too dirty to wear, anyway) and hung them off the trees, where they dried out in the sun while I headed out to explore the park. Turns out they had wi-fi at the visitor's center, so all yesterday's pics got uploaded easily enough. I also checked out the little mini-aquarium they had, which did a pretty good job explaining how coral reefs are formed and what sort of marine life you can find there. I would've liked to have had time to snorkel out and see some of that, but getting ready took forever, thanks to the heat and humidity.
After packing up (finally) and getting moving, I stopped at the ranger station (if you're ever in the Keys looking for info, try the ranger station at any state park) and asked if they had any advice about my route today. I'd intended to head north on US-1 until reaching Miami, but the helpful rangers told me to avoid that, because the 17-mile section known as "The Stretch"--the segment of US-1 that goes through the Everglades between Key Largo and Florida City--is extremely crowded, with no real shoulder to speak of, and very dangerous for cyclists. They suggested the alternate loop on 905 (Card Sound Road) which circles around the swamp, a bit longer but a lot less traveled. I decided to go ahead and try it, if only because I didn't like the look of some of the gigantic boats being towed behind pickup trucks. Some of those boats were pretty wide, and more than once I saw one sticking out into the shoulder where it might well have knocked me off the road if the driver's hands twitched on his steering wheel.
So after getting lunch at a Subway right at the US-1/905 junction, it's off to try the loop. Immediately it became obvious that there wouldn't be any amenities this way. This section of the Keys looked absolutely deserted, except for a couple wildlife sanctuaries and the occasional government outpost. Although it seemed nice not having very much traffic to deal with, this could be problematic, because I only had 88 ounces of water on me, and if the loop took about 25 miles like I expected, I'd almost certainly run out. Even so, I drank water often, because the heat was so damn oppressive. Finally I took a rest stop in a deserted section of swamp, finished off the first 32-ounce bottle, and replaced it with the spare, then continued on. A few miles later, I came to a huge bridge over a lake, and even though that was basically the only hill of the day, it seemed to take an eternity to climb. On the way down, I could barely breathe, and I wasn't sure I'd make it the rest of the way to Florida City, much less Miami.
Fortunately, at the bottom there was a toll booth (905 is a toll byway, probably explaining why so few people were using it) and the kind people there let me cool off in their break room, where they had ice water available. After maybe 20 minutes of chilling in the A/C and guzzling water, I finally felt well enough to move on. As a "donation," I paid the toll as if I'd been in a car, and felt well enough after that to ride the remaining 11 miles to Florida City without stopping...which is just as well, as there wasn't anyplace to stop, anyway. In that entire 25-mile loop, there wasn't a single gas station, convenience store, or amenity at all, other than a tiny restaurant next to the toll plaza (where I'd already filled up my water bottles anyway). Considering how busy Key Largo was, I wouldn't have expected to see this much road totally deserted.
In Florida City, I took a break in a McDonalds and started to worry about the thunderstorms building on the northern horizon. I'd only gone about 33 miles to this point, but it felt like a hundred. I checked with Phil, the Master of Hotels, and he suggested a Motel 6 located at the junction of US-1 and the Florida turnpike about 10 miles north (it turned out to be more like 14 miles, but whatever). So that became the target. After another 6 miles I felt ready to drop from the heat and took another break, but now the dark clouds were really close. After I left there, and got about a mile down the road, the temperature dropped and the wind suddenly swapped directions, as it often will when thunderstorms are about. The temperature felt wonderful, but the headwinds didn't, so I made no better progress than I had earlier (but at least I didn't start gasping for breath this time). Finally, the rain hit, and after waiting that out, I found the hotel, where I showered, ordered a pizza and basically spent the night enjoying a comfortable hotel room and a TV. Already I'm feeling much better.
Oh, also, one other thing before the pictures...remember the cat bite on my hand? That's basically gone away at this point, leaving just a few scabs behind. In fact, it didn't even really bother me even when I put the bike together way back at the start of this trip, which had been my primary concern. That's why I haven't mentioned it before now. Anyway...picture time!
Here's my campsite from yesterday. Obviously, I didn't use much of it. The gravel is where the RV is supposed to park, but I forgot to bring one of those. The tent's on the only patch of soft ground in the entire campsite. Fortunately, the nice folks next door didn't mind me setting up right on their border. (By the way, see that little rectangular tower on the right? That's where RVs plug in for power. It's worth noting that there are also two normal three-prong outlets in there, too. I used those to power up my shaver and cell phone yesterday...good thing I didn't leave them out overnight, huh?)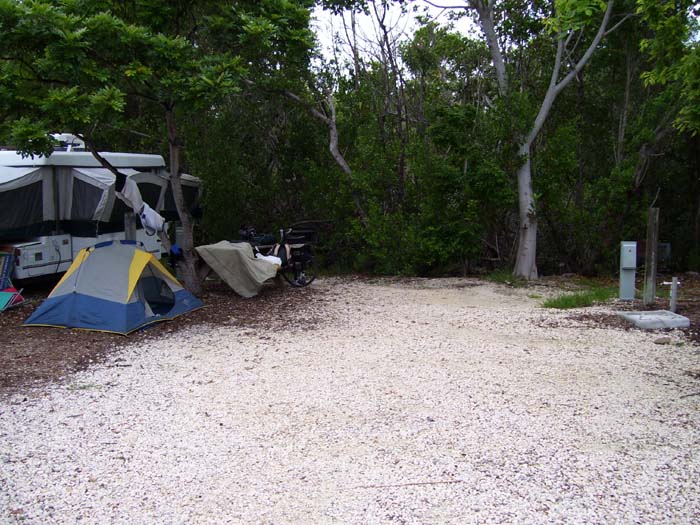 As I headed out of Key Largo, I passed this sign. Read the caption there...inside the yellow ring. "Leaving Key Largo...back to reality." For most, I suppose that's probably true.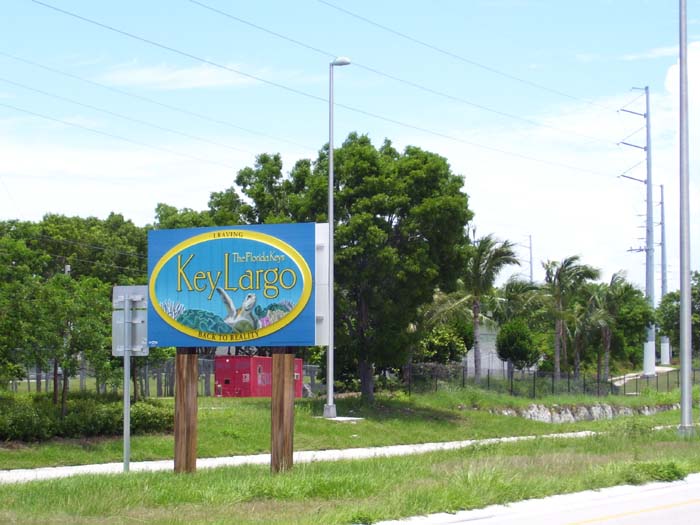 After leaving the US-1 intersection behind, the next 10 miles or so looked basically like this. Zzzz...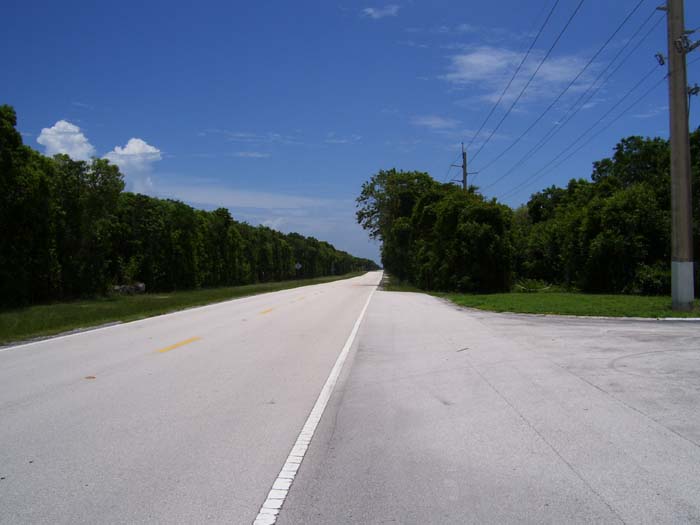 Once in the swamp area, it looked like this...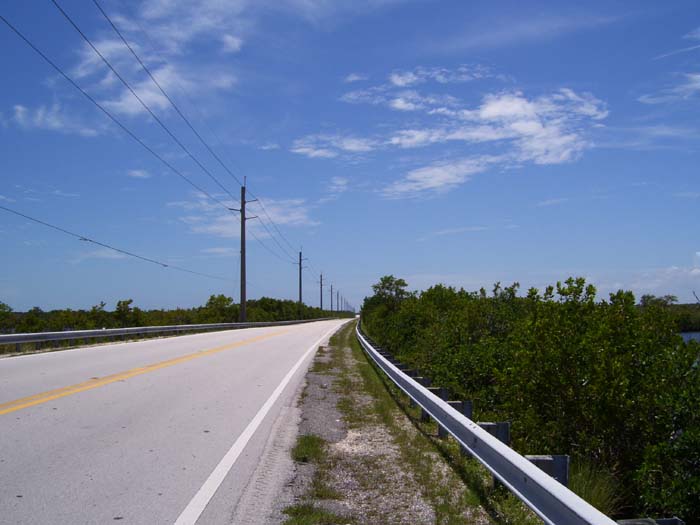 ...and this (off to the right of the previous photo). Basically, nothing but water and plants all around. No sign of civilization except for the road I'm on.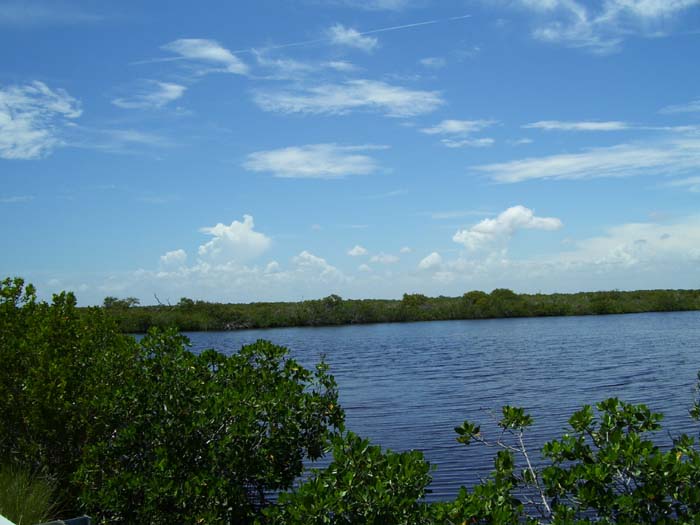 This shot is from the top of that bridge I mentioned. The lake extends off to either side towards the horizon. Oh, and this is as wide as the shoulder got the entire trip on 905.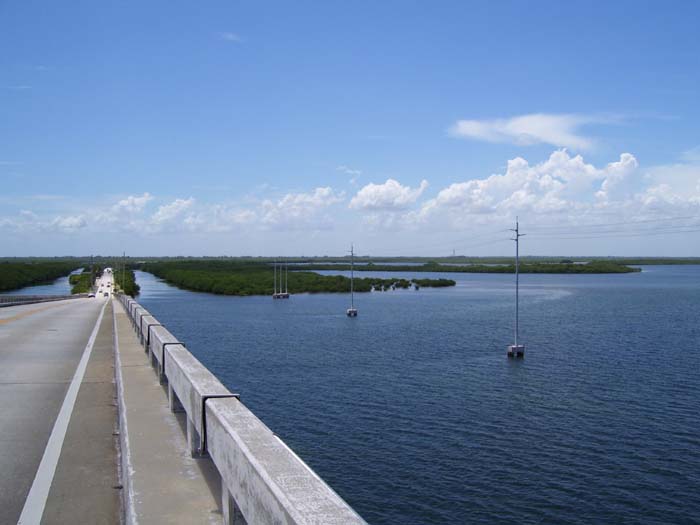 Home of the nicest toll booth attendants in Florida! (That little shack to the left is their "break room," which fortunately for me was air conditioned.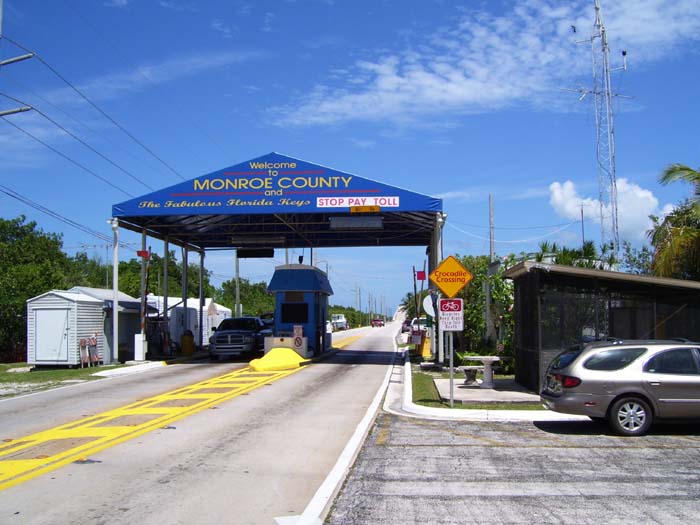 Near the end of my trip along 905. Pretty boring, huh?
At last, civilization! The first businesses I've seen since Key Largo. That McDonalds there is where I stopped off for a rest. Notice the buildup of clouds on the horizon...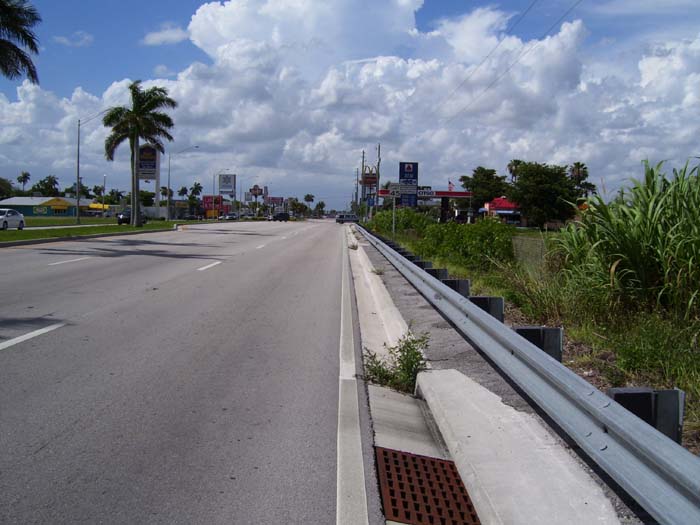 About an hour later, this is what those clouds morphed into. Yeah, not a pretty sight. I might've been able to eke out a few more miles today once the weather shifted, simply because the heat stopped being such a factor, but not with thunderstorms like that threatening me. The one that hit just before I got to the hotel was pretty severe.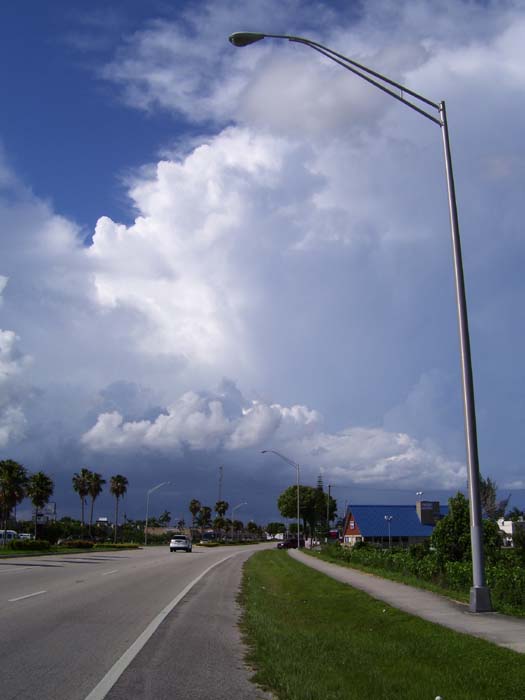 Oh, well, at least I don't have to worry about stuff like that waking me up tonight...I'll sleep well in my big, comfortable bed. Ahhhh...mattresses. You don't know how much you really need them until they're gone.