View Larger Map
Day 9 - June 14, 2012
New Smyrna Beach to St Augustine
Miles: 73
Terrain: Flat to gently rolling
Weather: Partly cloudy, hot and humid, 15-20 mph northeast winds
Today sucked, not just because of the heat, but because of the constant strong headwinds hitting me in the face almost the entire day. This made it feel like I had to climb the whole time, which is no fun. Worse, because I never get a moment to stand up out of the saddle and coast (any attempt to do so just leaves me stalled), the rash and sores on my behind are now hurting so bad I can barely sit in a chair, much less on the bike. (And no, before you ask, there won't be any pictures of this.) I really don't know how I'm going to make any progress at all tomorrow (especially since the winds are going to be the same, according to the forecast). Which is too bad, because the temperature's actually starting to get into the low 80s now instead of the high 80s or low 90s.
Anyway, enough complaining, I'm sure you get the point...it's hard, oh so hard! It's hot and humid and windy and my butt hurts! Awww, poor guy. Whatever, right? So here's some pictures to show it wasn't all doom and gloom. First of all, I got to climb the highest hill of the trip so far when I hit the causeway to Dayona Beach, at the top of which I got these shots, looking out over the intercoastal waterway.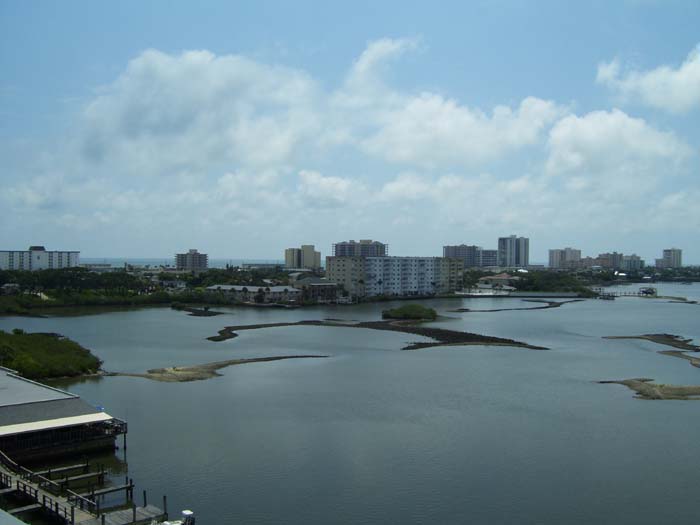 No drawbridge here...the causeway goes up a longggg way, high enough for damn near any size boat to go underneath, even monster yachts like this one here.
Here's what it looks like to descend off this bridge into Daytona Beach (notice how I have my own bike lane right on the bridge, too).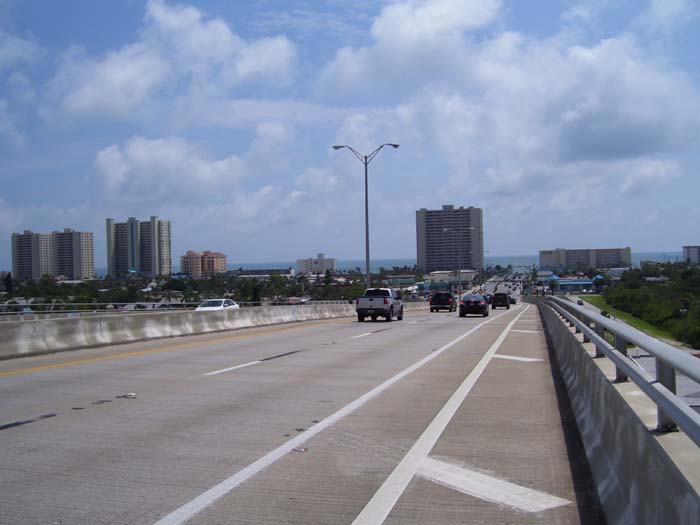 And here's the entrance to the actual beach area itself. "World's Most Famous Beach," huh? I suppose Waikiki might have something to say about that...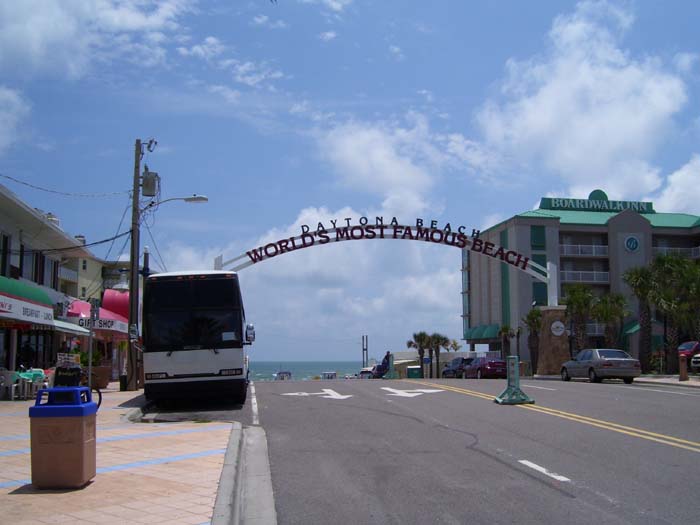 I'll give it one thing, it's certainly a very WIDE beach.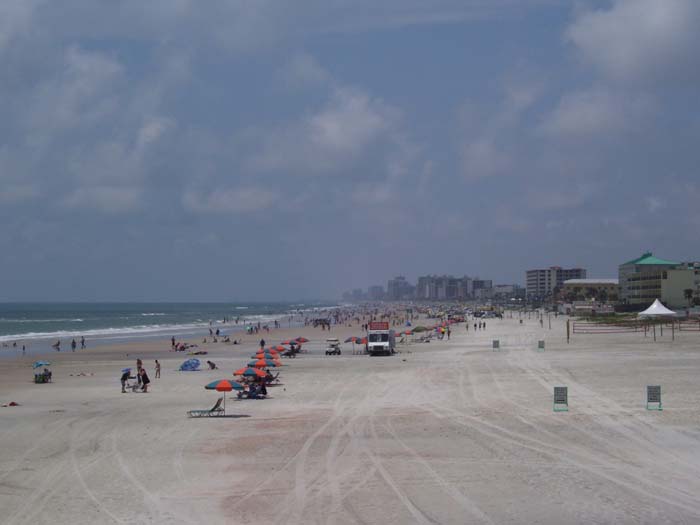 Here's a look the other direction (north) showing just how crowded this place really is. I hung around for a bit back there on along the edge, but didn't actually try to go down there for fear my overweight bike might just sink right into the sand and disappear.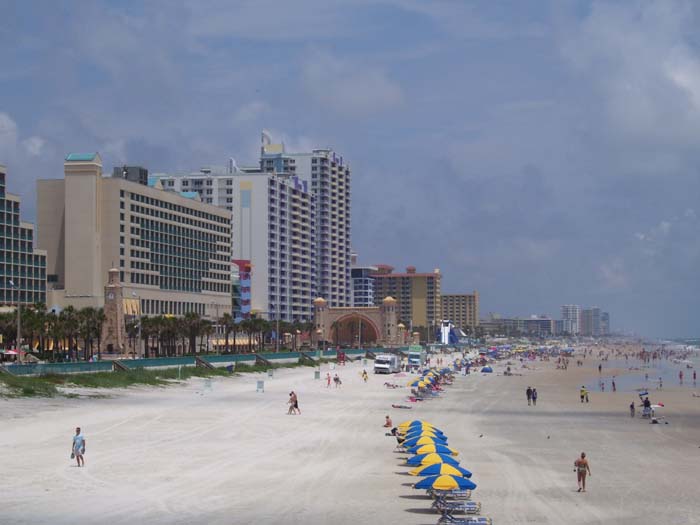 After that brief interlude in Daytona, I rode on and eventually stopped for a break at one of these little beachside park benches north of Ormond Beach. It's hard to see in this picture, but directly ahead the dune vegetation comes right up to the edge of the road (which here has no shoulder) so I spent about an hour trying to keep my right leg from getting cut up by sawgrass.
Plus there was some of this stuff, which you don't really expect to see in Florida, but hey, I guess it's the right kind of soil.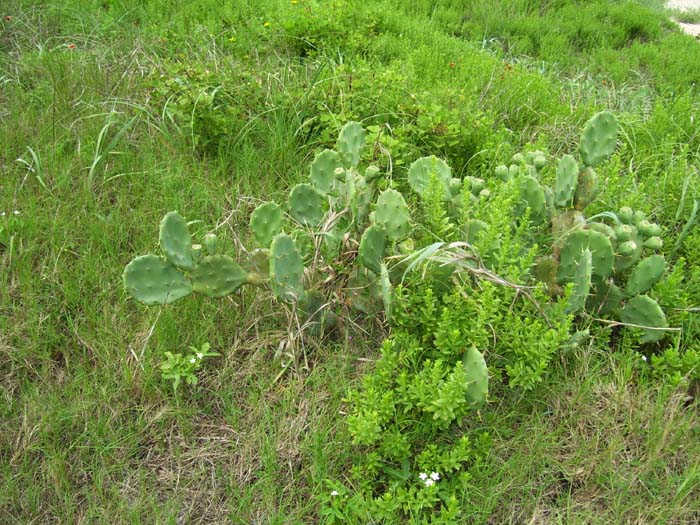 Another hour and another break, this time just before leaving the beach for a while as A1A headed inland a bit. There's hardly anybody here, even though it's a public area, so again, if you're looking for some privacy, skip Daytona and Ormond Beches and just go north a ways. Except for the occasional kite flyer, you'll have the place mostly to yourself.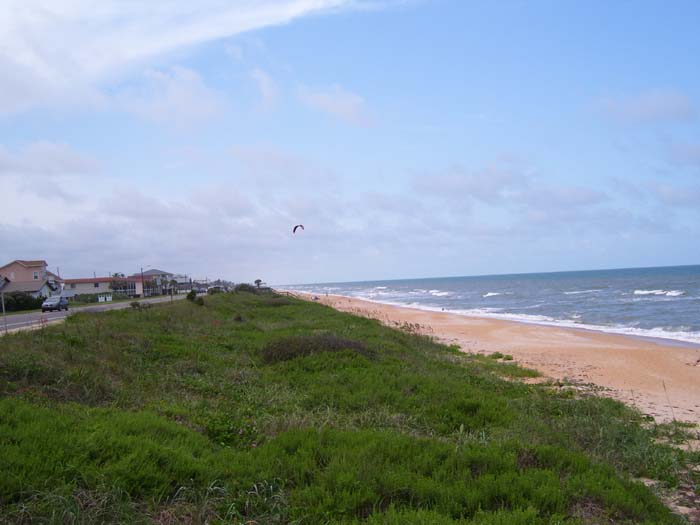 Further on the land got more swampy, but that didn't stop people from building homes out in that marsh...like these here, all of which are up on stilts. What they paid for the land, I don't want to know.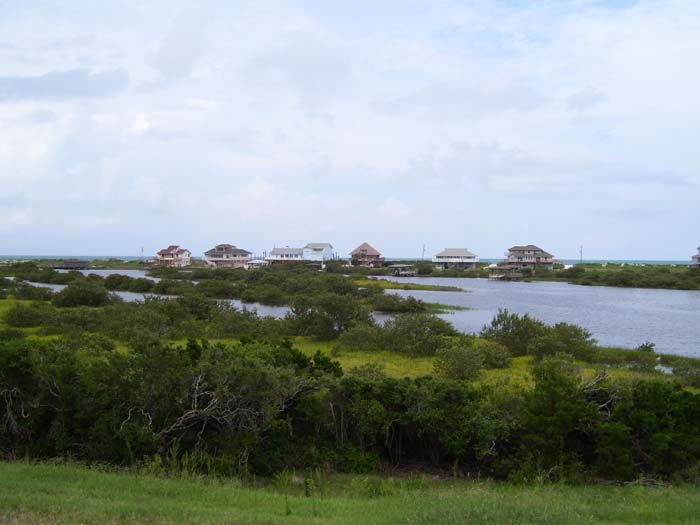 Getting close to the end of the ride, I found a sign directing me to Fort Matanzas, a national monument close to the waterway I was crossing over. This fort turned out to be a little blockhouse built to cover this river with cannons back when it was possible to sail into the harbor here and attack St Augustine from behind its own fort. Here's a picture of the place (and a sign describing it), although I arrived too late in the day to take a ferry over to that island and get a closer look.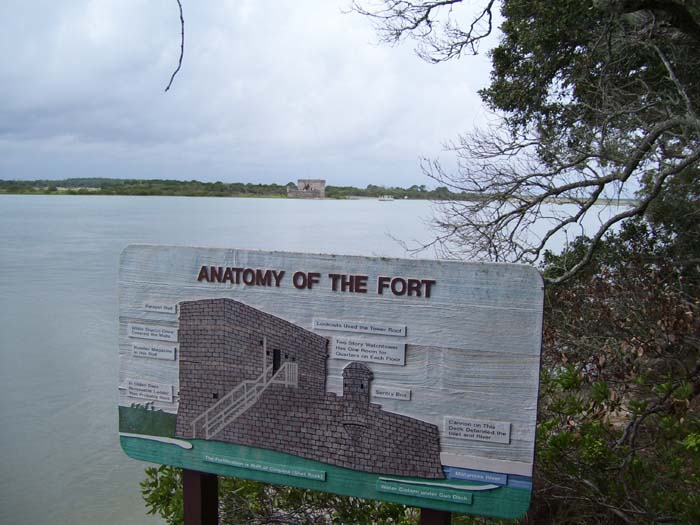 A close-up of the fort, since you can't really see it from that picture. Not much to it, huh? According to the information I read, they usually kept about 20 people stationed here, and it only fired its guns once...but that was enough to convince the British not to try that little end-around trick again.
Shortly after this, I got caught in a thunderstorm and took refuge here (under the awning of some random building) to wait it out. The rain eventually lessened enough to ride on out, although I did get fairly wet. Since I keep all my clothes wrapped up in plastic bags in my panniers, and everything else of importance similarly covered, nothing really got soaked too badly.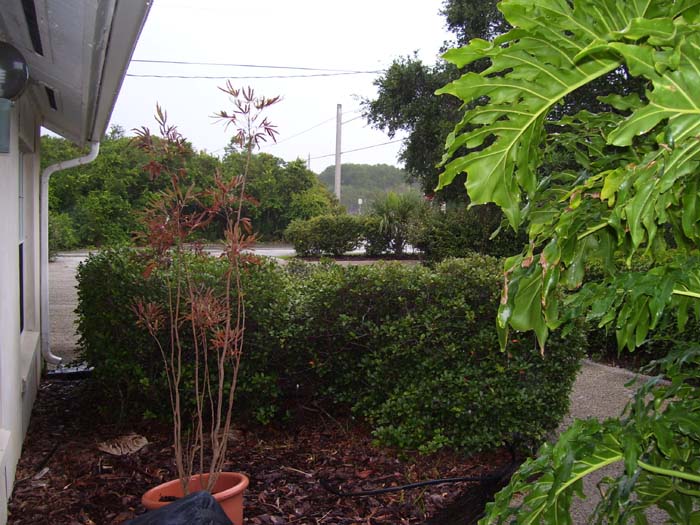 Just a couple of miles from finishing, I came to this lighthouse on Anastasia Island. However, since I got there too late to take any tours or anything, and they wanted money just to go through the fence to get closer, I didn't really learn anything about it. It looks pretty cool, though, and sits right next to a school...how'd you like to have your very own lighthouse right out behind your school?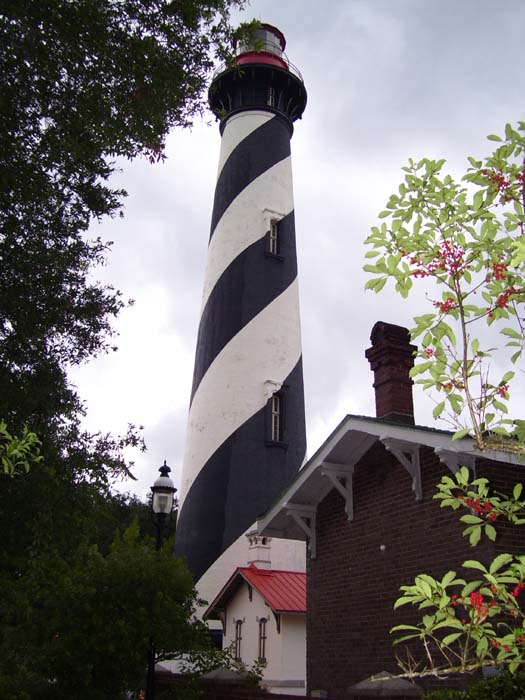 And that's that...a couple miles later I found my hotel, checked in, got my pizza and soda, put some medicine on my rash, and called it a day. Hopefully tomorrow I'll get past Jacksonville, and that'll get me right to the edge of the Georgia border.