View Larger Map
Day 28 - July 3, 2012
Maple Shade to South Amboy
Miles: 66
Terrain: Gently rolling hills (nothing bad)
Weather: Sunny, hot and humid, 10mph "west" wind (or north...or east...whatever)
This was a "setup day," meaning there wasn't much to see or do...the primary objective was simply to get into position and set up for what comes tomorrow, which of course is Independence Day. As it turns out (quite by accident, I assure you) that's also the day I'll be touring through New York City. I hadn't intended to get to NYC on the Fourth of July, but that's how the timing happened to work out, so I might as well enjoy it. People won't be going to work, so the roads might not be as crowded, and the whole place should be decked out in patriotic colors. We'll see about that tomorrow, though. Today, I had to get to a hotel close enough to the city to be able to ride through it tomorrow, but not so close that I had to pay a fortune. The solution was a Knights Inn in South Amboy, so I made a reservation there and headed out. I also made a reservation for tomorrow night, too, at an Econo Lodge in Ft. Lee, so now I don't have to worry about whether or not I'll find a room. And then on Thursday, I can take off and head up the coast towards Connecticut without having to backtrack or hang around in NYC looking at any tourist stuff. That's the plan, anyway.
All of that starts with today's setup ride, though, so after booking those hotels, I got on the road, heading briefly northwest to get away from the ultra-crowded highway and out into the country a bit. For the first ten miles or so I got to enjoy terrain like this: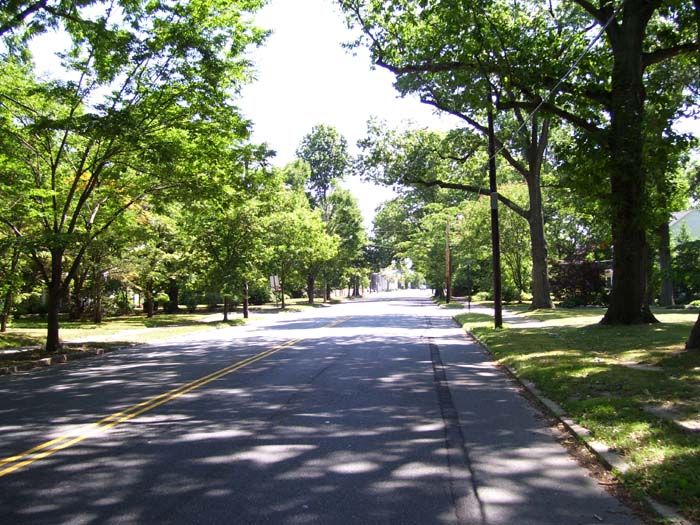 Alas, it was not to last, as I came to yet another "bridge out" situation and had to detour off to the north, sending me out of those comfortable shady trees. The hills stayed light and easy to manage, even though the wind just kept changing direction without any real pattern. Not that I cared...I rode 28 miles before my first break, a record for this trip. (That only happened because the shade kept it cool enough that I didn't need to drink quite as much, and also, being out on the country roads, I didn't run across anyplace to get a refill.)
At one point the GPS decided to send me really out into the middle of nowhere, as evidenced by the farmland and two-lane road. This only went on for a couple of miles, though, and then it was back to the major streets.
Speaking of which, I have to explain this strange practice they have here in New Jersey. See this sign? Well, on major roads, they often don't allow left turns at lights (and sometimes no turns at all). If you want to go left at the light up there, you actually turn right at this little side street just before the light (or sometimes on a cloverleaf after it), stop at a stop sign (or another light) and wait your turn to make a left. Then you wait for that light to change so you can go across. So in other words, if you want to make a left, you have to wait twice as long. I guess they're trying to discourage left turns in this state, or something, because that's about the only reason I can think of to not just put in a left turn lane like every other state in the country does.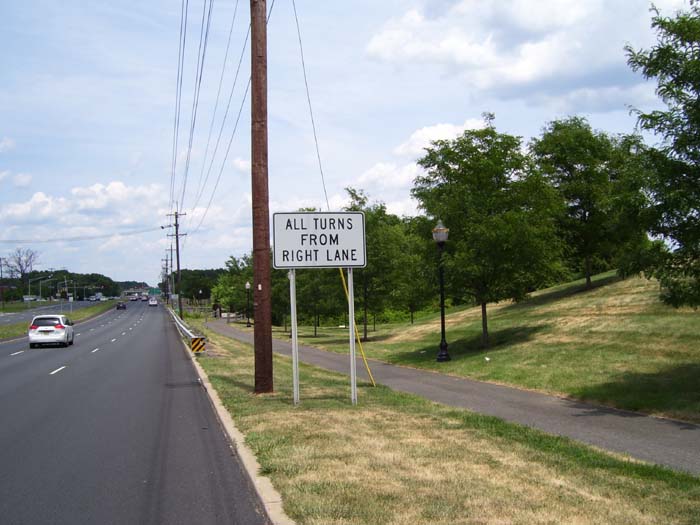 Anyway...I knew it would be hot today, and here's the proof. This is one of the few temperature signs I've seen (I've been trying to catch one showing over 100, but no luck). Strangely, the heat didn't bother me too much, so I guess I'm getting used to it. I only took two stops today, one at 28 miles and the second at 41 miles...that's it. No other breaks. I couldn't even imagine doing that a couple of weeks ago.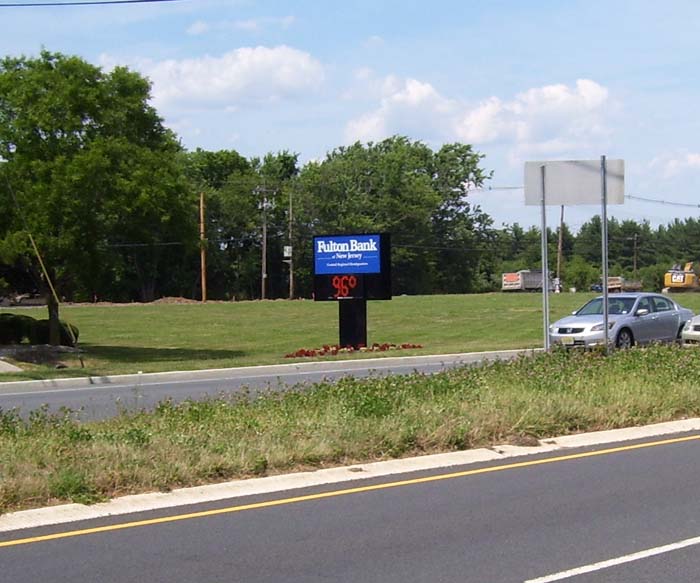 At one point while riding along US-130, I came to this plaque, a monument to the parachute test platoon....well, read it yourself. There weren't any military bases or anything like that around here, either...just an auto parts store and a power plant. It seemed kind of strange having this monument just sitting by the side of the road like that, but there you are.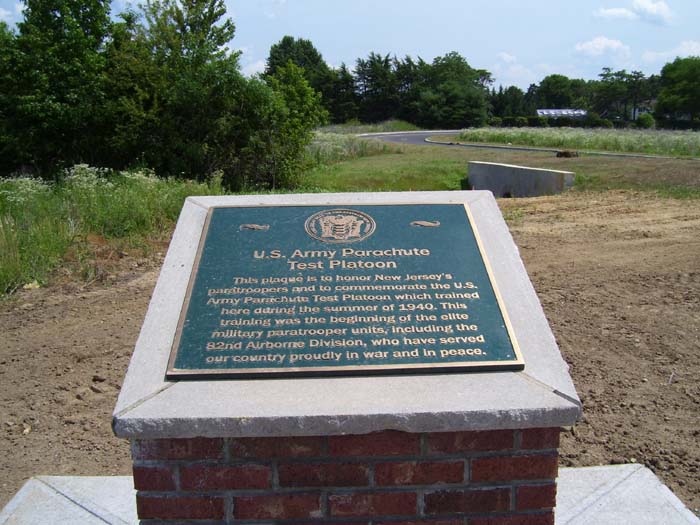 Over the course of the day I passed through several small New England towns like this one (South River), with their quaint storefronts and all that small town charm. That hill coming up is typical of today's climbs, i.e., not that bad.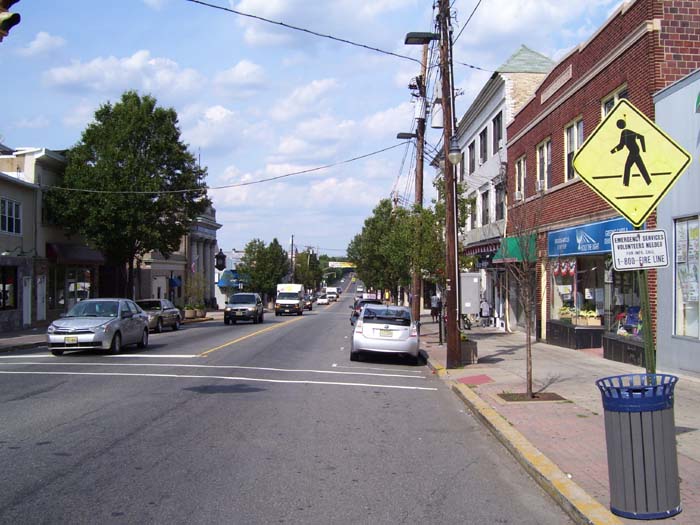 When I got to South Amboy, I had to wander around a bit trying to find the hotel, because the road I was on didn't have a ramp onto US-35, where the Knights Inn is located. While riding to and fro looking for a ramp, I came across this awesome looking church.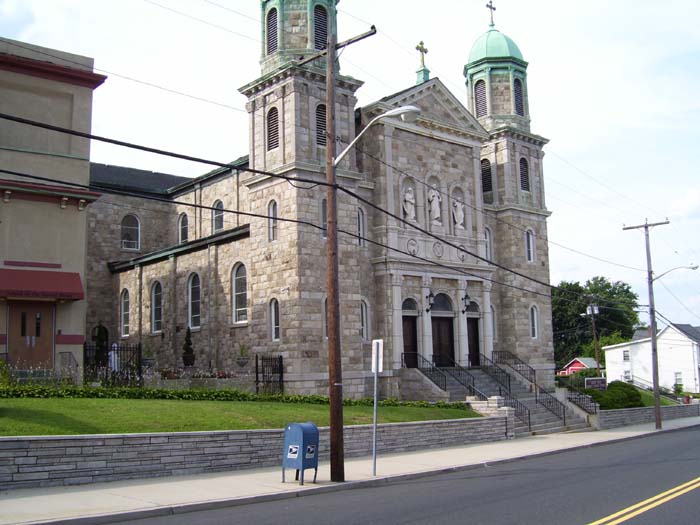 The hotel turned out to be right at the junction between two major highways and two huge bridges, one of which I have to cross first thing tomorrow. If all goes well, I'll actually cross three such bridges tomorrow, and take the Staten Island Ferry for good measure. I just hope it's not too crowded for the holiday.