View Larger Map
Day 33 - July 8, 2012
Warwick, Rhode Island to Danvers, Massachusetts
Miles: 75
Terrain: Rolling hills, some tough ones thrown in
Weather: Mostly sunny, warm and humid, 10mph northwest wind
Today promised to be another touring day, this time with Boston as the target, but first I had to get through 50+ miles of hills and headwinds. The winds didn't turn out to be that bad, but the climbing took its toll. Fortunately, the heat and humidity weren't that bad today. In fact, except for the occasional gust of wind to the face, this was one of the best weather days yet. On my way through Providence, I took yet another church picture, and you can see what the sky looked like early in the morning.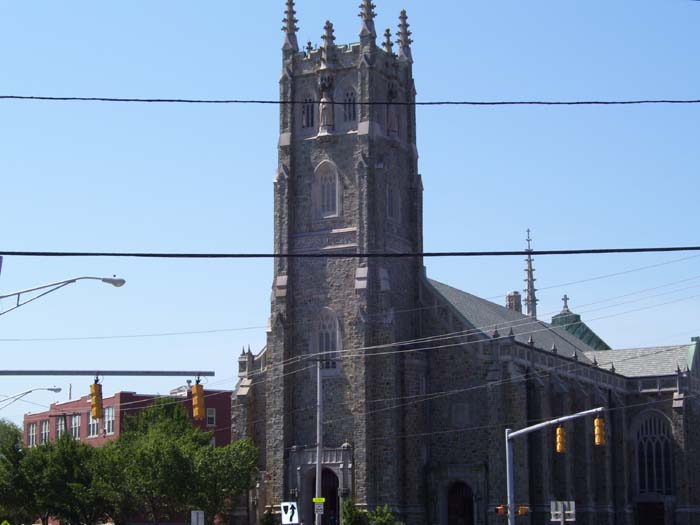 Here's another view of downtown Providence as I crossed over a short bridge span on my way through town.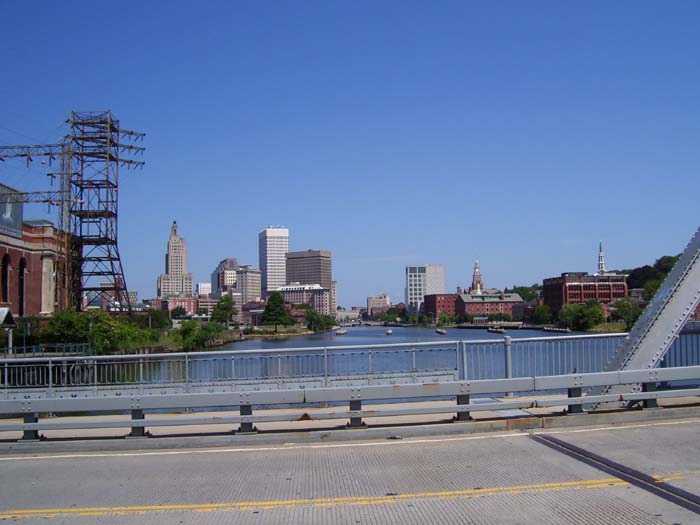 Shortly after passing through Pawtucket, I arrived in another state, and this time found a sign to let me know I'd crossed the border. Not much of a sign, but at least I got one this time.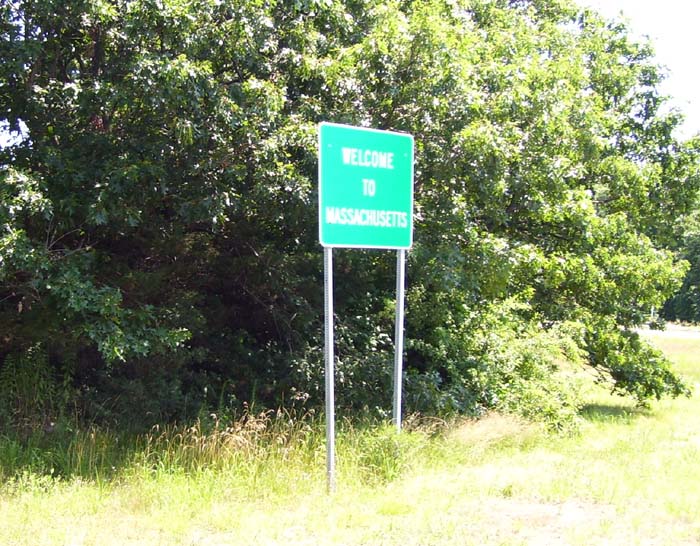 Shortly afterwards I passed this...and just had to stop and take a picture. What the hell...? I still don't know if this was some kind of joke or reverse psychology or what. The only thing nearby was a bunch of cars locked behind a security gate (maybe someplace a nearby dealership stored their overstock?). My only guess is there used to be a hotel here, and now it's just used as a parking lot. Someone has a sense of humor about it, though...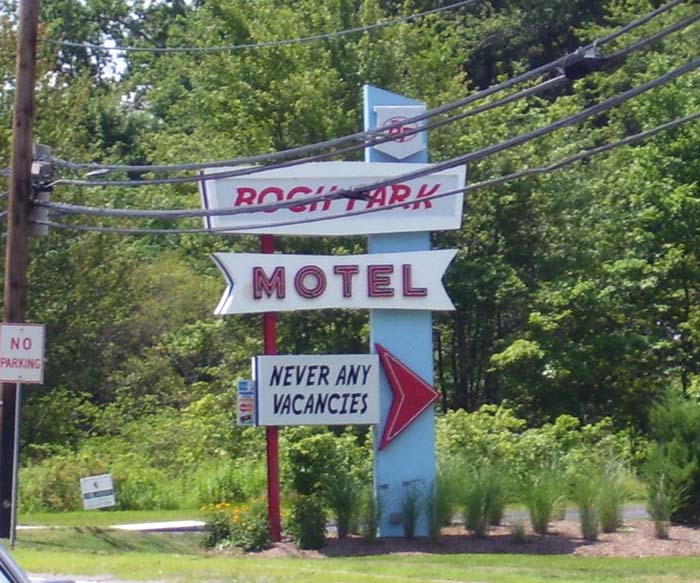 After that, I moved out of the urban space and into less populated areas. US-1 opened up a bit, as you can see here, with a nice shoulder and a crosswind instead of headwind. Too bad about the hills, though (that one up ahead turned out to be pretty bad, continuing around that curve for quite a ways).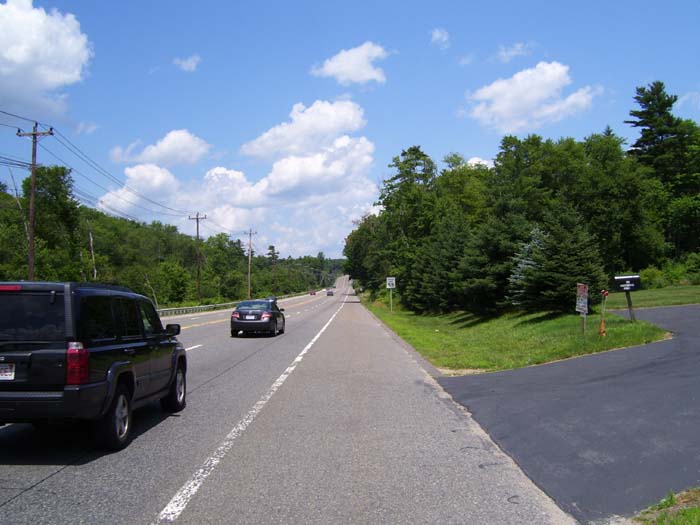 Eventually I passed this stadium, the home of the New England Patriots. There was an entire open-air-style mall attached (Patriot Place), which I've never seen around a stadium before...most of the time they're by themselves, surrounded by parking lots or downtown areas. This one, though, is out in the open, away from any big population centers.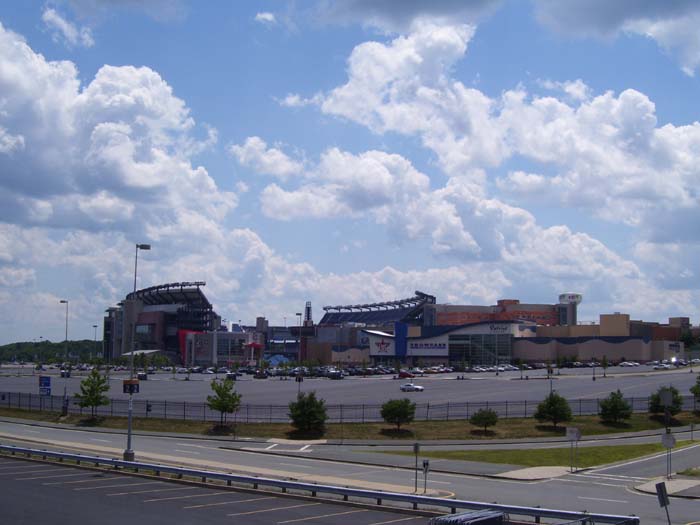 Some time later, after cresting another huge hill, I got my first decent view of Boston, still about 10 miles ahead. Notice how high those buildings sit on the horizon...yep, more climbing awaited me on the way into town.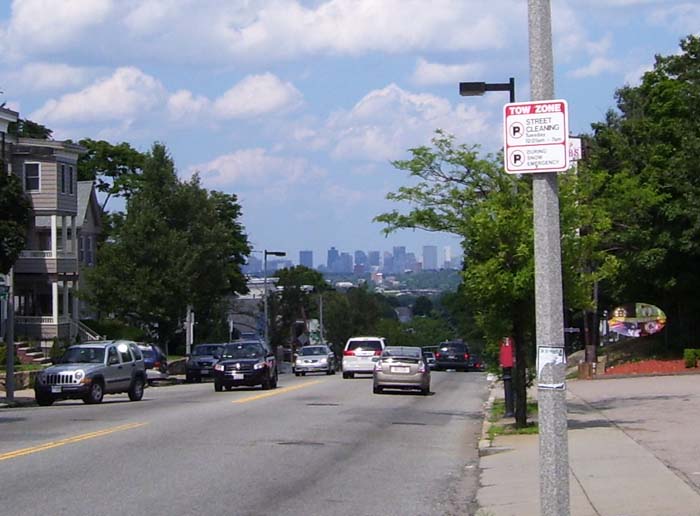 A few times now I've mentioned m GPS, but it occurred to me today that I've never actually shown it to you. Here's a picture showing what the view of my handlebars looks like. (The camera is in that right-hand bag there, while the left one has miscellaneous stuff like my reading glasses, a pen, small first aid kit, etc., and that large bag on the other side contains all my bike tools and repair stuff.) On the GPS, the arrow in the middle, pointing top right, is my current location. The blue line trailing behind is where I've been already. It's pretty easy to tell from this what road I'm on (in this case, it's Washington Street, heading directly into Boston). Generally, even in larger towns, I can follow the orange line fairly easily, ignoring the others. The display's easy enough to see that I can glance down on it while riding.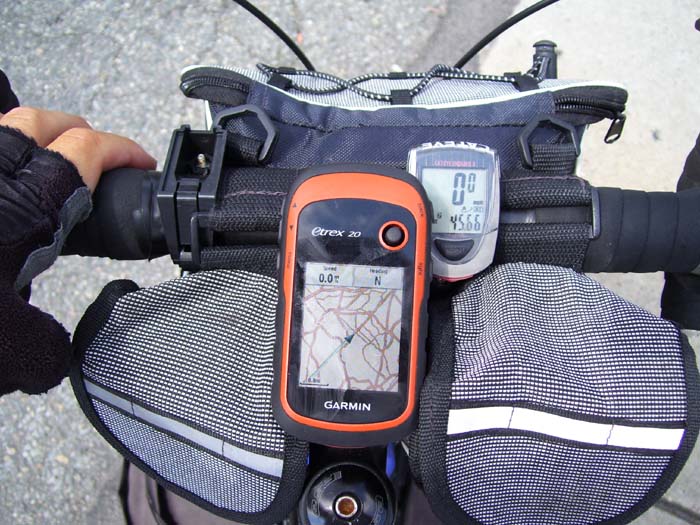 Now here's what it looks like about 5 miles later as I'm almost to the heart of Boston. The road I'm on has disappeared into a morass of orange lines. It looks like someone spilled spaghetti on my GPS! Fortunately, I can zoom in by hitting one of the buttons on the left, but even so, navigating around big cities can be tricky.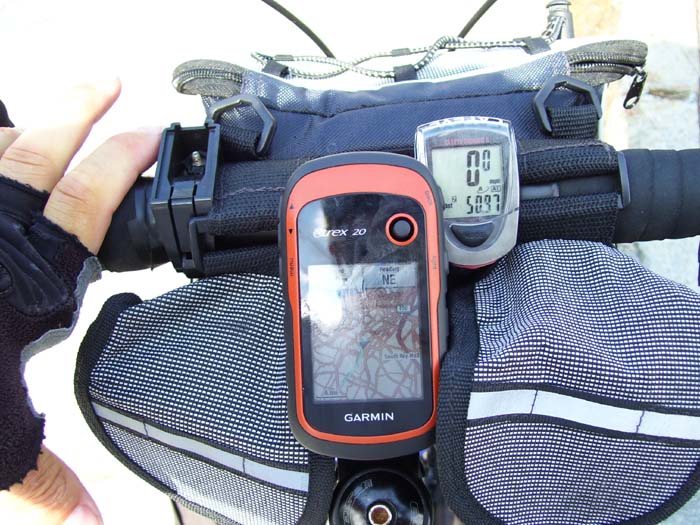 On my way into Boston I came across this worrisome sight. Apparently this is the fate of bicycles left locked up by the rear wheel alone. Someone just released the quick-release clamps, popped the wheel off and walked away with the rest of the bike! Okay, so I'm not leaving my ride unattended downtown, that's for sure.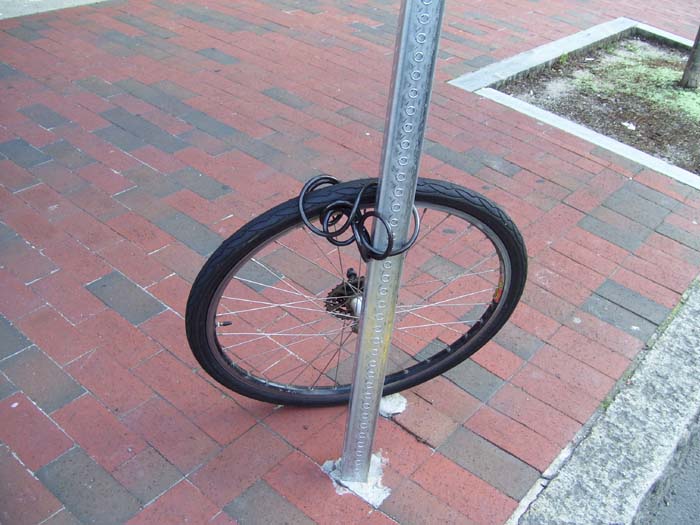 I took this picture from right next to that unfortunate wheel. This is heading into downtown Boston.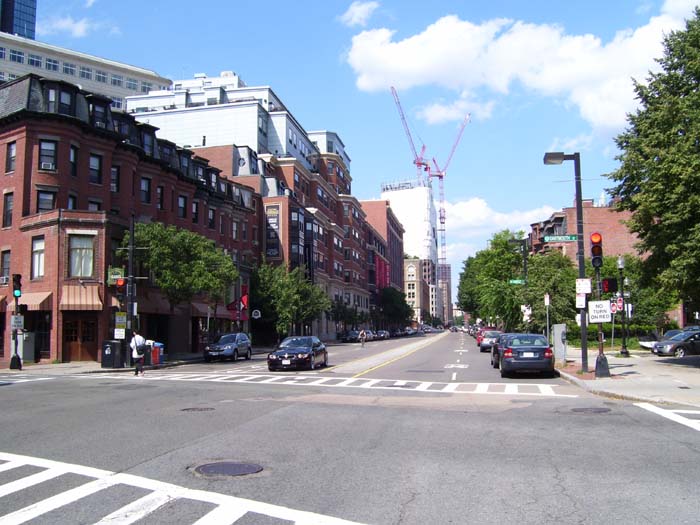 My tour of the area began with this shot of a certain famous bar you may have heard of...you know, where everybody knows your name. (I had to wait for an entire busload of tourists to get out of the way before I could get this shot. They all went downstairs, so I didn't bother following.)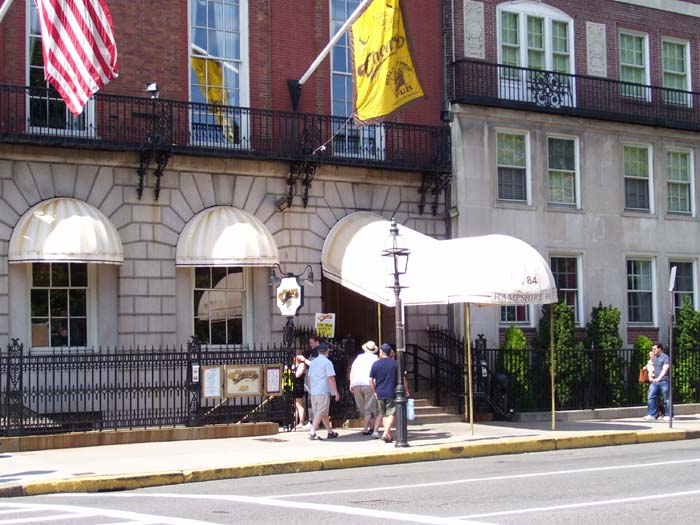 About a block east, I entered Boston Commons, a big park in the middle of downtown.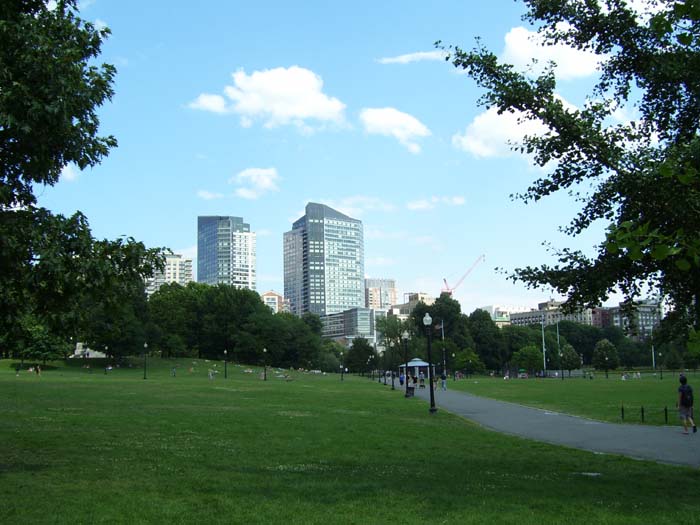 Here I started riding along the Freedom Trail, a marked path through downtown taking tourists (LOTS of tourists) around to all the various historical places Boston has to offer. First off was this monument to the first unit of black soldiers to march against the South during the Civil War.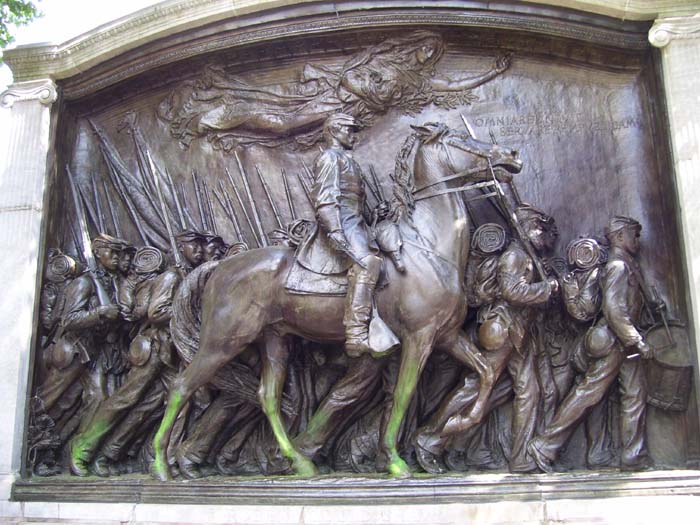 Right across the street was the Massachusetts State House, i.e., the state capitol building.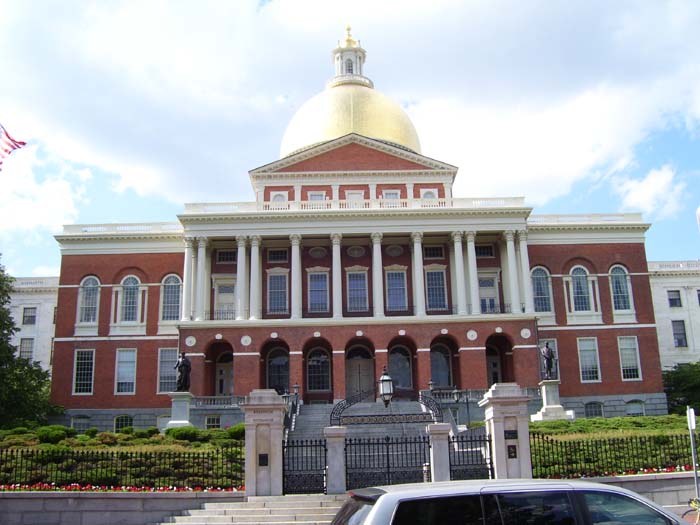 Next is the Park Street Church, which dates back to 1809.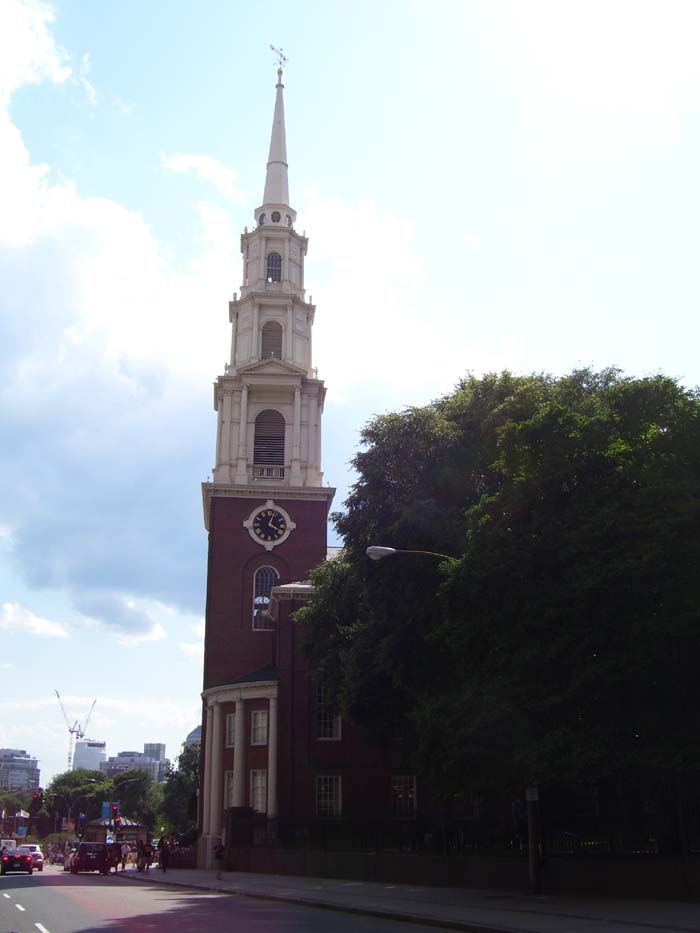 This is the Old City Hall building, used before the State House was built.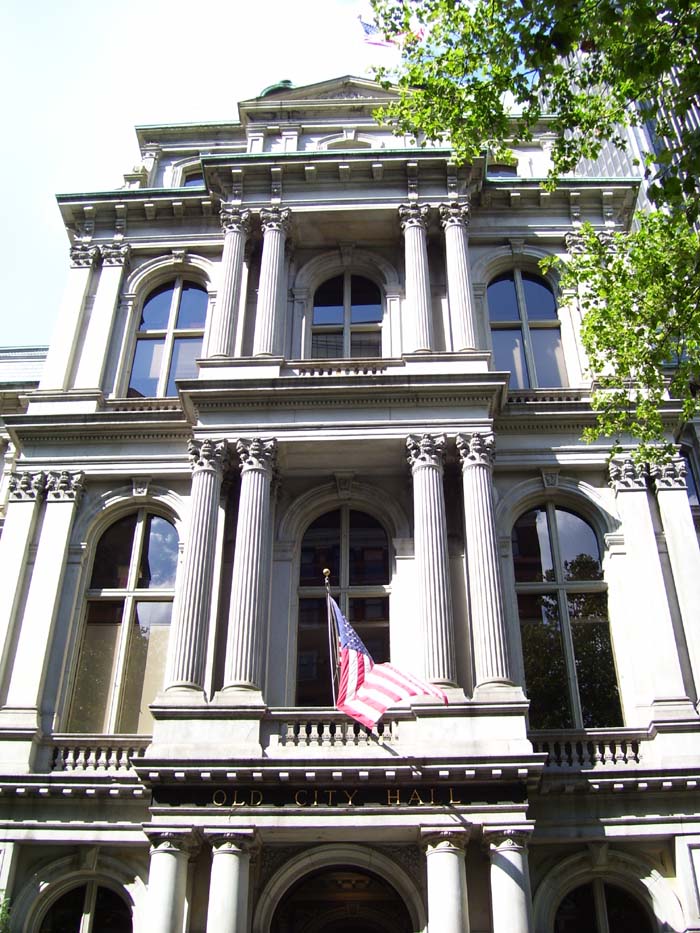 Here's the statue of Ben Franklin (I managed to clip offf the head...sigh). He was born in Boston, after all. The statue stands next to the Old City Hall (above) which now doubles as a restaurant.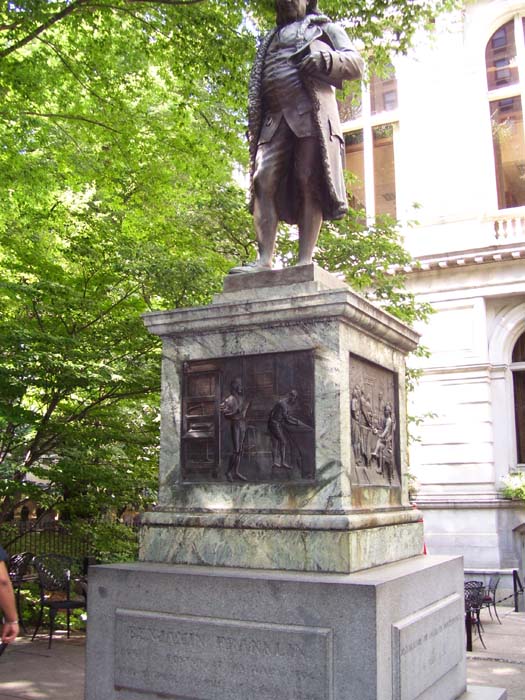 This is the Old South Meeting House (with a more modern building behind it), which is where, among many other things, the Boston Tea Party was organized.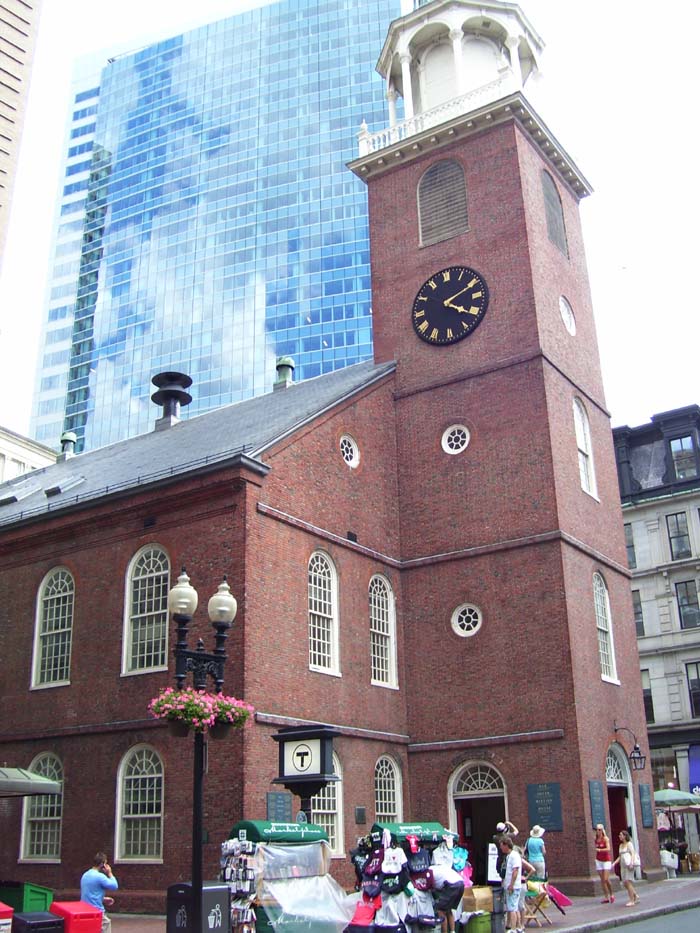 The Old State House, the oldest surviving public building in Boston, now a museum.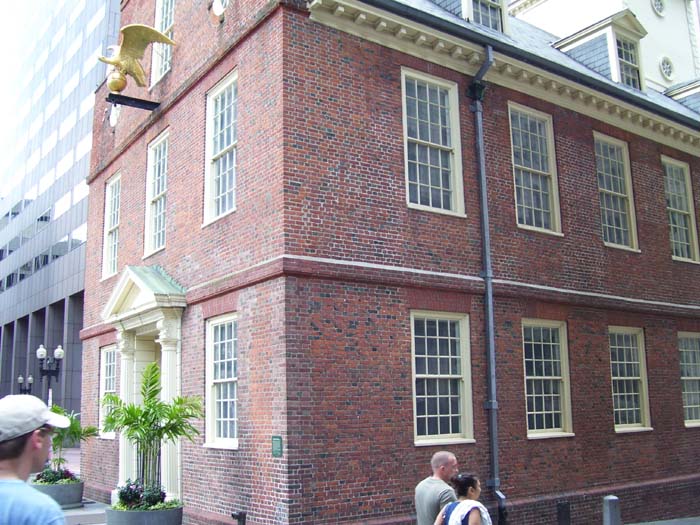 A statue of Samuel Adams stands outside Faneuil Hall, "the Cradle of Liberty," site of many speeches (by Adams and others) encouraging independence from Great Britain.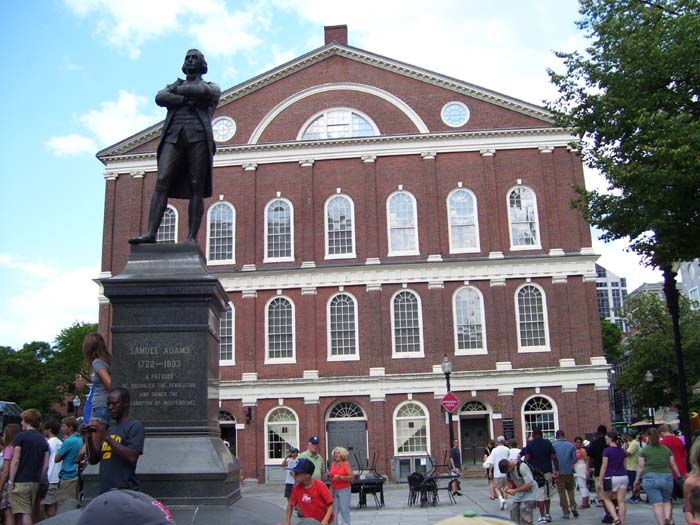 Following the Freedom Trail led me through some scenic areas of downtown. Here's a look at part of the North End, facing back towards the main part of downtown. Notice the line of red bricks on the bottom left? That's the Trail itself. You can't miss it.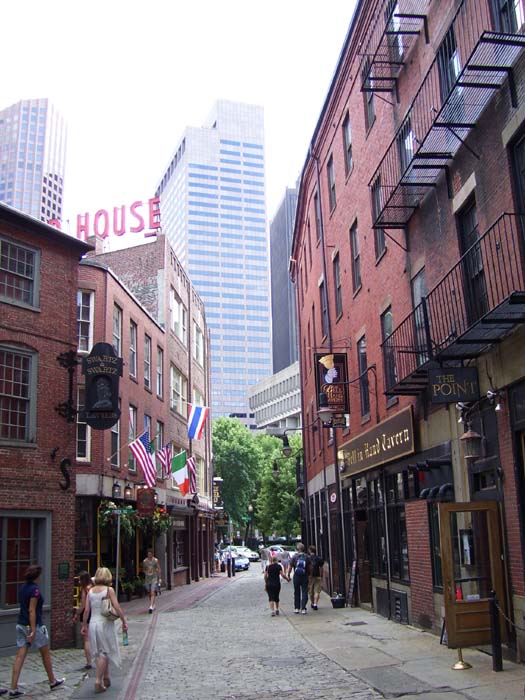 This is the Paul Revere house, the actual original building where he lived. There's a museum inside, but it's getting late in the day so I didn't go in. Besides which, I was afraid to take my eyes off my bike.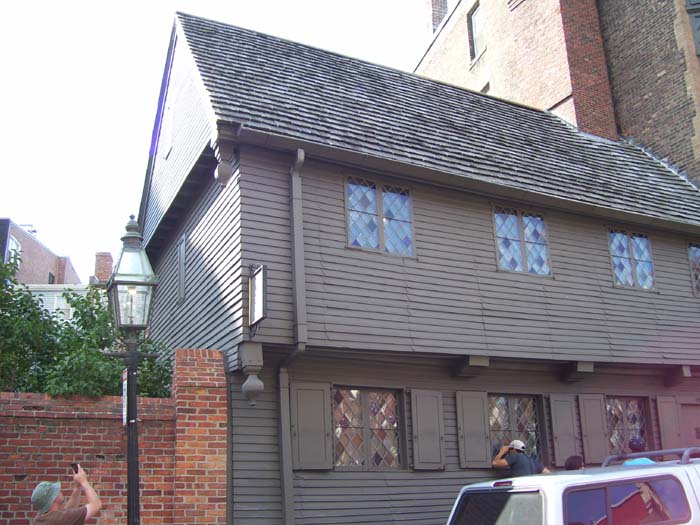 Another view looking back at the Paul Revere house. The building to the right is the Maritime Hall.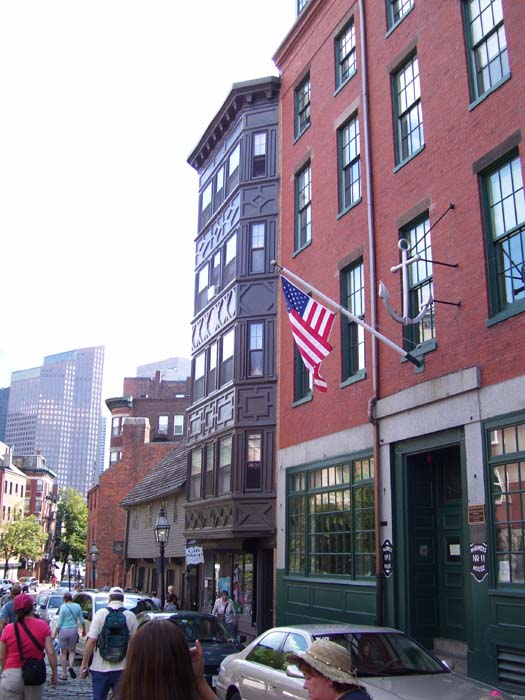 On the way along I saw plenty of cool buildings that weren't part of the Freedom Trail itself, like this church here.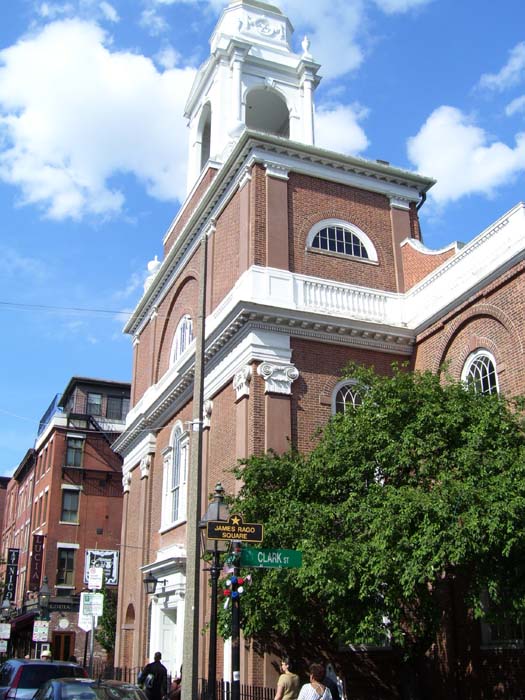 This is the statue of Paul Revere, located right in front of the Old North Church (which unfortunately got washed out by the sunlight, but you can see its base in the background). That church, of course, is where the "one of by land, two of by sea" lights were lit.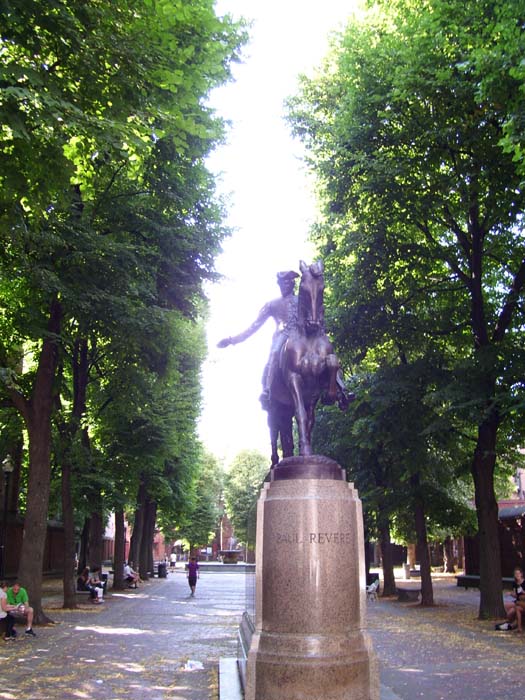 The Trail then led to the Charleston Naval Yard, where ships have been built throughout the US Navy's history. Here you can find "Old Ironsides," the USS Constitution, one of the original frigates built by the Navy after independence. This ship is the oldest naval vessel still afloat in the world.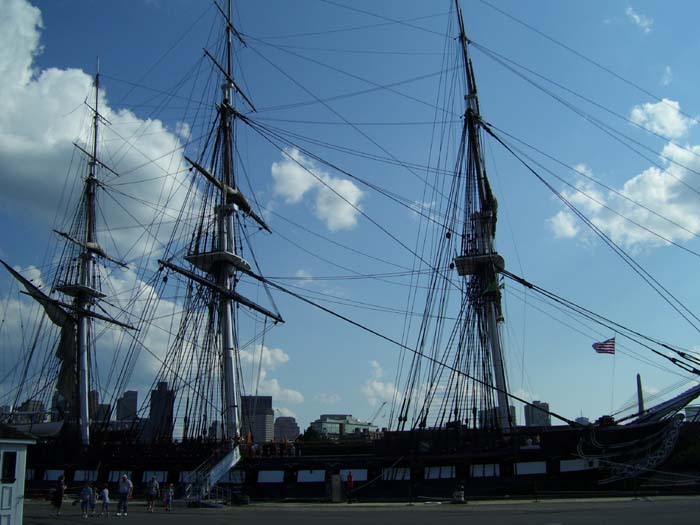 The final stop on the Freedom Trail is the Bunker Hill Monument, a Washington Monument lookalike that honors the first major fight between Colonial and British forces in the Revolutionary War. The obelisk stands atop Breed's Hill (where the badly named battle actually took place). Oh, and yeah, it's a pretty good climb up there on a bike. You can go up a stairway to the top, but it's like 200+ steps and after riding almost 60 miles by this point, there's no way I would even consider trying that. (Hell, I might not even try it regardless.)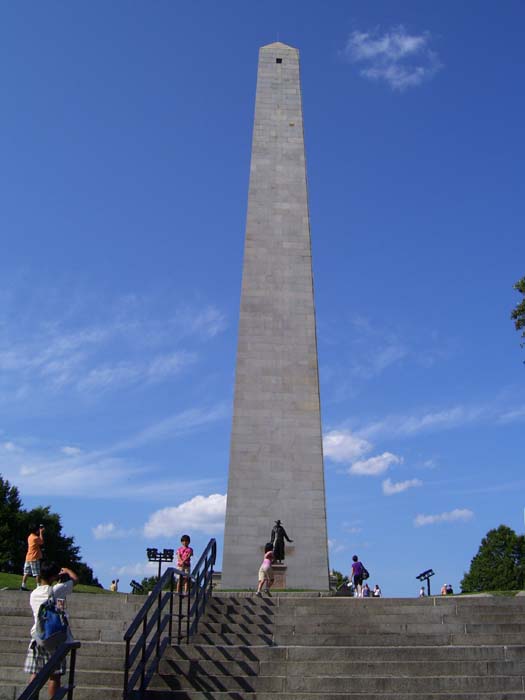 Now after 6pm, I had to move out towards my hotel, so I bid Boston farewell and headed off across my last bridge of the day.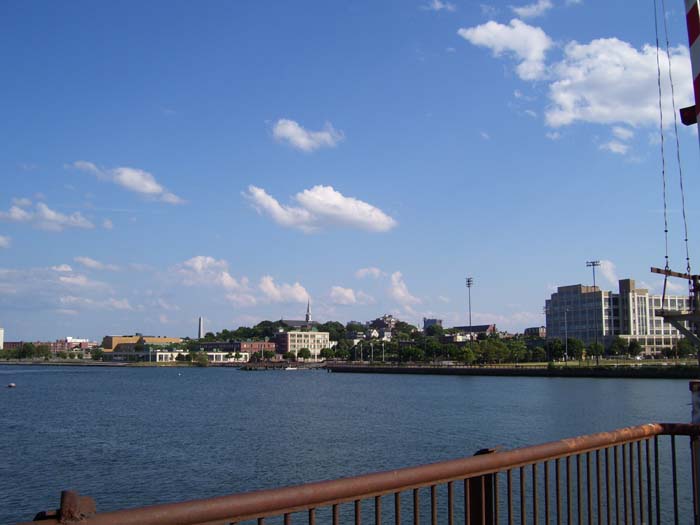 The road soon turned highway-like (notice the signs up ahead), with some serious potholes for a while, but those cleared up after a while leaving me with a nice shoulder and lots of traffic zooming by at 65mph. No trucks, though, probably because it's Sunday. I could've stopped at any of several earlier hotels, but pressed on to get past this highway area, figuring traffic would only be worse tomorrow morning.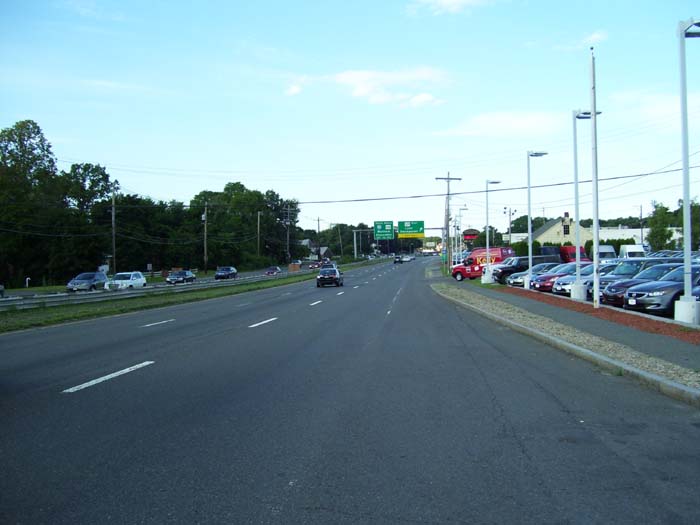 Finally, around 7:15, I reached my hotel and got some food. A long day, to be sure, but almost as enjoyable as my New York City tour. Almost, but not quite. It'll be hard to top that, I'm afraid...