View Larger Map
Day 38 - July 13, 2012
Milbridge to Quoddy Head State Park
Miles: 71
Terrain: Rolling hills, a few tough climbs
Weather: Sunny, warm, 15-20mph south wind
Another beautiful day in Maine...perfect weather to finish off the tour. I really didn't want to leave the motel today...as difficult as some of these days have been, I didn't really want to finish. The last few days have been challenging in a good way...I could certainly stand a few more days of this, if not more. But it's been 38 days already, my longest bike tour yet, so it's time to finish and head for home. With that in mind, I took off around 10am, with a last look at the Red Barn hotel across the river.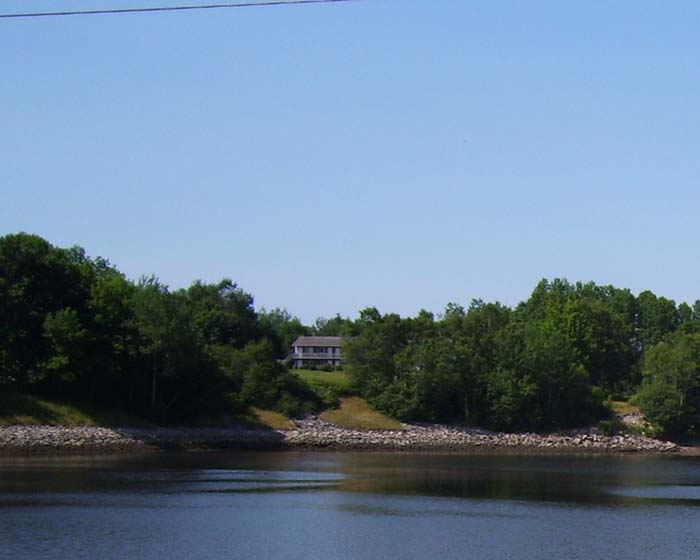 The terrain looked much like this most of the day, with the usual hills, and bumpy shoulders (when I had shoulders at all).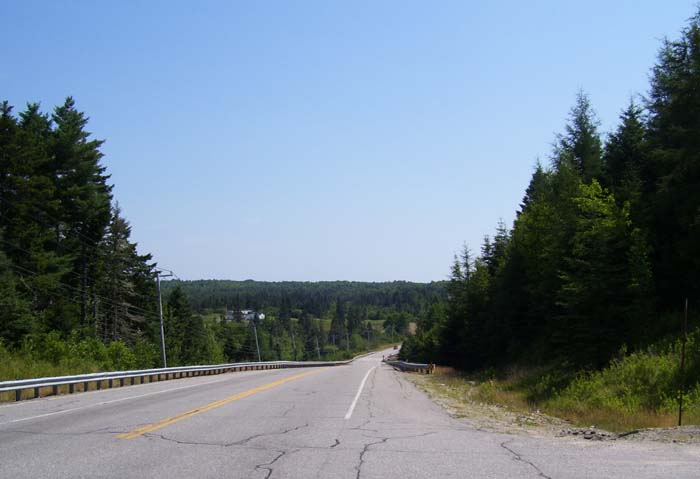 15 miles later it was basically the same...gorgeous country, beautiful skies, intimidating hills. Notice how this one heads off to the right, over the tops of the trees there...that was a steep one.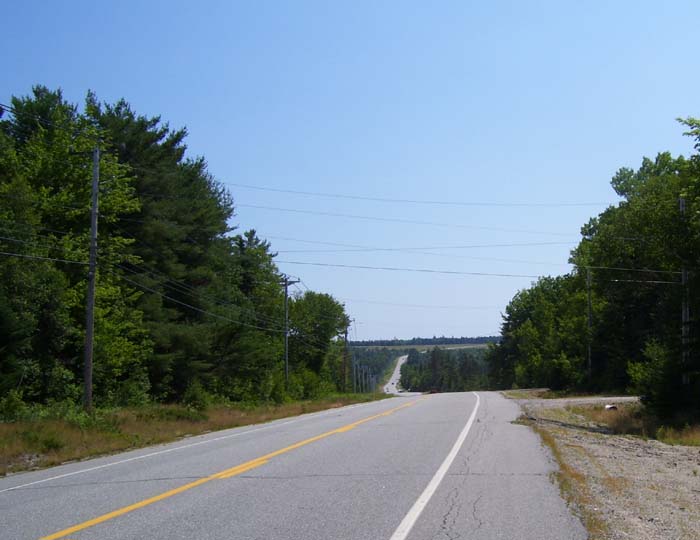 Halfway through the day I took this shot off to one side, showing the seemingly endless trees all around. This was at the top of a windswept hill in the middle of nowhere.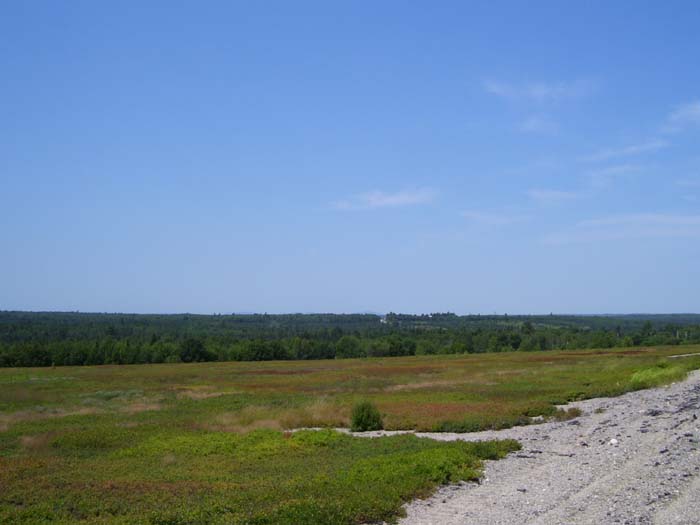 It wasn't all wilderness, though. Here's the town of Machias, where I actually found a McDonalds...I hadn't expected to see any more places like that anywhere today. This provided a perfect spot for a break and a large drink, seeing as the day turned out to be rather warm and a bit more humid than yesterday.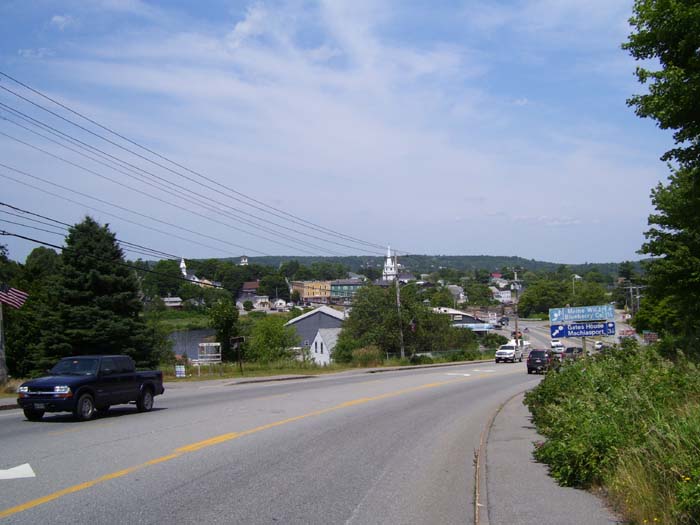 Heading out of town provided some more nice scenery.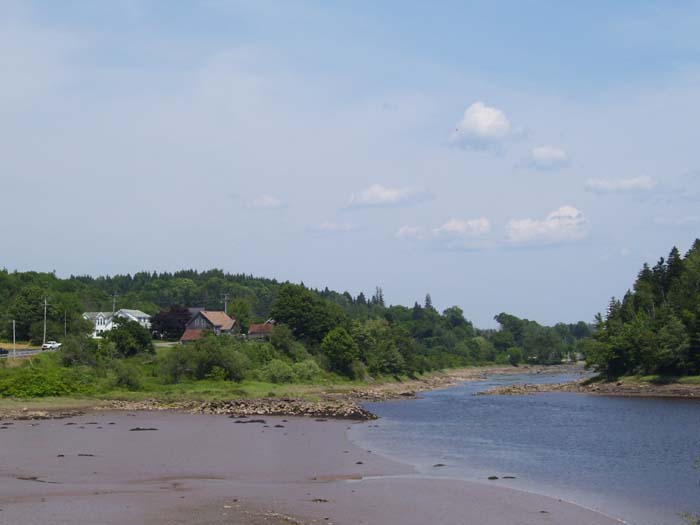 And this is even better right here.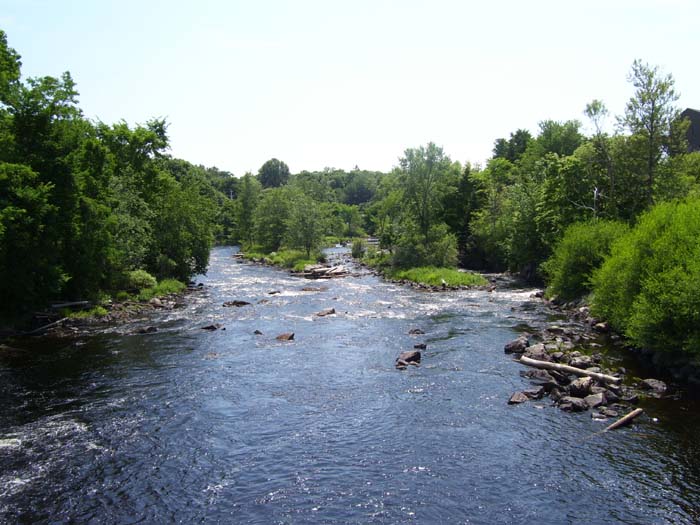 And yet again even more. Did I mention how gorgeous this part of the country is?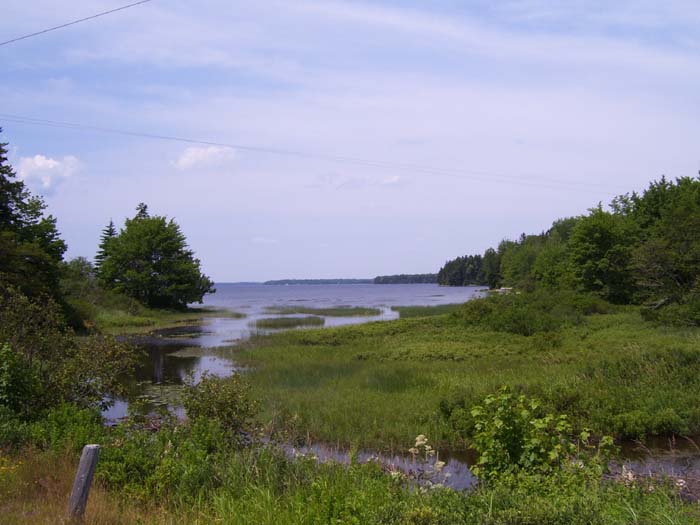 Oh, also, I said yesterday I was leaivng US-1, but actually 1A reconnected with it partway through today. Here's the actual point of departure, where I leave US-1 for real, and head off on DE-189 for the last 15 miles of my trip.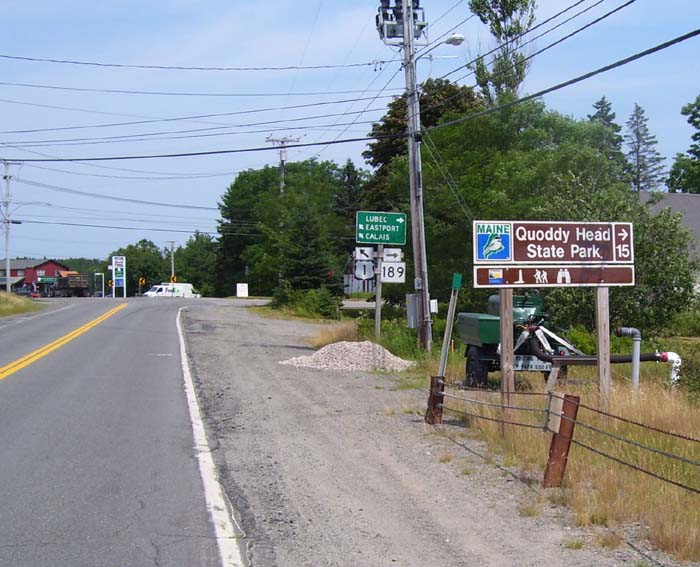 Halfway there, I reached the city limits of Lubec, the easternmost town in the US.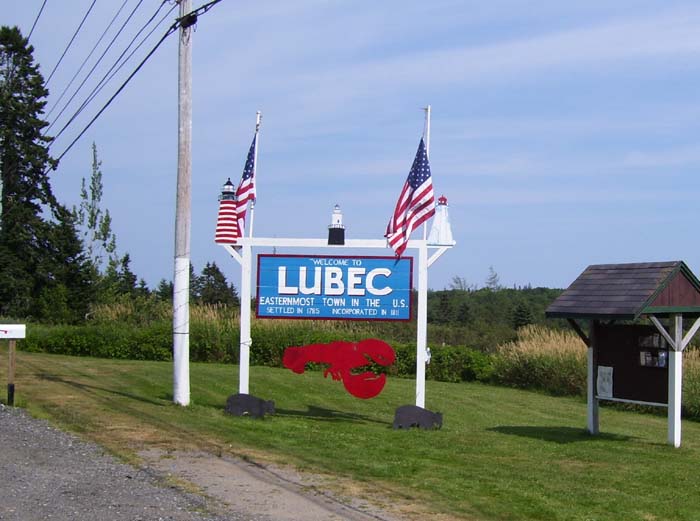 And this is my first look at the distant land of Canada (on the left side across the water). Quoddy Head is the faintly visible strip on the right side, where I'm heading.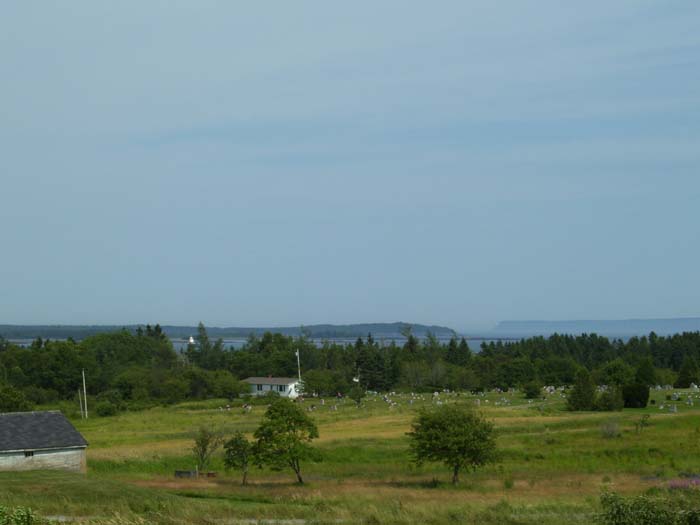 Here's another view of the great foreign land that is Canada.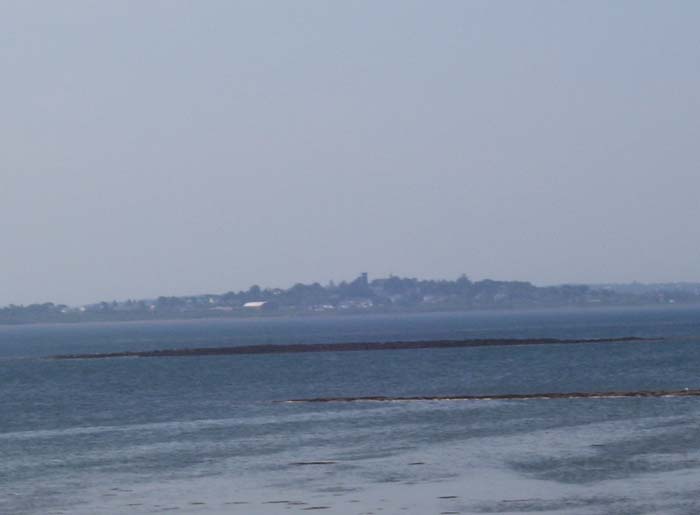 Shortly after this, my parents arrived. They've been driving for several days on their way up here to visit Maine, and also to pick me up for the ride home. (I have such awesome parents.) Since cell phones don't seem to work in this area, I stopped at the turnoff for Quoddy Head State Park and just waited until they drove up. Then they went ahead to check out the lighthouse while I finished the last 5 miles of riding. Here's my first view of my final destination, the lighthouse that marks the end of the road and the easternmost point in the continental USA.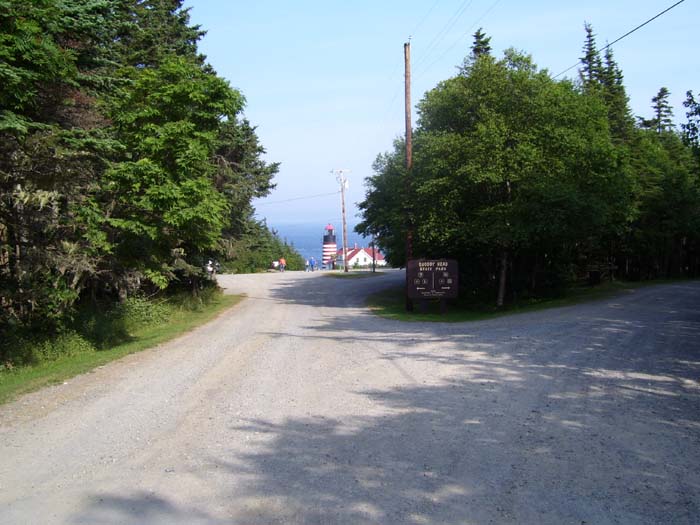 And here I stand triumphant, having conquered the East Coast after over 2,500 miles of riding and 38 days on the road.
According to my GPS, this is as far east as you can (safely) go and still be in the US. After that it's a steep dropoff to a rocky shore somewhere down below. I see no need to climb down there...this is plenty close enough, thanks.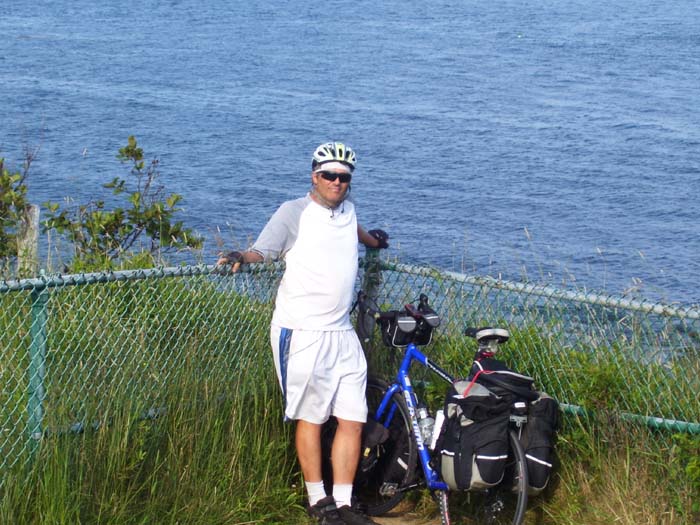 And one last shot just to make it official...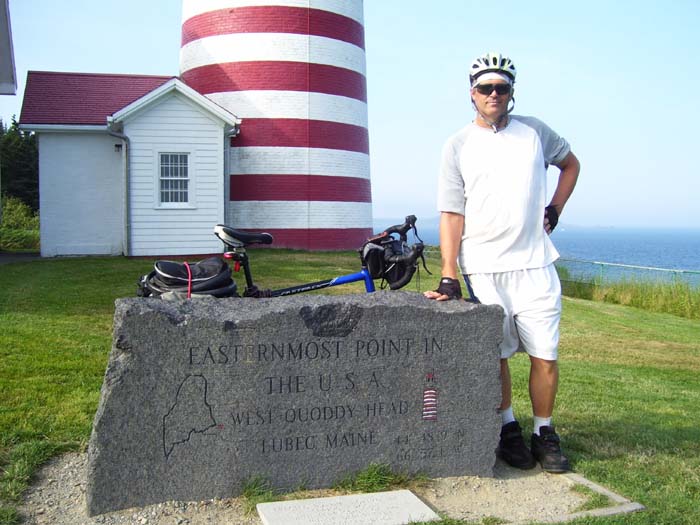 So there you have it...after 2,547 miles and 38 days of nonstop riding, I accomplished my goal and rode the entire east coast of the United States. Quest complete!
Final stats from the ride:
Total miles: 2547 (not including the preliminatires, Day 0 stuff, or post-tour bonus riding)
Average miles per day: 67.02 (just slightly more than the west coast trip)
Riding days: 38
Off days: 0 (yep, I never took a day off)
Days camping: 2
Tires worn out: 2
Puncture flats: 3
Broken spokes: 2
Other bike problems: none of any significance
Accidents: 0
Close calls: Too many to count
I'm still amazed I didn't take a single off day, even with all that heat. In comparison to the west coast ride, I think this one was slightly tougher, but only because of the temperature. If it'd been cooler, this ride would've been easier. I wound up going almost 300 miles farther on the east coast than on the west (which is surprising...I would've thought it would've been the opposite, especially having done the entire Olympic penninsula).
Anyway, now for some traditional post-ride lists:
5 things I didn't know I'd need:
(1) So much sunblock
(2) Insect repellent
(3) A fourth water bottle
(4) A second pair of bike shorts (worn over the first)
(5) So much cash (I bought a lot of Gatorade)
5 good decisions:
(1) Bring a GPS
(2) Ride through New York City
(3) Put front panniers on the bike
(4) Ship home the camping gear after leaving Cape Hatteras
(5) Stop eating breakfast and lunch
5 questionable decisions:
(1) Don't carefully check the new back wheel I bought before leaving
(2) Try to ride through Florida in June...I should've left in May
(3) Not reserving a hotel room for the next day after the big storm knocked out power in Maryland
(4) Camping (period)...next tour, seriously, no camping!
(5) Not bringing any spare spokes or spoke connectors
Hardest things about the trip:
(1) The heat
(2) The humidity
(3) The heat and humidity
(4) The heat and humidity and hills
(5) Getting through that one nightmare day in Baltimore
Best experiences along the way:
(1) Riding through Manhattan on the Fourth of July
(2) Riding the Freedom Trail in Boston
(3) Riding through Cape Hatteras National Seashore
(4) Riding through Washington, DC
(5) Finishing the ride
Coolest specific things I visited:
(1) Central Park
(2) Kitty Hawk
(3) Liberty Bell/Independence Hall
(4) The Old North Church
(5) The Seven Mile Bridge
Five things I haven't experienced for over a month...
(1) Hamburgers
(2) Driving
(3) Computer games
(4) Work
(5) Lunch
Anyway, that's it for another long bike tour. Hopefully I'll do another one eventually...maybe the southern cross-country route, or possibly something even more exotic. We'll have to see. It won't be for a while yet, though...I have to let my bank account recover. Staying in all those hotels isn't cheap, y'know. Thanks for reading, and don't forget, I'll be including some bonus post-tour photos later. Click the link below for some final parting shots.