Post-Tour Bonus Pictures - July 14, 2012
Minimum ride, nothing special
Miles: 10
Terrain: Minor hills, out and back
Weather: Sunny, warm, half headwinds and half tailwinds
After a pleasant night's stay in Lubec, I got up early and did a bare-minimum 10-mile ride. Since I couldn't make a decent loop, I just headed five miles down the road (into a stiff breeze), turned around, and came back. By the time I returned and got a shower, the parents were packed up and ready to go, so we headed off across the Canadian border into New Brunswick for a quick ride around Campobello Island and the only international park in the world. This, as we soon learned, was where Franklin D Roosevelt spent many a summer growing up and throughout his life. Here's the visitor center, where we learned all about that and the history of this beautiful little island.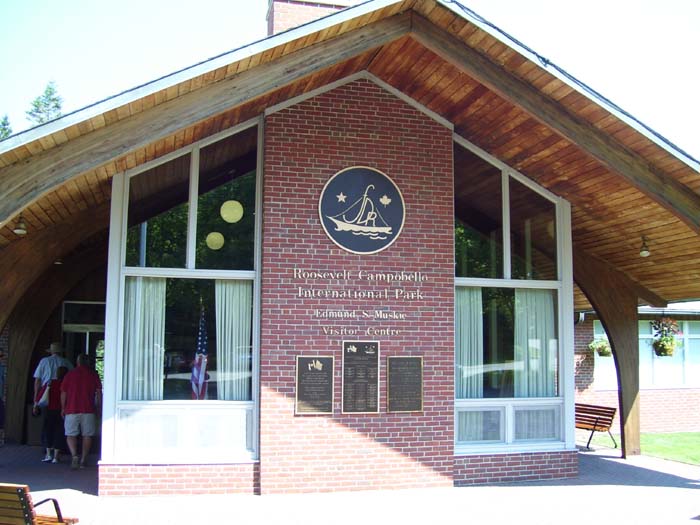 This is the summer home where FDR spent much of his youth. It's technically a cottage (it's only occupied part of the year, it has no insulation, and a couple other technical facts) with over 30 rooms, 7 fireplaces, built-in laundry and cooking facilities, and basically everything you'd need to keep your family, dozens of guests, tutors, servants, and so on comfortable for months at a time. It didn't have electricity until the 1950s...water was drawn in using wind-driven pumps to third floor storage tanks, and all the lighting was done with kerosene lamps. Most of the interior had been faithfully restored to these conditions.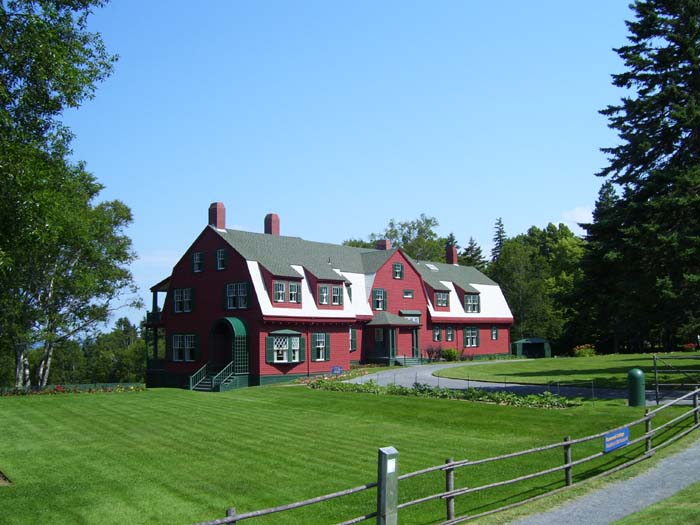 After touring the house, we drove out to one of the island's lighthouses (North Quoddy Light, at the northern tip of the isle). Here we found you could only walk out to visit the building at low tide, because the water covers the natural path at all other hours. We didn't feel like waiting around for that, so instead we just settled for some photos from nearby. Here's the view from one side.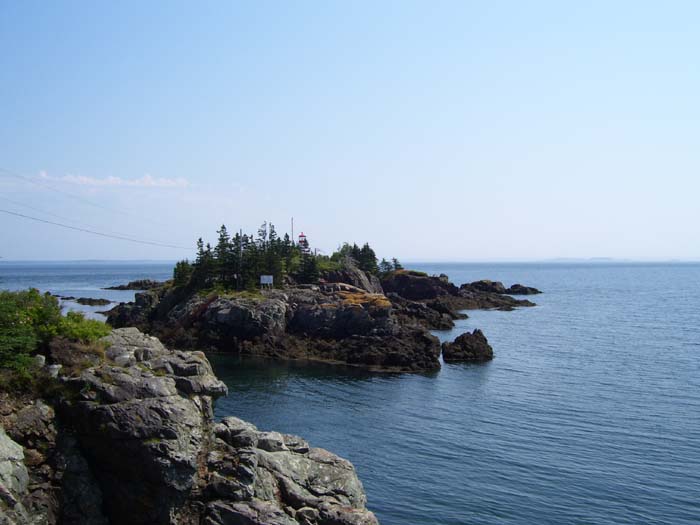 From the other side, where you can actually see the lighthouse poking up, as well as the stairrway that leads (at the moment) down to the water. A few people were waiting around for the tide to get lower, but it would've been at least an hour.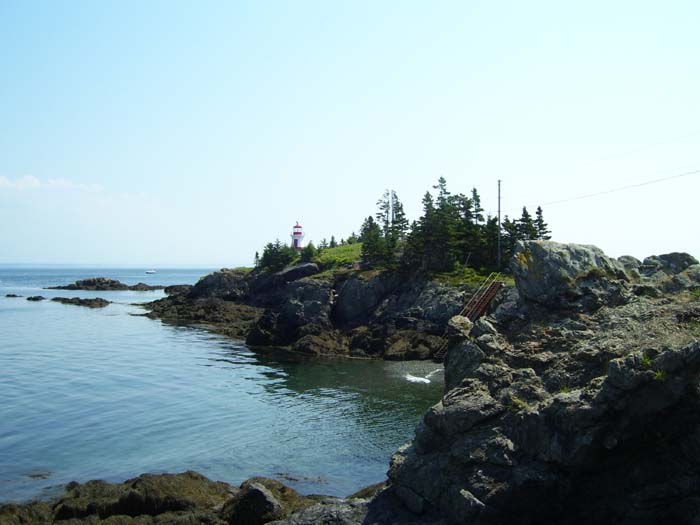 This is a view of the terrain close by, showing the typical rocky shore all too common around here.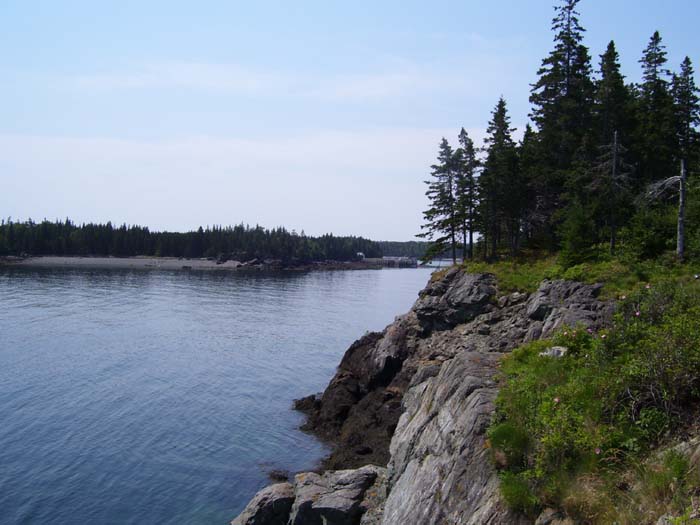 A better view of the lighthouse.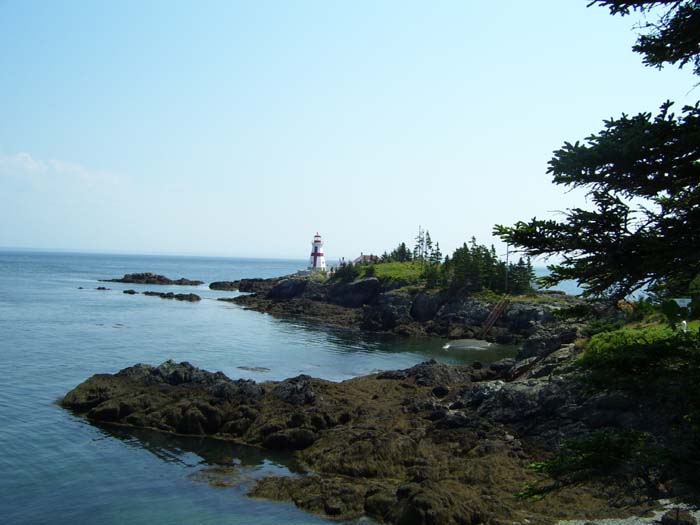 On our way back to town I got a good view of Lubec, from the Canadian side.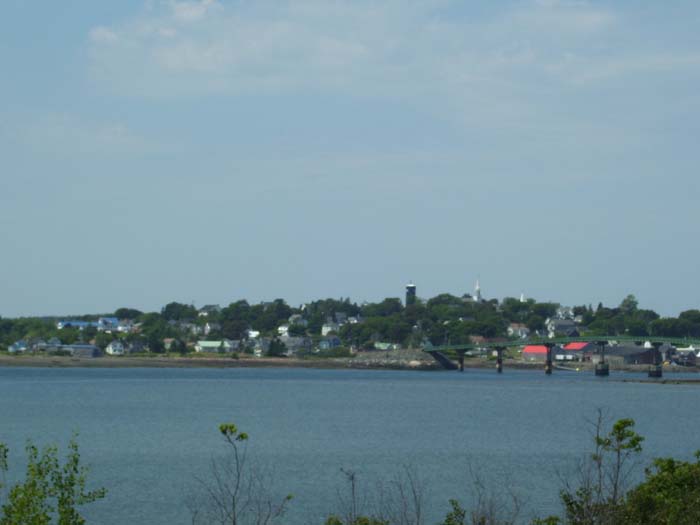 Most of the island is covered with trees, like these here. There were hiking trails here and there, but we didn't mess around with any of that.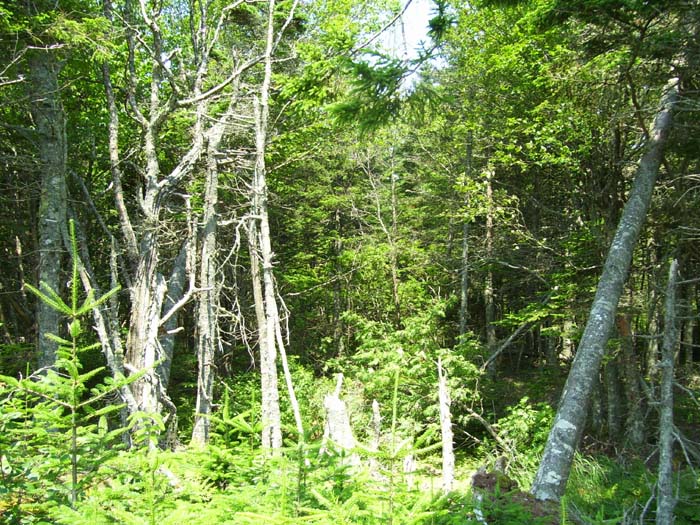 A better view of Lubec, this time made with three photos stitched together panoramic-style. The bridge connects the Canadian and American sections (you have to wait in line at the border on either side, but it wasn't too crowded). In the center of the town, just to the right of the central docks, the building with the red-and-wite awning is where we had dinner last night. Off to the right you can see the harbor and all the various boats anchored nearby or busy with lobster fishing. Use the scroll bar at the bottom of your screen to look at that part of the picture.

When I took the above photos, I was standing next to this lighthouse here. You can see Lubec in the background.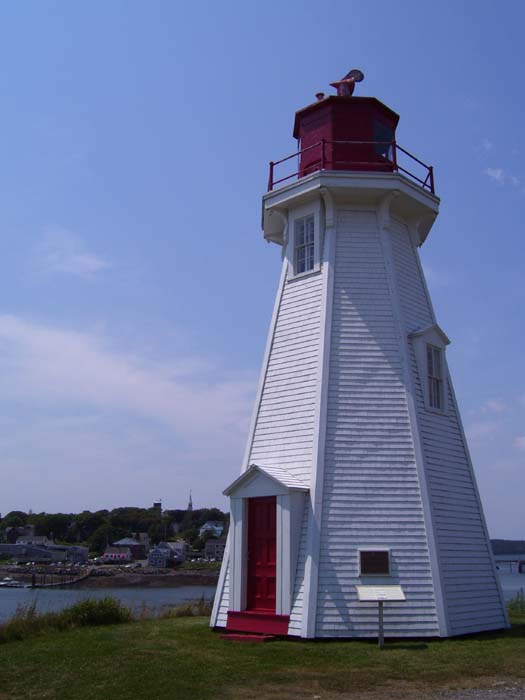 That was the end of our Campobello Island trip, so we drove back across, waited out the short line at the border station, and headed on down the road for a couple hours to our next destination, Acadia National Park near Bar Harbor. This place is amazingly scenic...we probably could've spent days just exploring the forest itself, but instead we just spent a few hours driving around the park loop road. That's where all this next batch of pictures come from. First off is Bar Harbor itself, as seen from a scenic pullout close to the entrance to the park.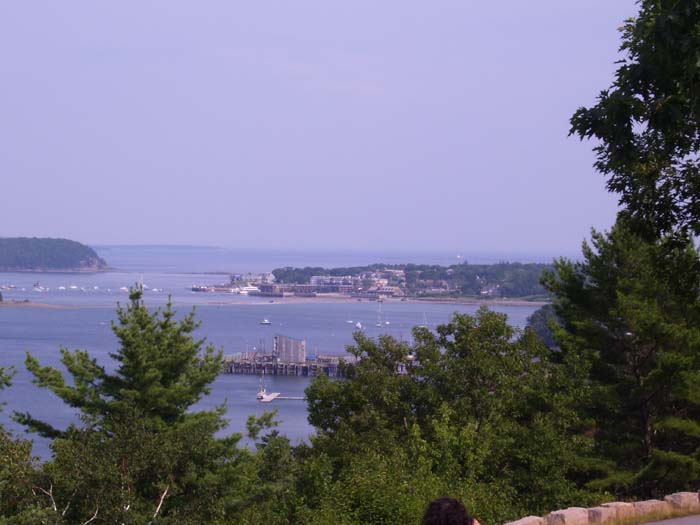 Next up we drove to the top of Cadillac Mountain, the highest point on the Eastern Seaboard north of Rio. Here's one view from up there, the important thing to note being that there weren't sharp cliff dropoffs up here, but relatively safe, granite plateaus we could walk along without much risk of falling.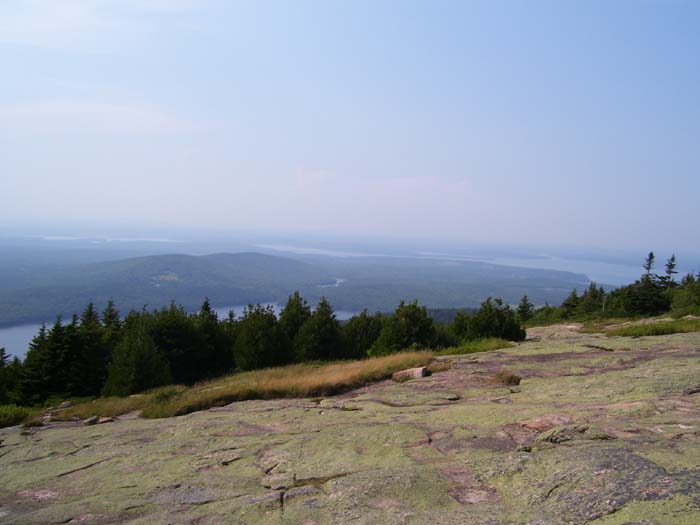 Moving on around to another angle, the views just got better.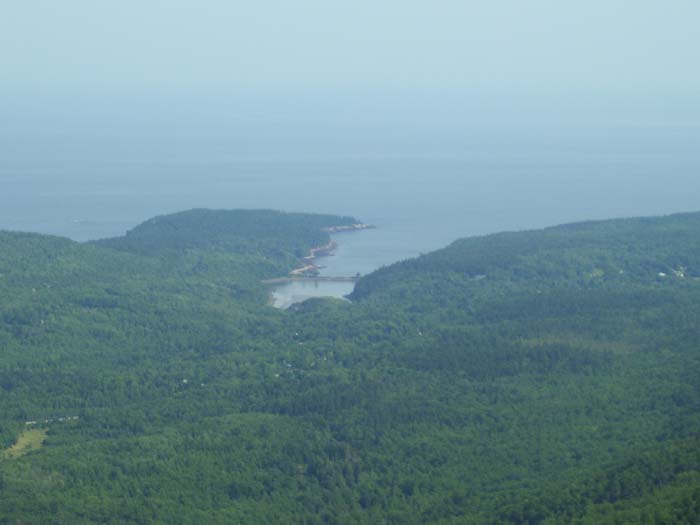 Here's an even better shot.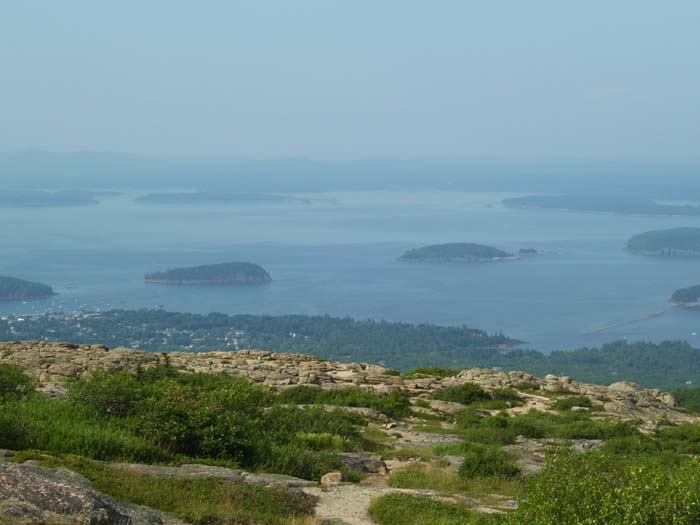 This fairly boring pic is included just to show you what the terrain looked like up top. Cadillac Mountain is only about 1,500 feet above sea level. I talked to a couple bicyclists (on racing bikes, with no touring gear) who said it took them about 45 minutes to climb the 3 1/2 miles to the top. It would've taken me a couple of hours, probably. They also complained about the heat (about 85 degrees)...ha, if only they knew...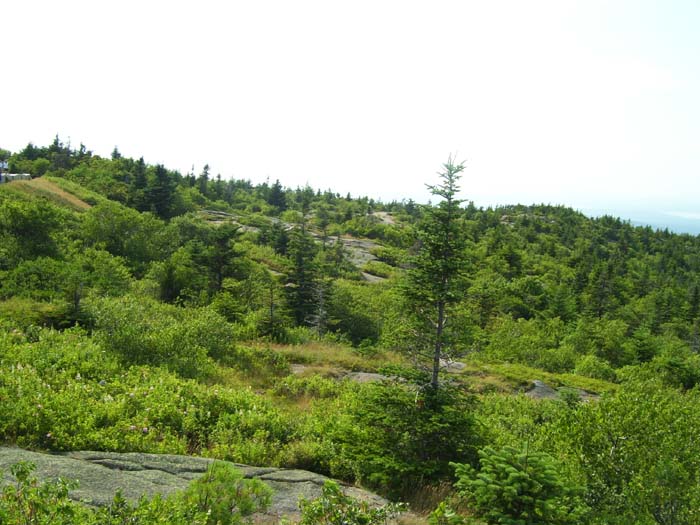 Parts of the Acadia area are still privately owned, like this...I wonder who lives there, and how many millions of dollars this place costs?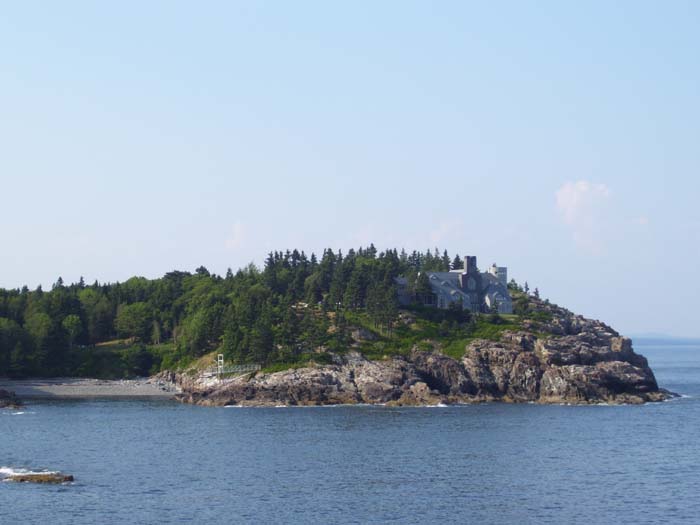 This spot here is called Thunder Hole, a place where (during certain tide conditions that didn't come up while we were there), the waves crashing in this place create a loud thundering crash. Oh, and during those same conditions, the people standing down there would've wound up completely soaked.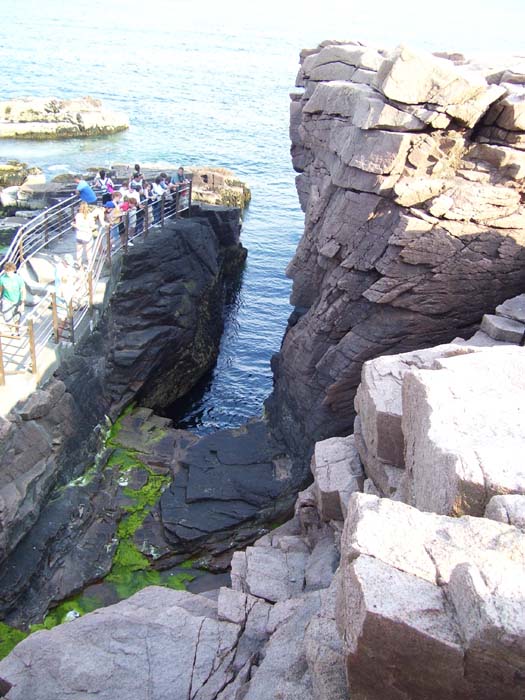 One last view of the nearby shoreline, and that was that...we drove off back to Ellsworth to find our hotel. Someday, when I've got more time, I'll have to come back and explore this place more carefully. Not by bike, though...it's too hilly!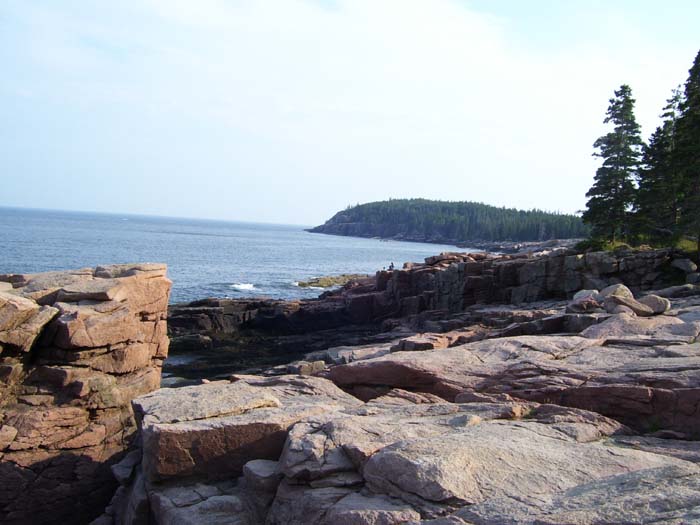 So that's that, the end of another bike tour, and of the last official vacation day. Tomorrow, we head back in the general direction of home, and in a couple more days, it'll be back to the same old boring routine. Until the next tour, that is...whenever that might be.